When you hear people speak of their bespoke suit, chances are it conjures up a sense of luxury. That's as it should be; bespoke suits are top-of-the-line.
If you feel intimidated by the thought of working closely with a tailor on a custom suit and spending way more than you've ever spent on a suit, reconsider.
A bespoke suit is well worth the time, effort, and considerable cash.
What is a Bespoke Suit
Bespoke suits are literally one of a kind. They are suits fully designed, cut, and sewn just for you.
When you order a bespoke suit, the tailor will ensure that it's fitted to your exact millimeter. Because of this, you'll make several visits to your tailor for multiple fittings throughout the process.
Before the age of factories and production lines, all clothing was made this way. A bespoke suit is the very opposite of a suit from a production line.
Far from being mass-produced, each suit is individually worked on. Because of this intense personal attention to each suit, bespoke suits are typically very costly.
Bespoke vs. Made-to-Measure vs. Off-the-Rack
On the surface, made-to-measure may seem like the same thing as bespoke, but it's only vaguely similar.
Made-to-measure suits are the same in the sense that your measurements are plugged in, but that's where the similarity ends. With made-to-measure suits, the pattern is already set, and the fabric is already cut.
So, you provide your measurements, and the suit is constructed to those specifications. Other details and features of a made-to-measure suit can also be customized, but your possibilities aren't limitless.
It's a bit like ordering off a menu; the company or tailor lets you know your options.
Off-the-rack suits are the cookie cutters of the suit world. They're fully designed and constructed according to a very generalized sense of a man's size and style.
The designer uses standard measurements; most off-the-rack suits need to be taken to a tailor after purchase.
Why Choose a Bespoke Suit?
A bespoke suit is unbeatable in nearly every possible way. For starters, you can't find suits off the rack or even made-to-measure that come close to the quality of bespoke suits.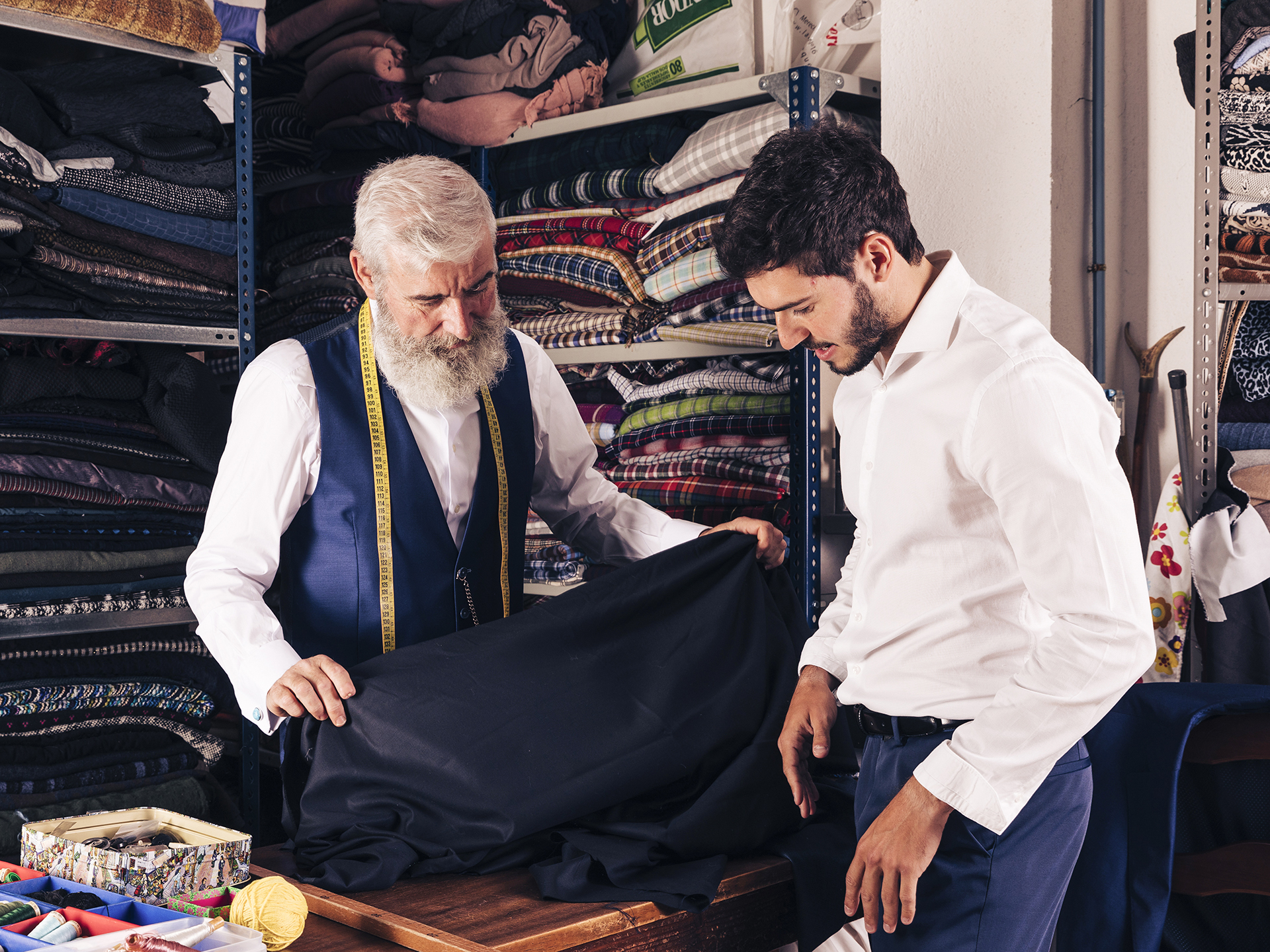 Bespoke means more than just being made for your specific measurements; they are also hand sewn. Every tiny detail is seen to with a human touch, so these suits are much superior to machine-sewn suits.
Bespoke suits are also highly customizable. You get to decide every element of your suit, down to the smallest detail.
This is your opportunity to create a suit unlike any other. Because of their superior quality, bespoke suits will also last you much longer than most suits.
They are carefully crafted and handstitched, meaning they're super durable. Since this suit will last you for many years, the high cost can be considered just part of a fantastic investment.
How to Choose a Bespoke Suit
Ordering a custom-made suit is an entire process; it isn't a simple trip to the tailor, and you're done. There are many elements to consider when you're looking for your suit.
The suit's fit should not be one of your considerations. That's part of the point of a bespoke suit; the best bespoke tailors will definitely get that ideal fit for you.
Location is Paramount
Going bespoke requires in-person fittings – many of them. You need to be able to make several trips, weeks apart, to your tailor without a huge hassle.
So if you're located in New York, it'll make sense to pick Michael Andrews rather than opting for a bespoke suit from a Savile Row tailor across the pond.
It will be terribly inconvenient if your tailor is hours away. Unless you are okay with a travel commitment every couple of weeks, choose a nearby bespoke tailor.
Consider the Price
It's no shock that a fully custom suit is very costly. Determine ahead of time if you have room in your budget to go bespoke.
So much work goes into making these suits, which take a long time. So, you are paying for craftsmanship as well as work time.
Remember, this suit will last you a very long time. Considering the cost of the several suits you won't be buying because of this one long-lasting, well-made, stunning suit, the price could balance out.
It's a matter of shelling out that payment upfront. It's important to remember that a very high-priced suit doesn't necessarily mean it's bespoke.
A made-to-measure designer suit can be equally pricey but isn't bespoke.
Explore the Different Suit Styles
There are practically limitless design choices for you to make when going bespoke. However, you first need to determine how formal you need your suit to be.
The jacket lapel will reflect how dressy your suit is, as will your pockets. Some of these styles are very casual, while others are strictly formal.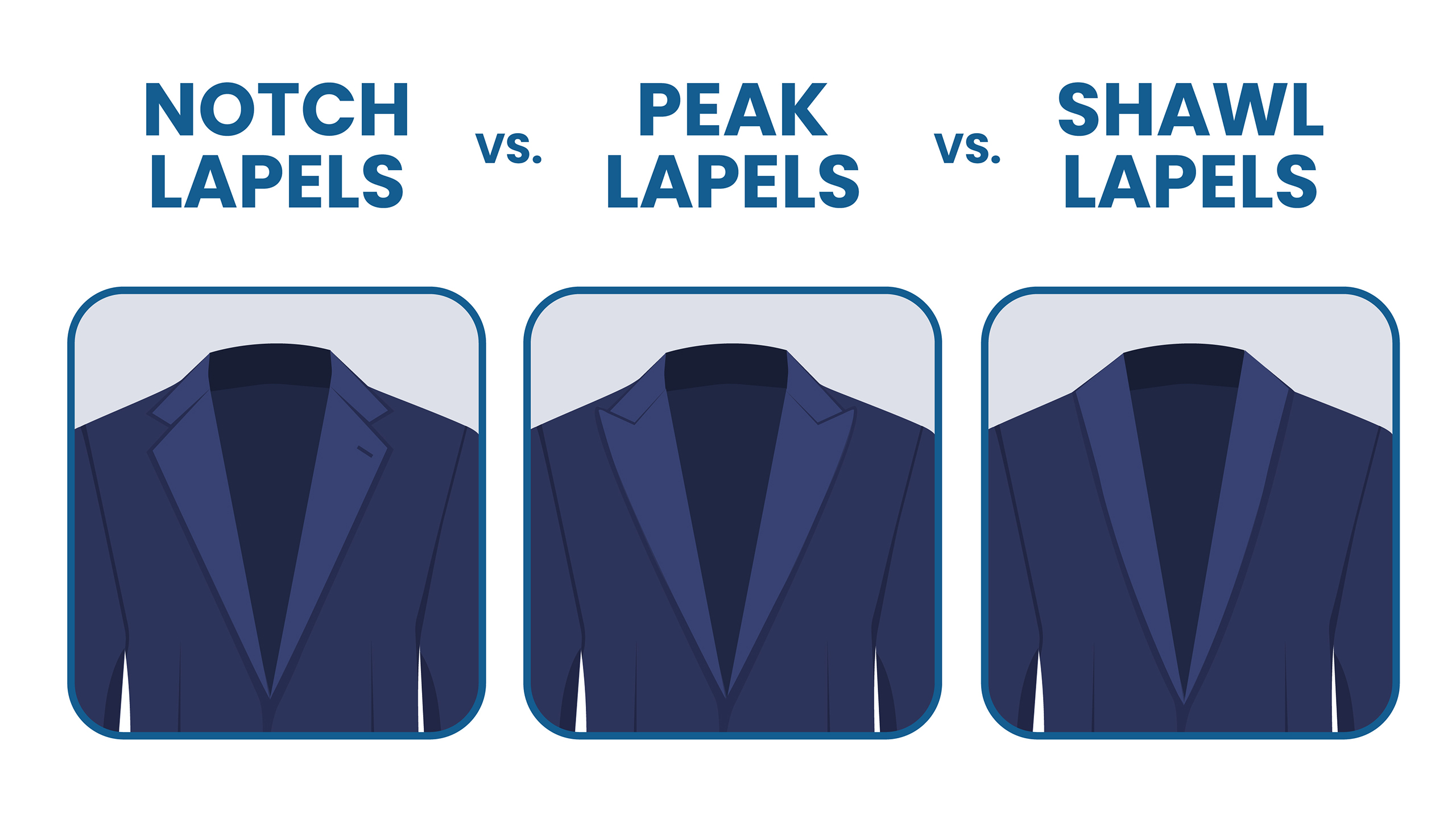 Know your design choices and what they signify. You'll also need to be mindful of which cut you choose for your suit.
Which customization would suit you best? Explore which cut would be most flattering for your body shape to get the best look for your new suit.
Canvassing & Shoulder Construction
You can choose which level of canvassing you want for your suit, but it's best to opt for a fully canvassed suit.
You can use this opportunity to select your suit jacket's shoulders based on your suit's formality and your own build.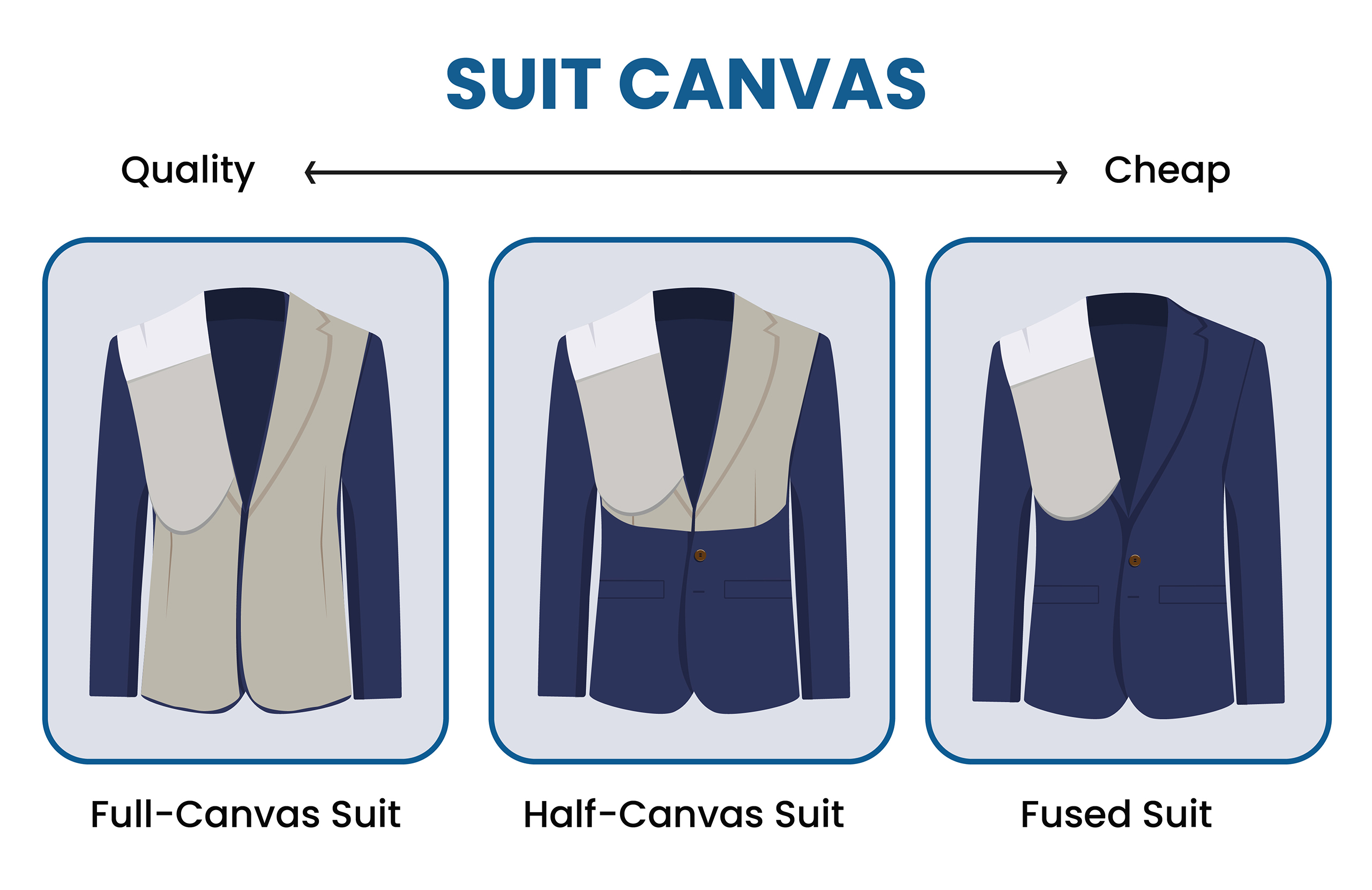 A formal, professional suit jacket should have a structured shoulder. This involves shoulder roping and requires a heavy, solid chest canvas.
An unstructured shoulder is fine if you want a casual suit. It's soft and relaxed and only requires a light canvas.
However, your build should also be a factor. Use shoulder construction to complement your shape.
For example, if you have a large chest and broad shoulders, you don't want to make yourself appear even larger. It would help if you opted for soft, unstructured suit shoulders.
But if you have a slight build, structured shoulders can be a flattering way to look bulked up.
The Bespoke Tailoring Process
Don't expect your bespoke suit to be a quick purchase. You need to plan months in advance if you're ordering one for a special occasion. Generally, a bespoke suit can take six to eight weeks to construct.
Let's look at the steps in the process.
You'll have your first meeting with your tailor. First, you two will discuss your needs and wants for your suit. Then he will take measurements and perhaps some pictures.
The tailor will make a unique pattern based on your measurements and suit preferences.
Next, the tailor hand-cuts your fabric using your personalized pattern. This includes your canvas and suit lining.
The fabric is basted together. Basting means to lightly sew your suit pieces together in a temporary fashion. The aim is to check the fit and shape of your suit, ensuring all the parts are as they should be.
Once the basting is set and everything fits together well, it's time for the tailor to hand stitch all the pieces together.
Now it's time for another fitting. This part is called "your forward fitting". You'll try it on again to determine if further alterations are necessary at this time.
Now the tailor begins the final details. He does the final hand stitching, makes handmade buttonholes, and sews on the buttons.
Now your final product is ready!
Where to Order Bespoke Suits in the US
There are many choices for where you can order a bespoke suit. From a local tailor in the suburbs to a larger chain in the big city, you can get one in most places. However, always consider quality over price.
Michael Andrews
You'll find a Michael Andrews flagship store in New York City, but they have locations in Washington DC, Miami, and soon in London. They've been in business since 2006.
They offer a vast selection of fabrics, with many suit fabric choices for men and women from major brands.
If you choose a suit from Michael Andrews, you should expect to pay a minimum of $2495 and a wait of eight to ten weeks.
Suitsupply
Suitsupply emerged as a significant brand in the men's tailoring industry in recent years with their top-quality suits and 40+ suit stores from Los Angeles all the way to New York.
They carry all the finest fabrics, with over one thousand high-quality material choices, all to accommodate the customer's personal sense and style.
Their prices will vary depending on your chosen customizations. Still, their suits are affordable thanks to their excellent relationship with these fabric brands.
Suitsupply suits have a relatively quick turnaround time, taking two or three weeks to build.
Alan David
If you are close to New York City, it's worth checking out Alan David tailors. They have been in business since 1926 and are relatively affordable. Their bespoke suits range from $1195 to $1995.
Their three to four-week turnaround is very reasonable, but if that is still too long for you, you can place a rush order for two weeks or seven days, for a price, of course.
Each price range offers hundreds of fabric options. In addition, they include luxury fabrics for a higher cost, including unique materials from around the world.
Huntsman
When you discover that a business has been operating since 1849, as Huntsman has, you know they must be good at what they do.
And they take their time with your suit, indicating the level of dedication and craftsmanship that goes into each suit.
Their average time is sixteen to twenty weeks. They began on Savile Row in London and have since expanded to New York City and several locations throughout Asia.
Huntsman offers two bespoke experiences: their Bespoke 1849 line, which includes a personal visit with your tailors, and Huntsman Bespoke, for a lower price point with fewer cloth choices.
Huntsman suits range from $5300 to over $8000, which can be pretty expensive.
The Armoury
A relative newcomer to the bespoke scene, The Armoury has been in business since 2010. They have two locations in Hong Kong and two in New York City.
Not much detail about pricing, fabrics, or waiting time is available on their website, but they are available for online consultations.
Bespoke Suits FAQs
How much does a bespoke suit cost?
That depends on many factors, such as your fabric, customizations, and your tailor's expertise level. However, you can expect to spend at least over $1000.
Are bespoke suits worth it?
No doubt. If the quality and longevity of the suit aren't enough to convince you of its worth, think about how you'll feel and look. This suit is made only for you, taking into account every inch of your shape.
You'll never feel or look better.
How to tell if the suit is bespoke?
The quality of the suit's details tends to be a dead giveaway when it's custom. Look at the suit's canvassing and shoulder structure to see how it differs from off-the-rack suits.
But most importantly, you'll know because the suit looks and feels like it was made only for you.
Author: Alexander Stoicoff
Hi, I'm Alex, and I've studied and specialized in styling in Rome. Through my writing, I want to help men dress well and learn the purpose and significance of suits and other formal attire. My final goal is to make men more confident in their wardrobe choice and life in general.