A high-quality dress watch doesn't have to be expensive. In fact, many affordable dress watches can give a dazzling effect to your suit.
I know, watches aren't really necessary these days, with the explosion of smartphones.
However, that's what makes them so appealing. A dress watch is an effortless way to add class and style to any outfit.
And besides, isn't it nice to just keep your smartphone in your pocket for a while?
What Makes the Watch a Dress Watch?
Dress watches are the type you would wear with a suit or a tuxedo; they are explicitly designed for formal attire.
Many affordable dress watches are appropriate to wear with slightly less dressy outfits, but you will still recognize them as a "fancy" watch.
Dress watches have several key elements in common. First, they are traditionally very simple and sparse. Most have no extra features, only an hour and a minute hand.
Dress watches need to be able to slide discreetly under the cuff of your dress shirt. Therefore, they have a very slim profile.
The strap on a dress watch is always leather, though it may be smooth or textured. And the casing frame is usually gold or silver; the rarer and pricier, the better.
Best Dress Watches Under $100
Dress watches don't need to cost a fortune. Plenty of beautiful, reliable, and functional dress watches are available for a very affordable and reasonable price.
Besides, if you spend less money, you may be able to afford a couple of dress watches in different styles!
Timex #T2H281 Easy Reader
Timex is a trusted name in durability, but did you realize they also make beautiful, stylish watches?
For example, the Easy Reader has large, black Arabic numerals on a cream background, beautifully framed in a gold-toned brass case.
Of course, no Timex would be complete without their famous Indiglo dial. The smooth black leather strap adds sophistication to this simple, classy watch.
Timex #T2H281 Easy Reader
Water Resistant up to 30M
Casio #MTP1183E-7A
Casio may be best known as an electronics company, but that doesn't mean they don't know beautiful dress watches. They nailed this understated addition to the dress watch industry with its textured black leather strap and round, silver-coated stainless steel case.
The hours are marked with stick indices, although the seconds are also marked since it includes a second hand. There is also a date box at the three o'clock mark.
Water Resistant up to 30M
Fossil Minimalist
Fossil is a versatile watch manufacturer known widely for its trendy, casual wristwatches.
However, the Minimalist offers a vintage design mixed with Fossil's signature simplicity, resulting in a classic dress watch. It has a stainless steel case paired with a medium brown strap, excellent for slightly less dressy events.
Fossil offers customary engraving at their store, as well, so you can personalize this for a perfect gift.
Water Resistant up to 30M
Citizen BI 500-01A
Citizen is part of the old guard in the world of wristwatches, so they know their business. So it's no surprise that their dress watches are consistently high-quality.
What is astonishing is their affordable price. Their dress watches are classic, like this simple but elegant piece with a black textured strap.
The face is round and stainless steel, with silver stick indices in place of Roman numerals or Arabic numbers.
Water Resistant up to 50M
Brigada BJD-30156
Brigada is a Swiss brand renowned for its minimalist style, on full display here with this easy-to-read dress watch.
This high-quality watch is the perfect mix of comfort and durability.
The case is stainless steel coated in gold, couched between a bamboo design brown textured band. One nod to extra features is the day and date window at the three o'clock spot.
Water Resistant up to 50M
Best Dress Watches Under $200
If you are looking for a dress watch that's a step above the basic level dress watch but aren't interested in spending an entire paycheck, here's good news.
There is a wide range of next-level dress watches for only a bit more money. So if you want something that may have a bit more durability, try one of these beauties for only another $100.
Orient Bambino
Orient Bambino offers excellent style and quality at this price point. If you are into a modern minimalist aesthetic, look no further than Orient Bambino.
You'll love how versatile this watch is, with its deep chocolate leather strap that's very slightly textured. In addition, it has a domed case made from mineral crystal and stainless steel, with a silver face.
Water Resistant up to 30M
Timex #TW2T7 Waterbury Automatic
Timex has hit the big league of dress watches with this piece. It features a silver-toned stainless steel case encircling a round white face, covered with a domed crystal.
The black croco-leather strap accentuates the watch's dark Arabic numerals, setting up a stark contrast with the white face.
You know this piece will be with you for a long time to come, thanks to the renowned durability of Timex watches.
Water Resistant up to 50M
Seiko #SWR049 Hardlex Crystal
Seiko is a leader in reliability and luxury, so you are bound to take notice of this inspired offering.
In addition, people will immediately notice the unique rectangular face on your wrist.
Its Roman numerals add to the character of this watch, set against the stainless steel case. The black textured strap completes the elegance of this timepiece.
Water Resistant up to 30M
Bering #14240-166 40mm Dress Watch
Bering offers an exciting, very modern dress watch with clean, minimalist lines. The rose gold plated stainless steel set against the large round black dial is as unique as it is elegant.
The face has stick indices, except for the twelve and the six, which are represented by Arabic numerals.
In a departure from most dress watches, you'll notice two dials within the face, one for the day and the other for the date.
All of it is protected by a sapphire crystal, the hardest glass you can find for a watch case.
Water Resistant up to 30M
Bulova #96B197 Dress Watch
Bulova is a well-loved brand in watches and jewelry. They offer beautifully made timepieces that exude elegance.
This rectangular watch face is framed by stainless steel silver and adorned with a combination of stick indices and Roman numerals.
A discreet date box is placed just above the six mark. This watch is very slim and light.
Water Resistant up to 30M
Best Dress Watches Under $500
If you are in the market for a genuine luxury timepiece, one that may serve as a hand-me-down for the next generation, you'll need to make an investment.
Spending the better part of your paycheck on a watch may feel like a splurge, but when you consider the pride and history you'll be passing down with this watch, it will be well worth it.
Tissot T122-407 Powermatic Carson Premium
When you're spending a small fortune on a watch, you'll want to wear it every chance you get.
That's why Tissot is such an excellent choice; it's a versatile brand.
This brown textured band is beautiful enough to be a formal watch but adaptable enough to wear more casual outfits.
Its time is marked with stick indices surrounded by a silver-toned stainless steel casing.
The face is protected by sapphire crystal, so it will assuredly be protected for years to come.
Water Resistant up to 50M
Seiko #SUP873P1 Solar Herren Acciaio
Seiko is a high-quality brand. They really thought outside the box when developing this solar-powered dress watch with a power reserve of up to twelve months.
Furthermore, the black textured strap signifies that this dress watch is one smart and classy investment.
Water Resistant up to 30M
Hamilton #H39515754 Valiant Automatic
Hamilton isn't a name that pops to mind when you consider top-brand formal dress watches, but this watch may change that mindset.
The silver face is adorned with large Roman numerals, complementing the black textured leather watchband.
The sapphire case is also anti-reflective, making it easier to read in bright light. It's one seriously good-looking watch that understands class and elegance.
Water Resistant up to 50M
Tissot T063-409 Tradition
Tissot is a traditional watch brand with unique designs.
This stunning watch combines a brown textured leather strap with a rose gold coated stainless steel case and hands on a white face with black Roman numerals.
Perhaps one fascinating aspect of this watch is its butterfly clasp, also rose gold-toned. It's very understated, with no calendar box and no second hand.
Tissot T063-409 Tradition
Water Resistant up to 30M
Bulova #97A123 Classic
Bulova understands quality and elegance, and this watch is no exception.
It's super light and completely classic looking. The gold-toned stainless steel case and three hands are striking against the black alligator embossed leather strap and black Roman numerals.
It has a mineral glass face and has a sleek and tailored look.
Water Resistant up to 30M
Things to Consider When Looking for Affordable Dress Watches
Watch shopping can be overwhelming, mainly because there are unlimited options. You can find nearly any style, shape, and size; it practically boggles the mind.
While it's tempting just to pick a watch that looks nice and be done with it, other aspects are equally important as aesthetics.
First, you need to understand what you are investing in to know what to expect from your watch.
Look at the following components to ensure you choose a proper dress watch that will serve all your formal needs.
Leather Strap
Leather bands will always be the more formal option for a dress watch. It's the only acceptable material for a watch worn with a suit for formal occasions.
The leather needs to be black if you wear it with a black suit or tuxedo, but brown is acceptable with other suit colors as long as the shoes and belt are the same color. It can be textured or smooth.
A metal bracelet is fine if you aren't wearing the watch to a formal event, but keep in mind that it will make any outfit more casual.
Small Case Size
Your dress watch must be subtle and not overwhelming. This pertains to not just extra features on the watch but also to the size.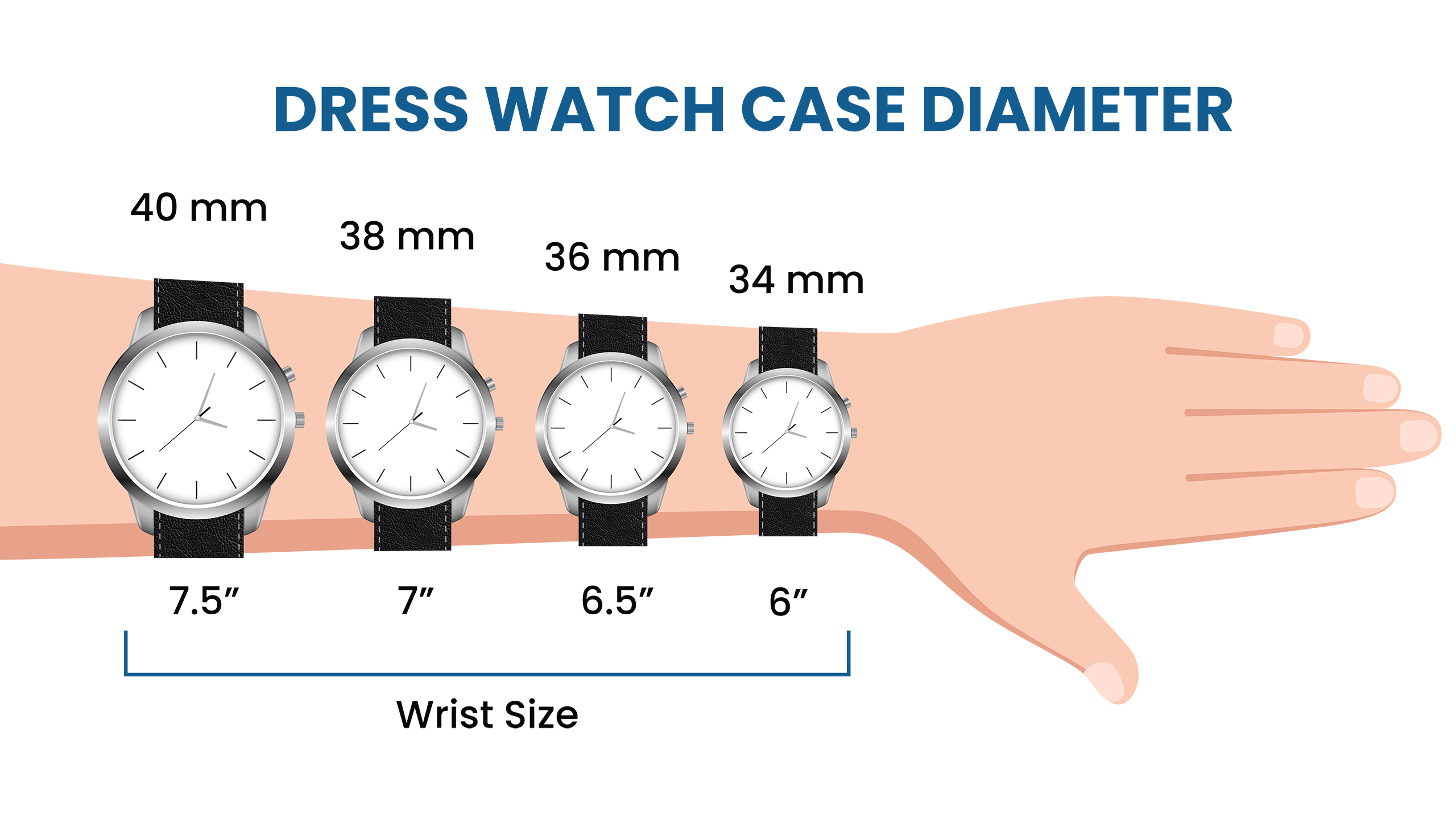 If you have a large watch on your wrist, it will draw too much attention away from your fine suit or tuxedo.
Pick a watch with a case size between 34 mm – 40 mm. Your watch case should be proportional to your wrist, not overlarge, but also not so small that you risk looking as if you're wearing a lady's watch.
Case Thickness
You want your dress watch to be able to discreetly slide under the sleeve of your dress shirt and suit jacket without a struggle.
This means that you need a very thin watch case. In a way, the thickness of the case will also depend upon the diameter of the watch case.
This is another reason to ensure that you choose a watch with a case size that has a small diameter.
Metal Case Material
Most dress watches are made from either stainless steel or titanium. These are both very durable metals, which increases the likelihood of your dress watch lasting for many years.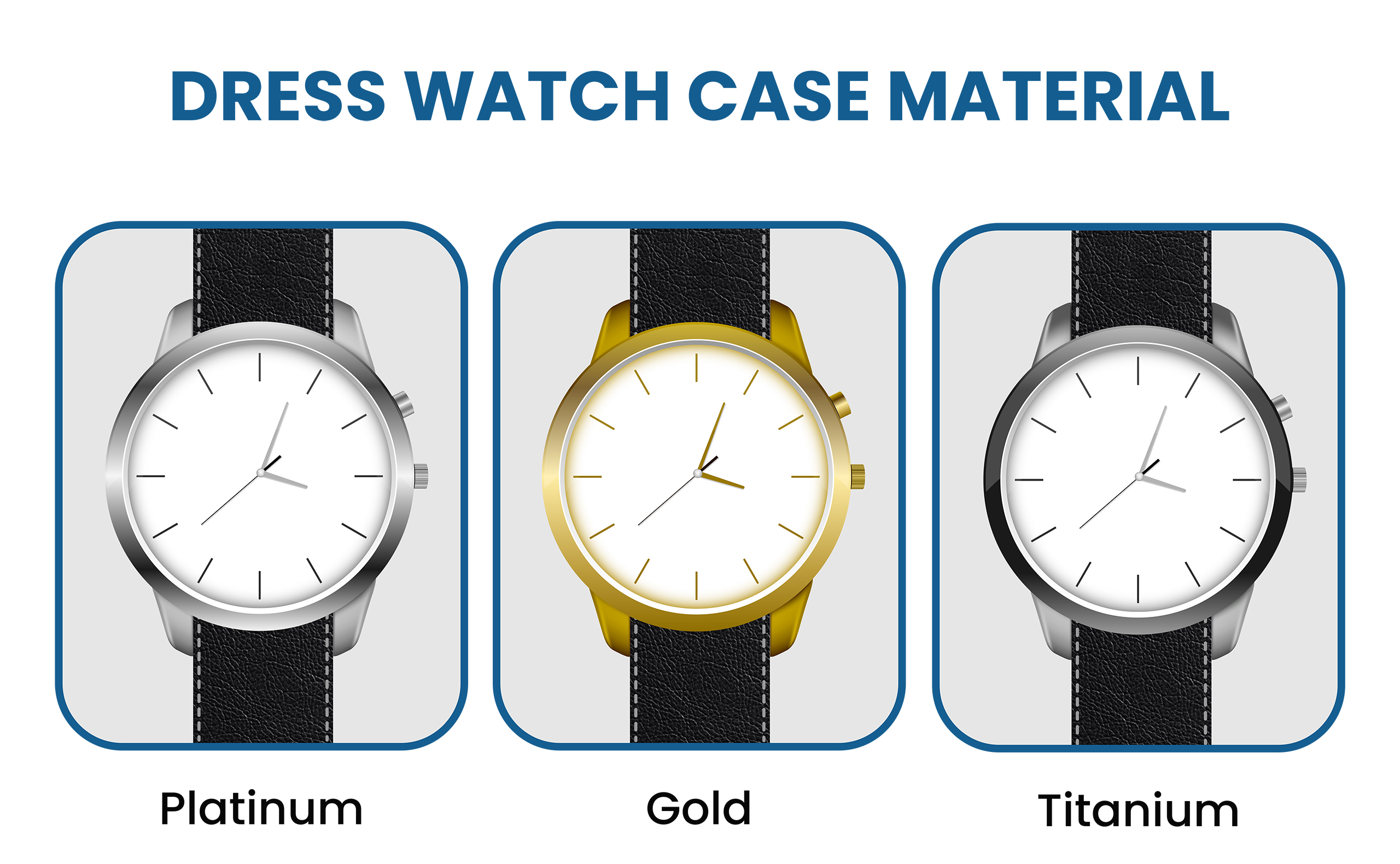 Just because your primary choice is between these two materials for your dress watch case, you aren't stuck only with these metallic colors for your watch.
Many watches add some tone to their metal casing, creating the impression of different precious metals. You can find watch cases coated in silver, gold, or rose gold.
Watch Band Width
The band for your dress watch should be in proportion to your case size. So, if you have a large watch face, it stands to reason that you should have a reasonably thick watch band.
Conversely, the smaller your watch face is, the narrower your band should be.
The Occasion
You would probably never wear a rubber sports watch with a tuxedo, right? At least, I really hope you wouldn't.
However, it's perfectly fine to wear such a watch for very informal outings, say, to the movies with friends.
On the other end of the spectrum, the more dressed up you are getting, the more thought you need to put into accessories, including your watch.
If you are ever in doubt about how to match a watch to your outfit, always keep in mind that less really is more. If you stay with very simple, you can never go wrong.
Affordable Dress Watches FAQs
With infinite watch choices, you can rest assured that the perfect watch is out there for you. Give yourself plenty of time to sort through all your options, and remember to keep your patience. In the meantime, keep these points in mind as you shop.
How to match the dress watch band with the rest of the outfit?
If your watch band is leather, it needs to match the leather of your shoes and your belt. If you're wearing a watch with a metal band, it must match all other metal in your outfit, such as cufflinks and tie pins.
How well should the dress watch fit?
Your dress watch should gently hug your wrist. It should remain in place, not sliding around on your wrist. However, it should in no way pinch your flesh and leave behind marks when you remove it.
How to pick the dress watch size?
You should determine your wrist size to know which size watch to buy. It needs to look proportional to your arm to be a good fit. Ideally, your watch should sit just above your wrist bone.
Can I wear a dress watch with cufflinks?
Yes, you absolutely can. Remember to make sure that the metals match if you have metal in your cufflinks.
What's the most appropriate dress watch for weddings?
A very simple watch is ideal to match the wedding suit. Pick one with a plain white face, no complications, and a black or brown leather strap. This is the most elegant style for a wedding or any formal event.
Author: Alexander Stoicoff
Hi, I'm Alex, and I've studied and specialized in styling in Rome. Through my writing, I want to help men dress well and learn the purpose and significance of suits and other formal attire. My final goal is to make men more confident in their wardrobe choice and life in general.