There's a myriad of cheap and affordable watches on the market. Finding the best watch that matches your suit will also be a subject of personal preference.
However, not every watch can be matched with a suit. Also, the ones that do are usually very expensive.
That's why I've taken the liberty to assemble a list that will help you find some good cheap watches within a reasonable budget.
Ready to explore the best affordable watch options? Wonderful!
Top 10 Best Affordable Watches for Men
You don't need to spend thousands of dollars to own a high-quality watch. There are many stylish, cheap watches out there. You will still look good and save some budget.
I have compiled a list of the top 10 best affordable watches and brands that also go well with suits. Each product is reviewed with a consultation with specialist reviewers.
But to be honest, choosing a good cheap watch is a matter of personal decision. That's why there isn't such thing as "the best watch" – only high-quality and good-looking ones:
Watch

Image

Case

Case Width

Strap

Strap Width

Tissot Carson Premium




Check Price

Swiss quartz movement
Stainless steel
Sapphire crystal
Thickness: 7mm


40mm

Water resistance: 165 ft.

Leather
Optional: Metal

20mm

Seiko SUP880




Check Price

Japanese-quartz movement
Solar power source
Thickness: 6.1mm

28.5mm

Water resistance: 100 ft.

Leather

22mm

Nordgreen Native




Check Price

Japanese quartz movement
Stainless steel
Thickness: 7.2mm


36mm
40mm

Water resistance: 100 ft.

Leather

18mm/20mm

Fossil The Minimalist




Check Price

Quartz movement
Stainless steel
Thickness: 8mm

44mm

Water resistance: up to 165 ft.

Leather

22mm

Emporio Armani AR2457




Check Price

Quartz movement
Stainless steel
Mineral glass
Thickness: 9mm

43mm

Water resistance: up to 165 ft.

Stainless steel

22mm

Timex TW2R63900




Check Price

Seiko quartz movement
Brass steel
Sapphire mineral glass
Thickness: 8.5mm


41mm

Water resistance: 100 ft.

Leather

20mm

AX Armani Exchange




Check Price

Quartz movement
Rubber
Mineral cover glass
Thickness: 12mm

45mm

Water resistance: up to 165 ft.

Silicone

22mm

Michael Kors Layton 8781




Check Price

Quartz movement
Stainless steel
Mineral crystal glass
Thickness: 10mm

45mm

Water resistance: 165 ft.

Stainless steel

22mm

Citizen Eco-Drive




Check Price

Quartz movement
Stainless steel
Thickness: 12mm

44mm

Water resistance: 650 ft.

Super titanium

22mm

Daniel Wellington Durham




Check Price

Japanese quartz movement
Stainless steel
Thickness: 6mm

40mm

Water resistance: 100 ft.

Leather

20mm
Tissot Carson Premium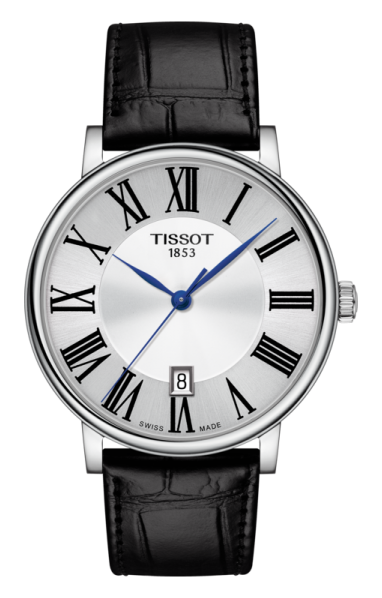 Tissot is a genuine Swiss brand, producing high-quality, top-class affordable watches since 1853. Their reputation is indisputable, making the brand one of the best in the world.
Tissot Carson is a nice-quality swiss-quartz movement watch with a case size of 40mm and a strap width of 20mm. It's also water-resistant up to 165 feet.
The case is made of steel. However, it is also pretty thick, or exactly 7mm. The glass is also scratch-safe and is made of sapphire crystal.
Since Tissot Carson Premium is available with both metal and leather bands, I can safely state that this watch looks splendid with all suit colors and is the perfect partner on all occasions.
Seiko SUP880
Seiko is a high-quality Japanese watch brand that is designing watches since 1881.
The brand has an excellent reputation for producing durable and precise watches at cheap prices and is often compared to Swiss watch brands.
The SUP880 dress watch by Seiko is solar-powered and features a Japanese-quartz movement. It is also water-resistant up to 100 feet.
The case diameter is 29mm, which makes it subtle and perfect under a white dress shirt. The band is made of leather and is 22mm wide.
If you appreciate quality over fashion brands, then Seiko watches might be a good yet affordable choice. They have a plethora of different models that might be suitable for you.
Nordgreen Native
Nordgreen Native is one of my favorites. A product of Danish designer Jakob Wagner, the watch enjoys a sleek Scandinavian design and a brilliant classic look.
Nordgreen Native is available in two case sizes: 36mm and 40mm, with a perfect thickness of 7.2mm. The watch uses a Japanese quartz movement and has a 2-year warranty.
The band is made of leather and is 18mm/20mm wide. The straps are interchangeable, and both the case frame and the dial case are available in multiple colors.
I favor this watch for all suit colors and all formal occasions. It's simple, neat, and minimalistic – everything we said one dress watch should be.
Fossil The Minimalist
Fossil is one of the most famous watch brands worldwide and a name that speaks of itself. They produce good-quality, fashionable, yet affordable watches.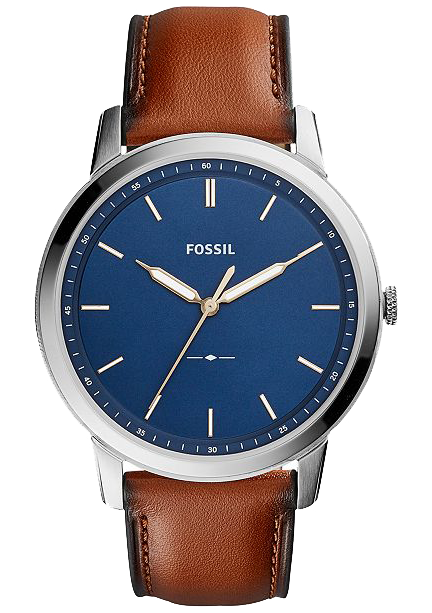 The Minimalist by Fossil is a lovely watch at an even better price. It's a combination of a 22mm brown leather band and a 44m silver case, with a case thickness of 8mm.
The blue dial case matches perfectly with a blue or navy suit. As a simple and minimalistic dress watch, consider it a choice for all formal and business occasions.
Emporio Armani AR2457
Subtle and stylish stainless steel chronograph watch from Emporio Armani. Perfect for those who seek a trendy and stylish look at an affordable price.
The case is made of durable mineral crystal and has a diameter of 43mm. The band is made of stainless steel, too, and is 22mm wide.
Again, chronograph watches are not designed for the most formal dress codes. Instead, wear it in more casual settings, such as business or semi-formal events.
Timex TW2R63900
Timex is a fashion-detailed watch brand that's been around since 1854. But this particular model represents a slightly different and more conservative look.
The watch case is made of brass. The case diameter is 41mm, and the thickness is 8.5mm, with Latin numerals and glass made of sapphire.
It features a Japanese quartz movement made from Seiko, also known for its high quality and durability. All in all, this is a nice affordable dress watch.
I recommend this particular watch with lighter suits since the band reflects the light impressively. However, you can find it with various leather bands and display case colors.
AX Armani Exchange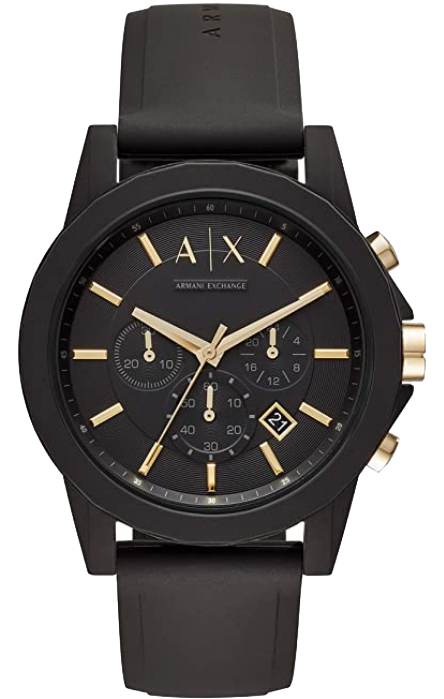 The AX Armani Exchange has an analog quartz and chronograph movement. With a case thickness of 12mm and a size of 45mm, it's a great fit for most suit wearers.
The watchband is made of silicone, with a width of 22m and a circumference of 200mm. A lovely chronograph watch at an exceptionally affordable price.
Since the AX Armani Exchange is available in various colors, I recommend it with all suit colors. If the event is formal, you may want to skip this one and choose a simple dress watch.
Michael Kors Layton 8781
Michael Kors Layton is one of the simplest yet incredibly beautiful chronograph watches. It features a 45mm stainless steel case, 10mm thin.
The dial case has a quartz control movement, and the glass is protected with mineral crystal. It's an avant-garde and stylish watch that goes along well with light suits, such as blue or beige.
Citizen Eco-Drive
Citizen Watch is another famous Japanese watch company that produces high-quality, good-looking, and affordable watches.
One of their most popular products, Citizen Eco-Drive, is a water-resistant diving watch up to 200m. The case size is 45mm, and the cover is made of mineral crystals.
Suitable for semi-formal attire, like cocktail parties, etc. Match it with a dark suit, like black or navy.
Daniel Wellington Classic Durham
Designed in Sweden, Daniel Wellington Durhan gives a nice and classic touch to your suit. It's affordable, minimalistic, and clean. With a case size of 40mm and 6mm thin, it feels pretty light.
I've purposely chosen this light-brown leather version to give you some good options for lighter suits like khaki, beige, or cream.
In addition, the bands are interchangeable, and the watch case is available in multiple colors. So it's really one of the best cheap watch choices you should certainly consider.
Things to Consider When Matching Watch to Your Suit
Fitting your suit correctly is one of the essential steps in making the perfect silhouette. But now that you have suited up, it is time to put the finishing touches on your ensemble.
Matching the right shoes and accessories with your attire can significantly enhance your overall look. Just like there are rules when you match your sunglasses, the same applies to watches.
A watch pulls your wardrobe together and serves as a reflection of your personality. To create an effortlessly chic appearance, you need to find the right watch to match your suit.
Know the Occasion
Just like you match your clothing to the event, it is essential to match your watch the same way.
All suit accessories you wear should always reflect the tone of the occasion. If one piece is out of place, it throws off your entire look. Likewise, your watch should seem a natural extension of your clothing.
For a more formal look, keep your watch simple. It should have a dark leather band with no distraction on its face. Opt for a watch with no distractions; it only needs an analog clock.
Your watch options begin to expand as you get more casual in your dress.
Match the Color
Color is another attribute to consider when looking to match your watch to your suit. Common fashion sense dictates that you do not want your clothing colors to clash. This extends to your watch. It can make or break your ensemble.
A surefire way to ensure your watch is appropriate is to choose one that is the same color as your suit. Nothing is easier than matching color for color. It creates a monochromatic extension of your jacket sleeve.
It may not always be possible to match your suit color to your watch. Another reliable route is to match your watchband to your belt and your shoes. If your watch strap is leather, keep all leathers the same color.
Complementary colors are usually a viable option. If the clothing colors are in order with the season, they create a harmonious effect with your watch. Take yellowish clothes and a blue watch as an example.
Metals should always complement your suit. For example, if you are wearing a warm-toned suit, then a warm metal would be appropriate.
Then, to fully complete the effect, match your cufflinks and jewelry to the metal in your watch.
Choose the Size
Your watch size must be proportional to your body type. If you have a larger frame, you can get away with a larger watch.
Look for a smaller one if your watch frame is on the smaller side. If your watch is too small or too large, it can look either comical or sloppy.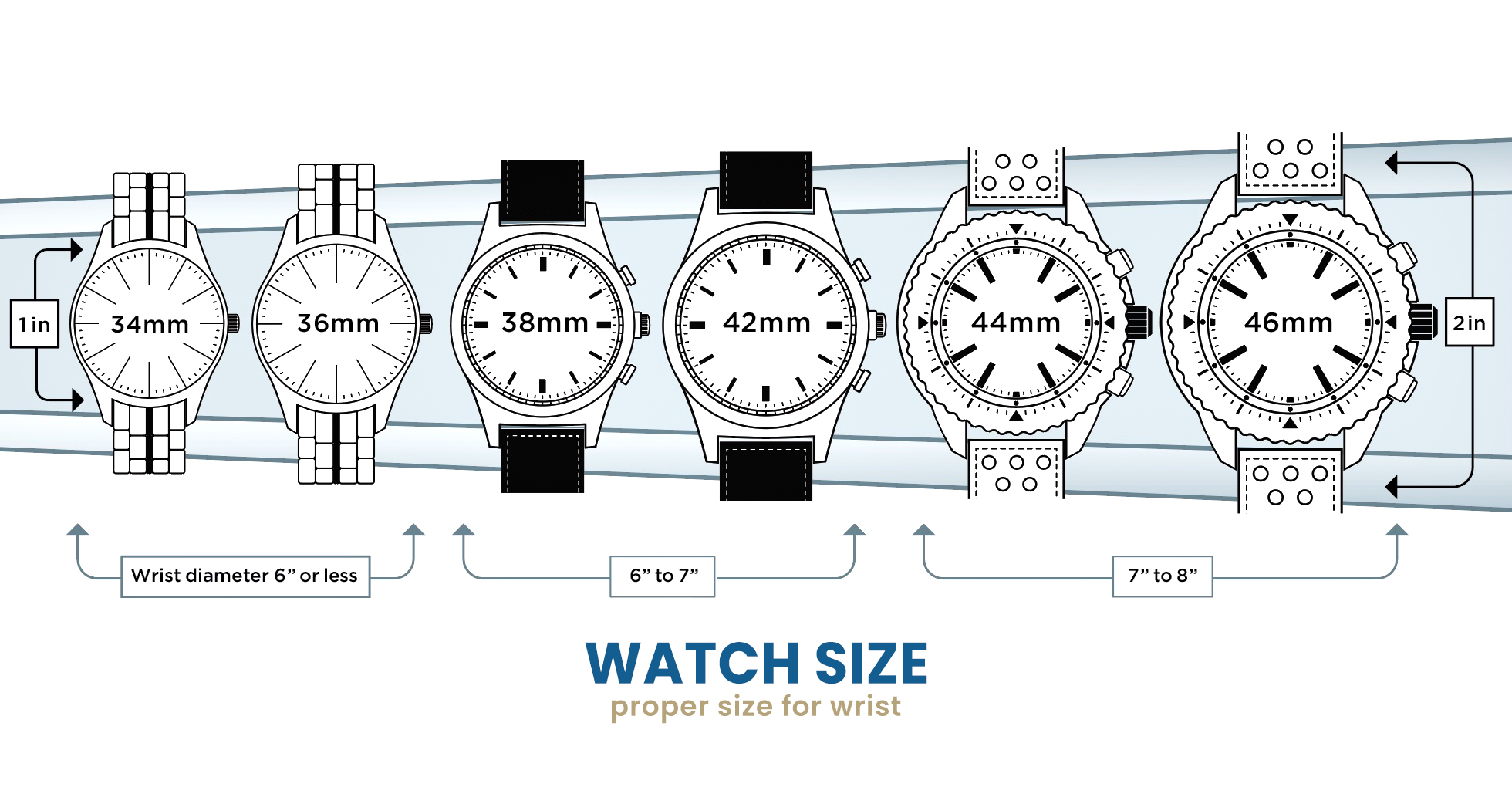 The size of your watch must also be appropriate for the occasion. For example, a formal event requires a slim watch that slides easily under your cuff.
Your watch can be larger if you are wearing a looser jacket or doing work with your hands.
Wrapping It Up
Good quality watches can also be affordable. You just have to know where to look.
Choosing an affordable watch is also a personal choice in terms of fashion and style. However, durability and quality are features that companies build for ages.
Don't forget to consider the occasion. The watch category and band material determine the formality of the watch.
Then, pay attention to your suit's color and wrist size to match the watch case diameter.
Author: Alexander Stoicoff
Hi, I'm Alex, and I've studied and specialized in styling in Rome. Through my writing, I want to help men dress well and learn the purpose and significance of suits and other formal attire. My final goal is to make men more confident in their wardrobe choice and life in general.