When we talk about affordable suits, we usually mean suits costing less than $500. But while we all love a bargain, nobody wants to end up looking cheap.
Any outfit is an investment, and I'm here to help you find a suit that's good quality. Yet, still affordable.
Top 15 Best Affordable Suits Online
There are some high-quality, affordable suits you can buy online. Some of them are made-to-measure, too. You just need to know what to look for.
Check out the following suit reviews to help you choose from some of the best cheap suits online, especially if you don't have the time or money to waste.
Calvin Klein Slim-fit Suit: Separates
One of the best features of this chic yet cheap suit by Calvin Klein is that it's sold as separates.
Some bodies aren't as proportional as clothing manufacturers believe, so suit separates are a blessing.
The material for this suit is a wool blend, with a bit of lycra spandex in the mix. Thanks to the spandex, this suit is great for movement; it doesn't feel restrictive.
You can choose between black, navy, charcoal, or blue. However, I wouldn't blame you if you wanted to order one in each color.
The suit jacket is a two-button enclosure with flap pockets. The jacket collar is a notch lapel, making this an excellent suit for work or cocktail events.
The pants sit low on the waist, extending the suit's modern vibe.
Suitsupply Blue Wool Slim-fit Suit
Here's a stunning pure wool men's suit from Suitsupply, imported from Italy.
Suitsupply customizes all the options on their men's suits, so customers can get exactly what they want. However, some customizations can increase your price.
This suit jacket has light padding on the shoulders and a single-button enclosure.
In addition, it has a boat-shaped breast pocket, just perfect for holding your elegant pocket square.
These fashionable suit pants are flat-front style and have a hook and button closing. Perhaps the best feature of these pants is the inclusion of an after-dinner split.
You'll be grateful for this after a few dinner parties.
Tomasso Black Italian Wool Suit
This blue two-piece suit is made of high-quality Italian wool (100% Merino wool), looks beautiful, and comes at a reasonable price.
The suit jacket is fully lined, comfortable to wear, and allows a wide range of motion. It features a two-button closure and a notch lapel.
The pants have a double-button closure with a zip fly. Also, they are not hemmed; this enables you to easily customize the length to your measurement.
The reason behind their allure is simple: high-quality material and luxurious design for an affordable price.
Also, it's available in both slim and modern fit. The list of choices extends with color, as it's available in black, navy, light grey, and charcoal.
The superb lining makes it great for all formal events, including weddings and business meetings.
Hockerty Royal Blue Perfect-Fit Suit
Hockerty offers the best customizable and made-to-measure cheap suits online.
You'll be amazed when you check all the possible features you can design on your suit and compare the price with the quality.
Why the perfect fit label? Because they adjust their men's suits according to your exact measurements.
This cheap suit's design makes you look modern and sharp. It's made of nice-quality wool-blend material (80% wool and 20% terylene), making it comfortable, soft, and smooth.
The jacket has one button closure and three flapped pockets, making you look stylish. In addition, it has a notched lapel and a pretty slim cut on the shoulders.
The pants are flat front and middle-waisted. Thanks to their 3D customizer, you can customize the waist, as you can customize whether they can come with or without pant cuffs.
Hockerty offers a plethora of inexpensive suits perfect for all kinds of settings and meetings, including all types of formal events. They are the best price-per-quality place to buy cheap suits for me.
Express Classic Solid Charcoal Suit
Express is one of the best platforms to buy mens suits online that has some timeless designs. What's not to love about selling suits that are wrinkle-free at accessible prices?
The suit jacket and suit pants are also sold as separates. They are made from a polyester blend infused with spandex, so you won't feel restricted when you move about your day.
This classic fit suit is fully lined and only comes in charcoal, which is super versatile. The two-button suit jacket has flap pockets, with a welt breast pocket and a center vent.
The pants have slanted pockets in the front and back welt pockets with button closures.
Suitsupply Grey Wool Slim-fit Suit
This dark grey affordable suit is 100% pure wool and is eligible for the same customization as all other Suitsupply suits.
The jacket has a notched lapel and padded shoulders. It's single-breasted, with two buttons. The pants are flat front and have an after-dinner split.
This suit is ideal for all of your professional business dealings. Whether you're going for a job interview or a board meeting, you'll make a huge impression in this beautiful suit.
Suitsupply genuinely helps you buy an affordable suit online, offering well-made suits at accessible prices. Also, they work toward fair trade practices and are CO2 neutral.
Kenneth Cole Reaction Slim-fit Suit
You'll be able to purchase this inexpensive suit in any number of colors and prints.
It's a two-piece polyester suit blend but is great for mobility.
The suit jacket features flap pockets at the front and a notch collar. You can wear this suit for almost any occasion, depending on the color of the suit.
The suit pants have a flat front, which puts this suit firmly in the contemporary column. In addition, they come unhemmed, which only makes them better.
The odds are that you'd have to take them to the tailor anyhow to get the length correct. So they just leave them unfinished and make the tailor's job easier since he doesn't need to remove any stitching.
Calvin Klein X Slim Fit Suit
Calvin Klein is among the affordable suit brands that highly focus on comfort and movement. If you want to take your office wear to the next level, this is one of the best suits for the job.
The jacket features a notch lapel and has a two-button closure. The fit makes it slim through the chest and shoulders.
The pants are straight and un-hemmed and can be tailored to your length. The waist is slimmed, too, just like the hips and thighs.
The suit fabric makes it ideal for an everyday suit, perfect for business and formal occasions.
Wearing it as a wedding suit will guarantee elegance and distinction from the others.
Tommy Hilfiger Modern Fit Suit
This iconically designed American suit is made of very particular fabric (52% wool, 46% polyester, and 2% spandex) for Tommy Hilfiger. These men's suits are stylish and modern, perfect for all seasons.
The jacket's two-button closure and notch lapels are combined with the eased shoulder and chest modern fit.
The pants are upgraded with a gentle taper but are very comfortable and easy to wear.
I always recommend visiting a tailor when buying suits online to have your pants shortened and tapered perfectly for your size.
The fabric provides a lot of comfort and movement. Thus, it makes this suit perfect for various business occasions, long working hours, or other semi-formal events, like weddings.
Bonobos Jetsetter Stretch Wool Blue Suit
You'll find an abundant selection of suit colors at Bonobos.
This suit is a wool blend, so it's great for any season. You can choose either a slim fit or a classic fit cut.
The suit jacket features flap pockets and venting at the sides. It's single-breasted with two buttons. Both the pants and the suit jacket are fully lined and durable.
This inexpensive suit would turn heads if you wore it to your next wedding event or for an afternoon outing. However, you could also wear this to the office if it's a business casual atmosphere.
Salvatore Exte Classic Fit Suit
This suit set consists of a classic-fit jacket, vest, and flat-front pants.
The jacket is single-breasted with a two-button closure and a notch lapel. It has characteristic dual side vents, thus making it look serious and formal.
The flat front pants have an unfinished length and can be adjusted according to your preferences.
The waistcoat has two choices. Whichever you choose will finish the three-piece set lovely.
The fabric (rayon and polyester) makes this suit super-comfortable and durable.
Also, the price is more than affordable for a three-piece suit. The deal and the quality this suit brings will amaze you.
Salvatore Exte Modern Fit
This suit is an addition to the Salvatore Exte classic fit. The modern fit is considered to be something between the classic and the slim fit.
The jacket is still with a two-button closure and a notch lapel. The difference is the center vent and the additional pocket.
The vest is breasted with seven buttons, with an adjustable belt to the back of the vest.
These changes give more power than the classic version, making it more suitable for meetings and business occasions.
I like this suit and strongly prefer a modern fit over a classic cut. However, it's all up to the event and the image you want to present.
Calvin Klein Slim Fit Wool Suit
The slim-fit suit jacket features a notch lapel. In addition, it is one of the best cheap suits you can find in this price range.
The pants are not hemmed, so you have to have them tailored.
The suit is excellent for business meetings, interviews, or wedding-related events. You will receive plenty of compliments for the choice, and stand you out from the rest.
Keep in mind that the suit is slim-fitted and is preferable for slightly skinnier people.
Calvin Klein offers low-cost and affordable men's suits online with exceptional quality. This one is no exception!
Tommy Hilfiger Classic Stretch Suit
Tommy Hilfiger provides some of the best suits for men with exceptional quality.
Its modern look and sophisticated design bring an aesthetic to the wearer.
It's made of high-quality fabric (52% wool, 45% polyester, and 3% spandex) and feels very comfortable and easy to wear.
The suit jacket has a notch lapel with a two-button front closure with double vents at the sides.
The pants are flat-front with off-seam front pockets. Don't forget to make them tailored to your length.
The suit itself appears much more expensive than the actual price.
Perry Ellis Slim Fit Suit
These stylish suits are worth every penny. The fabric (81% polyester, 17% rayon, and 2% spandex) is light-weighted and comfortable to wear.
Although it's labeled as a slim fit, it looks more like a traditional classic suit.
The jacket features a two-button closure and a notch lapel. The pants are hemmed and fit well at the waist and seat.
This cheap suit brings comfort to your everyday office wear. Thus, you don't have to be wealthy to wear suits of this caliber.
Alain Dupetit Slim Fit Suit
This is one of the cheapest suits on the market.
It is made of a cheap suit material (100% polyester) but is highly breathable and lightweight.
The cut is noticeable by its comfort on the chest and waist, leaving plenty of room for flexibility.
The suit jacket exhibits a little bit of extra room in the front. It's a standard two-button closure with a notch lapel.
The pants have no pleats, which makes them slimmer and more modern-looking. In addition, they are not hemmed, so additional alterations may be needed.
Price Range & What to Expect
When looking to buy inexpensive suits online, we consider the suit price crucial in our selection.
There are several crucial factors that distinguish an affordable suit from an expensive one, so it's best to know how to make the most out of the money you're going to spend.
Therefore, I've classified the available options into three different categories:
Basic: Below 150$
Believe it or not, it is possible to find men's suits that look decent for this price. However, keep your expectations fairly low.
The fabric is the main reason for a suit coming in at this price range. They will usually be made of polyester.
However, try to find one that's at least a poly-viscose blend.
The viscose will immediately mean that it breathes better and has a bit of "give" to allow better movement.
In this price range, the suit will be constructed by fusing rather than by being stitched together.
Consequently, it means that it will deteriorate after laundering it a few times.
Intermediate: 150$ – 300$
If you can increase your budget to this bracket, it will make a big difference to your suit's quality.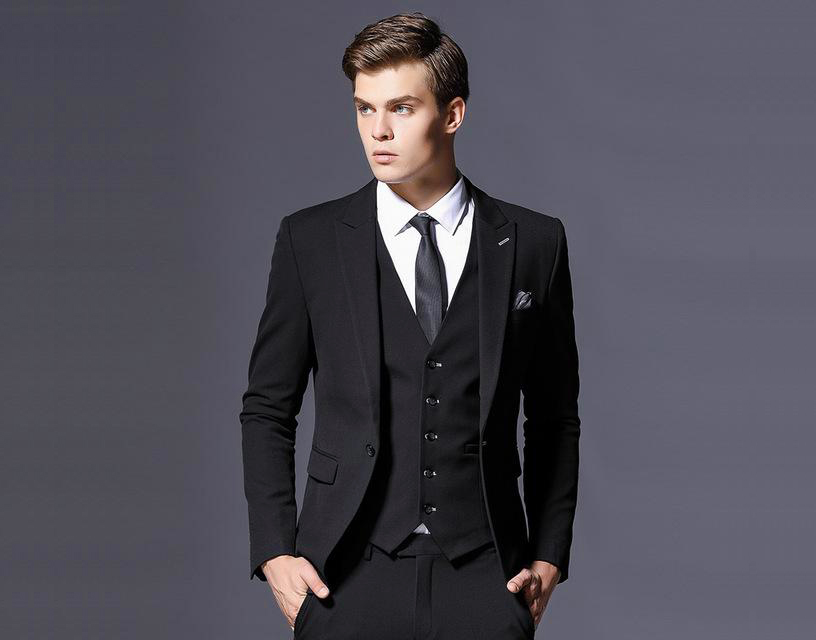 And when you consider the difference, it is the cost of a dinner for two. So, it's doable for most!
Many cheap suits in this price range will be made of better fabrics, such as wool blends. Also, the cut will be more tailored than trendy, with more roominess.
At this price, not only does the fabric improve, but also the way it's constructed. Expect a finer stitch count and better linings. There will be more detailing too.
Advanced: 300$ – 500$
At this price, you can expect to get a lot more bang for your buck. Investing in a suit in this price range will pay off if you plan on wearing it more often.
Plus, the design will be more generous and the proportions better.
As a result, the cut can be more classic than trendy, and you'll also be able to access better fabrics, such as pure wool.
Things to Keep in Mind when Buying Affordable Suits
Let's be honest and say that you're not going to get a handmade suit for under $500.
When buying a new suit, your job is to find the right balance between quality and budget.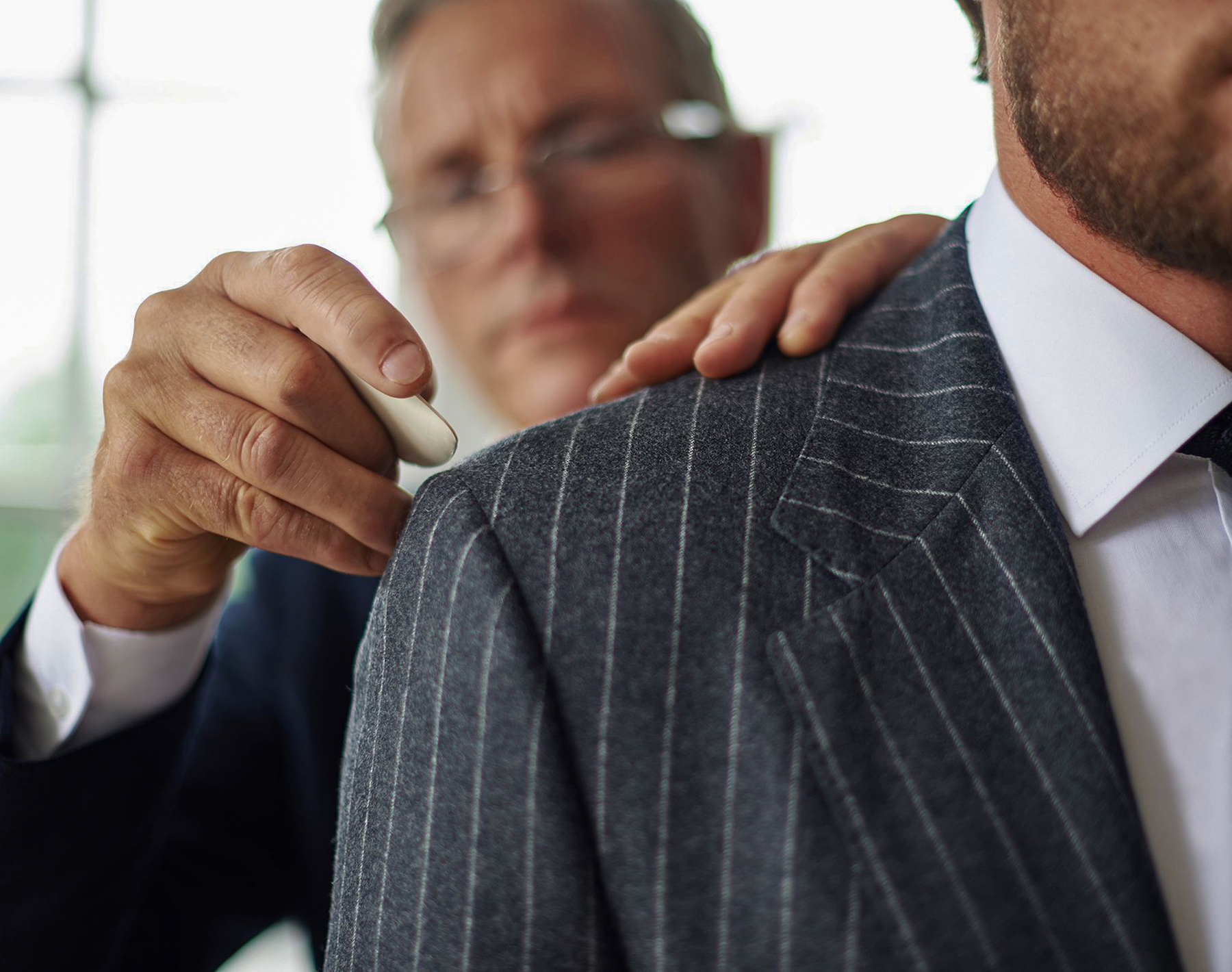 Look for a well-fitting suit made from good quality fabric. Even better, alter your suit. A made-to-measure suit will perform well on so many levels.
Have Your Suit Altered
When you buy affordable suits online, they might not come in as a perfect cut for your body type.
Nonetheless, you should always be properly measured by a tailor when you buy a ready-to-wear suit.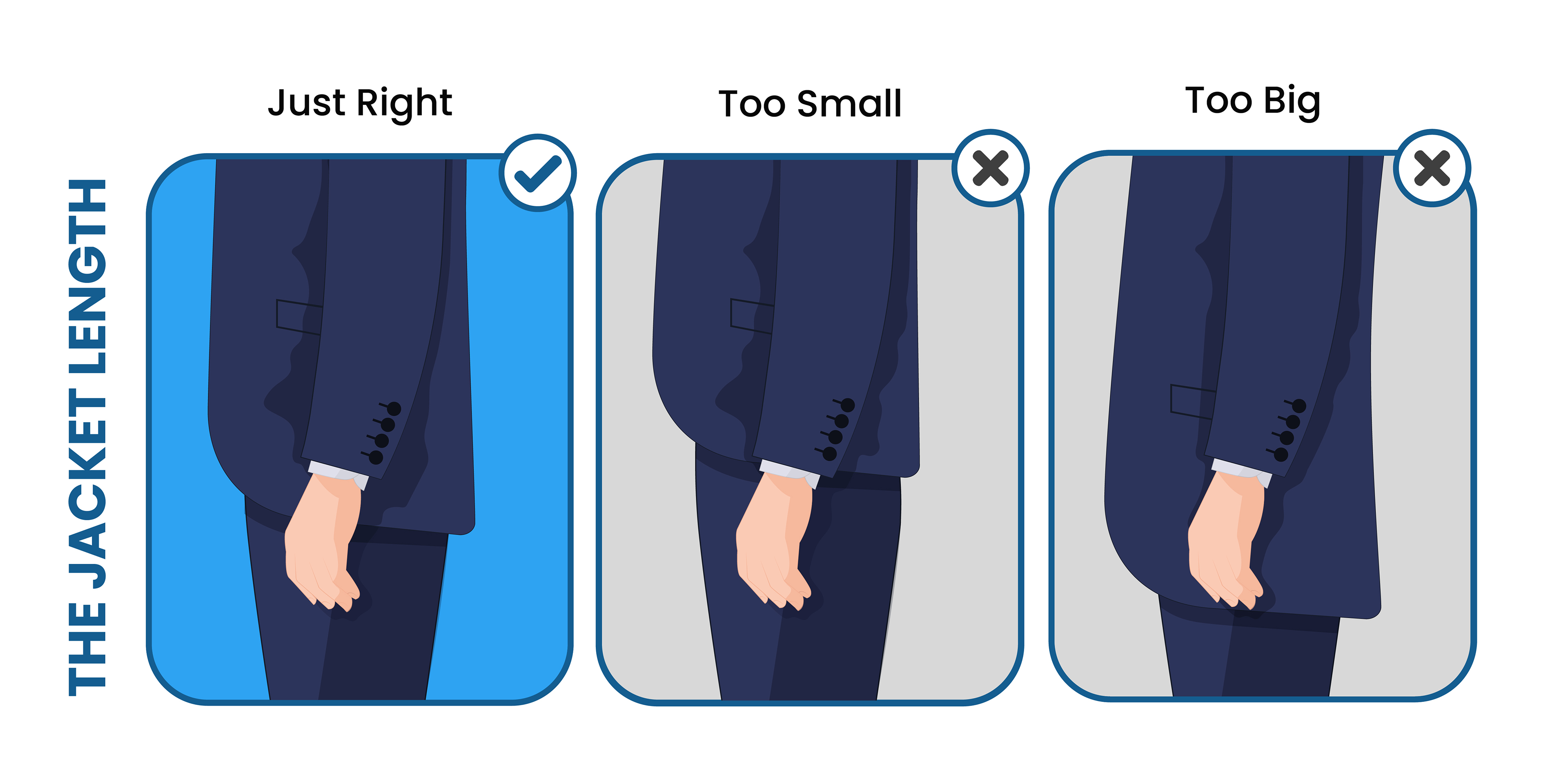 These measurements will help you find the perfect fit when buying suits online.
If you still have something left in the kitty, take your store-bought suit to a tailor.
Have them make the necessary alterations. For example, you can ask your tailor to make a slim, tapered leg and a clean trouser break.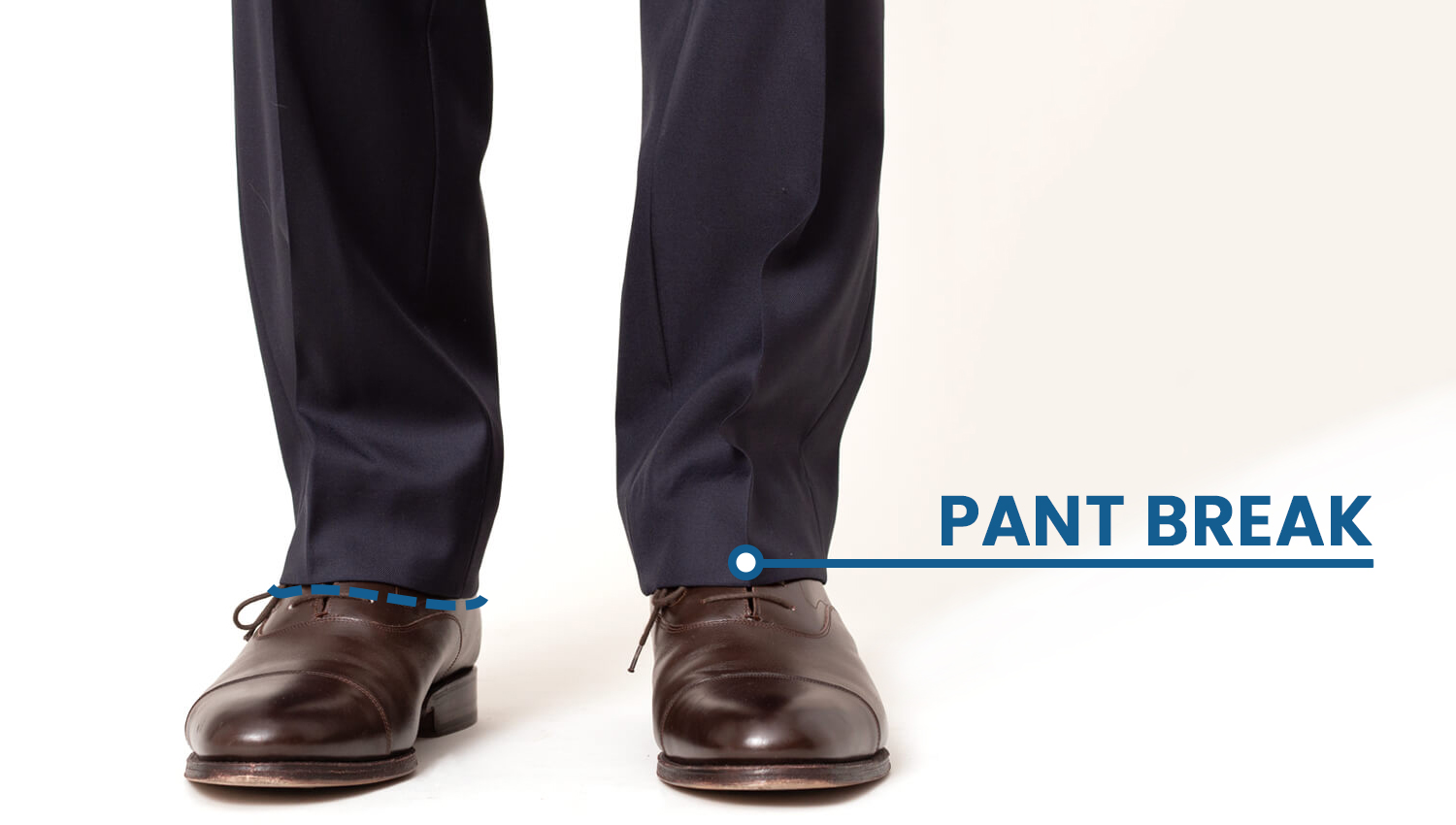 Or you can add a cuff at the bottom. It's a small but effective detail, not often found in cheap suits.
It's All About the Details
A good fit will always compensate for a cheap suit fabric and the lack of superior stitching and decadent detailing.
That's because cheap suits are almost always off-the-rack, and they neglect almost everything crucial to your suit, like the fit.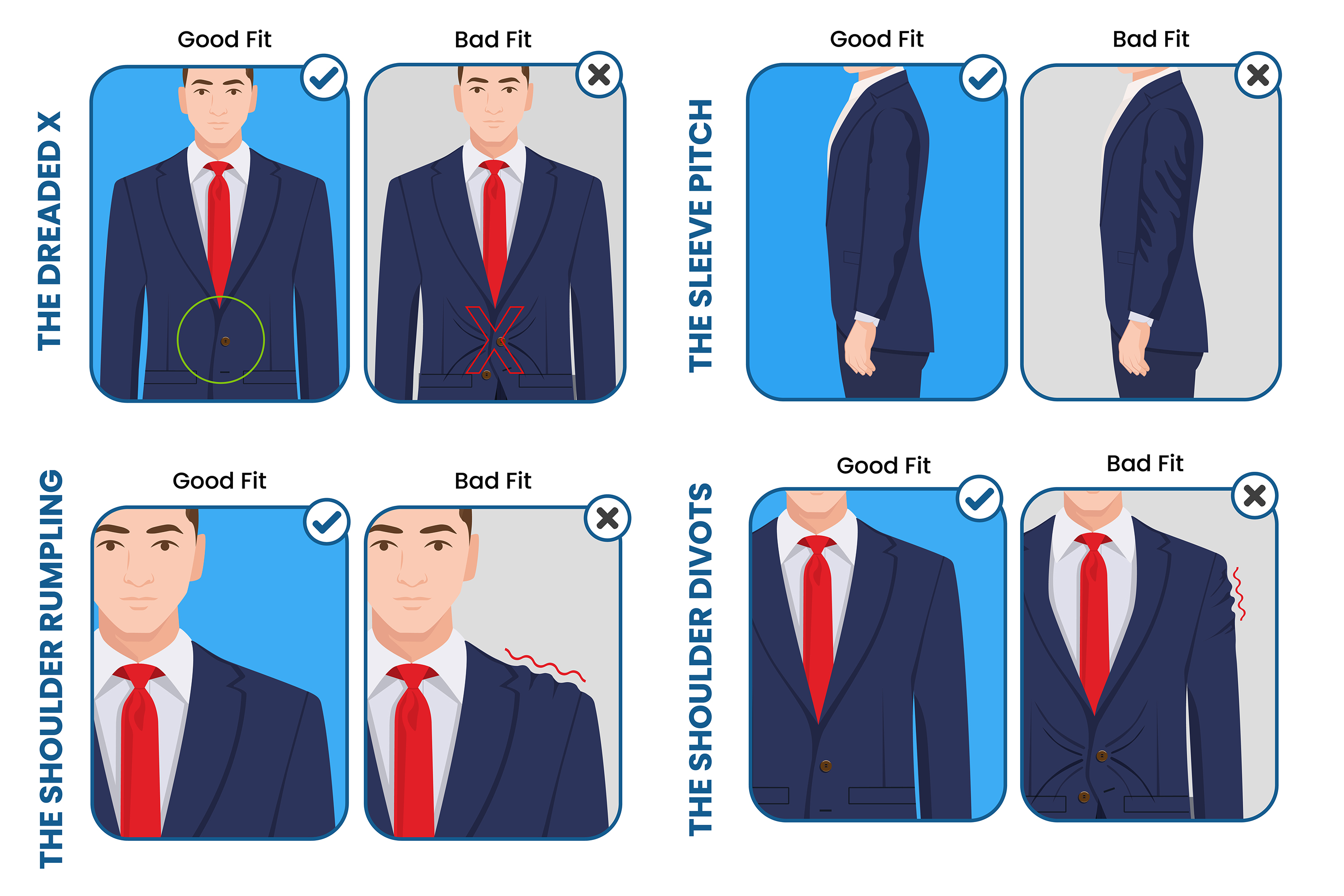 The next best option is a custom-made-to-measure suit.
That way, you can customize the size and all the other suit details, like the suit color, the lapel, the number of buttons, or the pocket styles.
Know the Occasion
Identify the dress code and the occasion you will wear suits the most. Is it for work, a wedding, or other one-off formal events?
If it's for work, dry-clean your suit regularly. The best suits for business occasions are made-to-measure, made of quality fabric that can withstand wear and tear.
Mens suits for a one-off occasion will seldom need cleaning. In that case, the fabric quality isn't quite as crucial.
Decide the Color
Decide on the color and pattern you're looking for before you buy affordable suits online. Besides, this will help narrow your options down.
Very formal occasions will usually require a dark color like black or charcoal. But the everyday work suit can be navy or lighter greys.
It also helps to know which season you are going to wear a suit. That will enable you to decide on the correct fabric for the weather.
For instance, a summer suit will need to be cotton or linen, whereas a winter suit should be wool or tweed.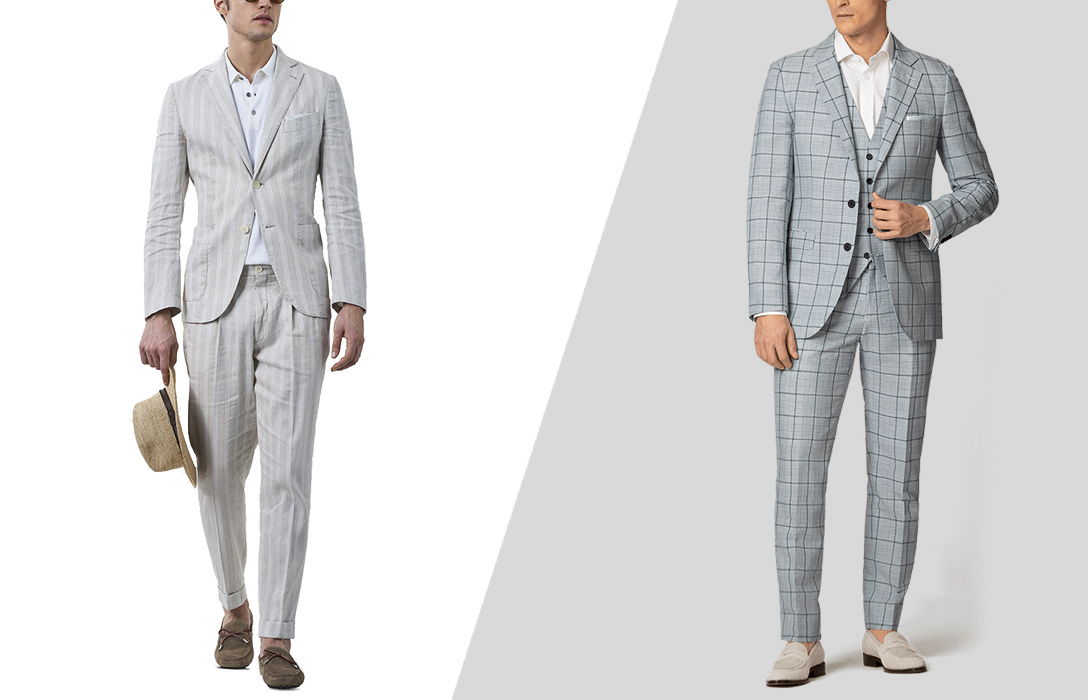 Find affordable suits with high-quality fabrics and a good fit. These two criteria will make your suit look more expensive in an affordable style.
To Conclude
I would never recommend you go out and buy the cheapest suit you can find.
Instead, it's my goal to help you look for the best suits at the lowest possible price tag.
Again, an affordable suit doesn't necessarily mean you have to sacrifice quality and fit to save a few bucks. In fact, many brands produce cheap suits of excellent quality.
No one can tell you how much you should spend on your suit.
But like everything else in life, the more you invest in an item, the better quality you get.
Mens suits are no different.
Author: Alexander Stoicoff
Hi, I'm Alex, and I've studied and specialized in styling in Rome. Through my writing, I want to help men dress well and learn the purpose and significance of suits and other formal attire. My final goal is to make men more confident in their wardrobe choice and life in general.