Finding the best men's dress shoes can feel misleading, especially if you have to match them with the right suit.
When you think about shopping for a new pair of dress shoes, it seems so simple. But once you see all the choices you have, it's easy to feel overwhelmed.
And when you find a pair that you think looks nice, how can you know if they are suitable for your needs? There ought to be a class on selecting dress shoes for men.
The good news is that with a little bit of fashion knowledge in your back pocket, you can feel prepared the next time you enter a shoe store.
Once you know the basics of the different types of dress shoes, you just might even have fun buying your next pair!
Top 10 Best Dress Shoes for Men
The right pair of dress shoes for you will boil down to a few different factors, which will be different for each person.
Most of all, you'll want a pair of dress shoes that offer some level of versatility. In addition, your shoes should be appropriate for many of your dressing needs, when possible.
But with that being said, you should have a couple of pairs of dress shoes in your closet. Just one color won't satisfy all your dressing needs, and neither will one style.
Above all, comfort is essential. No matter how stunning a pair of dress shoes is, they're worthless if you can't walk without limping in them.
So be sure your dress shoes are constructed in a manner that suits your foot.
1. Ace Marks Leather Black Plain Toe Oxford Dress Shoes
This shoe is about as classic as you can get. Ace Marks has handcrafted this Oxford shoe, made of full-grain, antique Italian calfskin.
These shoes come in a large variety of colors, aside from the standard black. You can choose from various shades of brown, including bourbon gold or even blue.
What's remarkable about this shoe is that it's constructed from one piece of leather, molded to shape your foot.
The only seam you'll find is at the heel. This also means that this shoe has a plain toe, no toe cap, in other words.
2. La Milano Leather Black Oxford Dress Shoe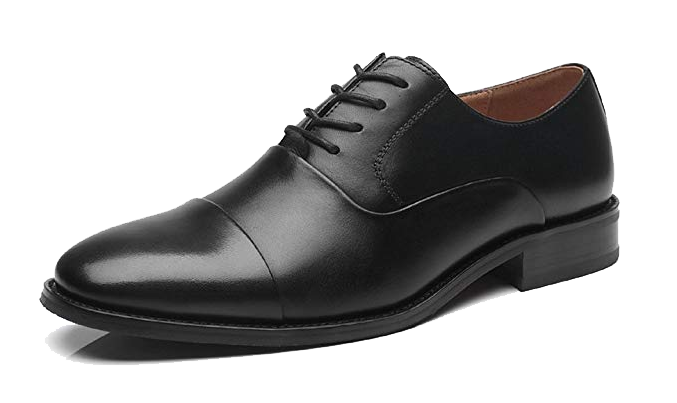 These oxford men's dress shoes from La Milano are impeccable. You can pick between black or a few different browns, all made from hand-painted Argentinian leather.
You'll be able to personalize your style with these La Milano's. These Oxfords vary in broguing, vamp, and facing styles. Their stitching and shapes can make your dress shoes one of a kind.
3. Bruno Marc Patent Leather Black Oxford Dress Shoes
You can't go wrong with these patent leather beauties for an affordable pair of Oxford dress shoes.
The shoes are designed by Bruno Marc and are perfect for both formal suits and tuxedos. Also, you can get these in either the standard black or dazzling white.
The downside? They are not made of real leather; they're faux patent leather. But they are incredibly stylish with their plain toe and slight, 1″ heel.
Your feet will thank you, too, because they are lightly cushioned, allowing you a whole night of dancing.
4. Poshmark Patent Leather Pointed Toe Tuxedo Slipper Shoes
When it's time to don your fancy tuxedo, just any shoe won't do. Poshmark has designed these formal patent leather loafers, which are ideal for your most formal outings.
In addition, you can choose white beside traditional black, which is perfect if you are wearing an all-white tuxedo. For black or midnight blue tuxedos, go for black slippers.
These loafers stand out from other dress shoes because they feature a leather strap across the top, adorned with a silver metal buckle at the side.
5. La Milano Leather Burgundy Monk Strap Shoes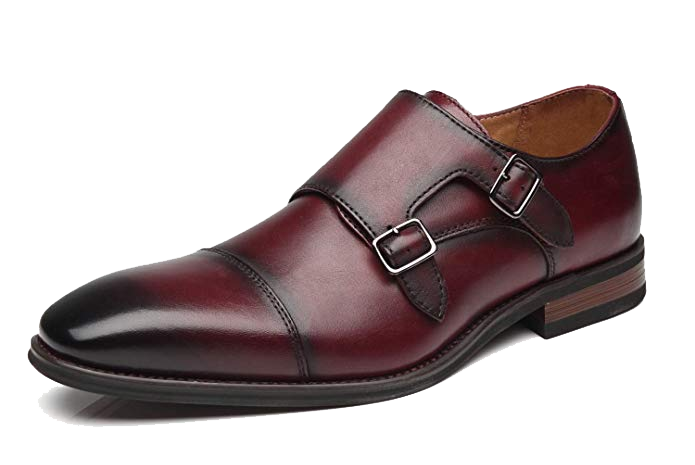 For a unique dress shoe, check out these monk strap shoes by La Milano. These double strap monk straps are made from Argentinian leather and feature a hand-burnished toe.
You can choose from burgundy, black, dark brown, or cognac. The lining is faux leather, and they have a block heel.
You'll be able to pick which embellishment you prefer for your toe, whether you like cap toe, wingtip, or a plain toe. Whichever style you decide on, each shoe has a tapered toe.
6. Kenneth Cole Unlisted Cap Toe Black Oxford Shoes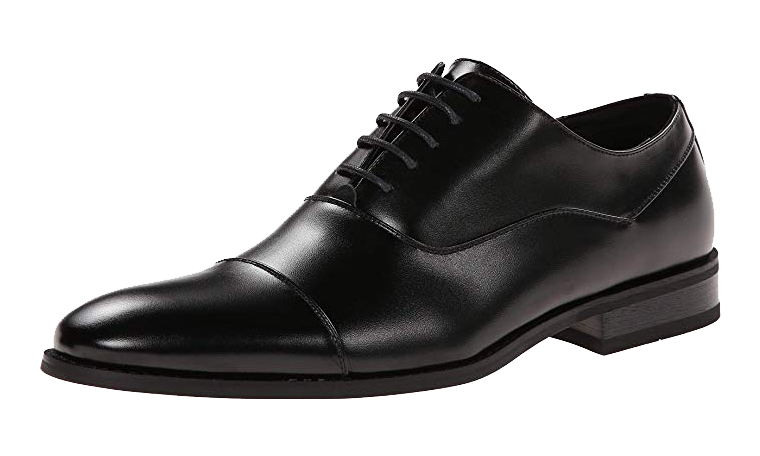 Kenneth Cole designed these Oxfords in synthetic leather with a rubber outsole as inexpensive, animal-friendly footwear.
In addition, they feature blind eyelet lacing, meaning the eyelets on the underside of the facing. This elevates their formality.
You can find these cap-toe shoes in black or a few variations of brown.
7. Bruno Marc Leather Light Brown Oxford Shoes
These Oxford dress shoes are both formal and functional. They are polyurethane synthetic leather; this means they are both durable and waterproof.
That's because the weather doesn't always cooperate when we need to dress up.
These round-toed shoes feature stitching across the vamp for a bit of pizazz. You can also find these in dark brown.
8. Ace Marks Antique Leather Cap Toe Brown Oxford Dress Shoes
Ace Marks offers another variation on the traditional Oxford. These luxury shoes are handcrafted from antique Italian leather and have leather soles with rubber studs.
These studs are excellent for preventing slips and falls.
These cap-toe shoes come in numerous tones of brown, including a contrasting dark brown with a lighter brown vamp. Can you say gorgeous?
9. Clark's Full Grain Leather Brown Derby Shoes
These square-toed derby dress shoes are a winner for a slightly less formal variation of the men's dress shoe.
The overshoe is genuine full-grain leather, so you know they are high quality. You can opt for black or brown only.
On the other hand, the sole is Thermoplastic Elastomers, which is a fancy name for synthetic rubber.
10. Ace Marks Antique Leather Brandy Monk Strap Shoes
These double monk strap shoes are phenomenal. If you want a flashy shoe, check out these handcrafted monks by Ace Marks.
You'll find them in black and every shade of brown imaginable, including a yellowish bourbon.
Also, you can get really wild with a pair of blue dress shoes! All are made from antique leather calfskin and attached to a leather sole.
What Are Dress Shoes
When it comes time to suit up, you instinctively know that particular shoes aren't a proper fit.
You are savvy enough to realize you need dress shoes, but what qualifies? How can you tell if something is appropriate?
Dress shoes come in varying degrees of formality. Not all dress shoes are suitable for all dressy occasions. Styles may vary, but you'll find that, in general, dress shoes share many qualities.
Across the board, you can expect your pair of dress shoes to be made of leather. It can be full-grain leather, calfskin, or even synthetic (although genuine leather is the nicest looking).
Men's dress shoes are most often constructed from multiple pieces of leather cut and sewn together.
These pieces form four basic parts of the shoe: the toe, the vamp, the quarter, and the facing. Each of these parts may look different based on the style of your dress shoe.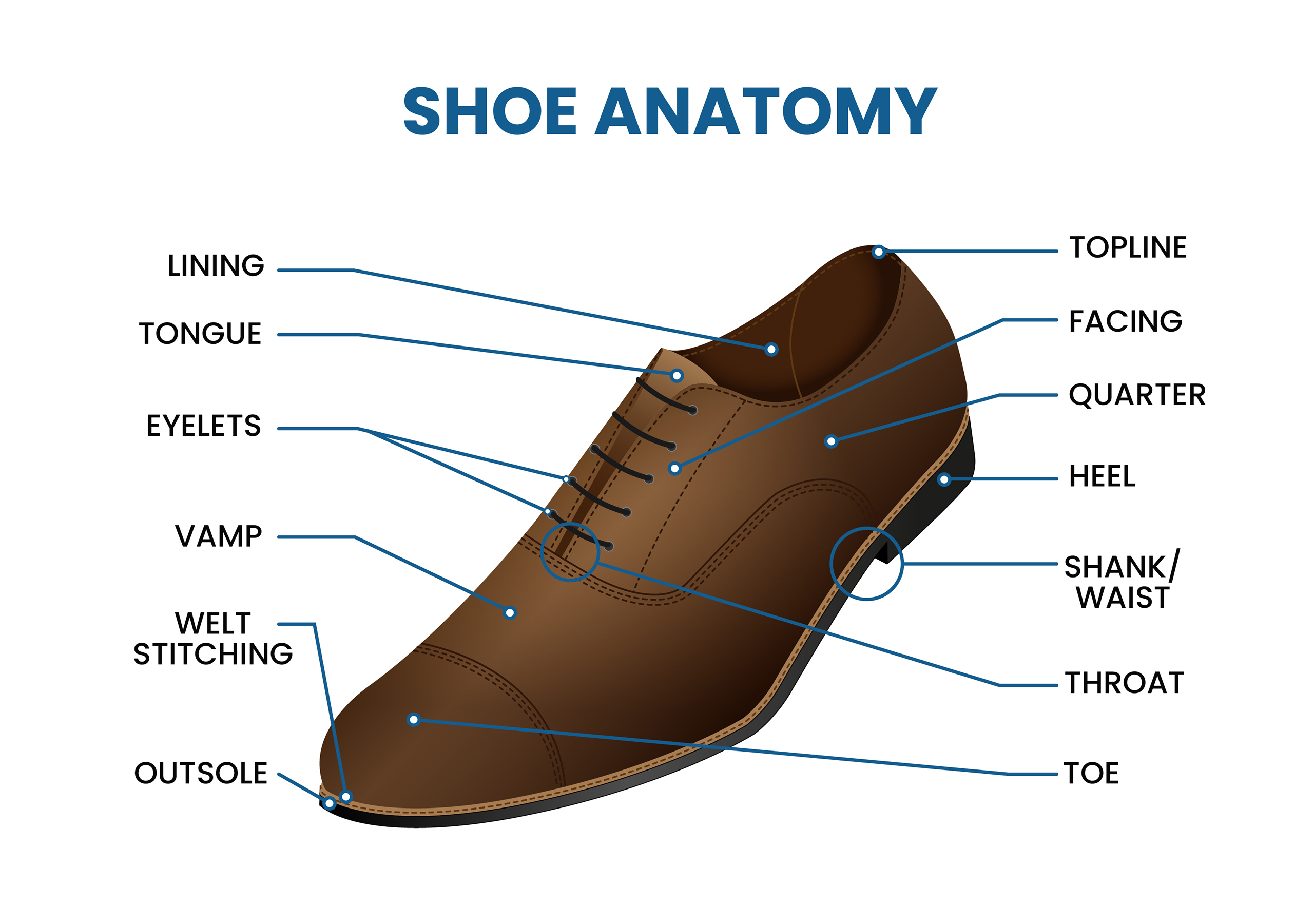 You can wear men's dress shoes with any suit. They are right to wear at a formal event or a day at the office. You can also wear ones with a wedding suit or just for a cocktail party.
On the formal spectrum, patent leather shoes, slippers, and pumps are your go-to choice when you wear a tuxedo.
And you don't even need to wait for the perfect occasion! Anytime you are looking to impress somebody, you can't go wrong with a well-crafted pair of dress shoes.
Different Types of Dress Shoes
Every event has a range of dress shoes that are considered appropriate for it. However, your choice of footwear needs to fall within the right place on the spectrum of men's dress shoes.
Your dress shoes shouldn't be too far in either direction. There is no event where only one single style of dress shoe is appropriate.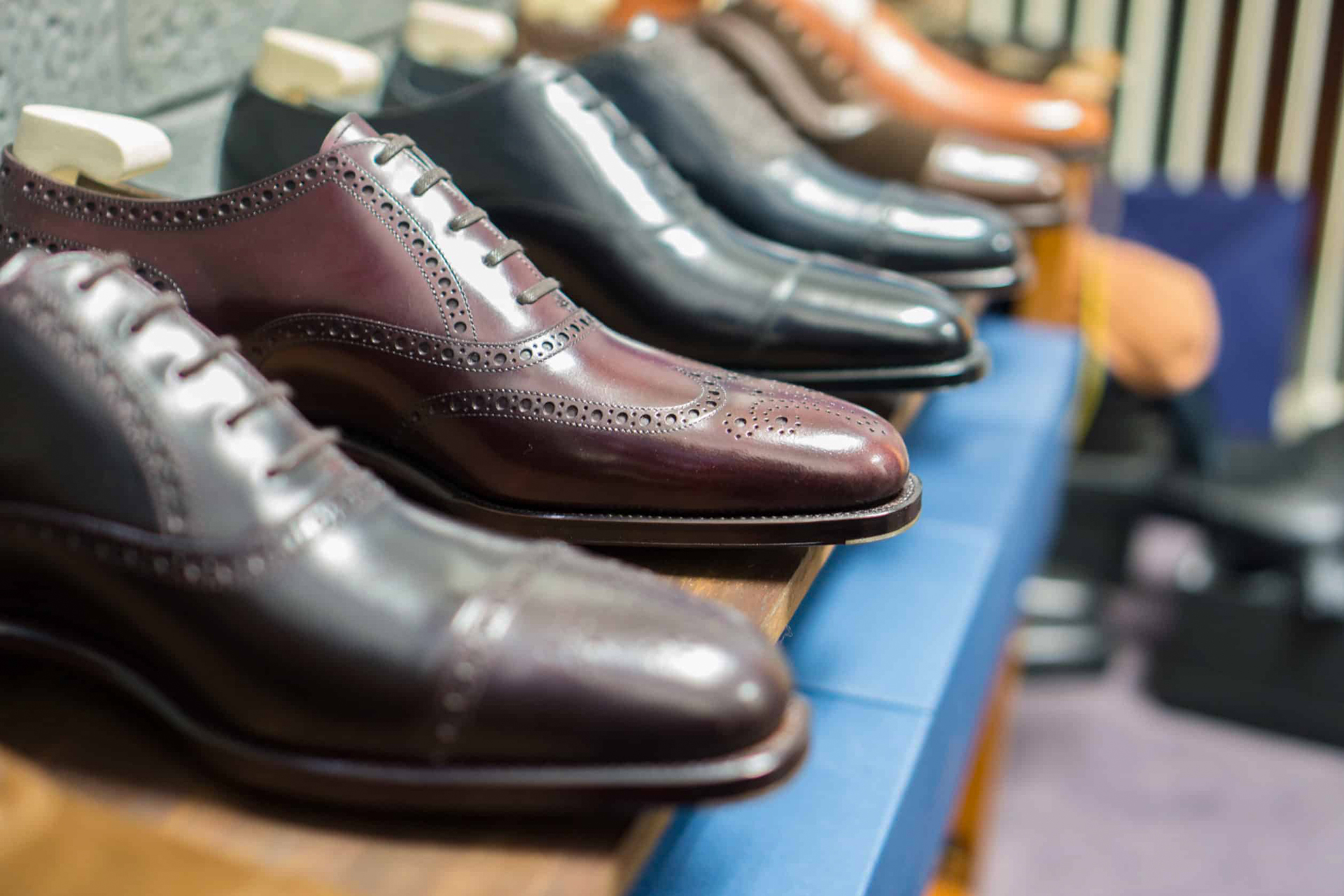 The details of the shoe themselves dictate the formality of your dress shoes. The shoe's material, shape, and even small details like the stitching all add up to define how dressy your shoes are.
Check out these dress shoes, in order from most formal to least, to learn when and where you should be wearing them.
Opera Pumps & Slippers
This style of shoe is the most formal of them all and quite possibly the least worn. Somebody should never wear opera pumps outside of the most highly formal events, which are pretty rare, to begin with.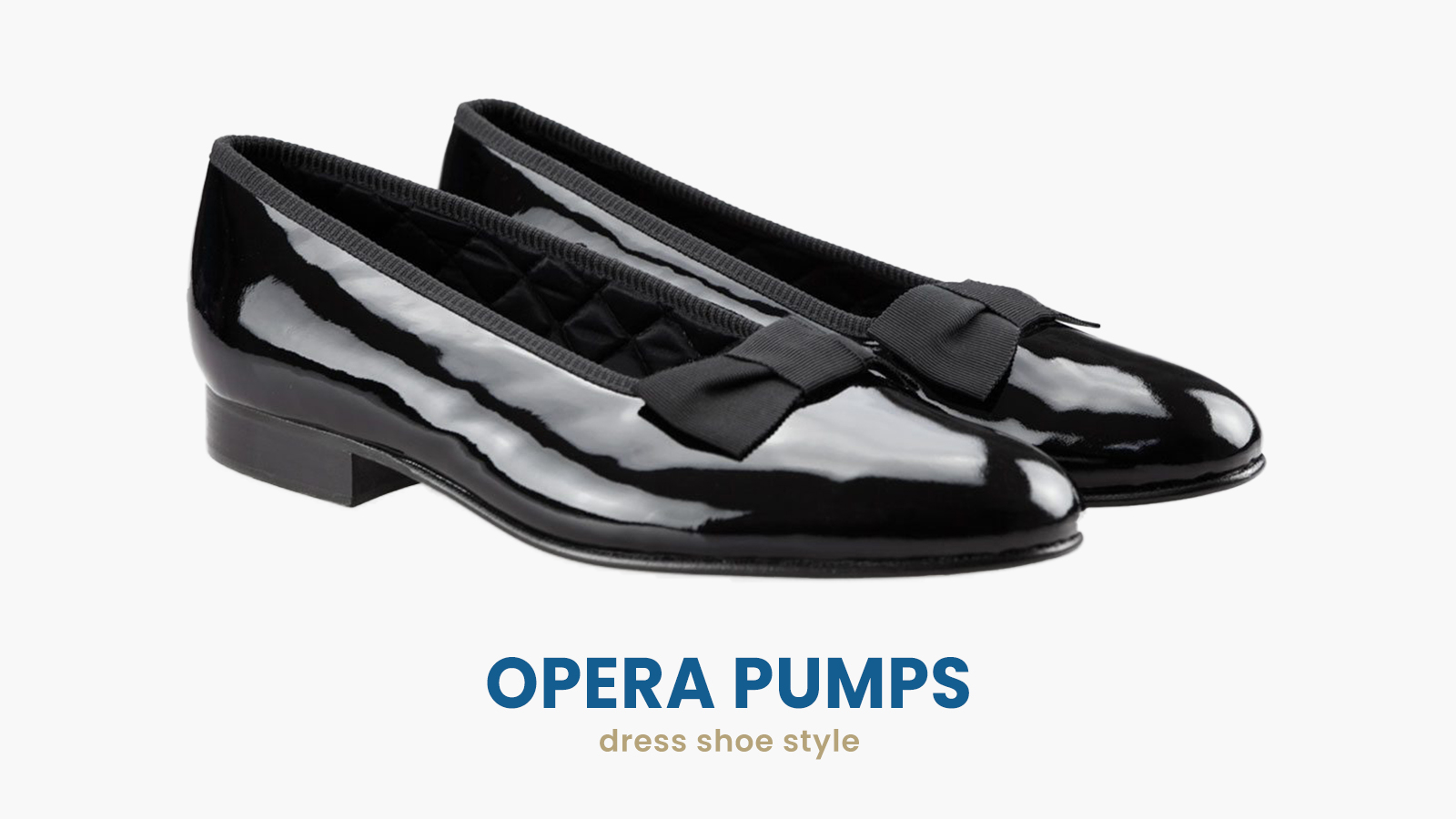 These slip-on shoes are always made from patent leather. They have a pump heel, which adds to their elegance. You'll often see a grosgrain bow accenting the top of opera pumps.
Oxford
Oxford shoes are the most popular style of dress shoes for suits. They are the most traditional style and also the most formal of standard dress shoes.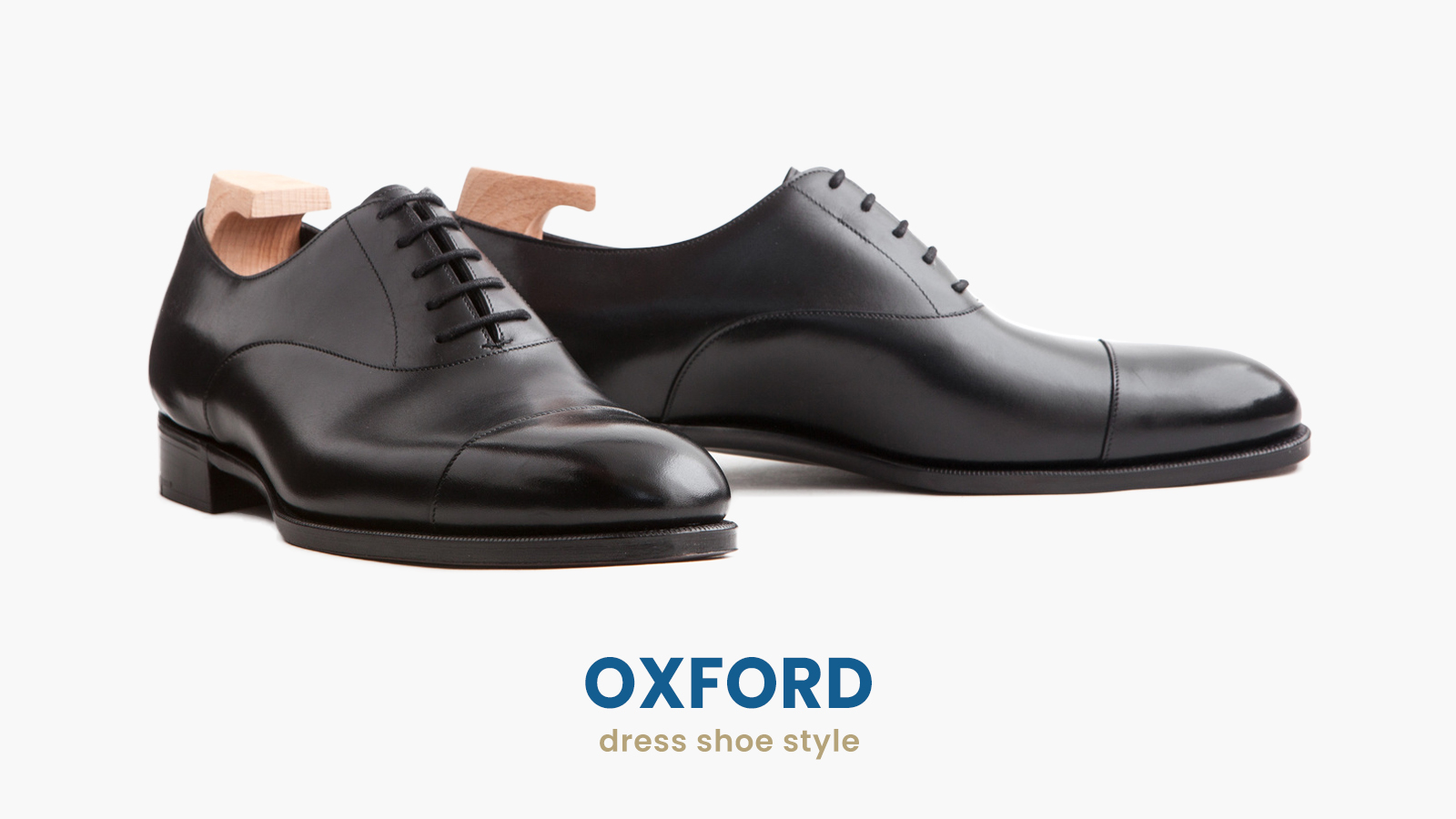 Leather is always the dressiest material for men's dress shoes, so you'll find most Oxfords made from leather.
Oxfords are recognizable by their closed lacing system, which means the eyelets are sewn under the vamp. This allows the shoes to be tightly tied, creating a slimmer, sleeker look.
In addition, Oxford dress shoes are frequently cap toed, though plain toes are also very dressy.
Monk Strap
Monk strap shoes are super easy to spot because they are so different from most other dress shoes. You'll find no laces here, which makes the suit more stylish as well.
Instead, monk strap shoes have straps and buckles for enclosures. They can have one or two straps, although double straps are the most popular style.
Monk straps can be either formal or casual by design. This is achieved by adjusting the strap widths, the shoe color, and even the stitching.
You'll find some brogued monk strap shoes, but remember that those lower the formality.
Derby
Although derby shoes are remarkably similar to Oxfords, you'll notice one significant difference if you look closely.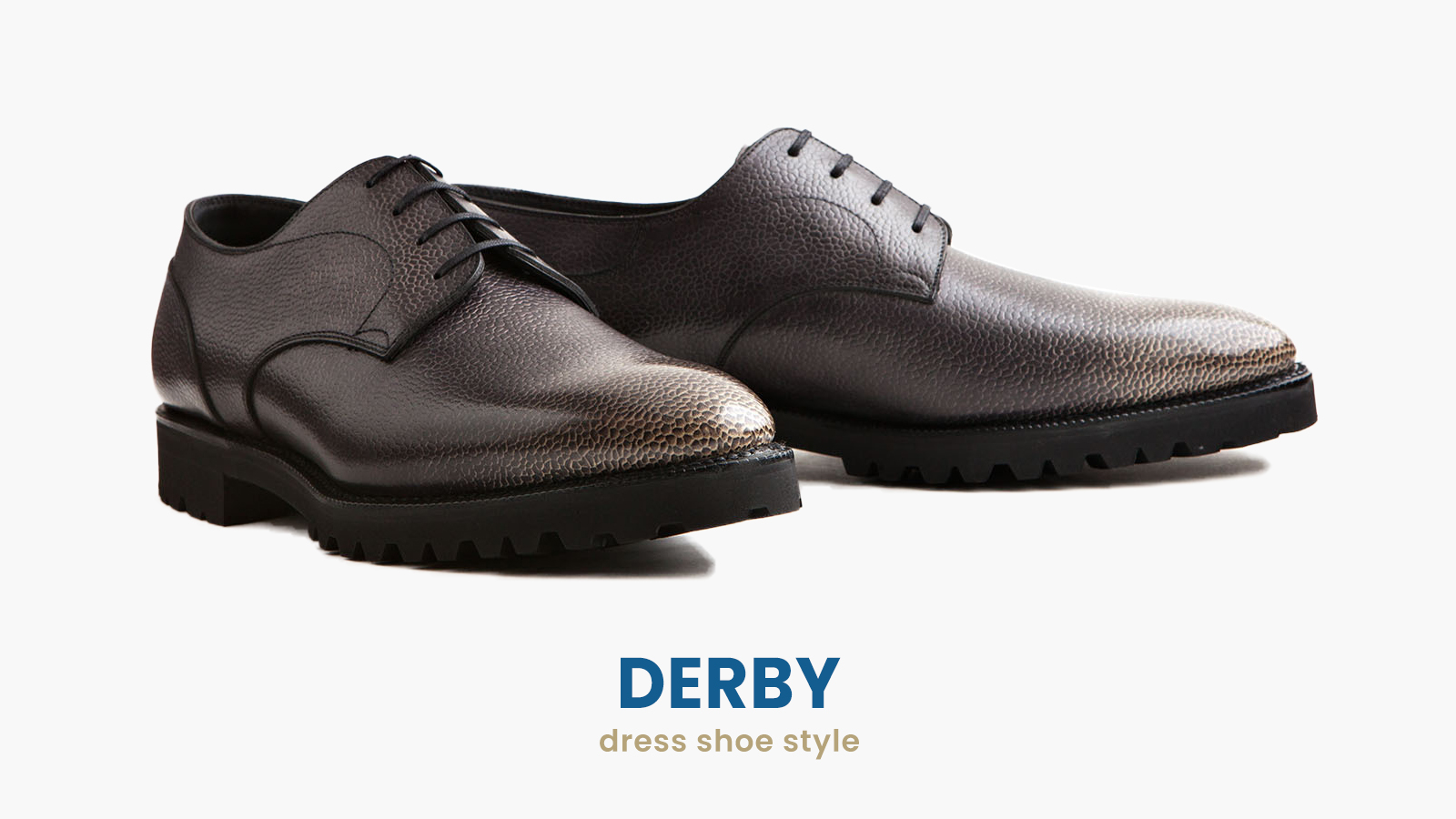 Derbies have an open lacing system, where the eyelets are on an extra flap that's attached to the vamp. As a result, the laces don't pull that close together when tied, making for a wider, more comfortable fit.
It may seem like a small detail, but it's not. In fact, that makes the whole design completely different in both looks and style. Also, it makes your suit look a lot more casual.
Derby shoes are relatively casual, but they can be dressed up. They are designed in a vast range of styles, with broguing or without.
Brogue
Brogue shoes are not a style, per se. They are more of a decorative design but are often considered their own type of shoe.
You can find them added to nearly any shoe style, but the inclusion of broguing makes any shoe more casual.
Broguing is perforations sprinkled on the shoe to create a stylish pattern. The perforations are located chiefly along select seams, but sometimes you'll find a design on the toes.
Loafer
Loafers are slip-on shoes that have a casual vibe but can offer formal touches when worn with a suit. They are most different from other dress shoes in terms of their toe seam.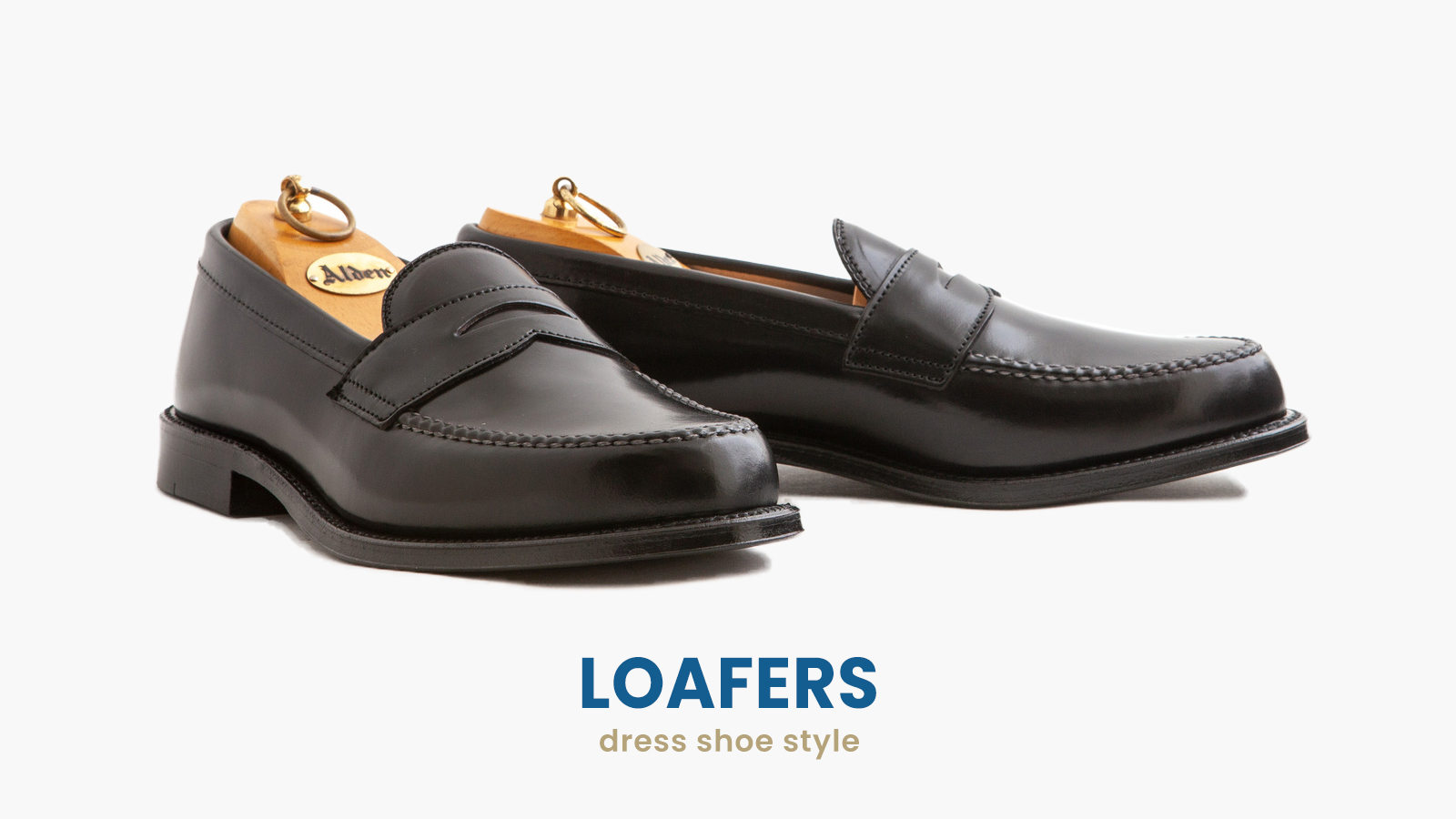 The seam is located relatively high up the foot in a very moccasin-like design.
Loafer shoes often include a decorative leather strap across the top. Sometimes a tassel or a metal bar will embellish the top of the shoe, as well.
Other Things to Consider Before Buying Dress Shoes
The style of your dress shoe is only one consideration you need to factor in when matching your shoes with a suit. There are many other factors you should keep in mind.
Think of the act of dressing up as if you are going through a checklist. For example, you know that there are firm rules in men's formal wear, which extend to shoes.
So what are the essential boxes to check before heading out to your event? If you can check off all or most of the required boxes, you can feel comfortable that you are appropriately dressed.
The Occasion You're Attending
It's only natural that formal occasions require more formal dress shoes. For example, you would never dream of wearing sneakers to a wedding. (At least, I sure hope you wouldn't!)
Conversely, you would probably feel very silly showing up to work in a suit with opera pumps. So your shoes must fit the event.
The right pair of shoes will not only help you look your best but will help you feel good. Nobody likes feeling as though perhaps they aren't appropriately dressed for an occasion.
So knowing you've got the right ensemble right down to your shoes gives you extra confidence as you start your day.
Dress Shoes Materials
Leather is the most used material for making a dress shoe, regardless of the shoe's style. But the way it's produced plays a huge role in how formal it is.
For instance, the more smooth your dress shoes are, the more formal they are. Also, if your shoes are only suitable for one thing, looking good, you know they are pretty dressy.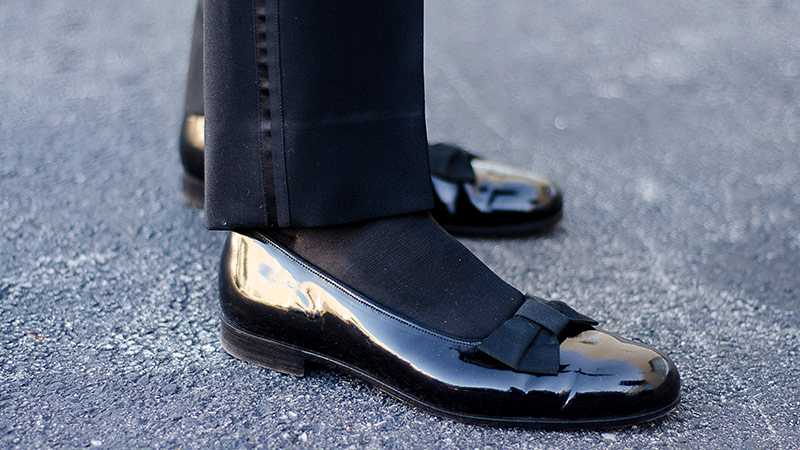 Patent leather is super delicate and highly specific. Therefore, very formal and reserved for the most elegant dress codes, like black-tie events.
What's interesting is that the type of leather somehow overruns the formality of the shoe's style. For example, patent leather derby shoes tend to look more formal than chamois leather oxfords.
Finally, consider the practicality of your shoes. The more practical and useful your shoes are, the more casual they tend to be.
The best example is brogues vs. anything patent leather. Brogues were designed to let shoes drain water out of them after walking through marshy fields. Super practical! Also, pretty casual.
Dress Shoe Color
You'll want to be sure to match your dress shoes perfectly with your suit.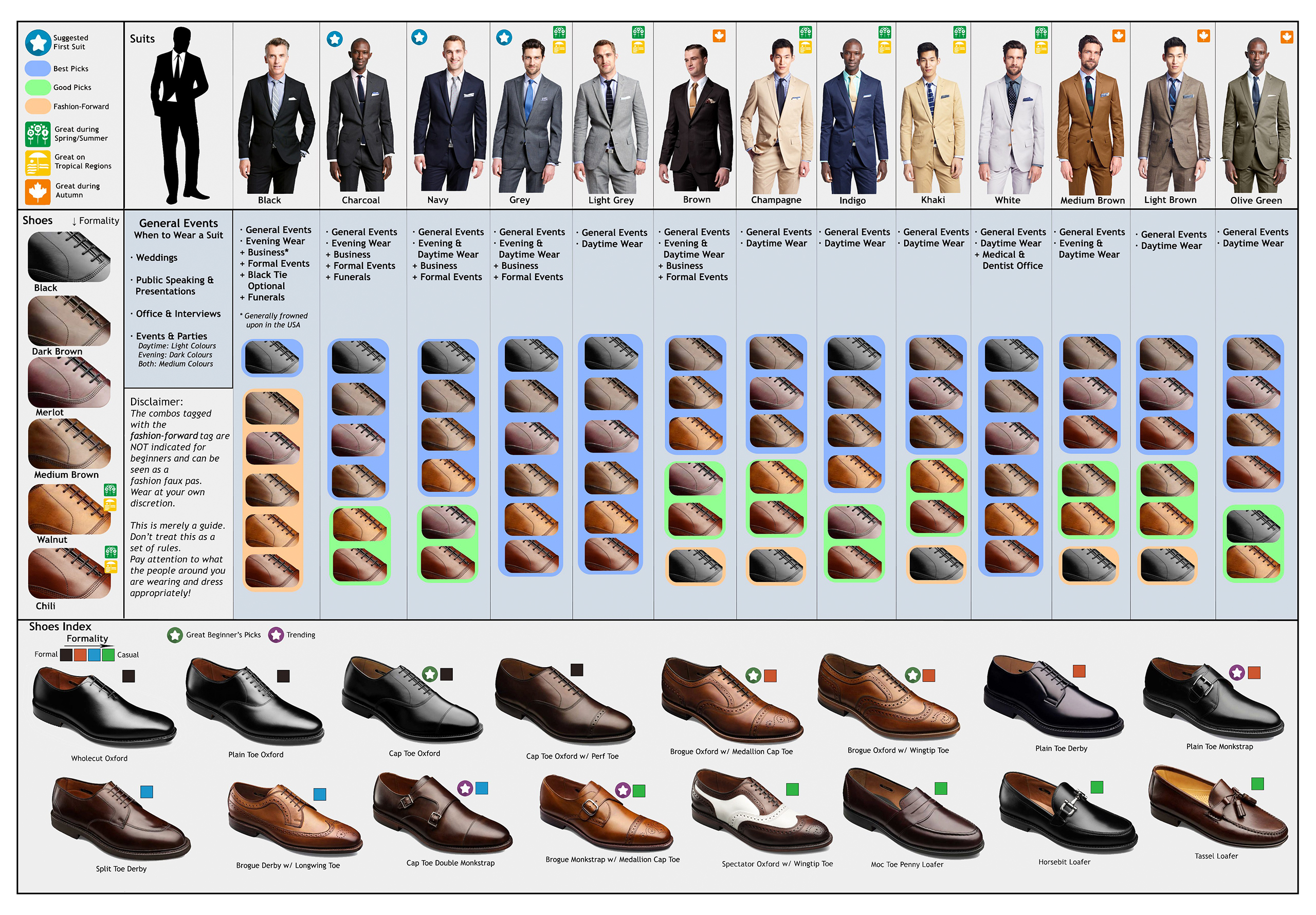 Most suits pair well with either black or brown dress shoes. However, some suits are heavenly with burgundy shoes!
In fact, the right shade of shoes can turn a so-so suit into a spectacular suit.
A blue suit, for example, can be paired with black dress shoes and look just fine. But replace those black shoes with brown shoes, and you'll notice a huge change!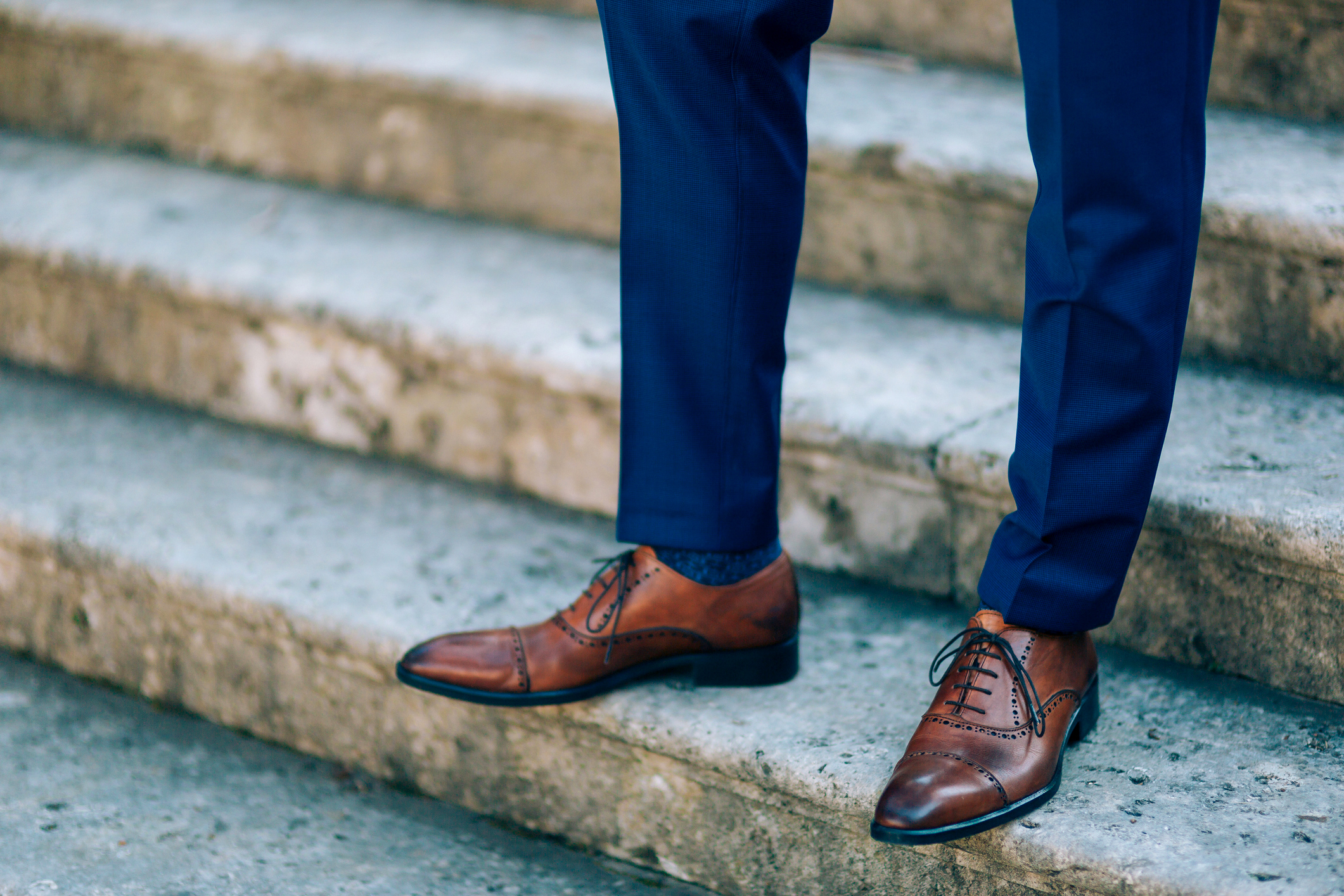 Brown dress shoes help soften up the look and create a very interesting visual.
On the other hand, a navy suit is made to pop with black shoes.
Brown shoes would be acceptable, but navy isn't a color that needs the softening. The black makes a stark contrast and helps highlight the navy.
Two different blue suits with two different shoe colors can result in some widely different results.
Dress Shoe Fit & Comfort
The most stunning pair of dress shoes are utterly worthless if they make your feet miserable. There isn't any point in wearing them if you end up limping and hobbling at the end of the day.
The design of the shoe plays a prominent role in your foot's comfort. Make sure that the shoe's lining is sufficient to protect your foot from blisters or other rubbings.
The sole of the shoe and the lining should also move along with your foot. That way, you won't end up cramping in your arches.
The way your shoe fits is heavily influential in your comfort, too. Of course, shoes that are too small for you will pinch your feet and make you miserable.
If they are even slightly too large, however, your foot will slide and create other problems. You want to be sure that your feet are firmly supported while still allowing a little breathing room.
Does your shoe fit a little too tight? Use the right method to loosen your dress shoes.
Author: Alexander Stoicoff
Hi, I'm Alex, and I've studied and specialized in styling in Rome. Through my writing, I want to help men dress well and learn the purpose and significance of suits and other formal attire. My final goal is to make men more confident in their wardrobe choice and life in general.