There's no reason you can't successfully pair nice and well-fitting black pants and brown shoes.
It's a generally held belief that black pants can only be paired with black dress shoes. However, that's just lazy thinking! With a little bit of know-how, you can break out of that mold.
When done correctly, this combination can be very sophisticated-looking.
Things to Consider Before Matching
Your black pants and brown shoes can have an amazing effect when styling your outfit, but there are some rules you need to consider.
The Occasion
Wearing brown shoes with black pants reduces the formality of your outfit, making it look more casual. It's an excellent blend for semi-formal events, daytime weddings, and cocktail meetings.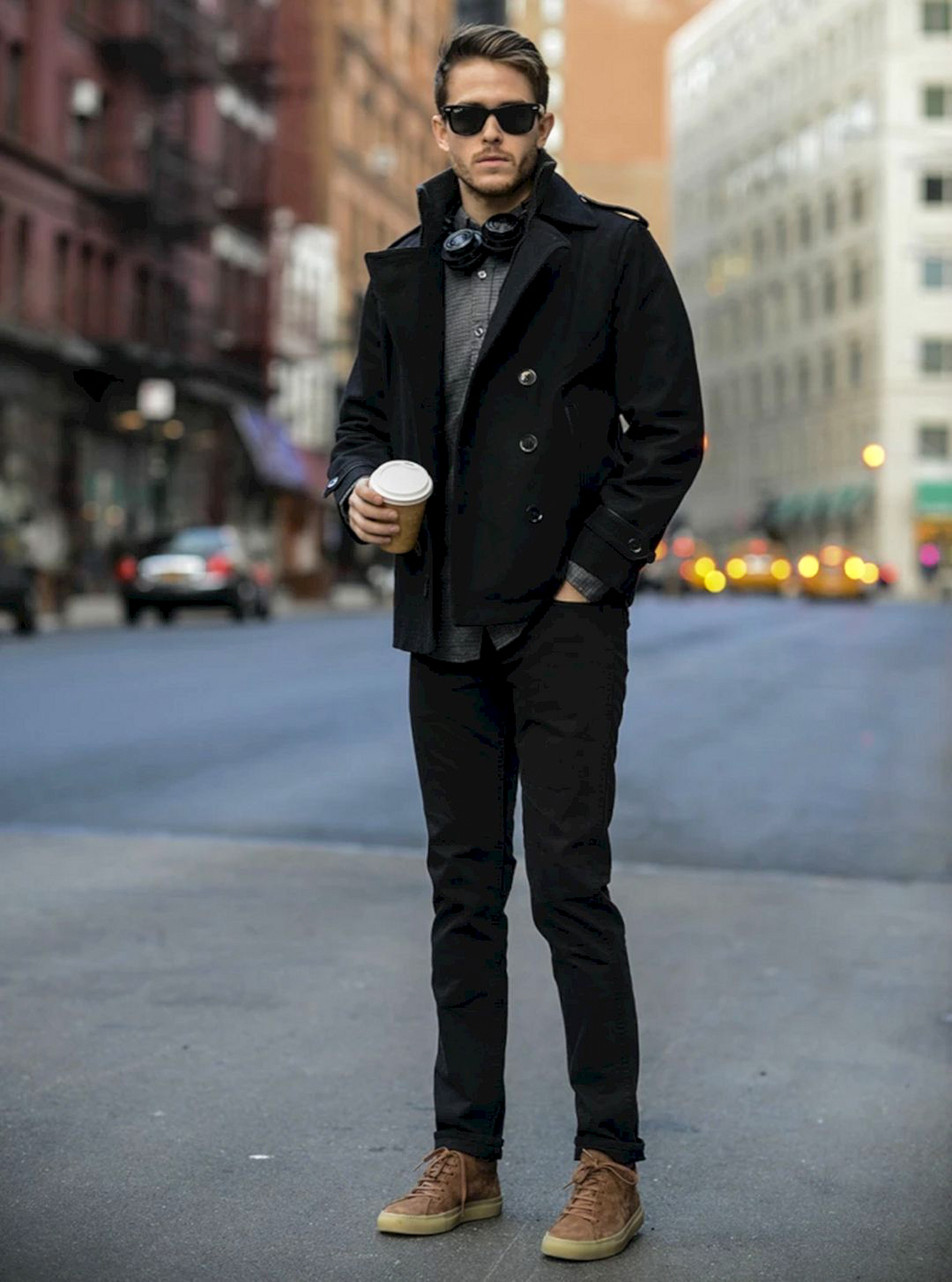 You can also bring the outfit on the more casual side of the spectrum.
Adding additional accessories like a pocket square or a casual watch can help, making the combination an essential component of your smart-casual attire.
The Brown Shoes Shade
To pull it off, you'll need to be sure you have the correct shade of brown. You can successfully wear medium to dark shades of brown shoes with black pants.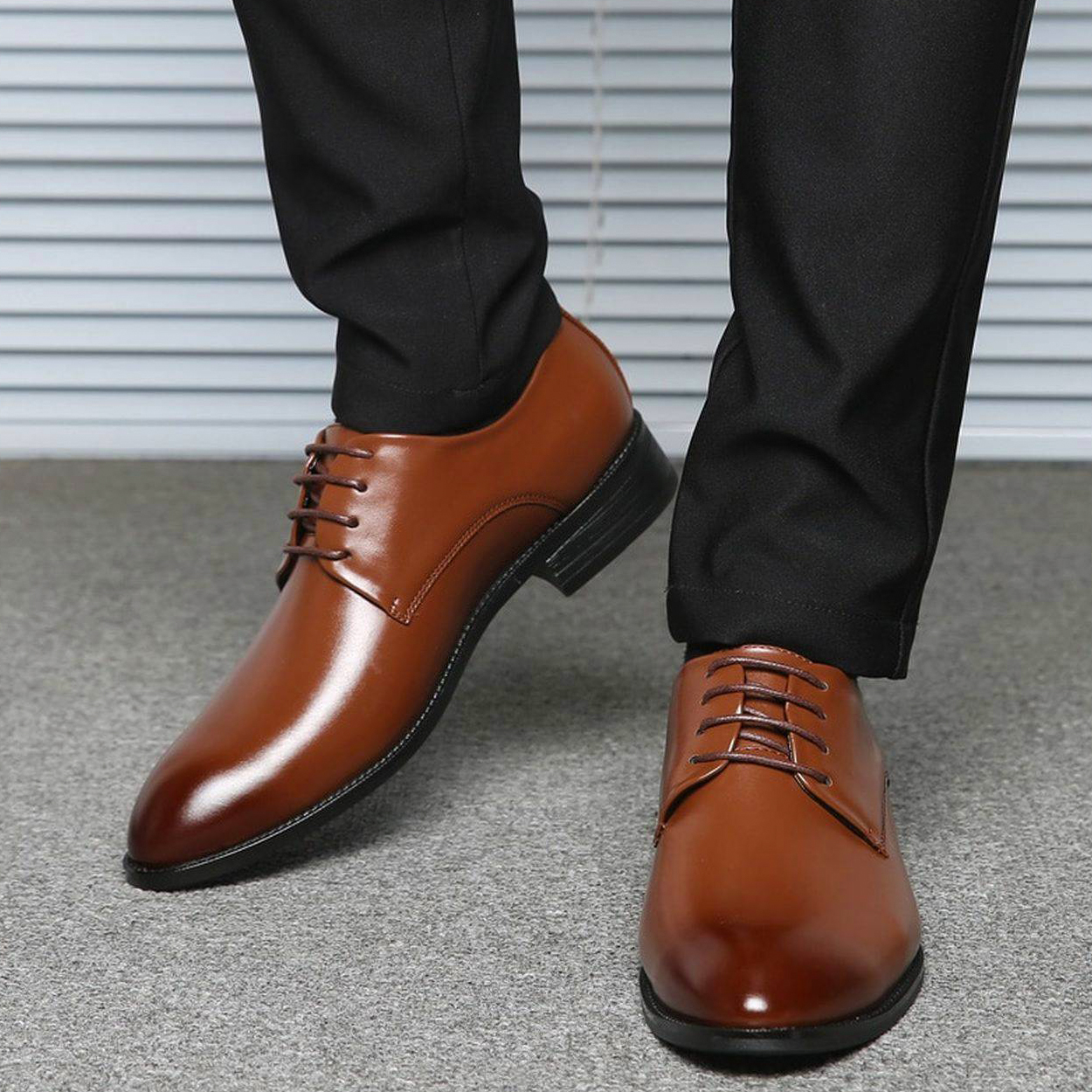 There are multiple options, so you aren't limited to only one exact proper shade. You just need to find the proper one and match it smoothly with your pants.
Black Suit & Dark Brown Shoes
The darker the shades you wear, the more formal your outfit is when it comes to dressing up.
A black suit is the most formal you can get, so you'll want to ensure that your brown dress shoes are also very dark. Dark brown shoes will also be more formal than lighter brown dress shoes.
When you're wearing a black suit, you should also wear more formal dress shoes with it. That is because a more casual dress shoe wouldn't match your black suit's overall tenor.
You'd look much more put together with a pair of dress shoes that matches the quality of your outfit. Oxfords, derbies, and loafers are all excellent dress shoe styles to wear with a black suit.
If you've chosen to wear a black suit, it will likely be a more formal occasion. So stay away from adding too many colors to your outfit, lest you end up becoming a distraction.
In fact, it would be best if you stayed as close as possible to only a few shades.
A white dress shirt is a must with black suit pants and brown shoes since it is the most formal dress shirt you can wear.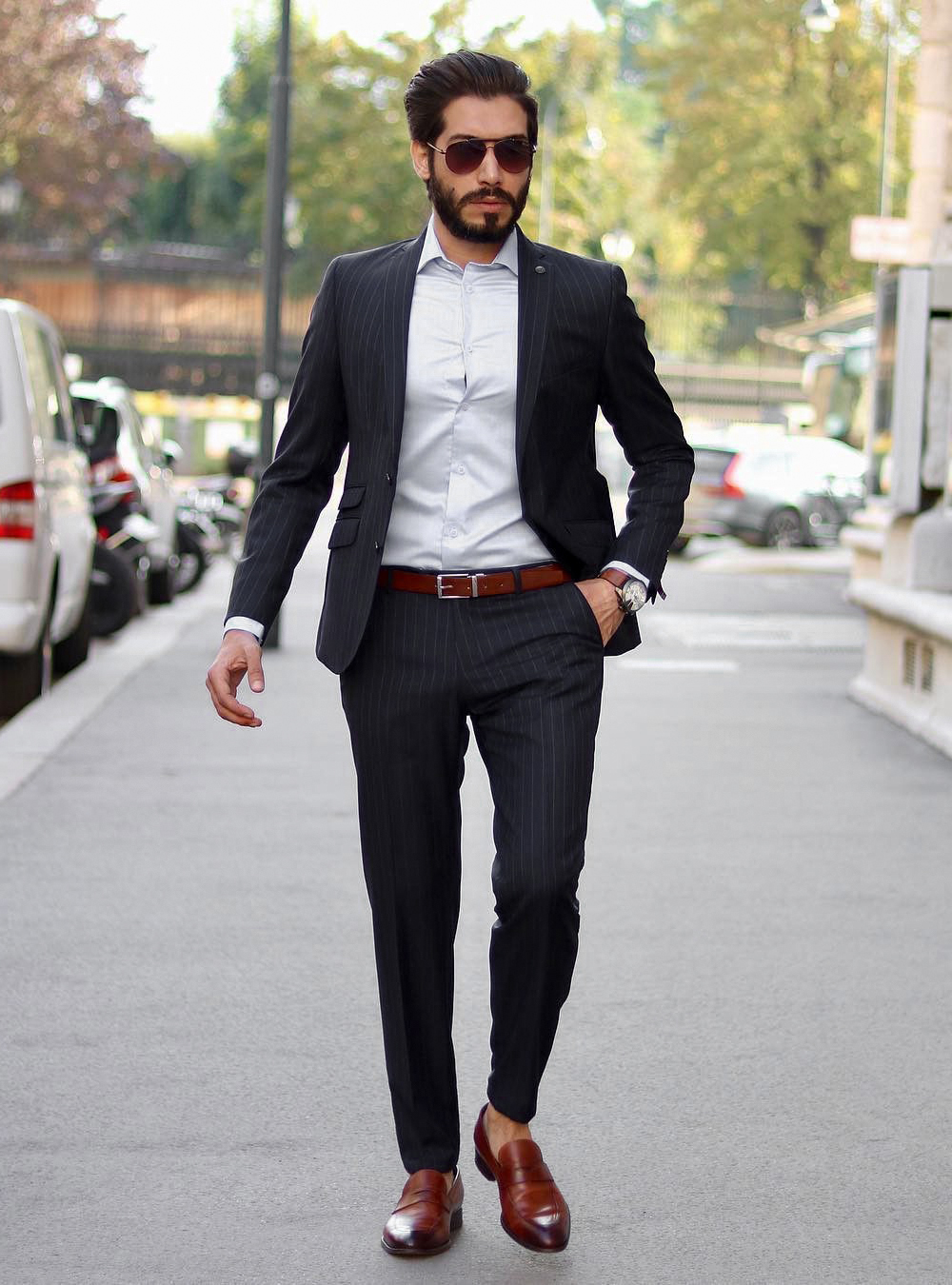 Also, consider adding a tie if you want to enhance the formality of your look. For example, a red tie is captivating and is never a wrong choice.
In addition, a black tie would be particularly dressy and creates a brilliant monotone aesthetic. A blue tie would also be very soothing.
Black Trousers & Brown Shoes
You have a bit more freedom in choosing dress shoes when you are dressing more casually.
Black dress slacks can still be on the dressier side of your wardrobe, but not as much as black suit pants. You also have more shoe options when wearing slacks.
For example, you don't have to stick with only dark brown dress shoes.
Instead, you may move to medium – to lighter shades of brown when dressing down a bit because they are more casual. Medium and dark tones are still ok, too, though.
You also have more options in what style you can wear. For example, loafers could be an excellent choice.
If you do opt for loafers, they'll look best with shorter-length slacks. You can wear no-show socks as well.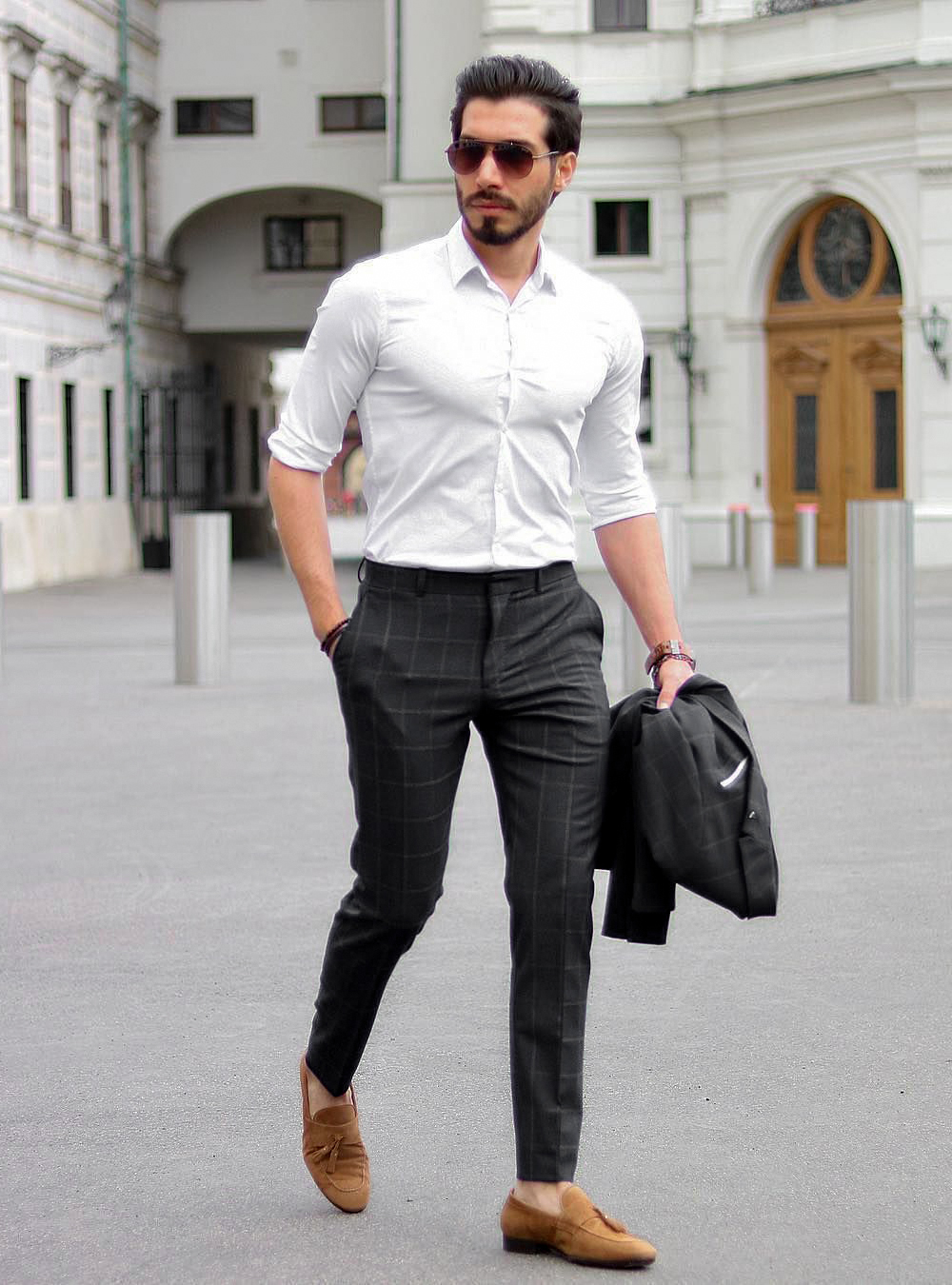 Monk straps are a very sleek option, too. And, of course, Oxford dress shoes are always a fine choice.
You also have more freedom in the other clothes you pair with brown shoes and black trousers.
You can branch off from the standard white dress shirt and go with a different color. Both solid and checkered dress shirts should be a good match.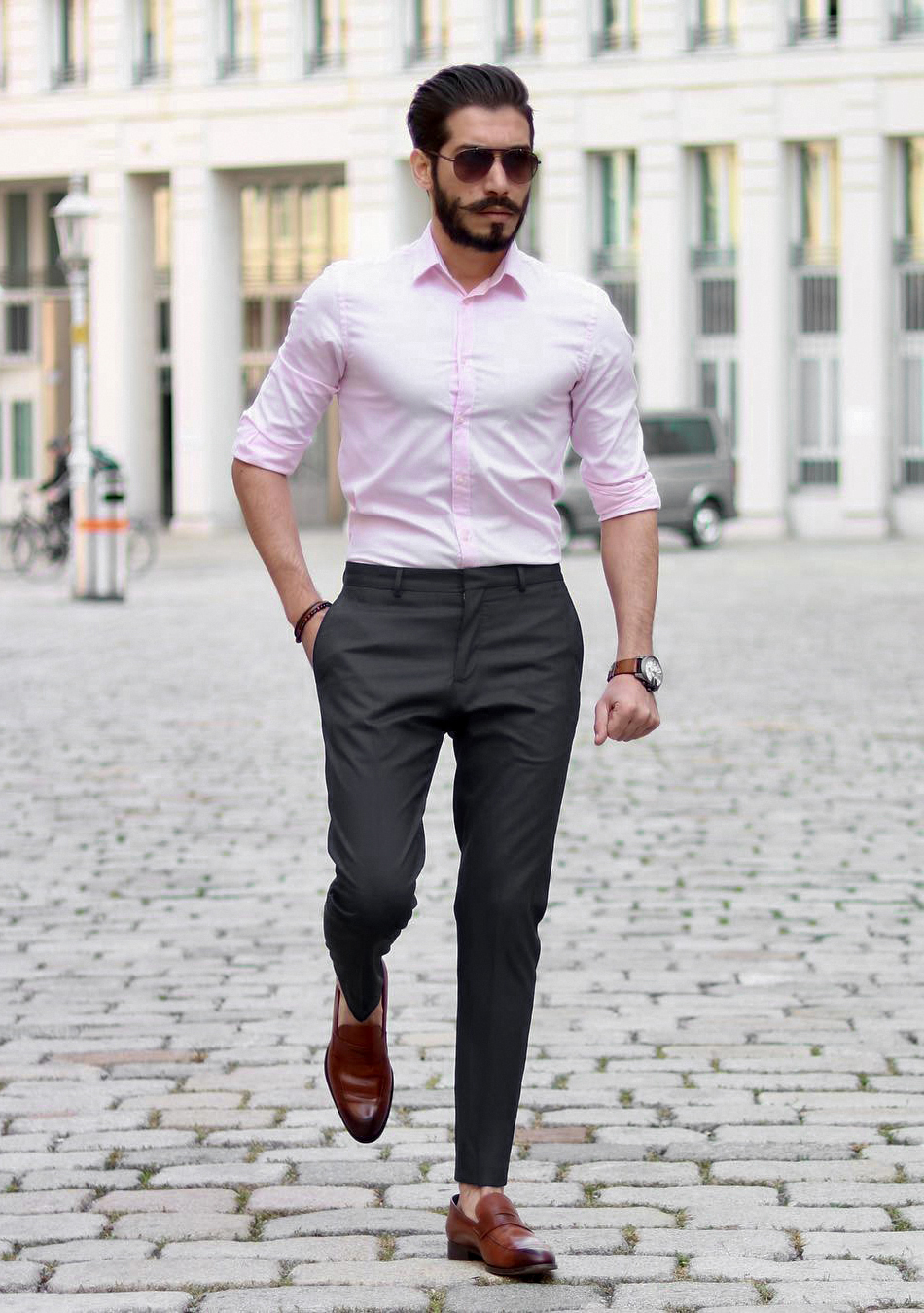 A separate blazer makes a beautiful finishing touch to pull your whole look together. It can be something other than black, such as charcoal or even navy, for a twist.
Black Jeans & Brown Shoes
Brown dress shoes can be a great match for black jeans. That's because this color combination is already casual.
But it can be tricky to pull off, and the first to consider is the type of shoes you choose.
Some acceptable shoe styles you can go for are Derbies, Chelsea boots, or Bluchers. Oxfords are acceptable as well; it's just that formalities are different and can be harder to match.
On the other hand, brown penny loafers are an excellent summer choice for your black jeans. They are versatile, and you can pair them with different outfits as well. Sneakers are fine, too.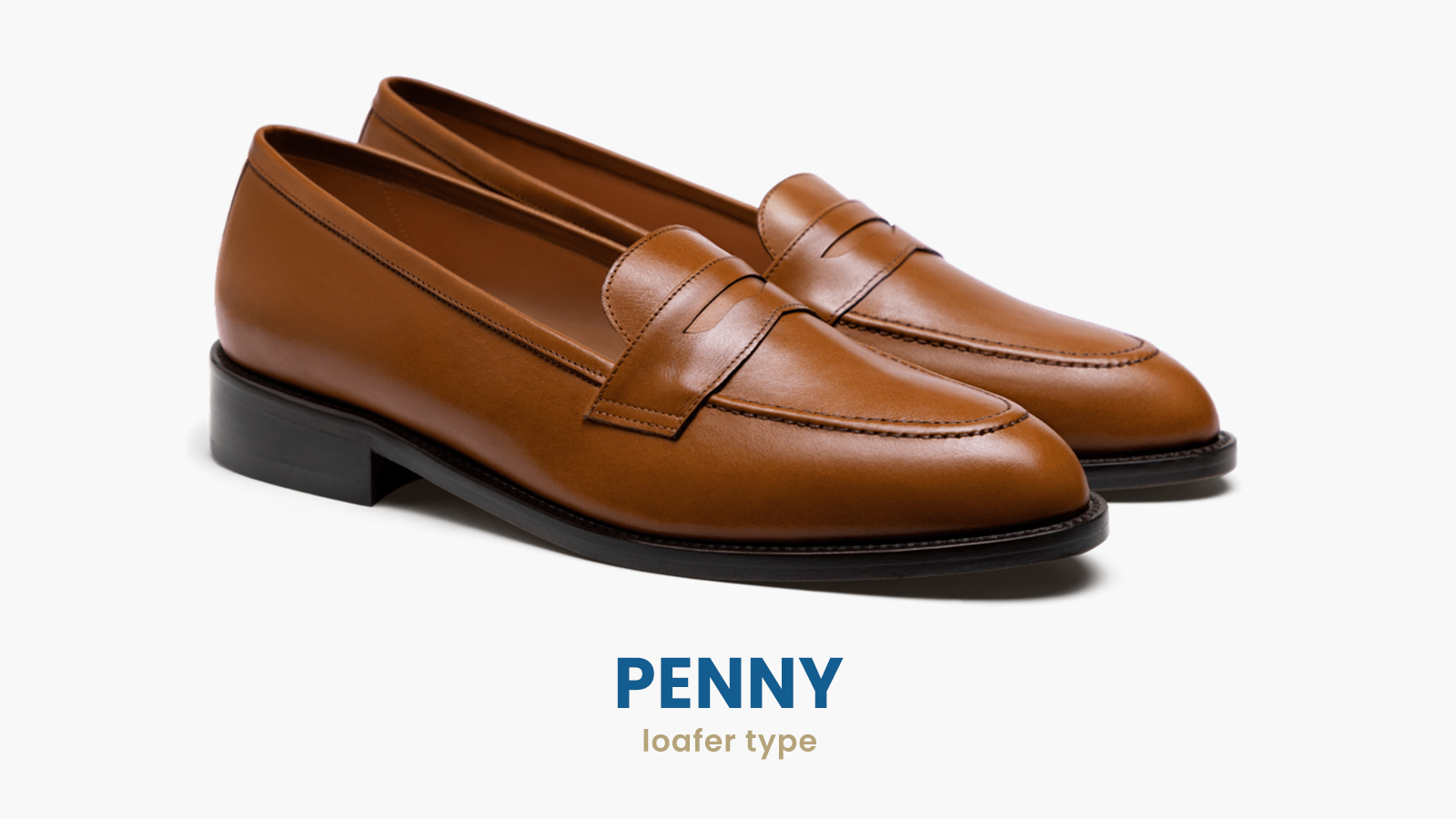 You can complete the look with a checkered shirt, casual dress shirt, or even a regular t-shirt. In addition, a simple and solid sweater can be a perfect addition to this look.
Just make sure all colors in the rest of your attire blend well with the black pants and the brown shoes.
Accessories You Can Wear with Black Pants & Brown Shoes
Match your black pants and brown shoes with other brown leather accessories. Just make sure the leather and the brown shade match.
The brown belt is one of the most aesthetic accessories you can wear with brown shoes. Just ensure that the formalities of your belt and shoes match.
A brown leather strap watch is also a nice way to add more style to your overall appearance. Match your watch with the rest of the attire's formality by picking the right type.
Finally, adding a leather bag is also one of the final pieces to enhance the look of your brown shoes. Again, pay close attention to the shades and leather materials.
What to Avoid
First, avoid too light-brown shoes. On the other hand, slightly lighter shades like cognac are welcomed as they can provide a nice contrast to your overall look. Just match the right shade to the rest of your attire.
It would be best if you also avoid too dark brown shoes, as they will nearly match your black pants.
Finally, you should always avoid wearing black pants and brown shoes to black-tie events. These events are strict and formal and follow specific rules on what you can wear.
Author: Alexander Stoicoff
Hi, I'm Alex, and I've studied and specialized in styling in Rome. Through my writing, I want to help men dress well and learn the purpose and significance of suits and other formal attire. My final goal is to make men more confident in their wardrobe choice and life in general.