Wearing a suit every day can begin to feel repetitive. If you are lucky enough to work in an office that doesn't require professional dress daily, change things up with a blazer and trousers.
Opting for separates gives you tremendous control over your wardrobe and fantastic opportunities to mix and match your gear.
Navy Blazer & Grey Trousers
You can't get much more professional than wearing grey or navy. And putting them together as separates is genius.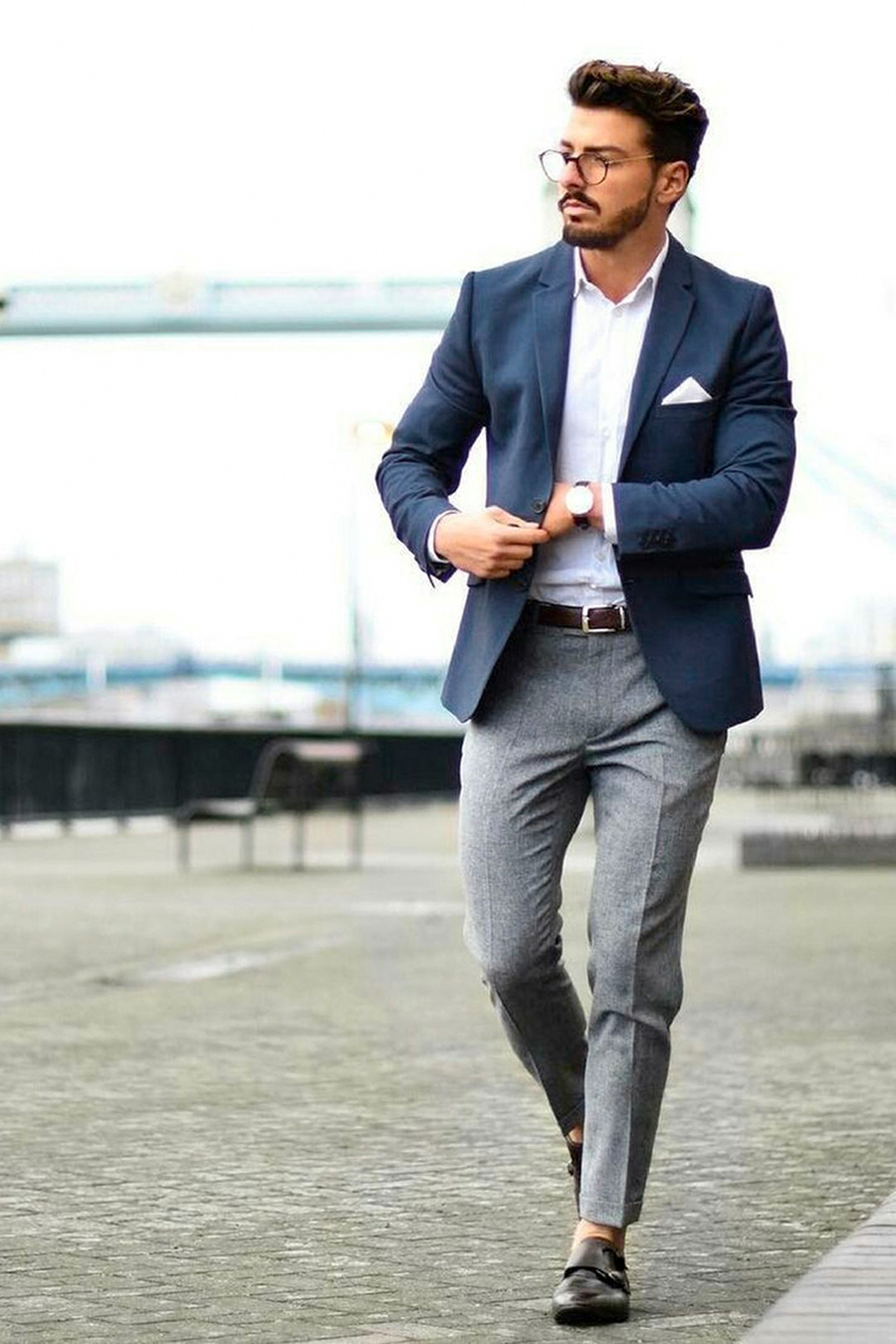 These top professional suit colors translate beautifully into a combination for separates.
Your grey pants should be a medium shade of grey. If they are too dark, they might feel too similar to your navy blazer, and light grey would feel too harsh of a contrast.
Keep your navy blazer and grey trousers semi-formal with a white dress shirt and a dark tie.
Of course, play with the colors for a more casual feel. For example, swap out your white button-up for a light blue or pale pink dress shirt; include small stripes if you like.
Navy Blazer & Tan/Beige Trousers
The combination of a navy blazer with tan or beige trousers is the standard, classic combination for separates.
This outfit is practically the uniform for separates. The colors create symmetry, nicely balancing the light and the dark.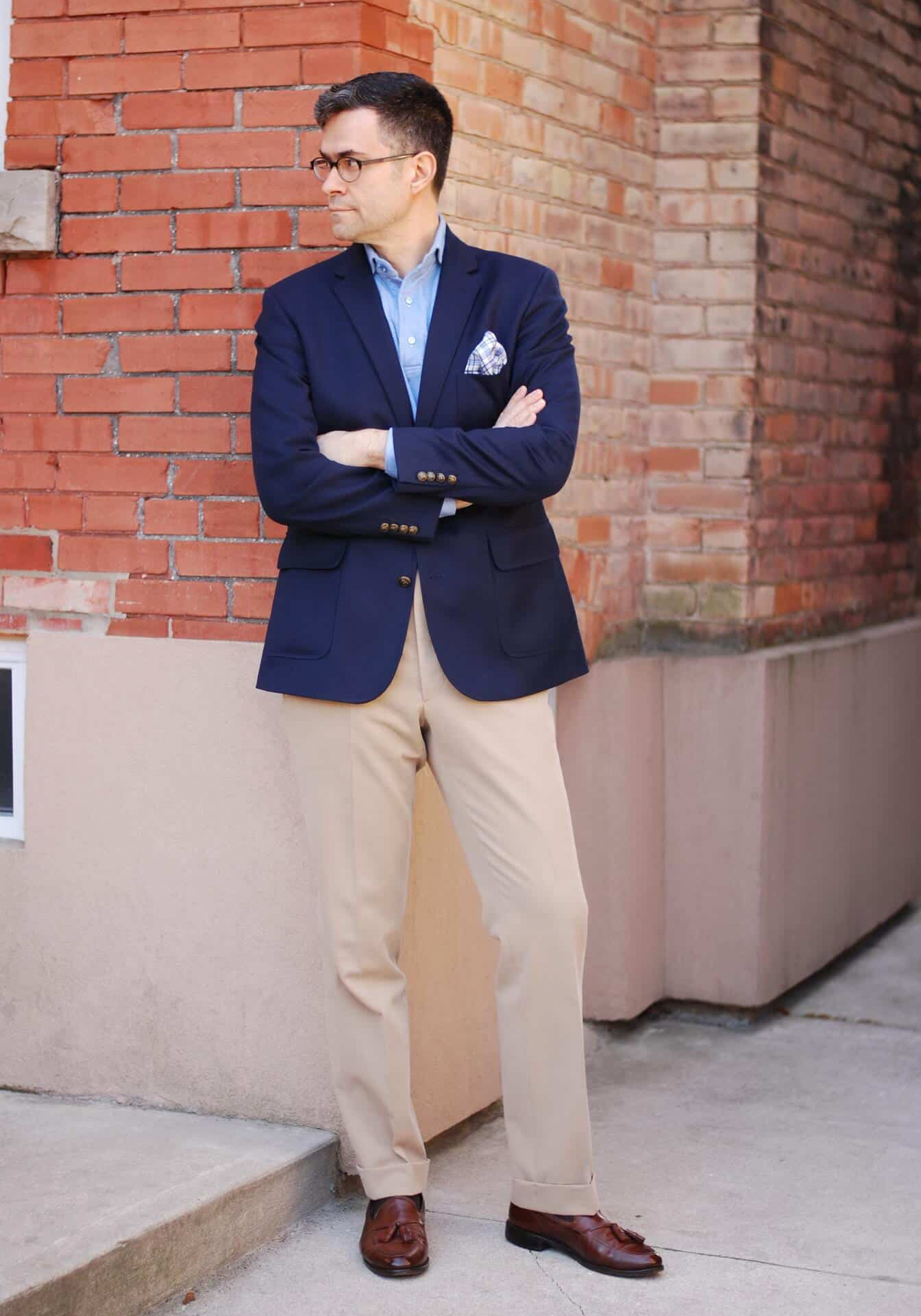 You can make this "uniform" feel unique through accessories. You have an excellent foundation with this outfit that you can build on.
This is a great time to try a colored dress shirt or jewel tones for your tie or pocket square.
Blue Blazer & Khaki Trousers
If you're looking to brighten things up, move away from navy and toss on a blue blazer.
It's a subtle departure from the standard color, but it will instantly make your outfit more cheerful and fun.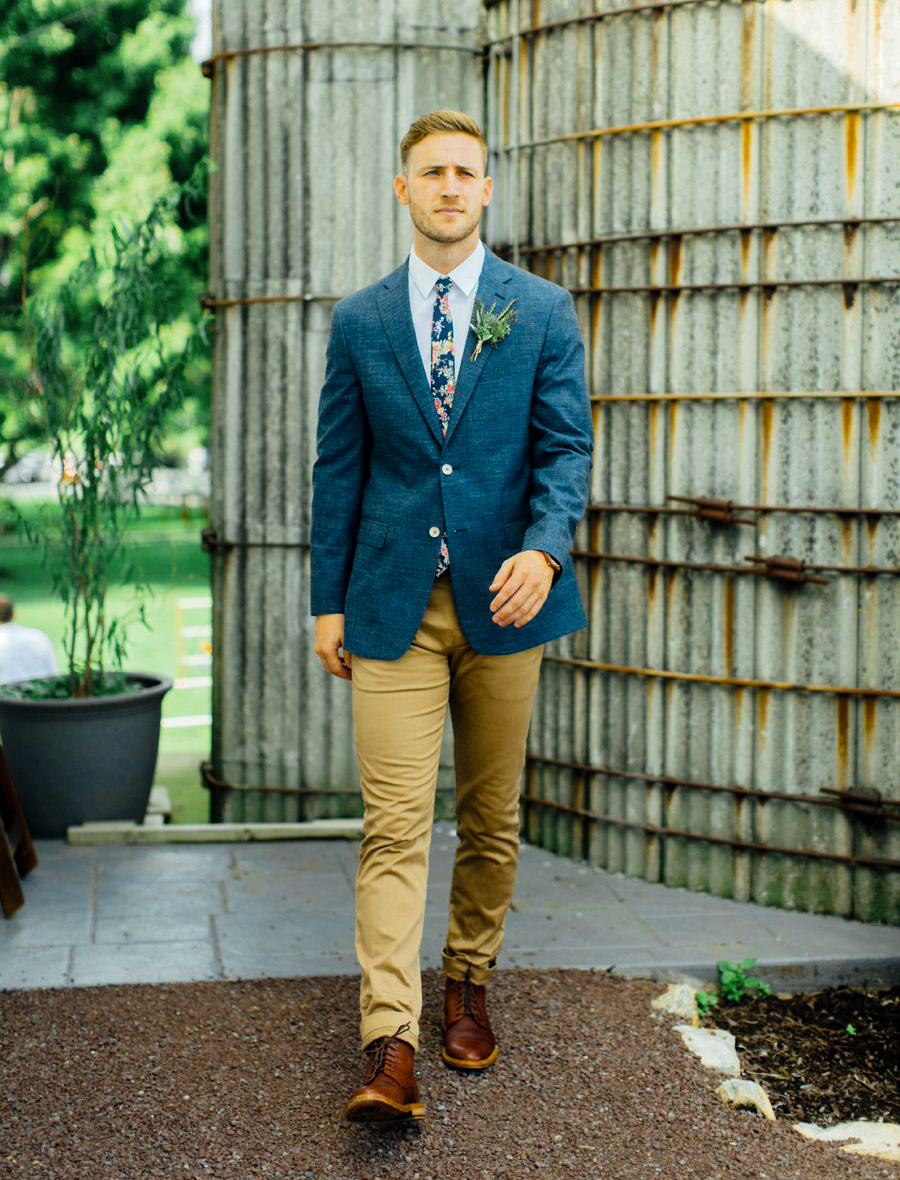 A white dress shirt will make the blue of your blazer really pop, but this is the perfect outfit to relax with a pastel button-up.
A striped or subtly patterned dress shirt can also be quite a bit of fun and feel unique.
This contemporary outfit would look fantastic with a pair of brown brogue dress shoes. Monk straps and loafers are also excellent ways to round out this ensemble.
Grey Blazer & Neutral Trousers
You can absolutely create a tonal look with grey, but to be successful, you need to create some contrast.
For example, a light grey blazer over a pair of black or charcoal grey trousers looks close to a professional grey suit but more laid back.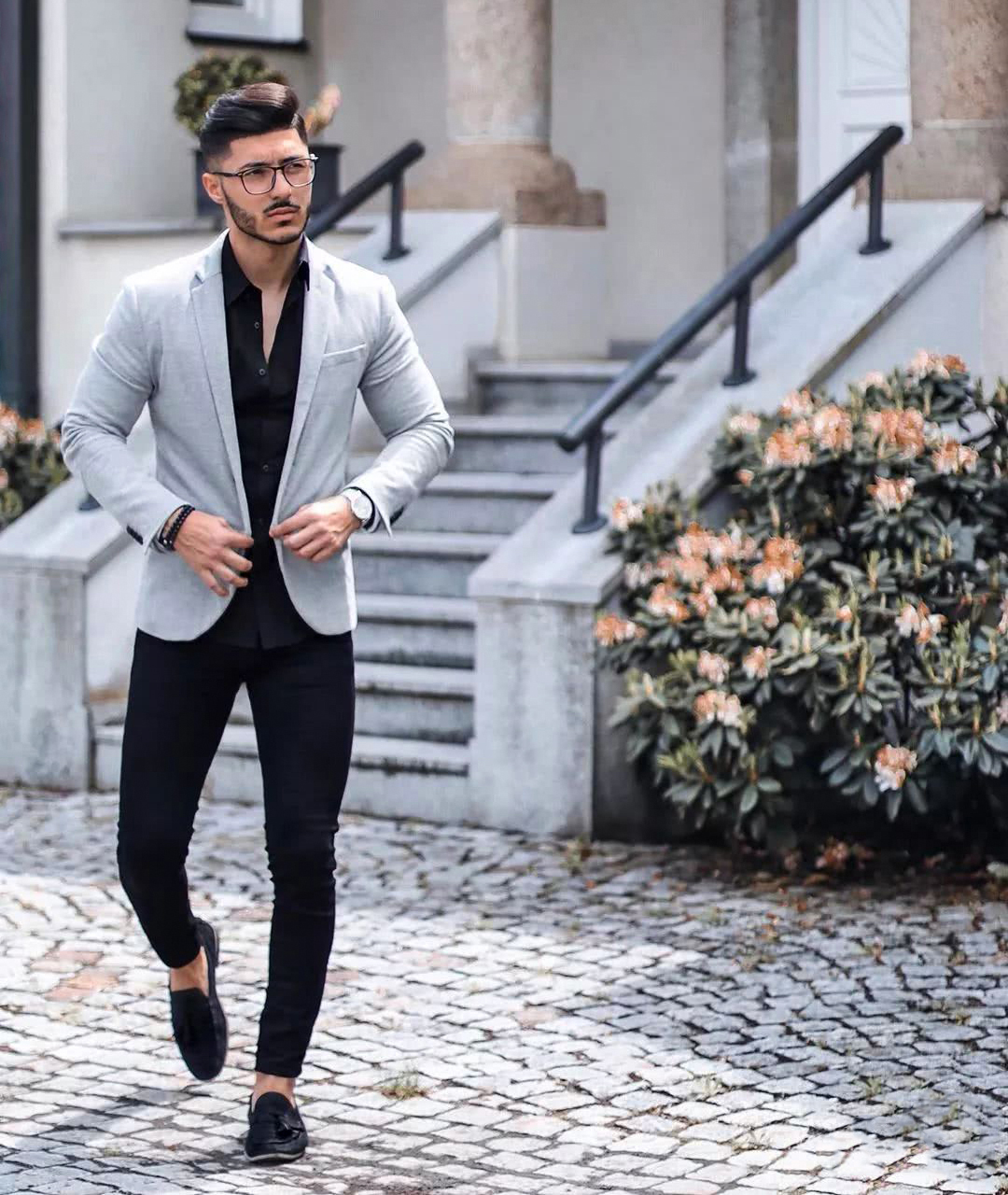 Grey makes an excellent clean slate (did you catch the pun?), so you can create many different looks with these two pieces.
Why not add a pink button-up dress shirt for a surprisingly modern style? Or, wear your blazer over a blue pullover and create some exciting layers.
Accentuate your final look with black accessories; a black leather belt and matching derby shoes will help you seem very polished.
Grey Blazer & Dark Trousers
A grey blazer and dark trousers are a sure bet when you need a semi-formal outfit.
Navy trousers or black trousers work well for this purpose, as they both complement grey.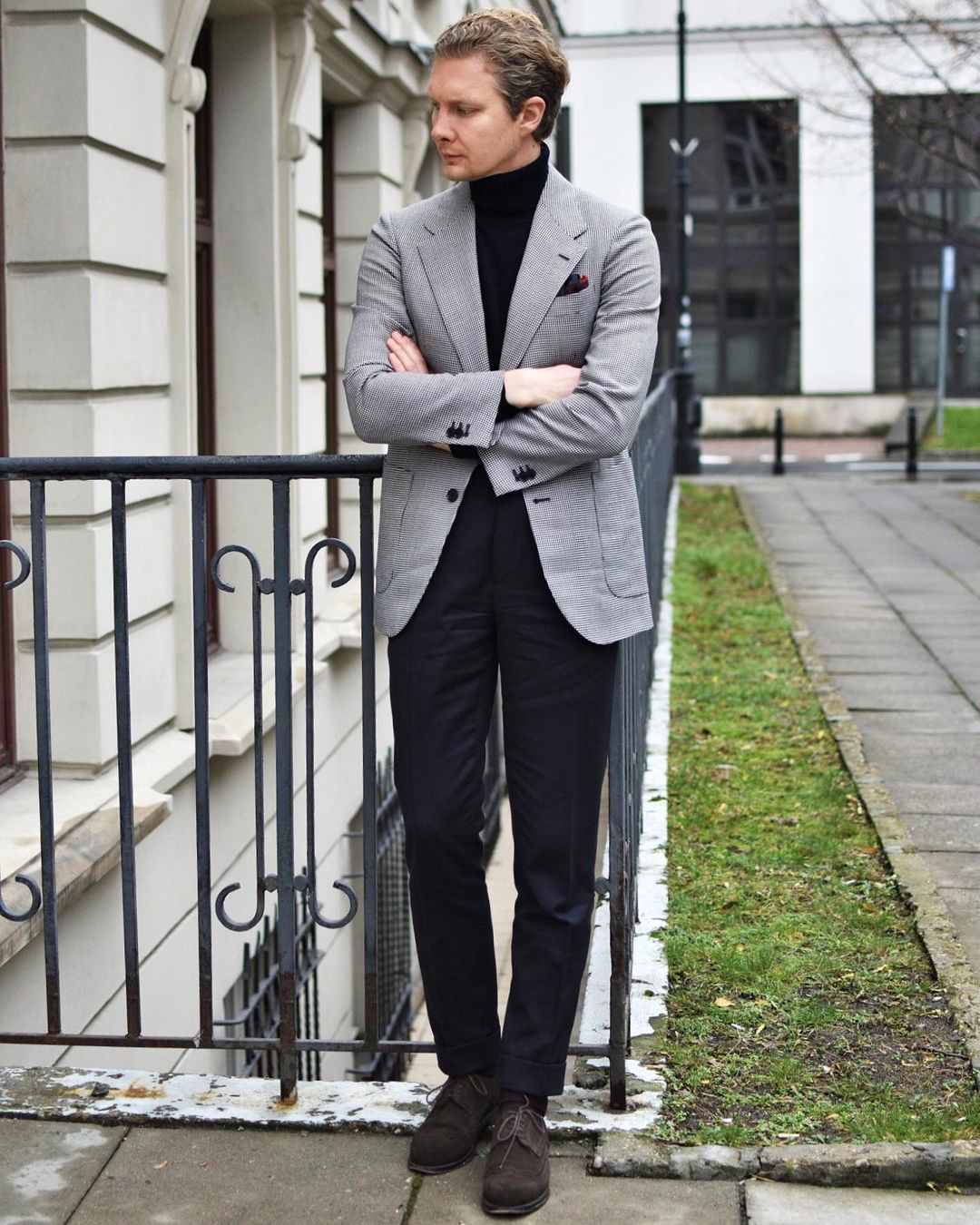 And because the primary colors of your ensemble are all dark, you're as formal as separates allow you to be.
This isn't the outfit to branch out and experiment with colors with. Instead, stay neutral, especially to keep that formal effect you're going for.
A white dress shirt and dark tie may feel standard, but they are also classic and the perfect companions to this suit combination.
However, if you feel daring and have a little wiggle room in formality, exchange your white shirt for a black button-up. It's very suave and debonair.
Black Blazer & Dark Trousers
Another semi-formal separates option is to exchange the grey blazer for a black one.
A black blazer with dark trousers is very simple but creates a lean and slimming effect. As a bonus, this outfit is a way to get away with wearing black without being overly formal.
You can combine your black blazer with black trousers without feeling like you're popping into a tuxedo, or you could tweak the look by adding a pair of navy trousers.
Don't feel obligated to stick to the standard white dress shirt. You could make your outfit more exciting with a colorful dress shirt like light blue or more relaxed with a crisp, fitted t-shirt.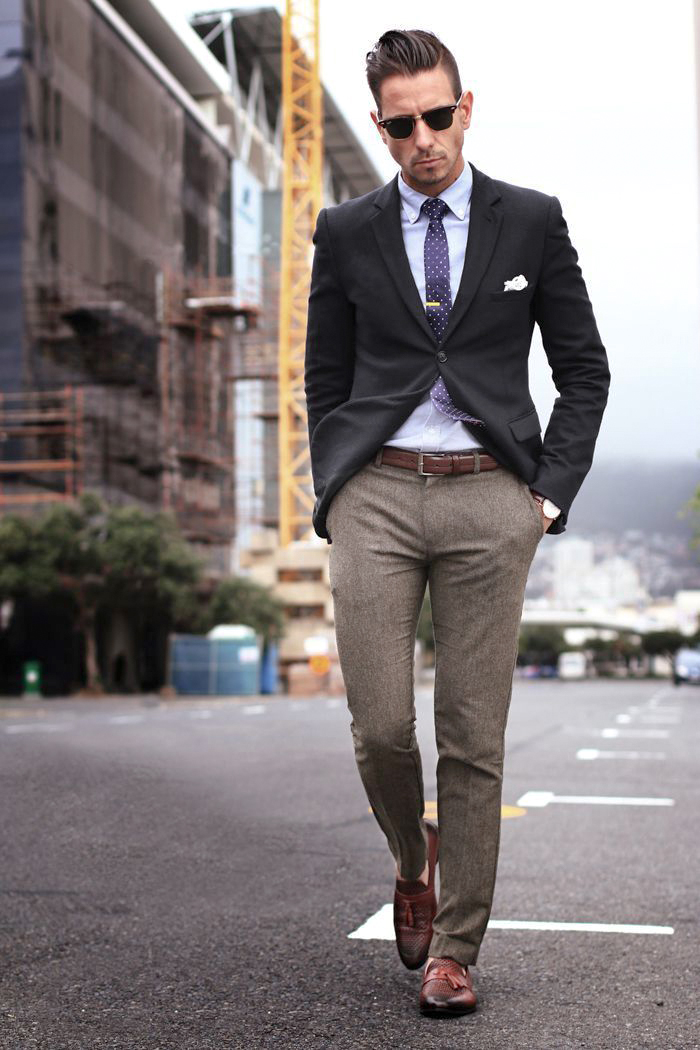 Black shoes are your most obvious choice, and they do work wonderfully. However, you can add the unexpected with a pair of dark brown dress shoes instead.
Blue Suit Jacket/Blazer & Navy or Grey Pants
Pairing a blue jacket with navy or grey pants may be an unusual choice but deserves some attention.
These colors make a warm and friendly combination, which can be a welcome departure from the usual darker shades that are more common.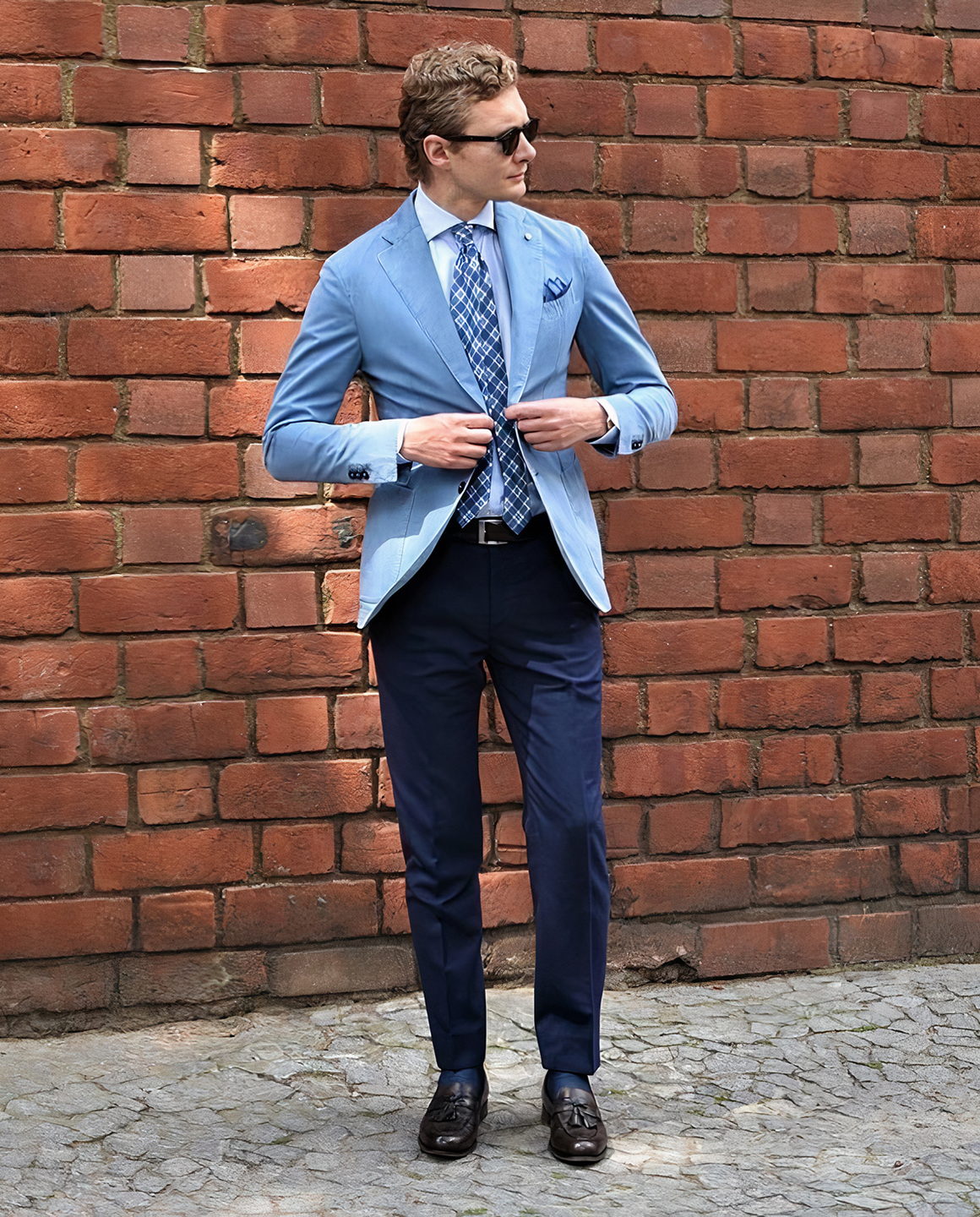 Go all in on this style with a light blue button-down dress shirt.
If you care to add a tie, you can create excellent symmetry by matching it to your pants. Or, skip the tie and leave your shirt collar loose.
Keep your look soft with brown accessories. Black may feel too harsh against these shades. However, brown loafers, derby shoes, or brogues can give this outfit a contemporary lift.
Burgundy Blazer & Grey Trousers
Drop everything and grab a burgundy blazer! It's a terrific, attention-grabbing color that looks sophisticated while feeling festive at the same time.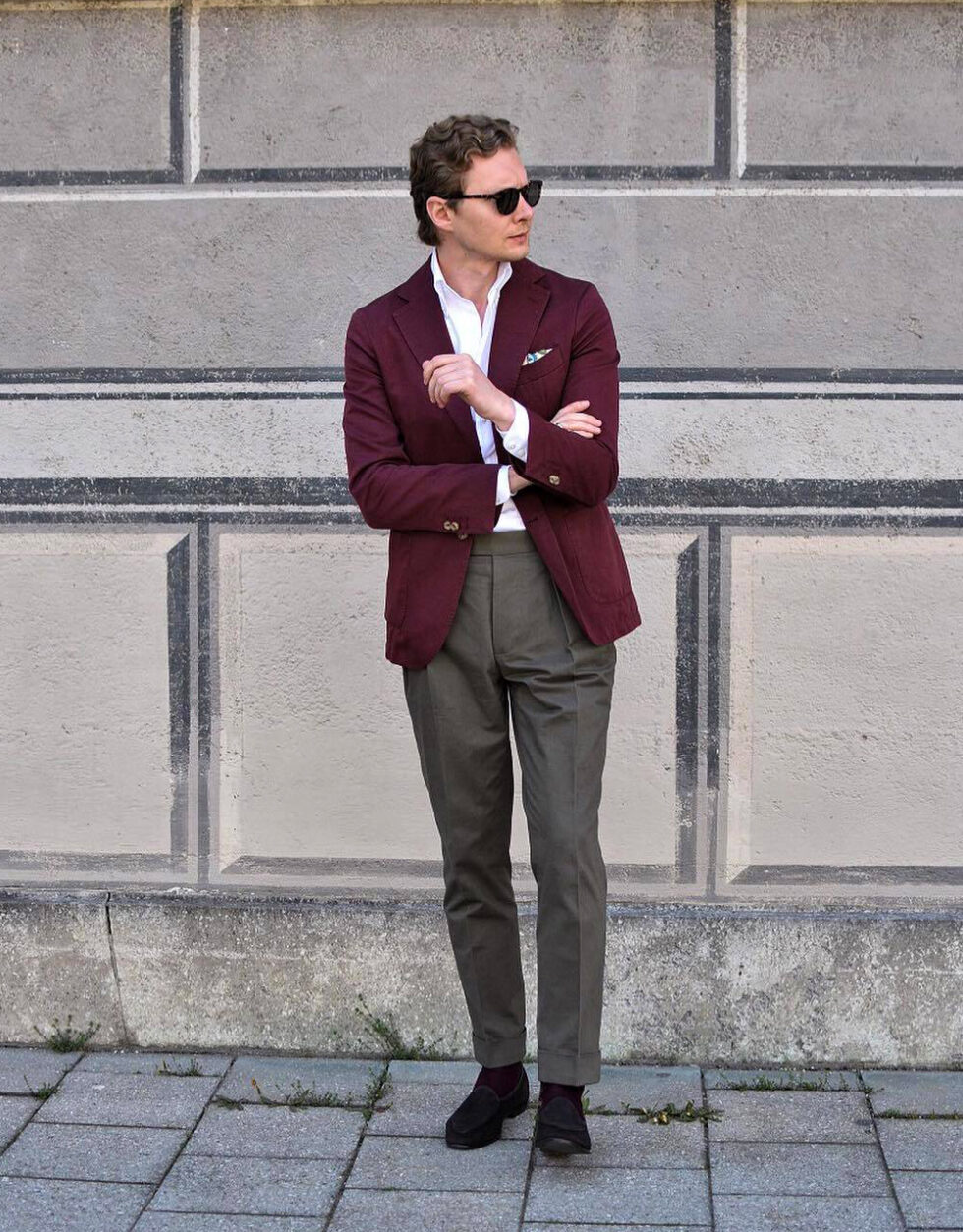 You aren't likely to be dressed the same as anybody else when you wear burgundy and grey.
Because this unique blazer is such a color pop, keep everything else in your outfit subdued. You do not want to overload the senses with another loud article.
That's why grey trousers are the perfect pairing with this dark blazer; the grey sits back and quietly supports the burgundy.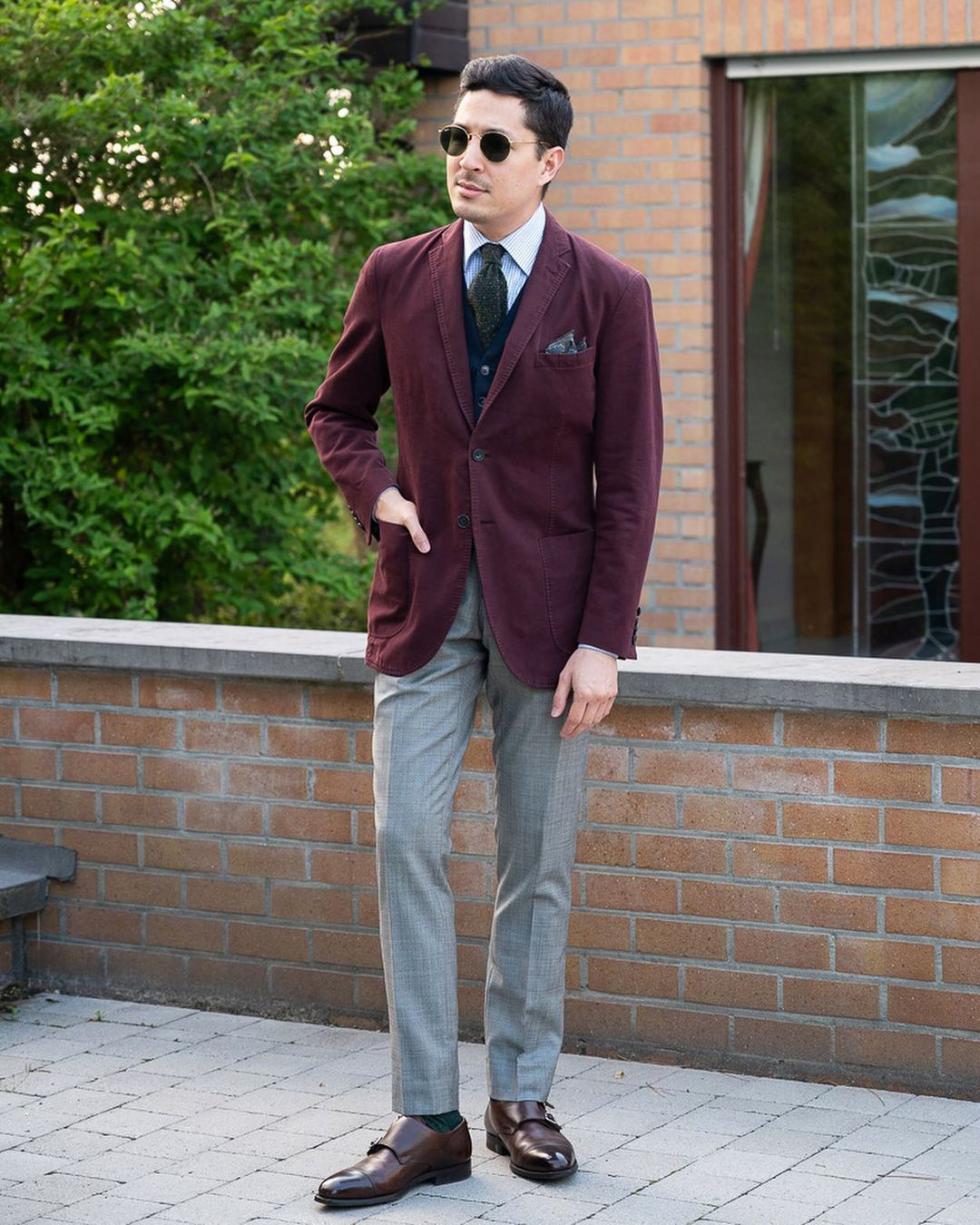 Next, choose shoes to match your pants; black would work well if you wear dark grey, but brown is better for lighter grey trousers.
Dark-Colored Blazer & White Trousers
White pants make almost any outfit leisurely.
While you don't need to stick to the old fashion rule about not wearing white after Labor Day, you do need to at least be in a warm climate if you're wearing these trousers year-round.
A dark blazer is a classy addition to white trousers because it dresses them up a bit, making them more than simple tropical wear.
A white dress shirt might be too on the nose with a pair of white trousers. Instead, wear a colorful dress shirt under your dark blazer or a shirt with a pattern.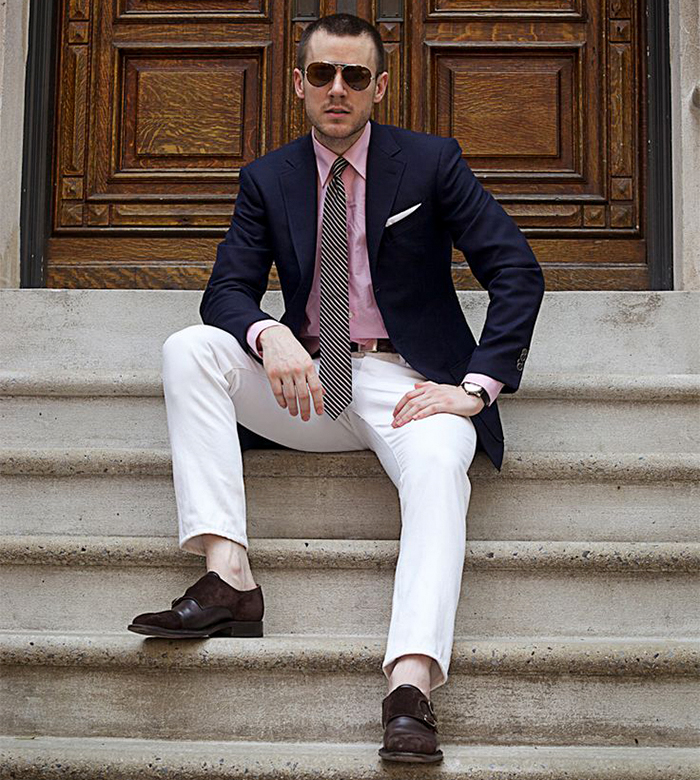 A textured blazer may also add some visual interest. Don't forget the loafers!
Dark Suit Jacket & Jeans
You can create the ultimate smart casual outfit by pairing a nice pair of dark, fitted jeans with a dark suit jacket.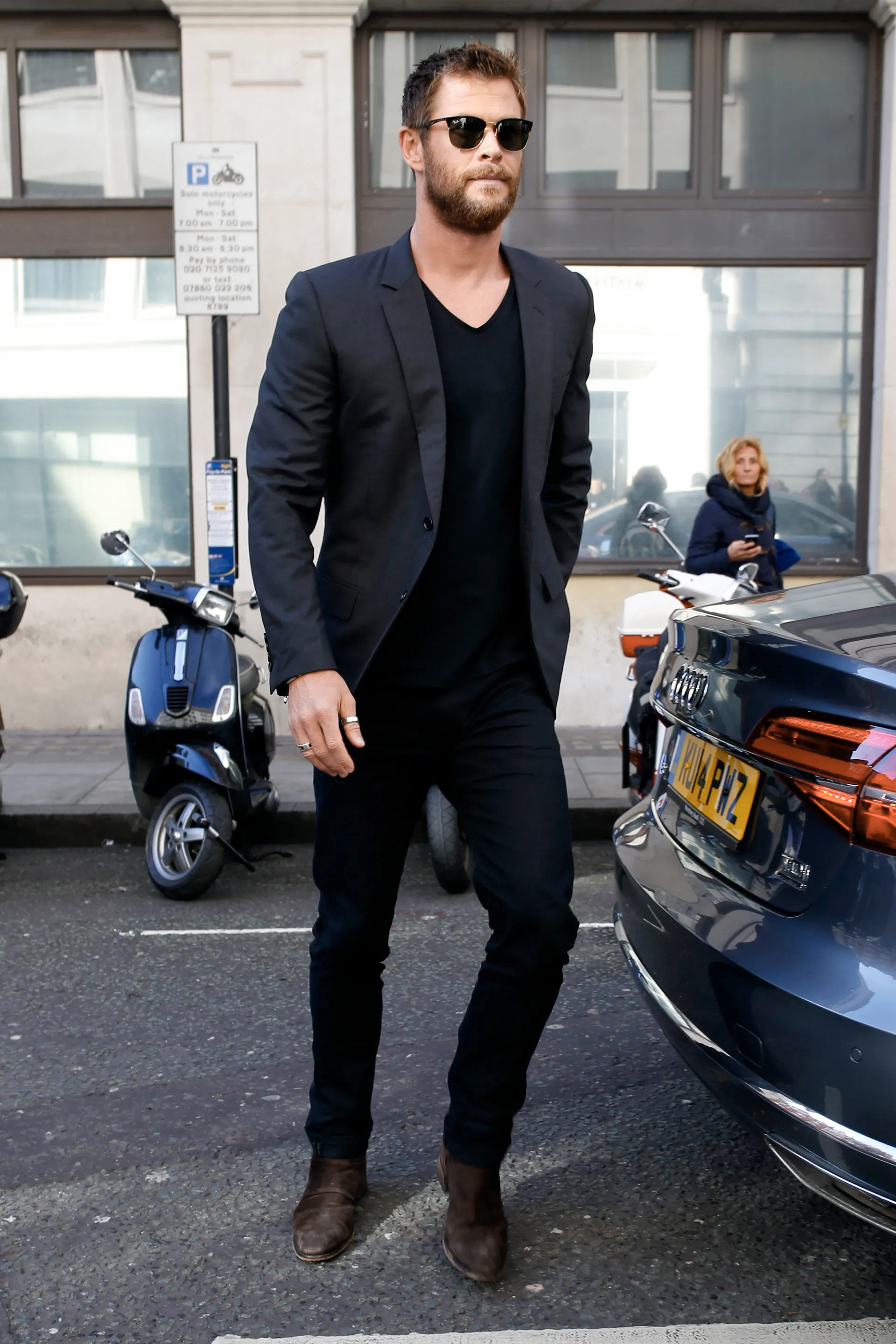 The darker colors prevent the ensemble from veering too far into a casual style; the preppy addition of a suit jacket dresses up jeans.
However, don't bother adding a tie to this combination. It would look too incongruous with a pair of jeans, no matter how nice they are.
Instead, you can layer with a light sweater or vest over your shirt for a more tailored appearance.
Things to Know About Separates
Separates are pieces of suits and individual garments that are, well, separate.
For example, you can wear a suit jacket, blazer, or sport coat mixed with trousers, slacks, suit pants, or even jeans for an outfit that's more informal than a complete suit.
So, your ensemble is similar to a suit because it includes a jacket, but the pieces don't match.
They can be different colors and textures; you can also combine patterns. So, it's somewhat like a mix-and-match outfit.
When to Wear Separates?
Separates are decidedly more casual than full suits.
So, you shouldn't wear separates for formal events or in highly professional workspaces, but most other occasions are suitable.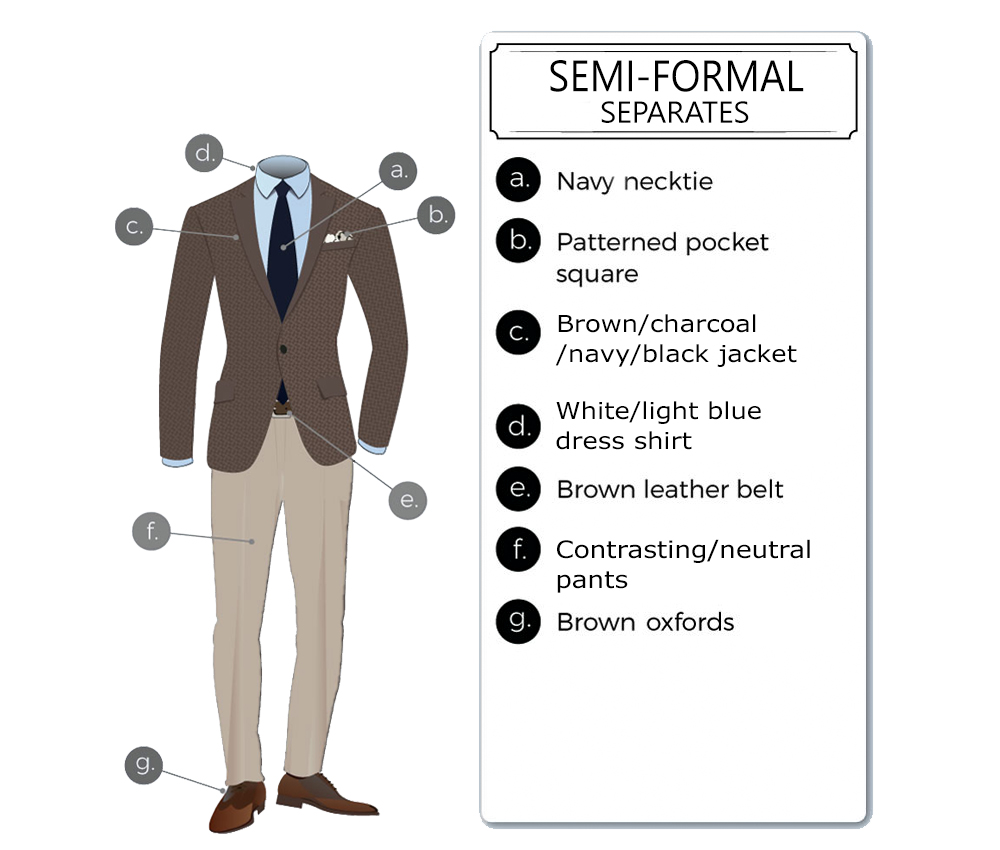 Semi-formal parties and dinners, daytime weddings, and casual business offices are all ideal settings for this less formal way of dressing.
The color combination of your separate garments, and even the fabrics, should be considered when deciding if your outfit is appropriate for the occasion.
Reserve darker colors for more serious or formal events and lighter ones for less dressy days. Textured garments are also more casual.
The Fit Matters
It's essential that your blazer and pants fit you well.
Aim for a well-fitted suit jacket or blazer that is gently tapered around your waist and falls just past your crotch level.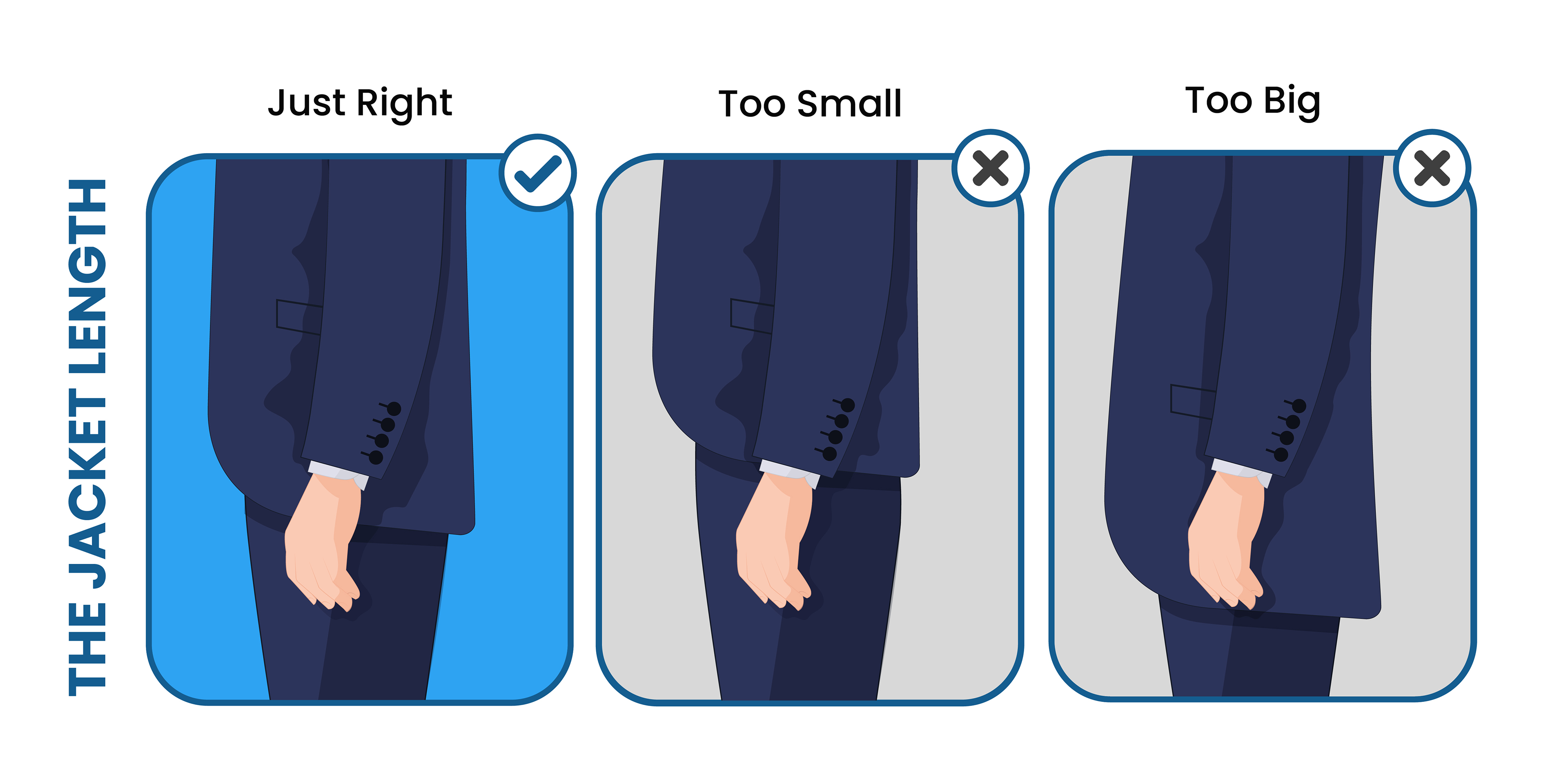 The sleeves should come no further than the top of your wrist, and the shoulder seams should align with the tips of your shoulder bone.
Pants have slight flexibility in length, depending on what type of pant break you prefer. However, when dressing more casually, little to no break is best.
Consider a Textured Blazer or Suit Jacket
Tweed! Corduroy! Linen! These are all fun fabrics to experiment with.
However, they aren't your typical types of material, so they may be a bit more tricky to match than wool or cotton.
For starters, the fabric needs to be seasonally appropriate; heavier textures like tweed and corduroy can only be worn in winter, while linen is a summer fabric. Don't ever mix textures!
Remember that texture automatically lowers the formality of your blazer or jacket.
Go for Contrast
You chose to ditch the suit for a reason, so be sure to highlight that you're wearing separates by creating a contrast in color between your blazer and trousers.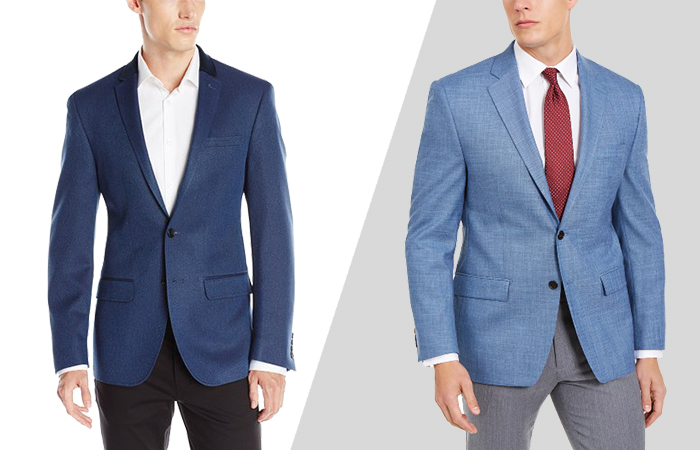 This is your opportunity to mix things up, so don't hold back. A light top and dark bottom (or the other way around) look balanced.
If you opt for a tonal outfit, wearing different shades of the same color, add some contrasting color with your dress shirt, sweater, or t-shirt.
Keep in Mind the Formality
Remember that you can dress up your separates, but only to a certain extent.
You can put together a perfectly suitable semi-formal ensemble using darker colors, but it will never be formal or acceptable in a corporate setting.
However, you can use separates for eye-catching business casual clothing.
They're also ideal for some of your best smart casual looks! And the best part is that your combinations are practically limitless.
Author: Alexander Stoicoff
Hi, I'm Alex, and I've studied and specialized in styling in Rome. Through my writing, I want to help men dress well and learn the purpose and significance of suits and other formal attire. My final goal is to make men more confident in their wardrobe choice and life in general.