If you've been intrigued lately by the fashion industry's embrace of blue pants and brown shoes, I'm right there with you.
Men have stuck with black shoes for so long with our suits that it was easy to forget there was another color option out there.
However, brown shoes feel like such a natural fit with blue pants that it leaves me wondering: why haven't we embraced this combination sooner?
If you're ready to expand your dress shoe color options, read on to learn how to pull off this look like a fashion pro.
Blue Pants and Brown Shoes Color Matching
Blue is perhaps the most versatile color on the color wheel. There are so many varying shades of this color that the changes can seem drastic.
Of course, we could say something similar about brown, even if the brown variances aren't quite as dramatic as blue.
Some shades of blue don't pair well with black. That's because the contrast between the two colors is too harsh.
Therefore, brown is an excellent way to soften the boldness of the blue suit.
So, with all the varying shades of blue and brown, there are practically endless color combinations between the two. To find the exact right pairing in tones and shades requires a bit of experimentation.
Different Shades of Blue Pants
Navy is the most conservative shade of blue. And because it is the closest color to black, it is also the most formal. Therefore, navy suits are excellent for professional offices, weddings, and any semi-formal event.
Royal blue is a bright and cheery color; it is very modern and flattering for most people. These suits fall in the middle range of formality. Royal blue is suitable for weddings, casual office settings, and cocktail parties.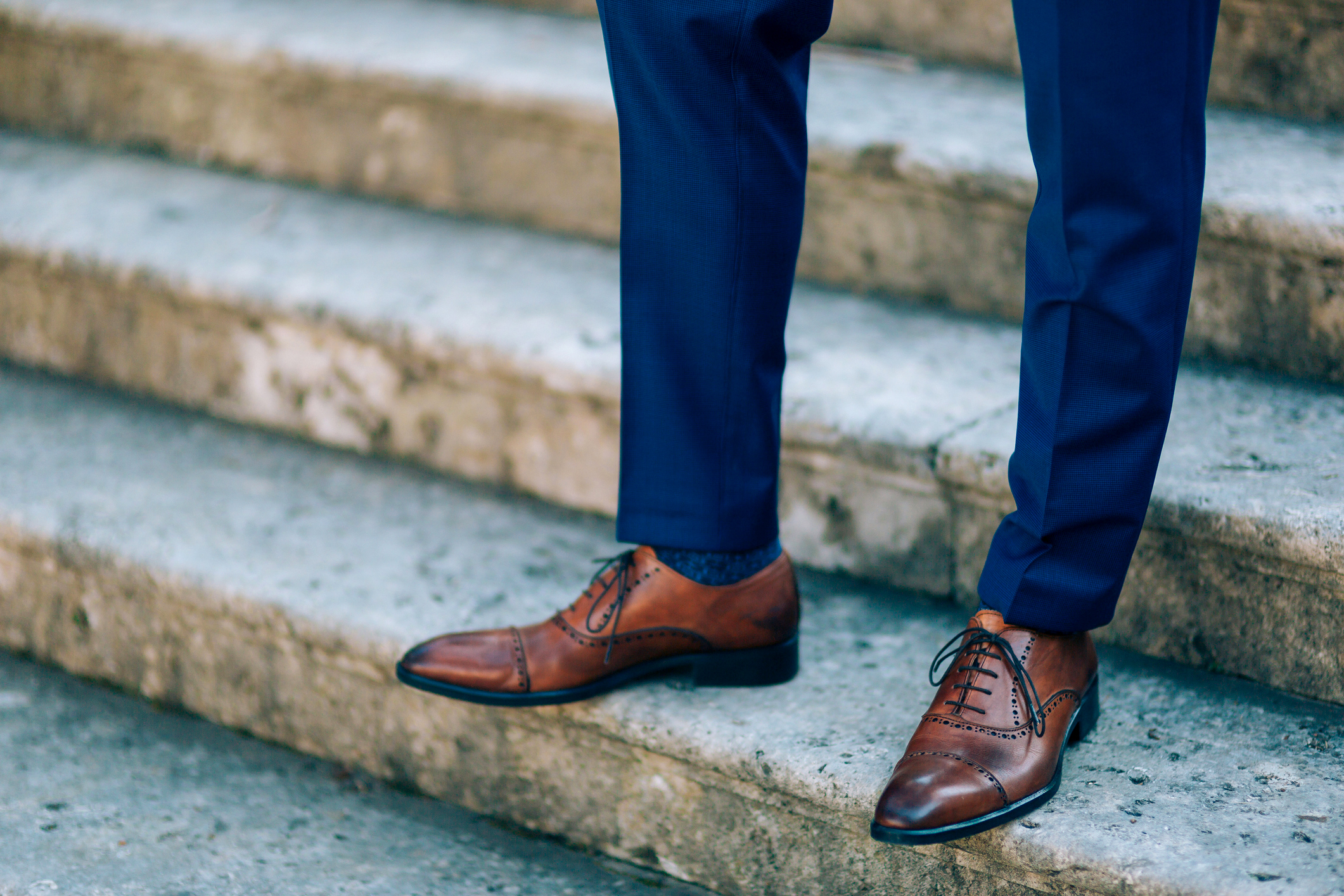 Sky blue is a very summery color. It's the most casual shade of blue you can wear and has a super relaxed vibe.
It's an excellent color for warm-weather weddings or outdoor parties. However, sky blue is best worn for daytime events.
How to Match the Brown According to the Shade of Blue
It's essential to choose your blue suit before picking out your brown shoes. In other words, don't purchase a suit to match your shoes, but purchase shoes to match your suit.
The reason for this is that you want to be sure you've selected a suit that is a flattering shade for your coloring. Not all blues look good on everybody.
The rule of thumb to keep in mind here is that the darker the blue is, the darker your brown should be.
So, for example, a navy blue suit should be paired with dark brown dress shoes. Conversely, sky blue suits look best when worn with light brown dress shoes.
Different Types of Formal Brown Shoes
The shoes you wear can convey a lot about the look you're going for. There are many aspects of your dress shoes that contribute to determining your level of formality.
The type of construction on your shoes also contributes to whether they are seen as formal or informal.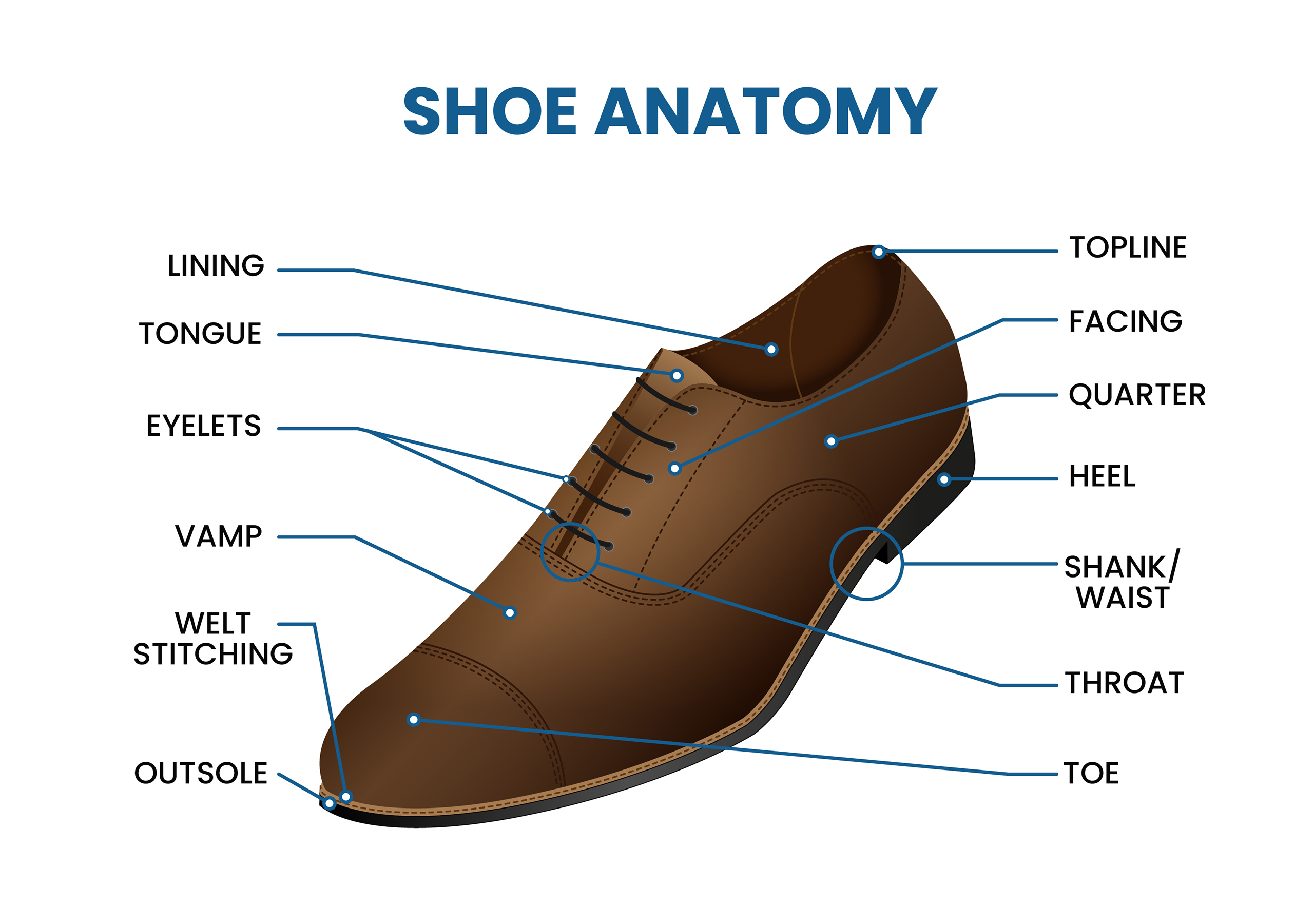 For example, the lacing system (or complete lack of one) and attachment of the vamp are details that can elevate or lower your shoe's formality.
Likewise, small flourishes, such as broguing and buckles, are small details that also add to the overall tone of your dress shoe.
Blue Pants and Brown Oxford Shoes
Both blue and brown are very traditional, primarily conservative colors. That's what makes these two a perfect pairing.
Oxford dress shoes are the most formal men's dress shoes, and they will increase the dressiness of any outfit. That's why they are excellent with a dark blue suit since that's the most formal shade of blue.
In fact, Oxfords are perfect for almost any setting. They are versatile enough for black-tie events but also for more relaxed outings.
To conclude, Oxford dress shoes are ideal for when you want to play it safe. Your fashion sense will never be questioned with this conservative combination.
Blue Pants and Brown Derby Shoes
Derby shoes are slightly less formal than Oxfords but are still very versatile. As a result, they are acceptable in most settings.
Derbies bring a more casual vibe to your ensemble. They are remarkably similar to Oxford dress shoes, but with one significant difference.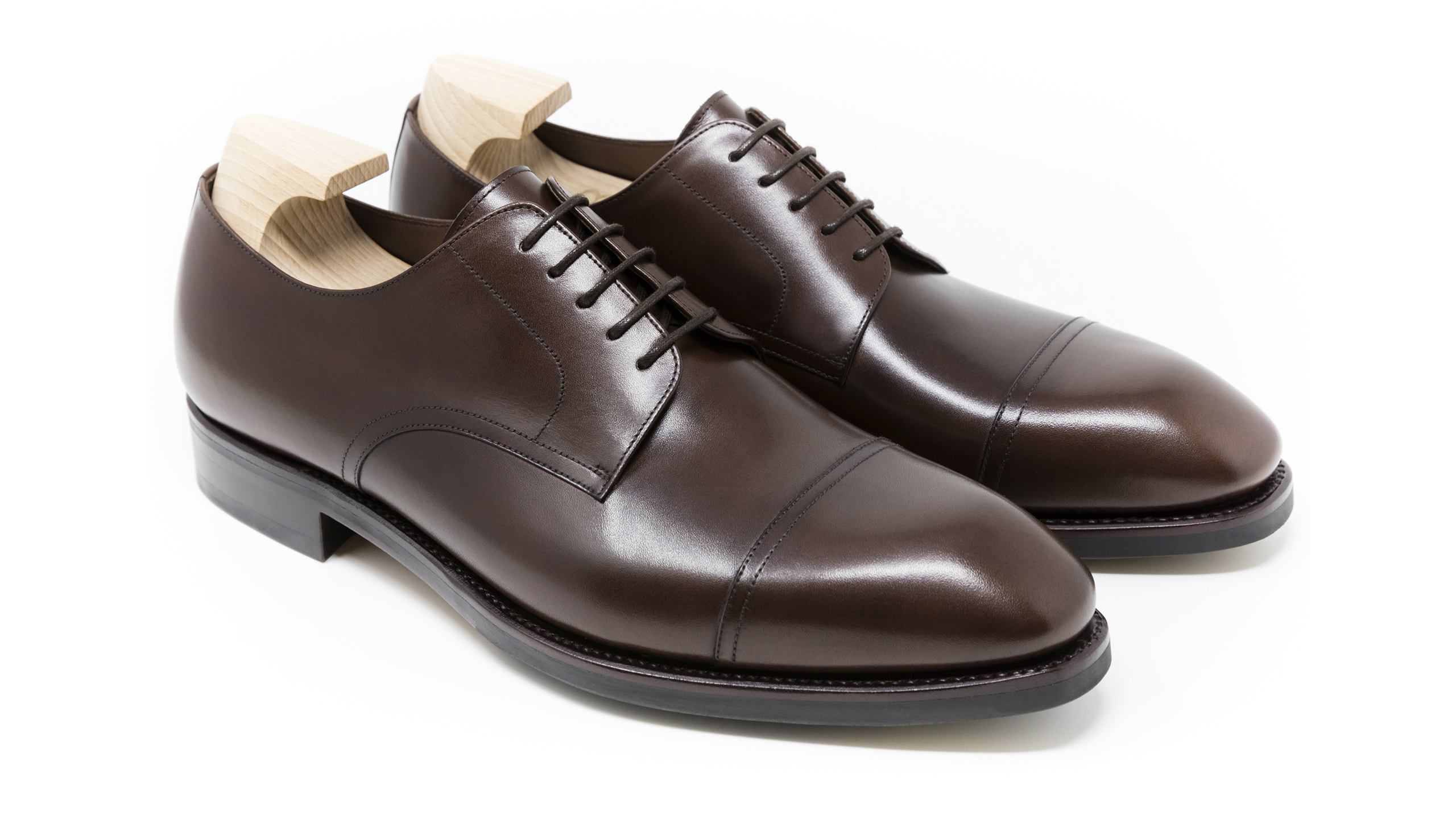 Derbies have an open lacing system, where Oxfords have a closed one. Therefore, they are slightly looser, which creates a subtly more relaxed appearance.
Because navy is a super conservative color, derby dress shoes are best paired with other shades of blue instead.
Blue Pants and Brown Monk Strap Shoes
Monk strap shoes are a very fashion-forward style of men's dress shoes. They are incredibly eyecatching because they are unlike any other type of dress shoe.
That's because monk straps feature buckles, which are an unusual embellishment in the world of dress shoes.
Since these are such modern-looking shoes, they are a terrific match with contemporary colors, such as royal blue.
The effect together will be simply electric. This pairing is still somewhat dressy but with a slightly casual tilt.
Different Types of Casual Brown Shoes
As I've established already, darker generally means dressier. So if you are looking for some casual brown shoes, you're going to want medium to light brown shoes.
Leather is fine, but you have more room to play with texture when you're going casual. Suede is a fantastic alternative to leather; so is canvas.
In place of your standard lace-up shoes, try something without laces. Loafers are an excellent choice because they exude a relaxed, leisurely feeling.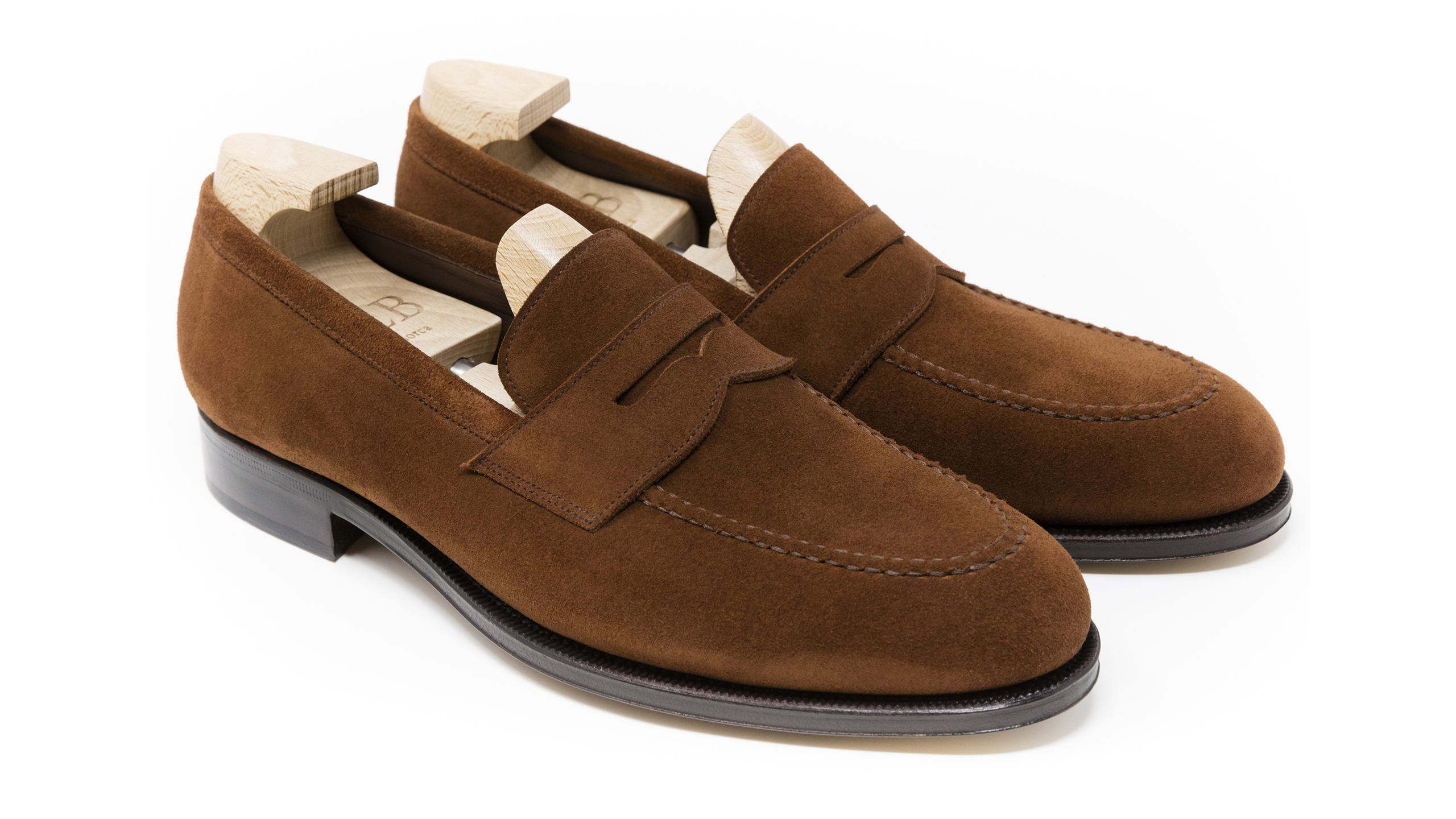 For something with a little more attitude, wear a pair of Chelsea boots. They are very chic and completely no-nonsense.
Light Brown Shoes and Blue Suit
Wearing a blue suit is an excellent choice for less formal events. For example, an afternoon wedding or an evening cocktail party are well suited to a lighter blue.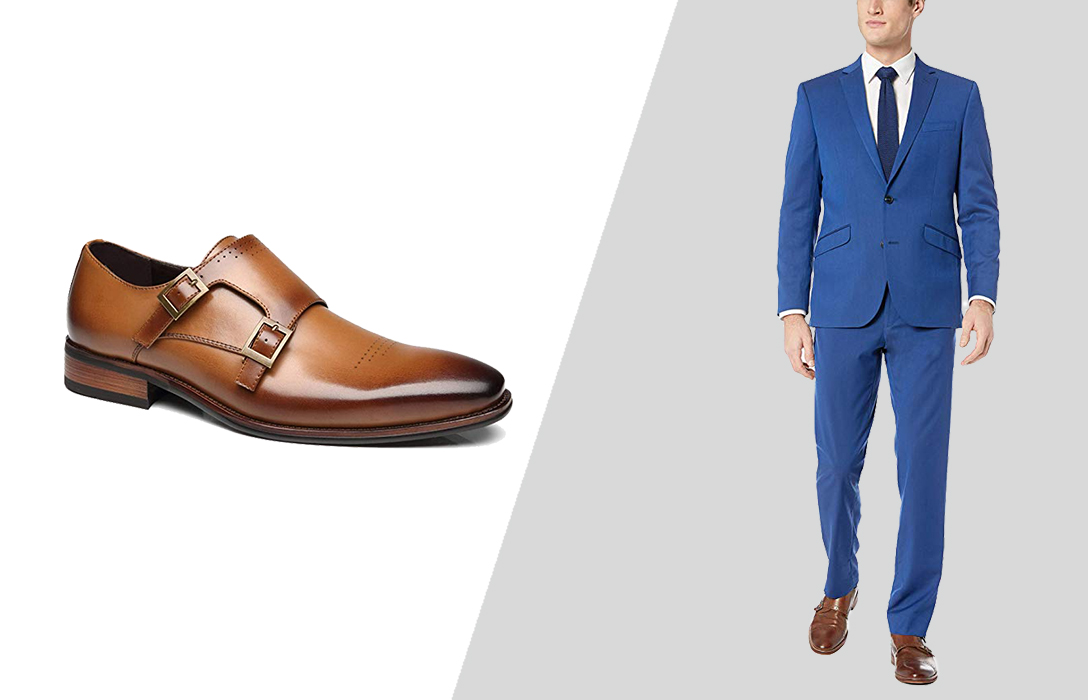 But, of course, you want your attention-grabbing suit to have shoes that are just as stylish.
You could up your style factor with a funky pair of monk strap shoes. Single straps would be slightly more formal, and double straps would add just a touch of modernness to your suit. Either way, you would undoubtedly be trendy-looking.
For dress shoes that don't stand out quite as much, pair your blue suit pants with a pair of brown bluchers.
Bluchers are nearly identical to derby shoes, so they're a little more on the casual side of dress shoes. But, of course, Oxford shoes are always a win and will help elevate your suit to slightly more formal status.
No matter which shoe style you end up choosing, the color should be light or medium brown. This will match the tone of your blue suit pants and feel like a natural fit.
Anything dark would only look clunky and make your suit feel a touch drab.
Finishing the Look
A blue suit and brown shoes are really fun because there are so many color options for your other pieces of clothing. You aren't backed into a color corner with only specific colors available to you.
For example, you can play it straight with the classic white dress shirt. There's no shame in going the traditional route; it looks incredible.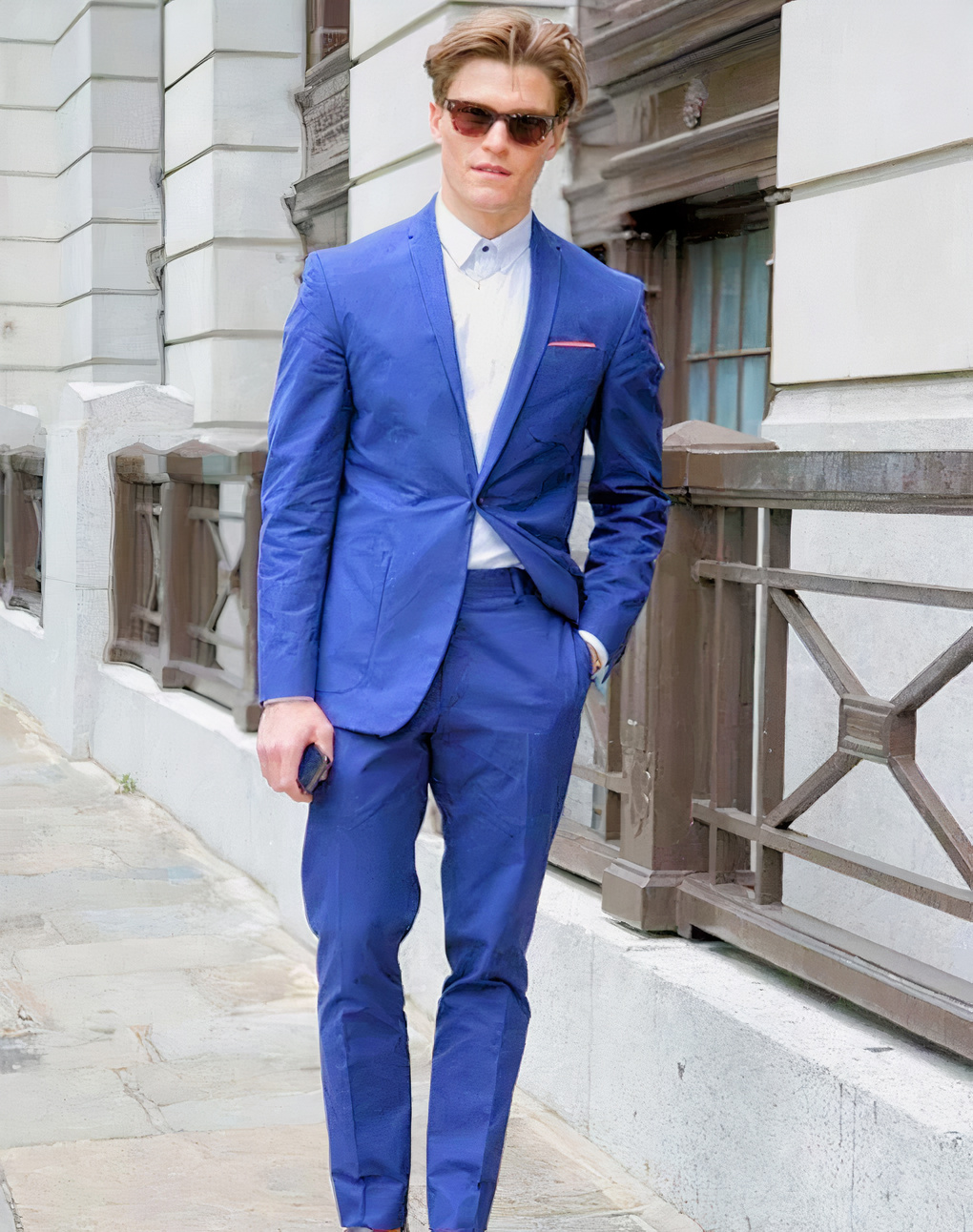 However, if you are itching to switch things up, how about a light pink or even a light blue dress shirt? Either color makes a dramatic difference in your suit.
The nice thing about a blue suit is that if you wear blue in another part of your outfit, it doesn't need to be the same shade.
Just like you can wear a light blue dress shirt and look amazing, you can also wear a blue tie. Either a navy tie or a lighter blue than your suit; both options are a big thumbs up.
If you don't want to keep the blue theme going, a power red or brown is a bold and commanding statement.
Brown Shoes and Blue Trousers
To use blue for a more casual outfit, a simple pair of blue slacks would be ideal. Because the shade is already leaning heavily on the casual side, you can influence how it lands by your choice of shoes.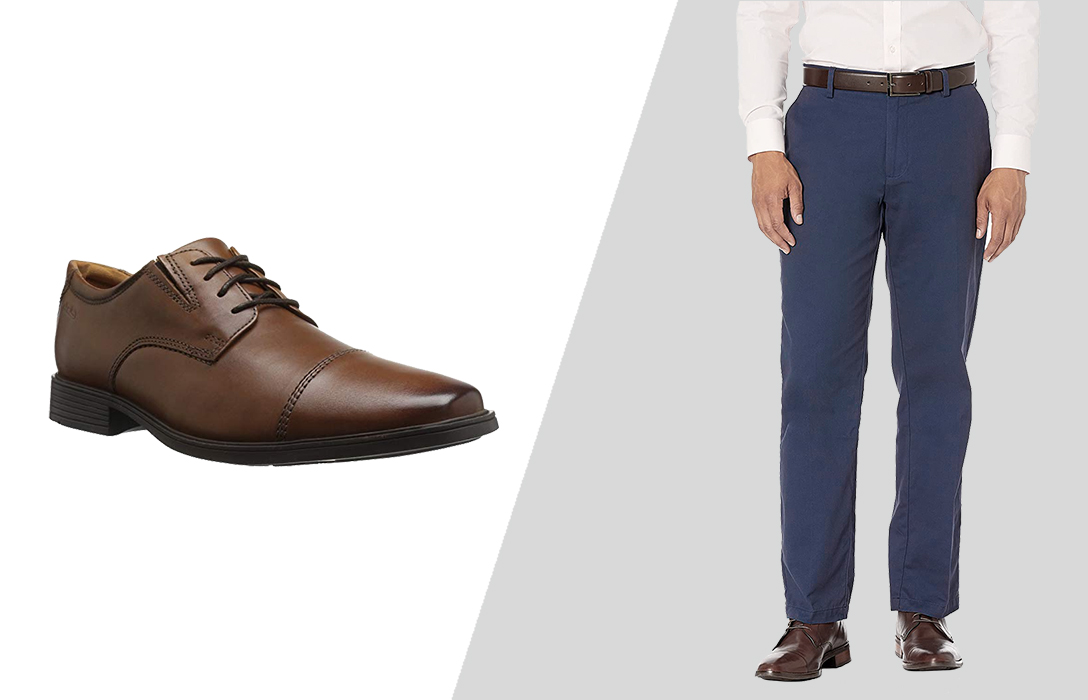 Brown Oxford shoes will make your blue pants seem dressier. With the proper dress shirt and accessories, you can really dress up a pair of blue trousers.
In addition, blue pants are an excellent opportunity to wear your brown monk strap dress shoes since both are more unique fashion choices. When you pair them together, you get a very classy combination.
Brogue shoes always add a certain jauntiness to your outfit, so don't rule those out. They are a nice modern feel.
However, depending on how casual you'd like to be, you could wear a well-maintained pair of Chelsea boots and show that you think outside the box.
Don't forget about the good old loafer. If you'd like to play up the relaxed nature of your outfit, you can't go wrong with a pair of brown leather loafers. They are still dressy, while at the same time, they are super laid-back.
For this look, your brown dress shoes should be either dark or medium.
Finishing the Look
You have the same level of flexibility with dress shirts as with blue suits. You could also choose a gently printed dress shirt for a casual style.
However, a solid dress shirt would be the best choice so that you don't risk making your outfit feel too busy. The bright blue paired with the wrong pattern may feel overwhelming.
If you aim for a smart casual style, a high-quality, well-fitted t-shirt is a fantastic option.
You can add a solid color blazer to top off the outfit, perhaps a charcoal or a light grey. This would work well with either a dress shirt or even your nice t-shirt.
Dark Brown Shoes and Navy Blue Suit
A navy blue suit is just a minor step down from the formality of a black suit since it is a similar color. However, it's a very traditional, conservative suit color.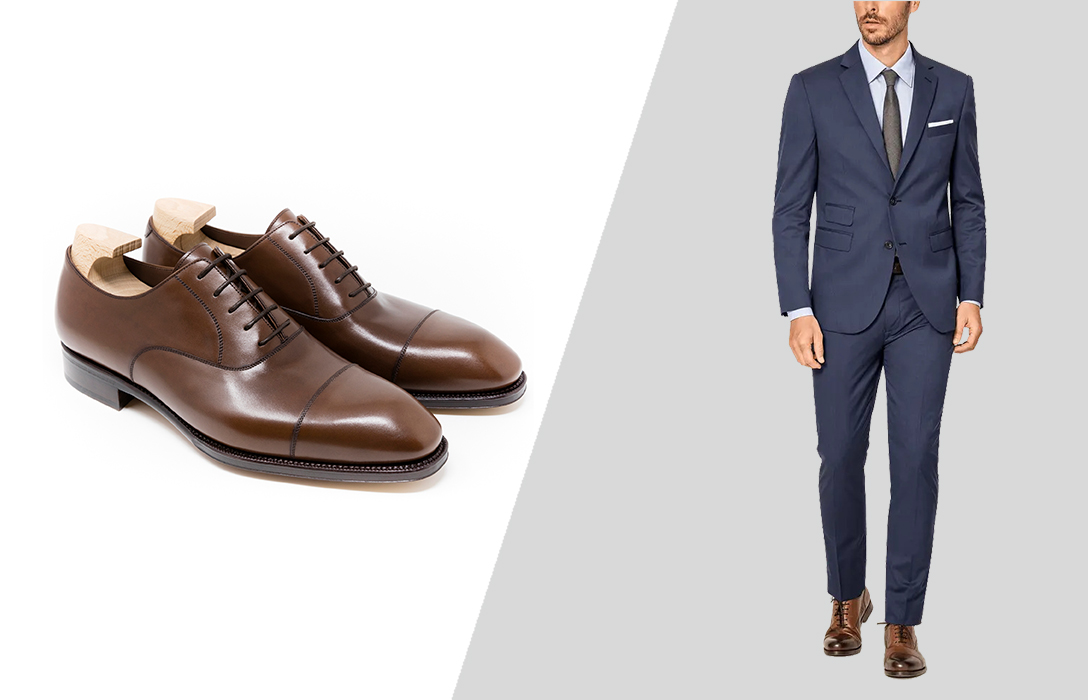 Therefore, it's most commonly paired with a similar feeling dress shoe, such as dark brown Oxford dress shoes.
However, you can opt for other styles. If you want to mix things up a bit, try a pair of brown monk strap dress shoes with your navy blue suit pants.
A double strap monk would be a bit unexpected with this traditional suit and would stand out.
Brogue shoes are also very trendy and look polished with navy blue suit pants. However, it's considered a more casual approach.
Finishing the Look
To complete your suit, you need the right dress shirt. White is always an excellent choice and very traditional.
However, you could wear a pink dress shirt for a change of pace and an unexpected twist. Pink is incredibly modern and looks terrific when paired with navy.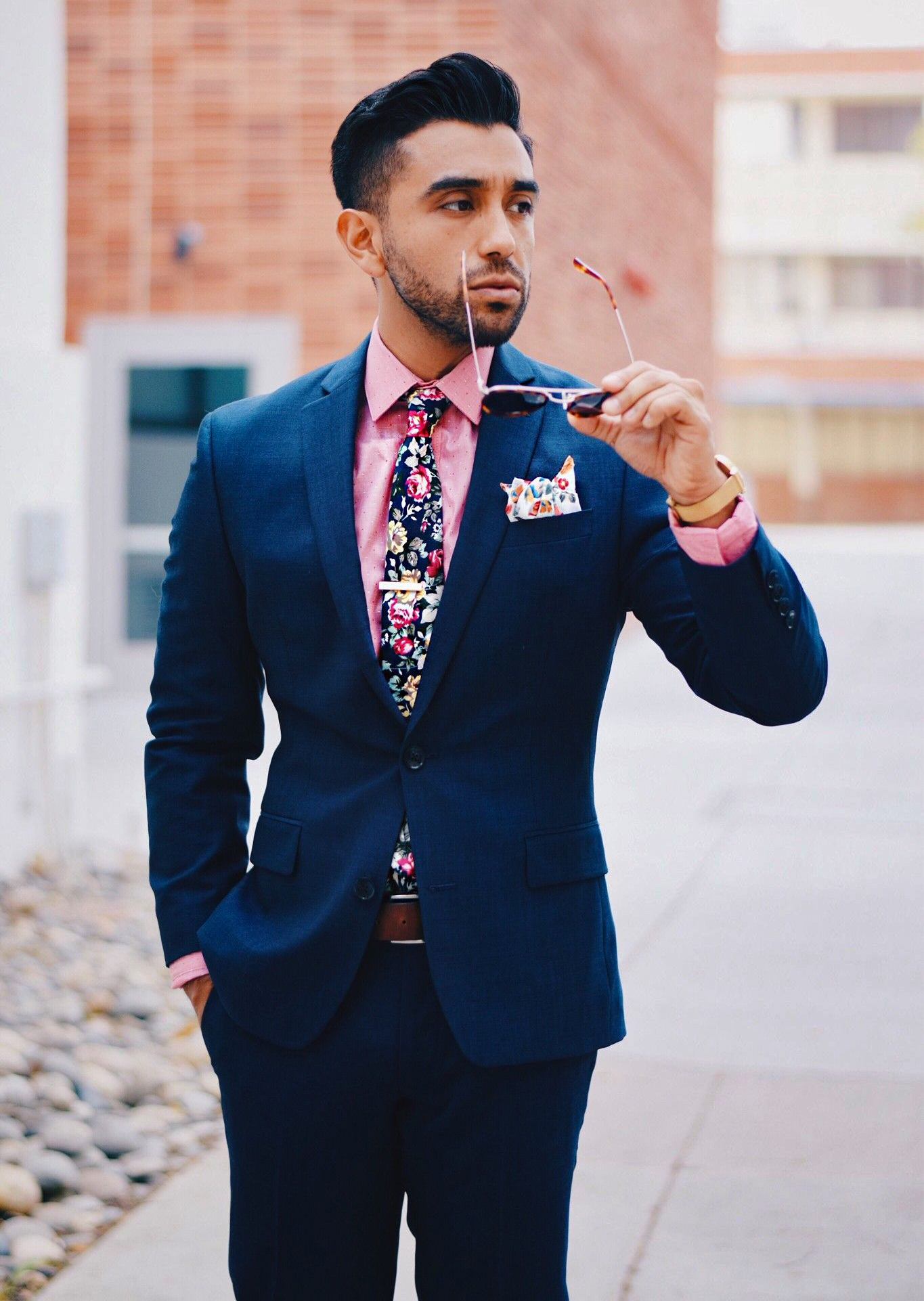 It isn't hard to find an appropriate tie with your navy suit. You could aim for the monochrome approach and wear a navy tie. However, a red tie is never a wrong move and looks fierce when paired with navy.
Another softer approach would be to add a grey tie. This would soften the boldness of the navy suit.
If you're headed out in your navy suit on a cold day, it will look stunning with a grey overcoat. The grey would be an excellent way to bridge the navy and the brown. A black overcoat would be too sharp a contrast.
Brown Shoes and Navy Blue Trousers
Navy blue slacks are a lot more casual than a navy suit. Therefore, you have a little more room to play with the hue of your dress shoes.
Anything from dark brown to medium brown would look good with a pair of navy blue pants.
You can also experiment with slightly more casual men's shoes when you are wearing navy blue slacks. Monk straps and brogues are still both very fine choices, or you could even add a pair of loafers.
Brown loafers would undoubtedly lean into the casual vibe of your navy pants, so this is a great way to signal that you purposely dress down.
Finishing the Look
There are many options of what you can wear with a pair of navy blue trousers, depending on how dressy you need to be.
For a more formal outfit, of course, the white dress shirt is going to be perfect. However, you can aim for a more casual approach with an appropriately colored dress shirt, such as pink.
Or, for even more casual attire, try a subtly patterned shirt. You can make your ensemble more interesting with a shirt that has subtle plaid or gingham designs on it.
Patterned or checkered shirts will also add a pop of color to a pair of pants that could easily be somber.
A grey blazer would be an excellent way to round out this look. Of course, you could also dabble with a brown blazer, but be sure that it's the same tone as your shoes.
Differing shades of brown would be too great of a discrepancy.
Blue Jeans & Brown Shoes
A superb pair of brown shoes can make a nice pair of dress jeans elegant. Brown is a perfect color for shoes when you are looking to elevate your jeans.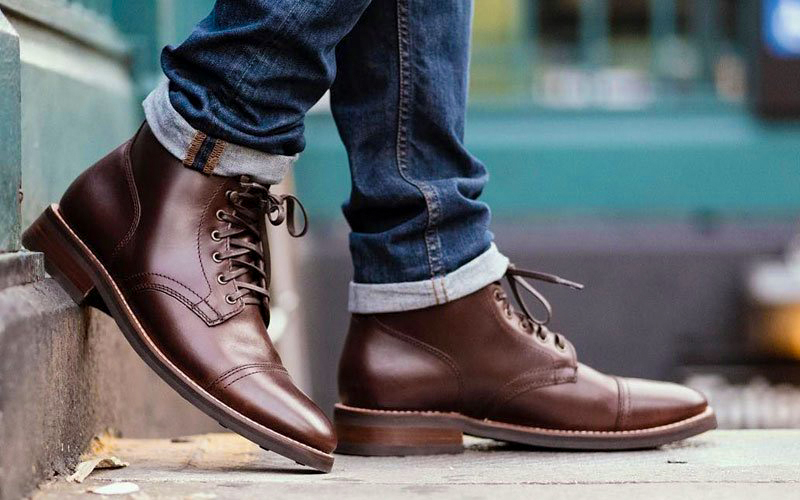 Black is oddly too formal and forced-looking; there is no natural flow. But brown looks sharp and classy.
In order to successfully pull off this look, you'll need a pair of high-quality denim. Dark denim usually looks the nicest, but some very sharp pairs of lighter denim would be acceptable.
Nearly any shoe style would work, but you'll get different effects depending on which type you go with.
For example, Chelsea boots add a little city appeal, while brogues would add a chic twist to your whole outfit.
Accessories You Can Wear with Blue Pants and Brown Shoes
The accessories you wear are all little details of your style, and all the details must add up together to create one overall effect.
The cardinal rule that your shoes and belt must always match still holds strong.
For example, if you wear medium brown leather dress shoes, your belt needs to be medium brown leather, too.
If you begin separating out those colors and mismatching them, your outfit will feel disjointed.
A dress watch is an exquisite accessory these days in the age of smartphones. So you can't go wrong adding a watch to your look. Just as your shoes and belt need to match, so does your leather watch strap.
For a very sophisticated approach to accessorizing, toss on a pair of brown sunglasses to pull the whole look together.
Author: Alexander Stoicoff
Hi, I'm Alex, and I've studied and specialized in styling in Rome. Through my writing, I want to help men dress well and learn the purpose and significance of suits and other formal attire. My final goal is to make men more confident in their wardrobe choice and life in general.