With so many styles and types of boots available to men, there is bound to be an appropriate boot for nearly every outfit you own.
Still, boots are often underappreciated footwear, typically overlooked when dressing up.
So step into the world of men's boots and see how you can incorporate this unexpected footwear into your everyday wardrobe.
Oxford Boots
The Oxford dress shoe is very popular footwear for men; it's a classic choice for most suits, from formal to casual. Although the dress boot version isn't a commonly seen style, it can work just as well with most suits.
Oxford boots are set apart from most other men's types in the same way the shoe is identifiable; Oxford's have a closed lacing system.
This means that the eyelet strip is sewn underneath the vamp so that when you lace up your shoes, the two quarters are pulled tightly together.
As a result, Oxford boots are essentially Oxford dress shoes with an extended ankle and hooks above the eyelets.
You can safely wear these boots with your best work suits, but don't try to pair them with formalwear.
Oxford boots are also a wonderful match with casual suit outfits; they lend your clothing a somewhat dressier feel, but because they are boots instead of dress shoes, they add an unexpected twist.
You'll appreciate Oxford boots in autumn or winter; they'll keep you warmer than your standard Oxford shoes.
Derby Boots
Derby boots are similar to Oxford boots but have one significant difference. Their lacing system is open versus the closed lacing of Oxford's dress boot.
Although this variation makes derby boots more casual than Oxfords, it also means that you can get your foot into them more easily. In addition, the open lacing has a looser ankle.
Derby boots are another solid choice if you're looking for a dress boot with a supportive high ankle.
Therefore, many men who don't have strong ankles do well with a firm leather boot.
Derbys are a popular boot style but are firmly casual. However, you can dress them up to wear them with a suit.
Dark leather that isn't scuffed or creased looks entirely appropriate with a suit; just don't opt for this style for strictly formal businesswear.
Chelsea Boots
This style of men's boots is incredibly popular, primarily because of their versatility. You know this look; these are trendy ankle boots with elastic sides on each ankle, running the height of the boot.
They are easy to spot because they don't have laces; instead, you can quickly pull them on and off.
Chelsea boots have a very low profile and are super simple and clean because of the lack of laces. They're usually leather but are frequently found in suede and can be smooth or textured.
There are several different styles of Chelsea boots, each creating a different effect.
For example, casual Chelsea boots have a thicker sole and a rounded toe, while dressier ones have a sleek outline and a pointed toe.
The dressier Chelsea boots in dark leather are fine to wear with most suits for business casual.
But most Chelsea boots are wildly casual and trendy and are commonly worn with jeans or other casual trousers.
Chukka Boots
Chukka boots have very low ankles and are easily recognizable because they only have two or three eyelets.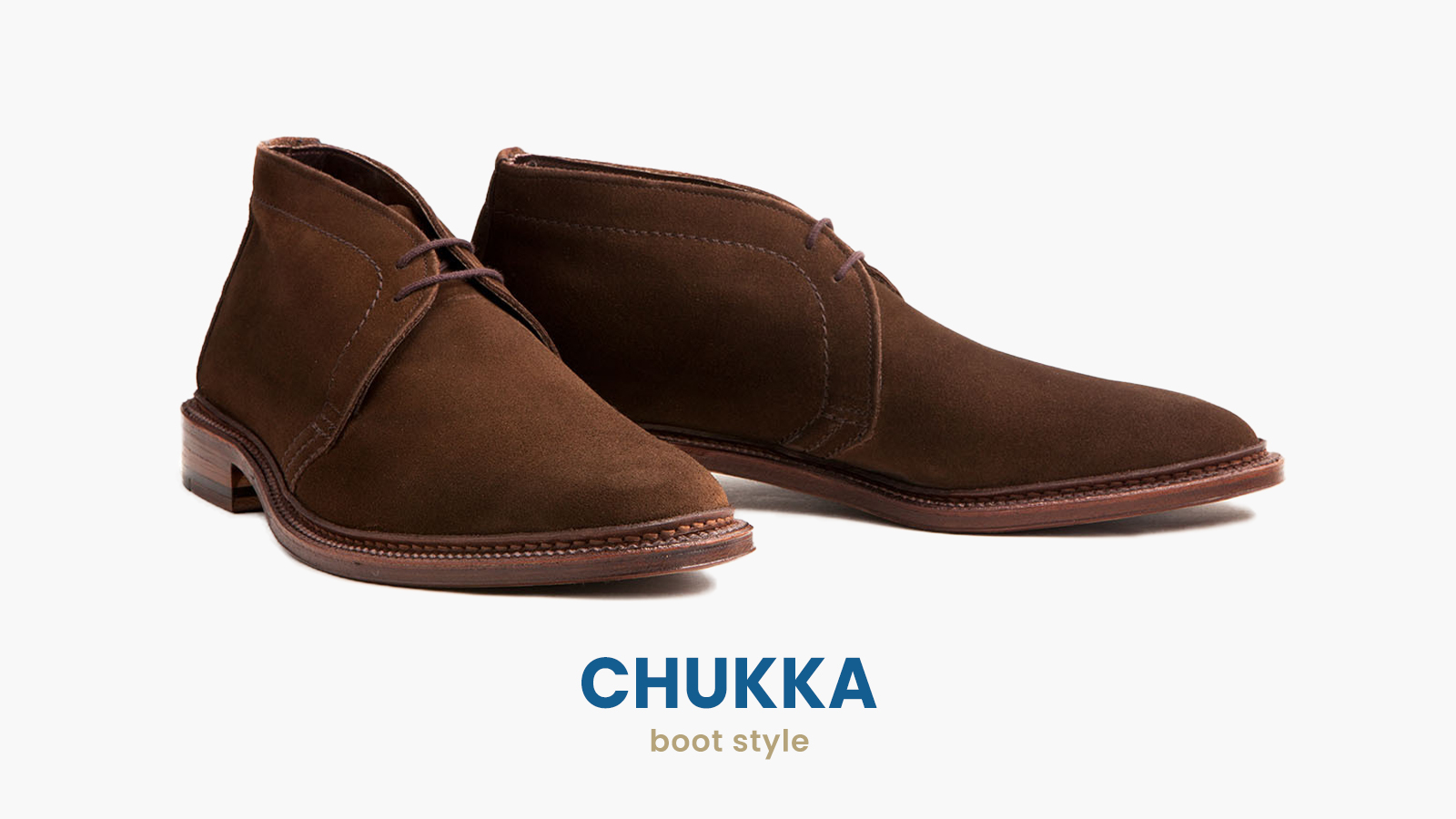 They have a slight heel and always feature open lacing. Most chukka boots have thin soles of either leather or vulcanized rubber. They are also characterized by their rounded toe box.
Because of their low profile, the chukka boot is suitable for year-round use.
However, if you want something warm and protective in winter, you may wish to avoid them because they are too similar to the shape of dress shoes.
Also, because they don't have sturdy ankles, pick chukka boots with high-quality construction.
The chukka boot is most popular in suede styles. If you opt for a suede pair, remember that they will be most suited to casual clothing.
They would work just fine for a smart-casual ensemble, with khakis and a long-sleeve polo shirt, but not for any more formal outfits.
A leather pair of chukka boots work well with a casual suit, though.
Desert Boots
Desert boots are a variation of chukka boots. They have the same design as a standard chukka but a different sole.
Desert boots' soles' are made from crepe rubber, which means they are softer and easier on your body.
Therefore, desert boots are good to wear to jobs that require a lot of standing on your feet throughout the day. However, the soles aren't known for being durable, so they'll quickly wear down on the cement.
Desert boots are solidly casual. You can't dress up this chukka, so keep these boots for your less formal outfits. Wear them with very light khakis or grey chinos and a canvas jacket for a bit of a preppy look.
Jodhpur Boots
This boot style is like a Chelsea boot, only with straps and a buckle at the ankle in place of elastic. Just like the elastic of a Chelsea boot is functional, so are the strap and buckle on the jodhpur boots.
You can tighten or loosen the boots as needed. The uppers of these boots are one sleek and continuous smooth silhouette.
Jodhpur boots aren't as well-known today as they were a century ago. That is what makes them such a fantastic fashion choice today since they aren't remarkably common.
The strap and buckle at the ankle are often hidden in the hem of your pants. А surprise waiting to be revealed when your ankle moves.
Wear jodhpur boots the same way you would wear Chelsea boots. They can be surprisingly dressy in dark leather.
Monk Strap Boots
It's no surprise that the Monk Strap boots are basically Monk Strap dress shoes, with an extended shaft above the buckles.
Thus, monk strap boots are similar to Jodhpur's. The main difference is where the ankle strap is sewn.
The jodhpur boot's vamp is on top of the quarters, while monks' quarters are sewn on top of the vamp.
Monk straps are very classy and versatile. They're perfect when paired with a suit, making your entire outfit energetic and refined.
On the other hand, I never recommend wearing Monk Strap boots in casual outfits like khaki pants and t-shirts.
Moc Toe Boot
Moc toe boots are as casual as you can get and stand out from other men's boots in a couple of different ways. For starters, their toе box is a U-shape; in fact, the moc toe boot is short for moccasin toe.
Their toe is created by stitching together two pieces of leather instead of just one that wraps down around the front of the toe to the sole.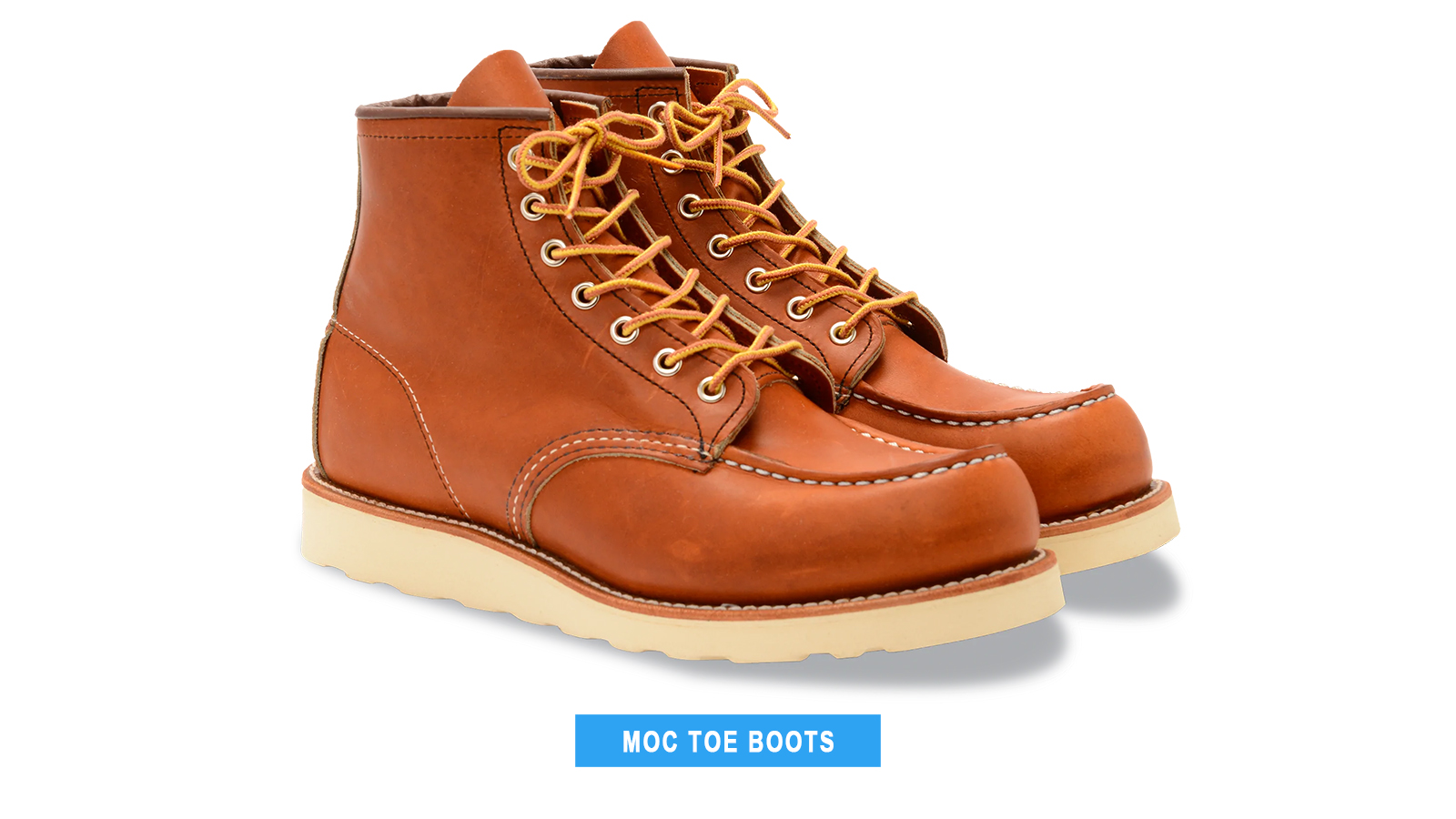 Most moc toe boots also have a wedge heel and a crepe rubber sole. These are both a sure indication of a casual boot.
Because this is a rare boot style with a flat bottom and no heel, some men like to use the moc toe boot as work boots.
They find it comfortable and supportive, excellent for a full day on your feet. In addition, they also tend to be wonderfully water-resistant.
Moc toe boots are less rugged than pure work boots, however. So, while you can't dress them up well, you can add them to some nice outfits to create a unique, ruggedly preppy look.
They are most appropriate with jeans and a t-shirt, but if you wear them with chinos and layers up top, you get a nice outdoorsy effect.
Engineer's Boots
If you've been searching for a fashionable workboot, here's the real deal. Engineer's boots have few seams, so they are relatively sleek.
Their one nod to embellishment is a leather strap at the ankle; it's not functional and is purely for looks.
Motorcyclists often wear engineer's boots because their heel is perfect for gripping their bike pedals, and they look very rugged and simple. However, you don't need to be a biker to pull off this style.
Wear engineer's boots anytime you want a rough or blatantly masculine style. Black jeans are the ideal pants for these boots.
Cuban Heel Boots
Cuban heels aren't tremendously tall, but this might be more heel than many men are used to. They're low but chunky.
The heels on these boots are one hundred percent for style; they are fashionable and add tremendous flair and panache.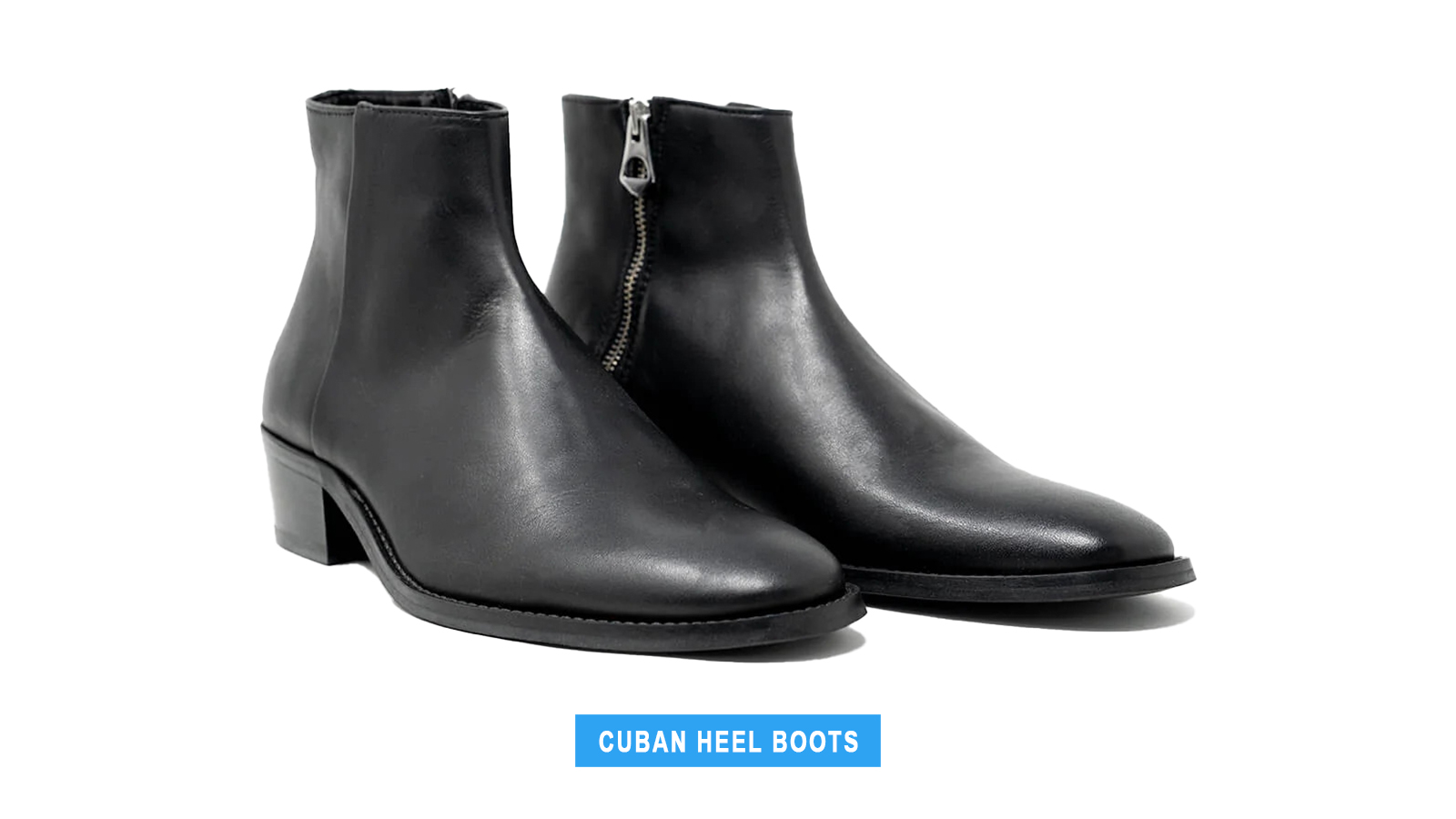 Play up the heel on your Cuban heel boots when choosing what to wear with them.
Since these boots give you a little swagger to your walk, opt for clothes that are a little more flamboyant than what you might wear with most other men's boots. They look stunning with slim-fit or skinny pants.
Wear these any place you want to embrace your inner rockstar. They will be a perfect style for a concert, party, or a fun date night.
Steel-Toe Boots
Steel-toe boots are the ultimate work boot. You know these boots will last a long time with the proper care.
They are designed specifically for worksite safety; their steel covering on the toe box is super strong to protect your fragile toes in case heavy equipment drops on your feet.
They are pure function over form. However, steel-toe work boots have many different looks.
Some are all leather, while some have canvas construction. Some men and women wear these boots to establish a super rugged style, but this is only advisable in small doses.
Steel-toe work boots are cumbersome and heavy, and wearing them for long periods when you don't need to can damage your feet if they don't fit you perfectly.
As nice as the all-leather work boots can look, they are not at all dressy. Though you won't ever be able to pair these with a suit or any office wear, they look great with chinos.
But, of course, jeans are never the wrong choice with these hard-wearing boots.
Combat Boots
Yes, I'm talking about actual combat boots here as a fashion choice, the same boots worn in the army.
Although these boots were once an outlier of fashion, worn only on the fringes of acceptable dress, they are now embraced and celebrated by establishment fashionistas.
Combat boots have a very high ankle and feature a clunky rubber sole and heel. Because they are such high boots, most have around twelve pairs of eyelets. They're traditionally black but come in brown, too.
You may be surprised by how many outfits you can create around a pair of combat boots. They look spectacular with a pair of cargo pants, possibly because they are reminiscent of a military uniform.
They also complement khakis and jeans. Of course, a casual shirt is expected, so you can also throw on something rather unexpected up top, like a sweater or a polo shirt.
Because combat boots have a lot of heft, you don't want your pants to obscure them. Either cuff your pants to show off most of your boot shaft, or be sure the hem of your pants ends well before the top of your foot.
Duck Boots
Duck boots are perfect for rainy days and help you stay stylish while keeping you dry.
You can easily recognize duck boots from their rubber bottom portion and leather upper half. In addition, their rubber sole is ideal for traction, preventing you from slipping on wet surfaces.
Although duck boots were initially designed to keep hunters' feet dry on rainy outings, you'll find them well outside the hunting grounds. You can wear them, too, anytime you want to showcase your best outdoorsy style.
Khakis and chinos complement these boot styles well; top off the outfit by layering a pullover and a vest or light jacket.
If you are worried about keeping the hem of your pants dry, avoid tucking them into your boot. Instead, roll them up to keep them out of puddles.
Hiking/Winter Boots
This boot type is designed more with performance and comfort than fashion.
Nevertheless, hiking and winter boots have many similarities, which is why I've included them together; they are both casual and hardy and need to be well-insulated from cold and water.
Hiking and winter boots types are made to help your feet, protecting them against rough, slippery terrain and bad weather.
Therefore, they must be durable to survive repeated exposure to these conditions. Oddly, they are usually bulky yet lightweight at the same time.
Most winter boots don't add style to your outfit; they are designed with snow in mind and little else. However, hiking boots are sometimes a little more stylish, and you can wear them to enhance your rugged approach to dressing for the day.
For example, you can create a spectacular autumn outfit with wool trousers, a medium-weight sweater, and hiking boots.
Cowboy Boots
You know the look of cowboy boots. These extend well past your ankle and partway up your shin.
Still, you can pull them off and on without the help of elastics, buckles, or even laces. Cowboy boots also have a fairly stacked heel. Fortunately, you don't need to be from the west to pull off this look.
Cowboy boots are used universally in some regions of the country; they can be both work and dress boots.
Although they usually pair best with dark, clean-cut, fresh jeans and a dress shirt, some men successfully wear cowboy boots with a suit.
Again, however, I wouldn't recommend this approach outside of the west. It would probably be frowned upon in most other places.
Different Boot Styles
Most boots are customizable to some degree. Even the most common boots can be found in different styles and embellishments. Each variation affects the fundamental character of your footwear.
So, consider a few things when choosing your boots. First, think about your goal for your formality and what style of pants you intend to wear. Also, remember that the more you embellish your boots, the less dressy they are.
Plain Toe Boots
Plain-toe boots create a very sleek line along your foot. These are good, solid everyday boots; there's nothing fancy or eye-catching about them. That's what makes them the most dressy type of boot.
Because of their traditional style, they are able to blend in so well and work flawlessly with most outfits.
They are the height of smart casual; you can dress them up with chinos and a button-down dress shirt or style them with crisp jeans and a simple sweater.
Cap Toe Boots
Cap toe boots are defined by a seam across the boot's toes. The result is a cap over your toes, hence the name.
Cap toes are more casual than plain toe boots, but the detailing adds more interest to your ensemble. Fortunately, cap toe boots go well with most outfits.
For example, they work well with a casual suit but would not be acceptable in most office spaces.
Instead, wear these boot styles with a blazer or other layers and a pair of dress trousers.
Brogue Boot Style
Brogues are shoes with decorative perforations across them. Broguing makes the boot style even less formal but looks incredibly sharp.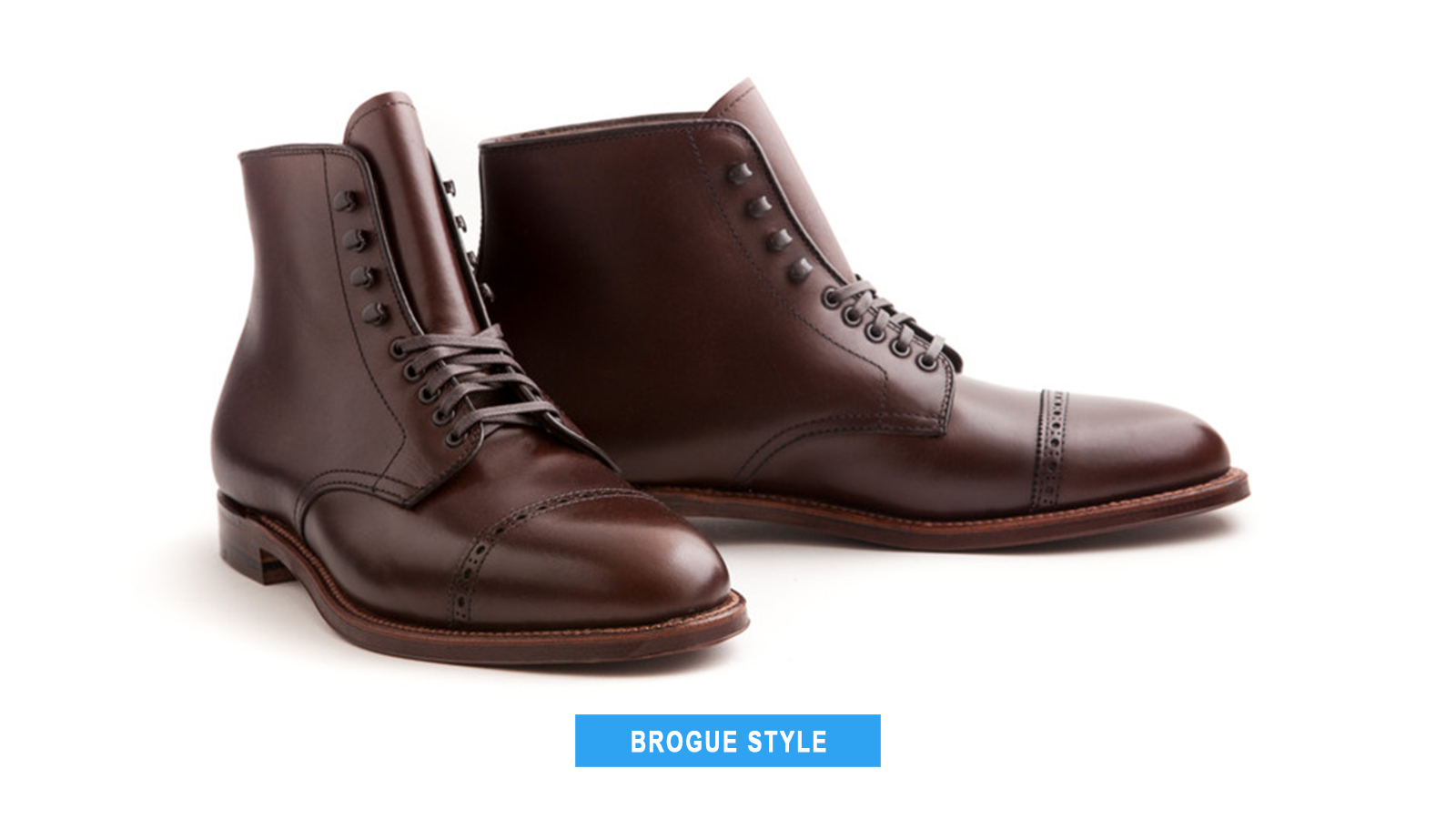 There are several styles of broguing, depending on how much and where the holes are located. Full brogues, semi-brogues, and quarter brogues are slight variations of this style.
Boots that include this detailing is classy looking and quite contemporary. In addition, they hold a lot of "personality".
Although brogue boots look great with a business suit, they are not acceptable in a conservative business setting.
Wingtip Boot Style
Wingtips are a style of broguing or overlay across the toe cap in a shape that resembles a wing. The overlay may be two-toned, with the toe cap and uppers of the boot in contrasting colors.
Wingtip boots are hip and styled in a contemporary manner but can also have a very vintage feeling.
If your boots are shined and in good shape, they will perk up a tweed suit or add serious style to your average pair of crisp, slim-fit jeans.
Author: Alexander Stoicoff
Hi, I'm Alex, and I've studied and specialized in styling in Rome. Through my writing, I want to help men dress well and learn the purpose and significance of suits and other formal attire. My final goal is to make men more confident in their wardrobe choice and life in general.