Have you been getting tired of your old black footwear? You've probably noticed that brown dress shoes are getting a lot of love these days, and that's with good reason.
That's because they are an unexpected twist to most outfits.
It isn't as simple as running out and purchasing the first pair of brown dress shoes you like. There are so many shades of brown that your options may feel endless.
To pull off wearing brown dress shoes with your suit or dress pants, you first need to be sure that you have the exact right shade.
Brown Dress Shoes Styles & Things to Consider
Choosing a pair of brown dress shoes can be more complex than most people realize. There's so much more that goes into it than just deciding what looks good.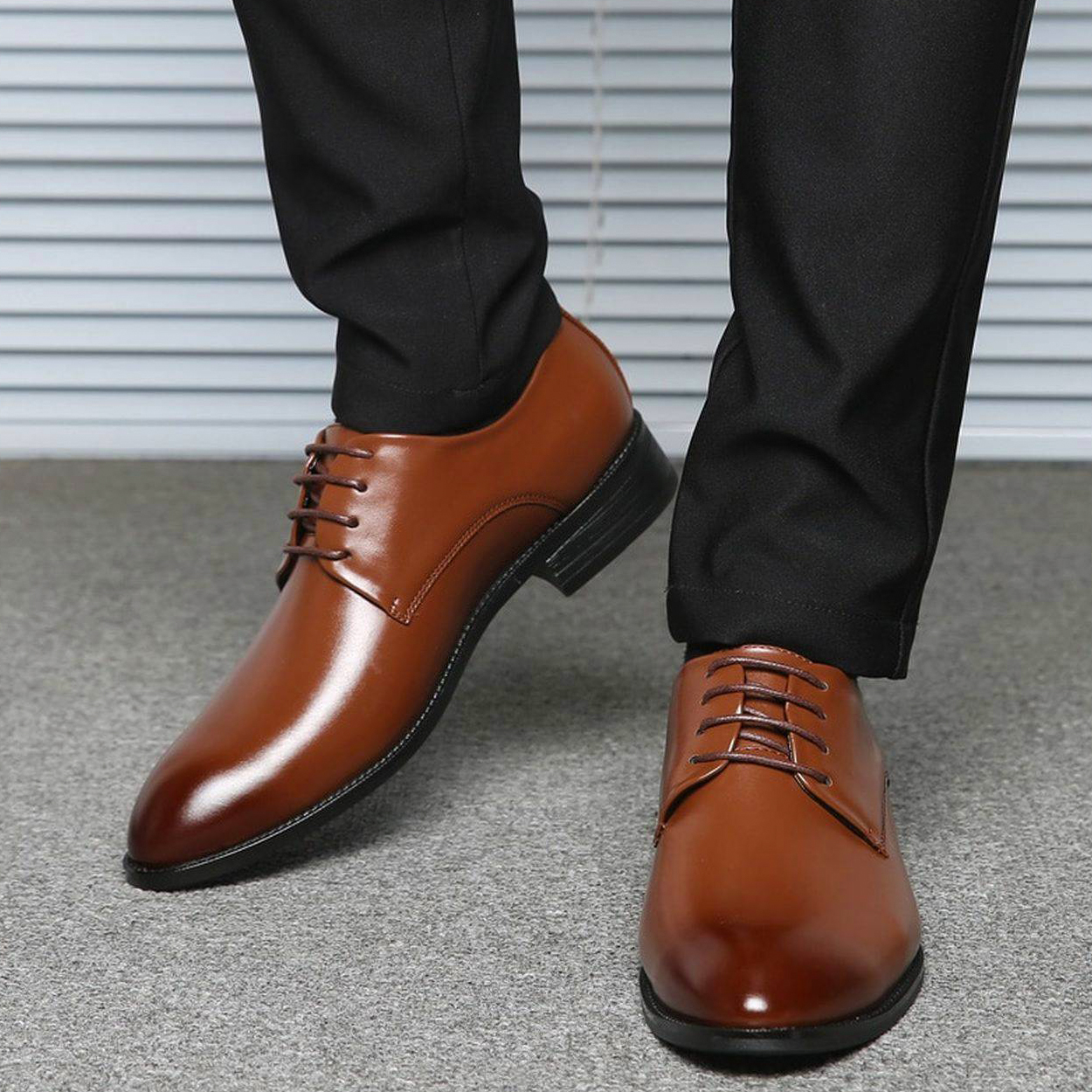 Your dress shoes are an investment, and any good investment requires looking at many different aspects.
You will definitely want to know if your dress shoe will last for a long time. You can partially tell by looking at the way the dress shoe is constructed. There are two main parts of every shoe: the lower and the upper.
The lower part of your shoe is what is commonly called the sole. What type of material is it made from? Leather is the most common material for dress shoe soles, although some dress shoes have rubber instead.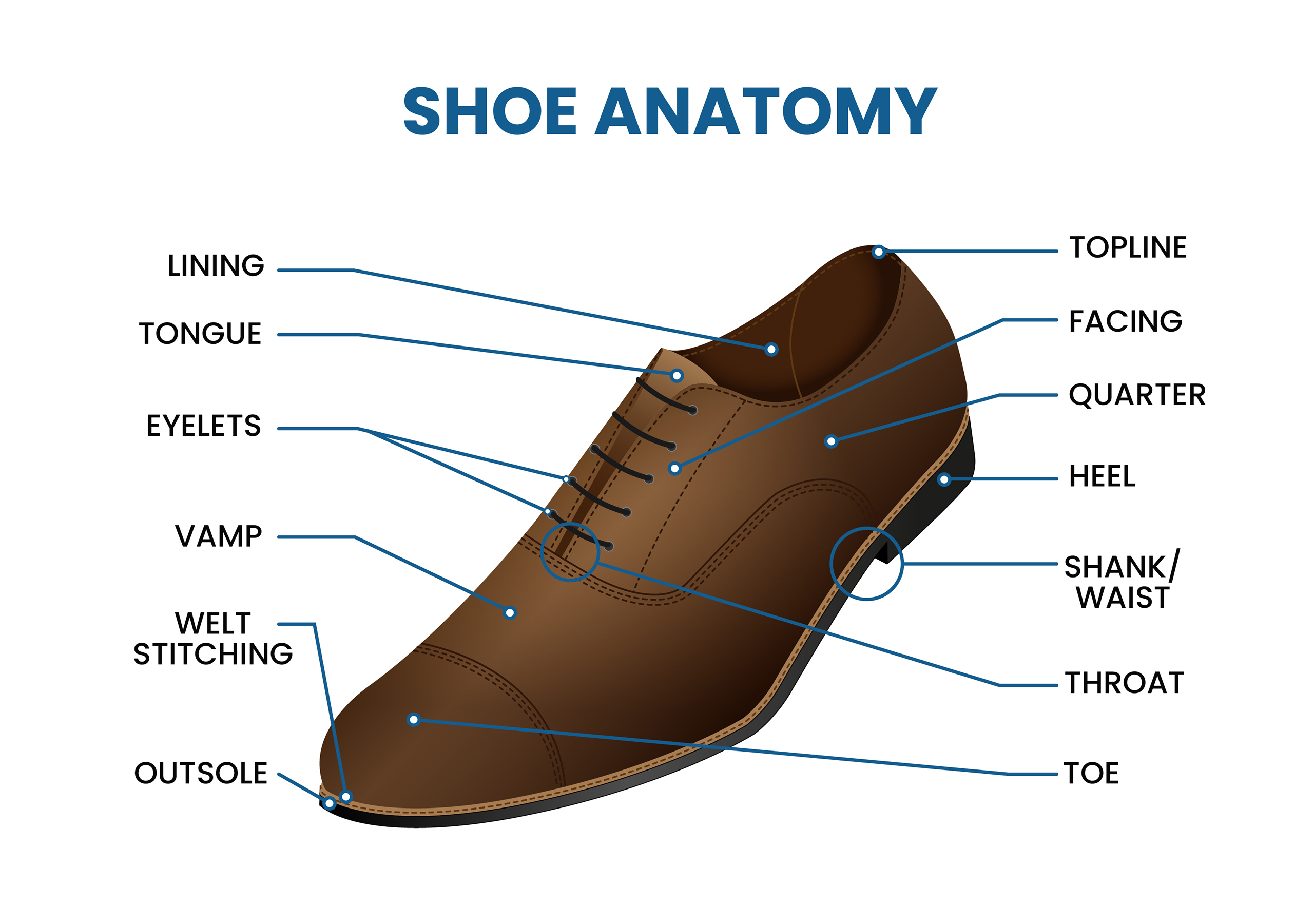 The upper part of a dress shoe consists of four main parts: the toe, the vamp, the quarters, and the facing.
How they are secured and their stitching will be factors that will influence who long-lasting your dress shoes are.
The Formality
There are a wide variety of types of dress shoes, and they can range in formality. There are five main styles of men's dress shoes, so you can pick what suits you best.
Of course, you need to consider your outfit, but there's also room for your personal taste factor in.
The most formal of the common types of dress shoes is the Oxford. However, it's also the most versatile; you can wear them with tuxedos (if they were black), business suits, or even with some more casual outfits.
Derby shoes are pretty dressy as well but are slightly less formal than Oxfords.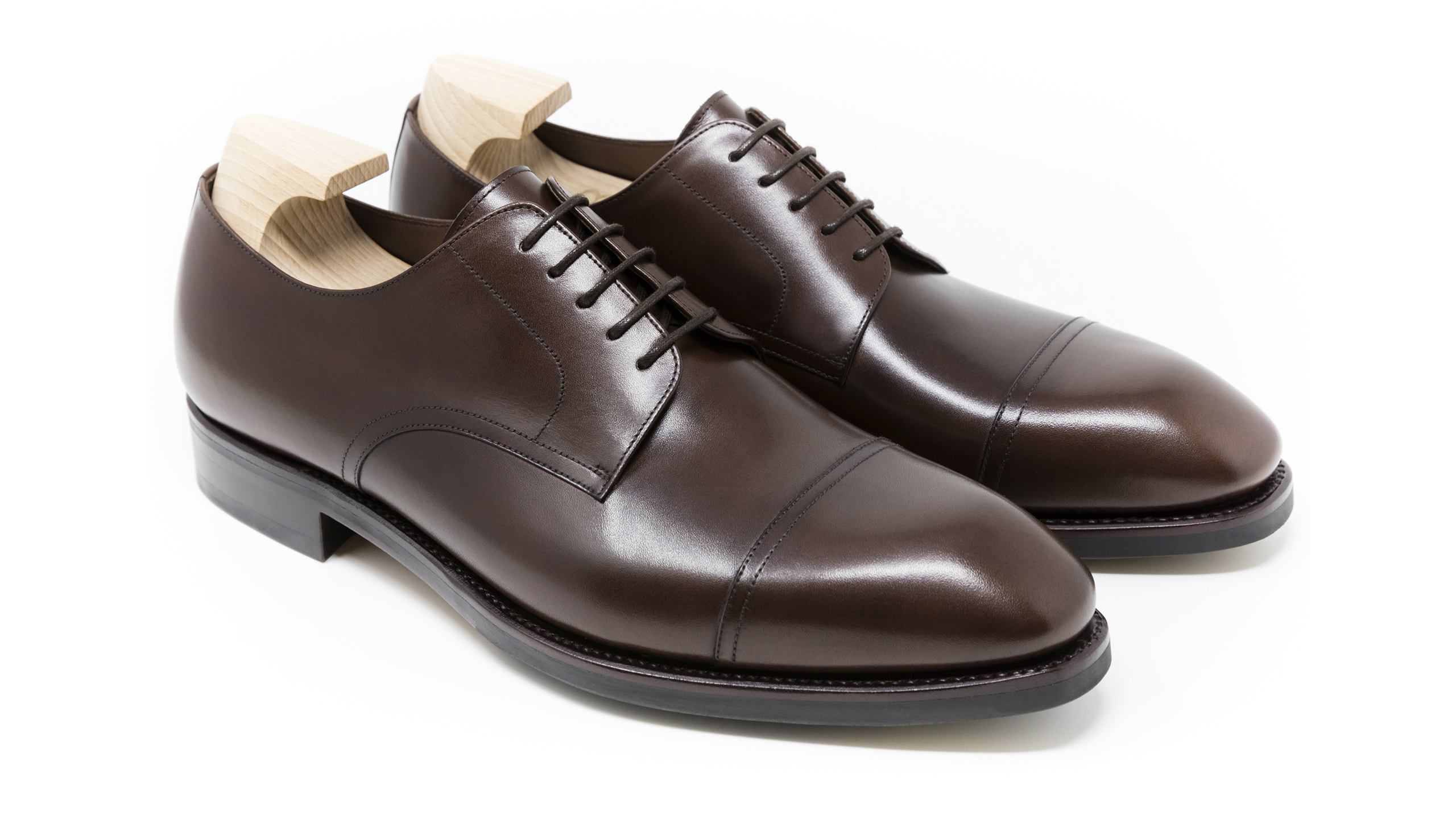 When choosing your dress shoes, it's wise to pick something versatile. If you can wear your dress shoes across several outfits and multiple types of occasions, you'll be really getting your money's worth.
The Material
Brown dress shoes are usually made of leather, from top to bottom. This includes both the upper and the lower parts of the shoes.
Genuine leather may be pricey sometimes, but it can also be very durable. If properly cared for, leather shoes can last you for years and years.
Sometimes, dress shoes may have rubber soles instead of leather. Rubber soles can really take a beating, so they may last you longer than leather soles will.
Otherwise, you may need to take your leather-soled shoes in for repairs.
The Color Wheel
If you ever struggle with knowing what colors might look well together, you aren't alone. However, you don't need to suffer for it.
You have a tool at your disposal; the color wheel. If you follow the color wheel, you may be able to expand some of your dressing options by creating stylish color combinations.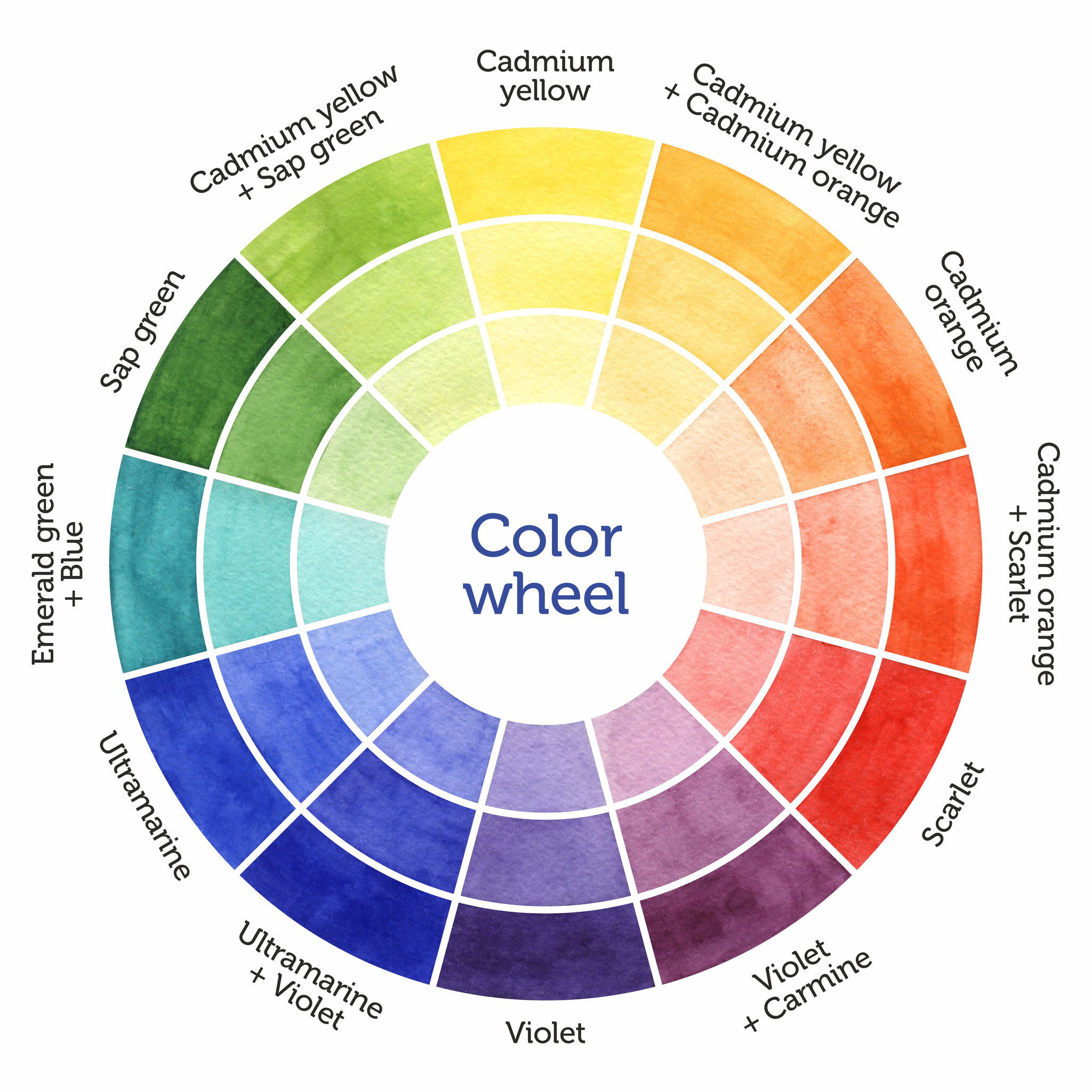 The color wheel is divided into warm and cool colors. Brown is one of the warm colors, along with orange and yellow.
Some shades of brown may have cool undertones, but the color wheel can help you sort all that out. You will create different effects when you pair your brown shoes with either warm colors or cool colors.
Brown Dress Shoes & Black Pants
Traditionally, black shoes were the only acceptable shoe choice with a black suit. You would never have dreamed of mixing black pants and brown.
However, it's becoming more acceptable these days to combine these two colors.
When you are wearing a black suit, keep your brown shoes as dark as possible. The only brown shoe color you can get away with for a black suit is dark brown.
This is because any lighter shade of brown will be too informal, and black is a formal color. It's also wise to wear a formal shoe style, too, such as Oxfords.
On the other hand, if you aren't wearing a full black suit and just black pants, you can go down a shade or two. Dark brown still looks very lovely, but you may want to try a medium brown for fun. It would look trendy.
You also would have more freedom to play with the shoe style, opening the door for a more casual shoe. Perhaps experiment with a pair of monk straps?
Brown Dress Shoes & Navy Pants
Navy and brown are a perfect blending of tones. They are a very modern color combination and can be either dressy or informal. You can choose the level of formality by what you choose to pair it with.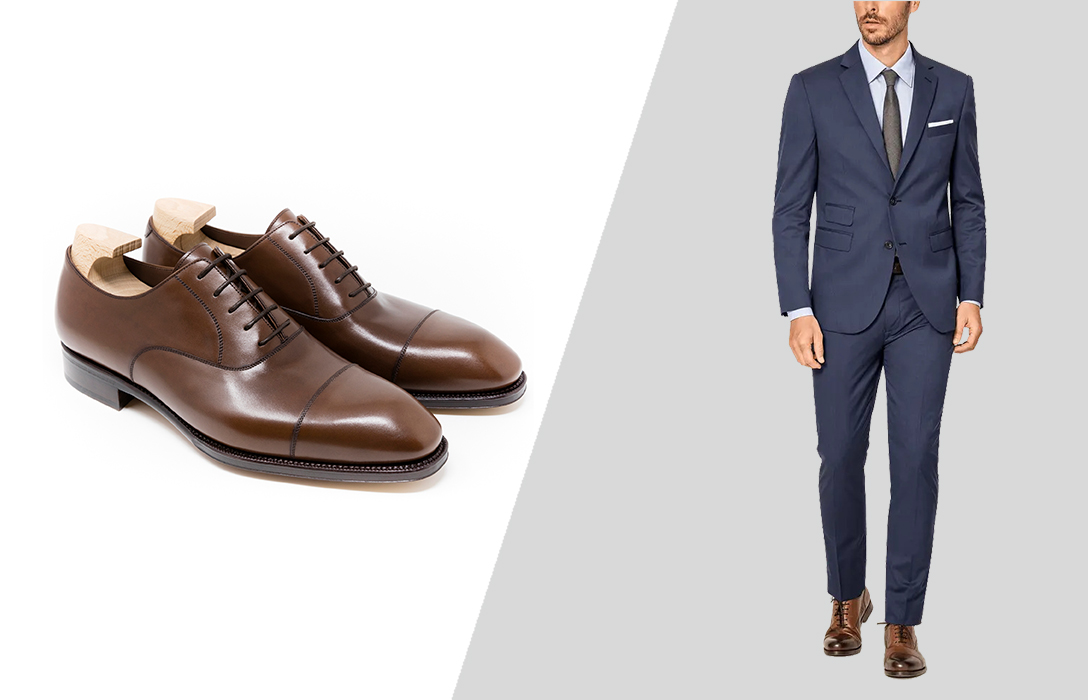 Navy blue and dark brown are both colors that are very near black but very different from each other. They are also slightly less formal than black.
Putting them together is an excellent choice when looking to be dressy without being formal. Navy can easily feel like a cool tone, and dark brown can warm up the suit and make it feel less severe.
Navy pants are more casual than a full navy suit, so you can wear either dark brown shoes or try a medium brown for a change.
You can also pick a less formal type of shoe than you would with a suit. Also, Chelsea boots look very contemporary when worn with navy pants.
Brown Dress Shoes & Blue Pants
Blue is a more casual suit color. However, it's also a very cold color; wearing blue and black together can create an austere effect.
Brown shoes are a fantastic way to soften the harshness of a blue suit or pair of pants.
Blue suits are trendy and one of the best casual suit choices. They look beautifully elegant, so you should consider adding one to your collection.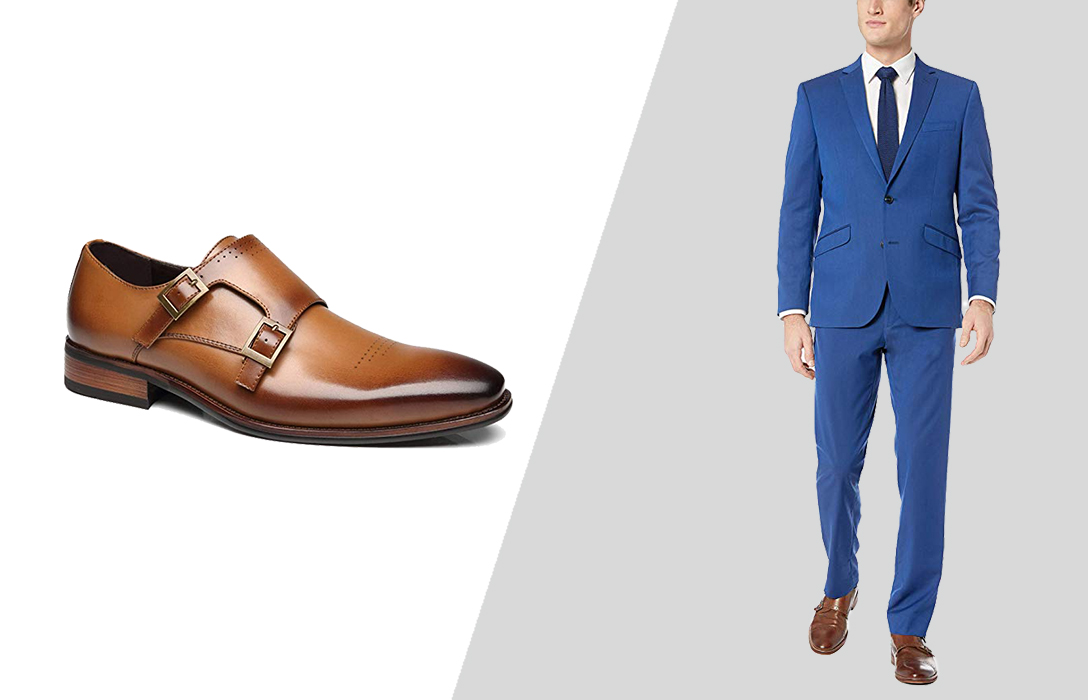 Light brown or medium brown dress shoes are a beautiful complement to this suit.
You can wear many different styles of dress shoes with a blue suit. Monk straps are a lovely addition to a blue suit.
If you are a fan of slim-fit suits, try a pair of brogues with them. They look incredibly contemporary.
Blue pants are very casual, so why not try them with a pair of derbies or bluchers? If you want to dress up the look, do so with a solid color dress shirt.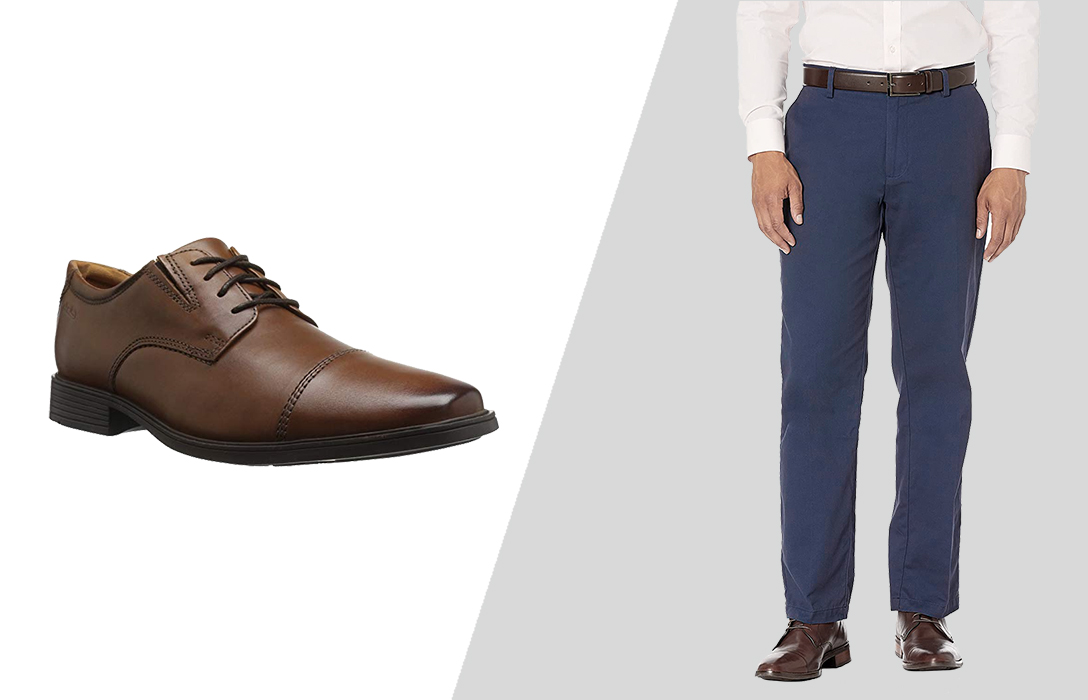 For a dressier look with your blue pants, your brown shoes should be medium to light brown.
Brown Dress Shoes & Grey Pants
Grey is a little trickier to tackle simply because there are so many variations in the color. How dark your dress shoe is should really depend on how light or dark your grey is.
Either way, brown is always an unexpected twist when matched with grey. For ages, black has been the go-to color to wear with grey, so brown feels fresh.
A general rule to keep in mind with grey is that the darker your grey is, the darker your brown should be. So, for example, if you wear a charcoal grey suit, you should wear very dark brown shoes.
A suit this dark is more on the semi-formal side of dressing, so your shoes need also to be formal.
If your suit is light grey, medium brown shoes are a good choice. You may get away with light brown or tan shoes, but only if the tones in grey and brown work well together.
Grey pants can be dressed up or down. Once you determine how dressy you want your pants to be, you can choose your shoe color.
Remember, darker brown will be more formal, while lighter brown will be more casual. Grey pants can go either way.
Brown Dress Shoes & Brown Pants
This monochromatic look might look tedious at first, but it's actually very vivid. The key element is to choose different shades of brown for your shoes and pants.
Don't get me wrong. Brown dress shoes are definitely not the only option for a brown suit, but they can match quite stylishly.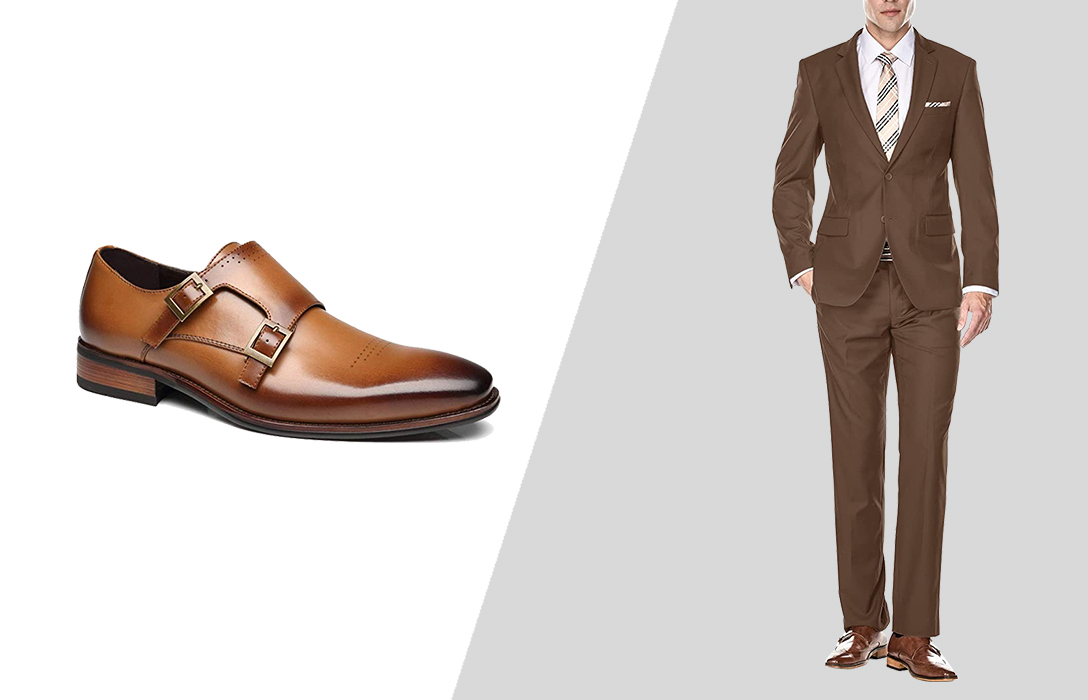 The safest option is to wear shoes of the same or darker shade than the pants. For example, a light to mid-brown suit matches perfectly with mid-to-darker shades of brown dress shoes.
Dark brown suits and pants tend to be more formal than their lighter counterparts, so match them with very dark brown or black dress shoes.
Many different dress shoe styles are compatible with this look, including Oxfords and Derbys. But my favorite choice for brown pants will be brown monk straps.
To accessorize this color combination, make sure your belt, socks, and watch's leather strap are also brown.
When to Wear Brown Shoes
Brown shoes are best suited for events that are not intended to be very dressy. Most weddings and semi-formal events are excellent opportunities to wear a pair of polished brown dress shoes.
Brown shoes are never appropriate for black-tie events. You may only ever wear black dress shoes at black-tie events.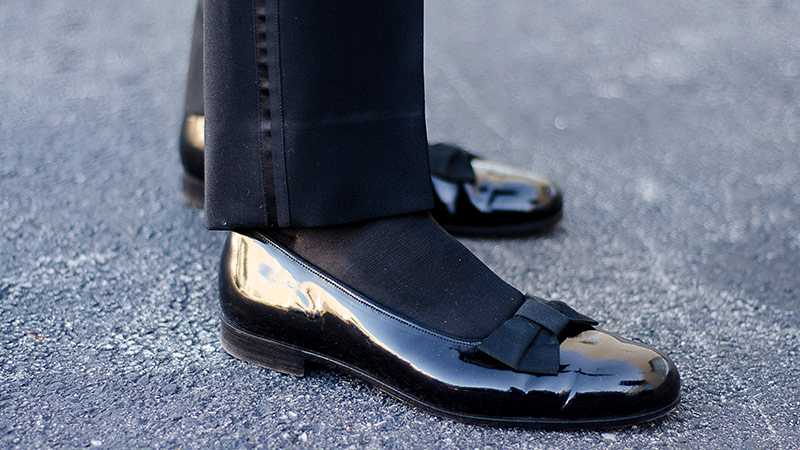 As long as they are well-matched with your trousers or your suit, brown shoes are best for business casual outfits or even smart-casual. The darker your brown shoes are, the dressier you can wear them.
Accessories You Can Wear with Brown Dress Shoes
You've worked hard to ensure that your brown shoes match the rest of your outfit. Well done, but your work isn't over yet.
Now comes the next task of making sure that the rest of everything you are wearing belongs. That's right; your accessories are the next category that you need to think about.
You want to present a unified, fully matching appearance. That means every detail must work with all the other parts of our outfit.
Brown Belt
It is a generally accepted rule that your belt must always match your shoes, especially if both are leather.
A black belt with a pair of light brown shoes would be a tremendous conflict. Neither piece would look right, and your entire wardrobe for the day would be off-kilter.
To prevent any significant clashes, stick with a belt the same color and shade as your shoes. Since your belt is likely the most noticeable of your accessories, this is the one you need to pay the most attention to.
Now, not to confuse the matter, but there is one exception. If your brown dress shoes are very dark brown, you might get away with a black belt.
Most people may not notice the slight difference when the two different shades aren't right next to each other.
Brown Leather Dress Watch
Most dress watches nestle underneath the sleeve of your dress shirt, only to be seen in rare instances. However, when it is seen, it needs to be the correct style.
Nobody will likely look at your watch right next to your dress shoes, but there will still be a disconnect. So you still have to choose your dress watch carefully.
Your safest bet is to ensure that the leather on your watch matches all the other leather you are wearing, too.
Suspenders
Suspenders might seem like an odd inclusion on this list. However, if you wear button-on suspenders, you'll need to pay attention to the leather button strap.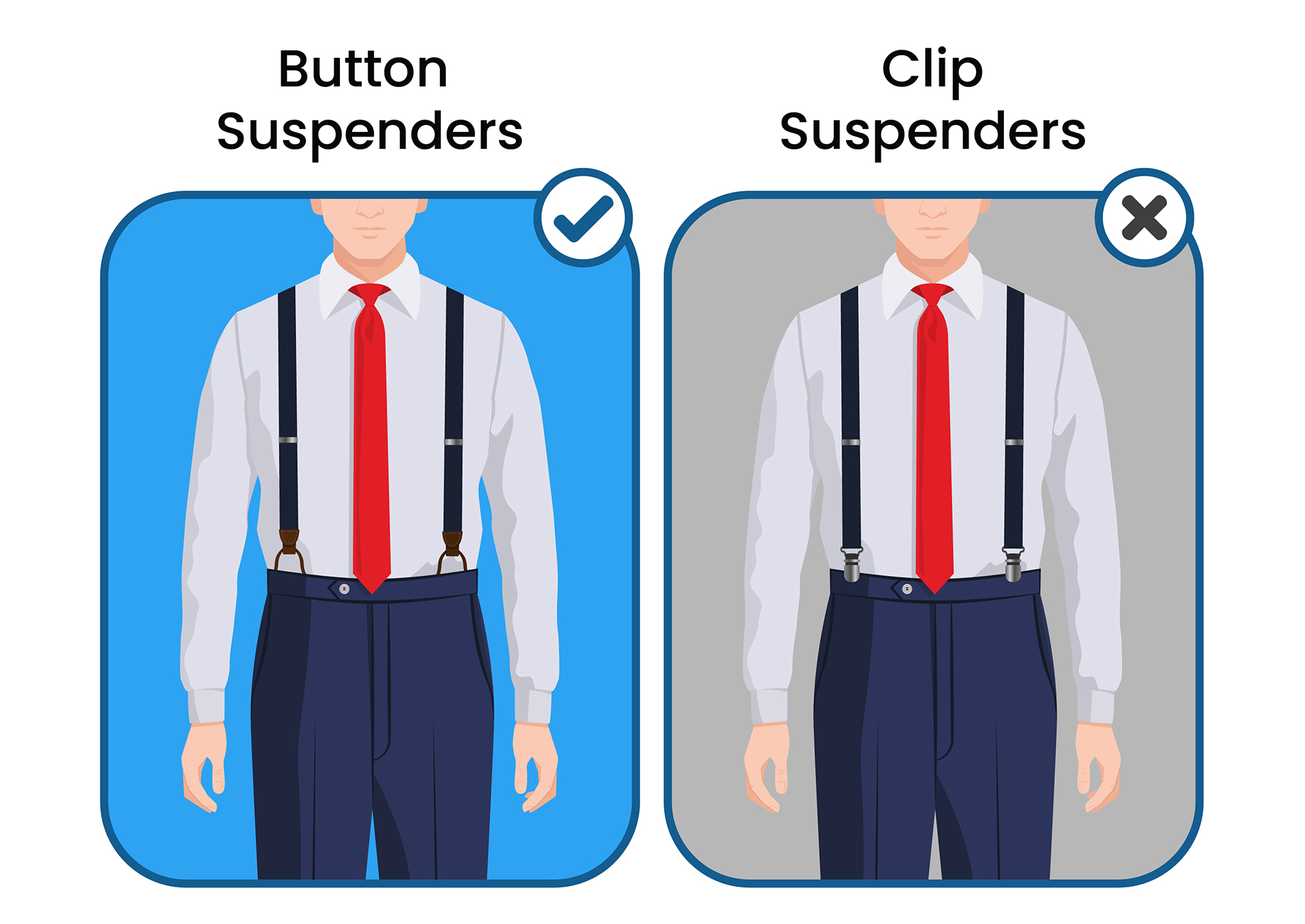 Because it's such a small part of your outfit and most likely hidden under your suit jacket, you'll have a little leeway with this one.
Ideally, that part of your suspenders will be the same shade of brown as your dress shoes.
However, if you are wearing dark brown dress shoes, you may be able to get away with black on your suspenders. Just make sure the color difference isn't too drastic.
Author: Alexander Stoicoff
Hi, I'm Alex, and I've studied and specialized in styling in Rome. Through my writing, I want to help men dress well and learn the purpose and significance of suits and other formal attire. My final goal is to make men more confident in their wardrobe choice and life in general.