Black shoes tend to be a go-to for most outfits. But brown pants aren't an everyday color, so it's understandable if your impulse is to wear black shoes with brown pants.
Although black seems to be a universal shade that goes with everything, it isn't always that simple.
Black and brown are both nuanced colors, and putting them together requires just the right touch.
However, if you know what to look for, you can never fail when mixing these shades.
Things to Consider Before Matching
I'll put my cards on the table: brown pants and black shoes can be tough to match.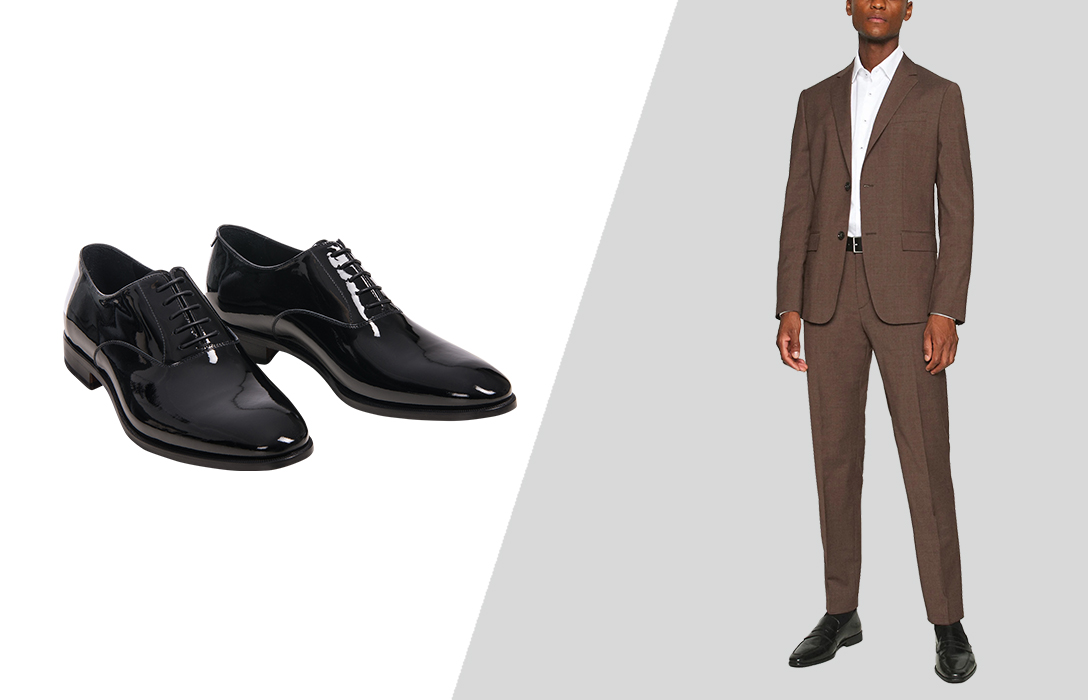 That's because they aren't a natural fit, which seems odd considering that black goes with almost everything.
Brown is an earth tone, while black is a cold neutral. The sleekness of the black shoes almost always overwhelms the warm brown pants.
However, there are ways to pull off this pairing if you proceed with caution. After all, there's an exception to every rule, isn't there?
The critical point is that brown leans toward a more casual appearance. Of course, it can be dressed up a bit, but it's never going to be formal or business professional.
Black, on the other hand, is the most formal color.
So, that barrier of casual and dressy is one that you should keep in mind when deciding if your black shoes will work with your brown suit.
The Shoe Formality
It is vital to get the appropriate style of black shoes for your brown pants.
It's glaringly evident that a casual shoe like sneakers would be wildly inappropriate with a brown suit.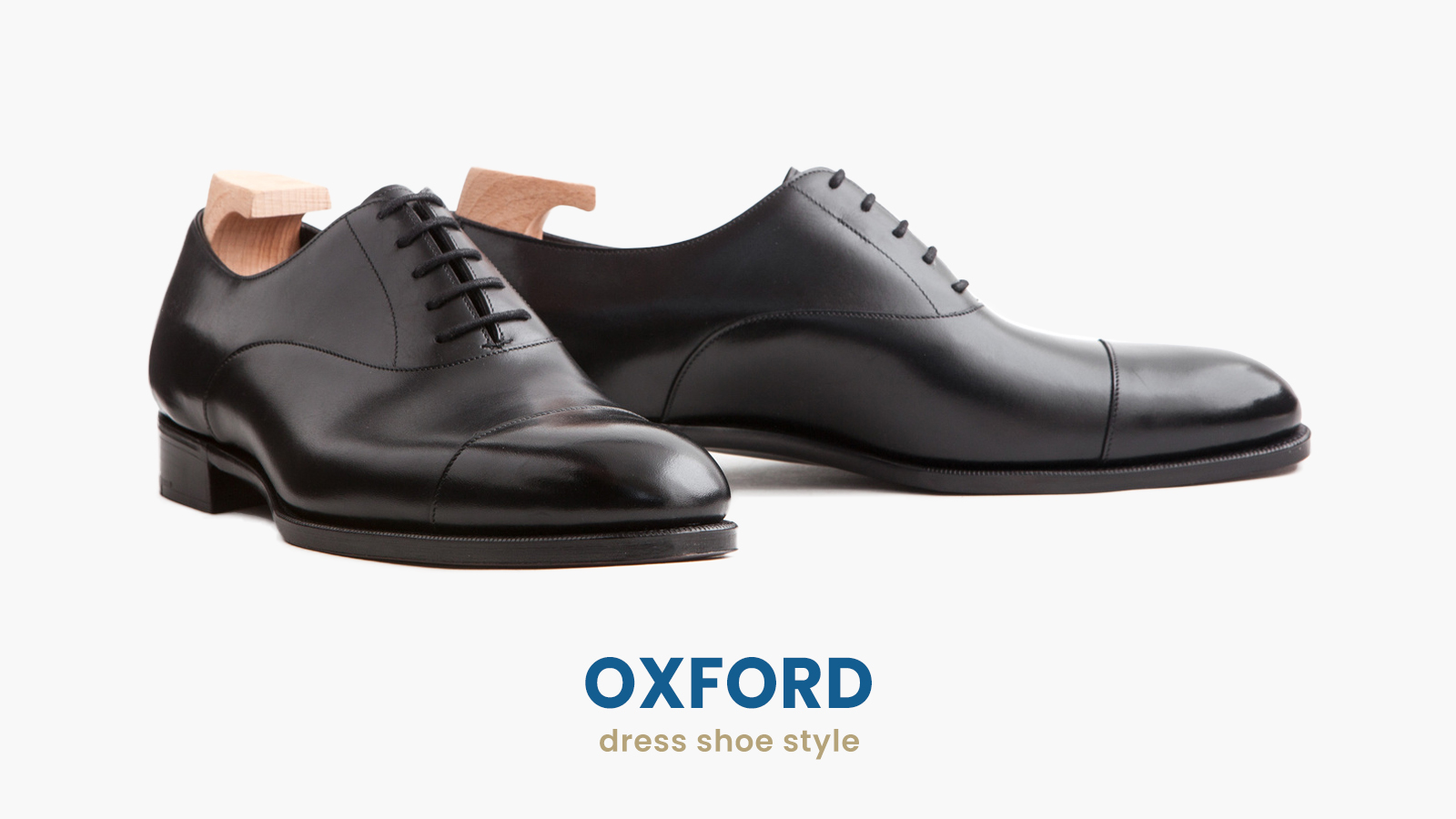 However, what about those in-between styles that aren't as obvious?
Oxford and derby shoes are the most formal style of men's shoes. They are perfect for formal business settings or any other conservative situation.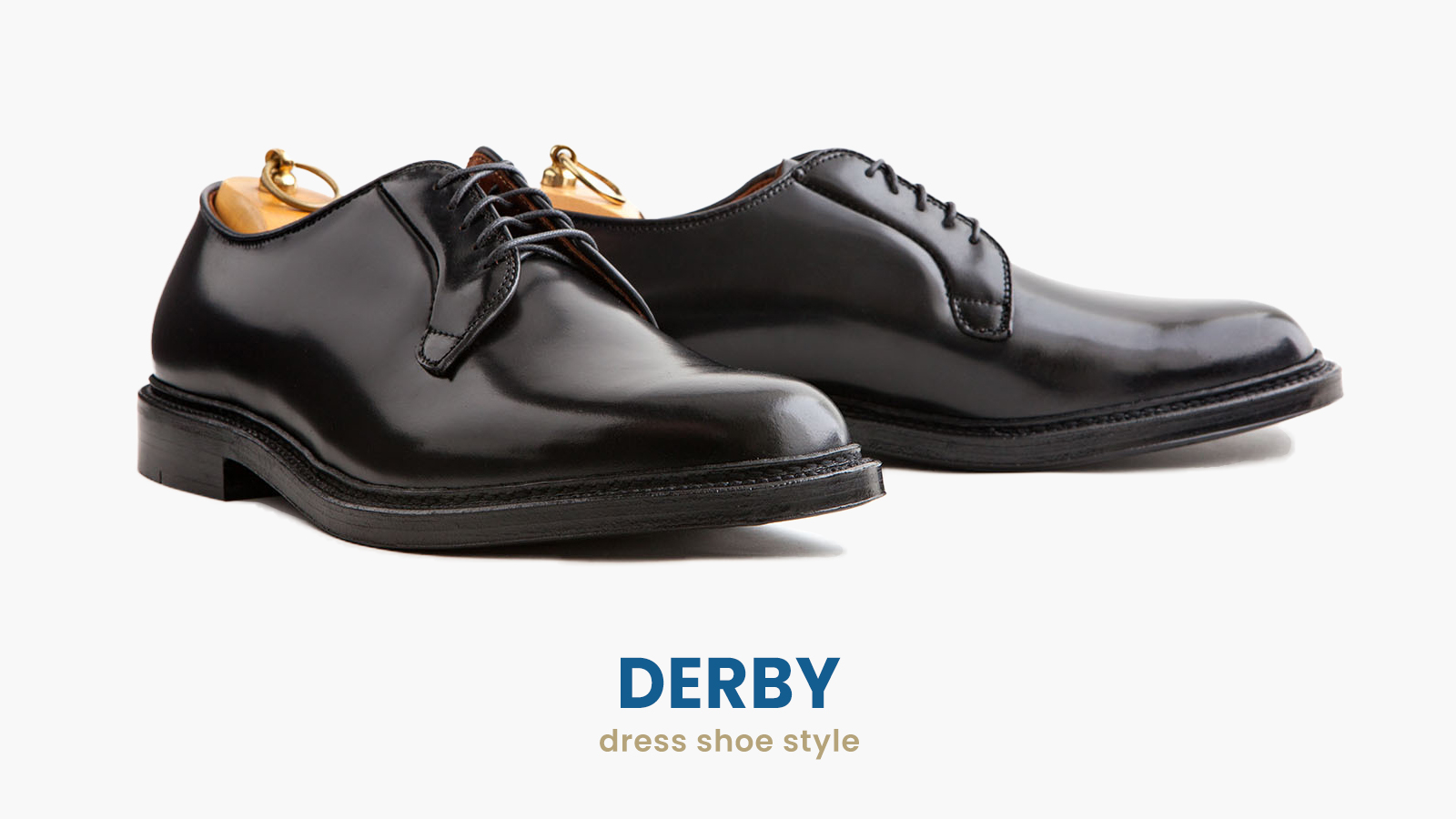 Bluchers are also an acceptable choice, though they are a slight step down in formality.
Monk straps and brogues are still considered dress shoes, though not at the same level of formality as Oxfords.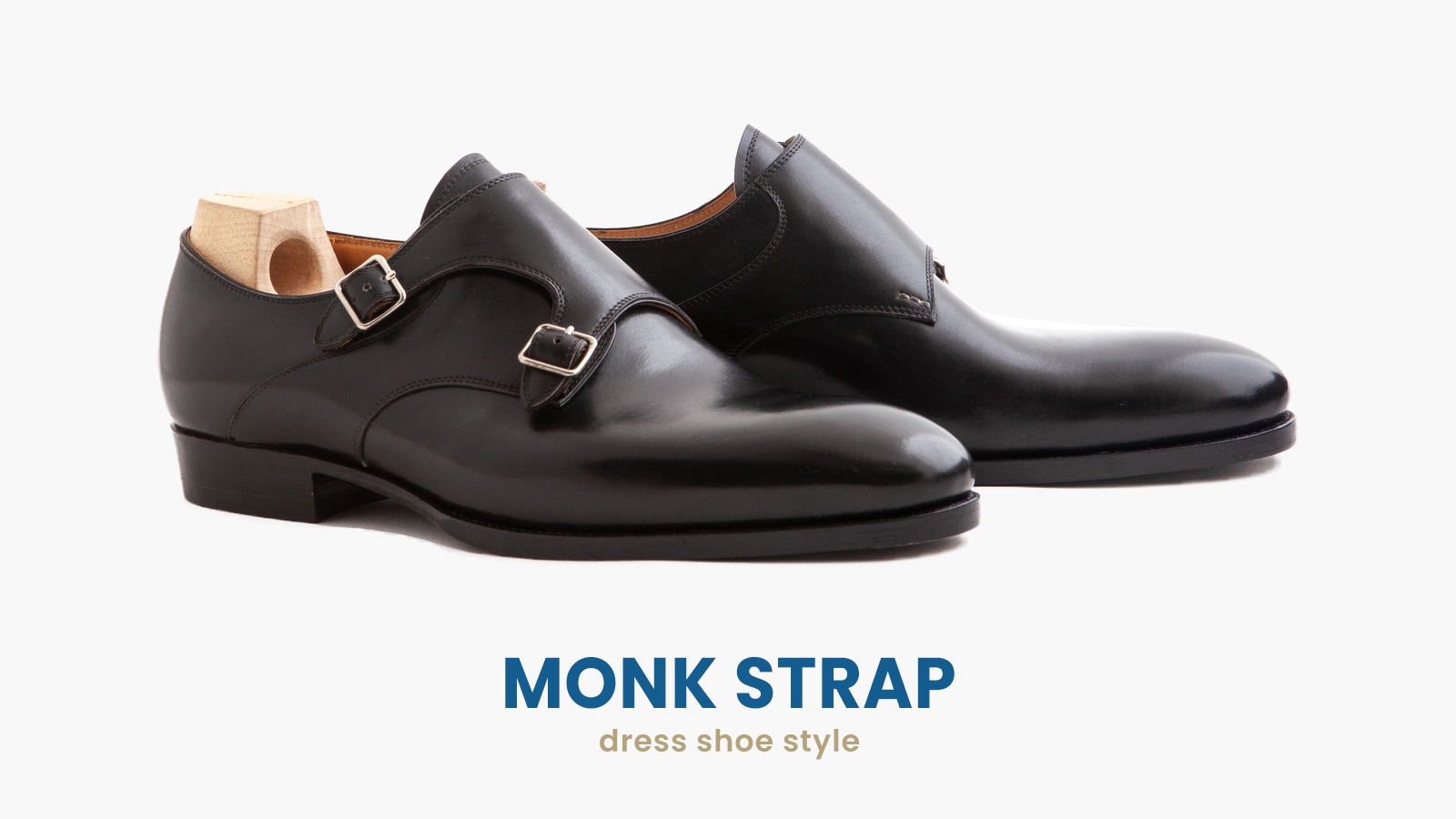 These two styles are trendy and always look modern. They convey a sense of fun and a sense of style.
Men sometimes wear loafers with suits but are more common with smart casual outfits. They are mostly leisure shoes, but detailing can elevate their formality.
Different Brown Pant Shades
Brown is just like any other color in that the darker the shade, the more formal the garment.
Brown is a very versatile color, but it isn't acceptable in most very conservative dress codes, no matter how dark the shade is.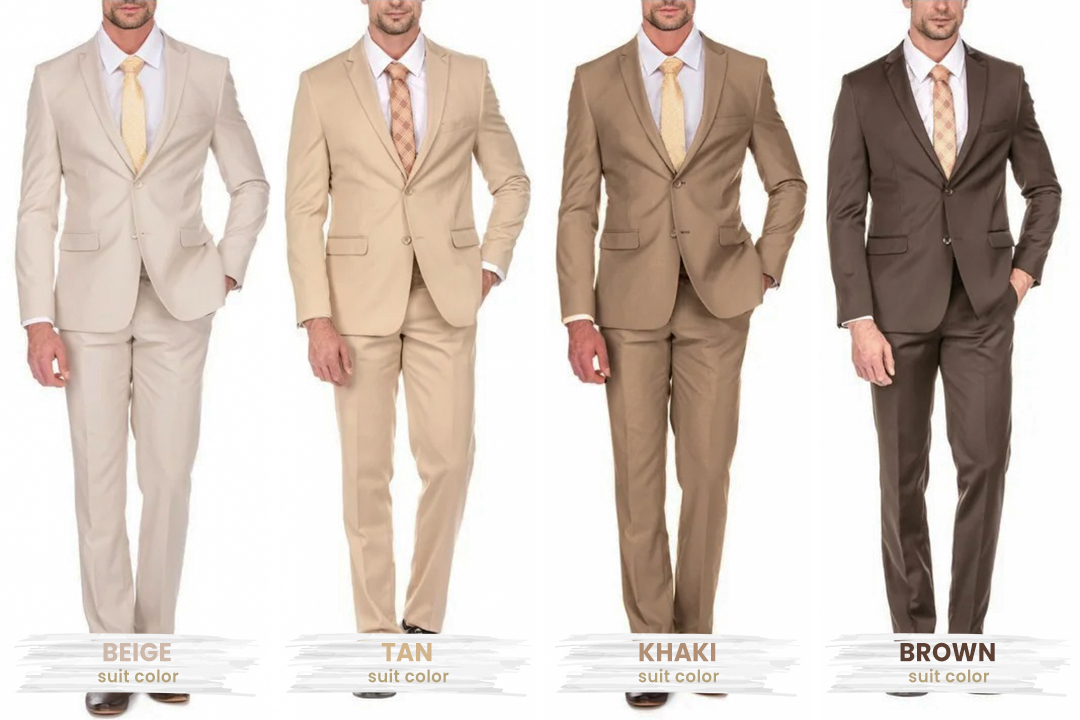 There are innumerable shades of brown, and each shade conveys a different sense of style and formality.
Some of the more common shades for brown pants include:
Café Noir: well suited for business-professional or business-casual.
Dark Brown: super versatile; fit for all formality levels.

Brown:

the standard brown shade variant, historically considered a medium-dark orange.
Tan: a casual shade; excellent for smart casual, but also relaxed casual.
Khaki: can be dressed up or dressed down; standard in business casual, but also for smart casual and relaxed.
Chestnut: a darker shade that creates a crisp, smart casual look.
The Season
Dark colors are best suited to colder weather; brown is best associated with autumn weather when the weather begins to cool.
Brown is a warm tone, so it makes sense to ease away from the bright summer colors with this softer shade.
Lighter shades of brown such as tan and khaki are popular in spring and summer when the weather is warmer.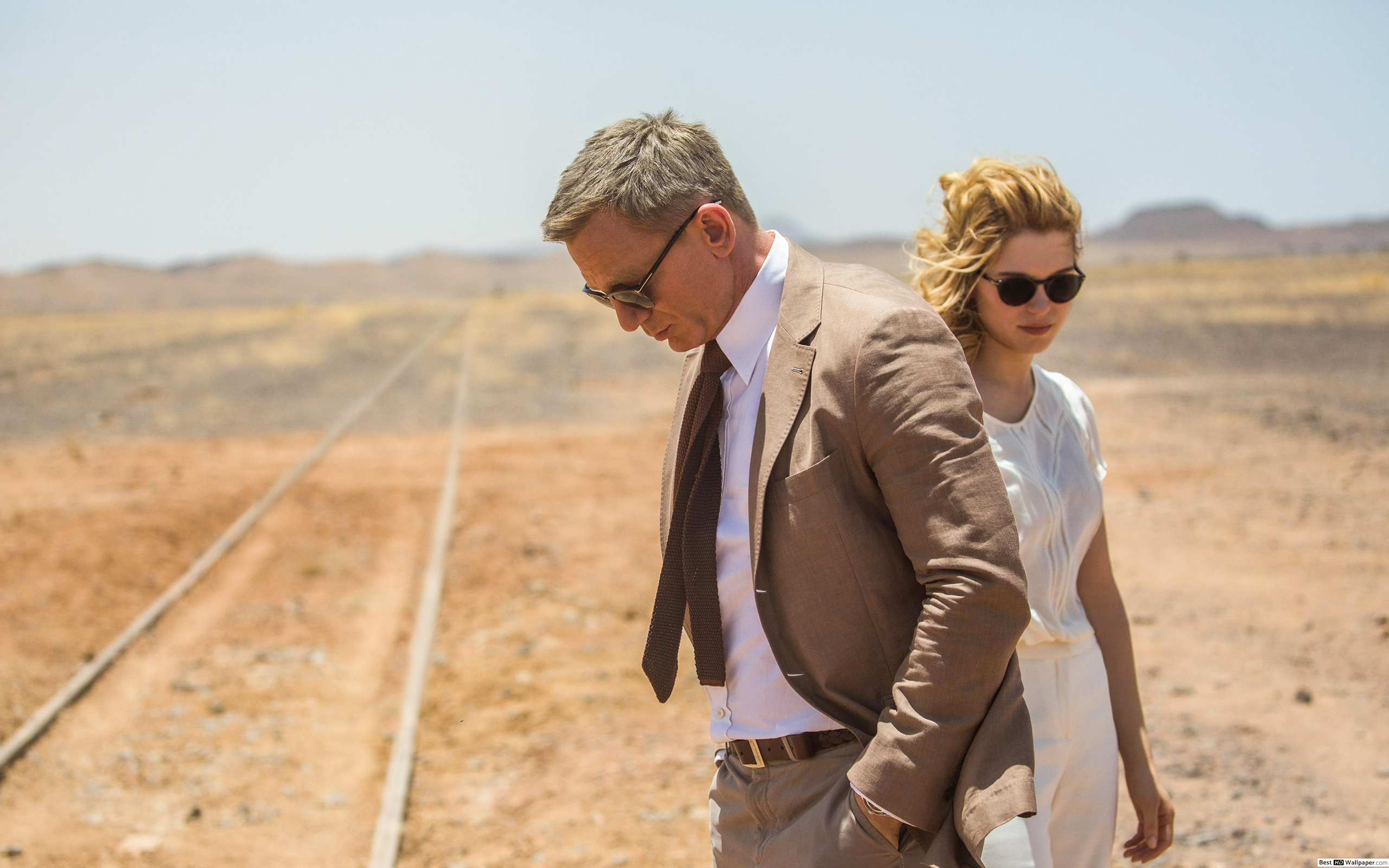 These brighter shades are calmer and go well with the rising temperatures.
The season can help determine which style of shoe you should wear. For example, mid-winter isn't an ideal time for wearing loafers.
Therefore, loafers will most likely be paired with light brown colors in the summer and not dark brown shades of winter.
Dark Brown Suit Pants & Black Dress Shoes
A dark brown suit is your best bet for wearing brown in semi-formal and business settings.
And since office settings tend toward more conservative styles, it is important to wear formal shoes with your brown suit.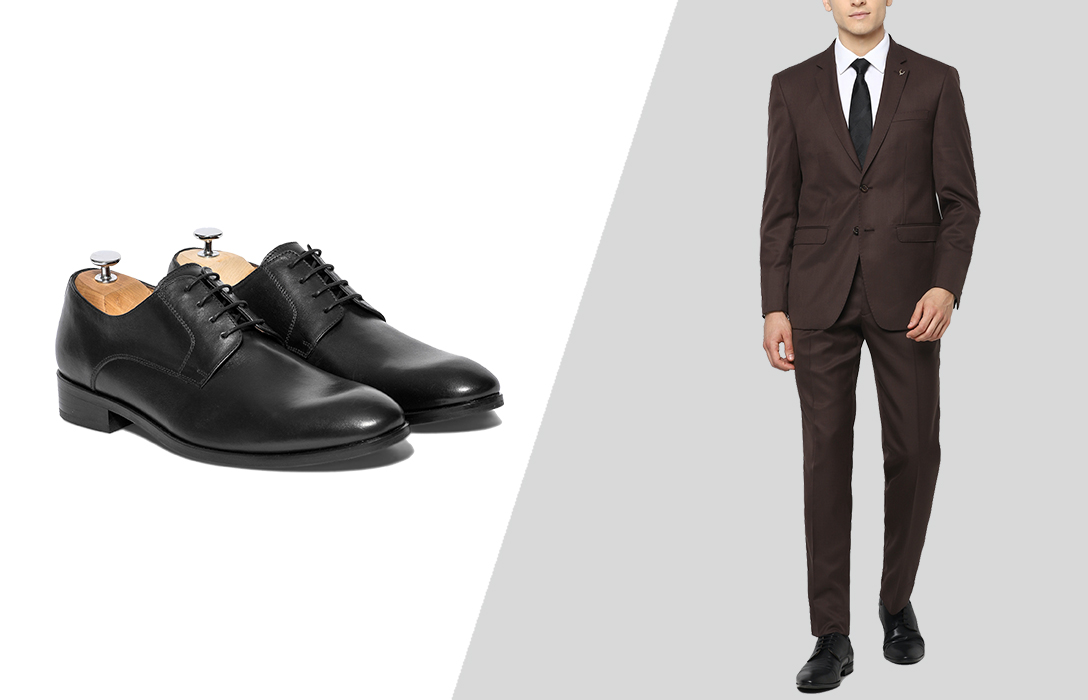 Combining a dark brown suit with black dress shoes is highly doable since black is incredibly versatile. Therefore, you can wear black shoes with almost any suit.
But the secret to making black work with dark brown is choosing the right shoe style.
Brown isn't a formal color in any shade. However, dark brown suits can be made dressier with black dress shoes.
Because black is the color of formality, the right style of black shoes will elevate this dark brown suit.
Your most dressy shoe choice is the classic Oxford shoe, closely followed by the derby shoe. These shoes are the traditional go-to's for formal dressing.
Because dark brown is a warm color and black is a cool tone, it's essential to strike a balance. You can tie them together with the proper accessories.
A black belt and a wristwatch with a black band will help make your black shoes seem natural. You might even consider a black tie!
Light Brown Suit Pants & Black Shoes
A light brown suit is casual, so when you wear black shoes, follow as many formal rules for dressing it up as you can.
For example, the suit should be solid, with no patterns or pinstripes. Of course, you need to ensure that the suit fits well and pick one with a flattering cut.
Narrow lapels will help your suit look modern and a little dressier.
Because of the casual nature of light brown, you have some flexibility in shoe style.
Of course, Oxfords are always an excellent choice, but a trendy pair of black brogue or monk strap shoes can also help to elevate your suit's style.
Dressy loafers are an ideal way to lean into the relaxed vibe of the light brown shade.
Or, if you are wearing the pants as separates, level up your style game with a pair of Chelsea boots!
Just know that if your light brown trousers have cool undertones, medium brown shoes may even be your best pairing.
Khaki Trousers & Black Shoes
Khakis come in many shades. Keep in mind that it is easier to pair darker shades of khaki with black dress shoes, so you don't have a shocking contrast.
Still, there are ways to ensure very light khakis pair well with black shoes.
The secret to wearing black shoes with khaki suit pants is to style your shoes to fit the image you want your pants to give.
Are you looking to go on the dressy side of things? Then you can't go wrong with those traditional standbys, Oxfords, and derby shoes.
Even brogues work well for a modern dress shoe. You are probably figuring out that every man needs to own at least one pair of these shoe styles.
Are you looking to dress somewhat laid-back? Black loafers are an excellent shoe with khaki pants.
To lean into your leisurely appearance, cuff your khakis. And don't forget to hide the socks for a more casual style!
Tan Trousers & Black Shoes
Tan is the lightest shade of brown, so it's understandable to believe it can only be worn casually. However, tan suit trousers are still able to be dressed up.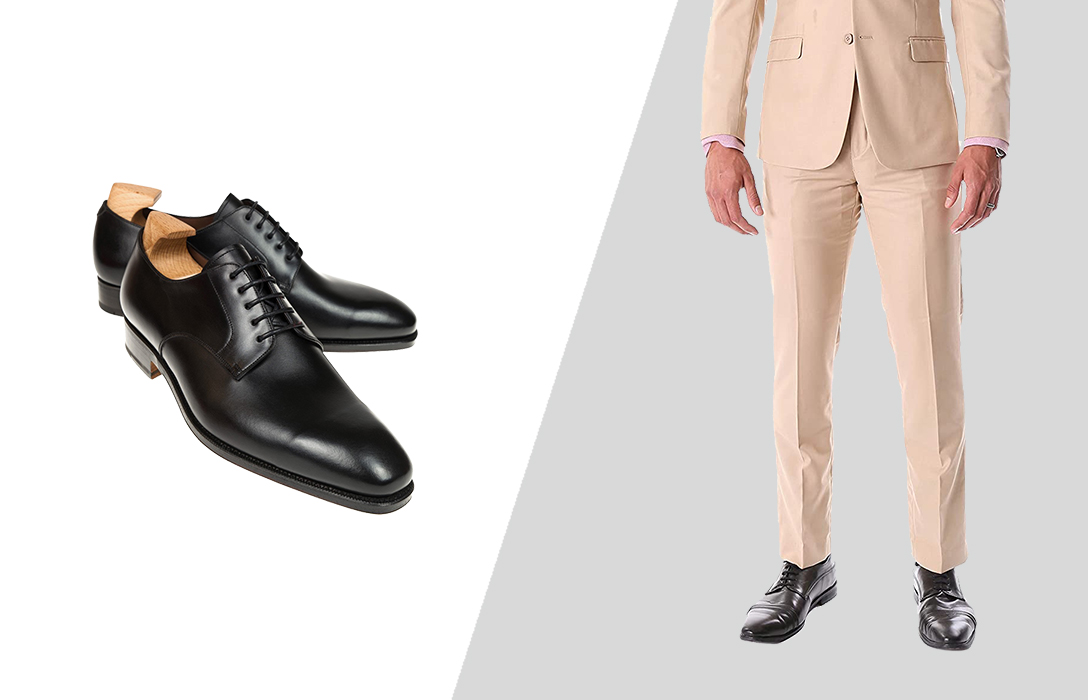 Sure, black is a tremendous contrast to this very light shade, but these two colors can work very nicely together.
It's a bold combination, but the right shoe choice can ideally complement these pants.
Black dress shoes, like Derbies, will bring an outstanding balance to button-down shirts and tan trousers.
This combination is very professional for business casual offices. On the other hand, sneakers and dress boots bring fun to a pair of staple pants.
Casually Wearing Brown Pants & Black Shoes
When your aesthetic is on the casual end of the spectrum, you have more wiggle room for adding black shoes to your outfit.
If you still want to wear dress shoes but want to look distinctive, playful, and energetic, monk straps are probably the best choice.
Black sneakers or casual black boots can also look outstanding. For example, try a mix of brown cords with black Chelsea or chukka boots for a modern, sophisticated appeal.
An excellent way to pull this entire effect together is by balancing it with a black t-shirt. Make sure that it's well-fitted; if your shirt is baggy, it may look sloppy instead of chic.
Accessories You Can Wear with Brown Pants and Black Shoes
Tradition tells us that all accessories of an outfit must match each other. So, for example, all leather must be the same color throughout your ensemble.
And if you commit to black shoes, you are theoretically committing to a black belt and watch band.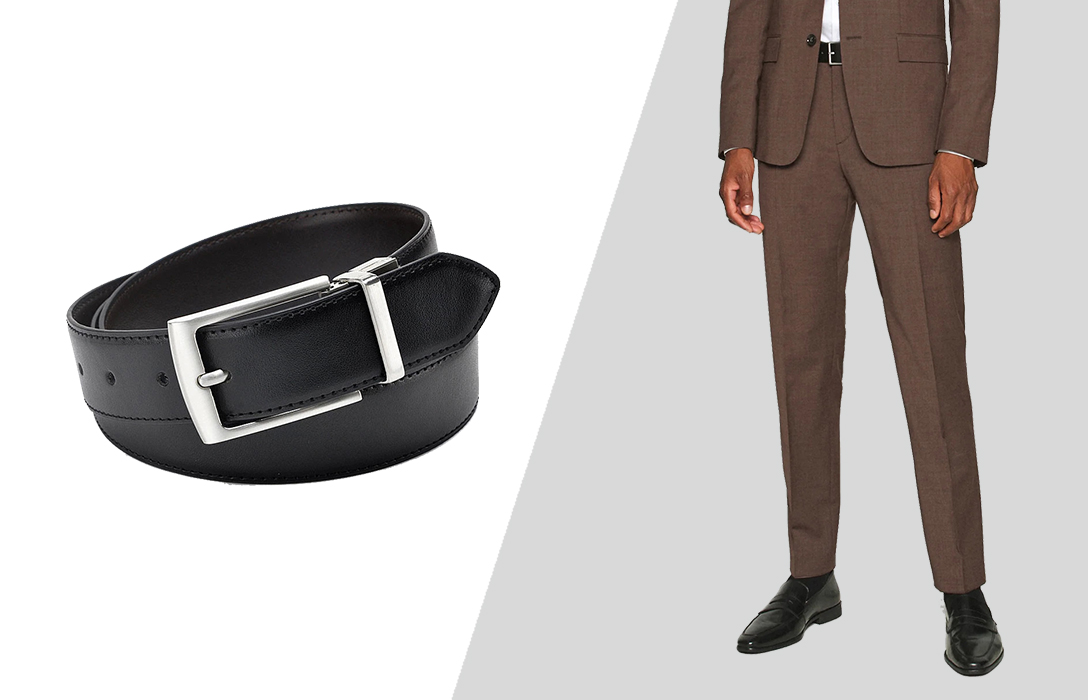 Looking at it that way, evaluate if black would look good interspersed throughout your suit.
It might be too overwhelming, but with the right shade of brown, it might be helpful to break up so much brown.
Some more modern takes permit us to be close in color for our accessories, not exact. This view has no problem mixing a very dark brown belt with black shoes.
However, if you are already pairing dark brown or black with brown pants, you may already be entering risky fashion territory.
And I wouldn't recommend pushing the limits further.
What to Avoid
I love brown pants and don't think anybody should avoid them simply because finding matches for them might be intimidating.
Remember to watch out for wearing very light shades of brown with black. That pairing puts a lot of cool tones together, which isn't an inviting look.
You'll find better success if you add a warm tone to your outfit.
Not all shades of brown are created equal! Therefore, remember to look for a contrast between your shoes.
For example, avoid a monochromatic look of dark with dark or light with light. Instead, aim for an opposite color for your shirt.
Author: Alexander Stoicoff
Hi, I'm Alex, and I've studied and specialized in styling in Rome. Through my writing, I want to help men dress well and learn the purpose and significance of suits and other formal attire. My final goal is to make men more confident in their wardrobe choice and life in general.