If you don't own a brown suit but have been wondering if this shade is right for you, allow me to answer that.
Yes. Brown is no longer the boring, bland color you once thought it was. It is rich, vibrant, and oh-so-versatile.
Sure, it is also a practical color, but don't allow that to hold you back. Brown is trending these days and is a surprising way to shake up your wardrobe.
Take a risk and mix things up from your standard go-to suit colors.
Brown Suit Formality Level
Brown suits fall in between formal and casual suit colors.
If you are looking for a formal suit, you are bound to end up with something dark, such as black or navy.
But if you are in the market for a more casual suit, you will find yourself looking at a light grey, tan, or khaki suit.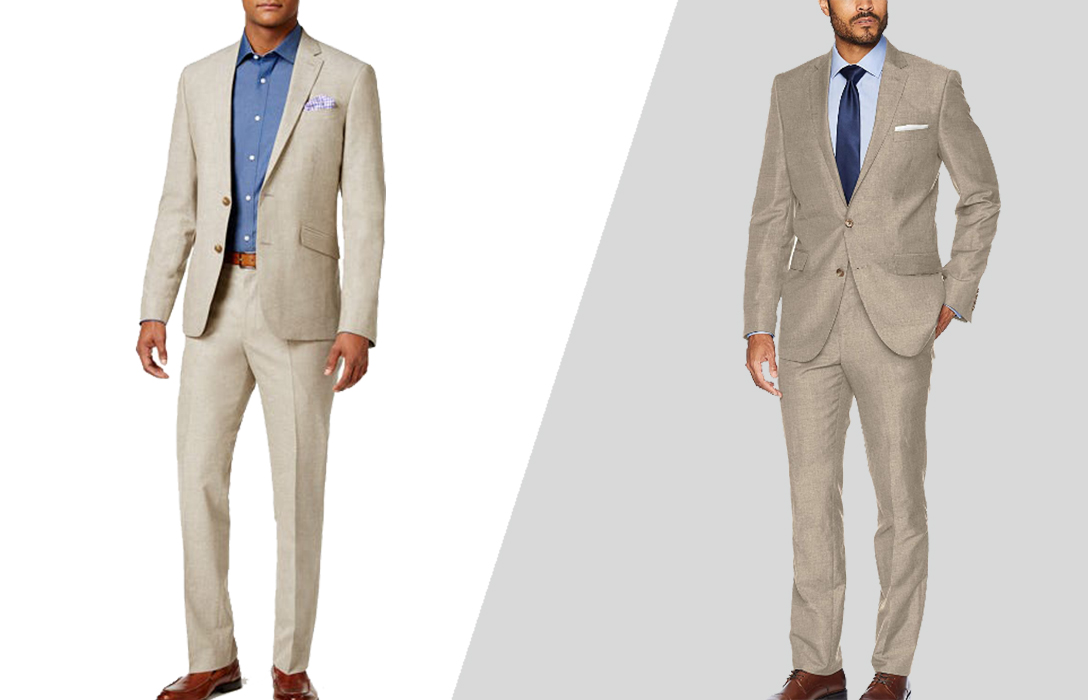 Just like blue suits, a brown suit can be professional looking yet informal at the same time. It is not advisable to wear one to job interviews.
However, if you find yourself working in a business casual office environment, it is perfect.
Choose the Brown Suit by Fit
It is no secret that brown can be a "blah" color if not done with the right amount of flair. That includes the fit of your suit. It needs to fit you no less than perfect.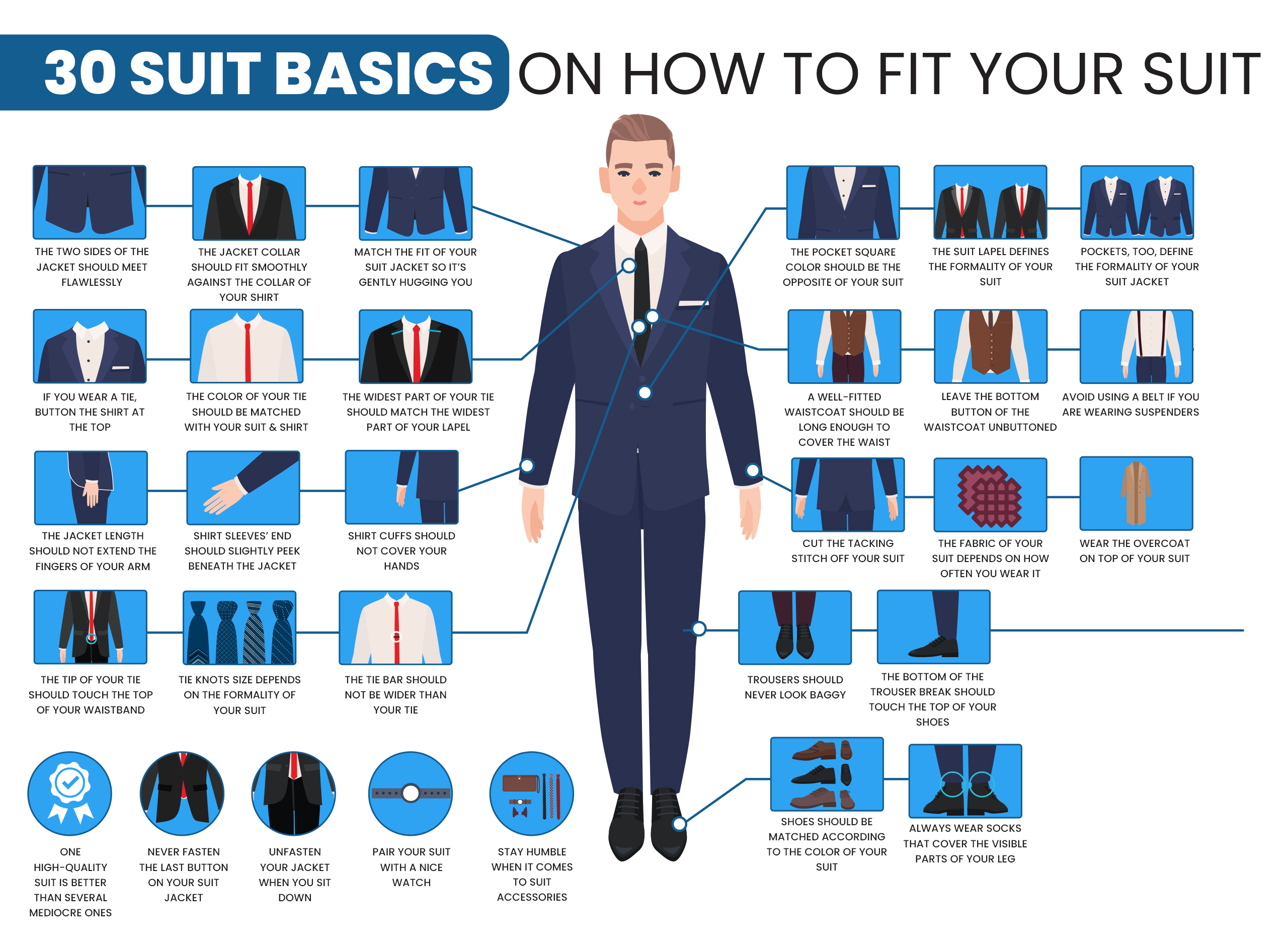 To avoid visions of frumpiness, be sure that your suit is fitted perfectly to your body type. If you achieve this easy step, your suit will look sleek and sophisticated.
Classic-Fit Brown Suit
You may recognize a "classic-fit" suit as a traditionally fitting suit. It offers plenty of room in the chest and the waist. In addition, the wearer's movement is not at all restricted.
Despite the ample fabric in the classic cut, it still manages to look sleek. A classic-fit brown suit has a silhouette of clean lines.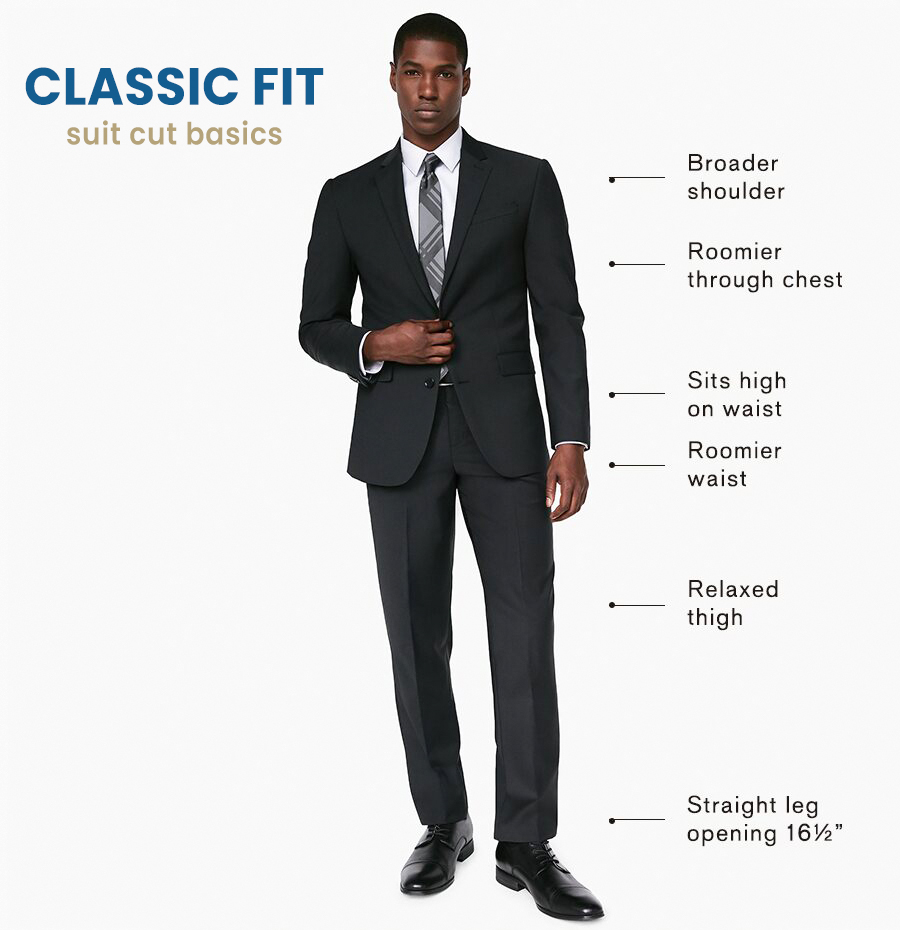 This is a great cut suit for everyday wear. If you suit up for the office every day, you will probably want this fit.
The secret to pulling off a classic-fit suit is making sure that the suit's measurements match your own. For example, the jacket sleeves should fall right at the base of your thumb.
If you find that you have too much room in your shoulders, causing sagging, then you risk looking as if you are wearing a potato sack.
Best Choices
#1: Modern fit light-brown suit by Tommy Hilfiger.
#2: Classic-fit corduroy brown suit by Alain Dupetit.
#3: Regular-fit brown suit by Dockers.
#4: Classic fit brown suit by P&L.
Slim-Fit Brown Suit
This style is also known as an Italian cut suit. It is trendy, stylish, and elegant.
Slim-fit offers a narrower construction, especially along the chest and shoulder area. The pants taper at the ankle, too.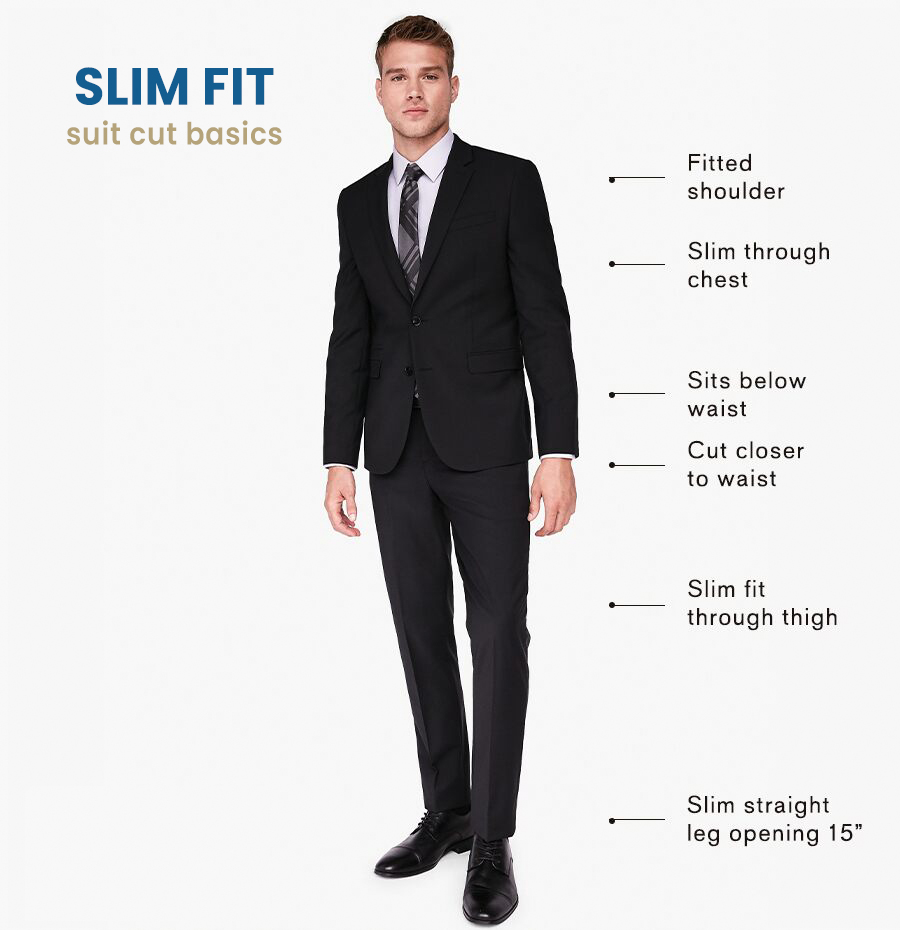 This suit is tighter than the traditional cut but is surprisingly comfortable and moveable.
This style of cut is more formal than a classic fit. It is excellent to pull out for interviews because it makes you look ultra-polished.
The amazing part is that you don't even need to be super thin to pull this look off. It looks just as flattering on a medium build, too.
Best Choices
#1: Slim-fit wool wine brown suit by Calvin Klein.
#2: Brown slim-fit stretch suit by Billy London.
#2: Slim-fit brown suit by Kenneth Cole.
#3: Brown slim-fit suit by Alain Dupetit.
Three-Piece Brown Suits
Yes, a three-piece suit is a very sophisticated look. A man in one automatically looks as if his IQ is 10 points higher.
The third piece in the suit is the waistcoat, known more commonly as the vest. A waistcoat ups the style game for any suit. It makes it dressier.
The nice thing about a three-piece brown suit is how surprisingly versatile it can be. It is always possible to dress it down.
With the simple addition of a denim shirt or a patterned tie (or both!), you have created a new appearance.
Shop the Look
Suit: Three-piece brown suit by Alain Dupetit.
Shirt: Regular-fit blue-striped shirt by Van Heusen.
Tie: Navy tie with white dots by Spring Notion.
Shoes: Brown brogue oxford shoes by Stacy Adams.
Brown Suit Matching Colors
Brown is a very versatile color. There are many color options to pair with this earth tone.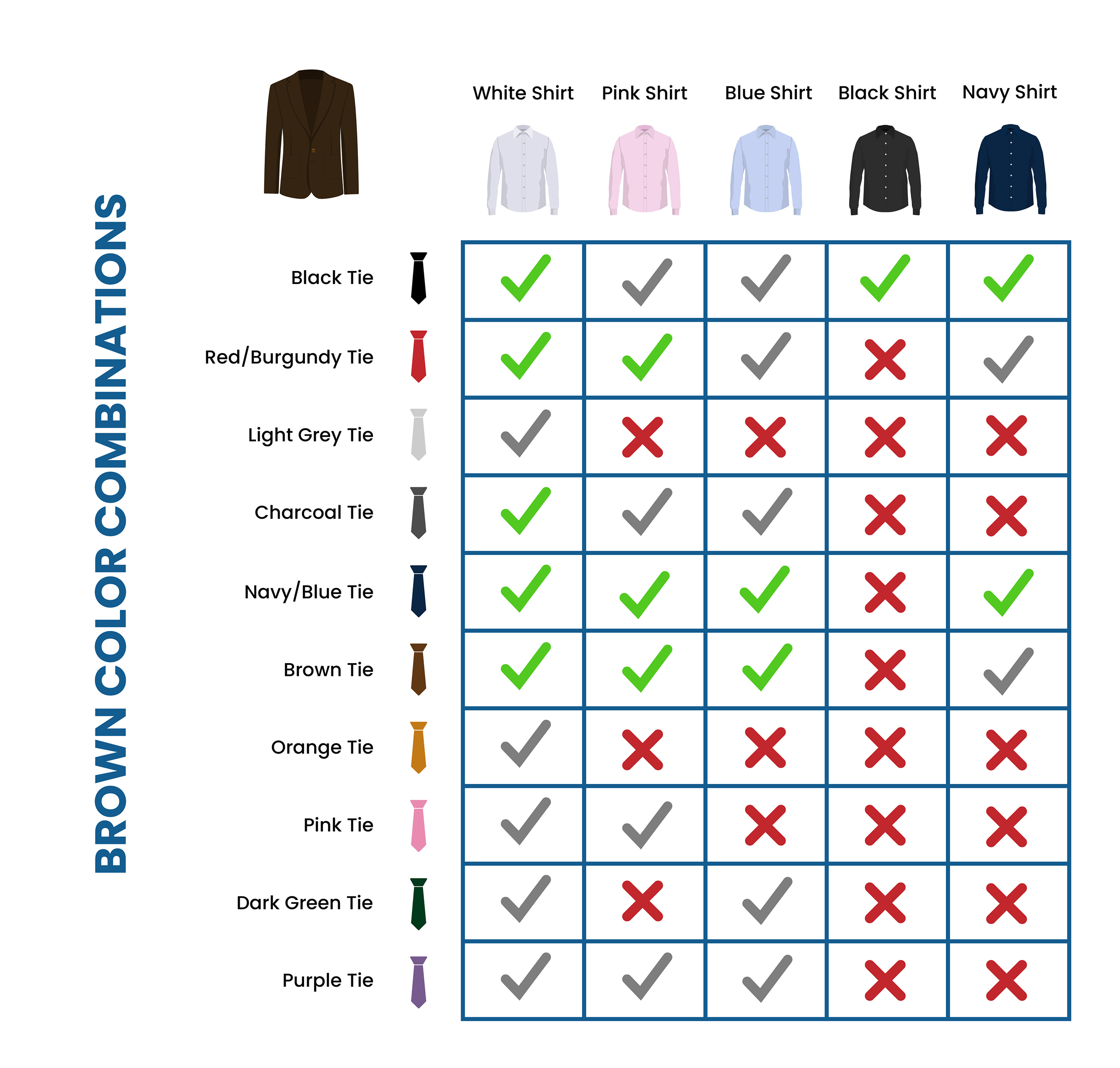 You can already guess several of them just by looking outside on an autumn day. However, those colors aren't the limit.
The darker brown you have – the greater flexibility that goes with it.
There is a wider spectrum of color choices that you can pair with a darker shade. You can opt for bolder colors and rich jewel tones.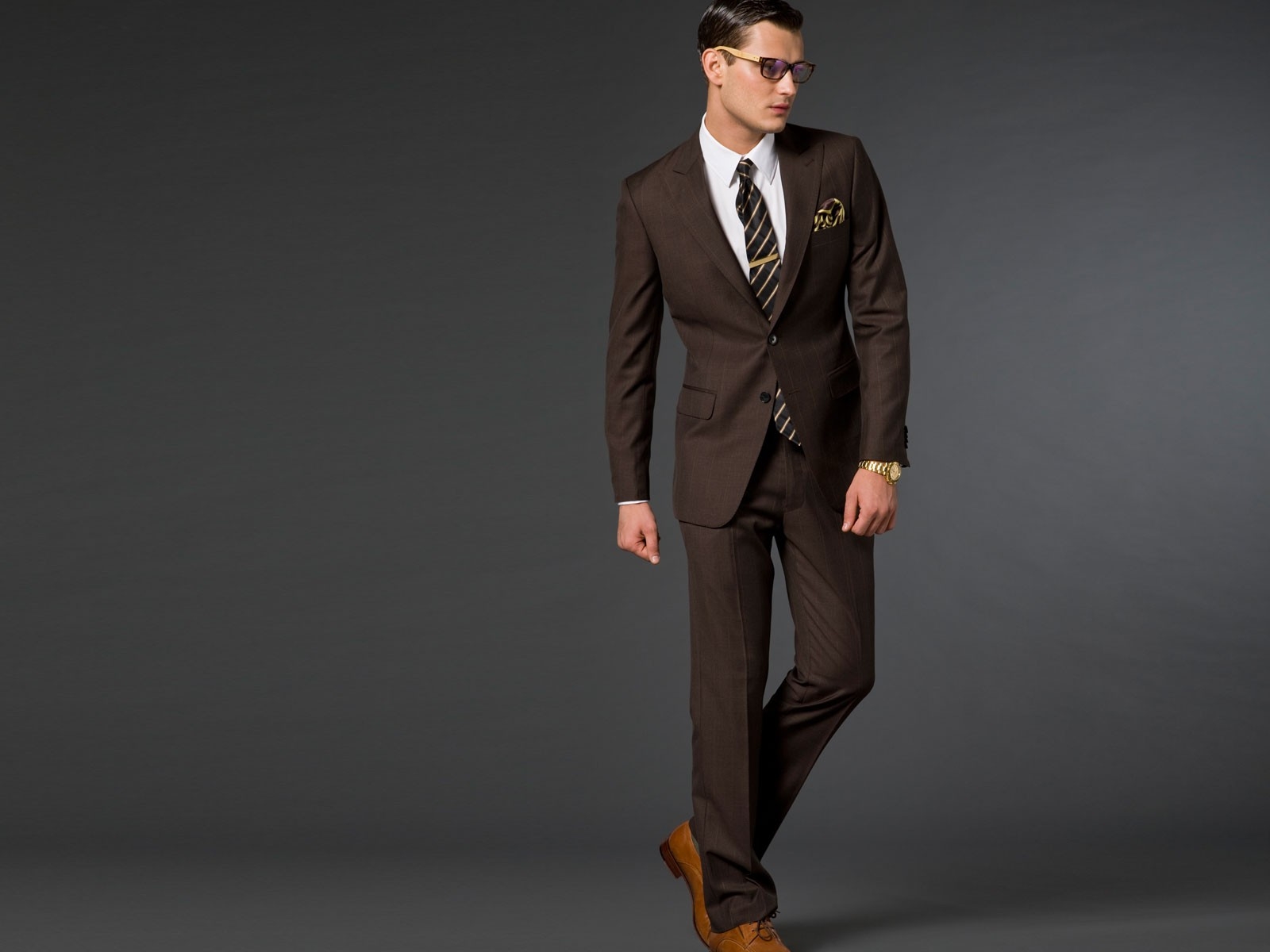 A lighter hue brown works best with neutral or pastel shades. A darker color would be too overwhelming with beige or khaki.
But be careful not to be so neutral that you look washed out. Warm tones are very complementary to lighter and medium shades.
Brown Suit and White Shirt Color Combinations
A white dress shirt is a traditional classic with any suit and looks just dazzling with a brown suit as all the rest. The two colors play off each other so well.
The earthy tone of the suit really makes a crisp and clean white shirt pop. And the brightness of the shirt accentuates the warmth of the suit.
It is also a versatile combination. A white dress shirt offers crazy flexibility in tie colors and accessories. Also, you can get multiple looks by mixing and matching your suit accessories.
Shop the Look
Suit: Three-piece brown suit by Adam Baker. (can be worn as a two-piece)
Shirt: Regular fit white shirt by Van Hausen.
Tie: Solid black tie by Amazon Essentials.
Shoes: Cap-toe derby broque black shoes by Stacy Adams.
Match Tie with Brown Suit & White Shirt
Black tie is the most traditional pairing with this combination, and for a good reason. It is the most formal look you can achieve while wearing a brown suit.
Black ties almost always increase the dressiness of any outfit.
Want to spice up a dull day? Earth tones are a beautiful way to add some color to a brown suit and white dress shirt. Dark red, burgundy, navy, or even green tones will balance nicely with the brown.
If you search for a chic, monochromatic style, try a brown tie that is a shade or two lighter than your suit. A cooler-toned tie will pull your entire outfit together.
Shoes for Brown Suits & White Shirt
If you are going to wear a black tie with your suit, you are better off with black shoes.
I recommend black leather Oxford shoes since they will align with the formality level. You can also wear dress shoes with some broguing since this isn't a full formal look.
If you are going with earth-toned accessories, burgundy or brown shoes will keep your look pulled together. Oxfords or derbies are excellent choices.
Depending on how casual you are looking to go, black or brown loafers are a surefire way to achieve that goal.
For very casual, with no tie, of course, you can even experiment with white canvas sneakers. It is a superb way to pull off a smart-casual style.
Shop the Look
Suit: Slim fit brown suit by Kenneth Cole.
Shirt: Kenneth Cole slim fit shirt in white color.
Tie: Solid burgundy tie by Kissties.
Shoes: Burgundy cap-toe derby shoes by La Milano.
Brown Suit and Light Blue Shirt Color Combinations
A light blue dress shirt looks phenomenal with a medium brown suit. I'm not talking tan light, but just a couple of notches below dark brown.
A darker blue would work well with a darker brown. Most blues work with brown; it takes a bit of experimenting to find the right tone combinations.
When you have a medium brown suit, the light blue helps to soften the brown. It is also a nice subtle way to incorporate a bit of understated color.
Some faint patterning on the shirt is fine and can be interesting. Just keep in mind that it lowers the formality level even further.
Tie Colors with Brown Suit & Light Blue Shirt
One of my preferred choices for this color combo is a solid navy blue tie.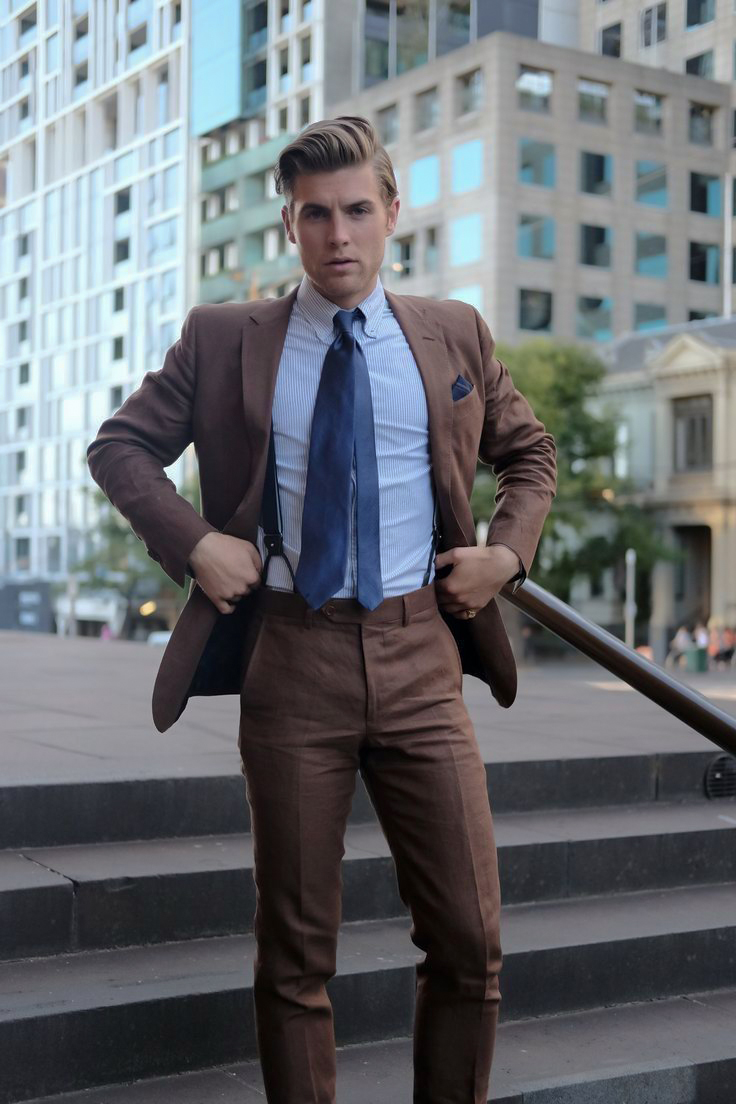 But everyone can feel different. Are you feeling daring? Try a burgundy tie.
Because the light blue shirt softens up the color scheme, you can pull off a brown tie as well. Try a couple of different shades, too! Darker or lighter than the suit, it all works.
A patterned or polka dot tie is a great choice here. Shades of navy, grey, brown, and black work well together with this outfit.
Shoes for Brown Suits and Light Blue Shirt
You don't even need to try out just the burgundy tie. You can add burgundy shoes to your suit to complete your ensemble!
If you are leaning on the classic and traditional side, match the brown suit and the blue shirt with brown oxford or derby shoe style.
Also, burgundy oxford shoes will make your outfit dressier.
On the other hand, tasseled loafers are the perfect way to express your fashion savvy. That way, you'll look more casual and relaxed.
Brown Suit and Pink Shirt Color Combinations
Pink isn't just for girls anymore! Brown and pink together create an ultra-modern yet mature combination.
It is a trendy color for dress shirts nowadays, and it is flattering on nearly everyone.
Keep your occasion in mind when choosing your pink dress shirt.
A pale shade is sublime if you are heading to an evening event. Also, a pink that is close to nude is a very classy combination.
You can go a few shades darker with a blush or carnation pink for a day at the office.
But be sure to stay away from dark pink with a dark suit; that will only look garish and tacky.
Match Tie with Brown Suit & Pink Shirt
Earth tones and neutral shades are best with this combination. The pink shirt is often all the color the outfit needs.
Warmer tones will help ground the pink so that it doesn't come across as too flamboyant.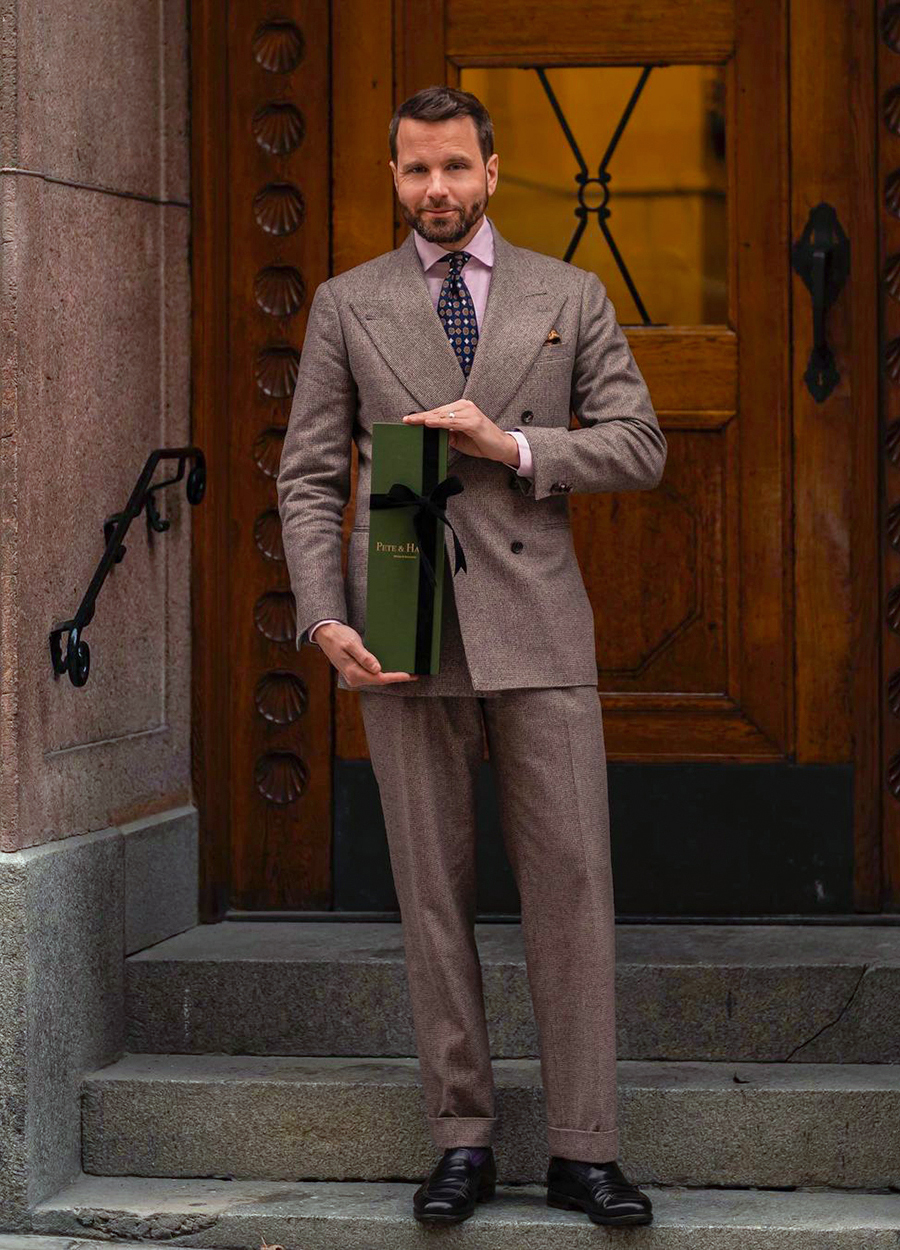 However, sometimes you want to have a little fun and creativity with your outfit. I say if the occasion is appropriate, go for it!
A pink tie that is darker than your shirt can be bold and jaunty. A true-blue tie on a background of a pink shirt also looks stunning.
Shoes for Brown Suits and Pink Shirt
Black is a grounding color, so black shoes are an excellent option in this case. They will dress up your look a little.
Not surprisingly, brown dress shoes work perfectly well with a pink shirt and brown suit:
You can also use certain black shoe styles in creating a smart casual style of dressing. Black monks are very stylish and look effortless.
For a very laid-back approach, try a pair of suede loafers. Just be careful: people may mistake you for a man of leisure.
Brown Suit and Navy Shirt Color Combination
I know, I know, it seems crazy, right? But hear me out.
Both brown and navy are vibrant colors. Putting the two together creates a dramatic combination, and I am here for it. The rich tones are warm and relaxing, like a visual cup of hot cocoa.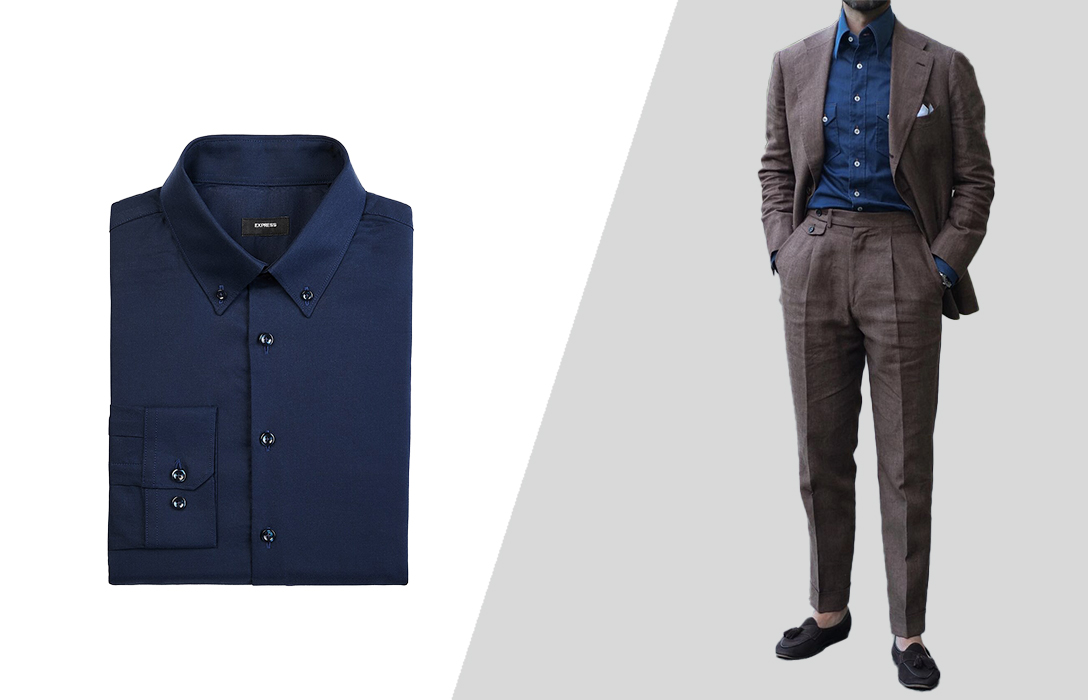 Pairing these shades is really only going to work for a casual style, so feel free to play with fabrics. Sure, you can find plenty of poplin shirts in navy, but have you considered denim?
Match Tie with Brown Suit & Navy Shirt
There is not a heck of a lot of options with this combination. Black would feel too harsh. The navy and the brown are heavy enough; black would drag this look down.
A navy blue tie? Well, perhaps, if it is the same exact shade as your shirt. But at that point, it doesn't seem to be a reason for wearing a tie in the first place.
A burgundy or brown tie is a slam dunk with this suit. It creates an awesome layered effect with the colors and prevents the style from becoming overburdened.
However, adding another color may be hard on the eyes.
Shoes for Brown Suits and Navy Shirt
You guessed it… brown shoes. Because this is a casual color combination, you will also want to stick to a more casual shoe. A nice pair of monks can really bring the wow factor.
You may also be able to pull off a burgundy shoe. If the shoes are a shade that would match the brown suit under different shirt conditions, then you are free to wear them with the navy shirt.
For an ultra-casual approach, you can even wear canvas low-top sneakers. Just make sure they are tan or brown.
Brown Suit and Striped Shirts Color Combinations
Striped shirts are a great and stylish way to wear your suit casually. It often feels like they would be perfect for a leisure outing, so you can be confident that a striped shirt will make your suit more playful.
Incorporating neutral colors into the stripes is the safest way to ensure you don't send people into colorful overload. A pattern and bright colors together are simply too much for a brown suit.
A white background and pale blue stripes are one obvious avenue. Don't discount it just because it is the most apparent choice. Sometimes you just need to play it safe, even in fashion.
If white and blue stripes seem too dull to you, up the ante with pink and white checks.
Pink and brown are amazing together, so toss in a little bit of both, and voila! You have inspiration!
No tie is necessary here.
Author: Alexander Stoicoff
Hi, I'm Alex, and I've studied and specialized in styling in Rome. Through my writing, I want to help men dress well and learn the purpose and significance of suits and other formal attire. My final goal is to make men more confident in their wardrobe choice and life in general.