Have you been eying some burgundy dress shoes and wondering if you can pull them off? I certainly don't blame you.
These deep red shoes are stunning and make nearly any suit infinitely cooler.
However, if they feel too bold for you, I promise that there are many ways you can incorporate these beauties into your wardrobe. They are much more versatile than you would expect.
Different Dress Shoe Styles
The color of your dress shoes is perhaps the most crucial feature you need to pay attention to when deciding what to wear with your suit.
However, you mustn't overlook the style of the shoes, either.
Oxfords are the most formal and dignified dress shoes. Every man should own a pair; they're versatile and always make any outfit more professional.
A derby shoe or blucher comes in closely behind Oxfords. They are slightly less dressy but are perfectly acceptable in even the most professional situations.
Brogues are not specifically a style of shoe but more ornamentation. You can have broguing on Oxford or derby shoes, but they'll then be considered brogues.
Keep in mind that these broguing perforations lower the formality of the shoes.
Monk straps are another excellent style choice for a dressy but not formal approach to footwear.
Burgundy Dress Shoes & Navy Pants
Navy suits are so dark that they fall on the most formal end of the dress code spectrum. Because of this, they need a formal shoe style.
They also call for a dark-colored shoe, and burgundy or oxblood makes a beautiful match with navy pants.
Burgundy is also a dark shade, and the intense shade of red tones highlights the richness of the navy suit.
Red and blue are naturally fitting colors, as they're triadic colors, meaning they sit three colors apart on the color wheel.
However, they're also primary colors, so they complement each other well, no matter how deep their hue is.
Burgundy shoes with a navy suit create an unexpected twist on a standard, sometimes dull, business outfit.
Burgundy Dress Shoes & Blue Pants
Blue is a fundamental suit color since you can wear a blue suit for almost any occasion.
Blue looks fantastic with oxblood or burgundy. These shades together are very contemporary.
The deep red of the burgundy creates a more profound contrast with the pure blue, which has a dramatic effect.
Because a blue suit is more casual than a navy one, your shoe style should reflect that.
So rather than Oxfords, why not opt for a stylish pair of brogues or even the more unusual monk strap shoes? Blue pants look very modern with this strappy footwear.
Burgundy Dress Shoes & Charcoal Grey Pants
Charcoal grey is another formal suit color, like navy. It looks ultra-sophisticated when you pair this dark neutral color with the dark primary burgundy.
A charcoal grey suit worn with burgundy or oxblood dress shoes is very professional. The red tones add excitement to this neutral color.
Because charcoal grey pants are very dressy, you'll need to make sure your burgundy shoes are the appropriate level of dressiness.
Of course, your first choice would be Oxfords, but derby shoes are also perfectly acceptable.
Burgundy Dress Shoes & Light Grey Pants
A light grey suit is casual; it wouldn't be appropriate for evening outings or professional business ventures.
However, if you add burgundy dress shoes, you'll notice that they instantly raise the formality of your grey pants a notch or two. This is especially true if your shoes are Oxfords.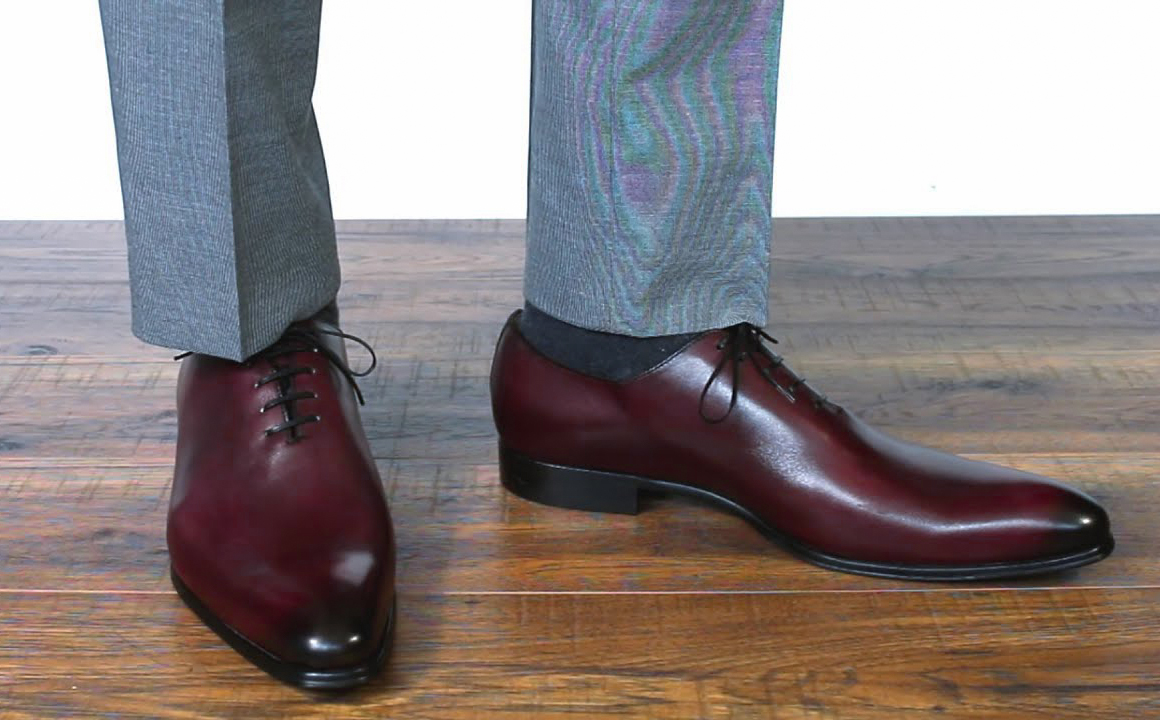 A light grey suit is almost always a crisp choice, but the addition of burgundy brogues or monk strap shoes makes your suit look impeccably smart.
The deep tone of the shoes makes the light color of your suit really pop.
Pairing your burgundy or oxblood shoes with a lighter suit such as this is a brilliant way to bring your shoes into some warmer months.
Typically burgundy would be a fall or winter shade because it is so dark. But a light grey can make this match work for the spring or summer months.
Burgundy Dress Shoes & Brown Pants
Brown can be a challenge to find the proper shade to match with, but burgundy makes it very simple.
These two colors look effortless together, mainly because burgundy is a mixture of purple and reddish-brown.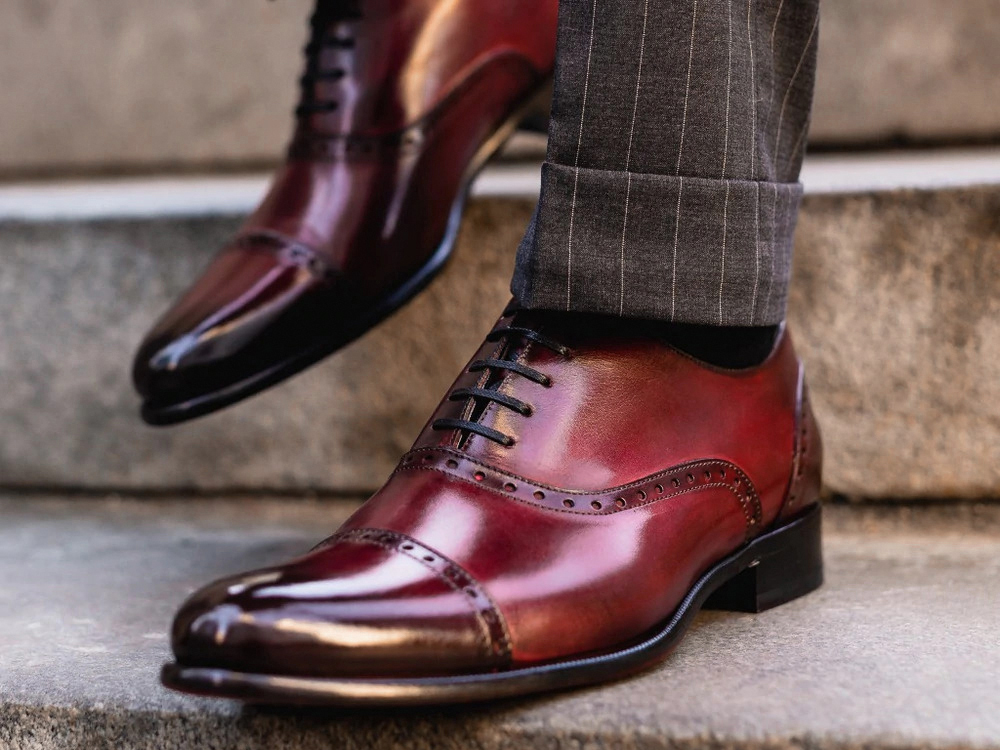 Most people are tempted to write off this combination, thinking the colors are too similar. However, the purple hue sets the burgundy well apart from the brown.
A dark brown suit is elevated from dull to elegant with the addition of burgundy dress shoes. It is a very simple touch but also immensely effective.
Likewise, your brown pants will lose their dull factor and suddenly become classy with the proper burgundy shoes.
Burgundy Dress Shoes & Tan/Khaki/Beige Pants
Burgundy dress shoes and light-shade pants are a wonderful complement to each other.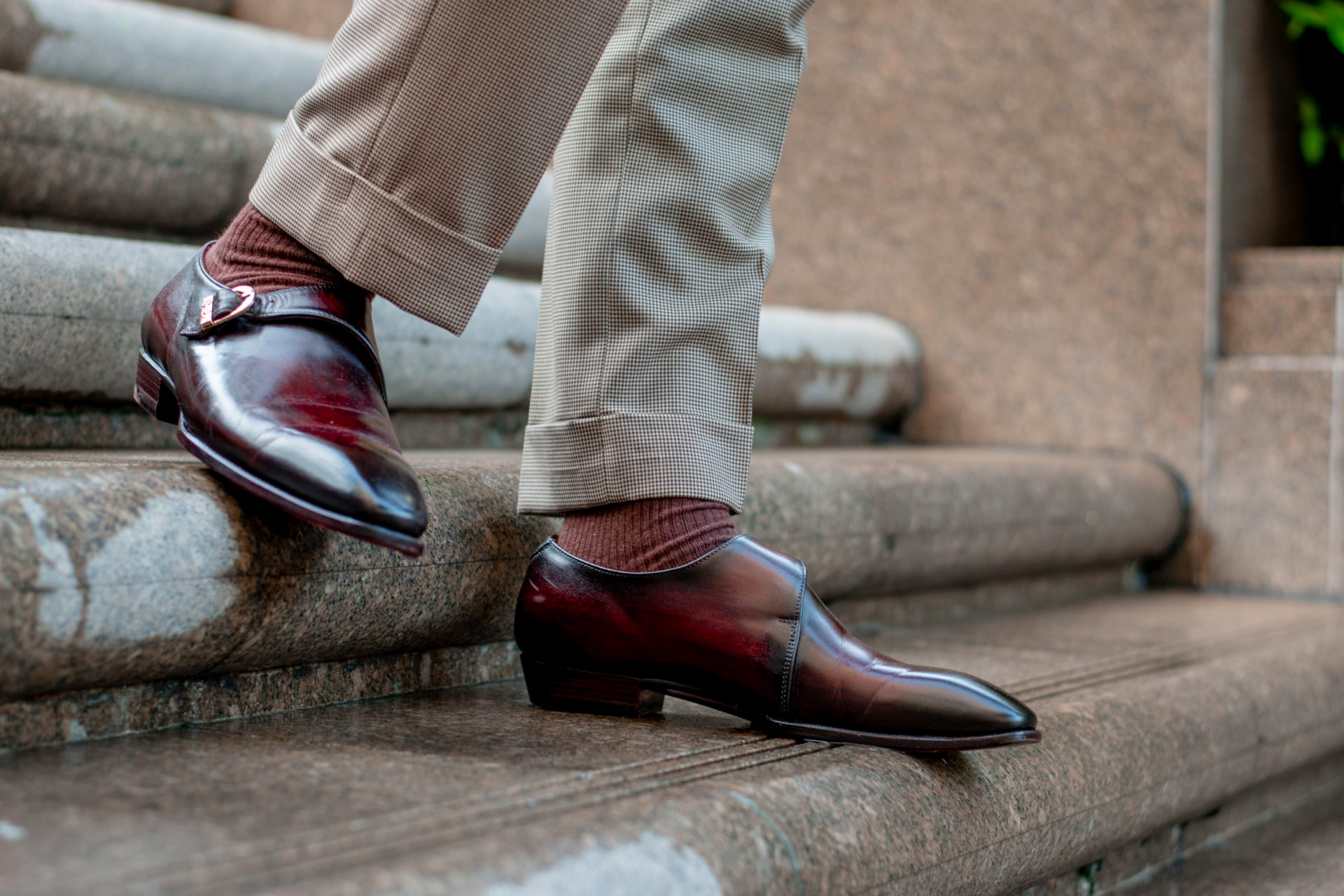 Burgundy looks very rich next to the lighter tones of brown that the contrast is difficult to ignore.
Light brown pants are risky because they can easily seem dull.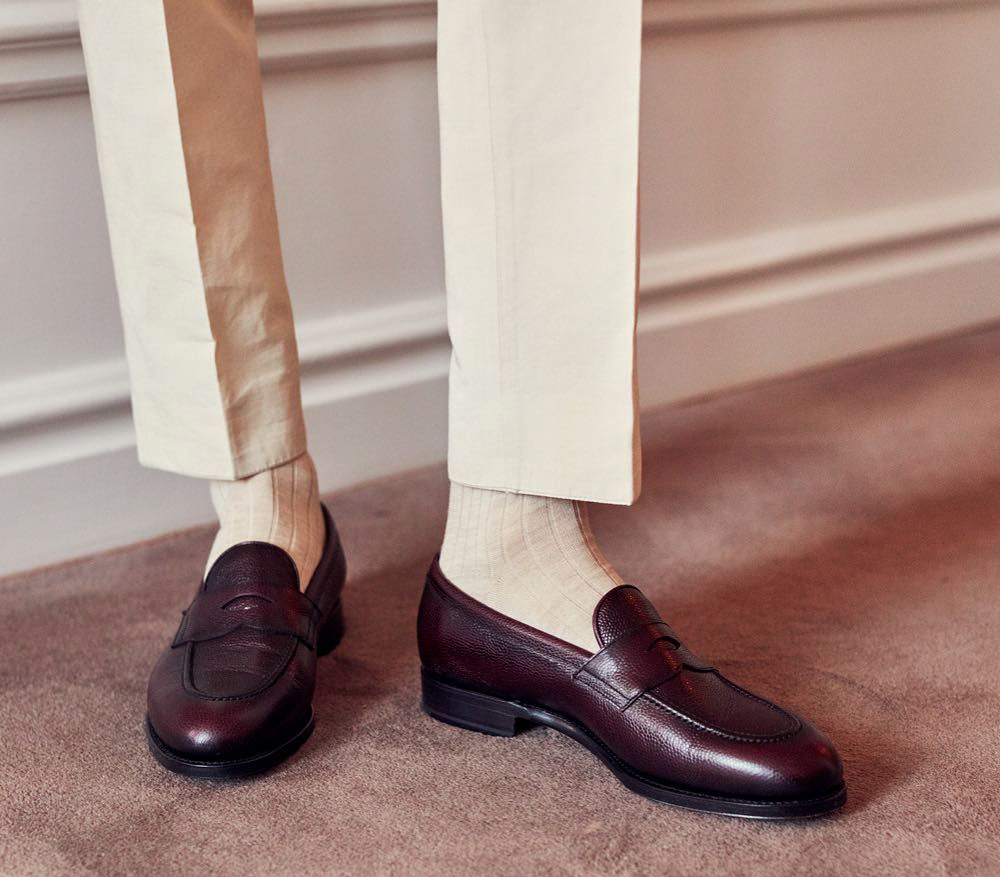 However, with the addition of notice-me shoes, your tan pants suddenly have flair.
Color Pants NOT to Wear with Burgundy Shoes
Burgundy shoes are a gorgeous addition to many outfits, but sadly, they won't pair with every color you own. Even burgundy has its limitations.
Don't ever match your burgundy dress shoes to black pants. Burgundy has too much red in it to look appropriate with black.
Likewise, the shades are too distinguishable to work well together. Also, the black pants would dull the richness of the burgundy.
When to Wear Burgundy Shoes
Burgundy is perfectly suited for semi-formal events and more casual outfits.
Because it works beautifully with navy and charcoal grey suits, you could make a splash at a semi-formal event such as a wedding or cocktail party.
It's fun to add an unexpected twist to a sometimes stuffy event.
When you are headed out for a casual outing but want to look sharp, a pair of burgundy monk straps or brogues will show your fashion savviness.
Of course, burgundy shoes aren't a go-to color, so they are sure to turn heads.
You can't wear this stylish shoe color for formal events since black is the color for formal suits. And as we said, burgundy shoes and black pants are a non-starter.
Accessories You Can Wear with Burgundy Dress Shoes
Adding burgundy dress shoes to any outfit automatically makes your outfit dapper. So lean into that chic aura with your accessories.
For example, if you are wearing a necktie, try matching it to your shoes.
A burgundy tie, either plain or print, can be very balancing. Or you can add a pocket square with burgundy accents for true flair!
Burgundy/Oxblood Belt
Getting your other leather accessories to match may be a challenge when you aren't wearing standard black or brown shoes.
However, it is important to try to get all of your leather accessories as close as possible to your shoe color.
For example, look for a belt that closely matches the shade of your dress shoes.
Keep your belt at the same level of formality as your shoes. So, if you wear dress shoes, make sure your belt is formal.
This means it needs to be leather, thin, and have a metal frame buckle.
Leather Dress Watch
A watch is a minor but effective nod to detail. This slight touch will be subtle but can help tie your entire outfit together.
There are tons of fantastic dress watches to choose from. If you have a pair of burgundy or oxblood shoes, the chances are that you'll be wearing them somewhat regularly.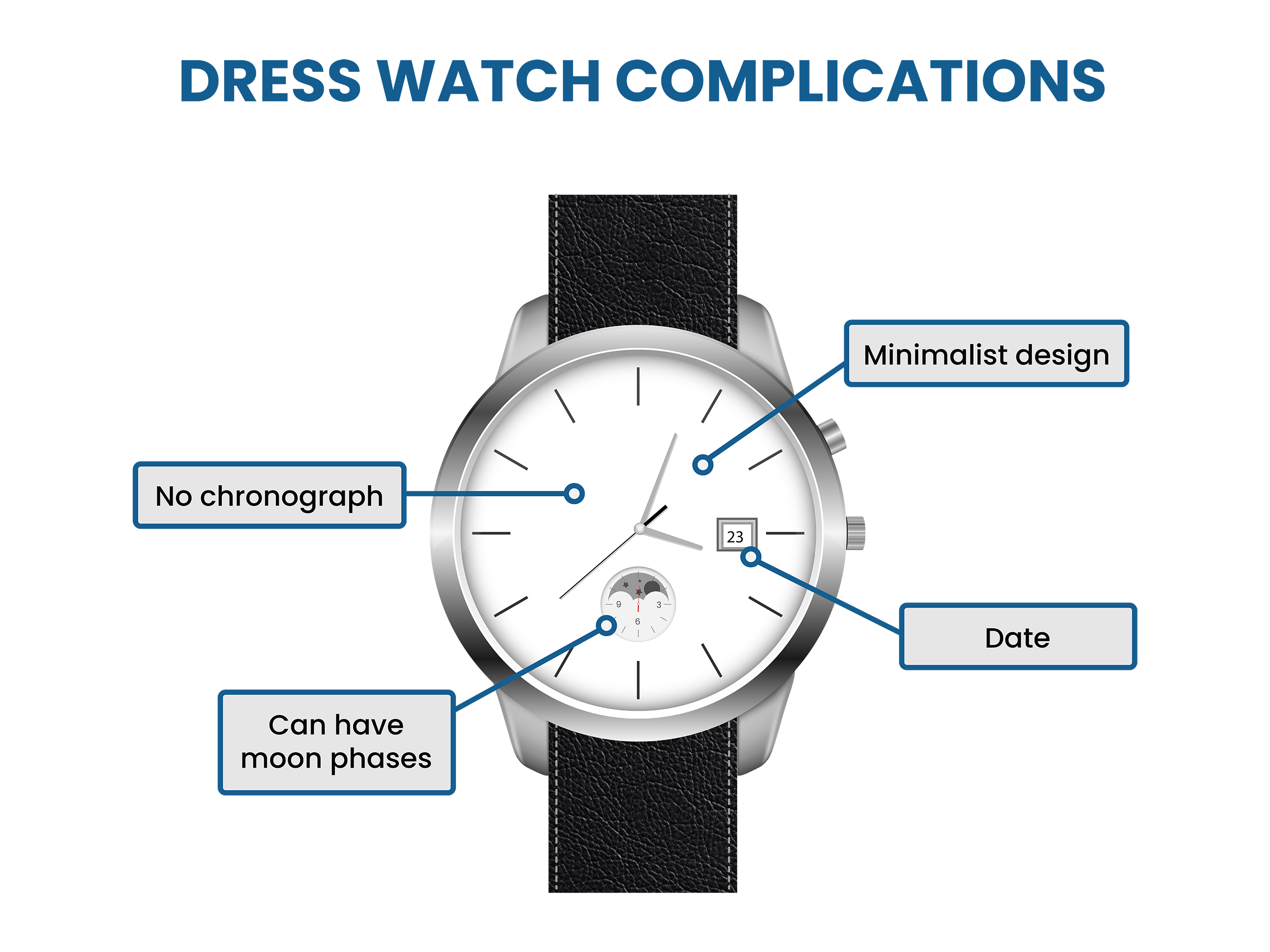 In that case, it would be well worth the money to invest in an oxblood leather dress watch that will match the shoes.
Be sure the leather strap is the same shade as your shoes and that any metal detailing is the same type of any other metal you'll be wearing.
Author: Alexander Stoicoff
Hi, I'm Alex, and I've studied and specialized in styling in Rome. Through my writing, I want to help men dress well and learn the purpose and significance of suits and other formal attire. My final goal is to make men more confident in their wardrobe choice and life in general.