Suits can be costly, so keeping your eyes open for a cheap, affordable suit never hurts.
In fact, you can easily find a nice and decent suit that can work for any of your dressing needs, whether it's a conservative style, for a wedding, or a little more cutting-edge.
Once you know the best places to look, you'll feel like the world of suit shopping has opened up for you.
Suitsupply
Suitsupply is a must if you are looking for affordable yet stylish suits in Italian cuts and fabrics. Their suits are all high-quality and possess a timeless elegance.
In addition, Suitsupply runs a wide range of pricing; there aren't as many options at the lower price point, but the available options are more than enough to satisfy the most style-savvy dressers.
Good for: Men who are looking for a life-long investment in suits without breaking the bank.
Hockerty
Hockerty is one of the top brands that produce made-to-measure suits. While they offer some high-quality products, it's good to know that most of their suits are cheap.
The best thing about them is their awesome 3D suit designer. It's really straightforward and allows customers to pick their suit style, fabric, and color and see your suit as you are building it.
Good for: Men looking for a made-to-measure look from quality fabrics at an affordable price would do well to consider a suit from this brand.
Indochino
If you are in the market for a made-to-measure suit, you'll love Indochino because you can design your dream suit.
Then, after you've entirely customized your suit and submitted your measurements, they'll have a new custom suit sent to you within weeks.
In addition, their suits are of excellent quality; you'll be hard-pressed to find made-to-measure suits for such a bargain.
Good for: These suits are ideal for the man who has particular tastes and knows precisely what he wants from a suit.
Bonobos
Bonobos have a special "Jetsetter" line of suits that are more affordable than their usual lines.
For around $500, you'll get a wool blend suit with just the right amount of stretch and created by an established brand.
Good for: Young and upwardly mobile executives looking for quality, stylish suits for the office will love Bonobos.
Calvin Klein
Calvin Klein, a top name in menswear, makes both classic and versatile suits. They can come below $500 yet look a lot more expensive.
Good for: Men who want a more stylish and sophisticated brand that produces excellent quality yet affordable suits.
Zara
Zara sells fast-fashion suits at a very affordable price.
Their ranges are sharp and fashionable, and the brand offers its products in a variety of colors. Zara suits are modern silhouettes and cut on the slim side.
Good for: Anyone looking for cheap but trendy suits who aren't too worried if they don't last that long.
Tomasso Black
Tomasso Black produces high-quality and luxurious suits at an extremely affordable price.
Their stylish two-buttoned slim-fit suits are a real bargain. Amazingly, you can get an excellent quality suit made of 100% Italian wool for just under $300.
Good for: Men who pay special attention to the fabric's quality and the overall opulent design. It will take you from the office to a formal evening dinner smoothly.
Ted Baker
You'll probably only find a Ted Baker suit for under $500 in the sales, but you might get lucky if you're patient. These timeless, classy suits will give you the edge you're looking for.
Ted Baker's attire is usually manufactured from wool and other superior fabrics and is more than able to go the distance.
Good for: Classic dressers yearning for affordable quality should keep an eye open for these suits.
Kenneth Cole
Kenneth Cole offers a line of "New York" slim-fit suits that are surprisingly well finished for the price. In addition, they come in a whole range of suit colors, with fully lined jackets.
Good for: When you're on a budget and need a selection of affordable suits for work, the Kenneth Cole range is the way to go.
Haggar
Haggar offers affordable suits for under $500 in a slim cut and classic cut that fits well. Their suits come in a range of classic colors, like grey, navy, brown, or black.
Haggar makes most of its attire from viscose and polyester blends. On top of that, they have an amazing overall build line. You will love them undoubtedly.
Good for: If you like a slim-fit suit at a fair price, you will most definitely appreciate Haggar's suits.
Topman
Topman is a British company that Asos bought out; therefore, you can only purchase their suits online.
However, their suits are very cheap, and while they aren't top quality, they are a notch above similarly priced suits from H&M and Zara. Even though Topman suits are primarily polyester, they look higher quality than that.
Good for: Men who want a casual but trendy suit and aren't concerned with using the highest-quality fabrics.
H&M
This Swedish company is known worldwide for its affordable, super modern fashions.
Their suits are no different: many are very fashion-forward designs with unique styles as well as a healthy offering of classic suit styles.
H&M clothing isn't constructed to last through years of wear; that's why it's priced so affordably. Still, you will get a good amount of wear from these suits for the price you pay.
Good for: If you are looking for a primarily traditional suit for work, but with a bit of trace of modern European style for flair, H&M is your best bet.
Uniqlo
Uniqlo is a Japanese clothing brand specializing in casual clothing, although they have a decent variety of suits.
They sell their suits as separates according to the season, so you'll find lightly lined cheap suit options in summer and heavier suits the rest of the year.
Good for: Anybody who wants a very minimalistic, simple suit. Uniqlo suits offer no bells and whistles.
Perry Ellis
The Perry Ellis range has a slim-fit suit that is very well priced. Unfortunately, it's made from polyester, rayon, and spandex blend, so the fabric isn't the best quality.
However, it does give the suit a more than adequate amount of stretch and offers reasonable comfort. Plus, it makes the suit crinkle-free, too.
Good for: If your budget is tight and you like a slim-fit with a modern silhouette.
Nordstrom
Nordstrom offers numerous affordable suits. It mainly produces a wool/spandex blended suit that's highly affordable and wrinkle-free.
Its fully lined jacket and partially lined trousers offer exceptional comfort and a good fit.
Good for: When you need to look smart yet stay comfortable while traveling, these suits are perfect. You'll arrive wrinkle-free, cool, and comfortable. And you'll still have some cash to spend when you reach your destination.
Macy's
Macy's is a major department store, so it is widely accessible to many people. In addition, they offer an enormous selection of highly affordable, quality suits.
Perhaps the best part about Macy's is that they nearly always promote sales and discounts, so you'll save even more money.
Good for: Men who are starting on their suit journey. Macy's is an excellent starting point if you need to put together your basic suit wardrobe.
Target
Target is so much more than just an affordable box store; it's also surprisingly fashionable. And while Target may not offer a terribly large selection of suits, they have some excellent basic foundational suits.
In addition, Target brand suits are well put together and are surprisingly durable. Even better, they cater to larger sizes with Big and Tall suit options.
Good for: If you are in the market for your first suit, try Target first. You'll find a simple, classic suit without being overwhelmed by too many options.
Banana Republic
Banana Republic is a traditional clothing brand that typically presents classy clothing with touches of contemporary style, using trendy fabrics and patterns.
Their suits are no different from the rest of their clothing line; they offer nothing flashy or too over-the-top for the office or a wedding. Instead, you'll find high-quality suits here in both construction and design.
Good for: Men who like an understated, quietly chic style will fall in love with suits from Banana Republic.
Express
Express stores are widely available, located in practically any mall across the country.
So if your style leans toward the trendy and adventurous side of fashion, be sure to check out Express for your next suit. They have unique styles, even if they aren't always the best quality suit fabrics.
Good for: Men looking to stand out from the crowd and attract attention through their most up-to-date fashion choices will do well with suits from Express.
Asos
Asos is a British clothing company that's been around online since 2000. They offer an immense variety of suit styles, with something sure to please every taste.
So you'll have no difficulty finding something for every person's fashion proclivity and needs. They specialize in super modern suits, with the most of-the-moment cuts and patterns.
Good for: best for men who appreciate a slim-fit and a contemporary cut. These suits are tight, so be sure that's a cut you're comfortable with.
Amazon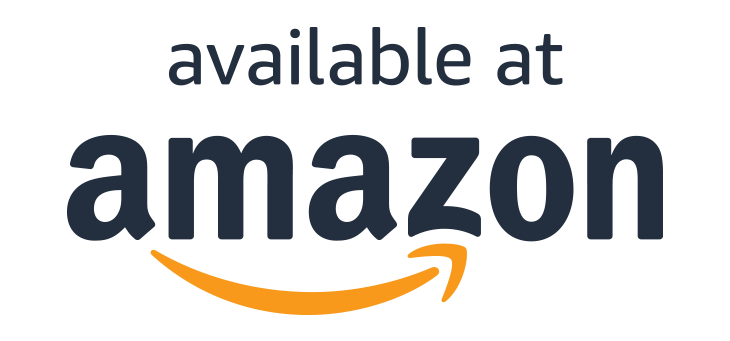 You can buy practically anything on Amazon, including nearly any suit you can think of. Amazon offers a seemingly endless variety of cheap and affordable suits.
They have many name brands and often for prices you can't find elsewhere. It's constructive that you can read many reviews from other Amazon members who have purchased the same suit you are considering.
In addition, Prime members can get free shipping on most items for even more significant savings.
Good for: Men who prefer a name-brand label on their suit but don't like paying name-brand prices will appreciate Amazon for buying suits.
Best Cheap Suits for Work
Work isn't the time or place for showing off your funky, eclectic fashion sense. It's best to adhere to basic suit colors and cuts for the office environment.
Neutral suit colors like charcoal grey, black, and navy are ideal choices. Brown is very nice too, although it can be slightly more informal than the other options.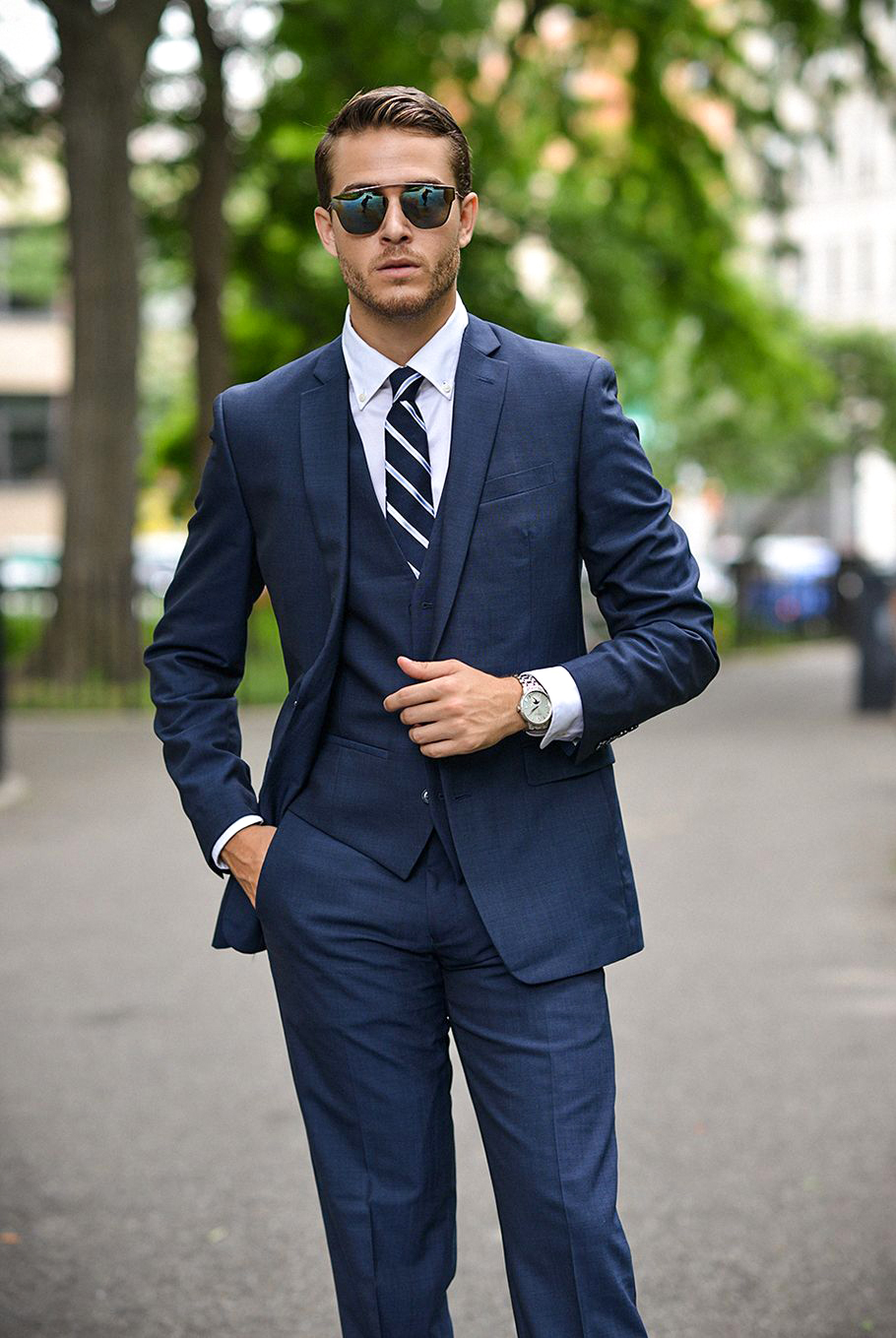 While you understandably want to spend the least amount of money you can on a suit, you also don't want to look cheap.
If you opt for a suit that follows traditional rules of suiting up (such as classic cuts and colors), you'll convey a feeling of maturity, which can be beneficial in the office.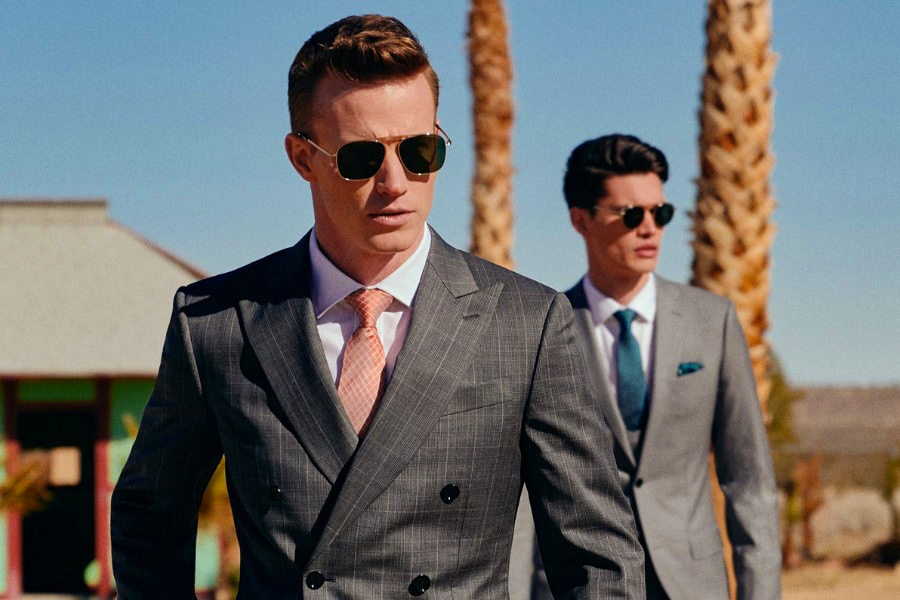 The fit is one of the most critical aspects of wearing any suit.
Make sure that your suit fits you precisely the way a suit should fit; otherwise, nobody will notice how well designed or constructed your suit is.
Best Cheap Suits for Weddings
You always want to be respectful when attending a wedding, either as a guest or groomsman. So, naturally, you want to be well dressed, but you also certainly don't want to upstage the groom.
Therefore, a subdued suit color such as navy, blue, or grey is a fantastic color choice for weddings.
Or are you neither guest nor groomsman, but the groom instead? In that case, it's ok to add a little flair to your suit.
Consider wearing a unique fabric for your big day, depending on your wedding location and time of year.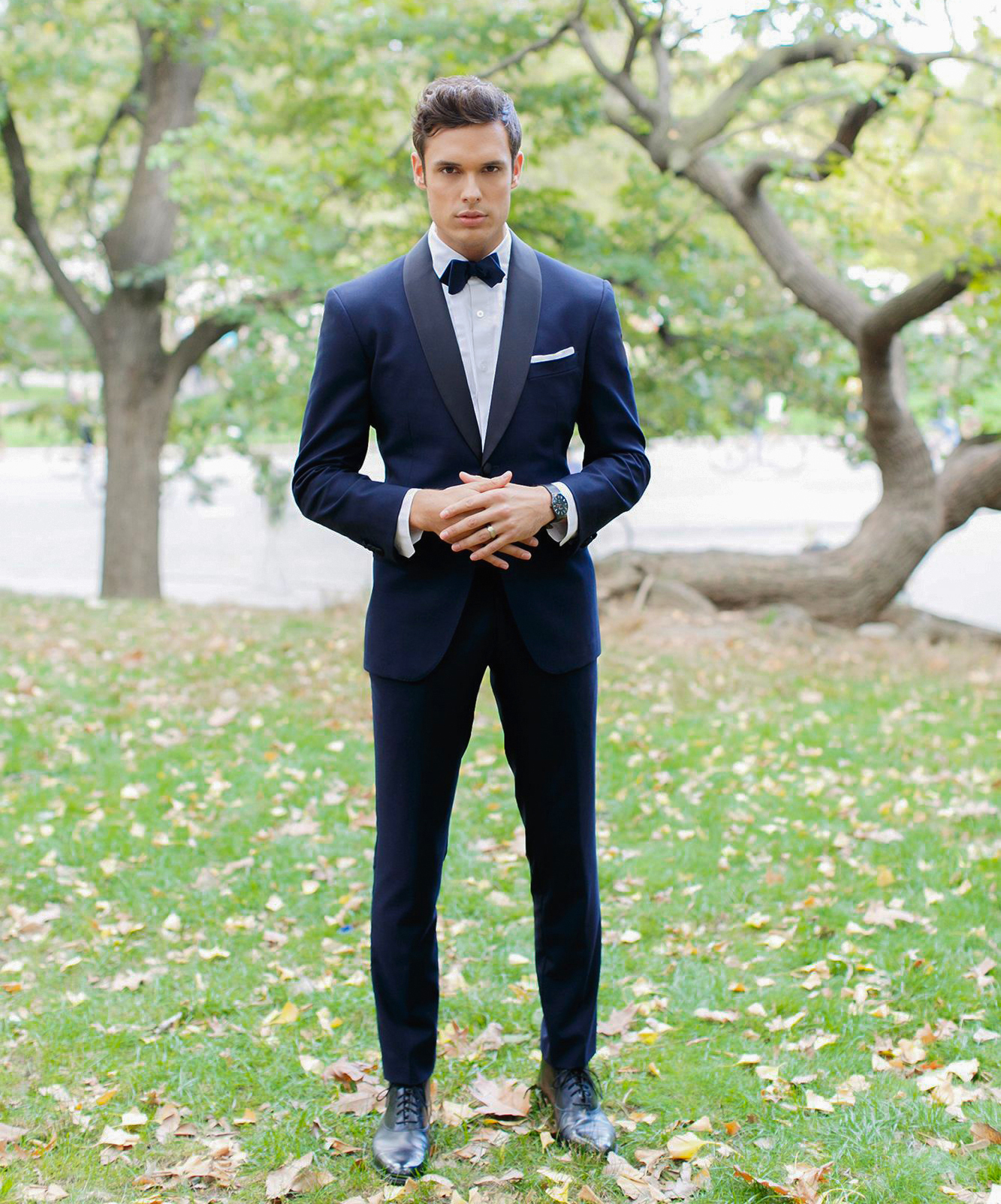 Above all, a tailor is your best friend for any wedding suit. They will ensure that your suit fits you perfectly.
That way, not only will you look amazing, but you'll also feel much more at ease in a suit that fits you the way it should.
Best Cheap Suits for Weekends
Cheap suits are an excellent way to get that bold style that's so playful but likely won't look good a few years from now.
When you aren't constrained by price or rules for dressing conservatively at work, you have the chance to experiment with bold and flashy colors.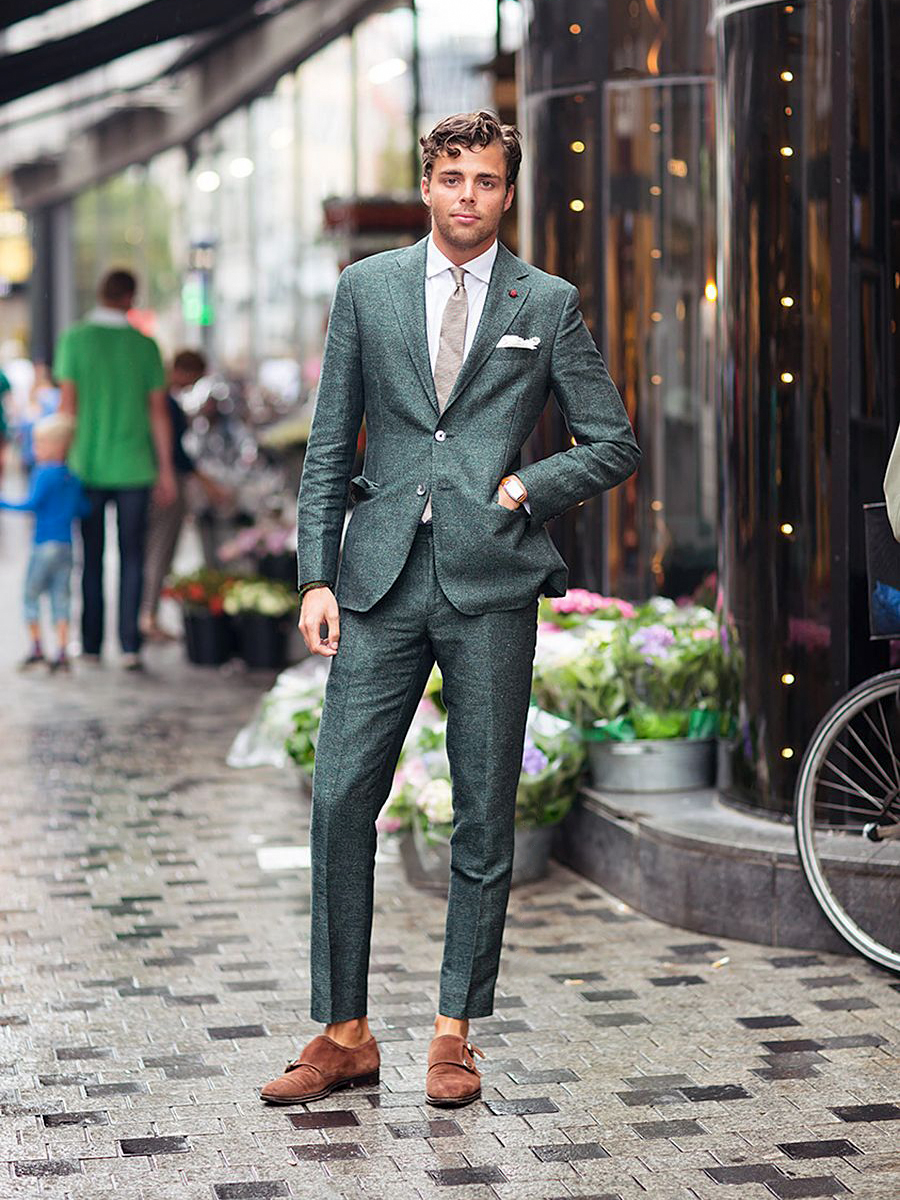 Hopefully, you would never dream of wearing an olive suit to the office, but why not rock one when headed out for a night on the town? And don't forget about print options for suits!
The weekends are your own time when you can be as casual and experimental as possible. You can even separate the suit jacket and the pants.
All the traditional dress rules are put on hold. So if you can find an inexpensive suit that you love but can't imagine where you'd ever get the chance to wear it, save it for the weekend.
Author: Alexander Stoicoff
Hi, I'm Alex, and I've studied and specialized in styling in Rome. Through my writing, I want to help men dress well and learn the purpose and significance of suits and other formal attire. My final goal is to make men more confident in their wardrobe choice and life in general.