Made-to-measure suits are an investment. And as with any investment, it's important to know what you are getting into ahead of time.
You can order a custom suit online and end up with exactly the same quality suit as what you would get from a storefront. All you need is the right information before you begin, and you can have a suit that's the perfect fit.
Top 5 Best Custom Made-to-Measure Suit Stores
There's no doubt about it; buying a new suit can be overwhelming. And when ordering off the Internet, it feels as if a lot is on the line. How can they get it right from afar?
Buying made-to-measure doesn't need to be a stressful experience. With the right company, you can rest assured that you're in good hands.
There are several online tailors to purchase from that have great reputations and many years of experience. In addition, I've reviewed the top 5 best custom suit stores you can be sure you're getting top-notch service.
Hockerty Made-to-Measure Suits
Hockerty has been a leading online retailer since 2008, dealing in custom clothing for men and women. They sell made-to-measure suits and shirts, as well as separates, dresses, and coats, mainly focusing on business wear.
Hockerty allows customers to pick their suit style and fabric color from over 150 fabrics in stock. Their 3D interface makes designing your made-to-measure suit simple. Once the suit is ordered, it's made by hand.
Customizable Features
Hockerty's online 3D suits designer allows you to see your suit as you are building it.
Once you pick your fabric and color or print, you move on to deciding which style of jacket would suit you best. You can opt for single or double-breasted, or even a mandarin jacket style!
After deciding on your suit jacket style, the site walks you through a slew of standard customizable options. Jacket options such as lapel type, pocket style, and the number of vents are all on the table.
For pants, you can select standard customizable options such as pleats, cuffs, and suspender buttons. Hockerty also can customize the rise of your suit trousers.
After selecting the basic structure of your made-to-measure suit, the site offers you several accenting options. Deciding on the lining of your jacket and the style of the buttons are just some of the fun parts of this step.
After your suit options have been set, Hockerty will assist you with getting your perfect measurements. They even provide a video on how to get your measurements and provide customers with a printable tape measure, knowing you may not have one.
Return Policy
Hockerty offers a "Perfect Fit Guarantee," so they don't offer refunds. Instead, they will refund any cost you incur for alterations, as long as they were made within seven days of receiving your suit. The alterations should extend 25% of the suit's value.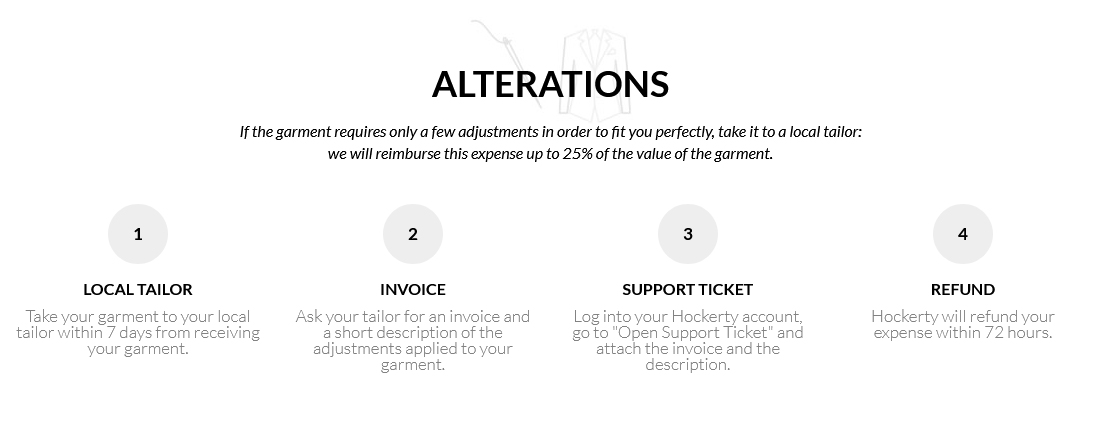 If the made-to-measure suit cannot be altered, Hockerty will remake the suit after the customer ships back the original custom-made suit. However, if you request a change in fabric or style, you will pay an extra 20% of the suit's cost.
What Suits Expert Thinks About the Brand
Hockerty's website is straightforward and easy to navigate. The 3D design planner presents a rendering of the suit you are designing. This is super helpful for knowing that the features you choose work for your made-to-measure suit.
Being able to see some of your design choices in action may help you catch something that won't work well together. It can save you a major headache later.
Reviews for Hockerty's finished products are mixed in terms of delivery time and fit, though many only need minor tailoring. A small handful of customers complain that the fabric is cheap; however, it has been met with mostly praise.
If you choose one of their higher quality fabrics, such as pure wool, you will find that it is top-notch. And with such a wide selection and affordable pricing, there should be little to complain about.
Sadly, customer service is a frequent complaint among Hockerty customers. Suits Expert believes that the brand can significantly improve in this particular area.
Proper Cloth Made-to-Measure Suits
Proper Cloth was started in 2008 with the goal of making custom men's suits and shirts that are easy to purchase. The company has since branched out.
Customers can order off-the-rack or custom-made suits. Through their website, you can customize their suit offerings to fit your taste or style needs to a greater extend. There is a showroom in New York City for in-person consultations as well.
Not a convenient location for you? You can book a virtual video consultation with somebody on the team or engage in a chat session for guidance on your made-to-measure suit.
Customizable Features
Your journey with Proper Cloth begins with choosing a suit design that is closest to what you want. This suit acts as your base and locks you into color and fabric.
From there, you can decide to customize certain features on the suit, such as lapel, pocket style, and pants cuff.
The main focus of Proper Cloth's customization is the sizes. They tout their Create-A-Custom-Size feature above all other options.
As you make your customized choices, the picture of your starting suit does not reflect the changes you make. That means that you don't get to see the final product before you order it.
This is probably not going to be a huge problem, though, since you are only making basic adjustments to the suit.
Also, you don't get a choice in the color of your jacket lining. But on the bright side, if you choose to add one, you don't have to worry about whether your colors will match.
Still, it would be nice to get an overall sense before you finalize your custom suit.
Return Policy
If you are unhappy with the fit of your made-to-measure suit, Proper Cloth will provide custom alterations or a full remake. You must contact them within 90 days for this service or 120 days to receive a store credit.
You will also need to return the original suit to them. Proper Cloth allows up to two complimentary remakes.
They will also reimburse you for tailoring costs if you decide to have a local tailor take care of it. You may still get a full refund if not satisfied, even on custom orders.
What Suits Expert Thinks About the Brand
The website can be a bit confusing when you first log on to order a custom suit. But once you realize that the suits are pre-set and that you customize from there, it becomes easier to navigate.
They have an excellent return policy and excel in general support, as well. You can feel at ease ordering your suit, knowing that you won't be stuck with a made-to-measure suit you're unhappy with.
As a whole, Proper Cloth is almost universally loved. Their customers leave them with glowing reviews and pledge their repeat business to them.
The only grumble seems to be that Proper Cloth might do well to expand their selection of custom suits. However, with such amazing customer service, that's an easy flaw to forgive.
Black Lapel Made-to-Measure Suits
Black Lapel specializes in handcrafted custom suits and shirts. They do have a storefront in New York City that is only accessible with an appointment.
If you can't make the trip to New York to visit them, they will come to you in the form of online help. They offer stylists to help you with the design process of your suit online.
Black Lapel's belief in excellent fitting suits is their focus, leading them to be one of the most reliable presences in online customization and made-to-measure.
Customizable Features
Your Black Lapel experience begins by choosing your suit style, including the color and fabric. You click on that suit and begin the customizing from there.
Sadly, you don't get to see all your options come together in an image. The photo of the made-to-measure suit you chose remains the same.
However, their menu bar provides sketches of each choice to give the customer a better idea of what is being offered. They even mark their recommendation for what is most common or acceptable.
Once you have made all your customizations, including lining color and stitching options, Black Lapel provides you with a summary before checking out.
You can review all the sketches of the options you chose, but you just have to cross your fingers and hope they all pull together in a complementary fashion.
Return Policy
Black Lapel will cover up to $75 worth of alterations by a local tailor within 30 days of receiving your made-to-measure suit. They expect the tailor to fill out a form to submit for reimbursement.
If, for some reason, a tailor is unable to fix the issue through alterations, Black Lapel will remake the suit, so long as it is sent back within the initial 30 days.
If the issue isn't fit but of taste, they will offer you a store credit. Again, the custom-made suit must be sent back, unworn or unaltered, within 30 days. The store credit does not expire.
What Suits Expert Thinks About the Brand
Black Lapel is practically synonymous with great style. They offer a vast selection and very reasonable pricing, making them one of the most recognized names in custom suits.
The brand is incredibly professional and stands behind its high-quality work. Such great customer service is essential to helping a customer feel relaxed and confident when ordering a made-to-measure suit.
It's very unfortunate that the customer cannot see a visual of the final product they have designed. That one step would probably seal the deal in consumer confidence.
However, the fact that Black Lapel makes recommendations as you are customizing is a bonus. It also helps that they explain certain options to you so that you fully understand what (and why) you are choosing certain things.
Indochino Made-to-Measure Suits
Indochino helps its customers realize that they can have an affordable custom wardrobe. Everything at Indochino is customizable, even their overcoats and chinos.
Headquartered in Vancouver, they are the largest exclusive made-to-measure company in the world. Their customizable options are truly endless, it seems.
They leave nothing up to chance, providing the customer with a say in every aspect of their wardrobe. No wonder Indochino is such a powerhouse in the custom suits industry.
Customizable Features
Customers begin their online experience by browsing photos of the many suit options. They can narrow down which suit they prefer via the toolbar across the top of the page.
Indochino allows customers to choose options such as color, pattern, fabric composition and weight, occasion, and even price. How about that?
Once a specific suit is selected, you can buy it as it is or to further customize it. Standard custom options are offered. Beware, though: no photos are provided for the final product.
So far, the only downside is that customers don't get the opportunity to see what their final made-to-measure design looks like prior to purchasing.
Return Policy
If the made-to-measure suit is a poor fit or there is a construction issue, Indochino asks customers to contact Customer Experience within ten days of receiving the suit.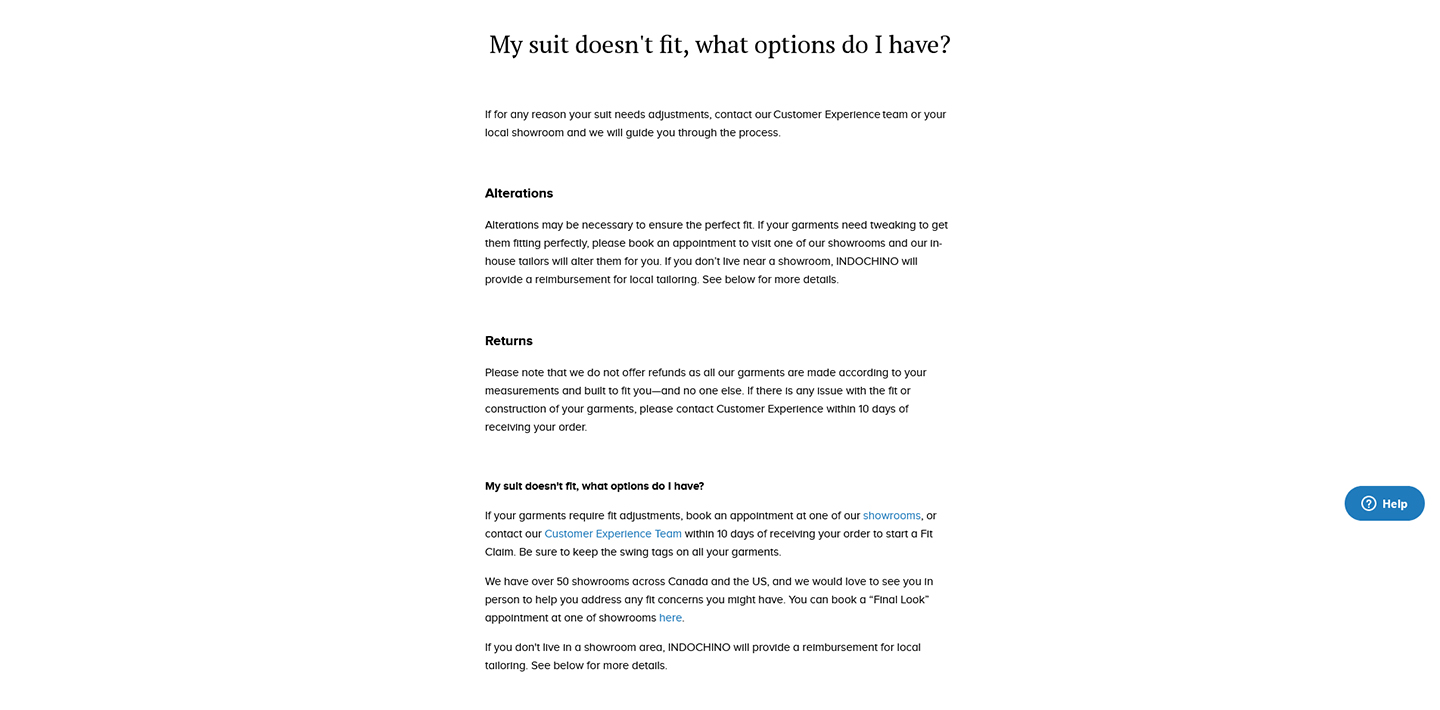 Indochino offers no refunds for any reason. However, they will cover alterations on a custom-made suit up to $75.
What Suits Expert Thinks About the Brand
Indochino makes the process of customizing a suit pretty simple, though points are subtracted for not providing a preview of the final product. It feels like a large leap of faith to order a made-to-measure suit sight unseen.
They offer such a tremendous variety that it is hard not to find exactly what you are looking for. Indochino has custom suits for every occasion, making it easy to see them becoming your one-stop destination for custom suits.
Their products are very well priced, too. Reviews about their quality are rather mixed, so try to stick to the high-end fabrics to be safe. However, their customer service receives somehow mixed marks.
Tailor Store Made-to-Measure Suits
This brand was founded in 2003 by a couple of friends in Sweden who set up manufacturing operations in Sri Lanka. They initially intended to sell only custom suits and shirts via a local Sri Lankan tailor. Today, they have over 500 employees.
Tailor Store is interested in a sustainable fashion. They plant new trees in the rainforest to help offset their carbon footprint.
Fashion can be notoriously rough on the environment, thanks to today's practically disposable pieces. Tailor Store is mindful of that and aims to balance what it can.
Customizable Features
Once you click on the link to create a made-to-measure suit, you land on a page with a photo of a generic black suit. You can pick your product by using the toolbar on the left side. Options range from a full suit and separate to a tuxedo.
All the standard features on the made-to-measure suit are available to customize, as well as some minor areas. Little details you can choose include the stitching color on the buttonholes, contrasting neck felt, even the pocket style on the trousers.
The site offers three ways to find accurate measurements. Their recommended way is by having a friend help you take your measurements while the site walks you through each needed dimension. The site allows for direct input at each step of the way.
You can also attempt Tailor Store's QuickSize algorithm to predict your measurements based on your height and weight. Or you can download Tailor Store's app to find your measurements via cutting-edge technology.
Return Policy
Your first custom order with Tailor Store is covered by their perfect fit guarantee. Simply contact customer support, and they will help you with your measurements. Otherwise, there is no allowance for returns.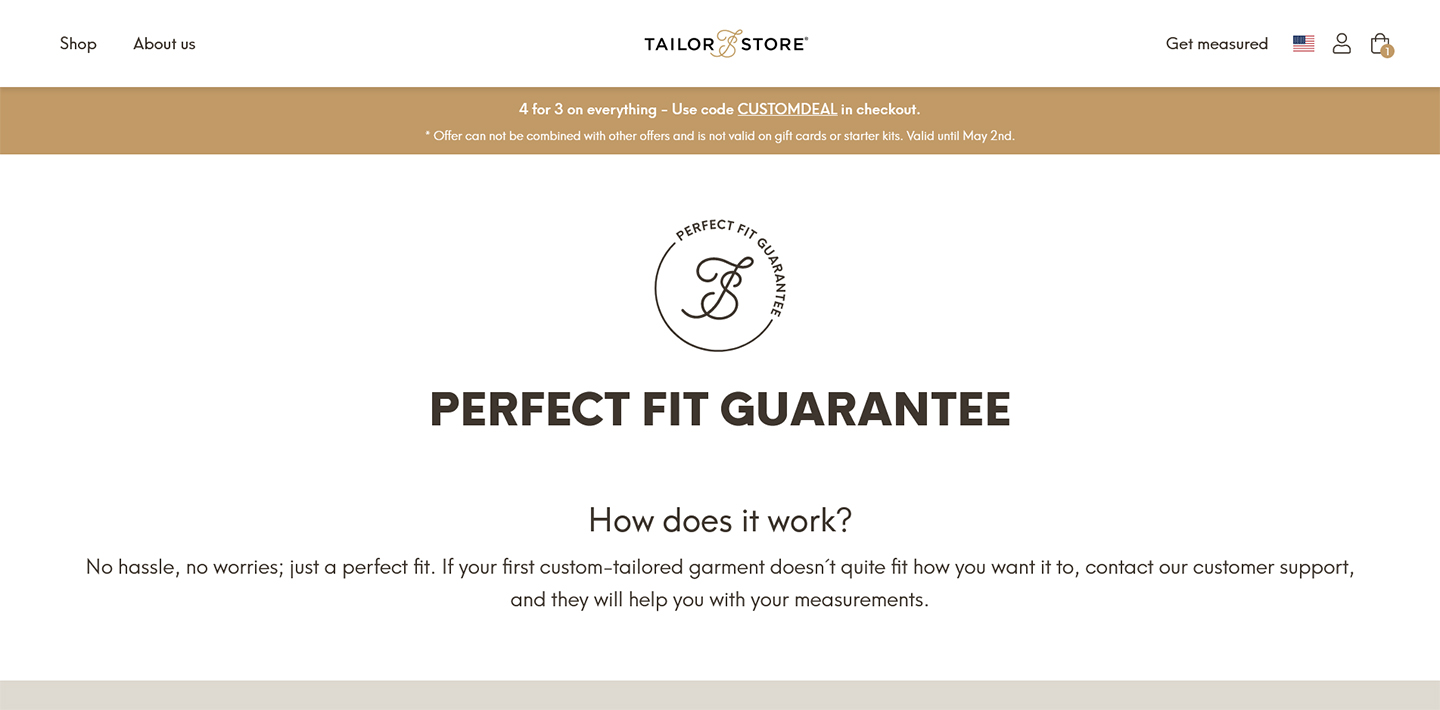 A fitting garment is included in the cost of your order. Tailor Store will send you a mock-up of your made-to-measure suit cut to your measurements using raw canvas cotton.
This sample allows the company to know if there are any adjustments needed to your measurements before they begin the final product. Their ingenious sample suit should prevent the need for any refunds.
What Suits Expert Thinks About the Brand
Tailor Store customers tend to agree that they provide excellent customer service. It's easy to make sizing adjustments on your completed made-to-measure suits, cost-free.
Many repeat customers are thrilled with Tailor Store's good quality of products and near-perfect fit. Some customers have complained that they ended up with a poor initial fit, but these all seemed like easy fixes that did not detract from their overall experience.
The included fitting garment is an excellent practice. It serves as a perfect trial before the final suit but also gives the customer peace of mind.
The website is very simple to navigate, which is crucial for something as overwhelming as designing your own suit. The design page makes it simple for the customer to get a very good image of the made-to-measure product they have designed.
Custom-Made Suits Require Correct Measurement
Just knowing your general suit size is not enough when ordering made-to-measure. Custom suits require a lot of intricate measurements. It can feel as if almost every inch of you is being measured!
Custom order websites are generally very guided for this. They want, no, they need for you to get your measurements correct. They are happy to walk you through the process in detail since it helps them as much as it helps you.
Many sites even offer tutorial videos on how to get accurate measurements. Don't skip these! They are valuable to the process.
Enlist somebody to help you. Trust me, an extra pair of hands will make this process so much easier. This may seem like a lot of work, but it will be worth it once you have a spectacular fitting made-to-measure suit.
It's only natural that any made-to-measure suit will need adjustments, of course. It's a part of the process, so don't feel discouraged when you need a bit more work done.
Oh, and get yourself a good measuring tape. That will never go to waste.
How to Buy Made-to-Measure Suits
Putting a bit of research into ordering your custom-made suit will pay great rewards in the end. Certain components of your custom suit may get wrong if you don't have the correct know-how.
After taking all your measurements and getting ready to order, keep these few items in mind:
Choose the appropriate jacket length. The ideal length will ultimately depend on how tall you are. However, it should generally line up with where your fingers meet your hand when you stand with your hands at your side.
Pay attention to the trouser length. The hem of your pants should come just to the top of your shoe. Depending upon how large you like your pants break, it may be ever so slightly longer or shorter.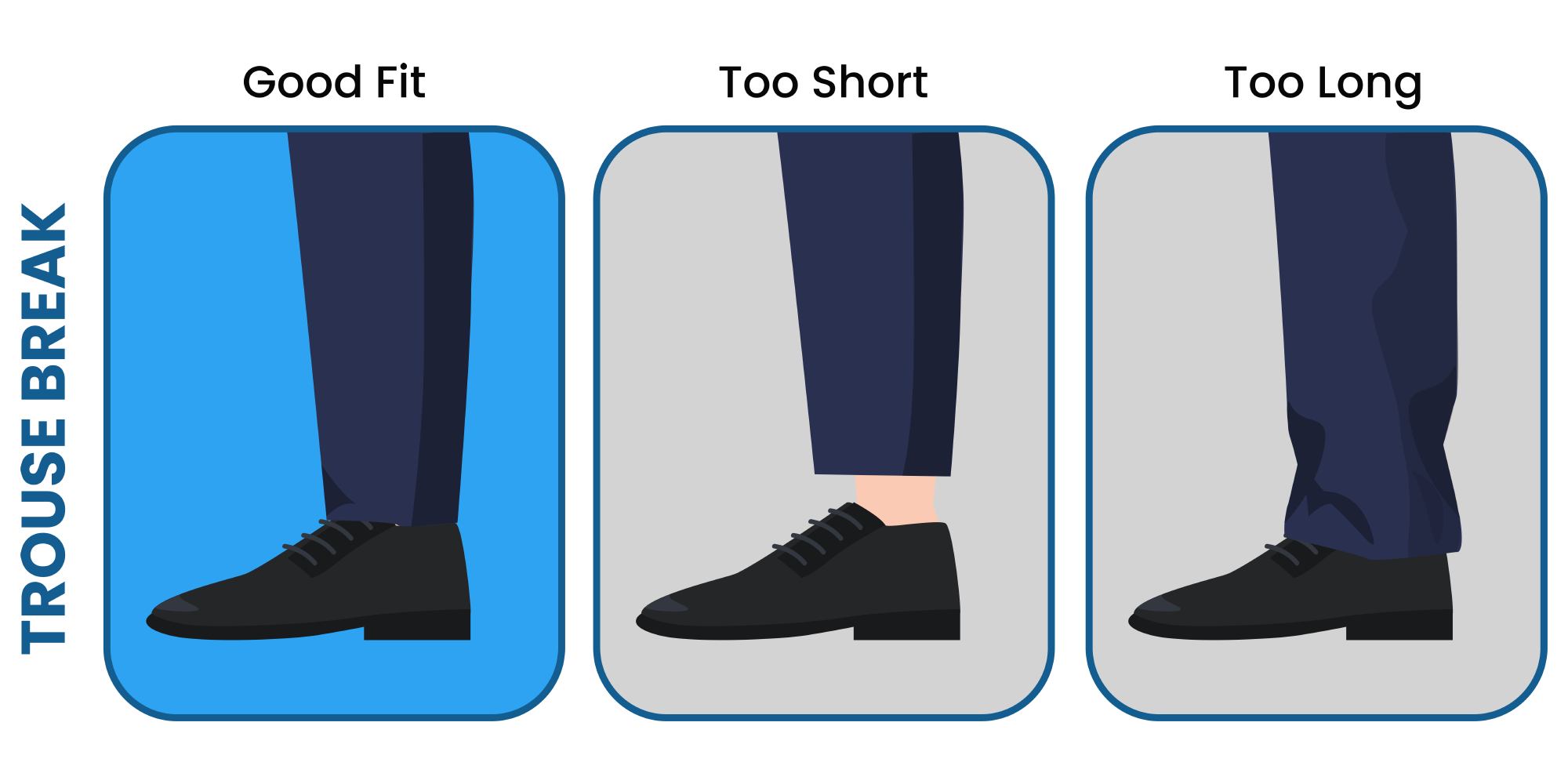 Know the dress code and the occasion where the suit will be worn. Is this suit for a wedding or the office? This detail is important in knowing which type of lapel, material, and suit color you should be wearing.
Pay attention to the suit cut. You may have to choose between the slim fit, modern fit, or classic fit. Know what these mean and what is best for your body type.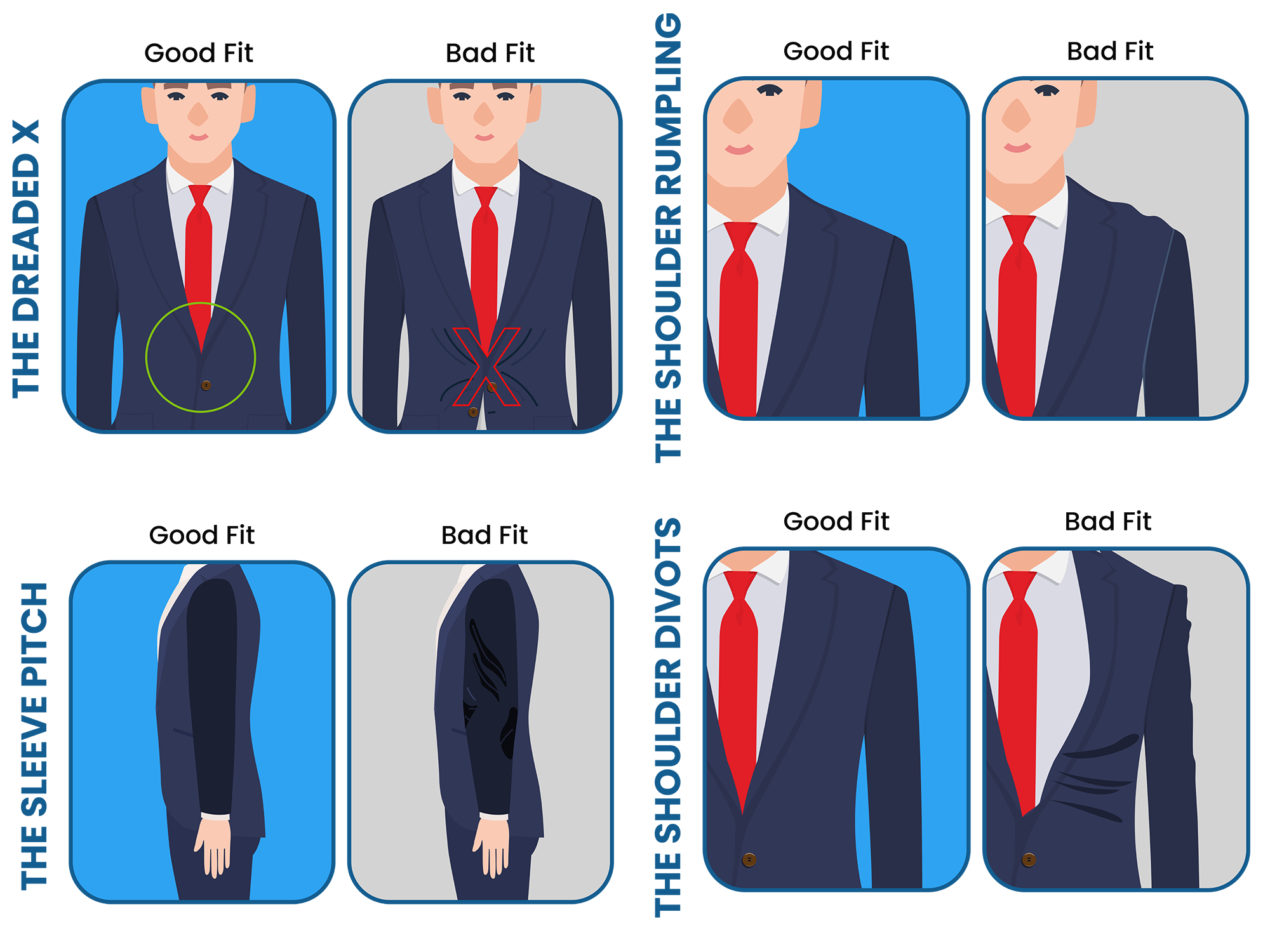 Know the difference between suits vs. tuxedos. It would be seriously humiliating to show up wearing a tuxedo to a business meeting, wouldn't it? Certain options would only work for a tuxedo, so you wouldn't want to inadvertently design your made-to-measure suit that way.
Made-to-Measure vs. Bespoke Suits
When you hear the terms "made-to-measure" and "bespoke," they may sound synonymous but are not.
There are actually some key differences between the two terms. It's easy to fall into the trap of thinking that suits are either off-the-rack or custom-designed. There is a middle ground between the two, and that's made-to-measure.
Bespoke suits are completely built from the ground up. Each component is specifically constructed with that individual in mind. As a result, it is totally hand-made and is often very expensive.
The next best option? Made-to-measure, which is part bespoke, part off-the-rack.
Made-to-measure is a suit that comes from a pre-set line but with customizable options. This suit will still look as though it was made just for you because it essentially was! It was cut to your specific measurements, with options chosen just by you.
The best custom-made suits are more pricey than off-the-rack, of course, but still affordable.
The result is that you will end up with a suit that reflects your own tastes and unique style. Plus, it will fit you like a dream. This is because off-the-rack suits are cut to a vague idea of a man's size, unlike made-to-measure.
Things to Keep in Mind when Buying a Custom Made-to-Measure Suit
You are in the driver's seat with a made-to-measure suit. There is no rule you have to follow. That said, here are a few pointers you may want to keep in mind when designing your custom-made suit.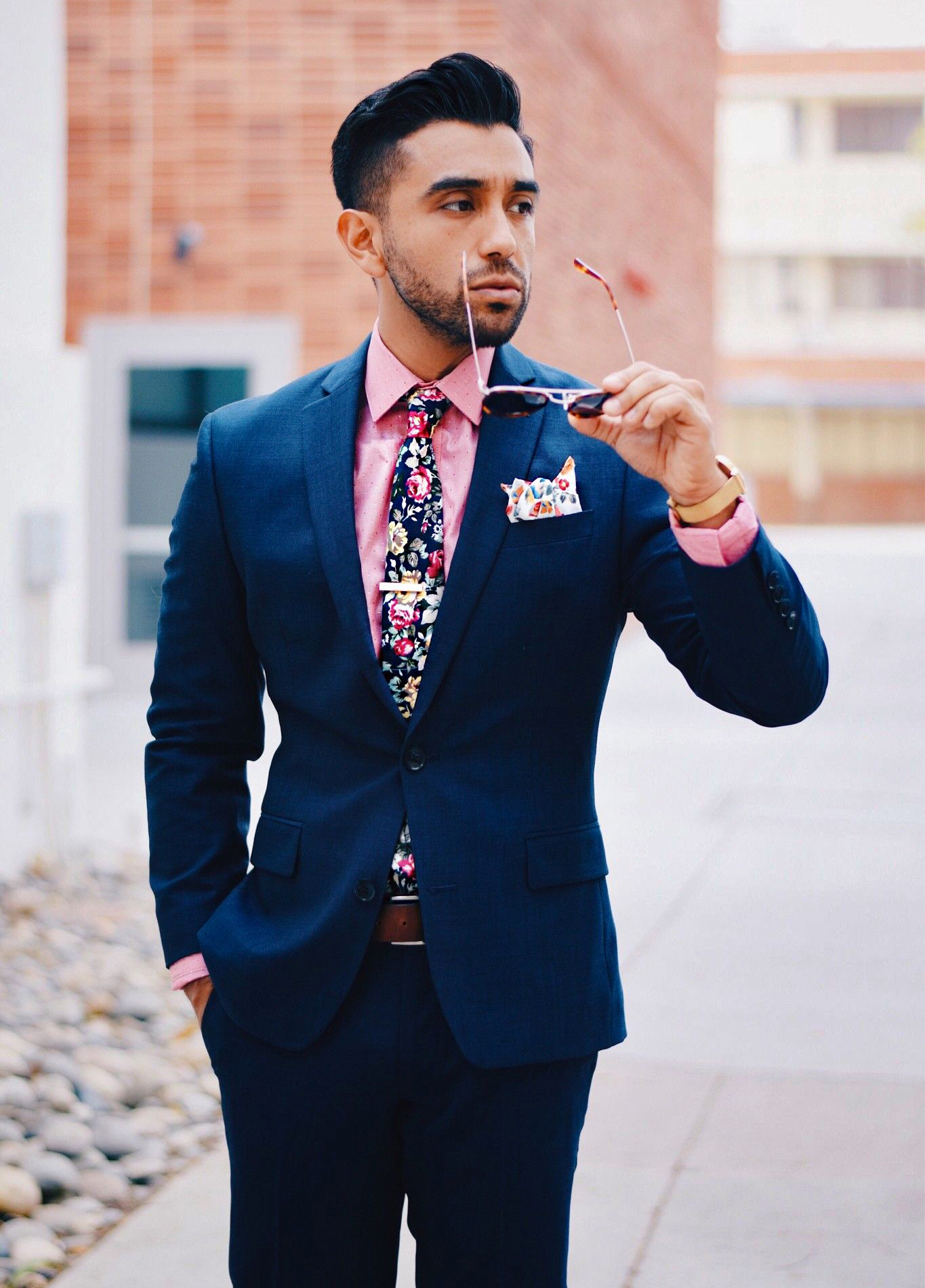 DO let the suit reflect who you are. You have your own unique style; don't be afraid to unleash it. That's why you wanted a custom suit, right?
DO a bit of research before ordering. Find out what is currently in style, what is appropriate for your needs, and how it should fit. You'll end up with a better suit.
DO be willing to pay a little extra for the customizations you really want. Some items may raise the cost of your custom suit. No reason to compromise.
DON'T think of this made-to-measure suit as the one suit to rule them all. Different occasions call for a different suit type. Consider investing in a few styles.
DON'T be afraid to let the department store know if there is something you definitely want in case you don't see that option. The best custom-made suit stores will accept special requests; it doesn't hurt to ask.
DON'T think that made-to-measure is for other people. Anyone can own a customized suit!
Made-to-Measure Suits FAQs
These are a few of the main things to keep in mind when shopping for customizable suits.
What is a Made-to-Measure Suit?
Made-to-measure is a suit that already has a basic design and pattern. Depending on which company you order from, you can customize many of the features or just a few. Sometimes you may like the suit exactly as it is and only need the sizing customized. The entire suit is cut to your exact measurements.
How Customizable are Made-to-Measure Suits?
Completely. You get to choose the fabric, the color, and the cut. All the little details are up to you. The final result is a one-of-a-kind product that you won't likely find in any store.
Can I Buy a High-Quality Custom Suit Online?
Absolutely. There are so many reputable sites right now offering custom suits. In addition, more and more people are becoming comfortable with ordering their custom-made suits online. As more people find what great quality they can from the convenience of online shopping, these sites may become commonplace.
Do I Need to Make Additional Alterations to Made-to-Measure Suits?
Most likely, yes. As with almost any suit, it can take a couple of tries. Don't let that discourage you, though. It's a normal part of the process. Of course, the more frequently you order from one particular site, the better fit you will have each time. If you have a good experience with a particular company, it is worth sticking with them as they hone your measurements.
Author: Alexander Stoicoff
Hi, I'm Alex, and I've studied and specialized in styling in Rome. Through my writing, I want to help men dress well and learn the purpose and significance of suits and other formal attire. My final goal is to make men more confident in their wardrobe choice and life in general.