With so many dress options and suit styles to choose from, knowing what would look best on your body type is essential.
In fact, that's the reason why there are so many different cuts and fits of men's suits.
With a little sleight of hand and a lot of thought, your clothing can hide the features you'd rather not focus on and accent the areas that are begging to be displayed.
Once you learn the tricks that make you look taller, thinner, or even more muscular, you'll be confident that you can dress to impress.
Body Type Clothing Basics
Not everybody loves their body. You may not have your ideal body type; hardly anybody does, to be honest.
Perhaps you don't need your dream body, though, to look amazing and feel confident in a suit.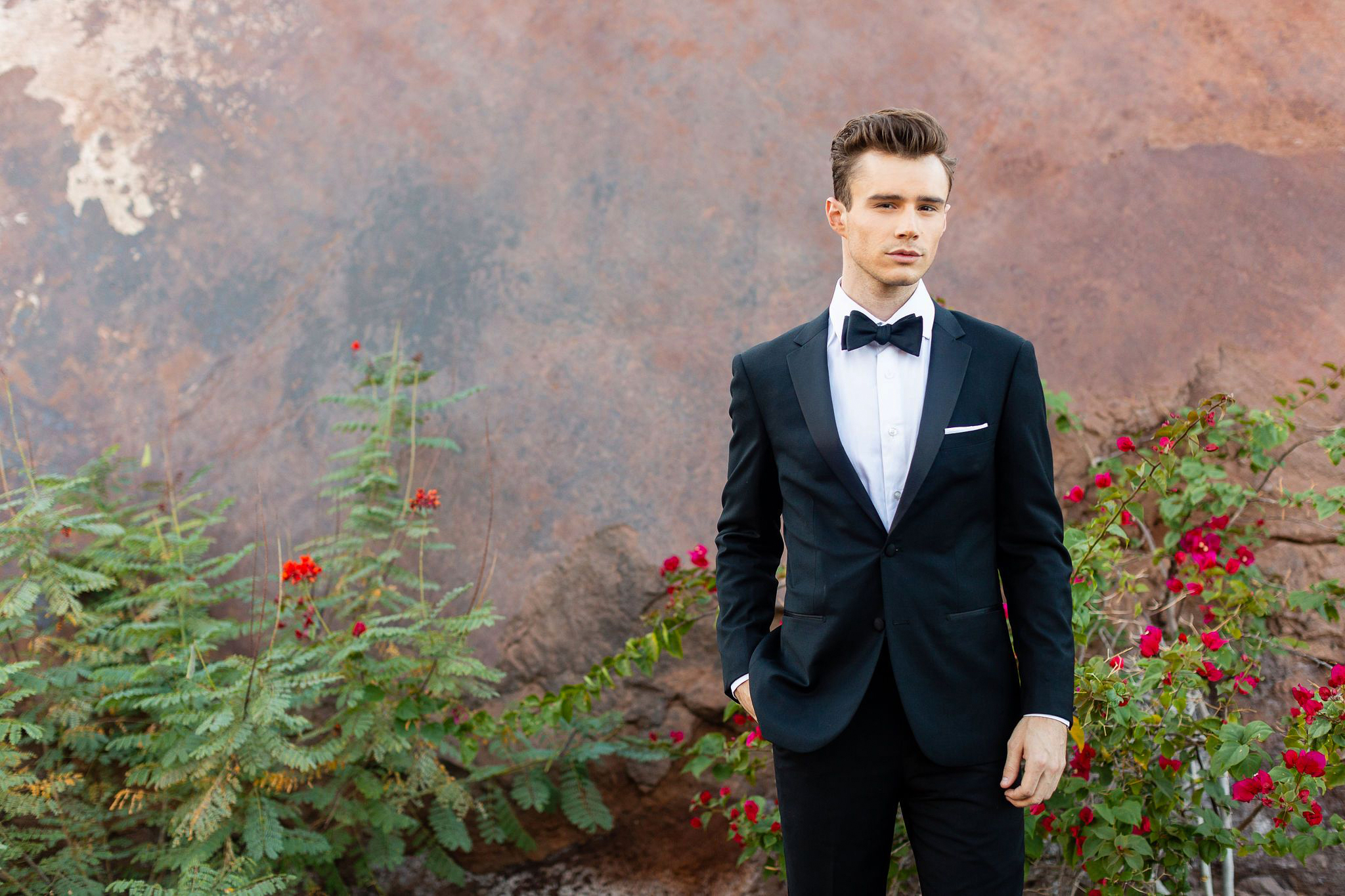 When you know the right tricks for dressing, you can use your clothing to work with your body, not against it. Make your suit work for you.
When you know the rules for dressing for your body type, you can find a suit that will present you in the most flattering light.
Different Men's Body Types
The shape of your body plays a significant role in how your clothing looks on you.
Of course, all men's bodies are unique, but there are a few standard shapes to which most bodies align. These body types are identified by the general shape of the torso.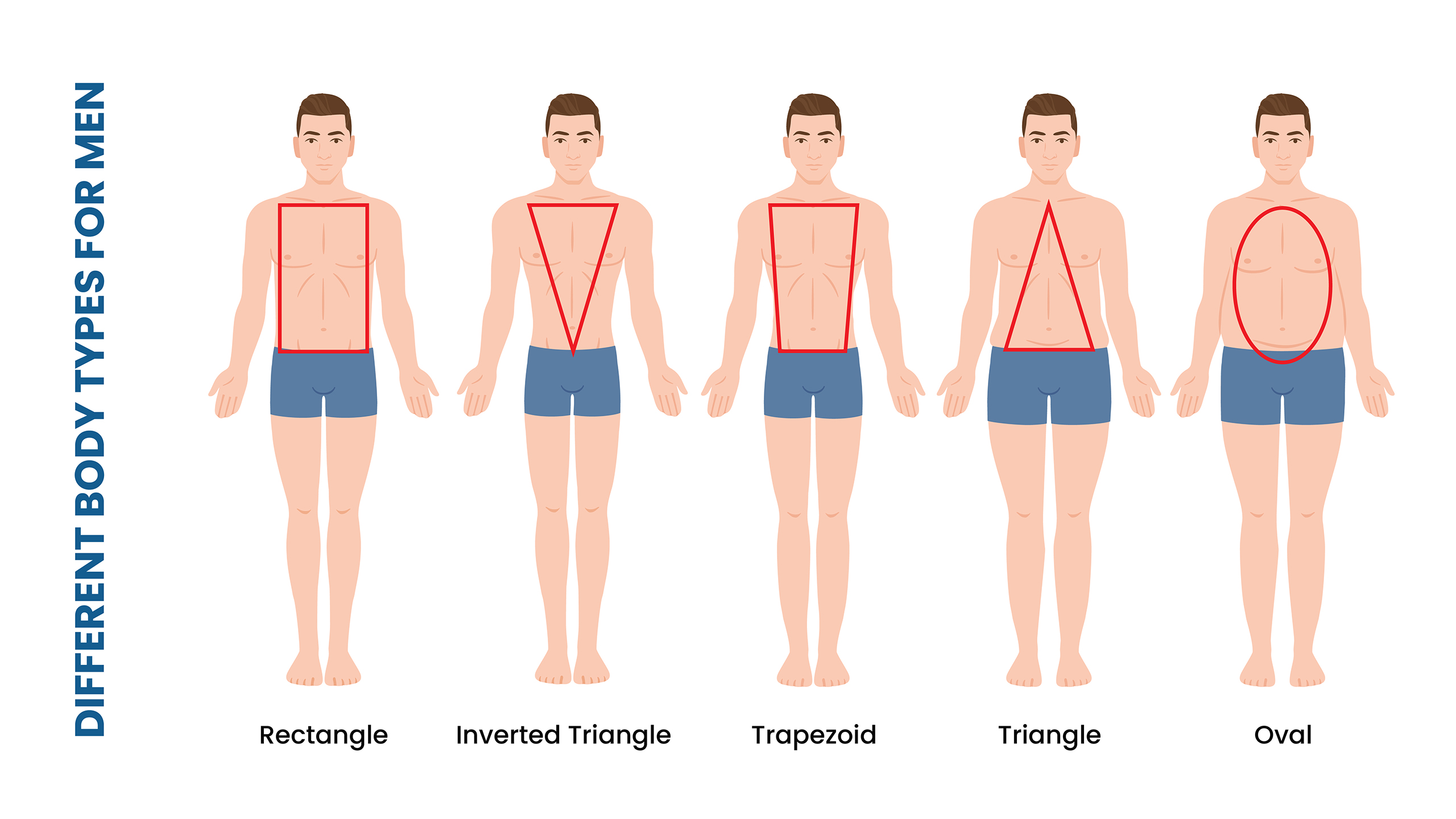 When you identify your own body type, you will notice the differences between the body shapes.
For example, is your shape athletic, slender, muscular, or bulky? Every kind of torso requires a different approach to clothing for the most flattering appearance.
To be clear, there is no wrong body type. There are only wrong ways of dressing it.
So be clear-eyed when choosing your wardrobe, dressing for the body you have, not the one you're wistful for.
Different Clothing Fits
Just as not all bodies are the same, the same goes for men's clothing. Not all clothes are designed to fit the same way.
The three main types of fit are skinny, slim, modern, and regular. The difference in each of these fits is how snug they sit against the body.
The differences are most noticeable in the hips, shoulders, and waist.
Skinny fit hugs the body tightly, displaying all the body's curves.
Slim fit garments are a little less tight than skinny fit; for example, their armholes are a little wider, and the entire item has a bit more fabric.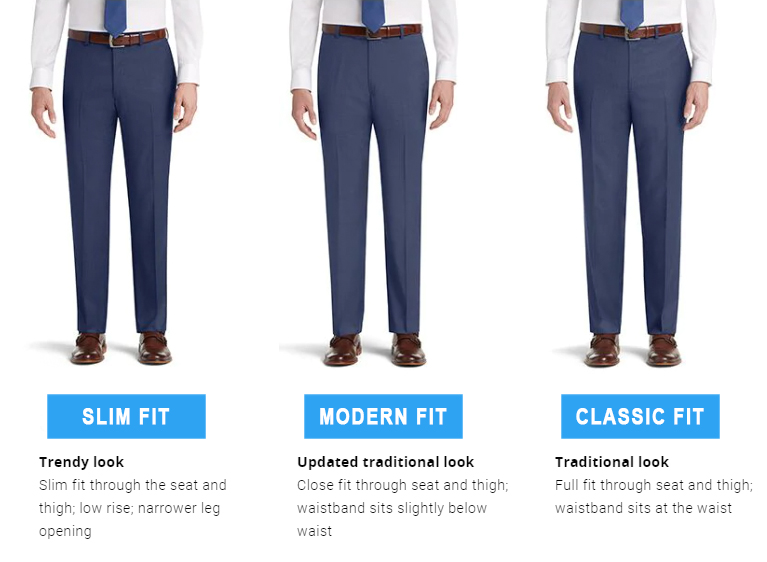 Finally, regular fit clothes are standard; they are roomy and comfortable, allowing for the greatest movement of all three fits.
Types of Suit Cuts
The way your suit is cut may also vary, which will affect your entire silhouette. You also determine which cut flatters you the best when you know your body type.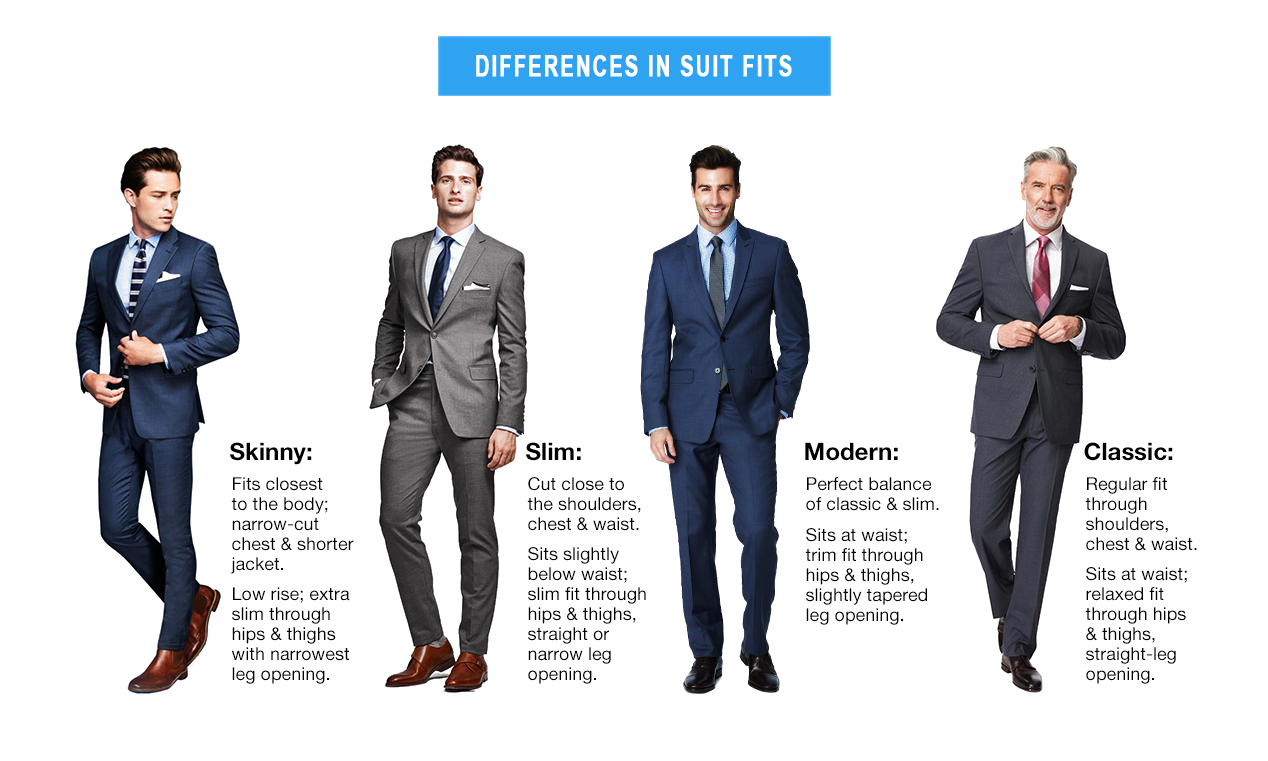 A classic cut suit is your traditional suit. It's roomy and not especially tailored.
Slim fit suits are fairly tailored so that there is much less fabric, leaving little space between your suit and your body. There is no room for any part of the suit to sag.
Modern fit suits are like a compromise between the first two; there is still a generous amount of room to move freely in your suit, but the look is much more tailored and sophisticated than the traditional classic cut.
Rectangle Body Type
You can spot a man with a rectangle body shape when his shoulders are approximately the same width as his waist and hips.
His torso is essentially one straight line, with no bulges or curves. Rectangle body shapes are most commonly found on tall and thin men.
The goal for dressing this body type is to make the waist look slimmer and the shoulders broader. In other words, we want to add a little bit of sculpting.
Clothes to Wear for Men with Rectangle Body Shape
To add shape to a rectangular torso, rely on excellent tailoring to enhance your suit's profile.
Single-breasted suit jacket – this suit jacket style is slimming at the waist, creating the illusion of a trim and muscular tummy.
Shoulder pads – by adding some extra material to your shoulders, you will look as though your upper body is broader than it really is.
Slim suit jacket arms – when your suit jacket doesn't have excess fabric hanging off your arms, it creates more space between your arm and your torso. This trick will make your waist appear narrower than it actually is.
Tapered dress pants – trousers with a narrower ankle than thigh add more sculpting to the shape. Pleats are also a good feature, as they will add further, much-needed depth.
Play with prints – you can pull them off!
Layers are your friend – The extra fabric tricks the mind into thinking that the excess material is bulk.
What to Avoid
Horizontal stripes – this patterning will only call attention to the straight lines of your torso
Double-breasted suit jackets – this suit jacket style is essentially a rectangle shape with no waist. A rectangle jacket on a rectangle body is unimaginative.
Baggy clothing – you want to create the illusion of shape, not try to hide. Baggy clothes will lean into your lack of curves.
Straight-legged dress pants – clothing that doesn't give you shape doesn't help your appearance.
Best Suit Fit for Rectangle Body Shape
Without well-defined lines along your upper body, you need to rely on tailoring to help create the illusion of a more shapely silhouette.
A slim-fit suit with structured shoulders will create those curves that are so flattering for you.
Oval Body Type
A man with an oval body type has a broader middle than any other part of his body. His chest and torso are slightly wider than his hips and shoulders.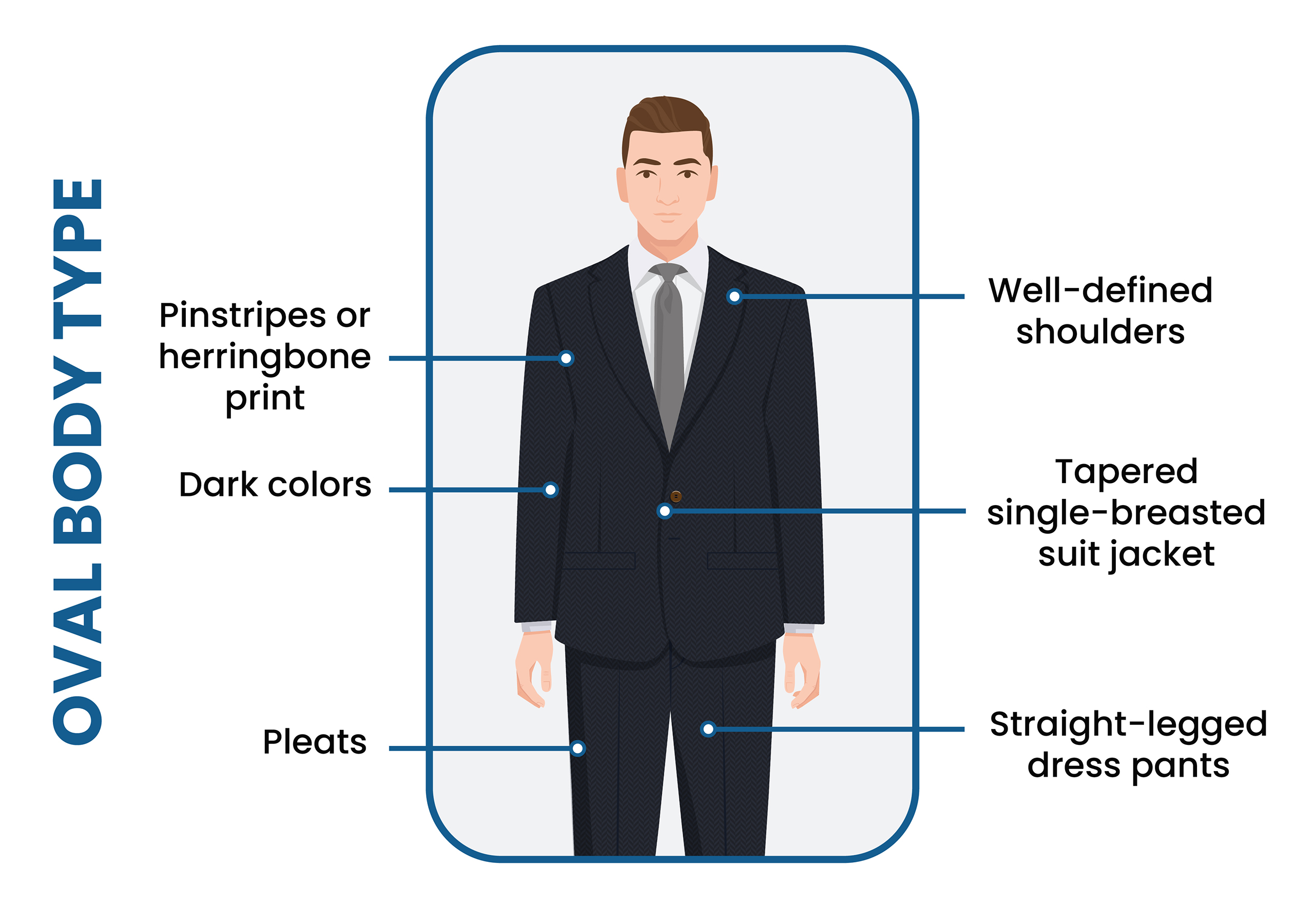 A man with an oval body tends to be a bit on the rounder side, and his arms and legs are often narrow and somewhat short.
Clothes to Wear for Men with Oval Body Shape
It may be tempting to try to disguise your mid-section girth with baggy clothing, but that's the opposite of what you should do. Instead, it's more flattering to add a bit of shape to your clothing.
Tapered single-breasted suit jacket – adding a slight inward curve along the waist of your suit jacket has a slimming effect. If the suit jacket has just a straight line through the hem, it highlights your oversized middle.
Well-defined shoulders – creating broader shoulders will also give the appearance of a smaller torso. In addition, more prominent shoulders will bring the rest of your body into proportion.
Pinstripes or herringbone print – these prints are elongating, which can be slimming.
Dark colors – solid dark shades go far in camouflaging your rounder parts.
Peak lapel – this lapel points upward, drawing the eyes away from your torso. They also create the illusion of extra height.
Straight-legged dress pants – wide, untapered trousers help balance out your proportions and prevent you from looking top-heavy.
Wide collar shirts – these are an excellent way to frame a round face. Narrow collar styles will make your face seem larger.
Pleats – these extra fabric folds provide additional material to move with you when you sit down. You'll be more comfortable while seated.
Bow ties – consider this change-up from your standard necktie when possible. This fashion avoids drawing attention to your belly the way a necktie does.
What to Avoid
Tight clothing – tight clothing doesn't add shape. It only gives the impression that your clothes are too small.
Busy patterns – large prints call attention to themselves. The goal is to distract instead.
Low rising pants – your belly is likely to hang over your belt, which is unflattering.
Loose-fitting clothing – don't fall into the trap of thinking that you need to go for oversized clothing for comfort or to hide your shape. Instead, bulky clothes make you look sloppy.
Double-breasted suit jackets – this rather shapeless suit jacket makes your mid-section appear larger.
Tapered pants – skinny ankles don't look quite right when you are bulky up top. Remember, we want to create balance.
Best Suit Fit for Oval Body Shape
It may feel counterintuitive, but a slim-fit suit is best for oval-shaped body types. This fit is excellent because it provides tapering along your torso. However, make sure the pants are not heavily tapered.
You may be tempted to go in for a regular-fit suit instead, but it may not provide enough tailoring. Clean lines are most desired, with no excess material to make you look bigger.
Triangle Body Type
When a man has a triangle-shaped torso, the lower part of his torso, meaning his hips and waist, is broader than his shoulders.
He has relatively narrow, unnoticeable shoulders, so it's essential to emphasize the shoulders to distract from the larger bottom half.
A man with a triangle body type needs clothes that can expand the top half of his body and slim his mid-section.
Clothes to Wear for Men with Triangle Body Shape
This body type is similar to an oval body shape in that we want to draw the focus away from the mid-section and accent his shoulders.
Single-breasted suit jacket – a well-tailored suit jacket that can appear to narrow the waistline is critical. A custom-tailored jacket would fit the best to ensure it's ample enough around the waist without being too large on the shoulders.
Highly structured shoulders – when you widen the shoulders on a triangle body shape, you bring them more in line with the broad waist and hips. Just be careful not to go for oversized shoulders; they will hang over the edge of the natural shoulder line, making the suit jacket appear too large.
Straight Leg dress pants – wider pant legs will help this body shape look fully supported. Skinny pants create an awkward image of tiny legs supporting a top-heavy structure.
Dark, solid colors – dark shades are slimming and hide large hips and waist contours.
Stripes –horizontal and vertical stripes add a flattering angle to this body shape. Vertical stripes will add height, while horizontal stripes on the upper body make the chest appear wider.
What to Avoid
Tight-fitted shirts – body-hugging clothing highlights a large waist and non-existent shoulders. Slim-fitted shirts work against you.
Bold prints/colors – when you're trying to discreetly distract from a particular area of your body, the last thing you want to do is put the equivalent of flashing lights on it.
Flashy belts – belts sit too close to the large middle that you are hoping to hide. Don't draw attention to it with accessories. The same goes for any other detailing in this general area, such as extra pockets.
Double-breasted suit jacket – the construction of this type of suit jacket has more fabric than its counterpart. This adds padding you don't need around your midsection.
Best Suit Fit for Triangle Body Shape
A modern fit suit would work well on a triangle-shaped body.
It offers some features that are more slimming than a regular fit while still being spacious enough to accommodate a broad center.
Inverted Triangle Body Type
An inverted triangle body type is easy to spot. It's characterized by a very broad chest and shoulders and a narrow waist; it's muscular. Men with this body shape typically have a long torso.
You'll find inverted triangle body types are easy to accentuate but challenging to get a good fit. Clothes are often not large enough to accommodate such a broad shoulder area.
Clothes to Wear for Men with Inverted Triangle Body Shape
While many men would kill for a broader chest and shoulder region, this body type still needs a bit of balancing. The narrow waist can sometimes appear disproportionate.
Horizontal stripes – these can be wonderful to create the illusion of a less narrow waist.
Slim-fit shirts – your body has the contours perfect for showing off with this cut. However, you may benefit from going up a size to ensure you don't bust a seam.
Double-breasted suit jacket – the extra fabric in the double-breasted suit style can make your middle appear more in line with your shoulders.
Straight-legged pants – a broad chest and shoulder combination would look unstable on top of skinny legs. Instead, your legs should look sturdy enough to support your large torso.
What to Avoid
Tight suit jackets – you won't be very comfortable if you can't move freely.
Peak lapels and wide lapels – you don't need to draw more attention to your upper torso.
Shoulder pads – you have natural shoulder pads already!
Pocket squares – again, do what you can to draw the eye to something other than your broad top.
Best Suit Fit for Inverted-Triangle Body Shape
Opt for a slim-fit cut to get the most mileage out of your suit. However, very slight tapering can be flattering, though it does not need to be super slim.
Trapezoid Body Type
A trapezoid-shaped body is similar to an inverted triangle-shaped torso, only less dramatic. This type of body is still broad up top but has a less narrow waist than inverted triangle shapes.
Trapezoid shape torsos are a very athletic build but are more natural than the heavily muscular shapes.
These body shapes are easy to fit clothing since they are very proportional. Therefore, most off-the-rack clothing is designed with this shape in mind.
Clothes to Wear for Men with Trapezoid Body Shape
A man with this body shape can get away with almost any fashion. All cuts and fits are acceptable, and he doesn't need to avoid much.
Single-breasted suit jacket – since your waist is already trim, why not show it off with a suit jacket that will accent how fit you are? Be sure the suit jacket ends at your hip, so you don't appear to be swallowed up by an oversized jacket.
Well-fitted dress pants – show off your physique with trousers that hug your body and follow your natural curves. Make sure they are the proper length.
Bold colors & fabrics – there isn't much that doesn't look good on you. Unusual materials are attention-grabbing, and you have just the body that suits close inspection.
What to Avoid
Overly tight clothing – it's great to show off your assets, but don't look like you squeezed into something too small.
Poor fit suits – don't get lazy with your clothes just because you can pull off most looks. Ensure that your suit isn't baggy and that seam lines end in all the right places. You'll look even more fantastic for it.
Best Suit Fit for Trapezoid Body Shape
You have many fit options if you have a trapezoid-shaped body. For more casual outings, suit up in a slim-fit suit. However, if you need to be more dressed up, go with a modern-fit suit.
How Should Tall Men Dress
The most critical area a tall man should concentrate on when dressing is ensuring the proper length.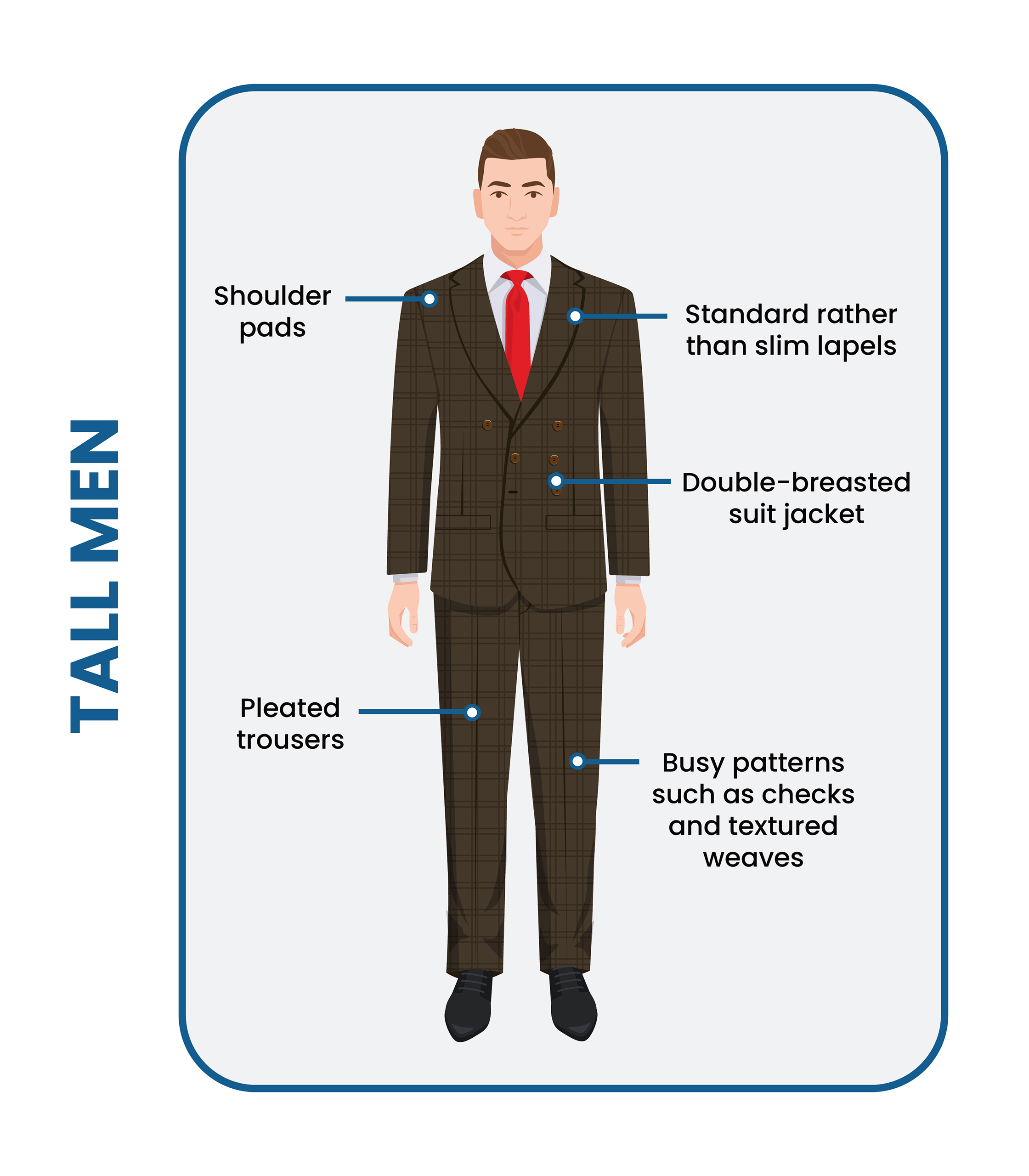 If your pants or suit jacket is too short, you'll look overgrown.
Your suit jacket should be a longer length than average, ending just below your crotch line. Take care that your ankles aren't showing; a trouser break is necessary for tall men.
Break up your silhouette so that you don't have one long, unending line of your body. Accessories such as a belt, pocket square, or extra pockets can trick the eye into seeing the top and bottom as separate.
Also, separates significantly minimize the one-color line. So, you can wear a distinct blazer with dress pants.
How Should Big Men Dress
Men with large bodies benefit from one long, uninterrupted silhouette. This gives the impression of length, which also appears slimming.
For example, pinstripes are an excellent way to create an optical illusion of a longer and leaner frame.
Also, a lapel that points upward pulls the eye, creating an impression of height. A peak lapel has narrow tips, too, so it's a helpful tool for a slimmer look.
A single-breasted suit jacket often flatters a man with a larger middle section since it's tailored to curve in at the waist.
Don't pick a baggy suit jacket, thinking it will help if you hide your large size. Loose clothing only makes you look larger.
How Should Short Men Dress
The trick to making a short man appear taller is not drowning him in fabric. Keep all hemlines on the shorter end of the spectrum.
Dress pants should be hemmed in a way to have no trouser break, as long as the bottom of the pants gently brush against the top of the dress shoe.
Jacket sleeves should end just at the bottom of the wrist, and the jacket itself should fall to just the top of the thigh area.
Taper your suit wherever you can; the legs and sleeves should not look baggy. The suit should be made from as little fabric as needed to cover the body.
Author: Alexander Stoicoff
Hi, I'm Alex, and I've studied and specialized in styling in Rome. Through my writing, I want to help men dress well and learn the purpose and significance of suits and other formal attire. My final goal is to make men more confident in their wardrobe choice and life in general.