Tristan Tate is definitely the "style G."
He's an admirer of quality and craftsmanship, with a genuine appreciation for bespoke and well-tailored suits.
Consider him the sartorial equivalent of Bruce Wayne – gracefully adorning peak lapels as his distinguishing fashion statement.
The best part is that these million-dollar looks aren't that hard to decode. Just do the basics right and combine them with Tristan's confidence level.
Tristan Tate Suits
The younger Tate brother wears suits made by Huntsman, a suit shop on Savile Row. No wonder why his suits are fitted to perfection.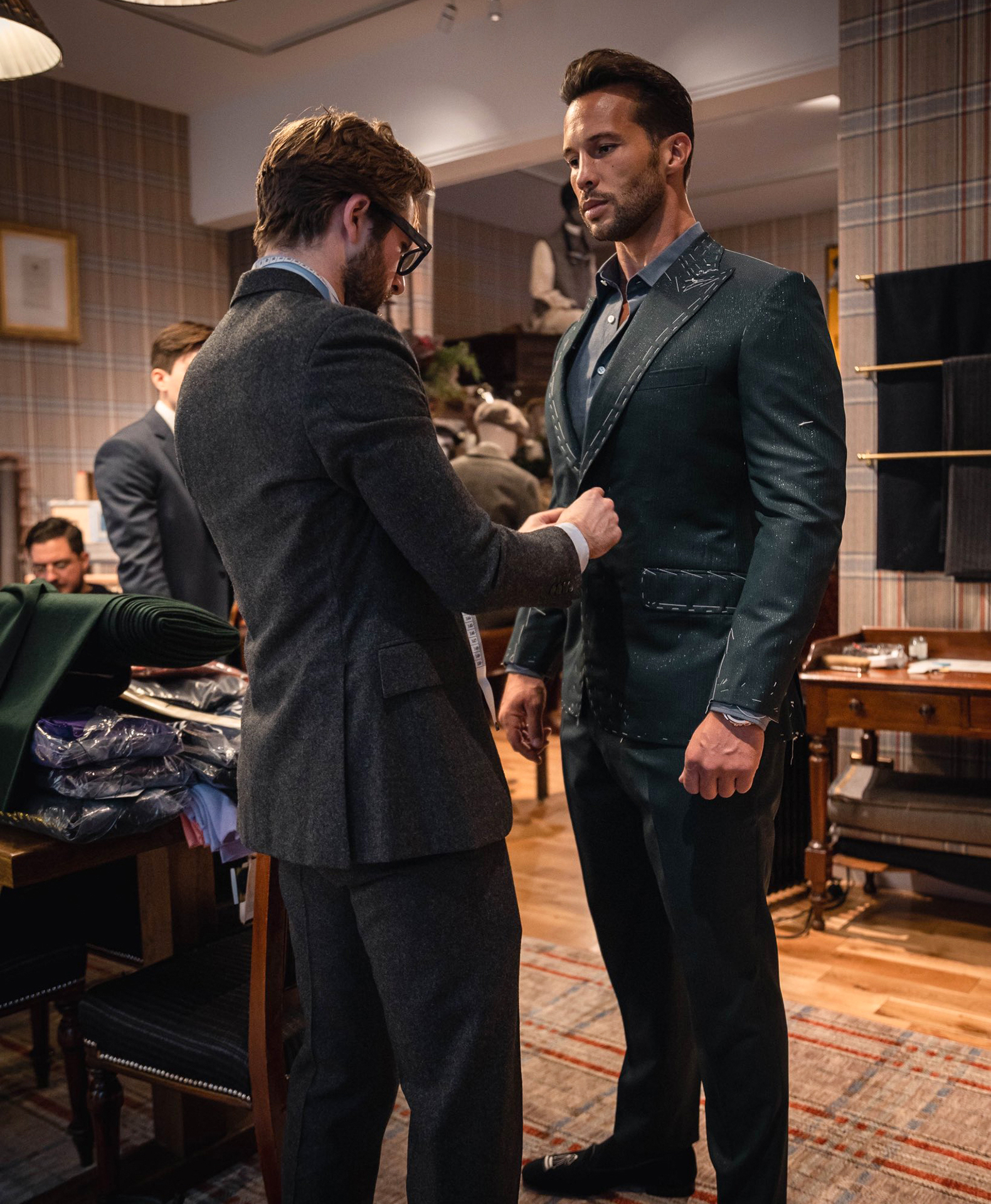 Established in 1849, Huntsman has the heritage of making suits for the British Royal Family.
It takes 6-12 weeks to make your suit, indicating the dedication and craftsmanship they put into every order. Their suits range from $5000 to over $10000, which can be pretty expensive.
Aside from his rich passion for bespoke suits, Tristan Tate's choice of suit color is pretty rational. For a start, he often appreciates a neutral-colored suit.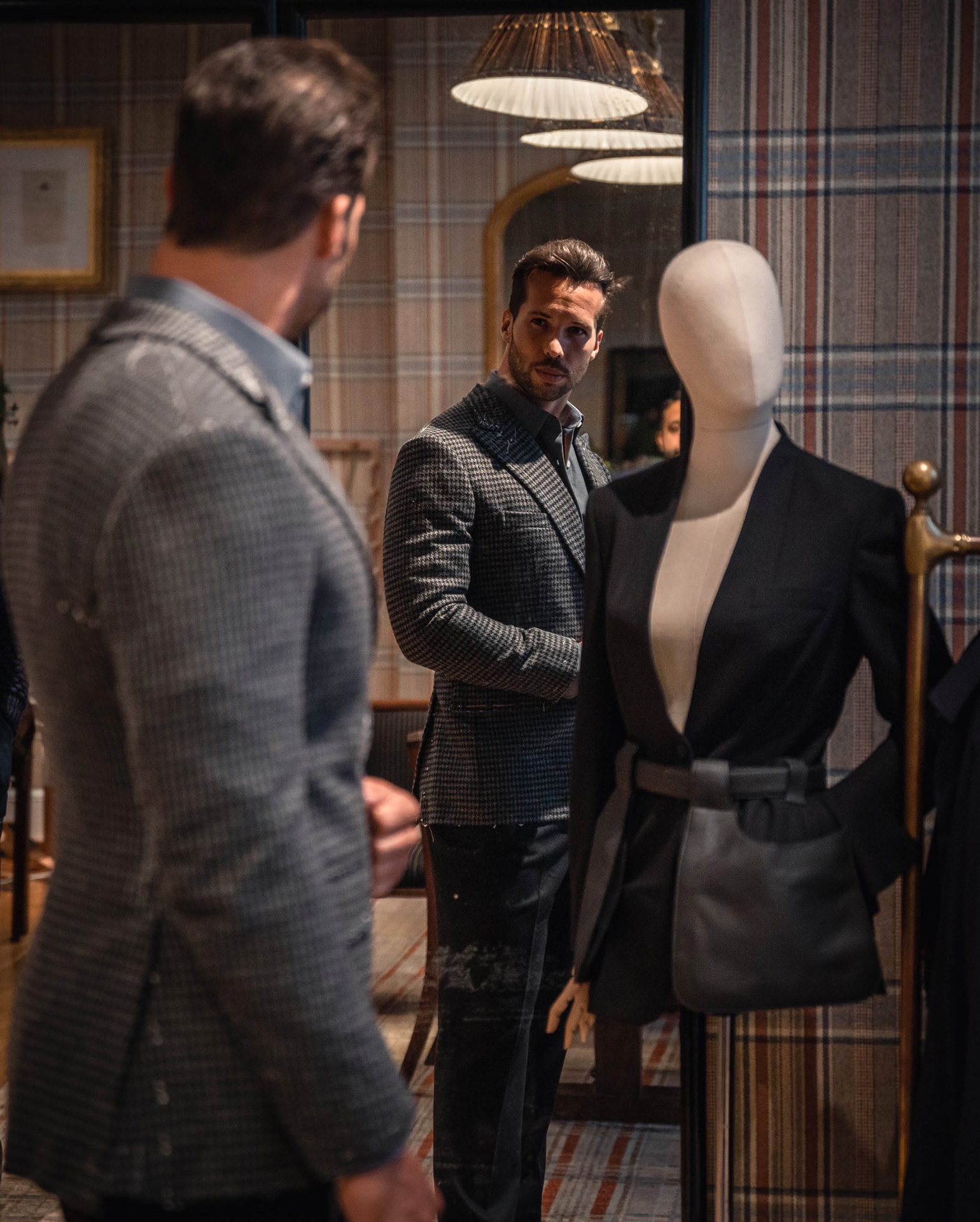 That said, Tristan's affinity for the black suit is undeniably driven by the electrifying blend of magnetism and authority it emanates.
But he frequently wears other suit colors like navy, blue, dark brown, deep burgundy, and even tan and beige.
It's no surprise to say that he understands the color wheel and has a keen eye for matching suit and shirt colors.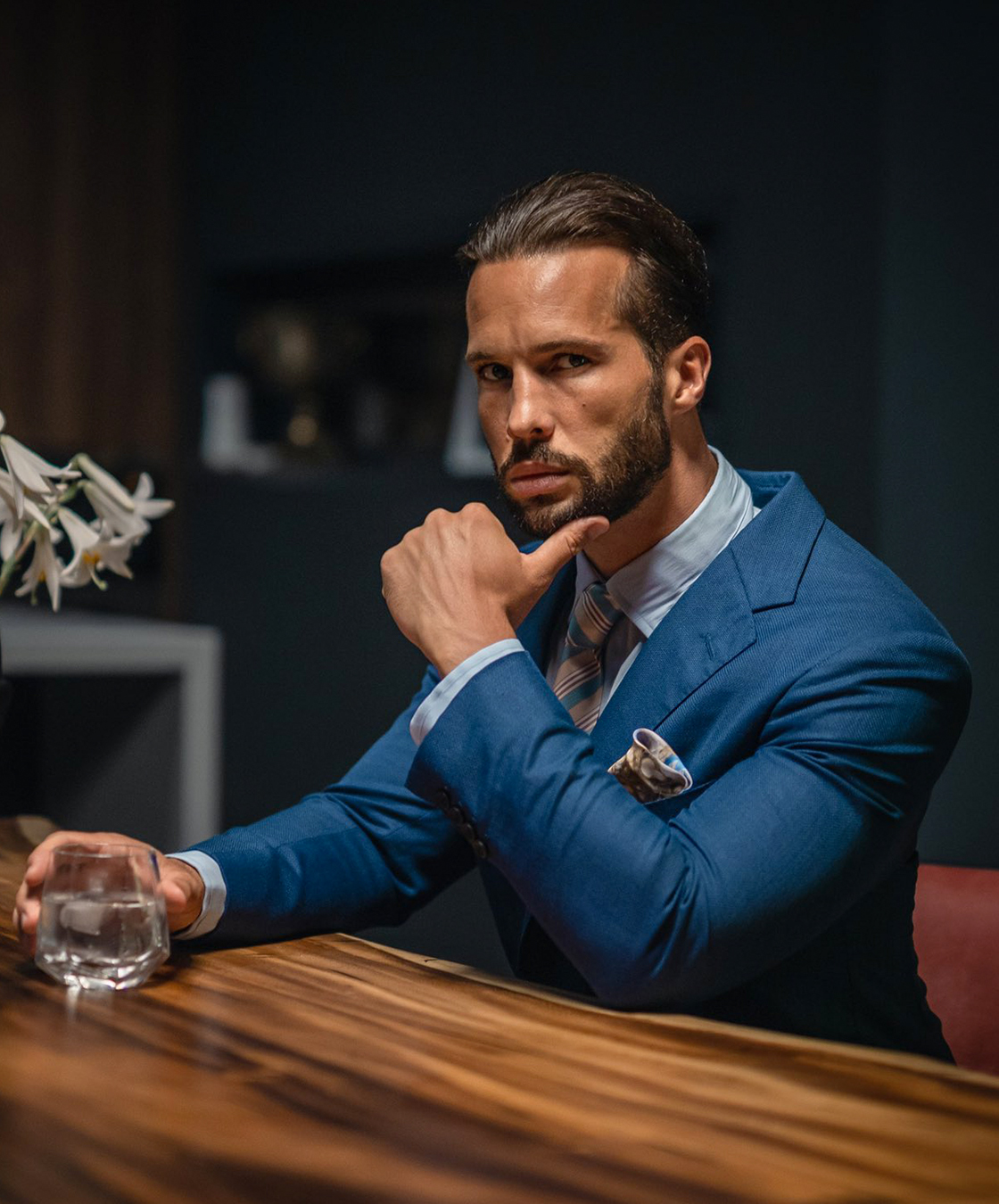 Tristan Tate's suit detailing is also one of a kind. The suits mostly feature a classic cut, structured shoulders, full canvas, wide peak lapels, and medium-break trousers.
Such details keep a timeless look even with stand-out suit colors like yellow or peach.
In each of Tristan's formal outfits, you won't see him going overboard. A perfect suit fit and the right details create those sophisticated formal looks.
In his own words, "Even if you can't afford an expensive suit, you still must be in great shape and wear a perfect-fitting suit."
Tristan Tate's Timeless "Casual" Style
In Tristan's eyes, everything that isn't a suit or tuxedo comes under casual style.
It can range from blazers and dress pants to business casual chinos and sweaters. So, Tristan Tate's casual style is on the business and smart-casual side.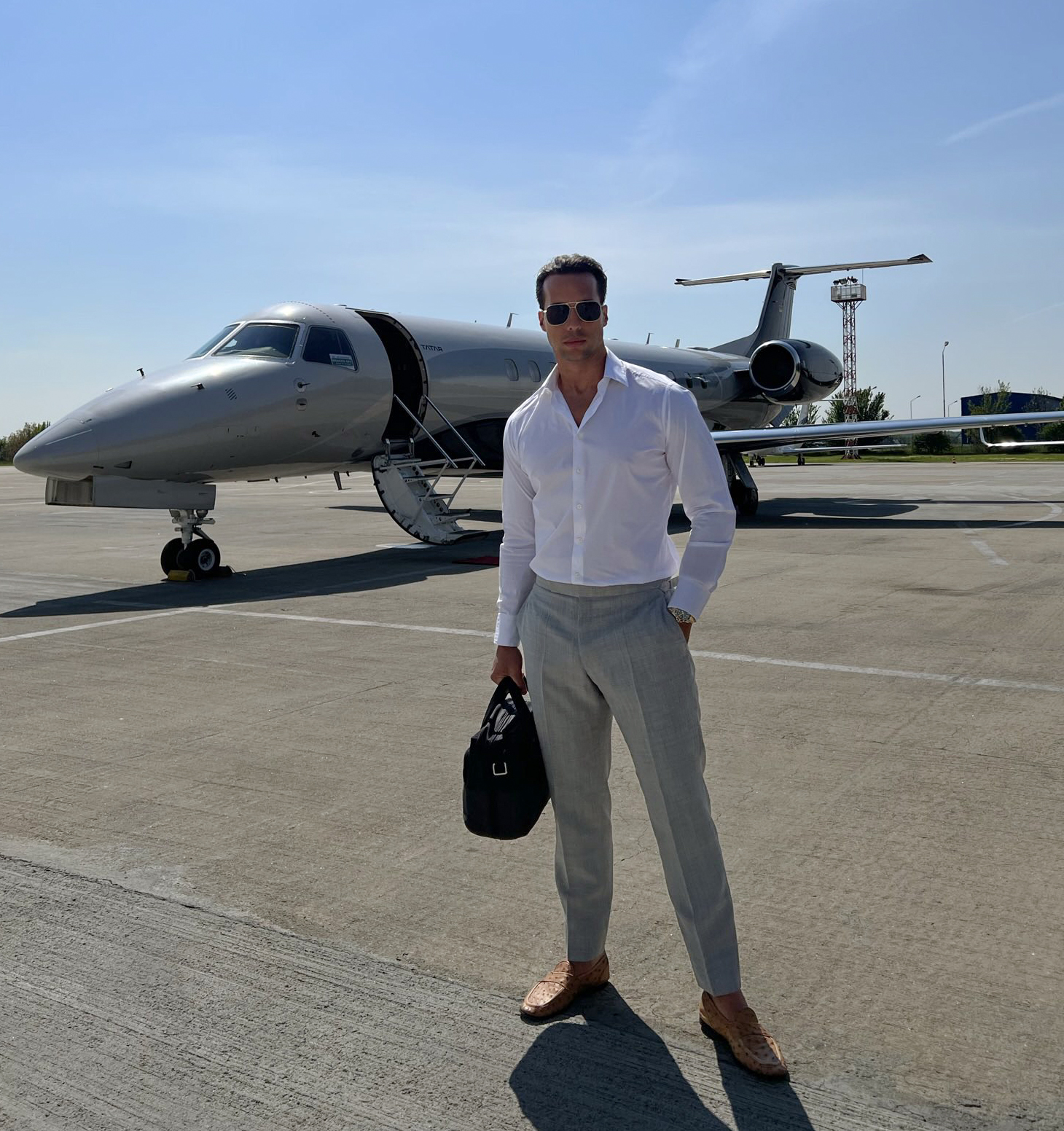 You would rarely see him wearing jeans. Instead, his casual attire is simply dress pants and a button-up shirt.
That said, his dress shirts are mostly standard colors. A white dress shirt is his hallmark, although you can often see him wearing solid shirt colors too.
As a more relaxed outfit, chinos and plain T-shirts will replace dress pants and button-ups.
I'm sure you noticed how Tristan Tate often wears a blazer and pants separately, too. His secret lies in matching a vibrant color blazer with neutral-colored pants. Or vice versa.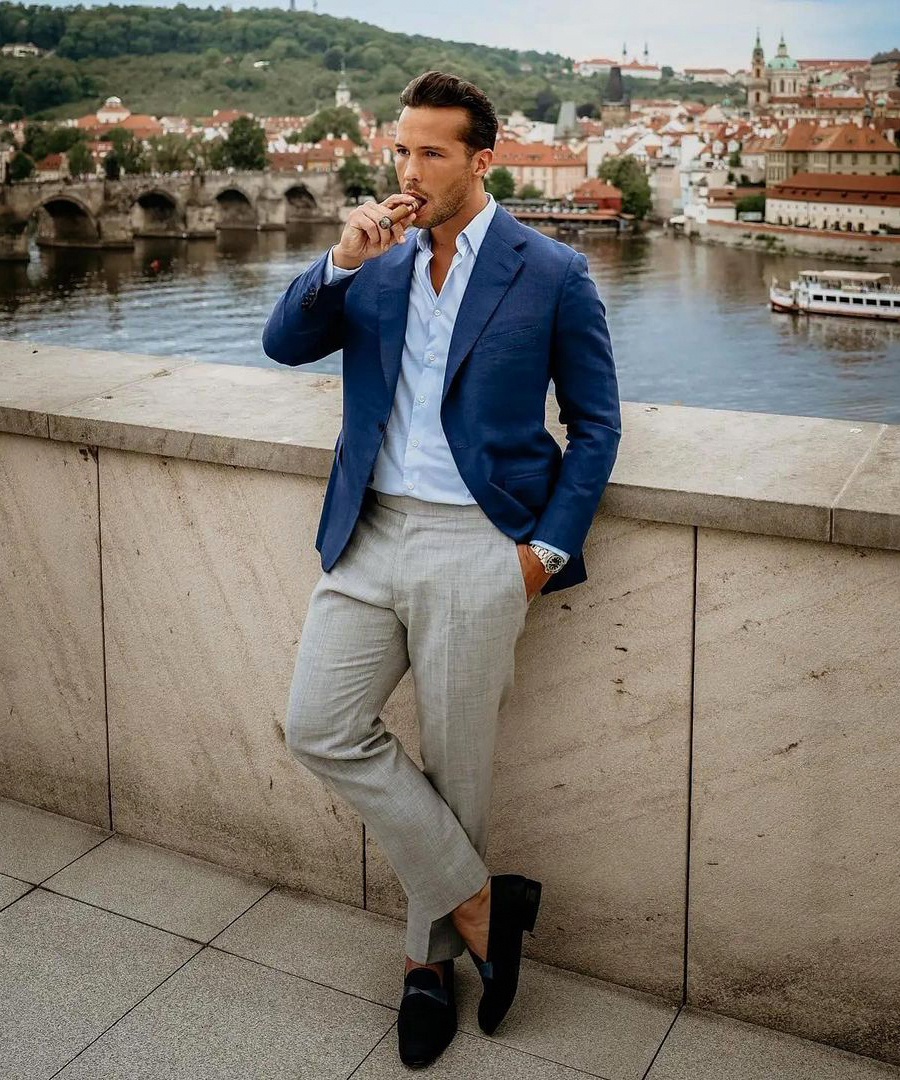 An important reason behind Tristan's timeless style is he doesn't try hard. It means that he "relies" on good-fitting clothes and not bold logos.
Shoes & Other Classic Formal Wear
Tritan Tate emphasized a few times that he wears Gaziano and Girling dress shoes. The brand produces made-to-order and bespoke shoes from high-end leather.
You'll never see him wearing an incompatible dress shoe style. He knows how to match the right shoe with a specific suit.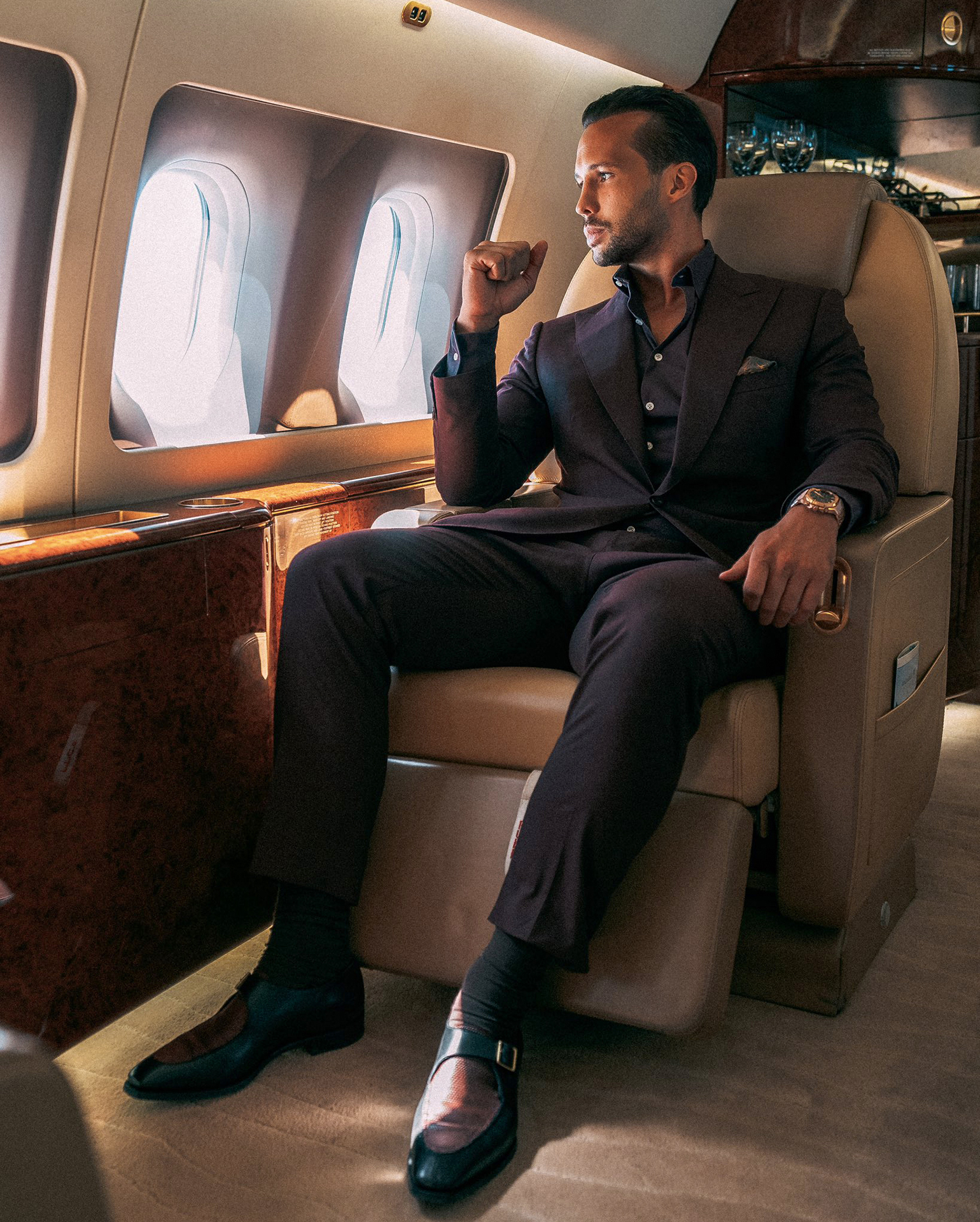 Formal loafers made of high-quality leather are his signature footwear. Monk strap loafers and bit loafers are among his favorite, although he can be often seen with velvet loafers.
But that's certainly not his only favored choice.
When an occasion arises, he knows how to appreciate good Oxfords or even Derbies.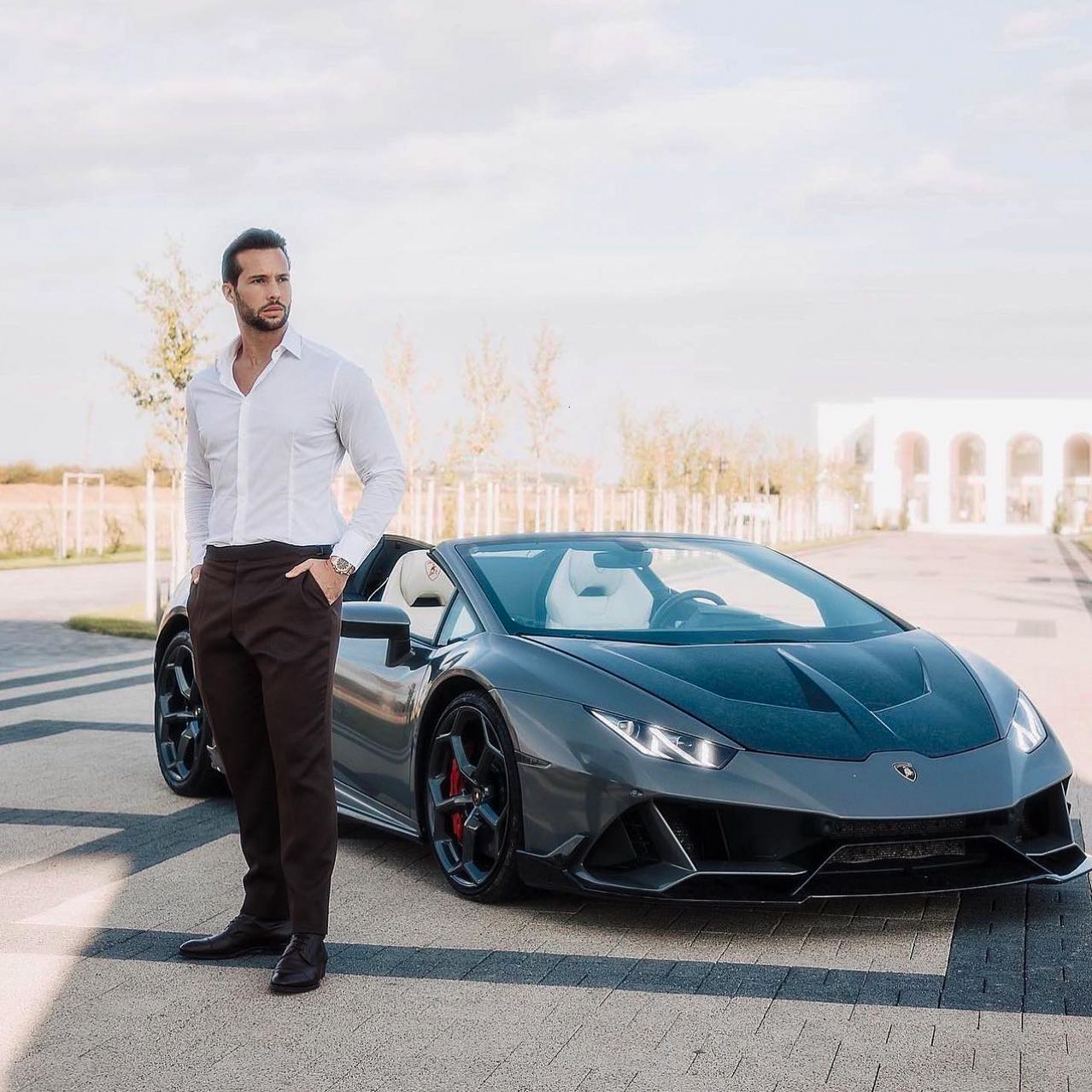 During winter, you can often spot him wearing Chelsea boots as well. I'm a huge fan of how Chelsea boots pair with a suit myself, but his level of matching is astonishing.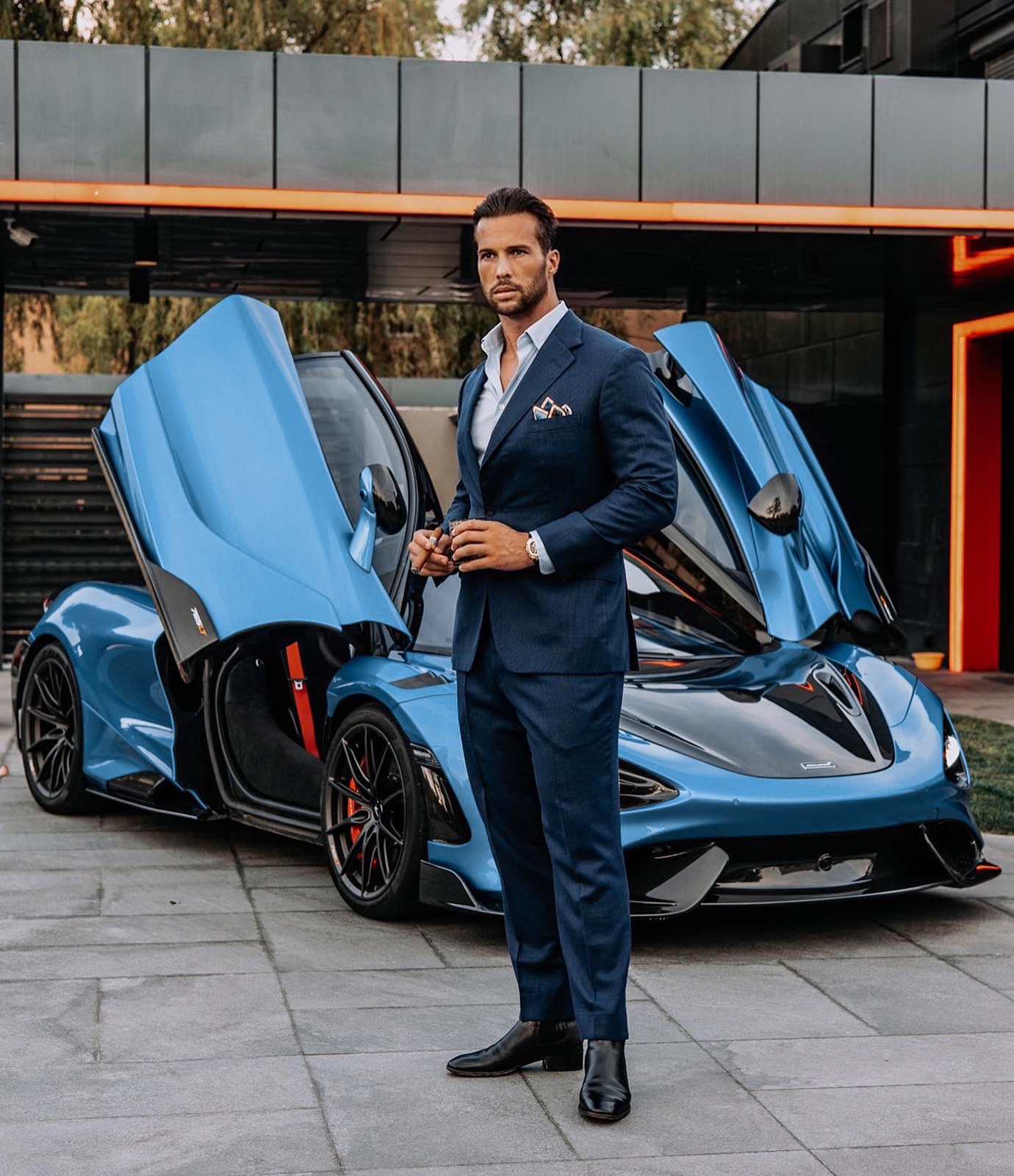 For more everyday occasions, he even wears dress boots too.
He's also fond of wearing casual shoes, of course. Casual suede loafers as a dressed-up option or minimal leather shoes as a sporty choice.
People also admire Tristan Tate's signature long overcoat look. The look is as simple as possible, but his excellent color pickings emanate the old-money aesthetic vibe.
Distinctive Accessories
Accessories speak volumes about class. Besides showing an attention-to-detail, accessories offer a subtle way to mark your style.
The choice of accessories is different for everybody.
Some keep things subtle and just show off their Royal Oaks and Pateks. Others wear jewelry and boutonnieres and whatnot.
Tristan Tate accessories are kind of the middle ground; neither too gaudy nor overly bland.
Watches
Tristan Tate has a decent and well-sorted watch collection. He likes to show off his watches as a complement to the outfit and never a stand-out piece.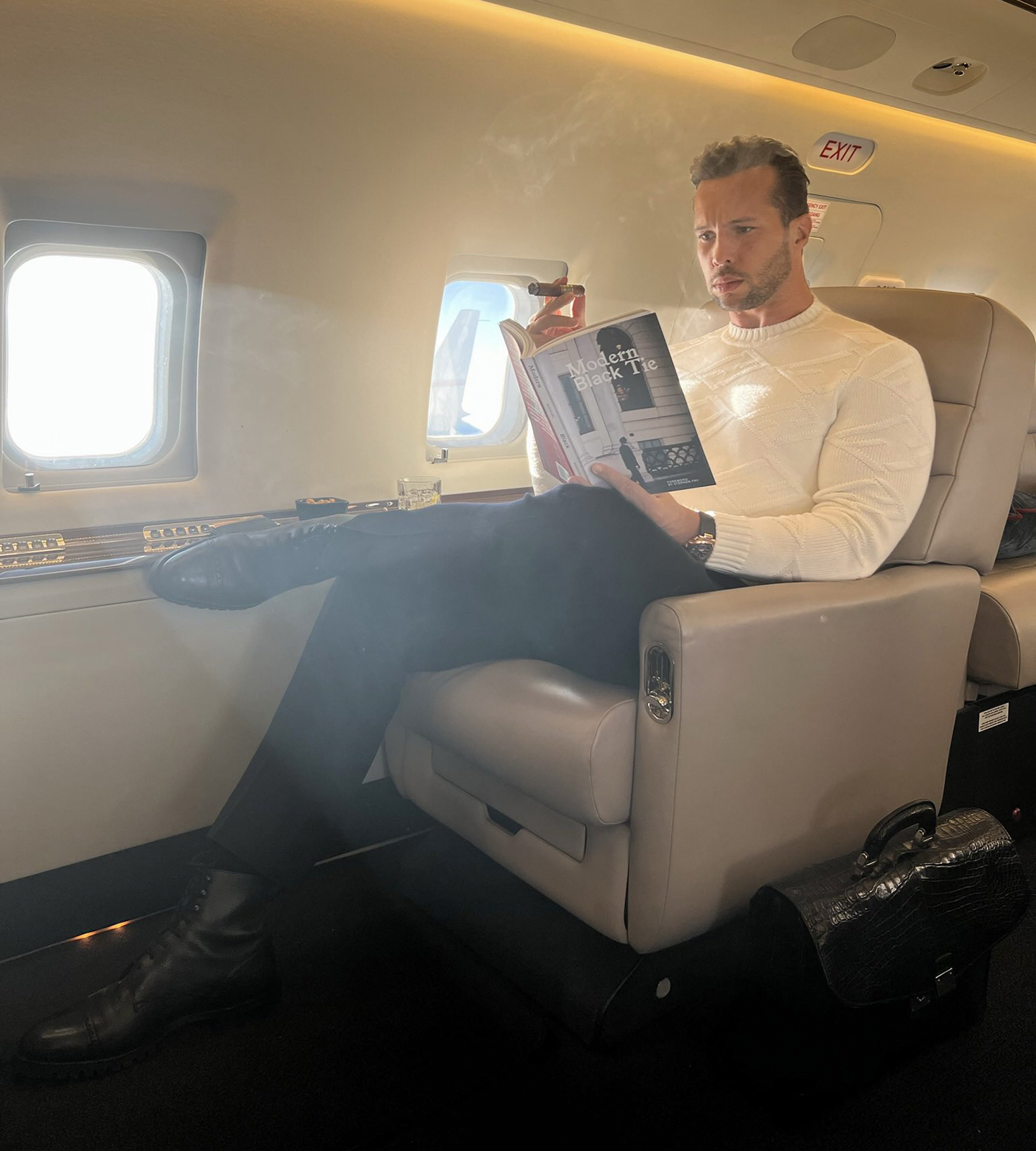 Still, you won't see his watch collection as ostentatious and showy as his suits. And that's a good thing.
He's good at matching the right watch with a suit as well, whether it's a matter of dress code or watch type.
Some notable watches in Tristan's collection are Rolex GMT-Master II, Hublot Classic Fusion, Day-Date 40, Royal Oak, Nautilus 5980, and Breitling Superocean Heritage.
From a watch nerd perspective, these align with Tristan's personality. None of these stick out too much, yet they speak for the "hustling" and put-together style of Tristan Tate.
Pocket Squares
The pocket square is the iconic accessory for Tristan Tate. He uses it to fulfill numerous sartorial functions.
First, Tristan rarely wears a tie with a suit; it's just not his personality. Wearing a pocket square compensates for this no-tie look, adding a touch of formality.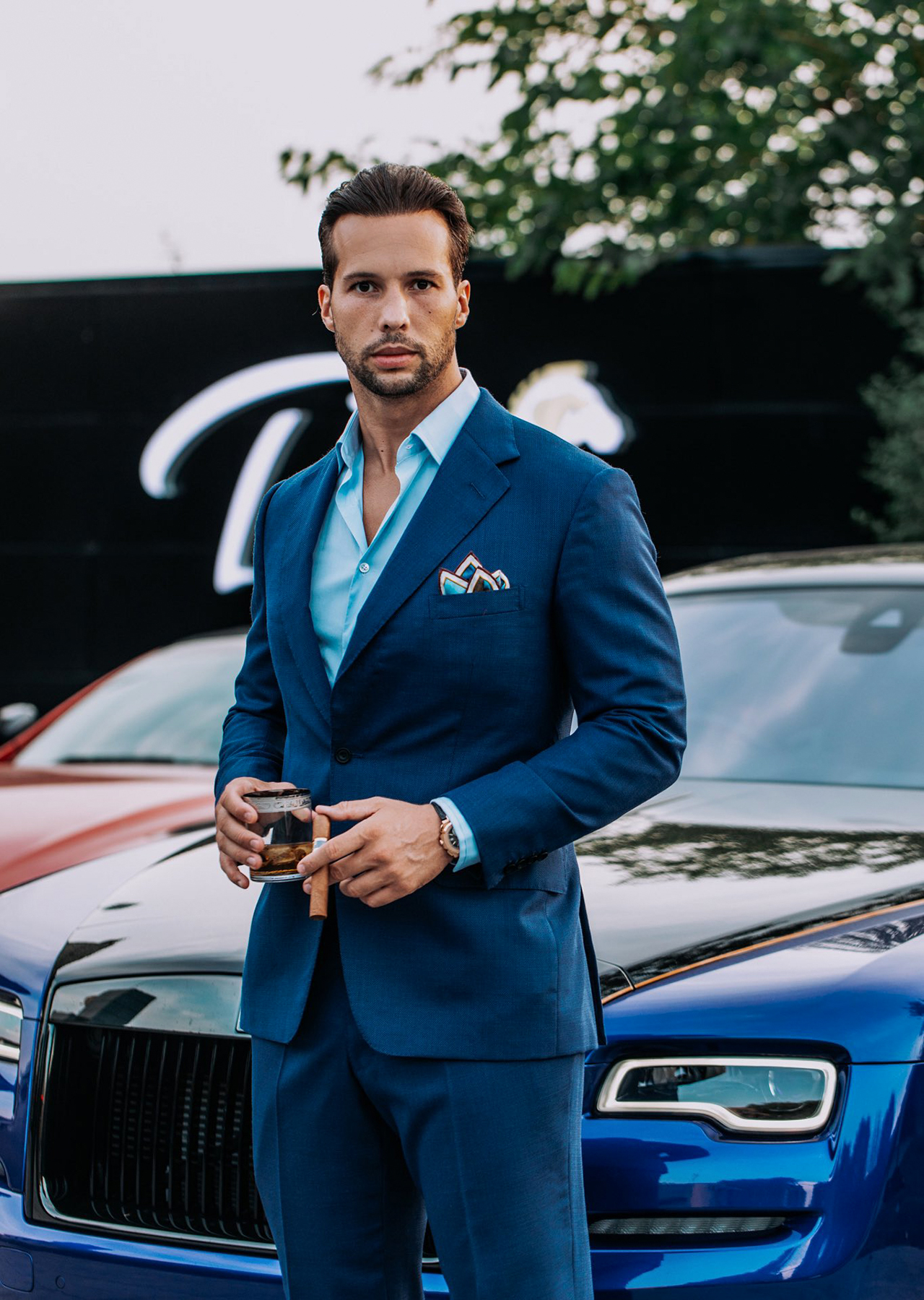 Pocket squares also provide a chance for meticulous styling. For Tristan Tate, it looks like he pays attention to his style.
Lastly, pocket square adds a flair of personal charisma. It prevents the suit or a blazer from looking overly simple.
Tristan Tate also experimented with different pocket square patterns and folds. This helps portray more interesting outfits and styles.
Sunglasses
Unlike his brother Andrew, Tristan Tate rarely wears sunglasses. He treats sunglasses like an accessory.
I am unsure if he owns a collection. But if he does, the sunglasses are always top-notch.
Most of the time, you'll see Tristan Tate in aviators, both casually and with a suit. Plus, with an elegant frame, these perfectly complement his face type.
Attention to Grooming
Whether dressed casually or wearing a suit, Tristan always pays attention to grooming.
Therefore, you'll never see him with messy hair or an outgrown beard. His signature look is medium-long hair, matching a perfectly trimmed beard.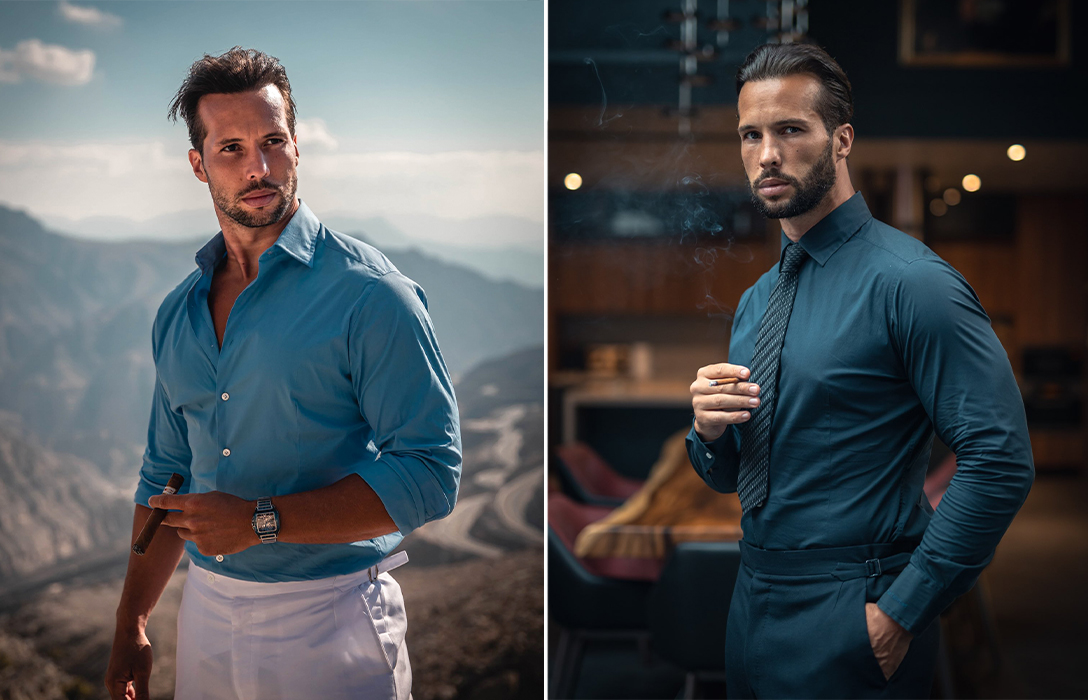 Tristan Tate's style is pretty consistent with neat clothes and shiny shoes. Not to mention his exceptional physique.
I don't think people will consider him that type of guy, but he surely has a good skincare routine.
Golden Fashion Advice to Young Men by Tristan Tate
Tristan Tate's style inspires many young men out there. If there is one thing you can take away from his style is to be in good shape.
A good physique lays the foundation for clothes to look good. If you're in great physical shape, an off-the-rack suit can fit you as well as a custom one. Plus, you'll feel more confident.
It's fine if you can't buy a $10,000 Savile row suit. But you can surely work on getting a better physique and getting clothes tailored.
So, move those dumbbells, and wear well-fitted clothes to be your best-dressed version.
Author: Alexander Stoicoff
Hi, I'm Alex, and I've studied and specialized in styling in Rome. Through my writing, I want to help men dress well and learn the purpose and significance of suits and other formal attire. My final goal is to make men more confident in their wardrobe choice and life in general.