One of the most neglected parts of your dress shirt is the shirt's hem.
We take it for granted and don't think much about the differences in the bottoms of our dress shirts.
But haven't you ever wondered why some shirts look differently from others along the bottom edge?
Those are intentional choices that are often more about function than style.
4 Different Dress Shirt Hem Types
The dress shirt hem defines the shape of the bottom of your shirt. Your shirts all have hems, which create the border along the bottom of your shirt.
In fact, almost all garments have a hem. It's a sewing technique that prevents the edge of the fabric from fraying.
The hem plays a more prominent role than most people realize. It can affect your style, even when your shirt is tucked in.
Rounded Hem
Designers use rounded hems most frequently on formal shirts. This hem is for your most professional or formal outfits because it causes little to no bunching when you tuck it in.
That's because the side seams of the dress shirt have a two-inch rise, forming a slightly curved bottom edge. This rise causes the front and back to be longer than the sides.
Rounded hems can also be left untucked, creating an appealing visual.
The curve prevents your body from appearing like a straight line is cutting across. Instead, the high side seams have an elongating effect on your legs.
If you plan to wear a dress shirt with a rounded hem untucked, it must be an appropriate length. If the back hem is too short, it creates an awkward situation when you bend over.
Straight Hem
You'll usually find a straight hem on casual shirts, especially ones meant to be left untucked. Gingham shirts are an excellent example of this.
Can you guess why it's called a "straight" hem? The name comes from the lack of shaping along the bottom of the dress shirt.
Shirts with straight hems have a two-and-a-half-inch vent at the side seams.
If you're looking into buying a straight-hem shirt, you should consider opting for a different shirt size than you usually wear. A smaller shirt might give you a more flattering appearance.
You don't want tapering on the torso because that doesn't create a relaxing effect. The bottom width should match the waist width.
It would be best if you also aimed for a slightly shorter dress shirt than on average, so it isn't too long.
Polo Hem
The main difference between a shirt with a polo hem and one with a straight hem is that the back of the polo shirt is one inch longer than the front hem.
The side seams of the polo hem also have a vent, but this vent is only one inch in length because of the added length in the back.
This hem is found on classic polo shirts. The reason for a longer back is modesty.
Tennis and polo players traditionally wore these shirts, and they needed their shirts to stay tucked in as they made large movements.
Gusset Hem
A gusset hem appears to start as a straight hem but then curves into a small split like a rounded hem.
The surprise twist is that the split is filled with an extra triangle of fabric sewn in between the side seam.
Gusset hems were initially designed for durability, helping to reinforce work shirts.
The sewn-in piece of fabric is often the same material as the rest of the shirt, but some designers incorporate a contrasting color or print for a style kick.
This hem is casual and is intended to be left untucked. Tucking it in is difficult and restricts movement.
Proper Length for Tucked-In vs. Untucked Shirt
Tucking in your dress shirts is critical to creating a put-together look.
Off-the-rack dress shirts don't vary much in length, but the shirt length is critical for being able to have a smooth appearance. You risk having unsightly and awkward bulges when a shirt is too long.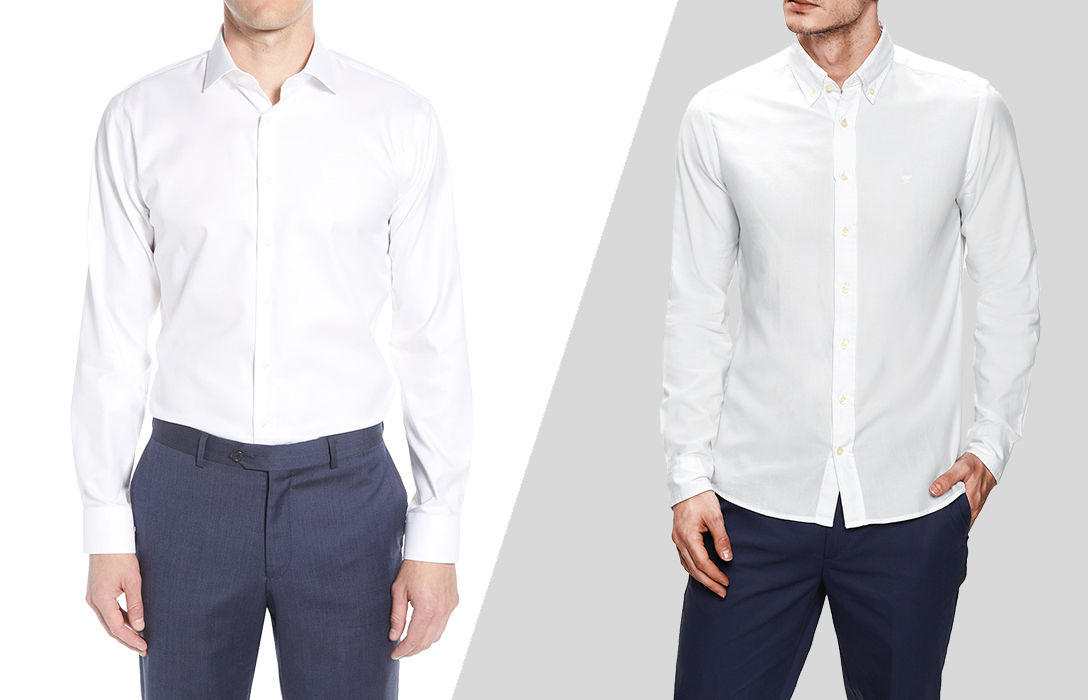 Aim for the hem of your dress shirt to fall one inch below your crotch or to fully cover your backside.
In addition, you should have two inches of excess fabric in your waistband when you tuck your shirt in. That will ensure that you don't inadvertently become untucked when you move.
When you leave your shirt untucked for an informal appearance, don't let your shirt hang below your bottom.
The ideal length of an untucked shirt is one inch above the lowest part of your bottom, but don't go any shorter than two inches above your crotch.
Look for a shirt with a hem that falls around the base of your pants' zipper.
How the Hem Type Affects Whether to Tuck-in or Untuck Shirt
You can determine the best way to style your shirt based on the type of hem.
If your dress shirt has a rounded hem, it's best to wear it tucked in. This style is designed for less bulk beneath your belt line.
A straight hem is best left untucked. It's a casual look, but straight hemlines also create excess bulk. Avoid inappropriate bulges.
Gusset hems should also indicate to you to wear untucked; you'll find that you can't move as freely wearing a gusset hem tucked in.
A polo hem is perfectly fine worn either way. You can choose which option based on the look you want for that day.
5 Simple Dress Shirt Hemline Styles
There are five different ways that designers can finish a hem.
A double-folded hem is the most common type of hem finishing. It is the easiest to sew onto straight hems. The bottom edge is folded twice and then stitched into place.
A narrow rolled hem is frequently found on lightweight dress shirts. This style of stitching is easiest to do on rounded hems.
Narrow rolled hems are similar to a double fold but even more narrow.
You'll find a bias tape hem on heavy fabrics that are too thick for a clean hem.
Instead of folding the shirt material, you'll sew a strip of bias tape around the bottom of the shirt to finish the raw edges of the fabric.
Bias tape is a strip of fabric that's cut on the bias. This type of hem is visible and can be decorative.
A blind hem is very difficult to notice from the outside of the shirt, if you can even see it at all! It creates a wide, straight hem and uses tiny stitches.
The final hem is a zig-zag hem, sometimes called overlocked. This is another good way to secure heavy fabrics.
It uses just a single fold of the material, and it's sewn in place with a machine that forms zig-zag stitches.
How to Hem Your Dress Shirt
If you find an old dress shirt you like, you can hem it yourself to the desired length, but only if it's too long. You can do it by hand or with a machine.
Flip your shirt inside out and lay it flat on a hard surface. Bring the bottom edge of your shirt up to your desired length.
Not sure what the appropriate length is? Measure it out with a tape measure.
Once you determine the proper length, pin the fold to where you need to sew it. You can cut that excess material off if you have a lot of fabric above your folded line.
Before you even pick up a needle and thread, run a hot iron along the fold so you create a crease along the new hem location. Go carefully to get a smooth line.
Finally, sew the fabric in a straight line using either a sewing needle and thread or a sewing machine.
Author: Alexander Stoicoff
Hi, I'm Alex, and I've studied and specialized in styling in Rome. Through my writing, I want to help men dress well and learn the purpose and significance of suits and other formal attire. My final goal is to make men more confident in their wardrobe choice and life in general.