"Men's dress shoes are all the same."
If you've ever found yourself thinking these words, you are in for a treat. There is a whole world of men's dress shoes and styles out there to explore!
The styles and detailing on each can do wonders to elevate your basic suit.
Learn about the ins and outs of men's dress shoes to see how you can add an extra flourish to your wardrobe. You can change up your look simply by changing up your footwear.
Men's Dress Shoes: The Basics
It doesn't take a genius to realize that wearing sneakers with a suit is poor form in most cases.
To take the part of a serious businessman, your entire wardrobe needs to fit the role. That includes every little detail, right down to your shoes.
So, it's only natural to be left wondering what footwear is appropriate when dressing up. With so many men's shoes on the market, your choices may feel overwhelming.
But with a bit of basic knowledge, you'll soon be picking out dress shoes worthy of Rockefeller himself.
There isn't one magic dress shoe that will fulfill all your needs for dressing up. However, you only need to learn what materials are most appropriate and what style and cut to look for.
Then, you'll soon be shopping for dress shoes like a pro.
Dress Shoe Material
Men's dress shoes are almost always made of leather. This is not only the nicest-looking material available, but it's also the most durable.
Well-made leather shoes can last you for years if you care for them properly.
If leather poses an ethical dilemma for you, never fear. There are faux leather options, too.
However, be aware that synthetic leather isn't nearly as long-lasting as genuine leather. It may crack and flake, unlike authentic leather.
Real leather may cost more, but you'll spend more consistently replacing your faux leather shoes in the long run.
The Anatomy of Dress Shoes
The most important parts of your upper shoe that you need to know are the toe, vamp, quarter, and facing.
It may be a good idea to get to know each part and what you need to pay attention to for quality shoes from each of these areas.
Knowing each area will also help you identify your shoe style and whether it is appropriate for your outfit.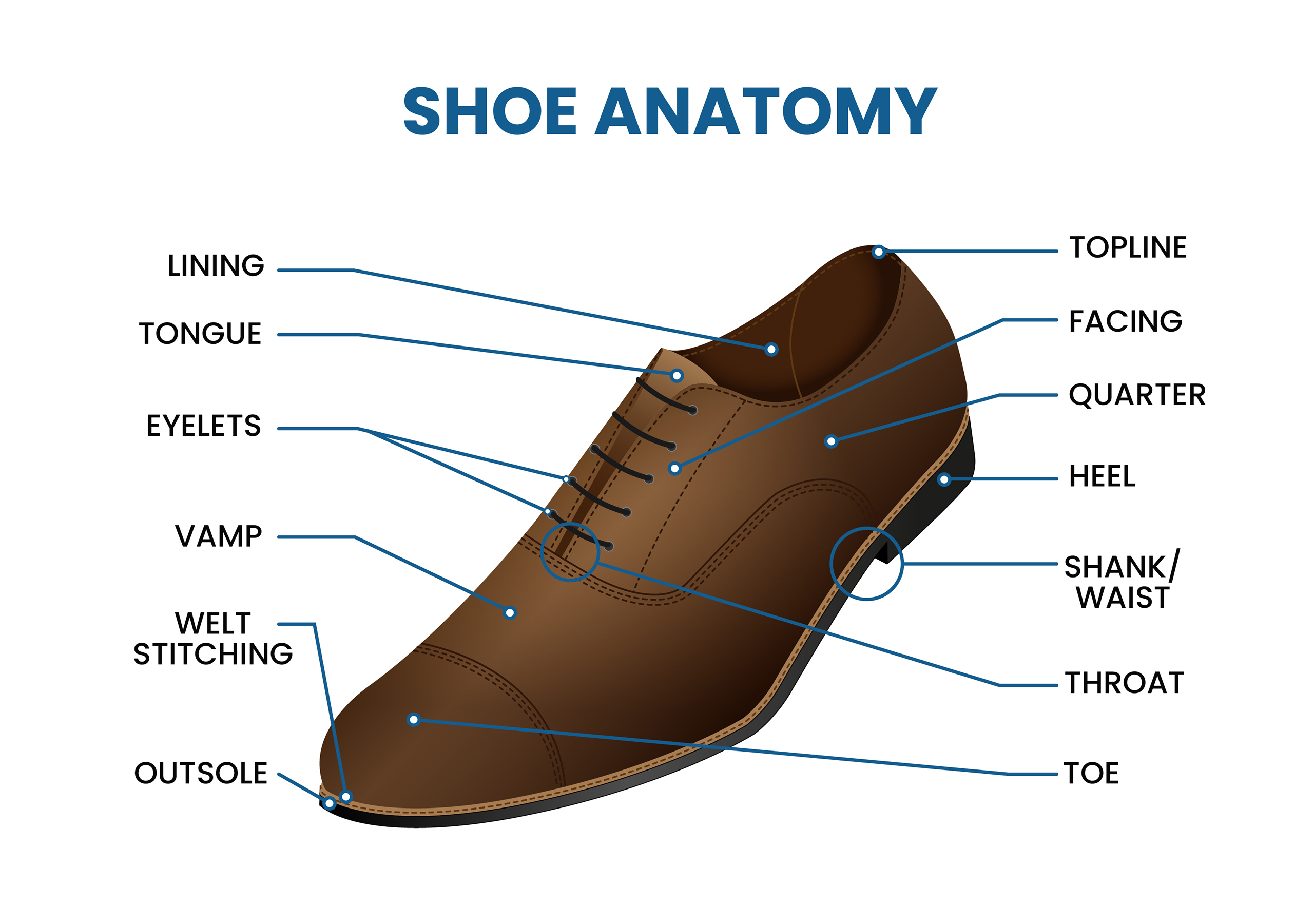 The toe of your shoe is pretty apparent. It's the very front tip of your shoe. It is made from molded leather, using a wooden model to help it hold its shape.
Depending on your shoe style, the toe can be pointed, rounded, or squared.
Next comes the vamp. This shoe part along your toe line moves with your foot when you step. Your steps will ultimately wear this part out and create creases here.
The quarter is the whole rest of your upper shoe that wraps around to your heel. It can come in many different styles, varying based on which type of shoe it is.
Finally, there's the facing. It's the part of your shoe that is the strip of leather with the eyelets.
Different Types & Styles of Dress Shoes for Men
The rules for dressing up can be pretty rigid. And men don't seem to have as many fashion choices as women do.
So despite a suit being our only dress-up possibility, we have a shocking number of footwear options!
Shoe material, style, and color may vary when dressing up.
These decisions are best decided upon based on various factors, including the level of formality of your clothing, the event you are attending, and even the weather.
Some choices will naturally be dressier than others. For example, patent leather shoes are the height of formality.
Oxford Shoes
Oxfords (also known as Balmorals) are the most popular style choice for men's dress shoes. They are also the most formal of all the options. Both closed-toe and closed-lacing oxford shoes create a very sleek silhouette.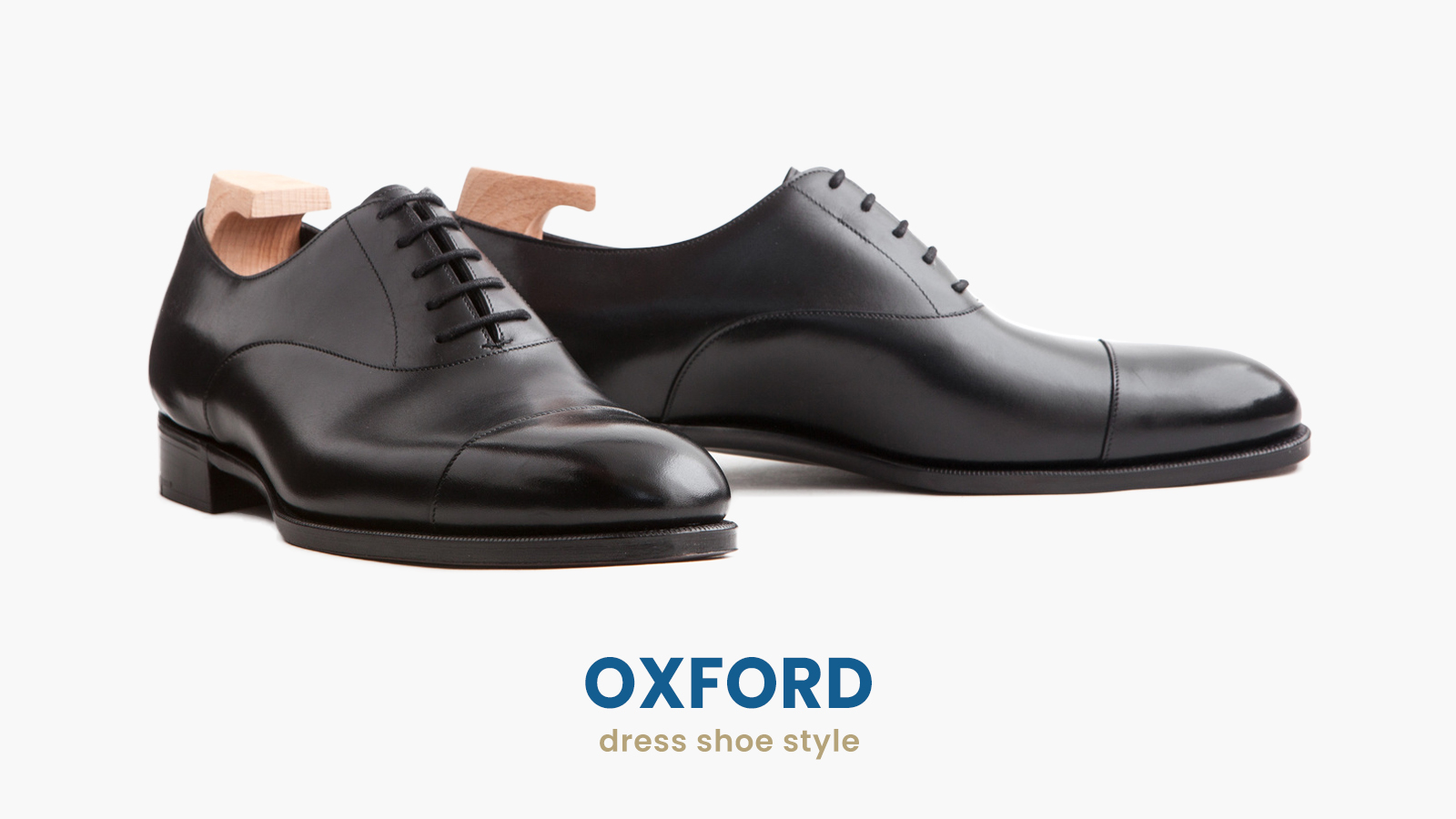 You'll always find the closed-lacing style on Oxford shoes. It's one of the defining features of this style, along with cap toes and a slight heel.
The closed lacing creates a tighter fit for your shoe, which generates a very well-defined shape.
You can wear these shoes nearly anywhere. They will look very polished with any business suit, appropriate for any business meeting or a day at the office.
Of course, you can also wear Oxfords to a formal event with your tuxedo, as long as they are whole-cut formal Oxfords. But there are other, less-formal types and styles of Oxford dress shoes as well.
You'll always be able to identify Oxford shoes by their closed-lacing style. This refers to how the shoe is constructed.
On Oxfords, the facing is attached underneath the vamp, pulling each side tightly together when laced up. Pulling the sides of the shoe so tightly together creates a beautiful contour along the line of your foot.
Derby Shoes
Derby shoes are very similar to Oxfords, except for one important detail. This style has open lacing instead of closed lacing. Meaning?
The openness creates a slightly wider feeling in the shoe, making it feel less constricting and more comfortable.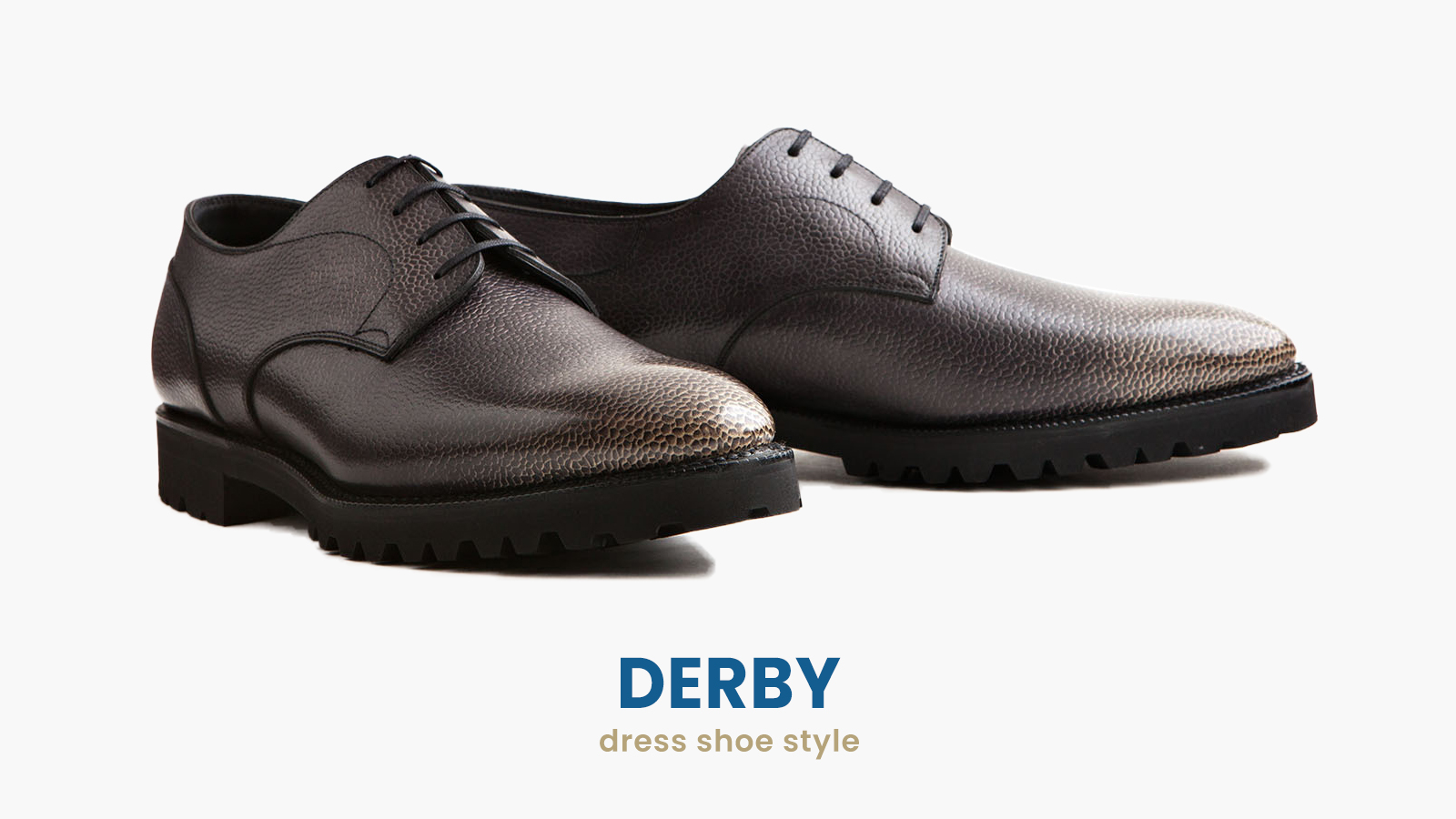 Derbies are different because they have their quarters sewn on top of the vamp. This creates separate leather strips facing each other on either side of the dress shoe, forming flaps.
The laces go through these flaps and don't pull the flaps all the way together. This is what creates the wider shoe.
You can wear derby shoes almost precisely the same way as Oxfords. They are, however, slightly more casual than Oxfords, so they won't work for formal wear.
It may be tricky to identify derbies since they are so similar to Oxfords.
Also, several different styles of Derby shoes make them harder to recognize. However, the biggest giveaway is the style of the lacing.
If you can spot that the facing is attached above the vamp, creating the open lacing style, then you know you've got derbies!
Brogue Shoes
This may be cheating a bit by including brogues on this list since, technically, they aren't a shoe type. They are more of a decoration, really.
Any shoe can have broguing, but you'll find it mostly on Oxfords or Derbies.
Broguing is not much more than holes in your shoes. Ok, it's more complicated than that!
It's a style of decoration that involves perforations, usually along the seams of your shoe. Sometimes, there will be a perforated design on the toe cap, as well.
No matter which style of shoe you add broguing to, it will make your shoes less formal. It's an immensely stylish choice; also, it's beautiful and a touch jaunty. It's not, however, formal.
Want to identify a pair of brogue dress shoes? Simply look for the perforations! However, there are many types and styles of broguing you can opt for:
Full-Brogue
This version of the brogue shoe is often also called wingtips. It gets its name from the design of the toe cap: it is wing-shaped and wraps toward the back of the shoe.
The perforations follow all along with the toe cap toward the heel.
Semi-Brogue
It is also identified as a half-brogue. The toe cap is standard on a semi-brogue, with perforations that dot along that seam.
This is a more understated style because the toe cap doesn't extend outward as a full-brogue does. However, it often has decorative perforations on the toe.
Quarter Brogue
This style of shoe has even less broguing than the others. The only holes are around the shoe's natural seam, and no extra flourishes or decorations are involved.
Longwing Brogues
This style is just like wingtips, only with an extra cherry on top. With longwings, the wingtips don't stop along the side of the foot; they keep going all the way back.
The seam reaches right back to the heel seam. This variation is most commonly found on derby shoes.
Blucher Dress Shoes
Blucher dress shoes are another slight variation of derby shoes. In fact, the two names are sometimes used interchangeably, even though that's not correct.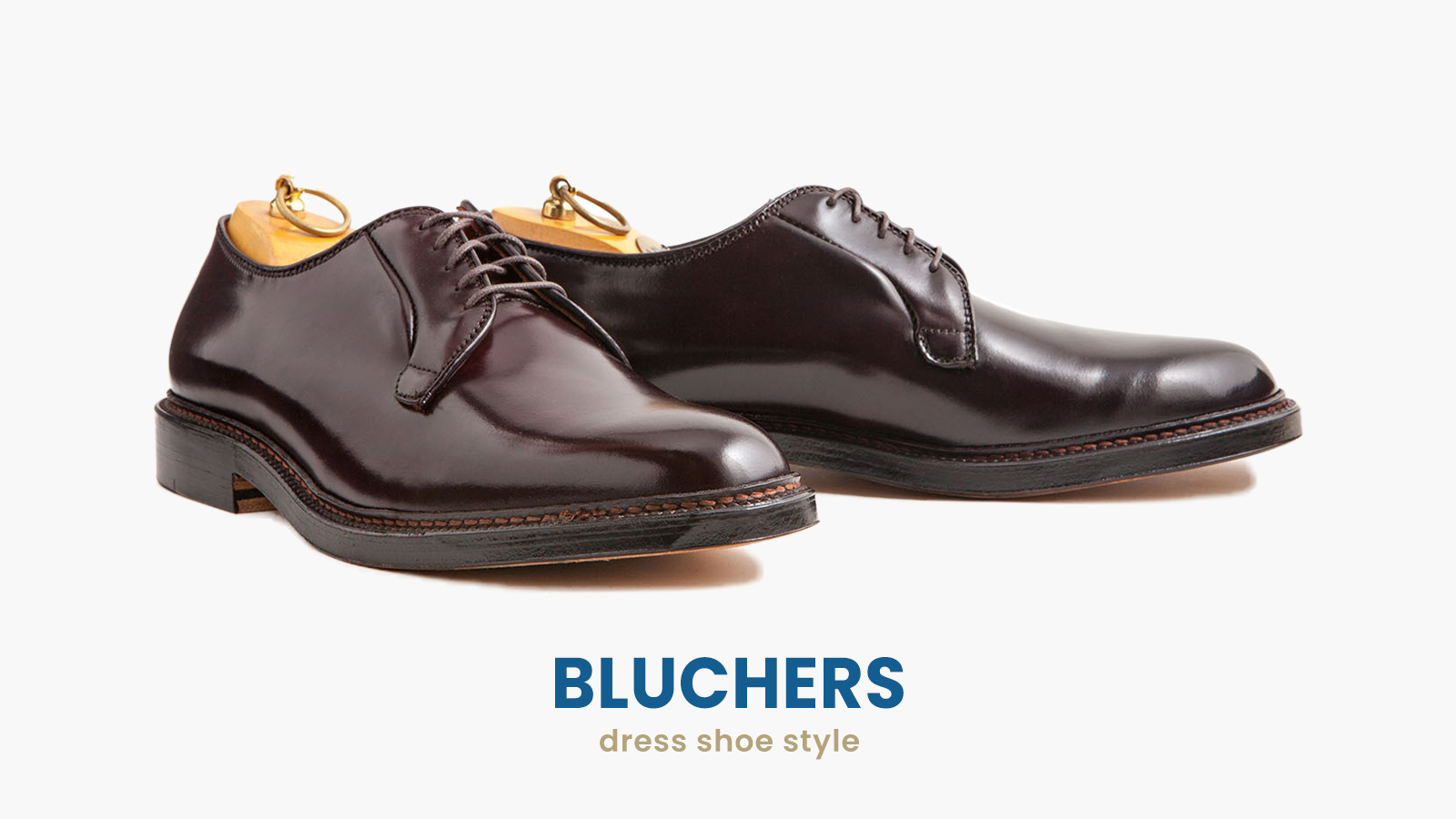 They both have open-lacing systems and are nearly identical in every way but one. So if you want to tell the difference between bluchers and derbies, take a closer look at the lacing to help you identify the shoe.
Derbies have two large quarters sewn onto the vamp that contain the eyelets.
On the other hand, Blucher shoes have an upper made of a single cut, with small strips of leather sewn onto the sides that include the eyelets.
Bluchers are also very similar to Oxford dress shoes.
What differentiates Oxfords from Bluchers is that Oxfords have a closed lacing system sewn underneath the vamp; Blucher shoes, on the other hand, have an open lacing system sewn to the quarters' sides.
You can wear blucher dress shoes in the same way you would wear derby dress shoes. They are excellent with a great suit to wear for an evening out, a day at the office, or anytime you need to look nice.
Monk Straps
Have you ever noticed men's dress shoes with no laces but with buckles instead? The odds are good; you were looking at monk strap shoes!
These unique leather shoes fall somewhere on the formality spectrum between Oxford and loafers.
The most noticeable features of monk straps are their metal saddle buckles and straps. They can even have broguing.
These are most definitely statement shoes. They stand out, so wherever you wear them, your monk straps will end up being the focal point of your outfit.
Monk strap shoes look great with a suit if they are the proper color, but also fabulous with a casual outfit.
In terms of construction, monk straps are very similar to Oxford dress shoes, only with no lacing system. You'll always be able to identify monk shoes because they use buckles to close them up.
The real question is: how many buckles?
Single Monk Straps
This style of monk straps has only one strap across the top of the foot, with a single buckle. As a result, the strap can be pretty thin. It fastens on the outstep of the foot, right near the very top of the shoe.
Double Monk Straps
You guessed it: this variation of the monk strap shoe has two straps and two buckles. The strap here is extra wide until it reaches the outer edge of the foot.
At that point, the top and bottom of the strap branch into two thinner straps. The top strap is in the same place as a single monk strap shoe, but the second strap tends to be spaced much lower down on foot.
Opera Pump
Opera pumps are the highest level of dress shoes. Period.
These are a holdover from Victorian England and are still worn in certain circumstances even today. Only the fanciest of fancy events will see opera pumps.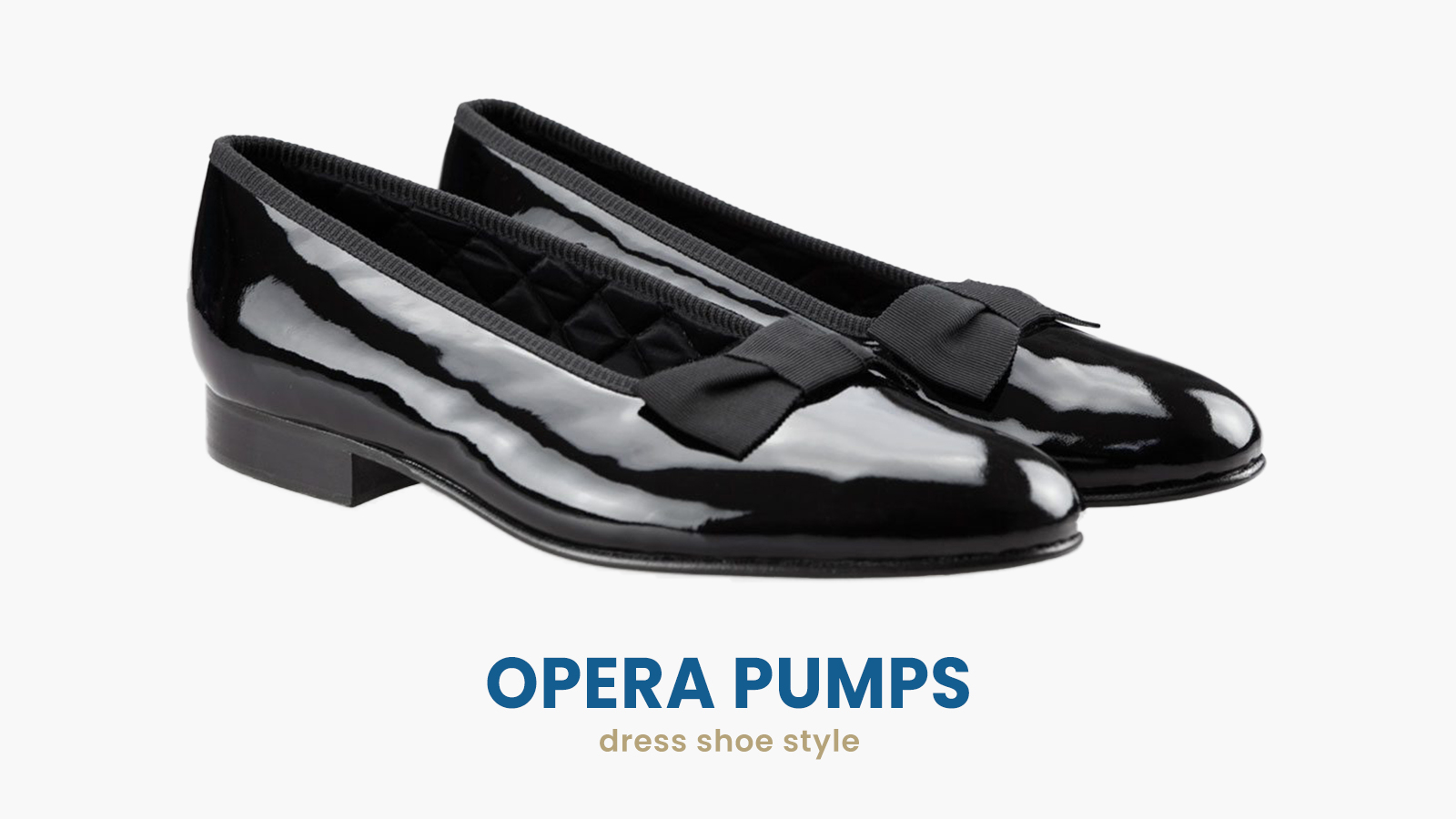 These shoes are slip-on with a low pump heel. You'll often see them with a grosgrain bow across the front.
You are only likely ever to find opera pumps at full-dress events. These black-tie events are usually a highly-formal wedding, a gala, or (surprise) an opera.
You can immediately recognize opera pumps because they are made of patent leather and have a slightly higher heel than most other men's dress shoes.
In addition, because they are slip-on shoes, they tend to have a lower cut toe area, so your foot can easily slide in.
Loafers
Here is another slip-on dress shoe, but it doesn't reach the same level of formality as the opera pump.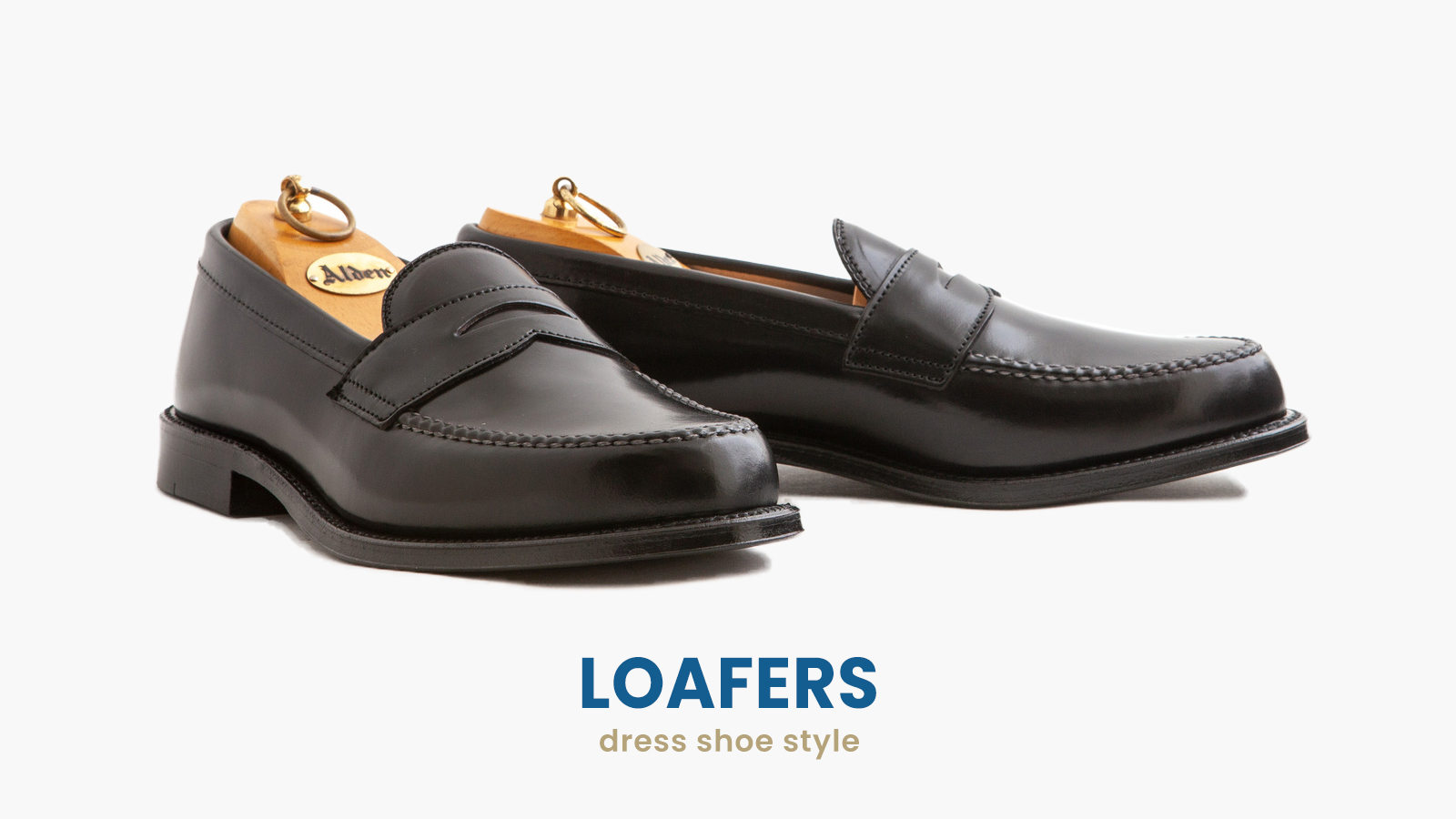 Loafers can be dressy or casual but lean much more toward the casual side. Loafer's toes are sewn very similarly to moccasins, hence the relaxed vibe.
There is very often a "saddle" (decoration) or a strap across the vamp. In addition, you often see a tassel or a metal bar placed there. These will affect the formality of your loafer.
Depending on which loafer type or style you choose, it can be worn with a suit for more formal or business settings.
Loafers are easily identifiable by their lack of laces or buckles. Their extended vamp and strap across it are also key features in a loafer.
Penny Loafer
This style of loafer is unadorned except for a thick strap across the top of the vamp. It's named "penny loafer" because the strap has a small opening in its center.
A penny could fit in there, and it was popular to do so among school kids in the 1950s.
Bit Loafer
This variation on the loafer is the most formal way to wear this shoe. It has a metal bar across the vamp. This style was introduced by Gucci in the 1960s and grew to wild popularity.
Dress Boots
Dress boots start out very much like Oxford or derby dress shoes, except they have a shaft that goes up to your ankle.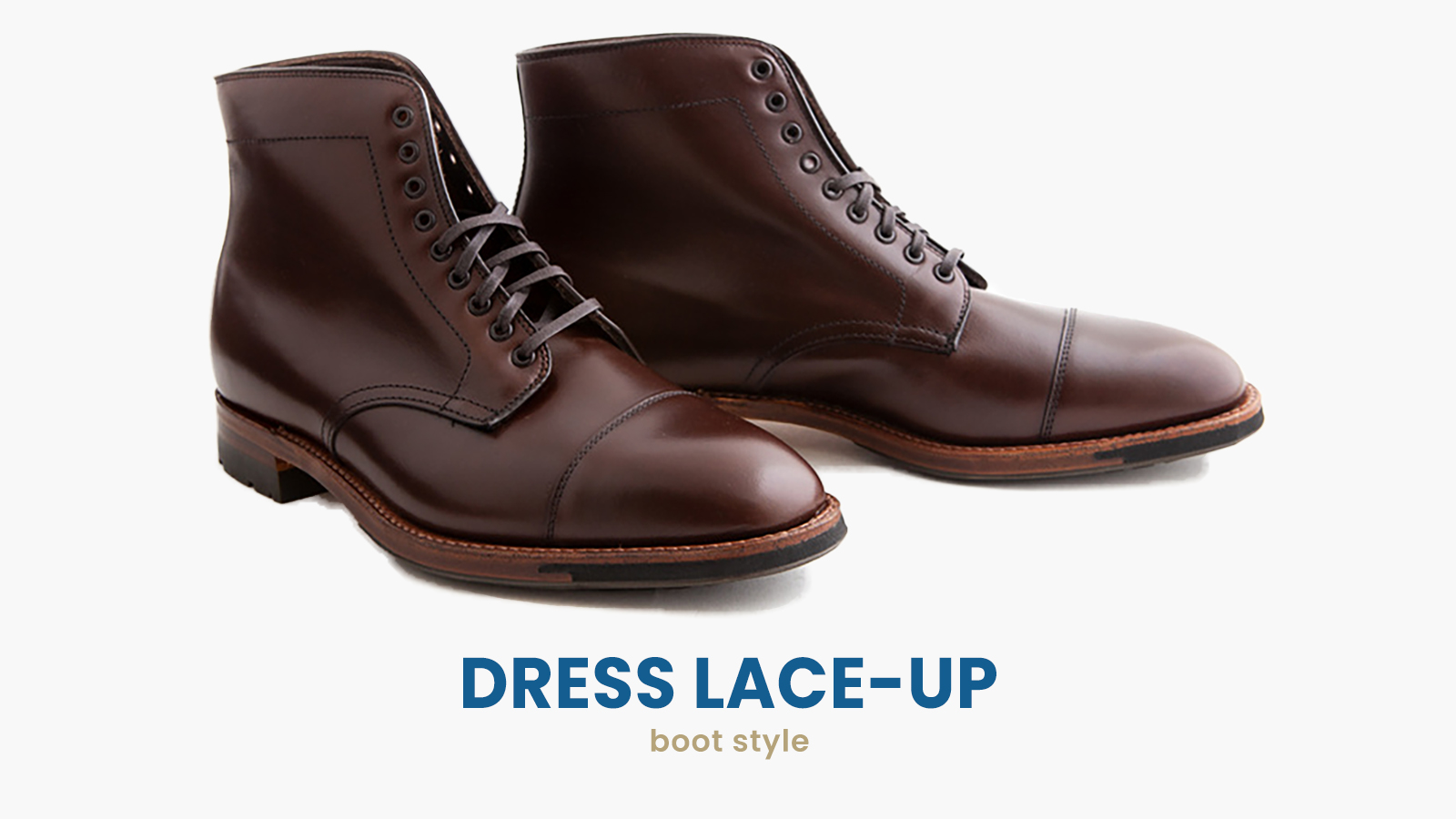 Just because you are wearing boots, they don't need to be purely functional. They can also look nice! Dress boots may feature some touches of style. For example, some may have broguing or perhaps wingtip toes.
Although most dress boot types are indeed mostly casual, it may be acceptable to wear a nice pair with a suit.
Just be sure that the boots are made of dark leather and are in excellent shape. And never match them with formal wear!
You'll easily recognize dress boots when you see them by their long shaft. They have a small heel and lace all the way up to your ankle.
Chelsea Boot
Here is another ankle boot, but this one is sans laces. They slip off and on very easily.
Chelsea boots never have a pointy toe; their toes are rounded. They also feature a patch of elastic on the ankle for widening.
Additionally, Chelseas have low heels, a tell-tale fabric tag at the heel for pulling them up over your heel, and no laces, giving them a very slim silhouette.
The best way to wear Chelsea boots in a dressy way is to pair them with a suit. They're an excellent way to stifle the conventional suit and dress shoe pairing.
Chukka Boots
Rounding out our boot section is the chukka boot. These have a very low ankle, only lacing up with two or three holes. They're usually suede.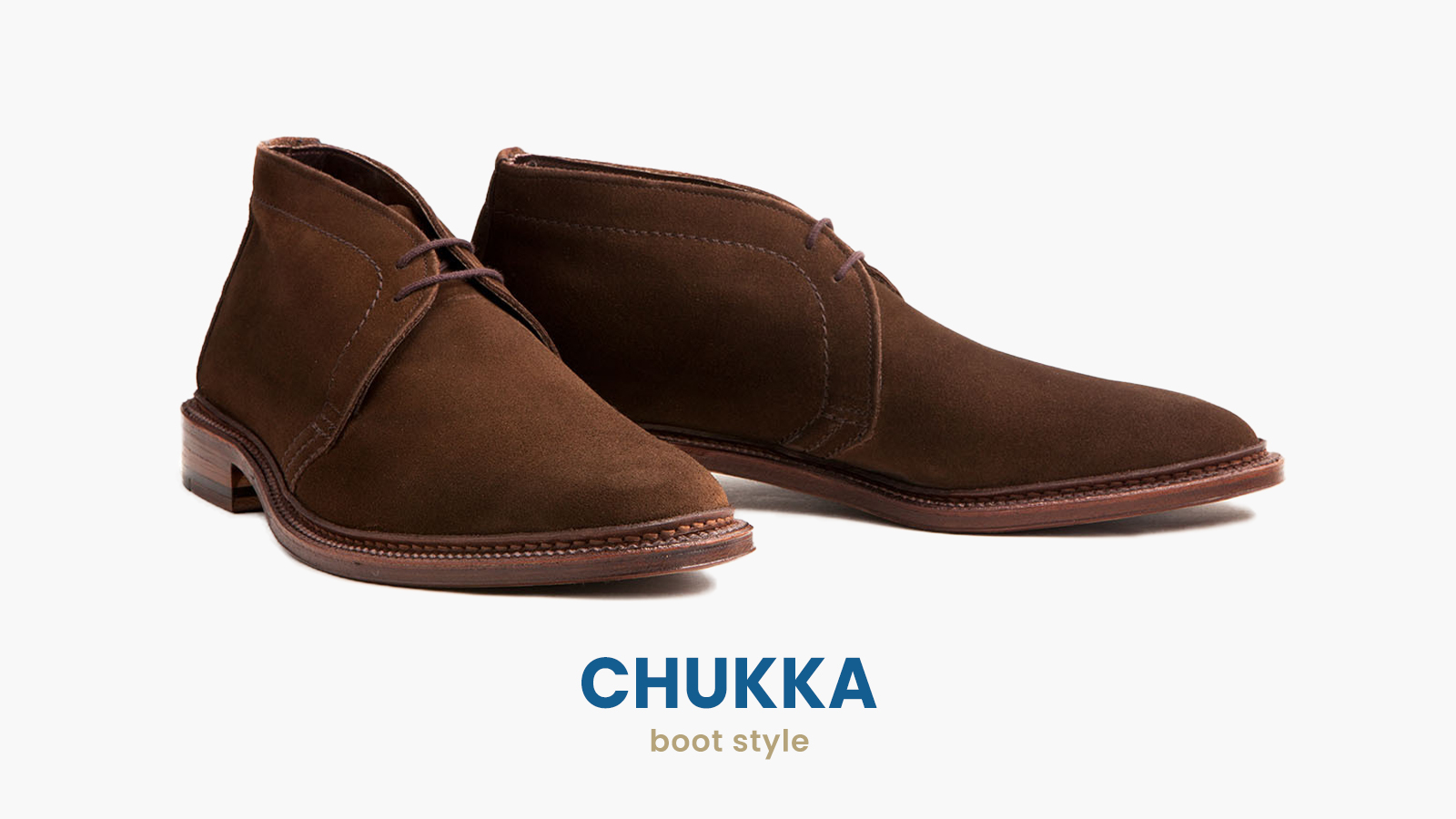 Chukka boots are very simple. They don't have a lot of stitching and do have a round toe. This makes them super comfortable to wear.
You'll mostly wear these with casual clothing, although they can be dressed up for some semi-formal outfits.
You'll always recognize chukka boots by their unique low shaft and very few eyelets. They also have an open-lacing style, just like derby dress shoes.
Possible Dress Shoe Color Options
Just because something qualifies as a dress shoe doesn't automatically mean you can wear it with any dressy outfit.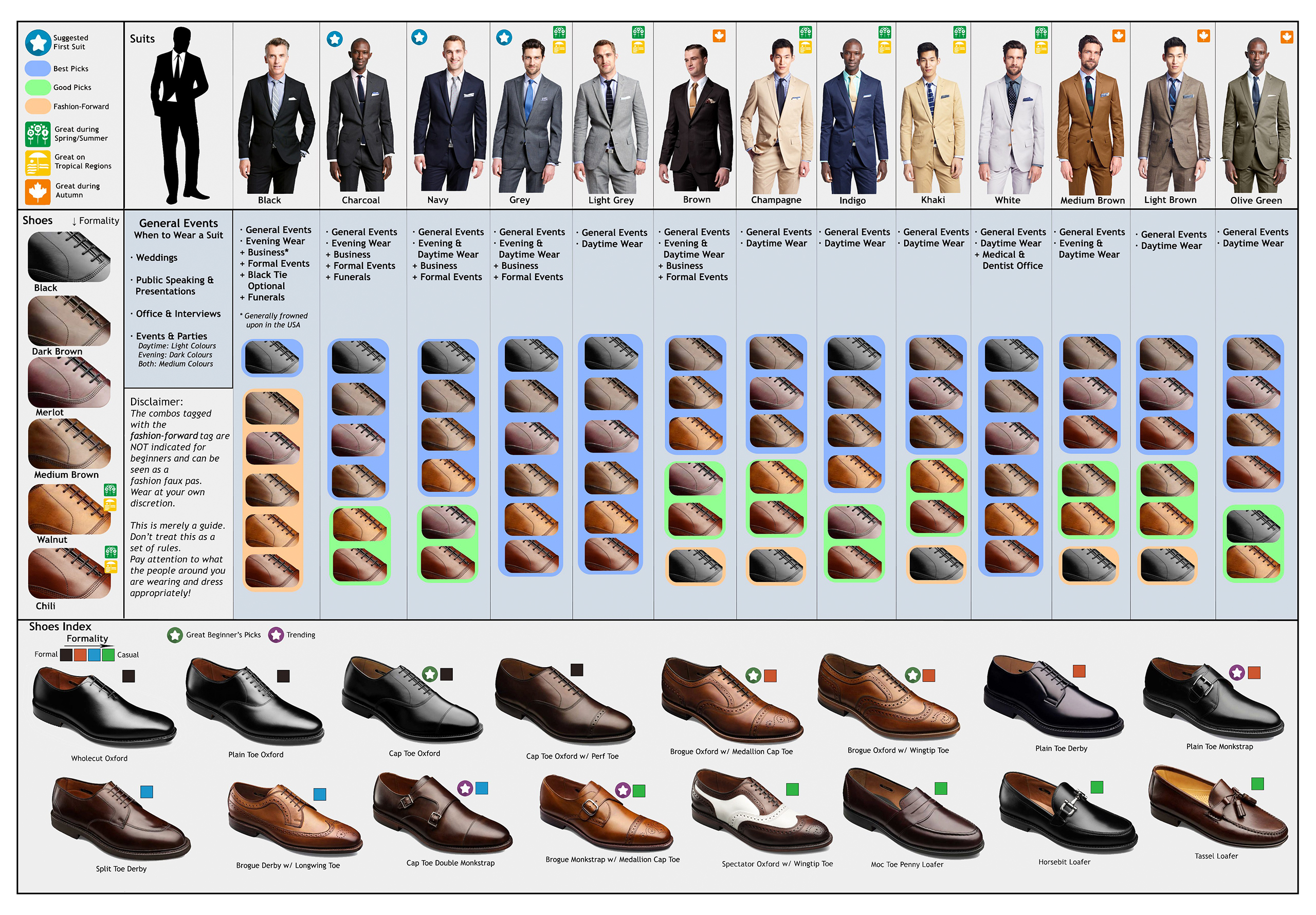 Not all shoes are suitable for all suits; shoe colors can clash with your suit. Knowing which shoe colors go best with each suit color is important.
Black
Black is the most formal color in both clothing and shoes. Therefore, if you are wearing any formal wear, you'll always need black dress shoes.
Aside from the obvious choice of black shoes with a black suit, other suit colors work very well with black shoes.
Navy suits are incredibly sharp-looking. When worn side-by-side with black leather dress shoes, it's a gorgeous contrast.
Pair your black dress shoes with a charcoal suit for a smooth look. It's incredibly classy.
Standard Brown
The second most popular dress shoe color is your standard brown.
If you are wondering how on earth to wear your navy or blue suit, you can't go wrong with brown dress shoes. It is a very warm pairing of colors.
Outside of a charcoal grey suit, a lighter grey suit color may be overwhelmed by a black shoe. Instead, try brown dress shoes. Again, it will warm up this cool shade.
Naturally, brown suits are perfect with brown dress shoes. This monochromatic look is always a good idea.
Oxblood & Burgundy
These burgundy shades of dress shoes have just a slight hint of red in them. It sounds like that may be tough to match, but it's a natural choice for a few suit colors.
If you aren't keen on the monochromatic look of a brown suit with brown dress shoes, swap out the brown shoes for burgundy. These shades will add a touch of spice to your standard brown.
Blue is an exciting color for suits. Lean into that exciting feeling by pairing your blue suit with oxblood or burgundy shoes.
Light Brown
Light brown dress shoes are very modern looking. They make your suit a little less dressy but no less stunning looking.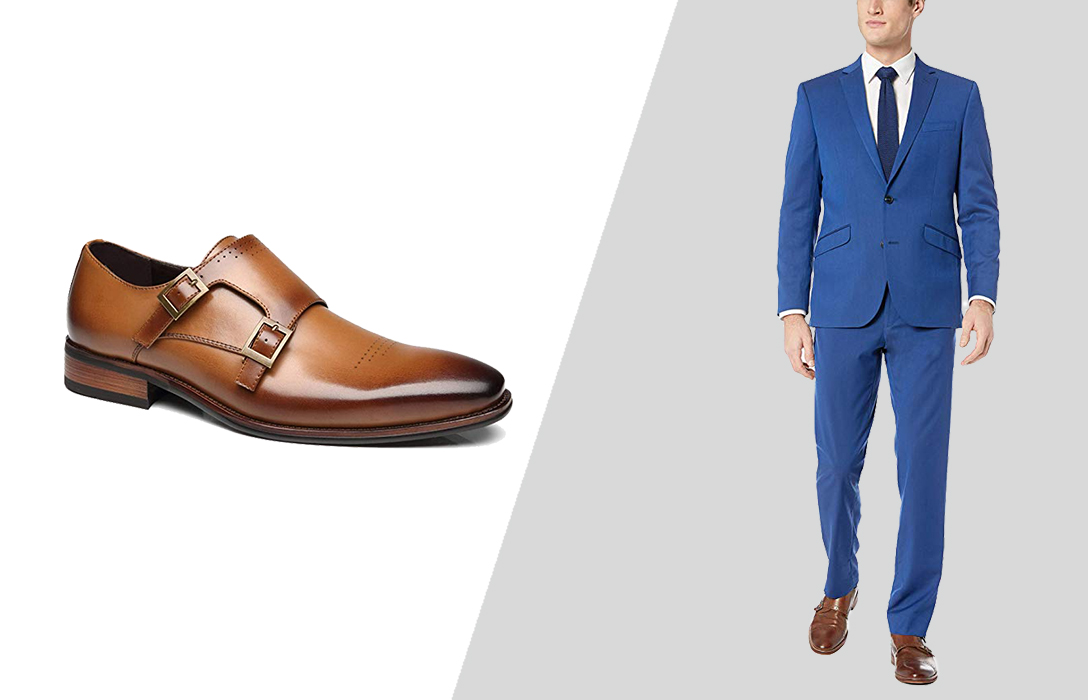 If you are wearing a trendy light blue suit, light brown dress shoes are an excellent choice. Light brown won't overwhelm the lightness of the blue suit.
Light brown dress shoes are a natural choice if you are wearing a tan suit. Anything darker will only draw all your attention to your feet and not your beautiful suit.
White & Tan
If you are in a warm climate or headed to a summer event, you may find yourself wearing a rare beige or cream-colored suit.
Unfortunately, these suit colors may be tricky to match with shoes. That's because black or standard brown would definitely overwhelm these light suits.
Instead, splurge on a nice pair of white or tan shoes to wear in these warmer temperatures.
White or tan shoes are also a great option for summer weddings, especially if it's on a beach. Pair them with a nice light-color suit, and you've got everyone's attention.
Open Lacing vs. Closed Lacing
All the talk about "open-lacing" and "closed lacing" can get a little confusing. However, as tricky as it feels to make the differentiation, it is pretty easy once you grasp the concept.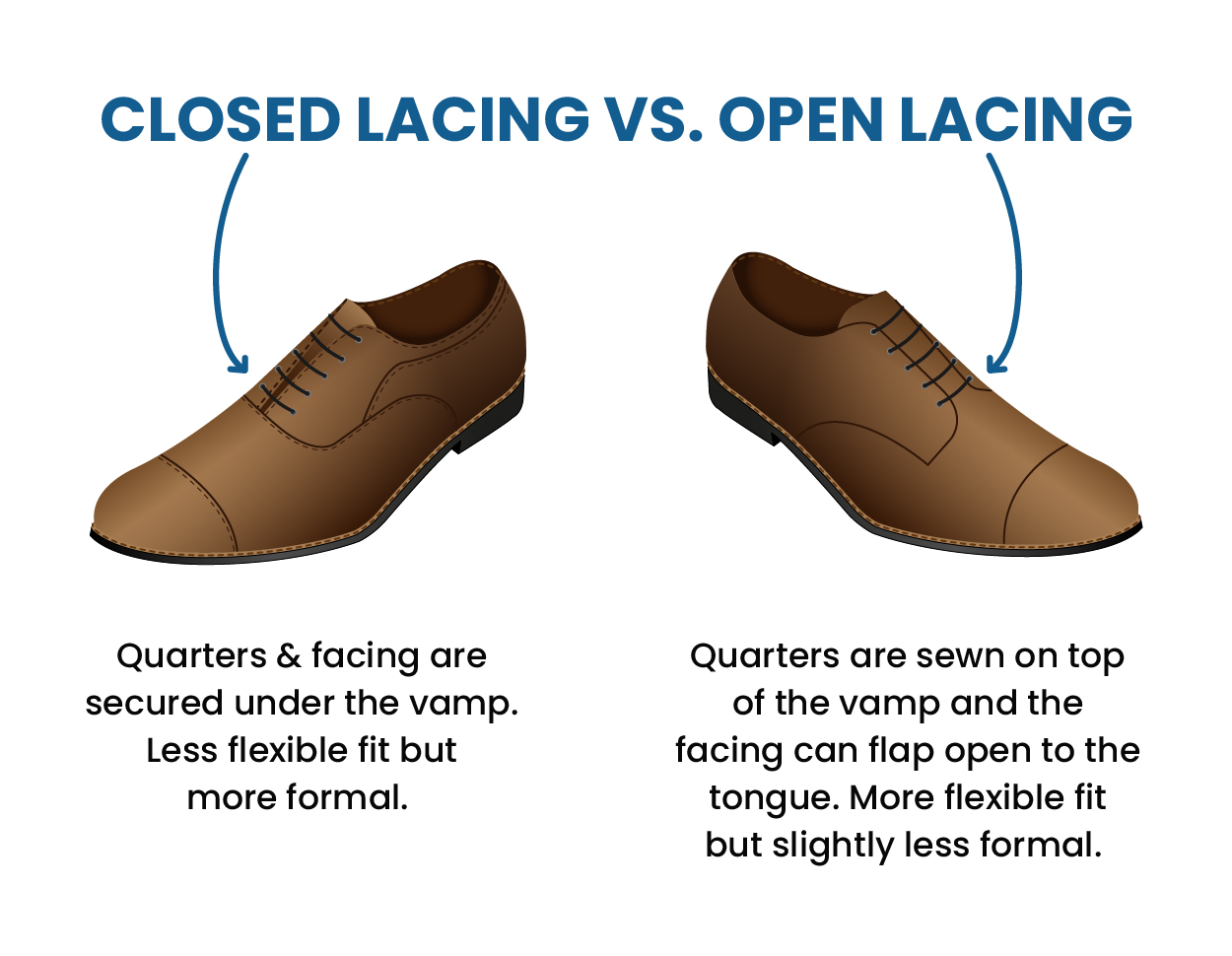 Open lacing refers to the lacing system that is located on shoe flaps. The flaps lie over an extended vamp or the tongue of the shoe.
In other words, the quarters of the open-lacing shoes are on top of the vamp. If the shoe is made of a single cut like the blucher, then it's the lacing system that's sewn vamp's top.
Closed lacing is when the laces' base is stitched to the shoe's top. That means that the facing and the quarters are sewn underneath the vamp. Also, this style is more dressy than open lacing.
Dress Shoe Toe Styles
Your toes are such a minor part of your body; nobody ever notices them! However, the toes of your dress shoes are an important detail.
Dress shoes are only ever rounded toes. However, there are still so many ways you can play with the style on that small part of your shoe.
Each of these styles is purely decorative. They don't serve a functional role.
Cap Toe Dress Shoe
This style of toe features stitching across the base of your toes along the vamp. It divides your toes from the rest of the shoe.
A cap toe dress shoe literally creates a cap to your shoe! This style is slightly playful, though it makes your shoe just somewhat less formal.
Plain Toe Dress Shoe
Just like the name indicates, this style leaves your toes plain. There's nothing added to this part of your shoe.
With a plain-toe dress shoe, you'll only find continuous leather along the top of your shoe. It creates a very clean look. It is also the dressiest of the dress shoe toe styles.
Apron Toe Dress Shoe
This toe style is casual. It is formed when a seam splits the toe in the middle, halfway up the shoe.
The Apron toe dress shoe style extends back to the heel of the shoe. It is akin to the toe of a loafer, inspired by moccasins.
Wingtip Dress Shoe
Wingtips are similar to a cap toe; only they don't follow the curve of the foot. Instead, this cap style has a point in the middle.
Also, the sides reach out along the side of your foot. You'll usually see this style of toe cap with some broguing.
Author: Alexander Stoicoff
Hi, I'm Alex, and I've studied and specialized in styling in Rome. Through my writing, I want to help men dress well and learn the purpose and significance of suits and other formal attire. My final goal is to make men more confident in their wardrobe choice and life in general.