Don't get stuck in a denim rut, always tossing on sneakers and t-shirts with your jeans. Instead, shake up your style by pairing jeans with dress shoes.
You can blend the best of your casual wardrobe with your fancier footwear for a whole new genre of dressing.
With a light touch, you can be dapper and comfortable at the same time.
Basic Tips When Wearing Dress Shoes with Jeans
If you're going to go with the bold choice of wearing dress shoes with your jeans, I heartily support you!
But before you toss on your derbies and head out the door, let's press pause and go over a few fundamentals.
Dress shoes with jeans is a valid style choice that can breathe life into your sense of style. Still, if you're going to do something, you might as well do it right.
Choose Dress Shoe Styles on the Casual Side
There are levels of formality among dress shoes, so be sure you're making the right match for your jeans. Some dress shoes are naturally more casual than others.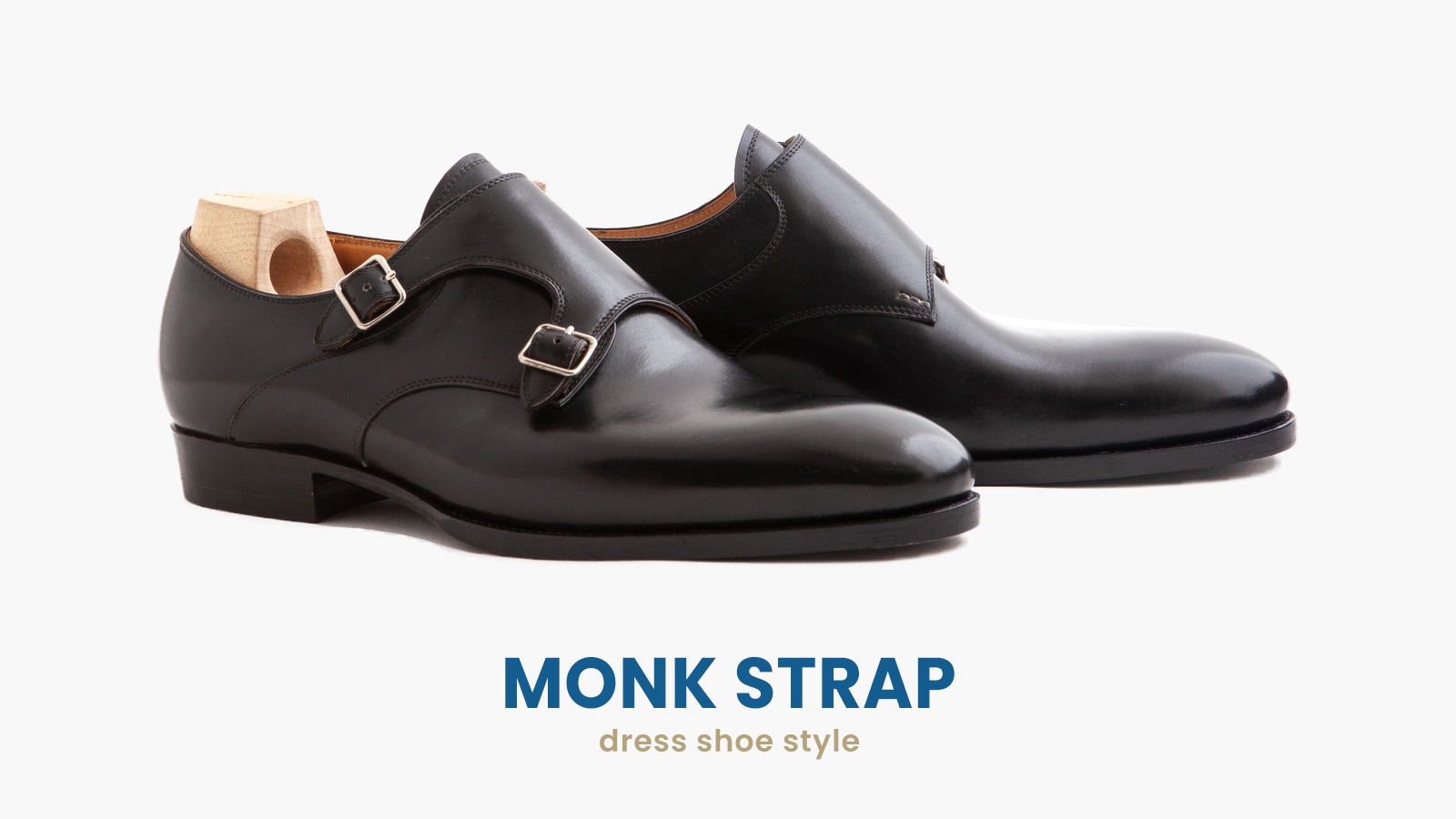 For example, monk straps, derbies, and loafers have enough informality to them that they are easy to pair with jeans.
On the other hand, Oxford shoes are slightly trickier because they are inherently the most formal dress shoe.
Again, however, the right pair can work very well with jeans. For example, avoid wholecuts with more casual outfits.
Traits such as no laces, open lacing, or suede material automatically lower your shoe's formality.
Select the Right Jeans Cut
Dress shoes are generally sleek and refined-looking. So you should seek out a pair of well-fitted jeans that can convey a similar feeling.
That's why slim-fit or straight-leg jeans are ideal when wearing them with dress shoes.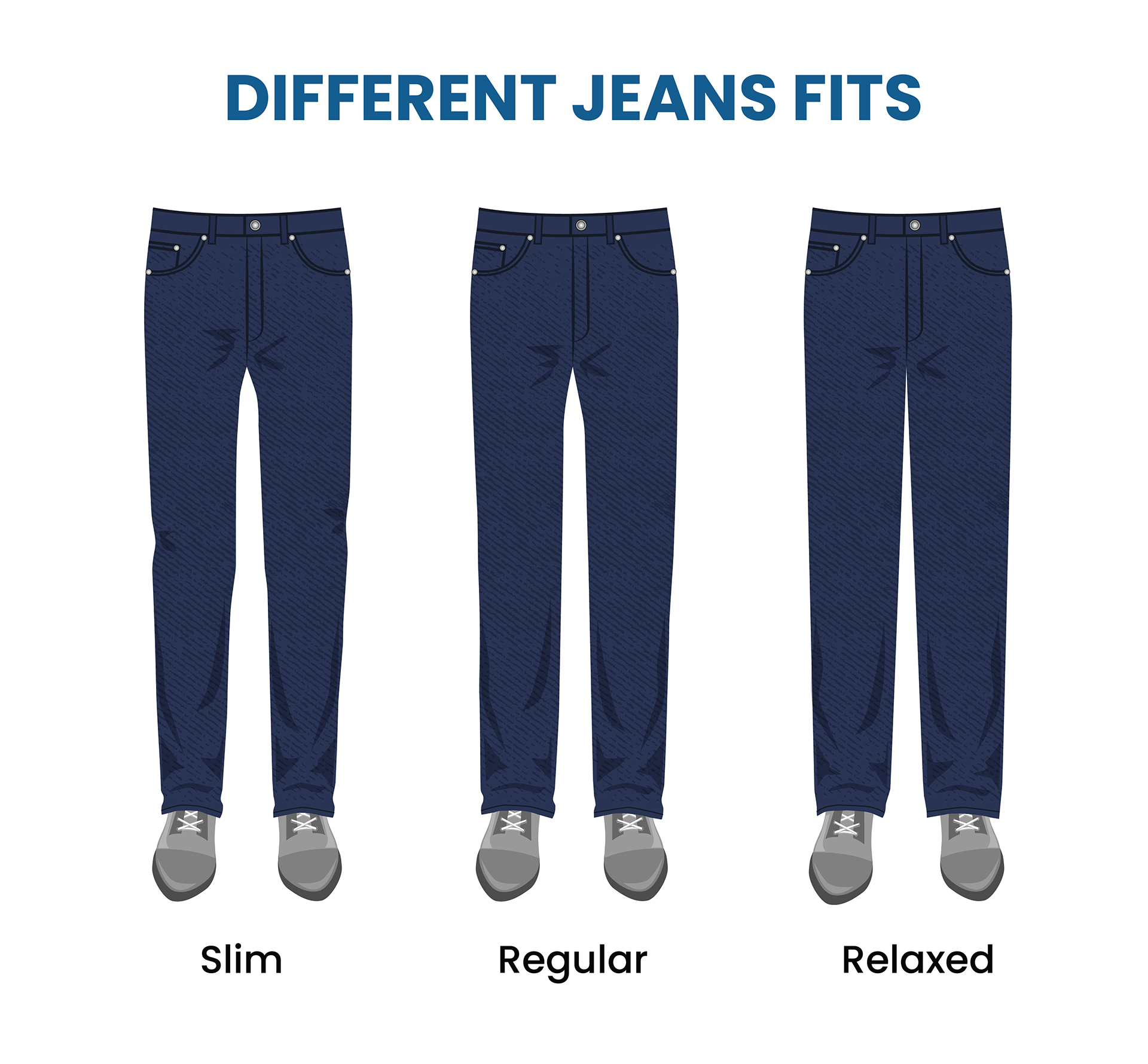 Loose-fit or (gasp) boot-cut jeans have too much-flowing fabric around your ankle. This distracts from the polished look your shoes create.
Darker jeans are preferable over lighter ones. Because we usually associate darker colors with formality, this will feel more natural with dress shoes.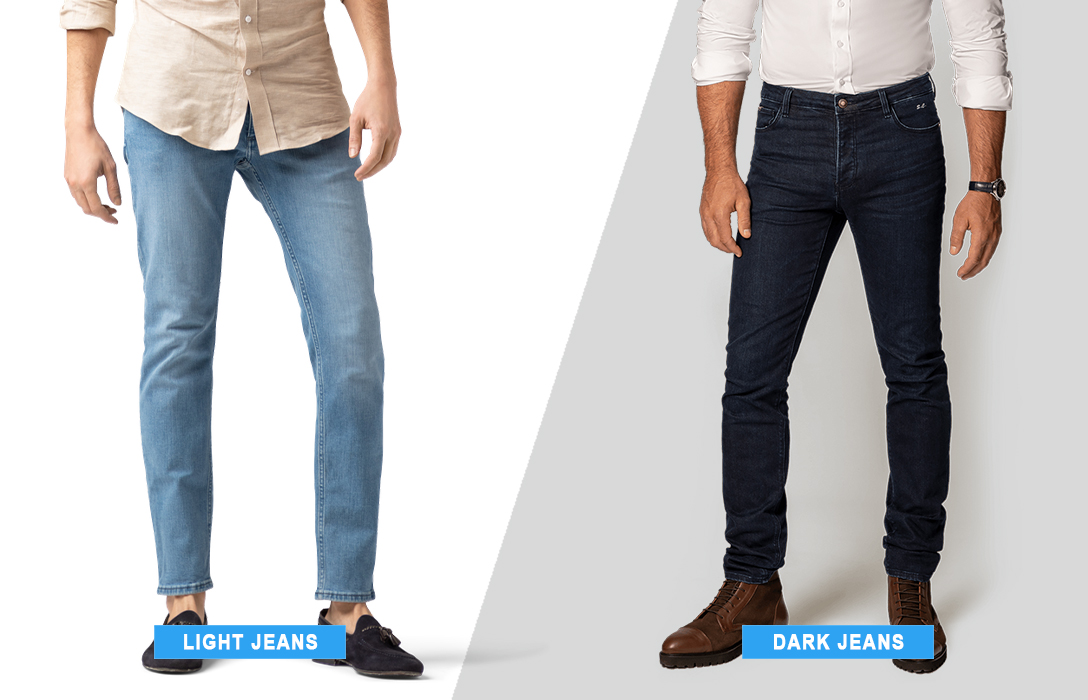 Lighter jeans are far too casual for nice shoes.
Coordinate the Rest of the Outfit
When you put together any outfit, finding pieces that harmonize with each other is critical. Your separate garments should tie together somehow, creating a unified look.
Make some of the other elements of your outfit connect to the tone your dress shoes create; give those shoes a reason to belong.
To help make your dress shoes seem like an extension of your jeans, choose pieces that are smart and polished.
For example, wearing a dress shirt with jeans signals that you care about your appearance and make more effort than just tossing on a t-shirt from your drawer.
Add a sport coat to nearly any combination of garments to give your outfit a professional flair.
Contrast and Texture
While it's true that dark is usually dressier, that doesn't mean you should wear all dark colors when matching dress shoes and jeans.
It's crucial to make sure your shoes and pants don't blend together, so shoot for some contrast. Your shoes can be dark, but your jeans should be darker.
Black leather shoes feel too formal next to blue jeans. On the other hand, brown shoes make a very natural complement to dark blue jeans.
Try mixing things up with texture, too. Leather is lovely for adding elegance to your outfit, but suede is an exciting alternative.
It isn't as sophisticated as polished leather but adds relaxed sophistication.
How to Wear Dress Shoes with Jeans: 6 Stylish Outfits
You might find it surprising how many outfits you can create around dress shoes and jeans. These six variations with two basic centerpieces show the wide range of styles available.
Whether dressing for a weekend outing, a casual day at work, or a family function, these looks keep you feeling relaxed without turning sloppy.
Suit Jacket and Dress Shirt for Business Casual Workplace
You never want to feel underdressed headed into work, but a business casual dress code is a fine line to straddle.
So leave your suit in your closet, but keep the suit jacket to ensure your professional tone.
This light grey jacket is a perfect compromise between a formal suit and a relaxed work setting.
The light shade of the jacket keeps an informal vibe, but the white button-up reminds you of the formality of a suit jacket.
Dark blue jeans nicely balance out your lower half. Medium to light brown loafers (with the no-sock look) add just the right touch of carefree refinement.
Read more: how to seamlessly match loafers and jeans.
Blazer and Crew-Neck Shirt for After-Work Cocktail
Blazers really balance the look even when it's a matter of a more relaxed cocktail setting.
Nothing says you are ready to loosen up than earth tones. A brown plaid blazer makes an excellent centerpiece, but the addition of the jewel-toned crew neck sweater underneath is the true star of this outfit.
Its lack of collar is the finishing touch that conveys that this outfit is all about comfort. To accentuate this outfit's chill vibe, complete your dark jeans with dark brown suede chukka boots.
These will keep you comfortable throughout cocktail hour and highlight that work is the last thing on your mind.
Vest Over a Dress Shirt for Smart-Casual
Knits aren't ever professional but can make super fashionable casual wear.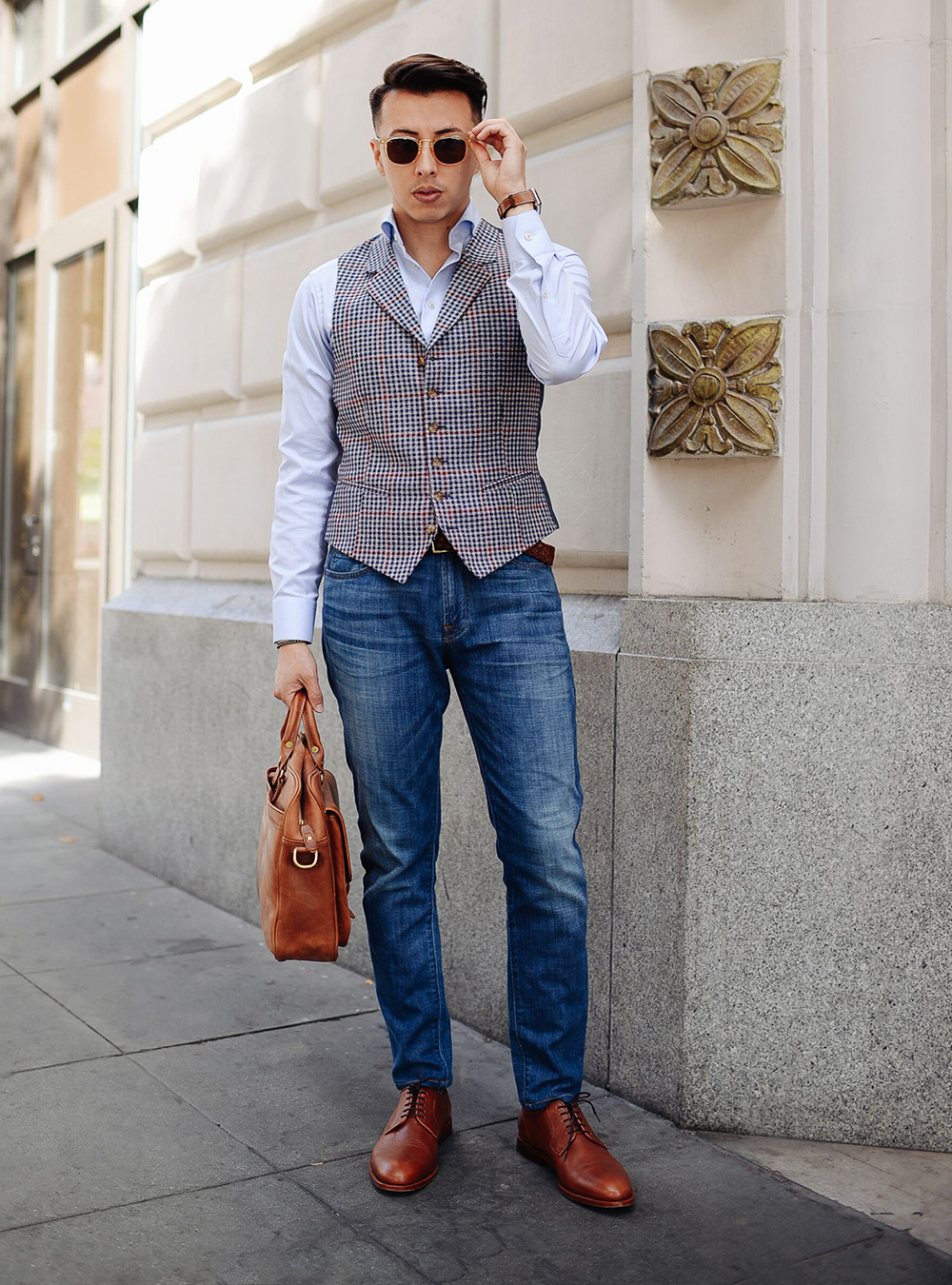 The right combination of a vest with a button-up dress shirt keeps a preppy feeling to your outfit.
A white dress shirt is ideal for elevating your style beyond the standard smart-casual outfit.
Light brown lace-up dress shoes look stunning against medium shades of neutral colors up top. For a surprising turn of events, upgrade to oxblood lace-up dress shoes.
Pea Coat & Button-Down Shirt for a Stylish Appearance
Because pea coats are a beautiful solution for both casual and dressy needs, it makes sense that this should be your go-to coat when wearing dress shoes with jeans.
If you keep the pea coat dark, you can rest assured that it's remarkably versatile. Pair a dark turtleneck with it for a simple yet classy outfit.
Since both garments are striking, you don't need to elaborate much beyond the pea coat and turtleneck. Instead, keep them dark, similar shades for a subdued, simple outfit.
Balance your dark and somber top half with light brown derby shoes.
Polo Shirt for an Edgy Look
A polo shirt may feel a bit tricky when it comes to matching it with dress shoes, but this outfit is the right approach.
Start with a fitted polo shirt; anything loose and baggy will feel untidy.
This medium grey shade is the perfect color because it feels balanced between super casual and dressy.
Note that the slim-fit jeans aren't super dark but also hit that medium-shade sweet spot.
This outfit is primarily tonal, which is a bold approach to a leisurely way of dressing.
Round out the laid-back effect of this outfit with a pair of dark brown tassel loafers and a matching leather belt.
Linen Shirt for Summery Vibes
You can't get much more relaxed than a summer wardrobe.
This white linen collared shirt left untucked, is the ultimate display of calm and restfulness.
There's no way this shirt can convey anything other than a vacation vibe.
Because of this shirt's blousy effect when it isn't tucked in, you need fitted jeans to create balance.
Slim-fit or skinny jeans go a bit too far in that direction, so keep a bit of looseness in your jeans for that comfortable appeal.
Leather might feel too harsh with this outfit, so these medium brown suede loafers are a natural way to crown this outfit.
Things to Avoid when Wearing Dress Shoes with Jeans
You've now seen how effortless it can be to center your outfit around jeans and dress shoes.
As long as you don't commit some of these "dress shoe sins," you should find that your outfits practically build themselves.
The first rule is never to wear white socks with dress shoes. Solid black socks are equally bad. Instead, split the difference with fun colored or patterned socks.
If you really like the no-sock look, invest in some no-show socks. They'll give you the benefit of wearing socks, but nobody will ever know they're there.
Don't forget to pay attention if there's a dress code for the occasion you're dressing for.
Of course, jeans are never formal, so don't ever try to pass them off otherwise. Dress shoes can't elevate jeans that much.
Author: Alexander Stoicoff
Hi, I'm Alex, and I've studied and specialized in styling in Rome. Through my writing, I want to help men dress well and learn the purpose and significance of suits and other formal attire. My final goal is to make men more confident in their wardrobe choice and life in general.