You've worn dress slacks all your life, yet you may still be a little unsure exactly what they are.
Do they encompass all pants or only certain ones? And how can you be sure which are the best ones to buy?
The question of slacks probably doesn't loom large on your mind.
However, learning the ins and outs of dress slacks and how to buy the best ones can certainly help you dress with confidence. And not waste money on the wrong trousers.
What Are Dress Slacks
Slacks are formal wear covering the lower part of the body from the waist to the foot ankles with a separate part for both legs.
They can be either flat-front or pleated. Both styles are formal and will enable you to dress professionally.
But most people think of pants when they hear the word slacks. But what kind of pants do you picture? Jeans? Cargo pants? Suit pants? If you envision something on the dressier side, you're right.
According to the Oxford English Dictionary, the word "slacks" is an informal synonym for trousers that are not part of a suit.
However, slacks are the same clothing item as dress pants. They are closer to formal wear than casual wear but are generally best for business casual or a semi-formal occasion.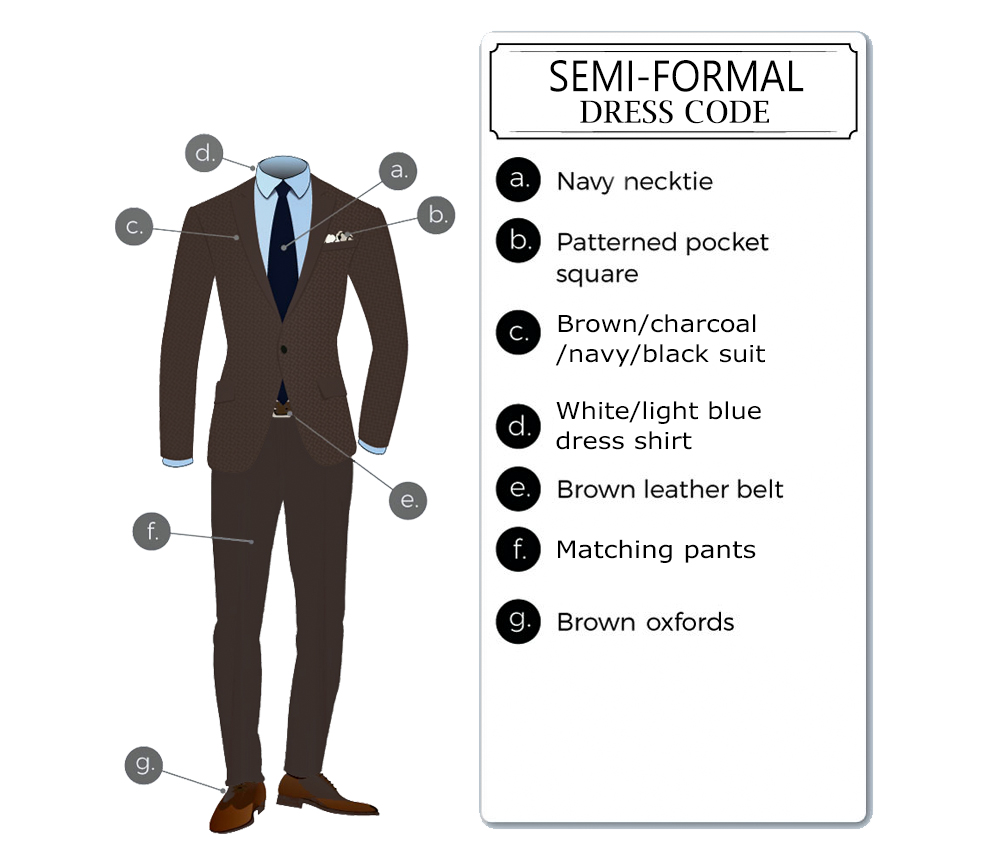 Slacks can be worn in most situations that call for a bit more than your standard khaki pants. In other words, dress slacks are the perfect in-between pant for formal and casual.
Slacks vs. Dress Pants
Again, slacks and dress pants are the same. They are just different ways of saying the exact same thing.
The word "pants" is an American English word in this context, while "slacks" is popular in Britain as well as parts of the United States. Doesn't the word "slacks" have a slightly fancier ring to it?
According to linguists, the only difference between slacks and dress pants is that the latter is part of a suit. That's because, although slacks can be part of a suit, they're usually worn as suit separates.
Often, just a dress shirt and a pair of slacks will get the job done. These same rules also apply to women's slacks. It's important to have versatility with your trousers.
Dress Slacks Formality Level
Dress slacks are more formal than jeans, chinos, and even khakis. Consider wearing slacks for business-casual, semi-formal, and business-professional events.
So while you can possibly elevate the formality of a good pair of chino or even khakis with a button-down shirt, they still won't be dressy. At most, you'll achieve a very smart casual look.
Picture it this way: if your pants would not be suitable for a wedding or a day at the office, then they aren't dress slacks.
Keep those pants for your days off or date night. Wear dress slacks when you need to bring your fashion A-game.
How to Wear Dress Slacks?
Wear dress slacks the same way you would wear any pair of dress pants. They are usually paired with a button-down dress shirt.
Dress slacks can be worn with a suit jacket or a separate blazer, but you may also skip the jacket altogether.
For an interesting twist, you can also go for a more dressed-down look with your slacks. Pair it with a good-quality t-shirt for a laidback, casual vibe. It's a great way to create a smart-casual outfit.
The key to a good pair of slacks is versatility. They aren't usually going to be the centerpiece of your outfit, more like the base on which you build.
A neutral shade will make your pants go further for you; they'll match most of your clothing. It makes sense to get the most use out of your slacks; you can re-wear them throughout the week.
Pair your slacks with dress shoes, naturally. You can choose to wear them with or without a belt. But remember: if you do wear a belt make sure it matches your shoes.
Top 10 Best Slacks for Men
When you're in the market for a pair of dress slacks, there are a few important areas that you should focus on.
Make sure your slacks are the proper length. They shouldn't have much of a break; they should just barely hit the top of your shoe.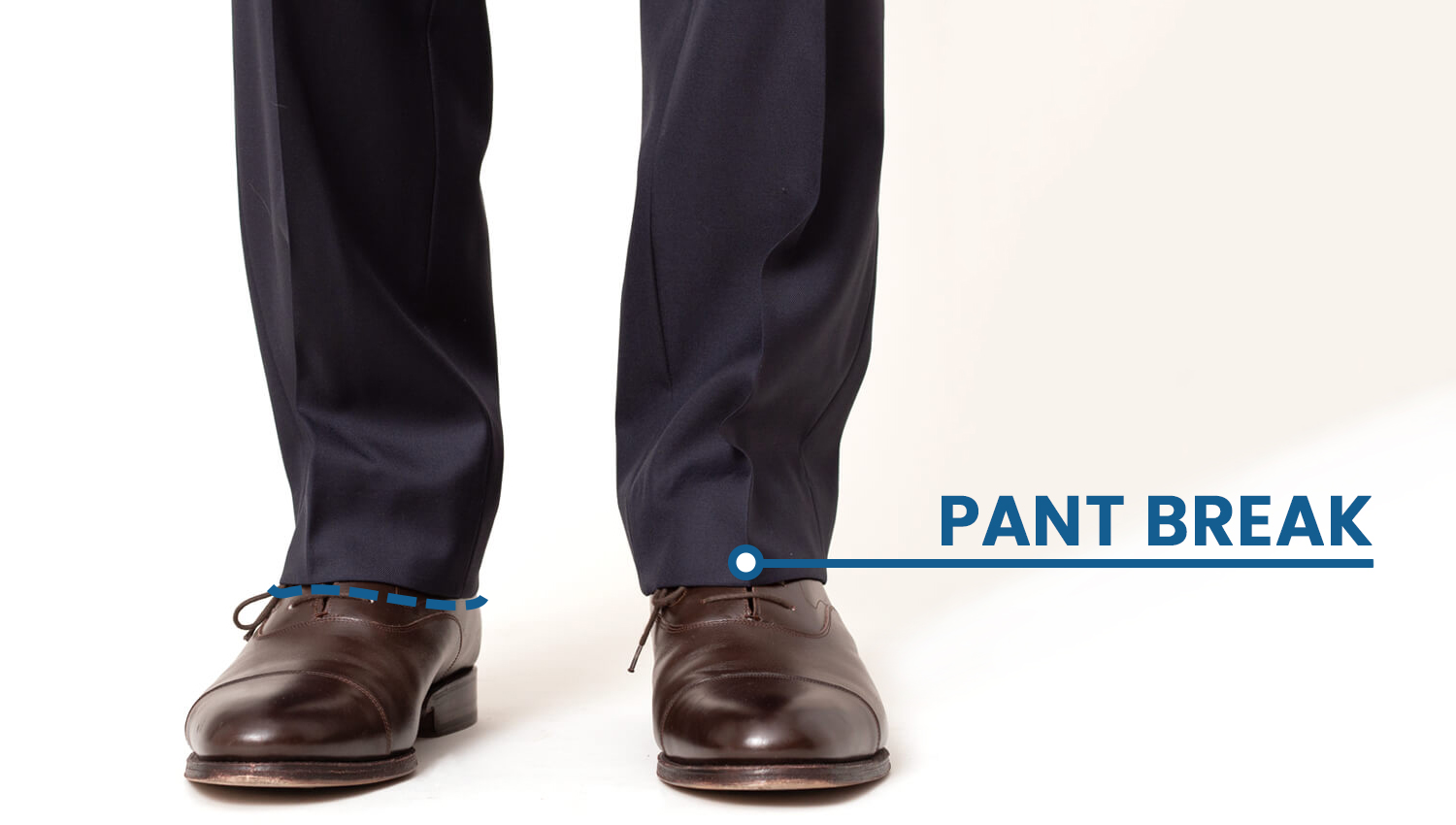 If your slacks are too long, you can always hem them to the correct length for you. But there isn't any way to save trousers that are too short, so be cautious when you buy them.
Aim for a mid-rise waist. Too low, and you'll look too casual/trendy. Too high, and you'll look like your grandfather.
Make sure that the waist isn't too tight. There is nothing worse than spending the whole day feeling crushed around your middle. But if you can comfortably stick two fingers inside your waistband, you are in good shape.
Hockerty Premium Wool Black Dress Slacks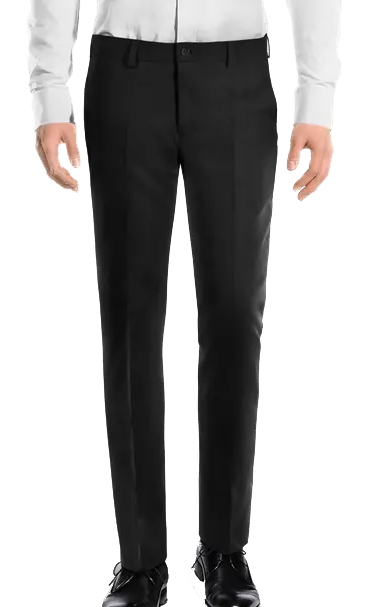 These made-to-measure dress slacks are made of premium black wool. In addition, the brand offers a perfect-fit guarantee, ensuring that all garments pass through strict quality control to ensure it perfectly fits each buyer.
Haggar's Classic-Fit Navy Slacks
These classic fit, flat-front slacks have a hidden expandable waistband, ensuring you'll never feel squeezed in. But the best part? These polyester trousers are made from recycled water bottles! How's that for saving the world in comfort?
Van Heusen Straight-Fit Black Slacks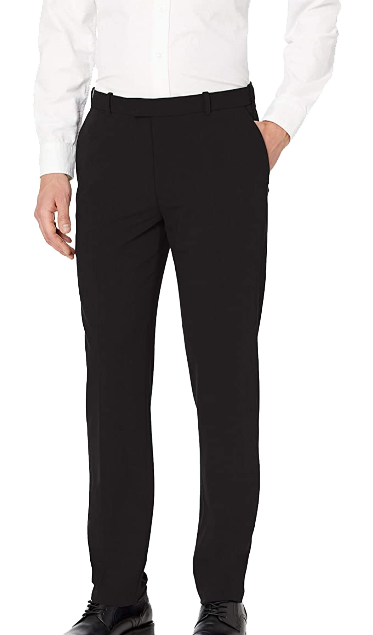 Made from a blend of polyester and rayon, with a little bit of spandex for good measure, these dress pants really move with you. And that is what qualifies them to be a part of the Flex Collection, where the focus is on comfort and flexibility.
Calvin Klein Modern-Fit Medium Grey Slacks
Calvin Klein designed these dress pants to fall somewhere between classic and slim fit, resulting in a very modern look. These lightweight, flat-front slacks have a very slight stretch so that they fall back easily into place when you move. And they won't wrinkle throughout the day.
J.M. Haggar Slim Fit Blue Dress Pants
You'll feel like you're wearing sweatpants with the "superflex" waistband these slacks provide. They also have a 4-way stretch, so they move every which way with you. But with their slim fit and flat front, you definitely won't look like you're hanging out in your sweats.
Kenneth Cole Reaction Slim-Fit Navy Blue Slacks
You'll find these dress pants in either modern or slim fit and with a flat front. They're made mostly from polyester and viscose but have just a touch of spandex in them for flexibility and ease of movement. Add in their flexible waistband, and you'll have a full day of comfort.
Hockerty Pure Wool Grey Slacks
These dress slacks are 100% wool and keep you warm, perfect for cold weather. They are custom-tailored to achieve perfect fit and enhance dressiness. The pants have a diagonal pocket on the front and a double-welted pocket with a button at the back.
Dockers Classic Fit Navy Dress Pants
For a dressier look than your average khakis, try these relaxed-fit slacks. They're wrinkle-resistant, which is always a bonus. Also, you'll be pleased to find that elastic is included within the waistband for a little extra forgiveness. They're almost half cotton and half polyester, with a small amount of elastane for stretch.
Van Heusen Slim-Fit Charcoal Dress Pants
Some people are simply accident-prone. If that describes you, these are the perfect dress pants for you. They come with Stain Shield, allowing spills to just wipe right off like they never happened. They also have a Zipper Security pocket on the side, making these trousers even cooler.
Perry Ellis Slim Fit Black Slacks
Though these are a very slim fit, they're made from a fabric blend designed to stretch with you. They won't feel too confining as they sit right below the waist. A little leg taper at the bottom adds an extra dash of modernity.
Dickies Classic Fit Navy Slacks
These aren't your average dress pants. Instead, it's a hard-wearing work pant that can dress up much nicer than your average working pants. They have a classic rise, sitting right at the waist. Some minor tapering at the legs provides some freshness to these classic pants.
FAQs on Dress Slacks
Before you hit the road, here's a quick summary of dress slacks.
What are dress slacks?
Dress slacks are a formal garment that covers your lower body, with a separate part for each leg. You may not necessarily be wearing a suit, but most likely a dress shirt and possibly a jacket. They should be perfectly fitted for your body but still allow a good range of movement.
What's the difference between slacks and dress pants?
Not much. These are just different words to say the same thing. For good measure, you can even use the word trousers to talk about the same thing! Just remember that all of these terms refer to pants that are a notch or two above casual.
Are chinos considered slacks?
This is a fine line here. Technically, no. Chinos can certainly be dressed up, but not to the same level that slacks can be. They are great to wear when you want to look nice but aren't as dressy as some occasions would require. Don't wear chinos to your cousin's wedding, for example, unless it's a casual BBQ theme.
Can I find more casual slacks for men?
Absolutely. By adjusting the fit, the material, and the style, you can influence your slacks' level of casualness. For example, a pair of slacks that is all cotton is bound to be less dressy than your average pair of suit pants. And once your dress pants start getting looser, they also start getting more casual.
Author: Alexander Stoicoff
Hi, I'm Alex, and I've studied and specialized in styling in Rome. Through my writing, I want to help men dress well and learn the purpose and significance of suits and other formal attire. My final goal is to make men more confident in their wardrobe choice and life in general.