Every detail, even your socks, needs to be considered when wearing a suit.
The wrong pair can throw off your entire ensemble, making your look feel wrong.
However, the right pair of socks can elevate your suit to a new level of suaveness.
Basics & Things to Consider
Socks don't often get much attention, but you can't deny that they complete your outfit.
And they don't just round off your look but also finish how you feel. Your shoes aren't very comfortable without socks!
However, you can't just toss on any old pair of tube socks and call it a day. It's vital that your socks and outfit match in formality.
Plain Dress Socks for Formal Occasions
Just as a solid suit and solid dress shirt are more formal than patterned ones, the same holds for socks.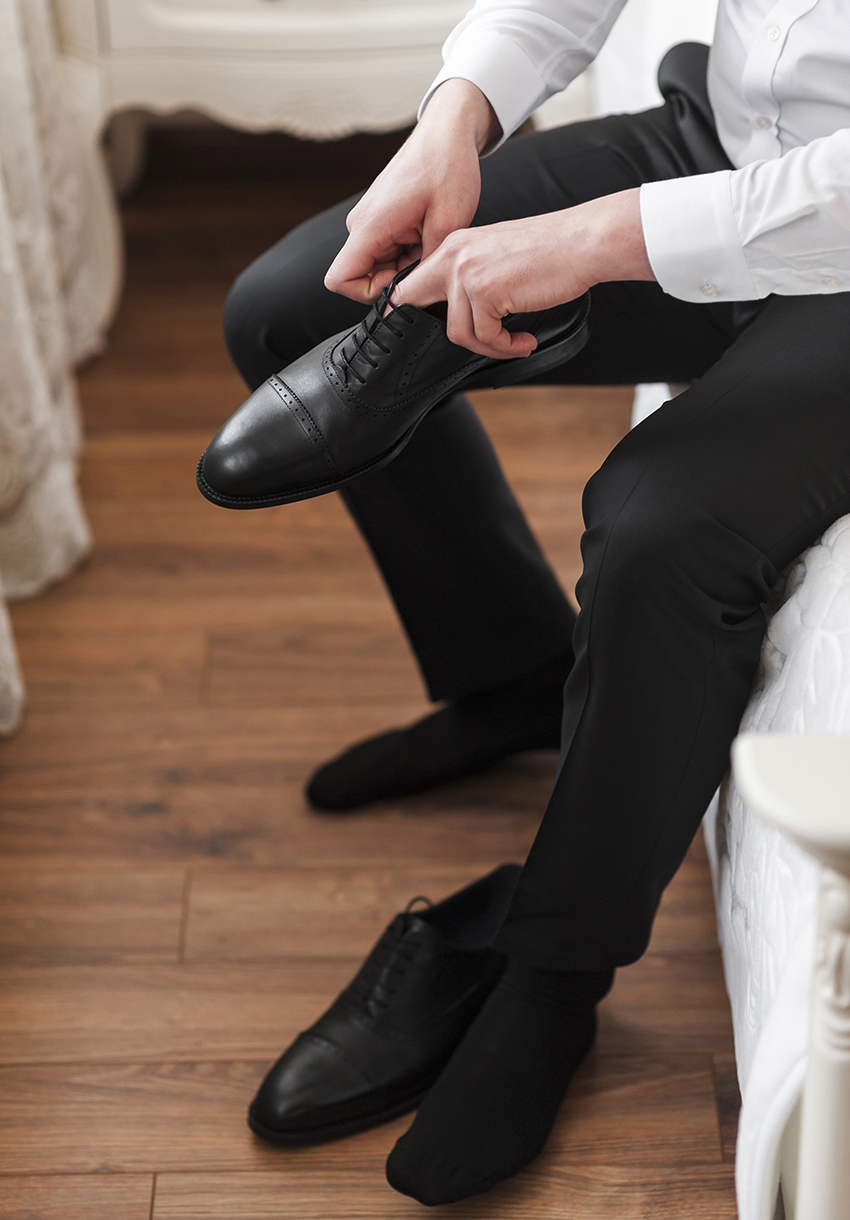 When formality is an essential element of your outfit, your socks must be a solid color.
And formal generally means a dark color, too. Most formal occasions call for black or another dark shade.
So, for the most conservative way to pair your men's dress socks to your suit, you should lean toward a pair of black socks or match them to your trousers.
Colorful & Patterned Socks for Strong Impression
Not following a strict formal dress code? Playful patterns on your ankles are a terrific way to catch the eye, as is an unexpected peek-a-boo of bold color.
Wearing socks doesn't need to be boring! Many times, it's easier to be more playful with your feet than with your tie.
Still, you can find ways to connect the color in your socks to other elements of your outfit, even your tie.
Wearing colorful socks or patterns can be a surprisingly bold move. It is a subtle way to assert your confidence.
Socks Fabrics & Quality
Your outfit feels more pulled together when you successfully match socks to your suit, including the fabric.
The suit fabric must feel similar to the sock fabric, so consider their weight.
For example, the suits you wear in winter tend to be made of heavy fabric, like wool. So, wool dress socks would be an ideal fit.
Likewise, when you wear a lighter suit in warmer months, you might want a pair of cotton socks with your suit.
Consider wearing socks that are a high-quality fabric. They're more likely to sag and look worn if they aren't.
Proper Dress Sock Length
The ideal length of men's dress socks to wear with your suit is medium to long.
This means they should at least go up as far as your calf. Most dress socks are calf-length, and that's perfect.
Some men prefer their socks to go up to their knees, feeling they stay up better. That's acceptable too, but those are more challenging to find.
Avoid ankle socks at all costs. Oh, the horror!
Choosing the Best Socks Color with a Suit
When you pair casual shoes with your suit, you can be a little less picky about the color of your socks.
For example, white socks are only acceptable with white sneakers, so if you're wearing a suit and sneakers, that's perfect!
However, if you're sliding into a pair of dress shoes, you'll need to branch out from basic white socks and add some color.
Even if you're only sticking to a neutral shade, you must avoid white. It's too alarming to see a white slash cutting through the bottom of your dark, sleek silhouette.
Navy Suit
A navy suit is the number one professional go-to for suits. You should have dress socks that are just as professional as your outfit.
Black and navy socks make a lot of sense with your navy suit. They blend in and feel very natural.
Grey socks are another professional color. So they are another excellent choice and look formal when paired with navy.
Red socks can be a fantastic choice when you're looking to break the mold. Yes, they are bold and will get you noticed. Talk about a power play!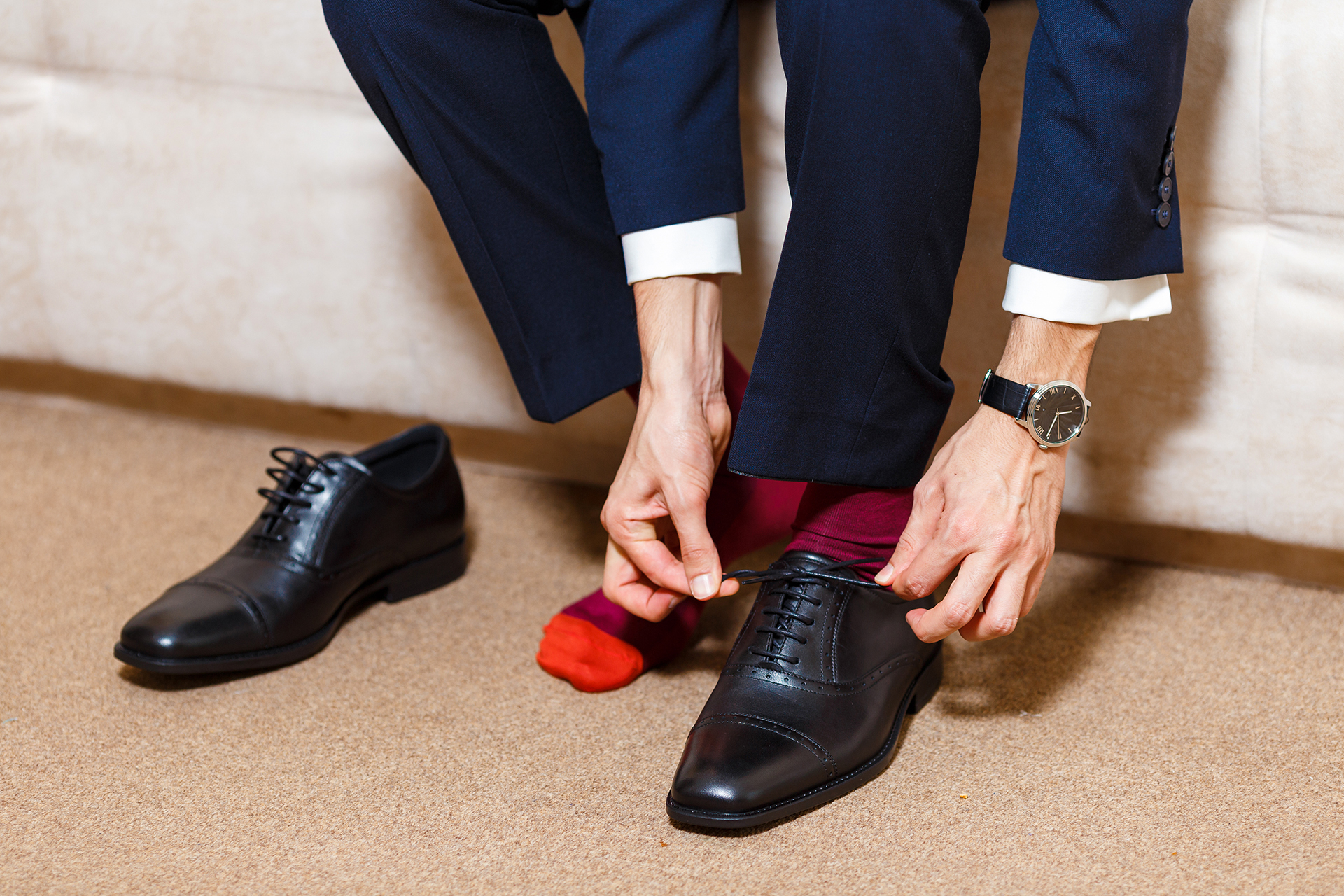 Brown socks create a soothing and relaxed contrast. Just be sure they don't blend in with your shoes.
Blue Suit
Blue is incredibly versatile for suits, so figuring out how to match your socks may feel overwhelming. Where to start?
Black socks keep your look neutral. They work well, but only if your shoes are black.
Grey is another flexible shade. Grey socks of all shades work well with blue, keeping your look subdued.
But wearing light blue patterned socks can do the opposite – it does the unexpected and brings your look to life.
You can also add a stunning color like burgundy or olive socks. These tones are all earthy and complement each other well.
Black Suit
Black suits are formal, so this isn't the time to whip out your pink flamingo-patterned socks. As amazing as they are, keep them for another suit.
Black socks are the most logical choice with this suit. They're perfect because they keep your look one sleek and elegant line.
Grey socks create a bit of nuance with a peek of contrast. Grey is similar to black, but just a lighter take on it.
For a breath of fresh air, consider light blue socks. They can be a soothing relief from your severe black suit.
Grey Suit
Is grey a strictly professional suit color? Darker grey certainly is, but this color has many different tones.
Grey socks keep your look conservative all the way. This is ideal for your most professional settings.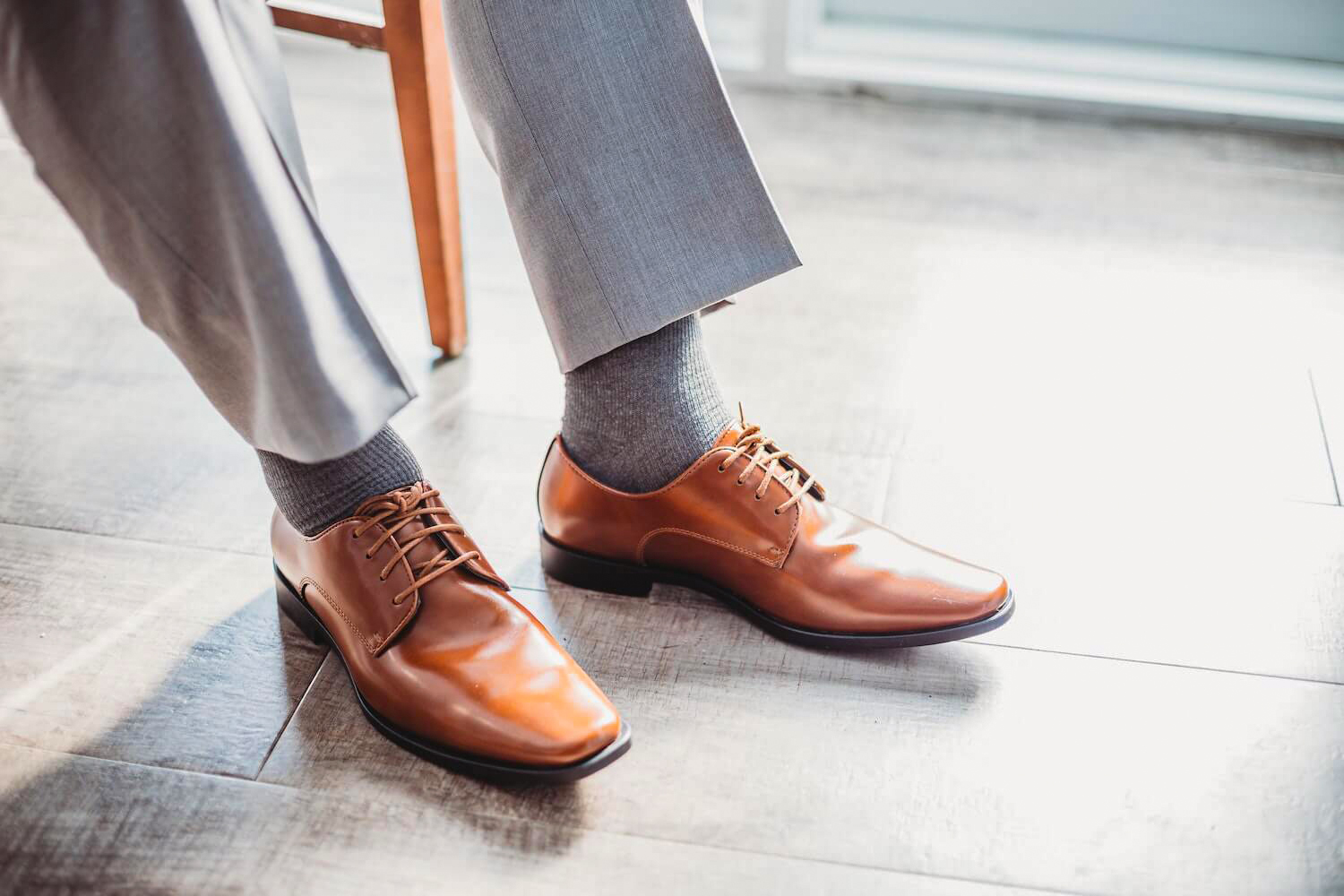 Navy socks help you keep your look thoroughly in the professional color family. They're a natural fit with charcoal suits and can have a sobering effect on light grey.
Black socks are your most conservative option, one that's usually expected. Best for black dress shoes, you can wear them with brown as well.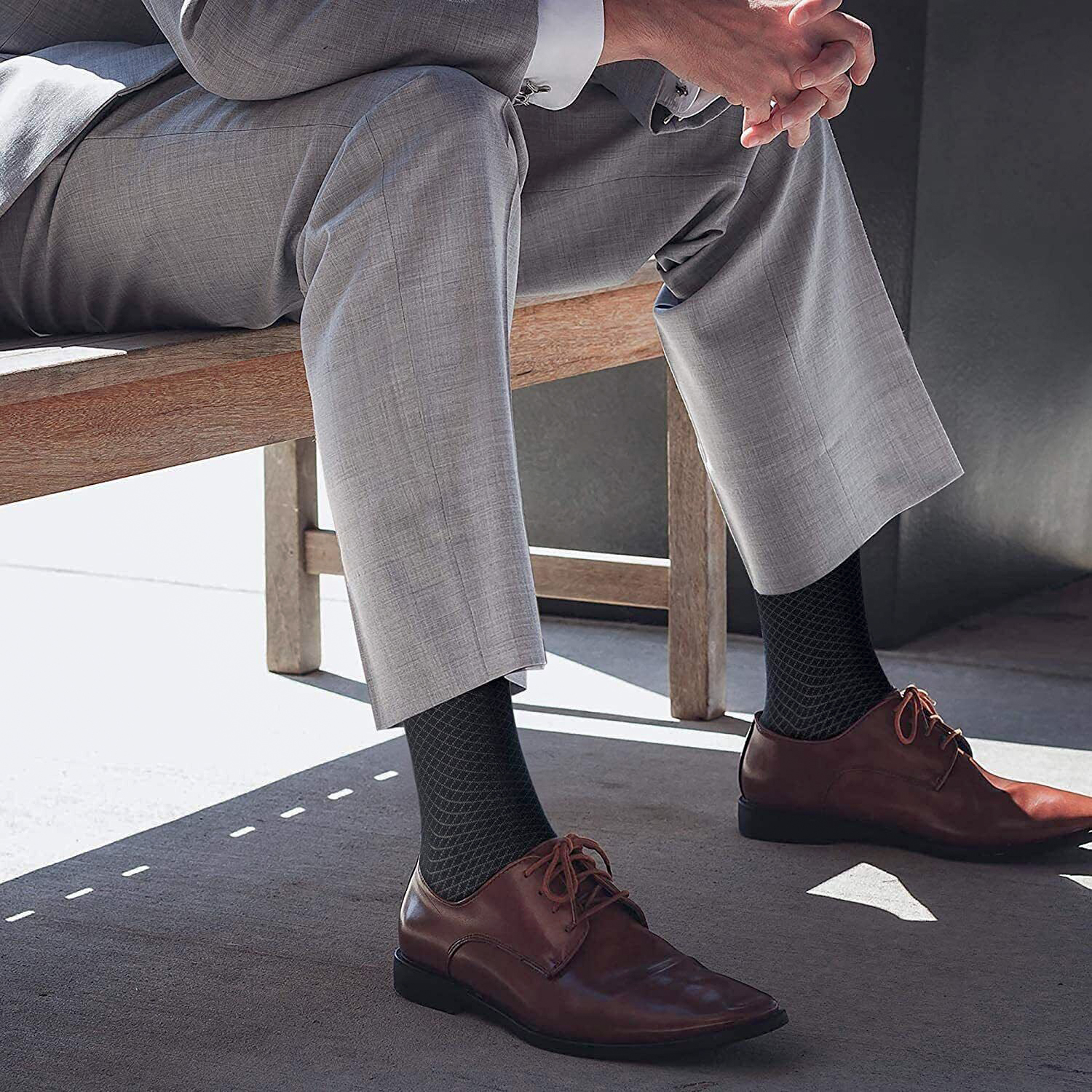 Now hear me out: turquoise socks. This color will add a subtle but gorgeous dash of elegance.
How to Wear a Suit without Socks
Sometimes you just can't resist flashing a little bit of ankle, especially as the temperatures begin to rise.
In some settings, this is perfectly ok, but you must make sure you get this right. It isn't as easy as leaving your socks in your sock drawer for the day.
Consider the Right Dress Shoe Type
You need the right type of shoe for the sockless look to be effective.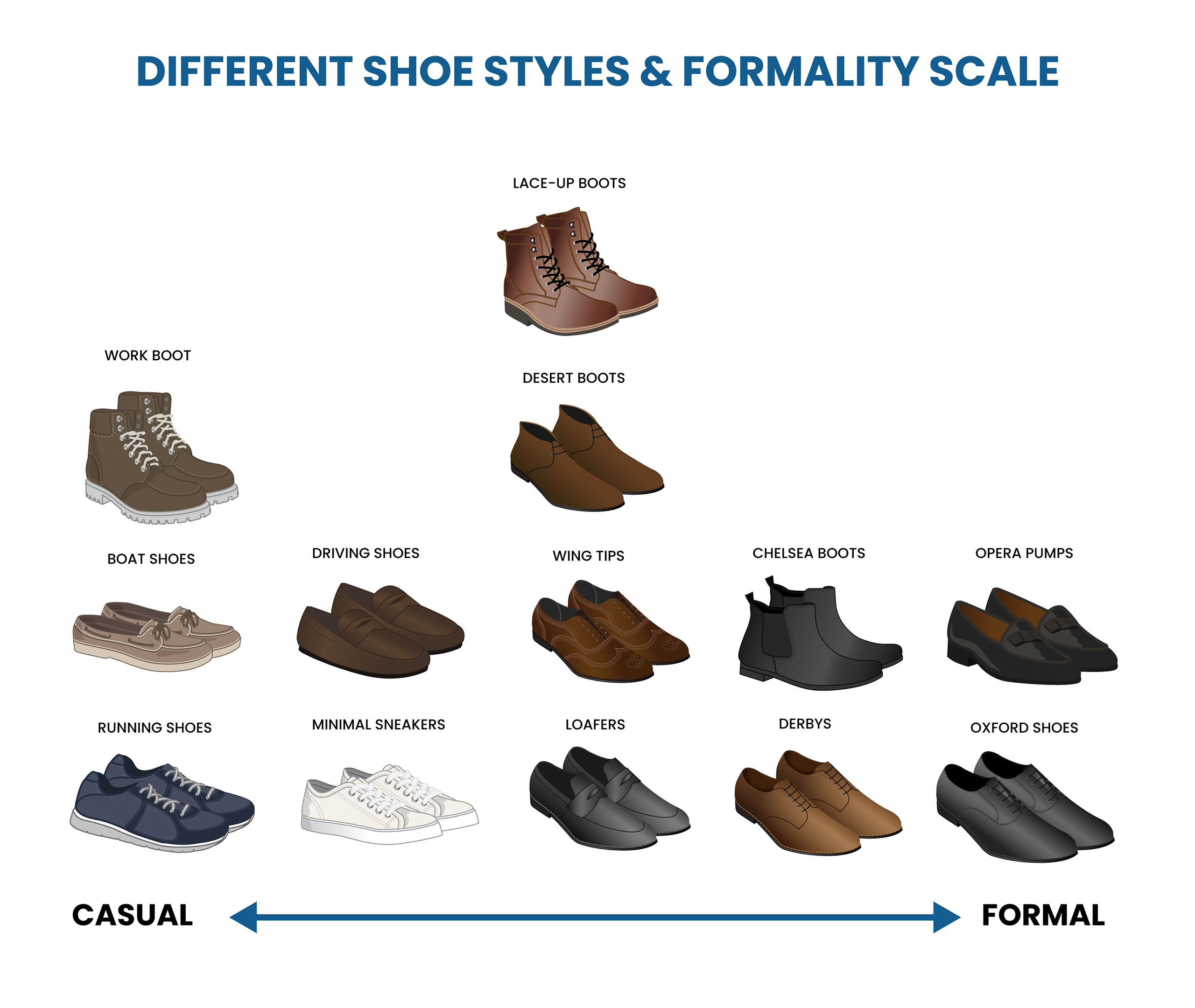 Casual shoes are the best pairing for the sock-free look.
Shoes like loafers, boat shoes, and even sneakers accommodate a bare ankle really well.
It's important to avoid formal shoes, such as Oxfords or derby shoes. These look incomplete without socks to polish off their traditional look.
Wear No-Show Socks
If you want to go with the no-sock look, you still need to protect your feet and your shoes.
You can wear no-show socks which aren't like full socks but small pieces that slip over your toes and heels.
However, you can't completely skip socks altogether. Wearing shoes without socks leads to problems like athlete's foot and super stinky feet.
But did you know that your bare foot can also ruin your shoe?
This is because your foot won't be able to breathe, so it will sweat. The sweat can warp the leather inside your shoe.
That's why wearing no-show socks is a stylish and dapper solution to the problem.
They don't go up the sides of your feet, so nobody can spot them under the edge of your shoes!
Author: Alexander Stoicoff
Hi, I'm Alex, and I've studied and specialized in styling in Rome. Through my writing, I want to help men dress well and learn the purpose and significance of suits and other formal attire. My final goal is to make men more confident in their wardrobe choice and life in general.