The most expensive men's suits belong to the world of the famous and the super-rich.
Top celebrities, successful businessmen, and political leaders can be seen wearing suits that cost more than regular cars. Sometimes, even more than your house.
Sure, men are used to their wives and girlfriends spending lots of cash on clothes. But these suits cost much, much more than even the most extravagant ball gown.
In fact, the most costly suit comes in at almost one million dollars. With all that in mind, here's our pick of the world's most expensive men's suits today.
Top 5 Most Expensive Men's Suits in the World
1. Stuart Hughes Diamond Edition
Price: $892,500
Top of our list is currently the most expensive suit in the world. Stuart Hughes from Liverpool in the UK is a well-known designer of luxury goods.
He and world-famous tailor Richard Jewels from Manchester teamed up to create just three of these dark grey suits.
Nearly a thousand hours went into making these works of art. It comes with almost five hundred diamonds on the jackets…
That's two hundred and forty carats worth of diamonds right there. This ultimate example of decadent luxury is made from cashmere, wool, and silk. All of which explains its breathtaking price tag.
2. Alexander Amosu Vanquish II Bespoke
Price: $102,000
Amosu is not only a men's clothing expert but also a luxury goods entrepreneur. They've created some of the most expensive men's suits in the world.
This suit is a great example of both those talents coming together. It's crafted from the world's most expensive wools – vicuna and qiviut.
Vicuna fleece is the symbol of ultimate luxury. They're close relatives of the llama and are native to Peru. They live on the icy cold plateaus of the Andes.
The tiny vicuna produces incredibly warm and soft wool known as "The Silk of the New World." The total world supply is only twelve tonnes per year. No surprise then that it costs more than gold!
The Vanquish II Bespoke was made for an unknown buyer who had it delivered in an armored truck. Understandably so, as the buttons are all 9-carat gold, diamond inlaid, and worth a small fortune on their own.
3. Dormeuil Vanquish II
Price: $95,000
Dormeuil is a UK-based supplier of the world's finest and most luxurious fabrics.
This exquisite suit was created from its trademark Vanquish II fabric. It's a blend of three rare wool types- pashmina from India, qiviut, and vicuna.
Dormeuil launched the Vanquish II suit at the opening of their base in India. The suit fabric alone costs about three thousand pounds a meter. Enough for a suit would cost about ten thousand UK pounds!
Dormeuil has been in existence for almost two hundred years. They're known to offer their services to the rich and famous like kings and celebrities.
The company keeps details of their clients confidential, so hardly anyone knows who buys their suits. This particular design was created by the company head himself.
4. William Westmancott Ultimate Bespoke
Price: $75,000
This is the second cheapest on our list. Hilarious, right!?
William Westmancott is a Savile Row bespoke tailor. He's probably the most expensive tailor in the UK. Westmancott has made clothing for Michael Jackson, the British royal family, and the Sultan of Oman.
His Ultimate Bespoke suits are expensive for many reasons. For a start, they're three or four-piece instead of just two-piece. Each one takes his team over two hundred hours to design, tailor, and finish.
The suits are made from ultra-lightweight fabric. They were initially designed with high-profile Middle Eastern and Russian tycoons in mind.
Westmancott suits are fully bespoke, meaning they're made to the client's exact specifications. Most involve over eighty hours of labor. This is due to the hand-cutting and stitching together of more than one hundred and seventy fabric pieces.
Every Westmancott suit comes with a unique guarantee. The company promises to carry out every adjustment and repair needed to keep the suit looking as good as new. All this is completely free of charge and for up to twenty years after purchase.
Plus, the company provides five complimentary bespoke shirts with every suit. Now, how's that for a bargain!
5. Brioni Vanquish II
Price: $43,000
This beauty is my personal favorite of the most expensive men's suits. The Brioni Vanquish II sells for $43,000. And for what you get, it's a snip.
Brioni is an upmarket Italian fashion house founded in 1945. Their high-quality, exclusive suits are made from the British luxury fabric, Vanquish 11.
Brioni is probably the best-known men's tailored clothing brand worldwide. The "power suit" was their original design, famous for the broad-shouldered, wide-chested jacket design.
The Brioni suits are made in the company factory in Italy and are almost entirely handmade. With over thirty proprietary detailing pieces, a typical outfit comes with cashmere-lined collars and double-stitched buttonholes.
Brioni's motto is "To Be One of a Kind," and they certainly live up to the claim. They use special luxury fabrics and services that most other luxury brands wouldn't dream of.
For instance, the Brioni Vanquish II suit is made from a rare mix of truly decadent fibers. The suits are limited to just one hundred and fifty of each line, which only adds to the suits' sheer elitism.
The company also strives to bring younger suit wearers on board. Brioni launched the Senato, for example, a narrow cut suit with no pleats in the pants, with great appeal for younger wearers.
Expensive Suit Brands You Can Consider
Suit style varies over time. So does the price. While some brands faded from existence, many luxurious and expensive suit brands continued to shine and bring grandness with their finesse.
Keep in mind that this is not a list in some specific order. It's just a personal choice of my favorite suit brands.
Tom Ford
When it comes to men's suits, Tom Ford is a master of designs. Tom Ford suits have always been considered a step forward in the fashion world, and I couldn't agree less.
Tom Ford is an exclusive and hot brand name, but so is its price. Most of the ready-to-wear (RTW) suits cost more than $5K. More if you're ordering a made-to-measure (MTM) suit.
Ermenegildo Zegna
Also known as simply Zegna, this brand produces one of the finest and most expensive men's suits in recent years.
Prices vary from $4K to $5K, but if you consider that Zegna makes the fabric on its own, I think the price is fairly justified.
Brooks Brothers
Brooks Brothers' suit costs around $2.5K. They have a long history of tailoring attire for US presidents and have built a highly respected brand.
Brioni
Brioni is becoming very popular nowadays since more and more Hollywood stars decide to wear this brand.
This Italian brand is crafting some nice bespoke suits, and one will cost you $6K to $10K. The perfect choice for men who want to wear the best this world has to offer.
Giorgio Armani
Armani suits are the perfect attire for any man. This brand was built by the dynamic character of Giorgio Armani himself back in 1975 and continues to shape the fashion industry ever since.
You can find an Armani suit for $3K+, a fair price to pay for such refinement. The attention they pay to create these modern-looking pieces of attire is simply astonishing.
What Makes the Difference
So, what is it that makes these suits so expensive? Well, firstly, they're bespoke. These are not the mass-produced, ready-to-wear suits you can buy off the rack in your local clothing store.
If you want one of these bad boys, you need to put a special order at a top tailor.
You'll then be invited to a fitting where you'll be measured in great and accurate detail. You'll discuss which material, cut, color, and style you want. Only when all this has been agreed upon will an individual pattern is cut specifically for you.
Are Expensive Suits Worth It?
Purchasing a bespoke suit involves multiple fitting sessions to ensure a high-quality fit. The finished product will cater exactly to your body type.
From shorter necks and sloping shoulders to an extra girth or small waists – there's no obstacle. You can rest assured your bespoke suit will have the perfect fit.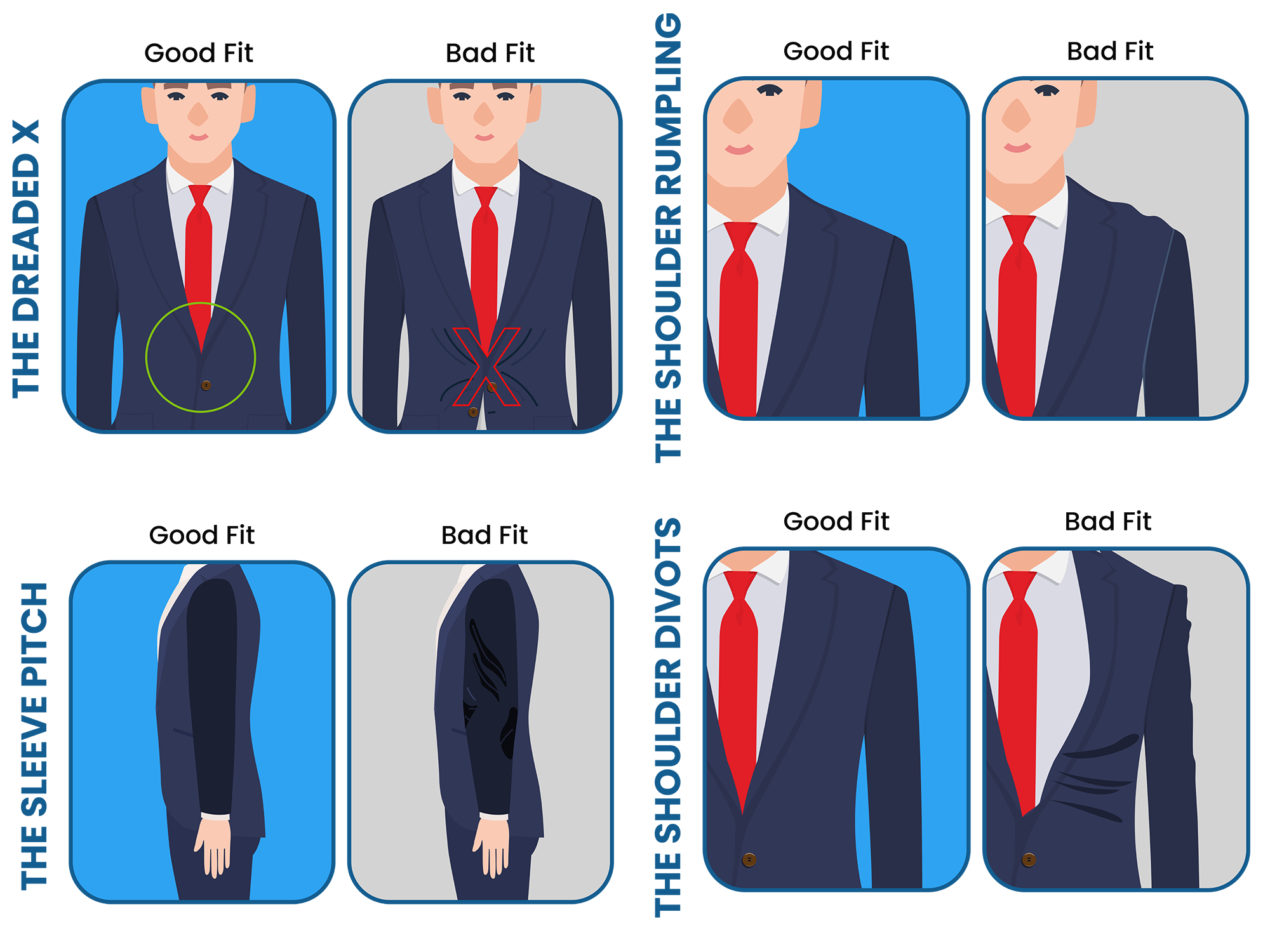 These prohibitively expensive suits are considered by many to be works of art. They are designed and created as one-of-a-kind pieces. Some of these suits take hundreds of hours to complete.
The meticulous process involves from-scratch designs, stitching, cutting, and the final embellishment of your bespoke attire.
It Is All About the Fabric
High-quality suit fabrics are the key to tailoring expensive attire. In fact, these suits are created from the world's best and most luxurious fabrics, imported from far-flung corners of the world.
Some are made from qiviut, for example, which is the inner wool of the muskox. This precious fiber from Peru is softer than cashmere and warmer than wool.
Other suits incorporate wool and silk-blend Dorsilk. This material is both lightweight and warm, and it drapes beautifully. Wool, cashmere, silk, and brocade are all used to produce these elegant creations.
Finally, the outfits come with a vast array of embellishments and intense detailing. Intricate piping and quality hand stitching are the norms. Depending on the customer's requirements, buttons may be solid gold or gemstones.
The most expensive suits are made of wool, cashmere, and silk. But that's just what you would expect. It also boasts nearly five hundred half-carat diamonds on the jacket.
Affordable vs. Expensive Suits
Of course, most of us simply can't afford to spend hundreds and thousands of dollars on a suit. But this doesn't mean we have to sacrifice looking good.
The trick is to buy the best suit for your budget, and with a few tips, you too can look like a million dollars.
First, it helps to understand the difference between an affordable and expensive suit. Affordable suits can be found in just about any department store, anywhere in the world.
They're completely machine-made and usually take a maximum of three hours to put together. There's no handwork involved, not even in the stitching of the buttons.
Low-end suits are manufactured from cheap fabrics, like polyester or nylon. They feel stiffer and less comfortable than a more expensive suit.
The material doesn't really 'breathe', and the lining will be of poor quality. Also, it will be glued rather than stitched to the outer fabric. It will eventually lead to 'bubbles' forming within the lining.
The suit price makes a difference in the small details too. For instance, the buttonholes are stitched first, then cut. This makes them prone to fraying. The trims, such as plastic buttons and polyester lining, are also poor quality.
Plus, the fit is always sacrificed in a cheap suit because they are cut from standardized patterns with no custom elements. One size certainly doesn't fit all. You get the idea.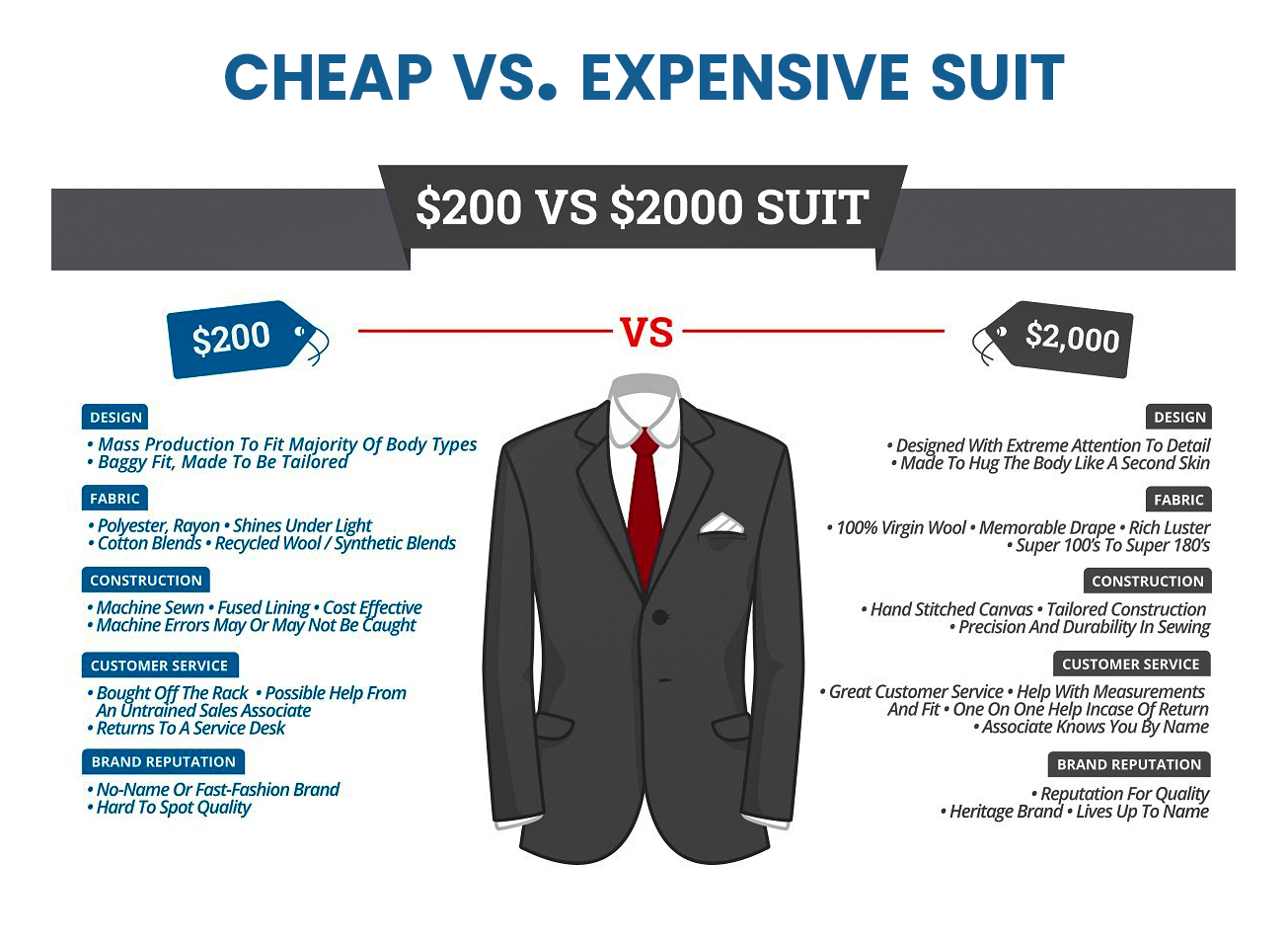 There's no need for despair, however. Affordable suits can look great, too.
Alternatives to Expensive Men's Suits
If you can't afford an expensive suit, you can still do a few things to dress well and look great. The best solution is to go for a made-to-measure, fitted suit.
This is certainly not the cheapest option. But if you shop around, you should be able to find a suit for a few hundred dollars. Remember, the right fit is crucial to achieving a high-quality and stylish look.
Buy a suit in a darker matt rather than shiny fabric. More than anything else, make sure your new suit fits correctly around the shoulders. It will instantly make your suit look expensive.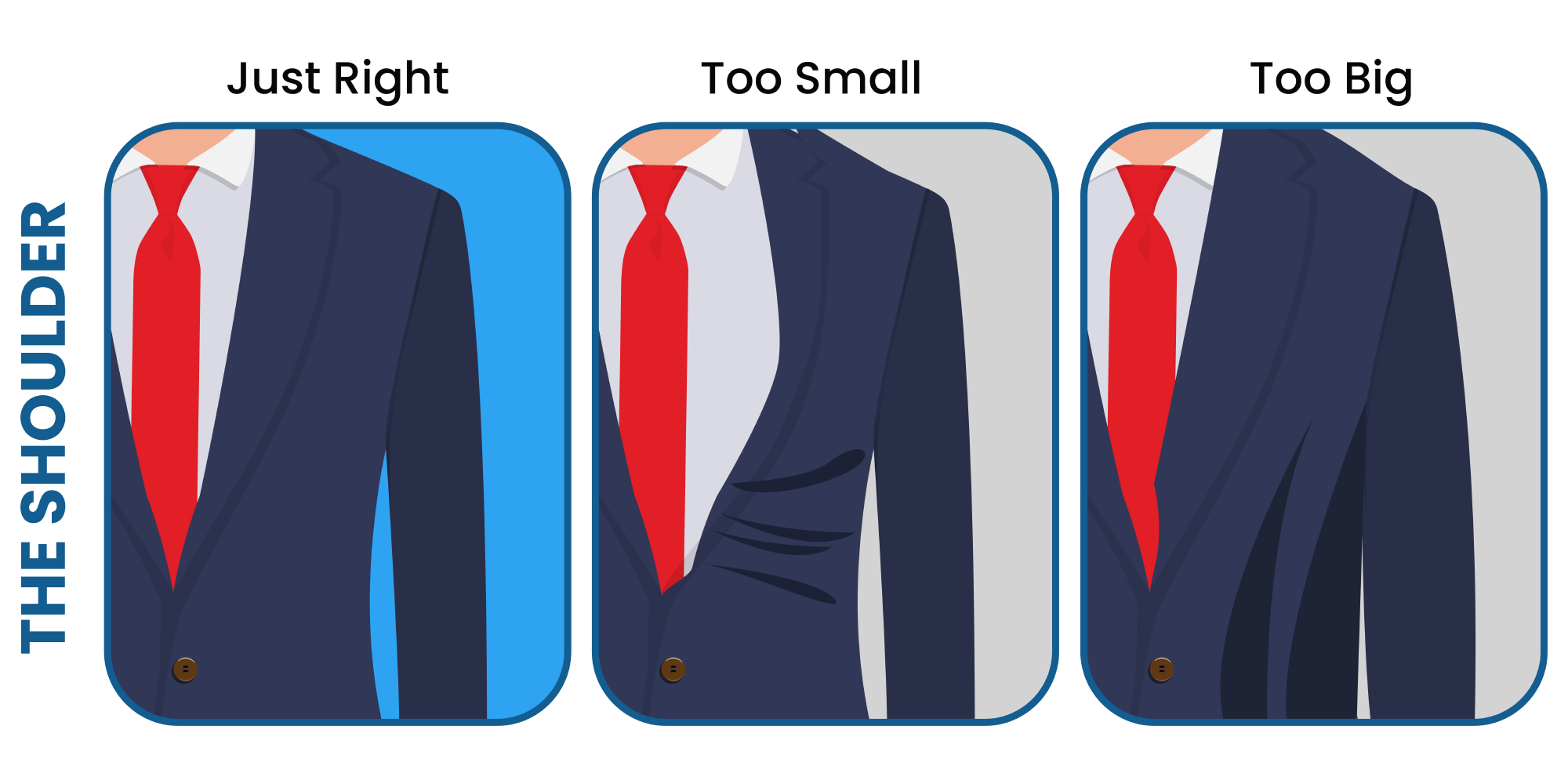 That's because the shoulders are the only part that cannot be altered. If your outfit doesn't sit well there, then nothing you can do will make it look right.
When putting your outfit together, stick to a monochrome palette for the suit, tie, and shirt. Add just one splash of flair, such as a pocket square in a completely different color.
Final Words
Looking good is not only about the price of your suit. It's about investing in the best you can afford.
It's always better to have one or two decent-quality suits in your wardrobe rather than a selection of cheaper outfits. Very few of us can afford to buy the world's most expensive men's suits.
But with a little care, effort, and insight, you can get something that will serve you well. It will also be comfortable and can look great for years to come.
Author: Alexander Stoicoff
Hi, I'm Alex, and I've studied and specialized in styling in Rome. Through my writing, I want to help men dress well and learn the purpose and significance of suits and other formal attire. My final goal is to make men more confident in their wardrobe choice and life in general.