If you've researched custom suits at all, you've likely heard of Hockerty. How much you know about them may be a different story.
There is a sea of online made-to-measure websites, so how can you know who you can rely on for durable, well-fitting, stylish clothing?
Purchasing from a website can be nerve-wracking. That's because suits are a big investment, and made-to-measure suits are a big gamble.
If it doesn't fit, it isn't just a quick trip to the store to make a return. You want to know you'll end up with a perfect fit.
Let's take a closer look at Hockerty suits so you can decide if you're ready to take the custom suit plunge.
Editor's note (October 2023 Update): Most of their customers are unsatisfied with the brand and calling them out for misfit and misrepresenting the material used to produce their suits. Proceed with caution!
Source: 1. 2. 3.
About Hockerty
Hockerty has been an online presence for custom suits since 2008. A couple of friends from Barcelona were frustrated by their lack of options for custom clothing.
Upon a trip to Shanghai, they took note of the flourishing tailoring industry there. The finished products were well crafted and of high quality.
The friends took matters into their own hands and began a company specializing in men's and women's made-to-measure clothing.
Hockerty now focuses on business wear, suits, separates, dresses, and coats. Newer additions to their catalog include more casual items, even jeans.
Although Hockerty may have started out of a bedroom, it has really expanded since then. It is now based in Switzerland, with offices located in Barcelona and Shanghai.
They serve over 250,000 customers and have produced over 1 million items. These numbers clearly indicate that Hockerty has amassed much return business.
Hockerty Suits – Online Ordering Process
Hockerty suits are completely customizable with the help of the site's 3D Designer. You can design your made-to-measure suit and see in real-time what you can expect the finished product to look like.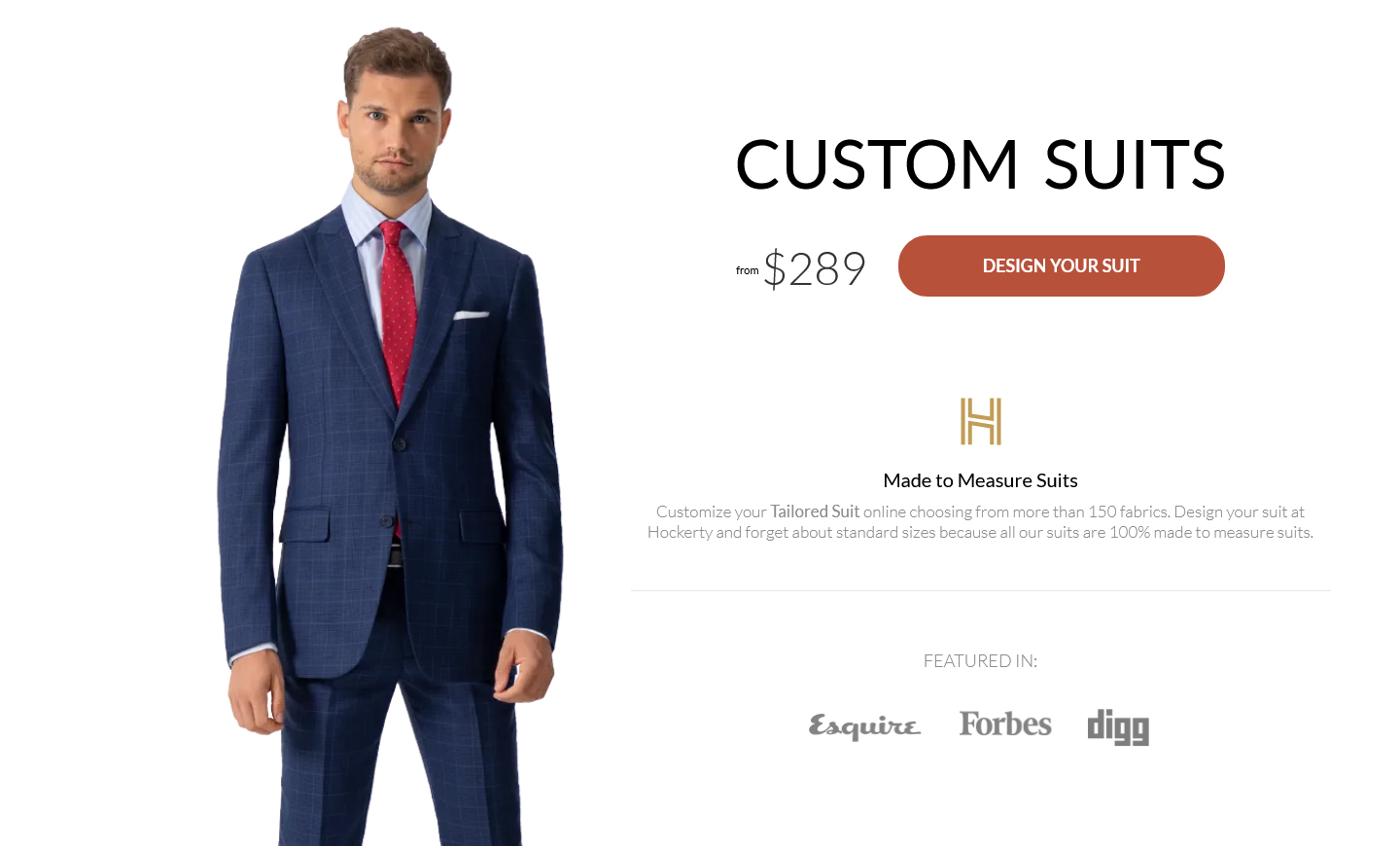 The design process is very easy; it's fun to experiment with designs and see the various styles you can create. You may even surprise yourself with a one-of-a-kind design.
The first thing you'll want to do is go to the suit section of the website. From there, you can browse Hockerty's custom suits collection or go straight to designing your own suit.
Next, you'll select which fabric you want and continue to build from there. With Hockerty's many design details, there is a lot to choose from.
You will also need to create your own Hockerty profile. This will help to determine your appropriate suit measurements. You can watch some of the videos Hockerty provides to help you nail your measurements.
Finally, you want to be sure to be as accurate as possible with your measurements to prevent headaches down the road. Don't have a tape measure? No worries. Hockerty offers a printable tape measure.
Choosing the Suit Type
Your first step in putting together your made-to-measure suit is selecting your suit type in the 3D Designer. Even if you choose a suit from the custom suit collection, you may still add in customizations if you wish.
Otherwise, Hockerty's suit designer will have you decide which type of suit you want to start with as your base. Also, you can pick from a two-piece, three-piece, or tuxedo.
Next, you'll choose how many buttons your jacket will have, whether it's single- or double-breasted, and even the lapel style. The 3D Designer will illustrate each of these choices to help you visualize your selection.
Choosing the Fabric
Because Hockerty offers 145 suit fabrics to pick from, narrowing down your favorite can be a bit of a challenge.
It is essential that you can filter the materials by color, season, and pattern. This may help make your choice feel less overwhelming.
The wide selection offers a range of natural (pure and blends) to synthetic blends. You can find wool, cotton, and linens among the fabric choices.
Certain fabric options may raise the cost of your suit. Hockerty is upfront about the pricing of each fabric, so there won't be any surprises upon checkout.
The pricing for each fabric is listed right on the information when you make your selection, so you won't miss it.
Customizable Jacket Style
Here is where you decide the fit and overall style of the jacket.
Designing your suit jacket is one of the times when Hockerty's 3D Designer comes in most handy. It can help confirm your decisions or let you see when certain things don't look the way you want them to.
The customizer starts with jacket basics. You decide if you want notch or peak lapels. Keep in mind that peak lapels are for more formal suits.
Also, you can choose if your jacket will have flap, patch, or welt pockets.
Looking for more customizations? Be sure to scroll to the bottom of the options to switch over to Hockerty's advanced view.
There, you'll find many more options, including fit. You can opt for a regular or slim fit for your jacket.
You'll also find more lapel options, such as a shawl lapel, and you can even adjust the width. There are more choices for pockets, too, such as straight or slant and breast pocket.
If these many choices are overwhelming for you, just stick to the simplified view for the basics. Hockerty will include the other options in their default settings.
Customizable Suit Pants
In the simplified view for Hockerty's suits customizer, you choose whether you want pleats and how many on your suit pants.
You'll also decide if you want to add cuffs and suspender buttons. They also give you the important decision of setting the rise for your pants. High, middle, or low-rise are all available, so consider your preference ahead of time.
When you switch over to the advanced view, further options await.
For example, you can decide how much of a trouser break you would like and what type of fit you are comfortable with. You can also change out how your pants fasten and design your pocket style.
Advanced Jacket Options You Can Customize
The advanced view is where all the fun Hockerty details are hidden. These are the minute particulars you may not immediately notice on a suit but they can make all the difference in personalization.
Jacket Pocket Style – You can take a deep dive into your pocket options. These choices are for discerning pocket aficionados. Aside from choosing the standard flap vs. welt style, you can choose if they should be straight or slanted. You can also opt for a third pocket, often called a "ticket" pocket. You can even choose to leave off the pockets altogether.
Jacket Sleeves – Determine the details, such as the number of sleeve buttons you have. You can even decide between buttonholes or no buttonholes. Again, these are minor details, but we all know how much the little things add up.
Back Vent Style – The default setting for a back vent is a center vent, but you can decide if you want side vents instead or none at all.
Breast Pocket – If you decide to place a pocket, you can opt for a welted or patch pocket. If you choose patch style, you can have one or two.
Internal Lining, Monogram, Button, Neck Lining – You can choose a custom color lining with many fun colors and prints provided. Another extra you can add is monogramming for the inside of your jacket. You choose the font and the color of the thread. You can also request a specific thread color on your buttons or a specific material for your neck lining. Another fun detail is that you can opt for elbow patches to achieve that "scholarly" look.
Hockerty Custom Made Suit Measurement System
Hockerty will create a profile for you based on your height and weight. They also ask you to provide your age for context.
After you've provided that information, you'll see a page that has illustrations of a male body.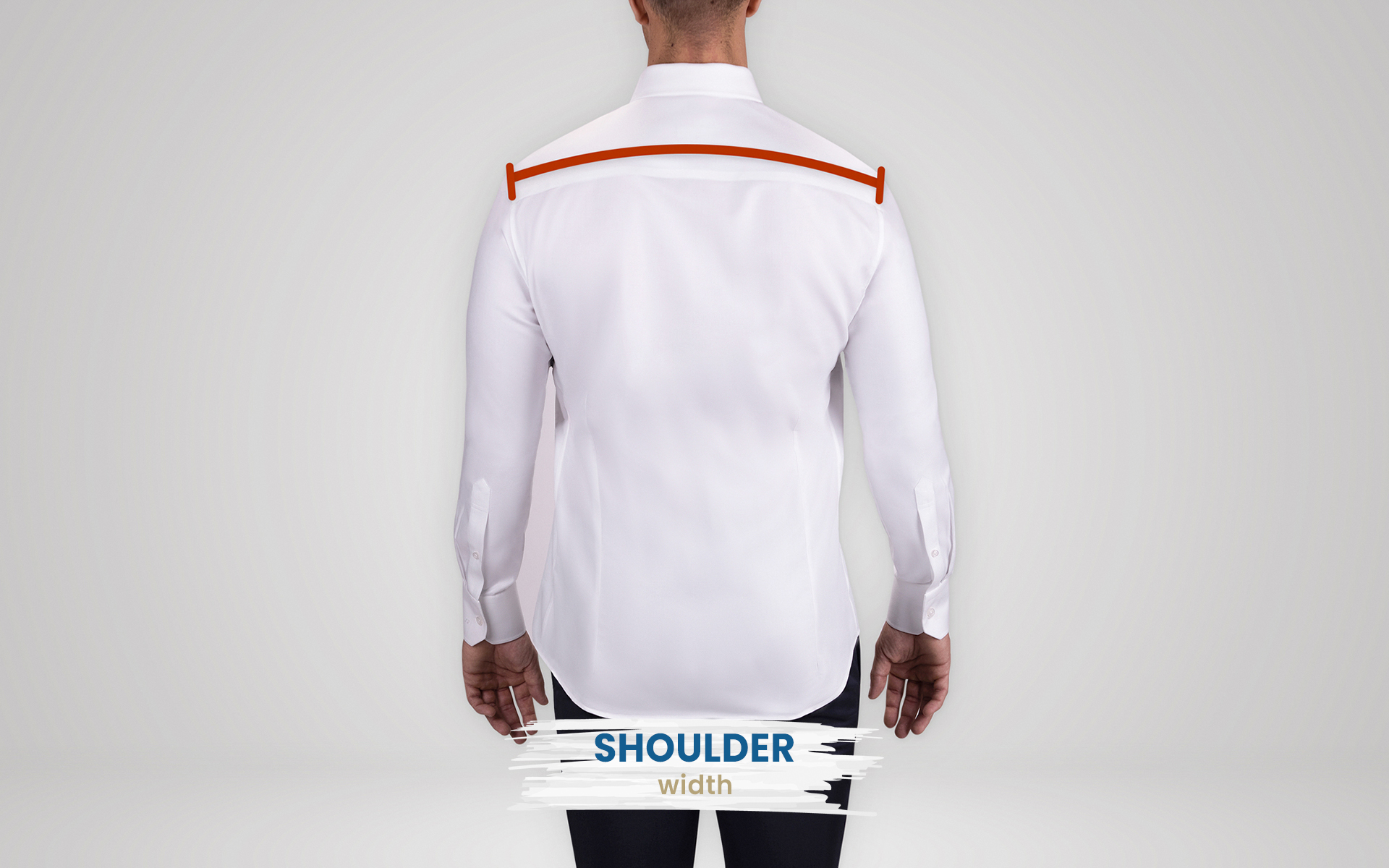 Hockerty will then help you define specific areas of your body to help get a more exact insight into how your suit should fall.
For example, using illustrations, the site will guide you through the slope of your shoulders, the size of your abdomen and chest, as well as your natural posture.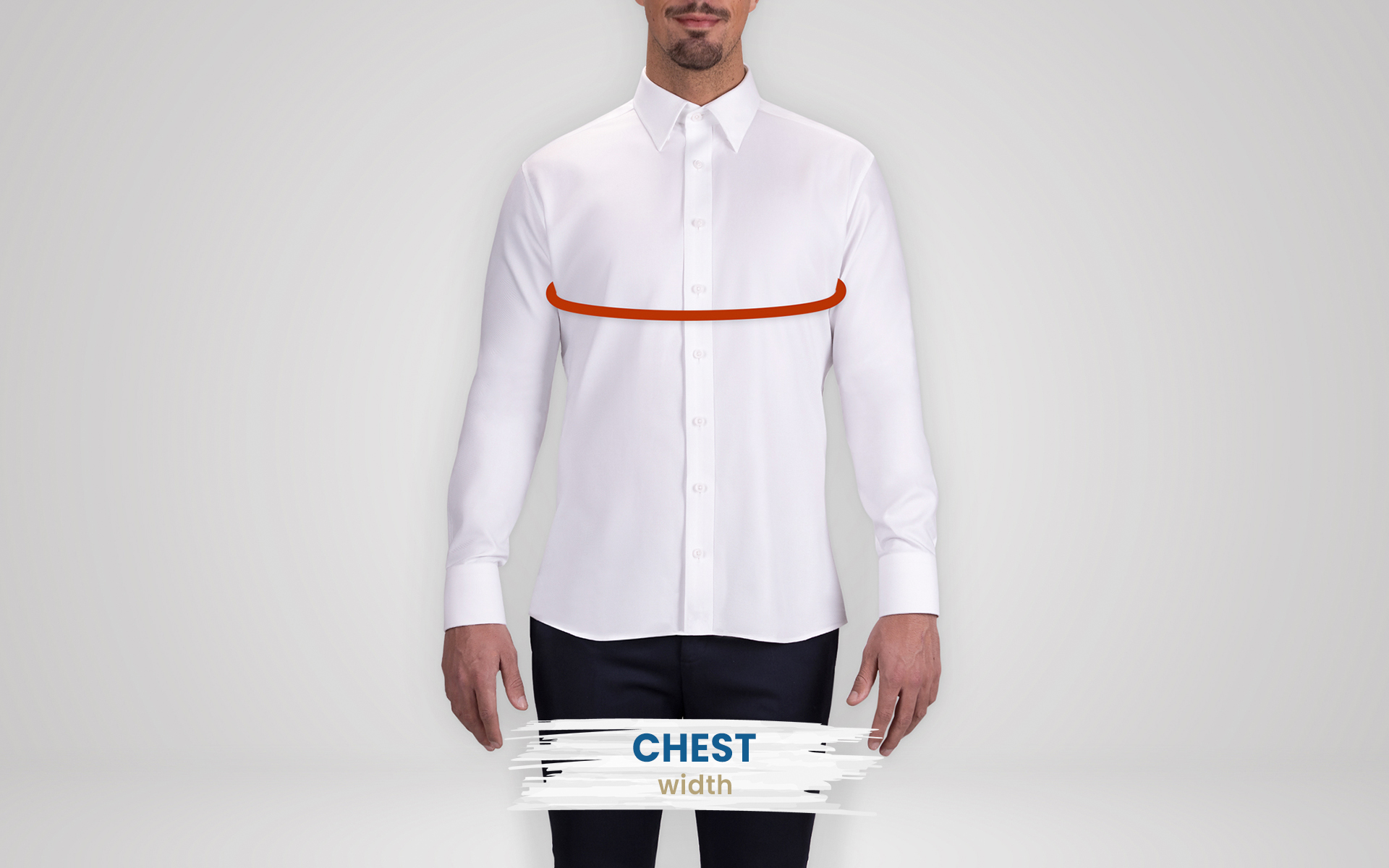 Hockerty then calculates your measurements and gives you their best guess for each specific body part measurement.
It's a high estimate and is generally pretty correct, but don't fully rely on it. Instead, do the custom suit measurements yourself and find the balance between your measurements and theirs.
Best Hockerty Suit Fabrics
With so many fabrics to choose from, it's understandable that you may not even know where to start.
For a small fee, Hockerty will send you fabric samples they use for the suits. That way, you can get up close and personally feel the fabric before committing.
Hockerty did send me some samples (disclosure: free for the purpose of this review) of my request. Here are my top five choices:
Tarantino for Black Suit
This black suit is 100% pure wool and an excellent year-round option. It is a mid-weight fabric and a middle range for warmth.
Pricing at around $700 for a suit, Tarantino is one of the most premium suit fabric choices that Hockerty offers. It may be among the most expensive, but it is also very luxurious.
Oberon for Navy Suit
Hockerty offers this fabric, which is a wool blend of 80% wool and 20% terylene. Oberon is a basic price point navy suit and is very affordable.
Oberon ranks at the mid-point for excellence, weight, and warmth. For a sober, classy navy-blue suit, you will find Oberon is a fantastic choice.
Yves Klein for Blue Suit
If you are in the market for a bright, pure blue suit, look no further. This Hockerty limited-edition wool blend is a unique fabric.
Though it is 80% wool and 20% terylene, Yves Klein is heavier, just like Oberon. It also comes at a higher price point, which is justifiable since it ranks high in excellence.
Sicilian Grey for Medium Grey Suit
This fabric is pure wool. It's a Super 100 wool, which is a grade based on the material's thickness.
A Super 100 rating signifies that this Sicilian Grey fabric is fine. It is a great choice for a year-round grey Hockerty suit.
Fitzgerald for Charcoal Grey Suit
Fitzgerald is a new fabric offering from Hockerty. It's herringbone grey made from pure merino wool, which means it's super soft.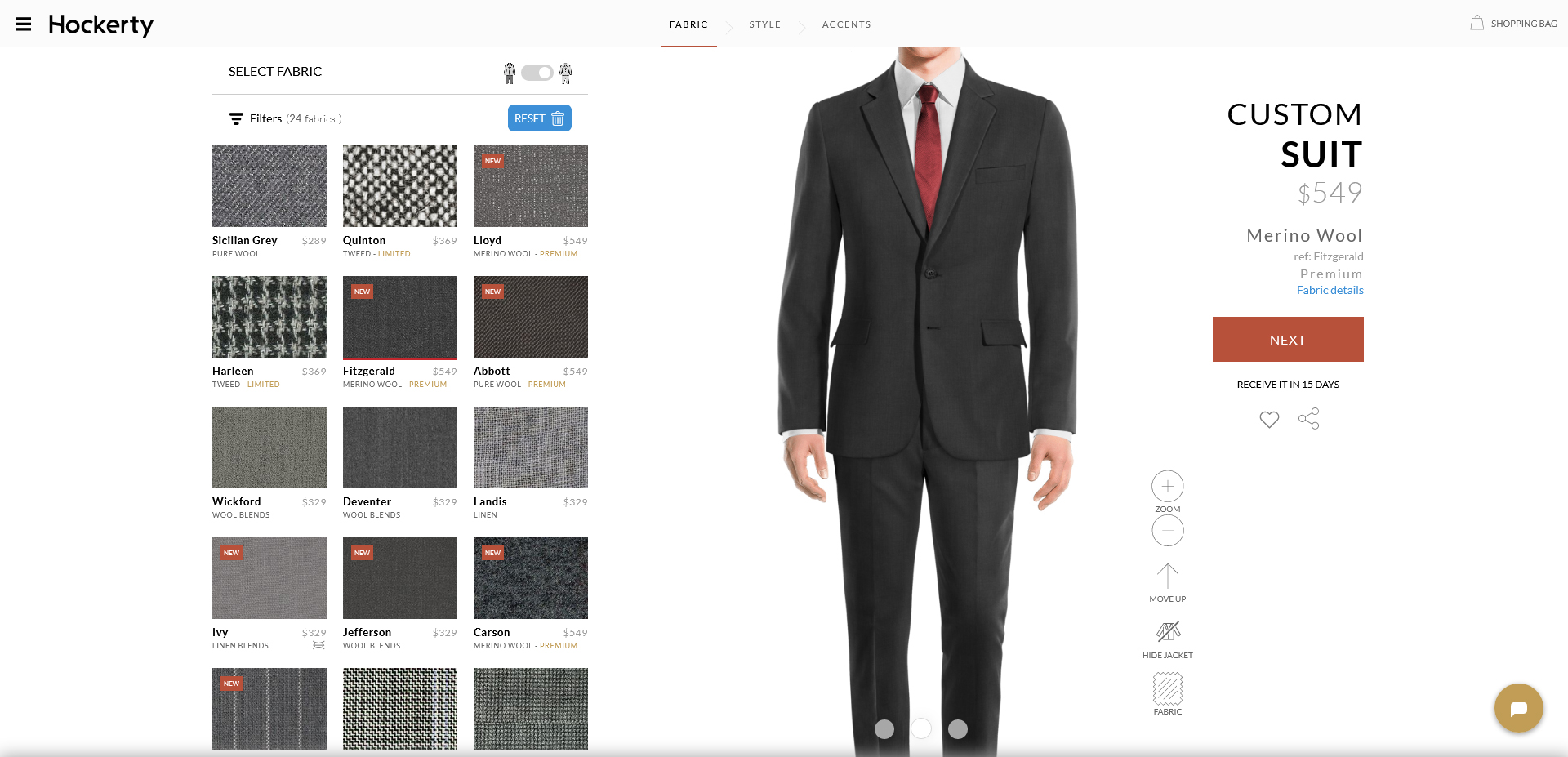 Fitzgerald is a year-round suit with mid-range weight and warmth. It rates very high on the excellence scale. Fitzgerald is a premium fabric, so it will cost slightly more than the basic fabrics.
Author: Alexander Stoicoff
Hi, I'm Alex, and I've studied and specialized in styling in Rome. Through my writing, I want to help men dress well and learn the purpose and significance of suits and other formal attire. My final goal is to make men more confident in their wardrobe choice and life in general.