There seem to be an infinite amount of suit styles and colors available today, so it's natural to wonder how many suits a man should own.
You might think you need to own a few hundred if you judge by suit company advertisements.
Thankfully, you don't need to take out a second mortgage to finance your suit collection.
Here's how to evaluate the appropriate number of suits you should have in your closet.
How Many Suits Should You Own
There is no correct answer to this question that will fit all men.
The number of suits a man should own is truly subjective, depending on many factors in his life.
The type of job you work, your social life, and even your hobbies will all influence whether you need more or fewer suits.
Undoubtedly, you need at least one or two suits in your closet. However, having a variety of suit styles, colors, and cuts may be helpful.
Wearing Suits To Work
You may need to wear a suit every day for your job, but that doesn't necessarily mean you need to own five of them.
However, it does mean you need to own more than one.
After all, you really can't wear the same suit to work every day. It's unfashionable, and it will get dirty pretty quickly.
The more suits you own, the more rotation of them you can have. This helps keep you looking fresh every day and preserves your suits' lives.
Spreading out when you wear them means each one will need to be cleaned less often; cleaning shortens your suit's life span.
You may not be able to afford a whole two weeks' worth of suits; even on full week's worth can be costly.
While ten suits is a bit too much, you should have more than two suits; so at least three to five.
You can make a few suits look very different with various dress shirts and ties or combine them as separates.
The Suit Lover
There is no limit to your suit passion, so you probably won't want to limit your suit ownership. The suit lover is only limited by budget and imagination.
If you are suit obsessed, you likely wear a suit every day or at least every chance you get.
Therefore, you can probably justify owning one in each major color, pattern, and cut.
You may even own the same suit in single-and double-breasted versions. So we say go for it!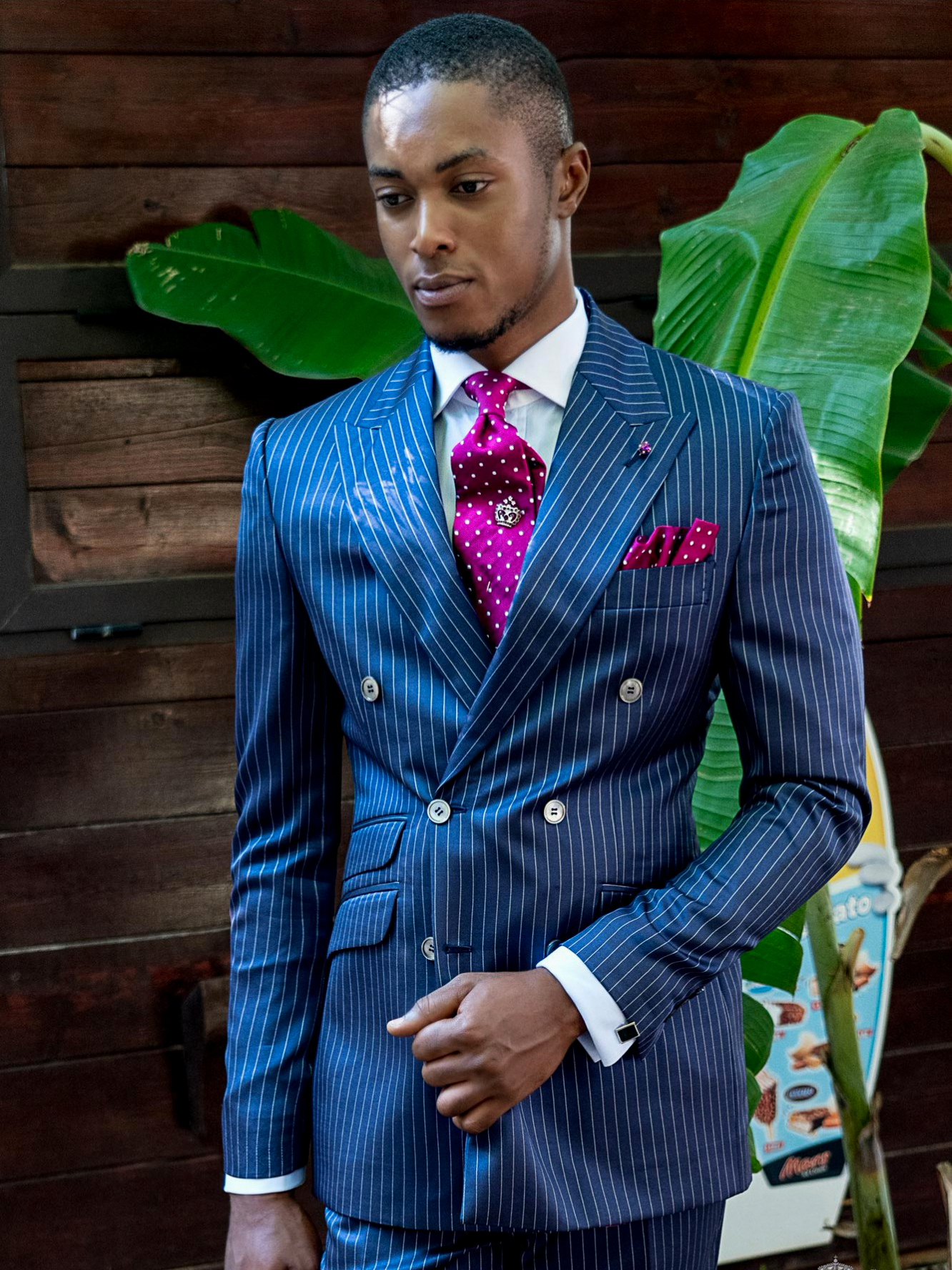 You can fill your closet if this describes you. Besides, somebody who is passionate about suits isn't likely to wear much else.
So limiting yourself to three suits would be like only eating the three same meals every day.
Wears Suits Only to Formal Events
Suits aren't every man's jam, and that's perfectly fine. However, every man wears a suit once in a while, whether he likes it or not.
So it's wise to own at least one excellent, high-quality suit you can feel good about wearing when you must.
It's smart to own at least one dark suit if you never wear suits unless you have to. It should be a simple and traditional suit that isn't trendy and likely to go out of style.
Look at suits in a year-round fabric, like worsted wool. That way, you are covered no matter what time of year you don your suit.
It won't be too heavy for summer, but you won't freeze in the dead of winter, either.
A dark, single-breasted suit is the most versatile choice. Dark-colored suits can be dressed up or down, but it might be a good idea to steer away from black.
It's such a formal color that you're limited in your uses for it; instead, opt for navy or charcoal, which are pretty versatile.
The Basic Suits a Man Has to Own
At the heart of every suit collection, regardless of how large or small, there are a few suits that should be your foundation.
These few, well-chosen suits can serve you for nearly any suit-worthy occasion, and you can rotate them to make them go further.
Dark, neutral shades are the most versatile and useful suit colors you should always have.
The Navy Suit
Navy is perhaps the most essential suit color to have, and you might want to consider starting with this as your first suit. It wins the "most versatile suit" competition.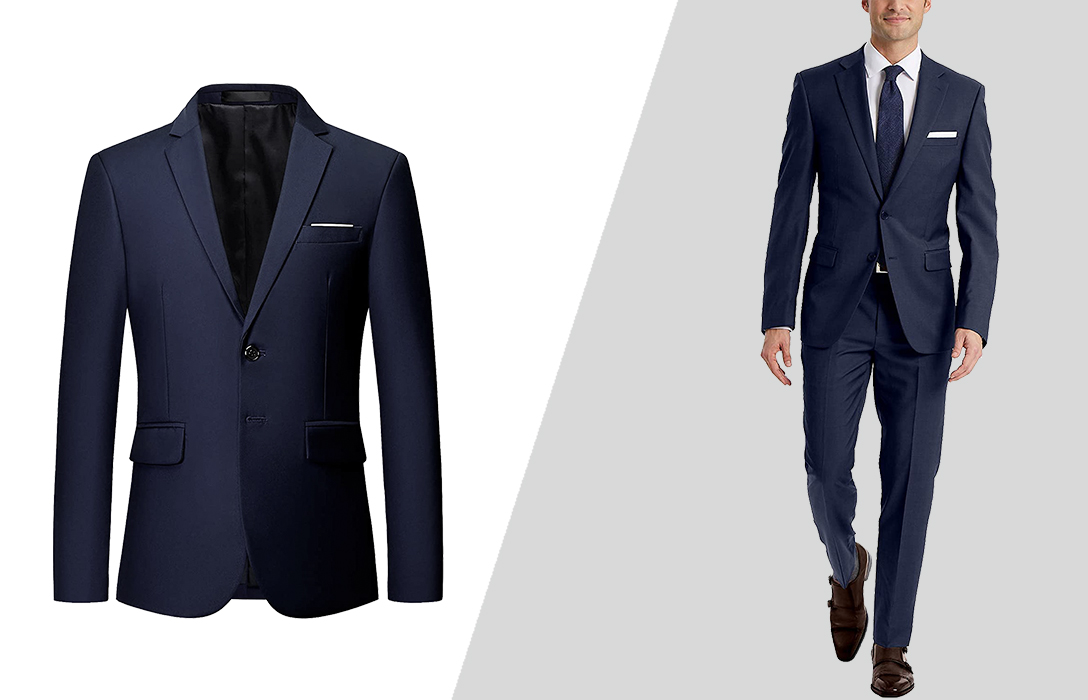 A navy suit is perfect because it's highly professional and polished looking. It's a serious suit but never comes across as stuffy.
Even better, navy is a color that is flattering on all people. And it's flexible enough that you can wear it day or night.
A white dress shirt is mandatory with a navy suit if you want to dress it up as much as possible.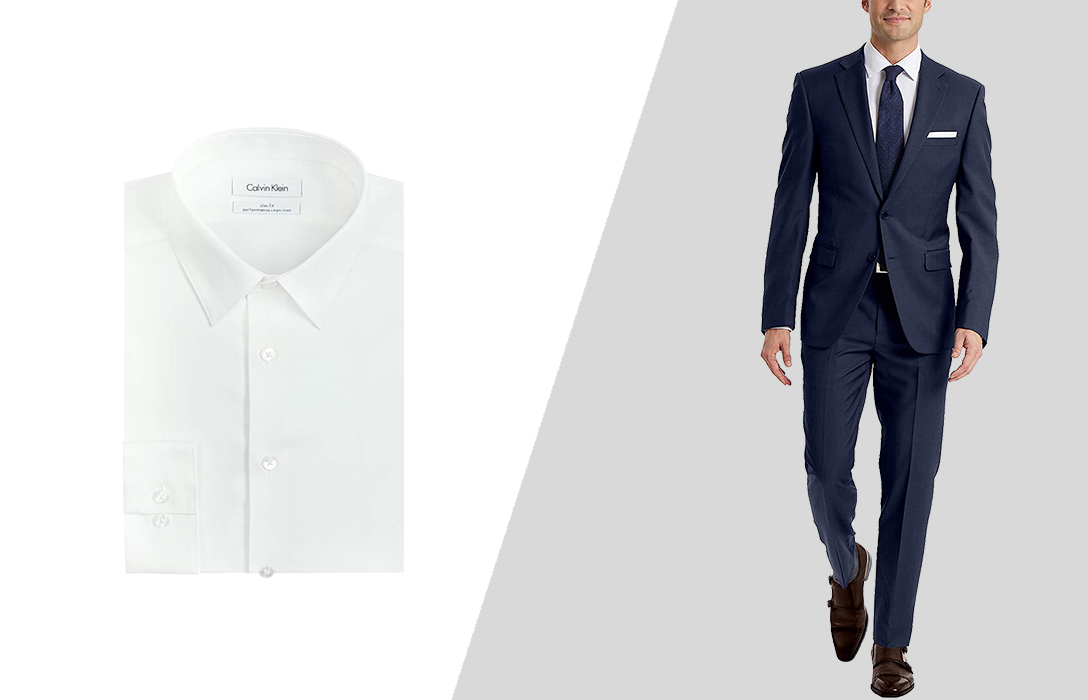 The white dress shirt is stunning against the dark navy because the contrast in the two shades plays off each other very well, complimenting each other.
However, if you want to lighten the mood of your suit, a pale pink-colored dress shirt is an excellent way to bring down the suit's formality.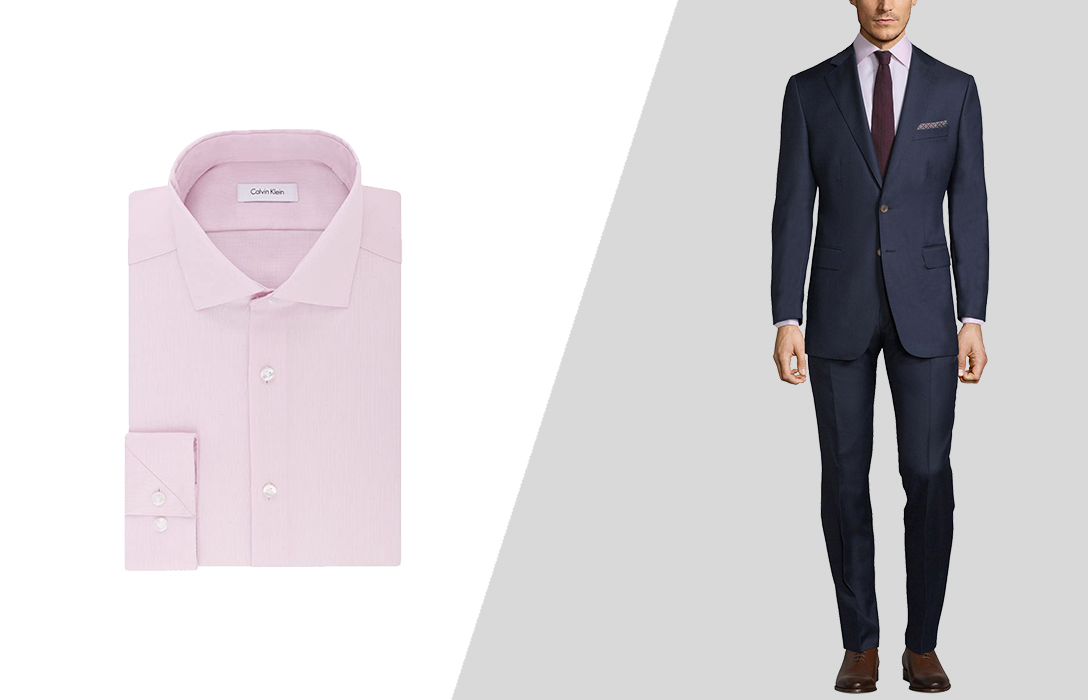 Be sure to check out our complete guide on how to style your navy suit.
The Charcoal Suit
Charcoal suits are among the gorgeous suits you can buy. They make their wearer look suave and amazingly elegant.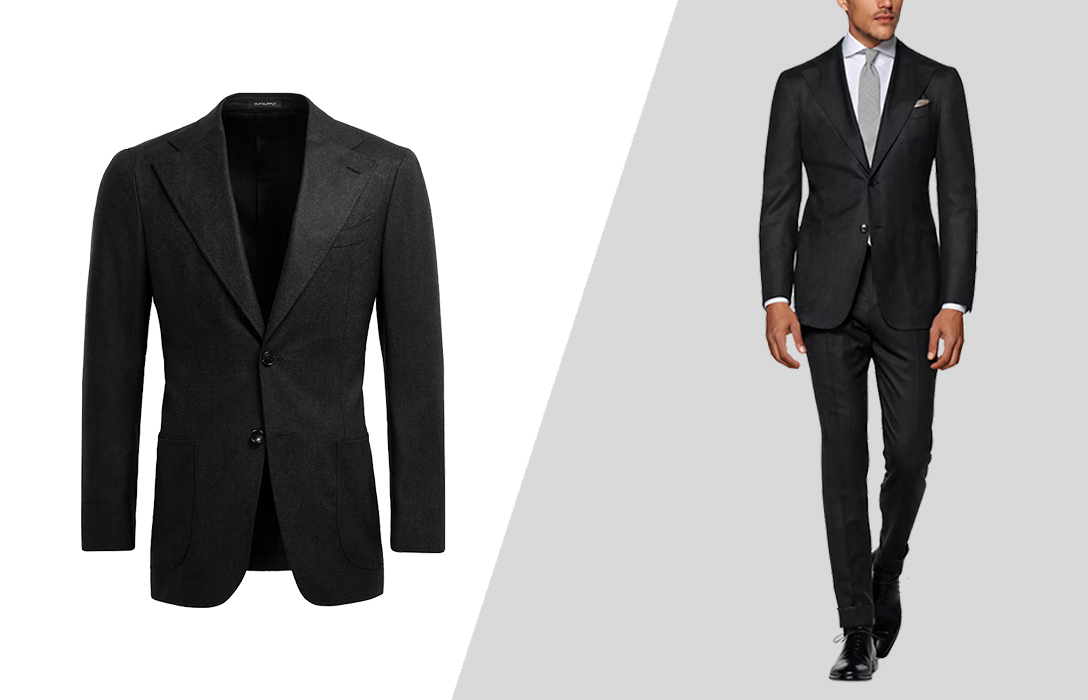 Charcoal is just as professional as navy for suits and is fantastic in a corporate setting. However, charcoal suits also happen to be super stylish.
Again, if you want to look your most professional and formal, wear your suit with a white dress shirt. It has the same effect with charcoal as with a navy suit.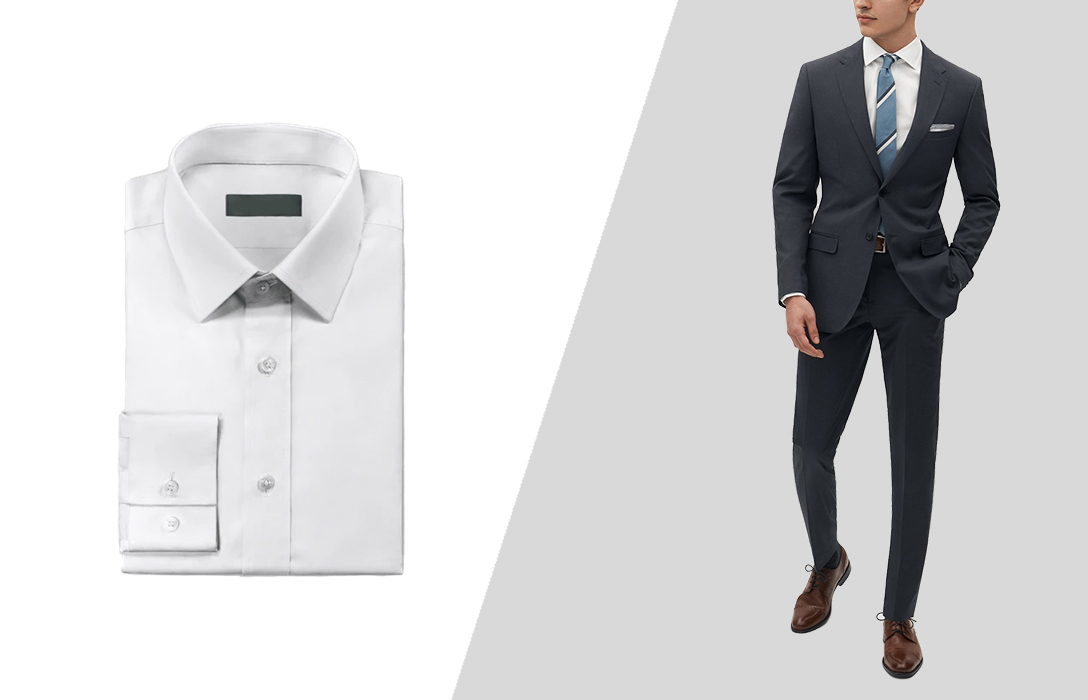 But a light blue dress shirt can be an excellent substitution for an unexpected yet professional take on a charcoal suit.
It's a touch more relaxed but pairs very well together.
A subtly patterned dress shirt is another terrific way to dress down your charcoal suit.
In general, dark ties will help make your suit feel more professional, while lighter ones are good for more informal settings.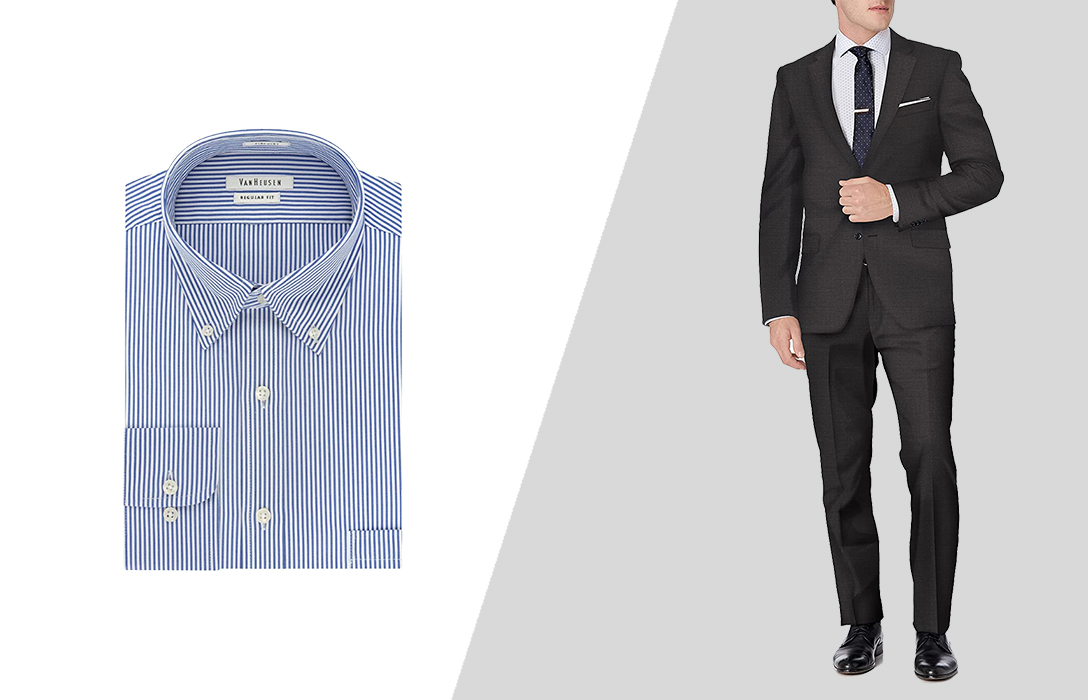 The good thing about charcoal is that it's a neutral shade, so nearly any color tie is a good match.
Again, you can find our full guide on charcoal suits for more ideas.
The Black Suit
The absolute most formal suit you can own is a black one. It isn't as versatile as navy and charcoal suits, but it is ideal for all formal events and funerals.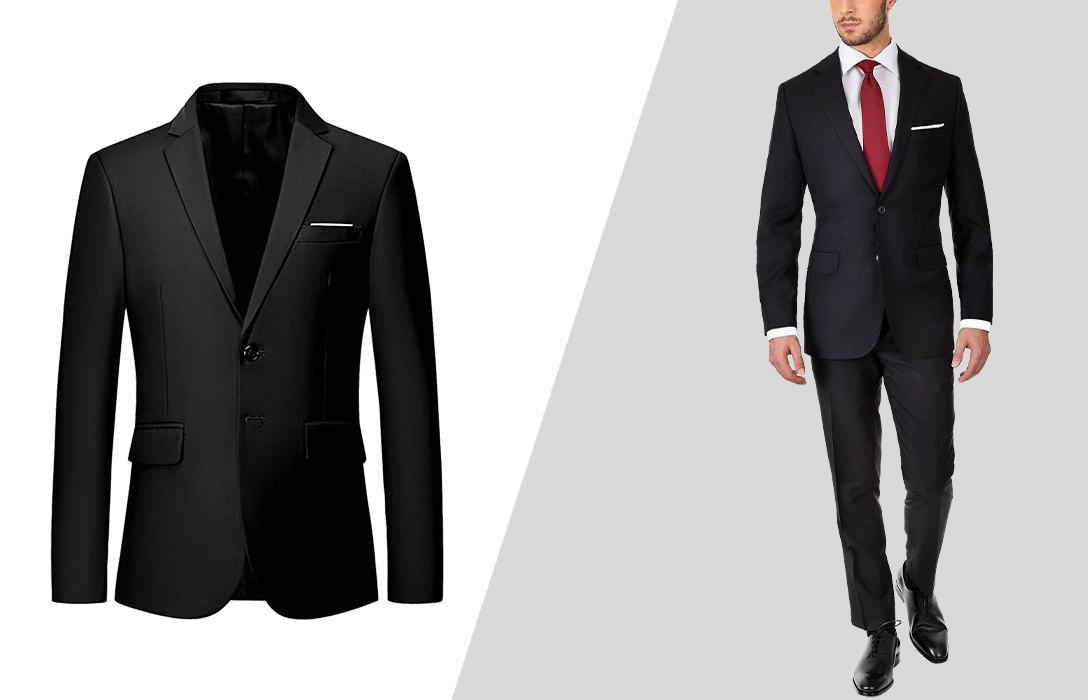 However, this isn't exactly a suit that should be your top choice for the office. It's a bit too severe for daytime wear.
Naturally, a white dress shirt is required if you're dressing formally, especially for a black-tie event.
Otherwise, you can wear a different shirt color with your black suit if you want to dress it down for other social events.
A black dress shirt creates a modern, monochrome effect and looks really cool.
If that's a bit out of your comfort zone, try a pale blue button-up dress shirt for a relaxed evening look.
If you want to be as informal as possible, slip on a crew neck t-shirt for a remarkable contrast in super contemporary style.
Don't miss our guide on styling black suits for more ideas.
What About Patterned Suits?
Patterned suits can be a lot of fun and look surprisingly sophisticated.
However, they are more casual and less versatile than most solid-colored suits. Still, checkered suits are a great way to mix things up.
Pinstriped suits are some of the most favored and formal pattern types.
However, they're still eye-catching, so you can't wear them frequently as you might wear solid suits.
That's why it is smart to keep your designs subtle; you might be able to put it into your rotation more often if it isn't loud and flashy.
Patterned suits, whether it's checks or pinstripe patterns, are also terrific for creating separates.
Mixing the patterned pieces with pieces from your solid suits makes your wardrobe go even further!
Why Should You Own a Suit?
Face it; unless you live in the woods as a hermit, you will have events throughout your life that require you to wear a suit.
Whether you need to wear it to match a dress code or make a good impression, wearing a suit shows professionalism and respect.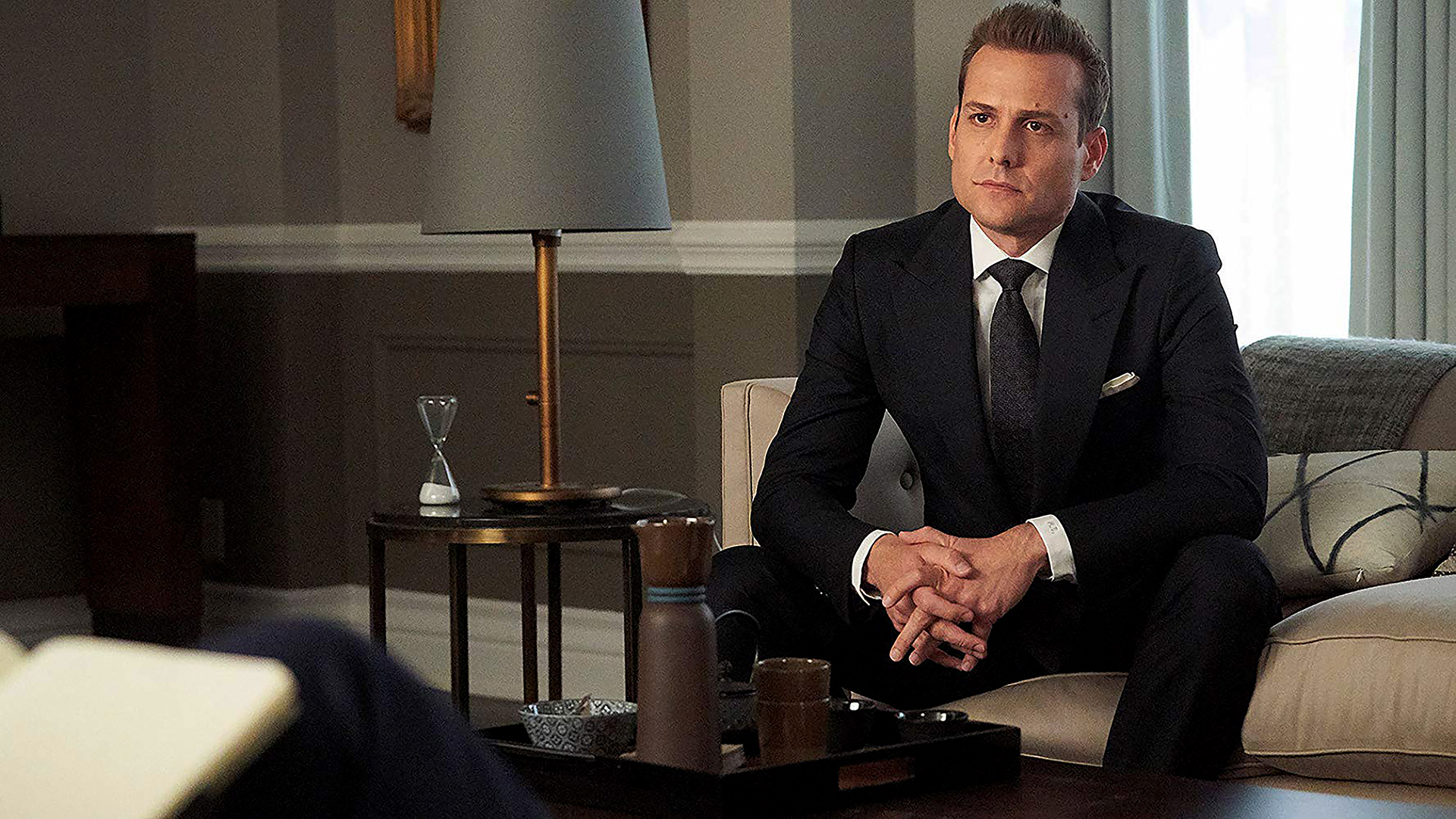 Events where you want to make a good impression might be job interviews or big work meetings.
Unfortunately, you can't make a good impression on potential employers or clients if you don't show that you can be professional.
And jeans or track pants do not cut it in the world of professional dress codes.
As a bonus, the right suit makes you feel good about yourself!
When you know that you look good in a high-quality suit that fits well, you find an inner confidence that isn't always present.
And that can affect how you carry yourself, extending the good impression you make on others.
Consider the Suit Fit & Go For Quality
The most crucial aspect of your suit isn't the color or the cut but its quality and how it fits. So, it doesn't matter how many suits you own but how well they are made.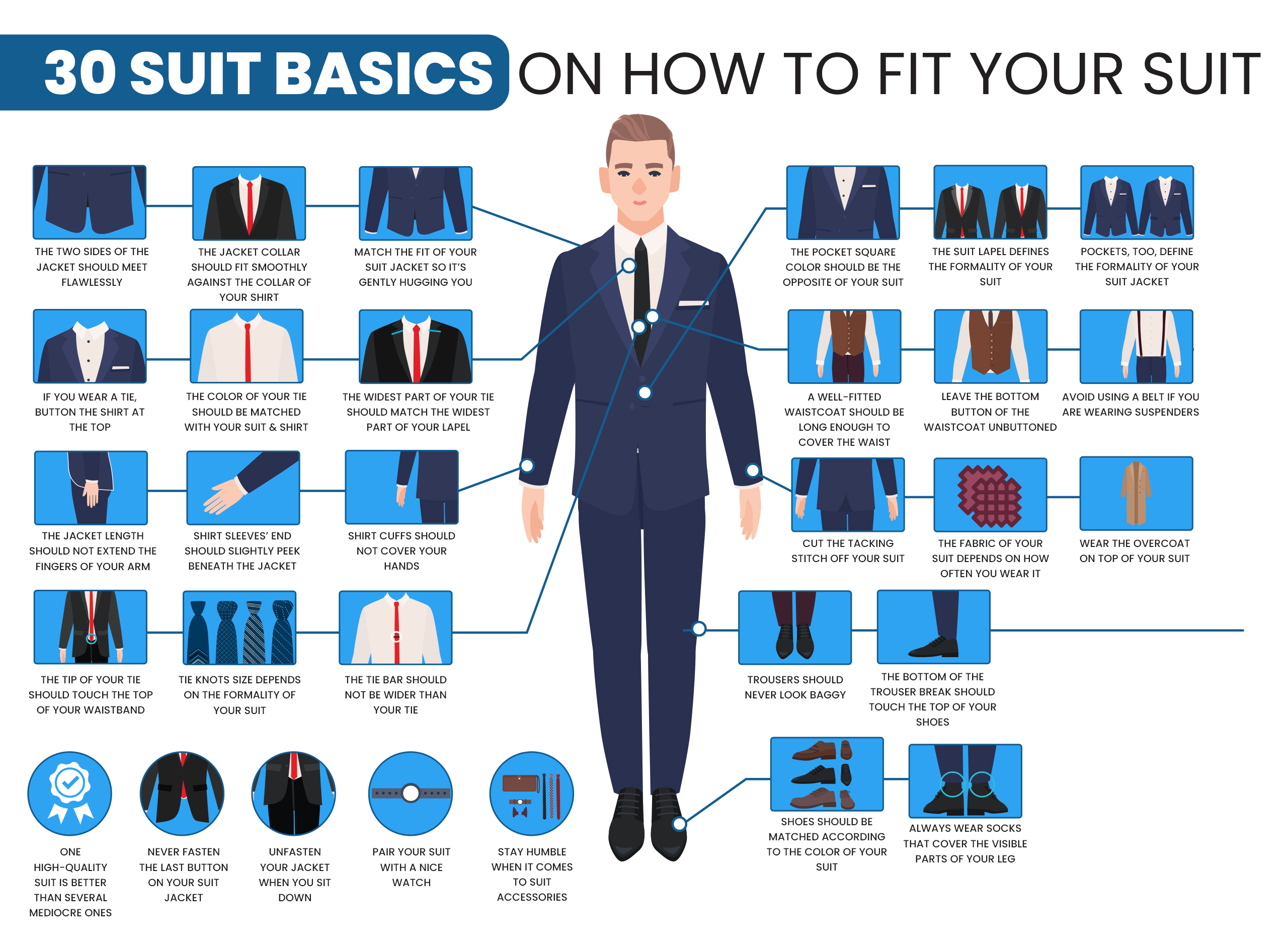 A poorly-made suit looks cheap. Unfortunately, it can have the opposite effect of what you're going for; instead of looking qualified for your role, you could end up looking unprofessional.
However, a high-quality suit makes an impression on others. It shows that you take pride in your appearance and pay attention to detail.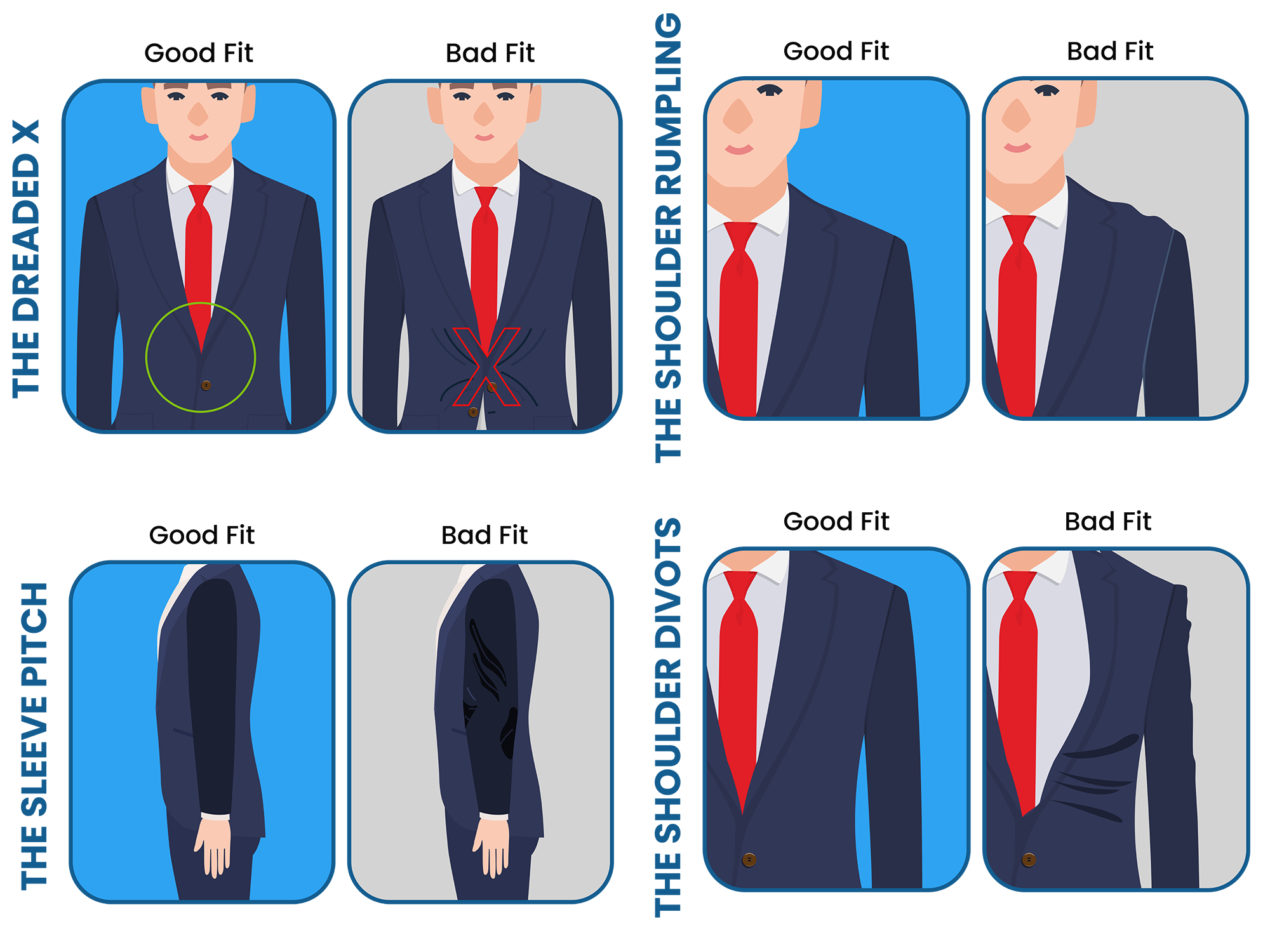 And it's vital that your suit fits well. An ill-fitting suit distracts others and could have a clownish effect.
So if you want to be taken seriously, be sure your suit is a perfect fit.
Author: Alexander Stoicoff
Hi, I'm Alex, and I've studied and specialized in styling in Rome. Through my writing, I want to help men dress well and learn the purpose and significance of suits and other formal attire. My final goal is to make men more confident in their wardrobe choice and life in general.