Knowing how to dress well isn't a skill that men are born with.
Some men may have a natural talent for it, but most of us could use some good style advice every now and then.
Thankfully, we can learn how to dress well to always be at the top of our fashion game.
A Well-Fitting Suit Elevates Your Game
In the world of fashion, fit is king. It doesn't matter how excellent your taste is in clothing; if it doesn't fit you perfectly, your clothing becomes a distraction.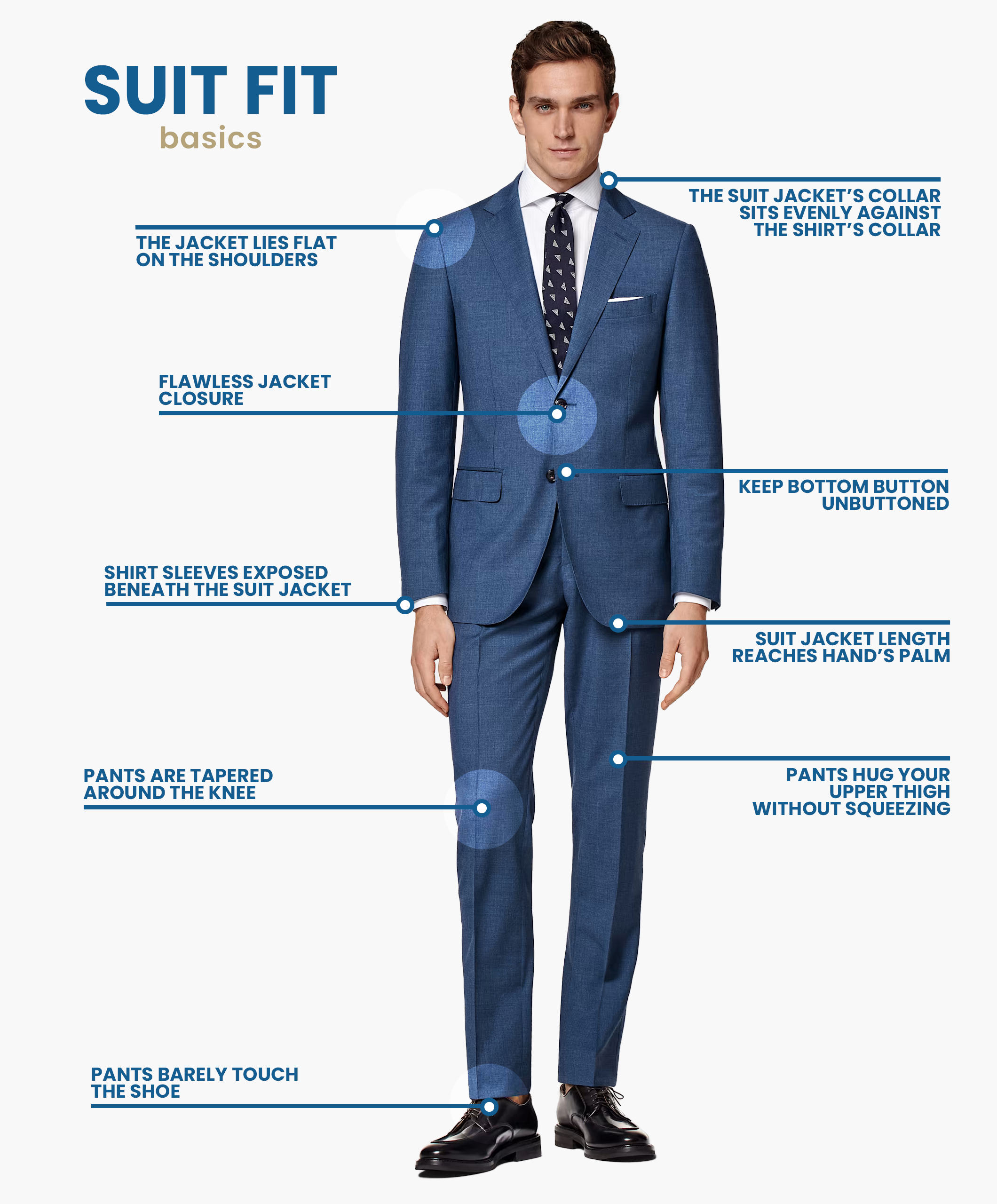 A suit that is too large on you can make you appear as if you don't know what you're doing or playing dress up.
But one that's too small can make you look like you've gained weight. All hemlines should hit the appropriate points on your body.
Check your shoulder seams to ensure they fall at the tips of your natural shoulders, and examine how much room you have in your chest and waist.
Keep it Simple with Neutral Colors
While there's a time and a place for bright, flashy colors, neutral colors are always appropriate.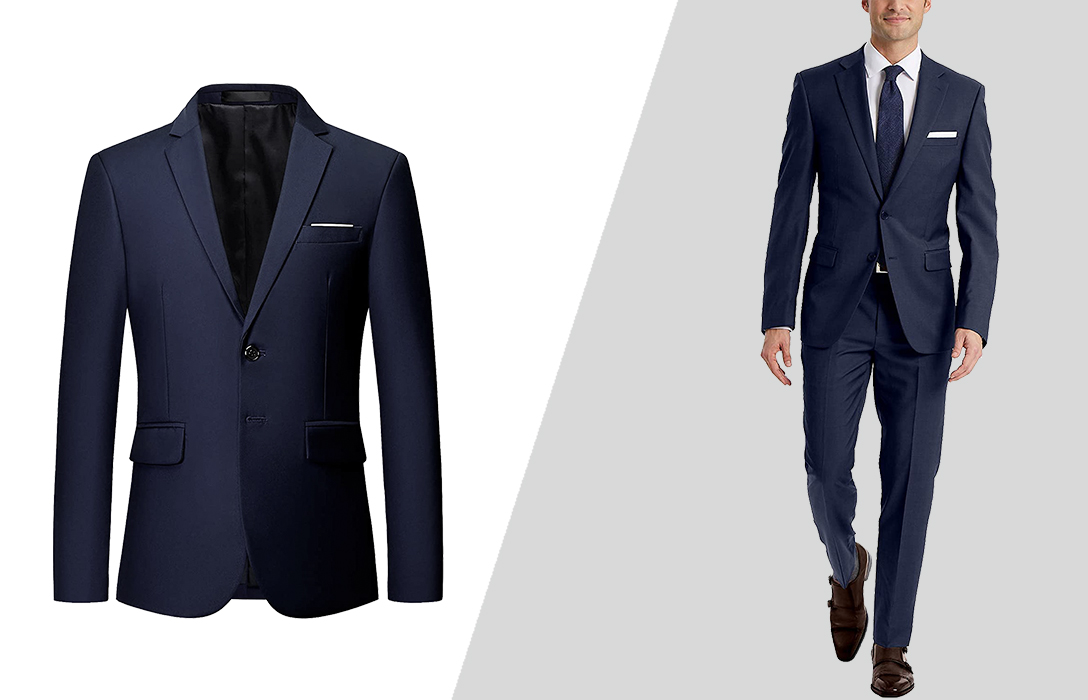 Keep your wardrobe accessible and versatile by sticking with the basic shades for a conservative look. For suit jackets, that would be dark colors like navy, grey, and brown.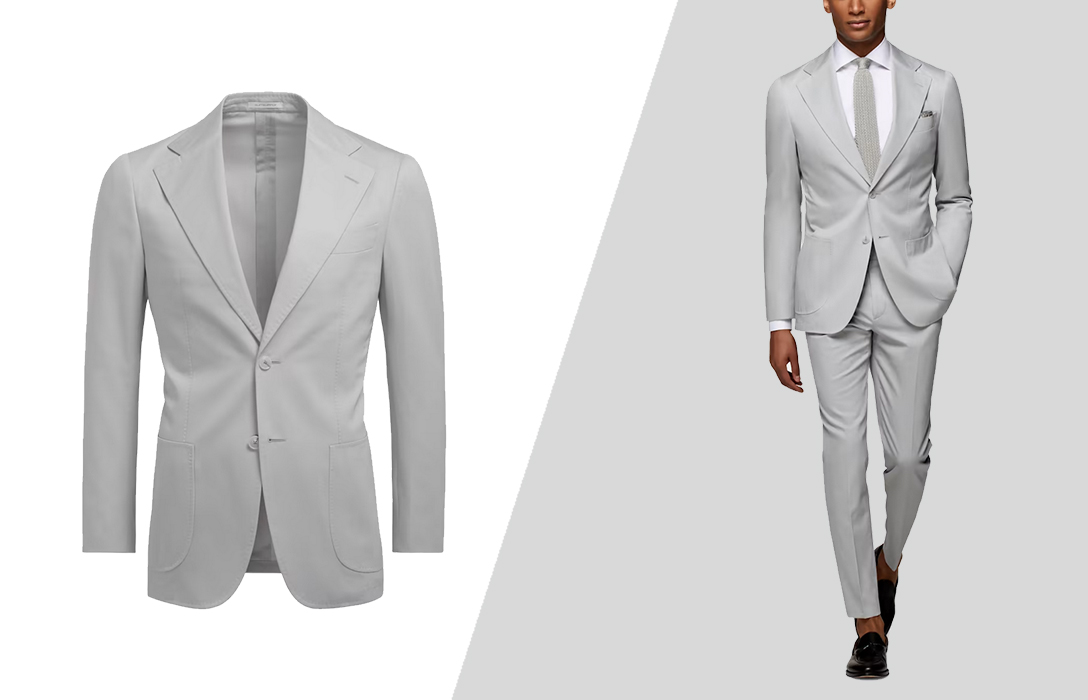 When it comes to dress shirts, choose colors like white, light blue, or other pastel shades.
These colors can be dressed up or used in casual outfits. Not only do these colors work in nearly any setting, but they're also very easy to match with most other shades.
But don't worry that you'll appear dull or boring. You can always spice things up with a statement piece or accessory that adds a dash of color.
Embrace a Timeless Style
It's important to make you look good when dressing. But at the same time, it's essential that you stay true to who you are.
Don't dress in a style you think is the right way to dress; develop a personal style.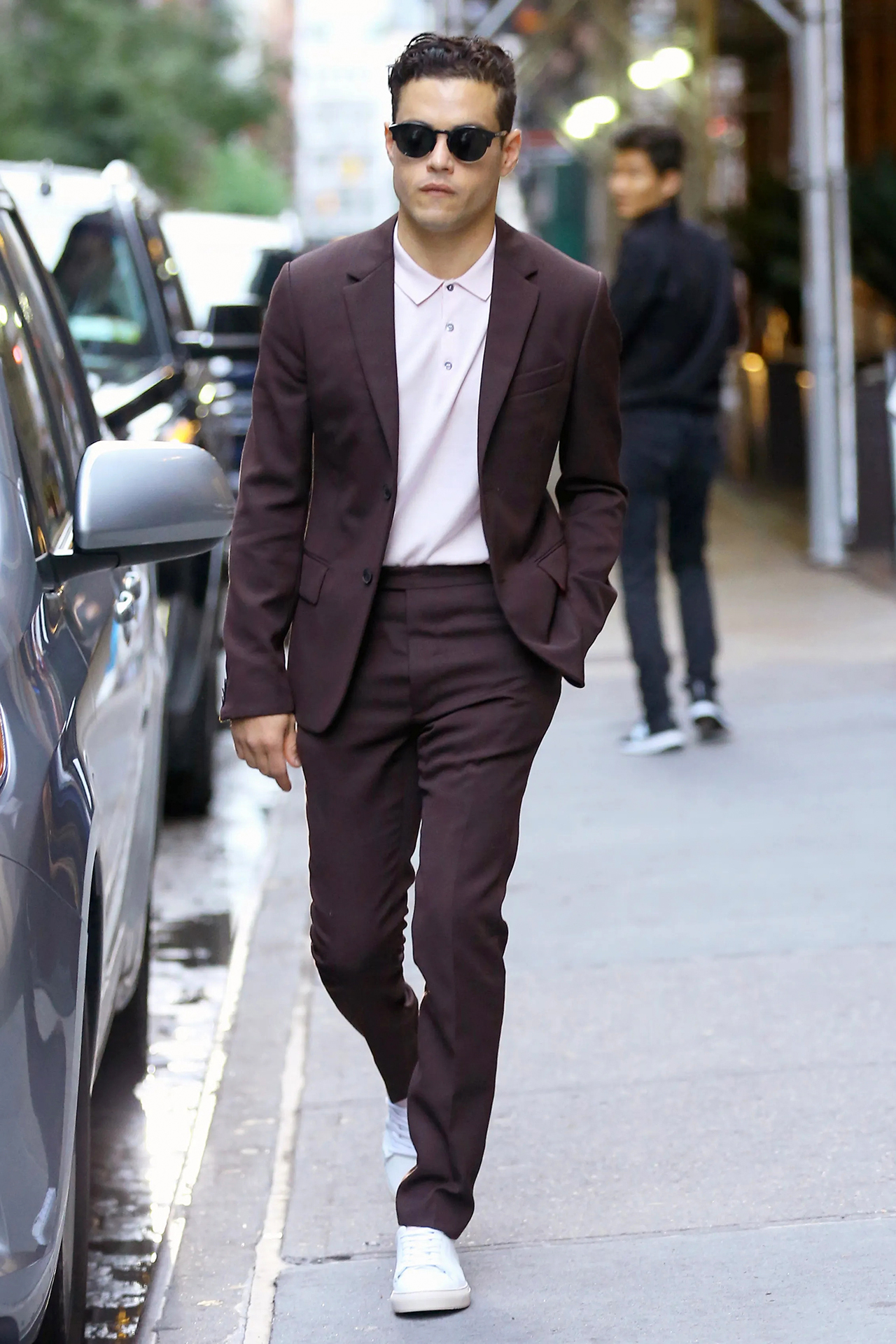 Self-expression is a vital part of dressing with confidence. Look around before building your wardrobe.
What looks are you drawn to? Does your look fit your personality?
For example, if you're a laidback, down-to-earth type of guy, a hot off the runway, ultra-modern wardrobe won't likely work for you.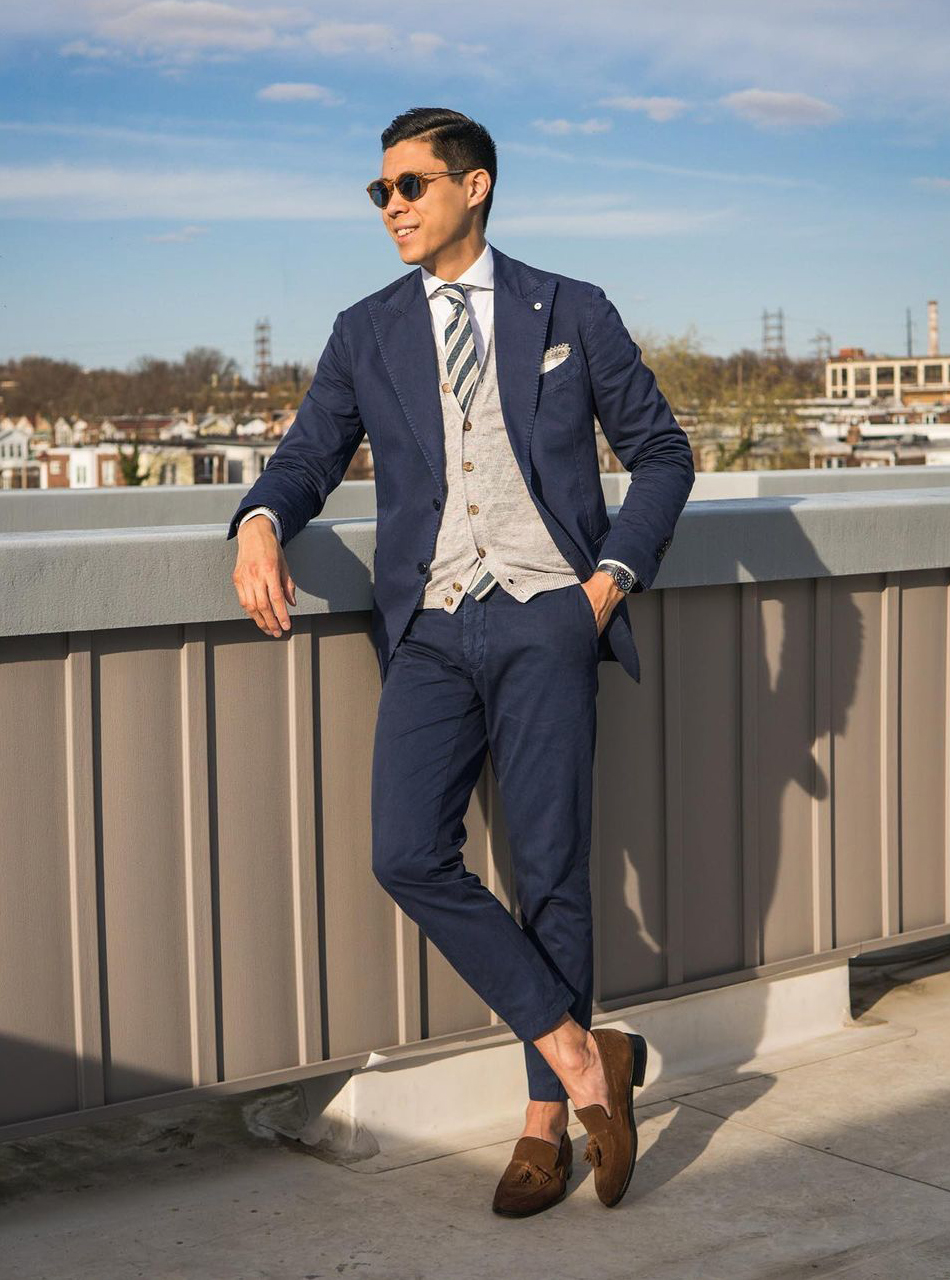 In that case, a classic style would be your best match. Consider going for a nice suit and other timeless key pieces of clothing.
Always Dress for the Occasion
Part of dressing well means looking appropriate for your setting. Standing out from the fashion crowd can be a good thing, but not if it's for being over or underdressed.
If you arrive wrongly outfitted, it can be a blow to your confidence. Before picking your outfit, consider whether there's a dress code.
For example, formal dinner events follow a strict black-tie dress code, where men are required to wear a tuxedo.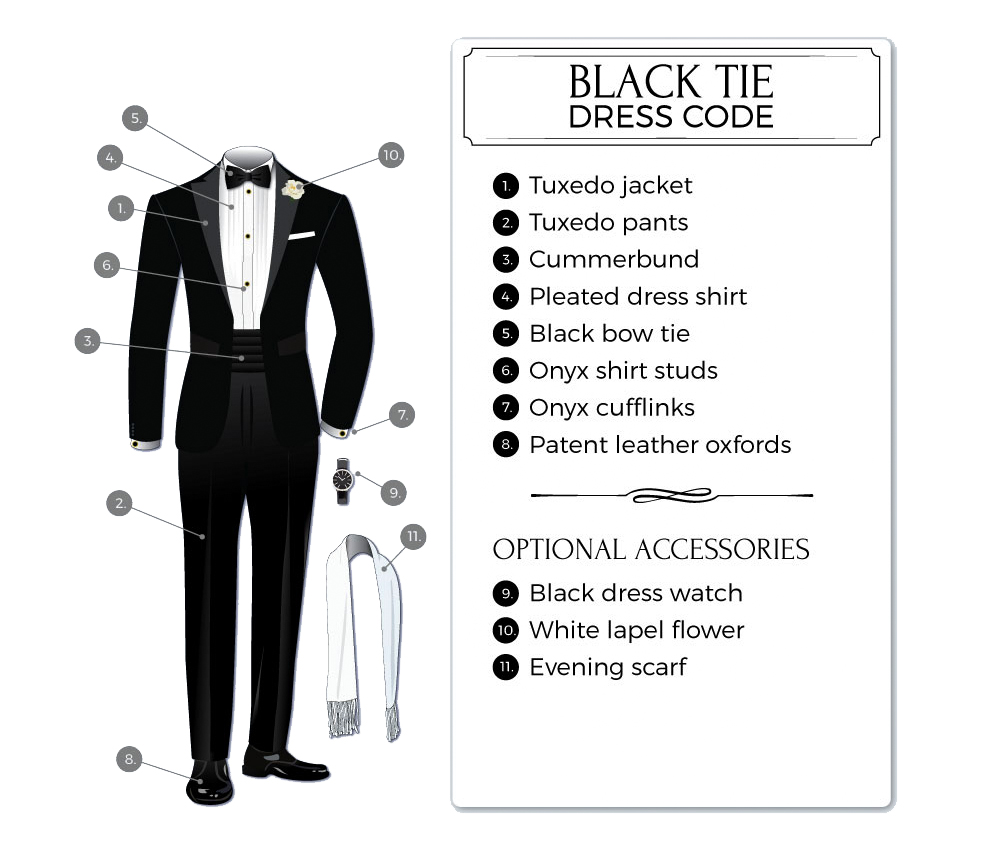 The style rules for formal business settings require men to wear a suit, preferably dark colored. Dress shirts are also necessary for a formal office job.
If there's any doubt, always dress up and lean toward the more formal choice. It's always better to be more dressy than you need to be, over too casual.
Dress for Your Age
Now that you're old enough to put thought into your wardrobe and worry about how to dress well, it's time to be an adult. That requires dressing like one.
Dressing like an adult doesn't mean you can't have fun with your clothing. It does, however, mean that you should dress appropriately for your age.
So, if you're middle-aged, don't try to pull off a hoodie for a business casual day at the office.
On the other hand, if you're fresh out of college, incorporate some youthful prints into your wardrobe.
Level Up Your Casual Style
But you can't be dressed to the nines every single day. There will be times when you are better off dressing casually.
That doesn't mean you need to slip into a pair of sweatpants and a baggy t-shirt. You can be casual and still look well put-together with a smart casual style.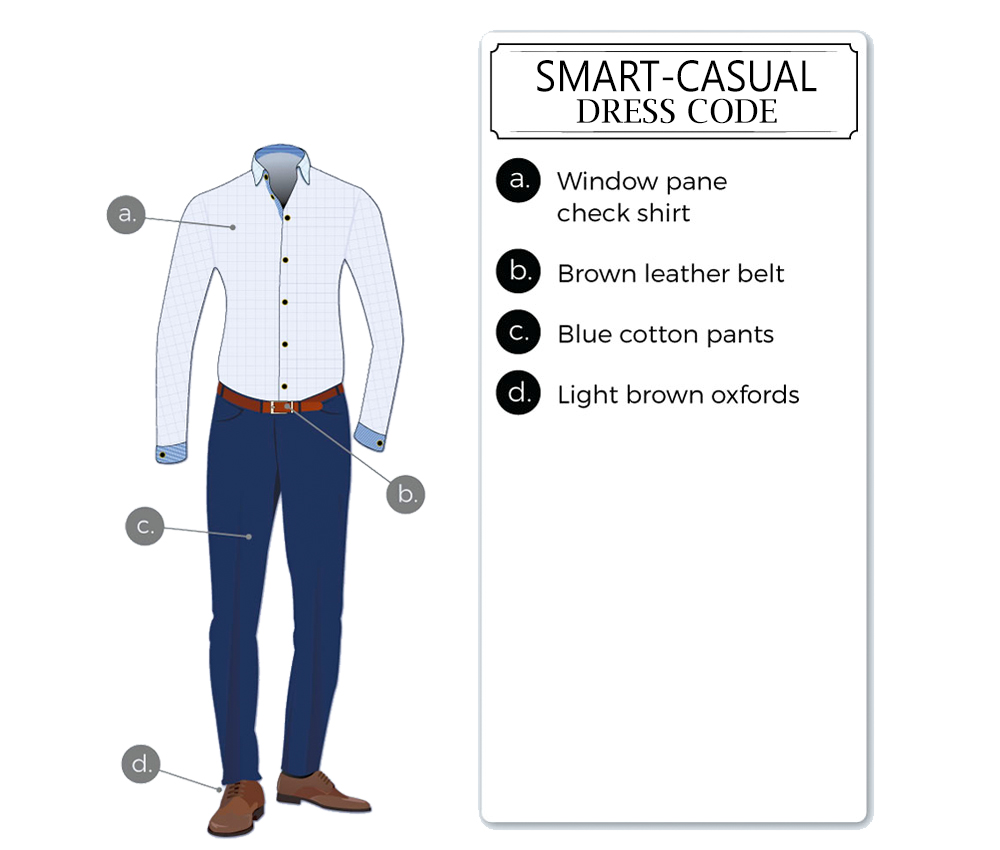 Incorporate one or two dressier pieces with a decidedly casual garment or two.
For example, you can pair a button-up dress shirt with a crew neck sweater, dark blue jeans, and black oxford shoes.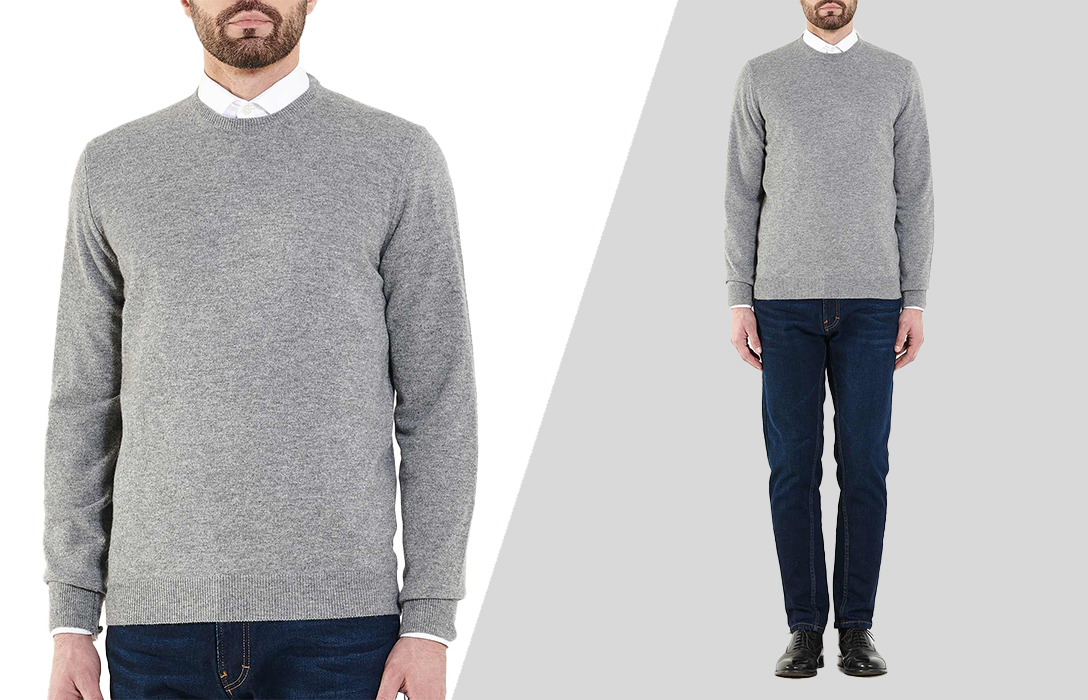 This ensemble demonstrates that you clearly put thought and care into dressing while taking a relaxed approach to it.
Create a Capsule Wardrobe
You can cover all your dressing bases with only a few basic wardrobe pieces. Consider using your high-quality garments to build a foundation for all your outfits.
These can get you started for dressing for any occasion or dress code. These capsule pieces are flexible, so they can be included in outfits that work in any direction.
For example, a white button-up dress shirt is an excellent addition to any formal suit but works well for more informal events.
Both formal business and smart casual outfits look fantastic with this same basic dress shirt.
Less is More
You don't need a ton of different pieces to dress well. Instead, having some versatile, high-quality garments over several inexpensive pieces is preferable.
Get some basics that you can mix and match to create several different outfits. This approach is better for your wallet and for the environment.
High-quality clothing is better made than quick, cheap fashion, so it will last much longer.
So shop for the long term and avoid filling your closet with fast fashion. Invest in a classic style, too, so it will never go out of fashion.
Suit Up for Your Body Type
Clothing can be an excellent tool for highlighting your best features. Your clothing should be fitting for your body type and face shape, not the latest trends.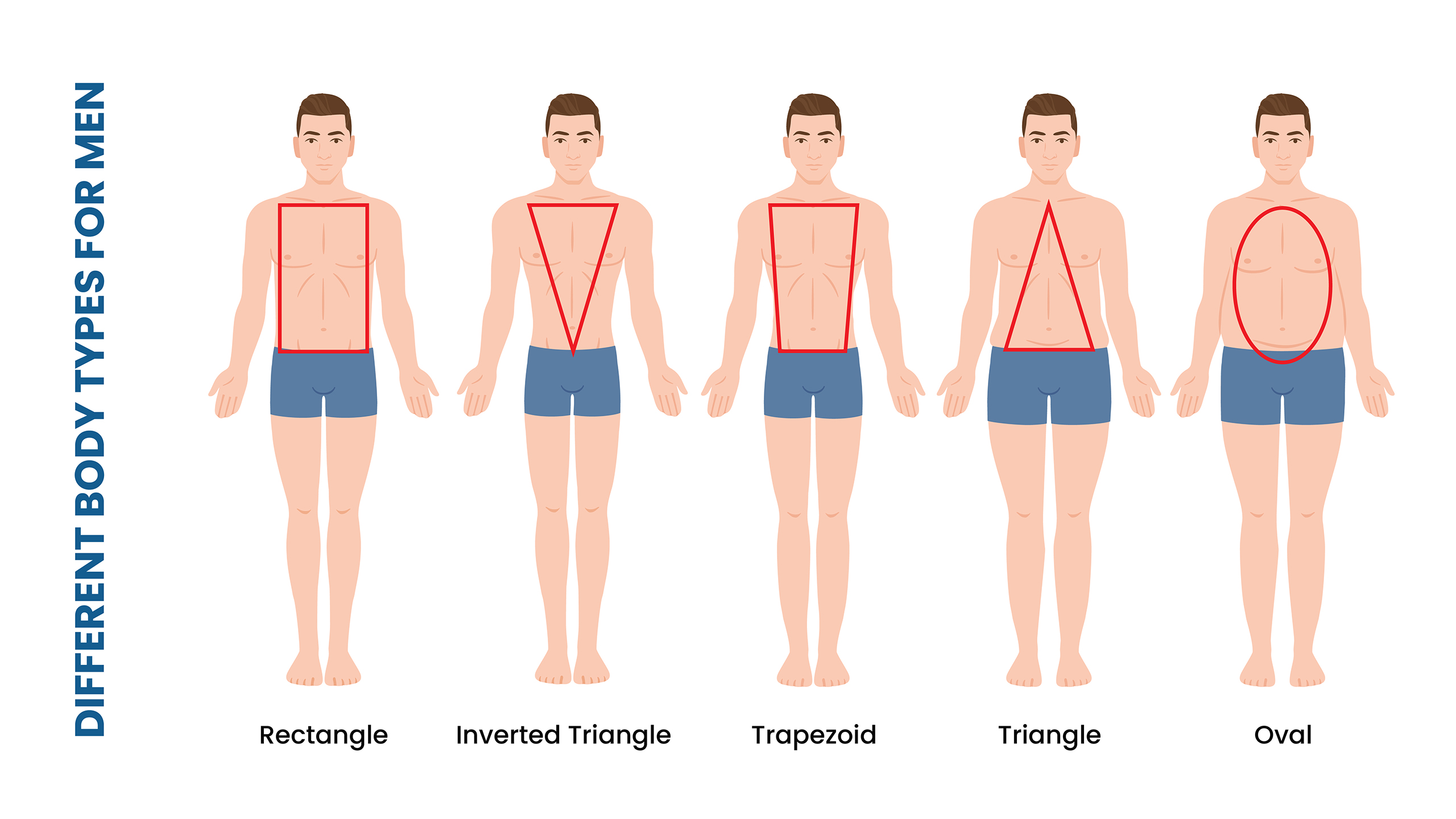 For example, men with rectangular body shapes want to add dimension to their torso, so a suit jacket with shoulder pads and a tapered waist is ideal.
Oval-shaped bodies shouldn't hide behind baggy clothing since that accentuates the round parts. Instead, a tapered single-breasted suit jacket with peak lapels (to draw the eyes up) creates a slimming profile.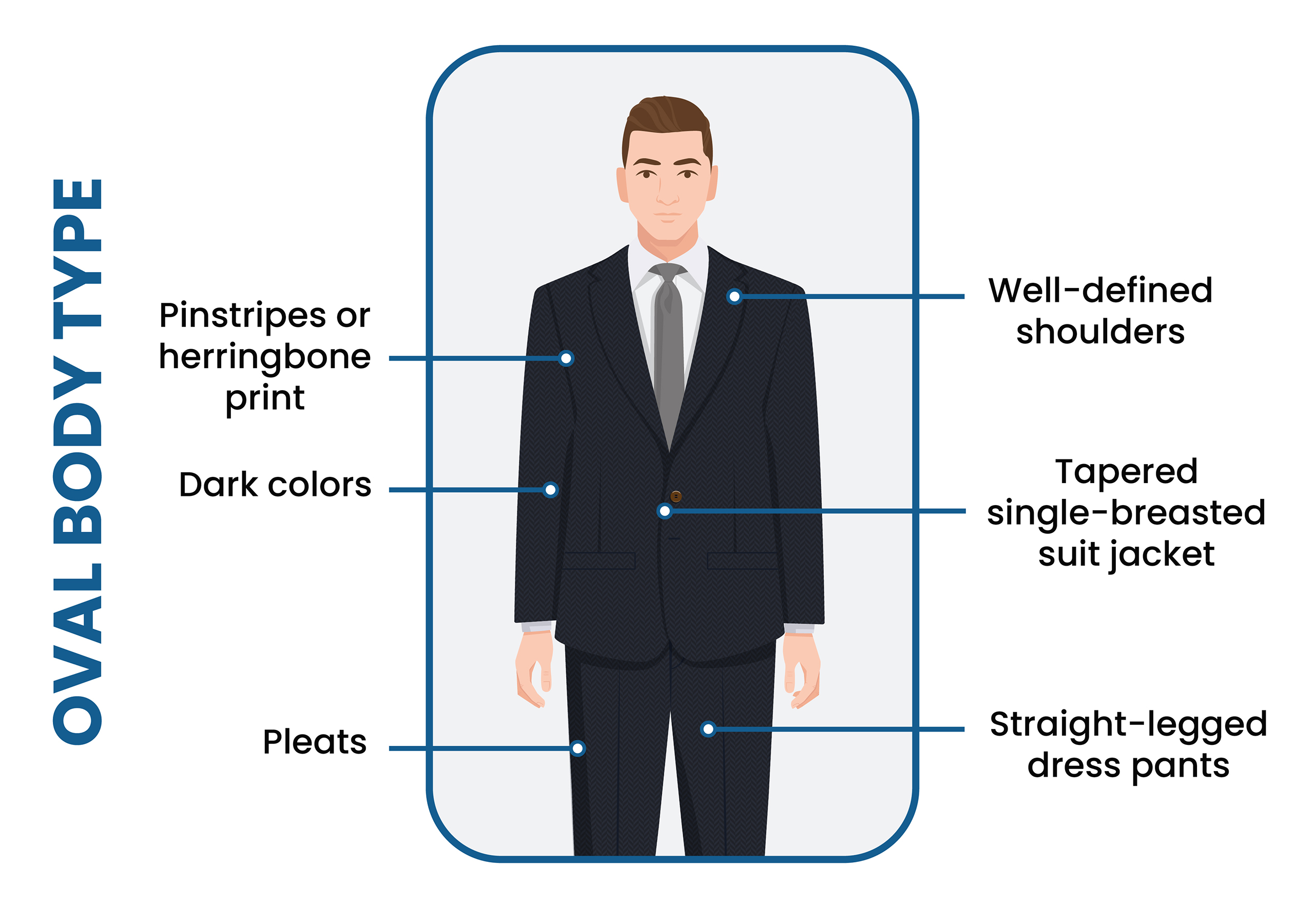 A triangle-shaped torso can use clothing to narrow the waistline and expand the shoulder area.
However, inverted triangle body types have the opposite problem, so a natural shoulder is better.
Finally, a trapezoid figure is similar to an inverted triangle but much more subtly shaped.
This body type can wear almost anything and look good.
Custom Suits Make a Difference
The only way to find a suit that's one hundred percent perfect for your body type and color needs is if you have one custom-made.
A bespoke suit will hug you in the right places that a rented suit can't since it's designed for many different body types.
Even with measurements that are just slightly off, the suit won't look perfectly at home on you.
They may cost you more than off-the-rack, but the rewards are well worth it.
When you opt for a made-to-measure suit, you'll ensure that every inch of your suit sits precisely where it should; nothing is too loose, short, tight, or long.
But more than that, you can determine all the details of your suit – what style of lapels, how many buttons, what your pocket design is, and even what your jacket lining looks like.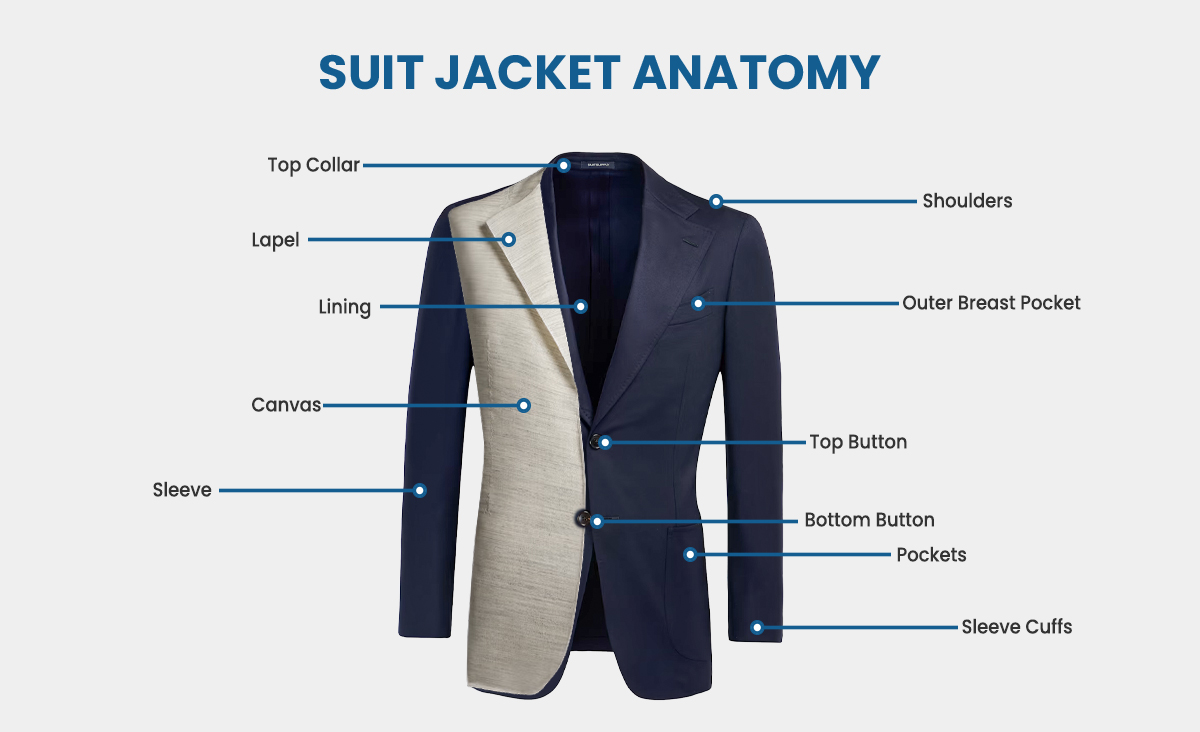 As a result, your suit is fully reflective of you.
Develop a Keen Eye for Colors and Patterns
It's an advanced skill, but learning how to mix and match your patterns and shades can take your style to the next level. Using colors and prints is a skill that can open up new avenues in your fashion journey.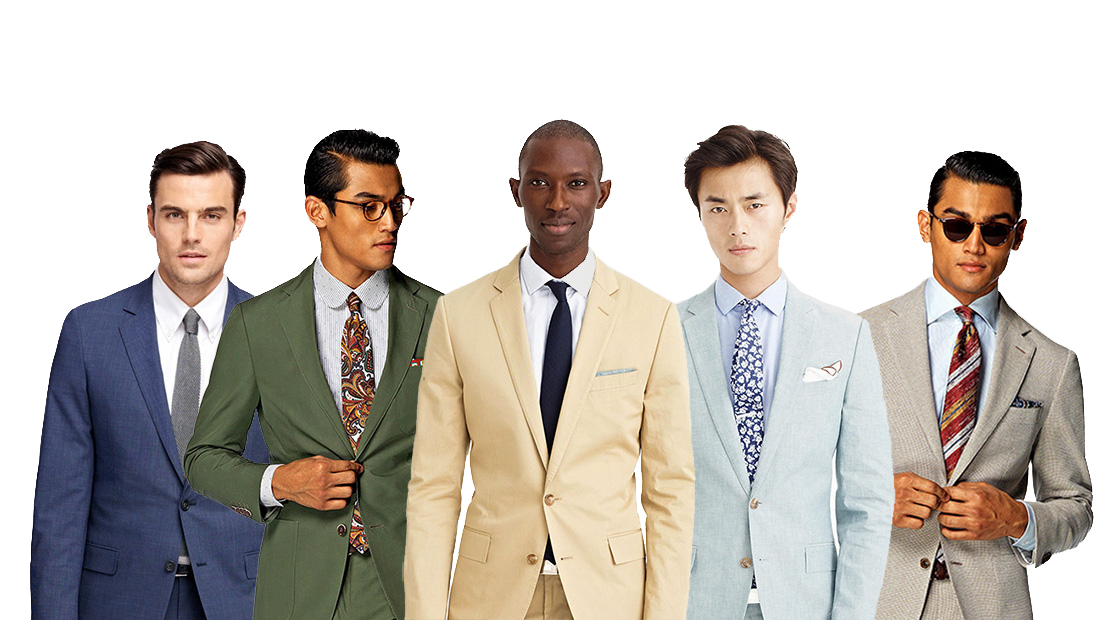 Rather than sticking to the tired old combinations, you are free to put together untraditional mixtures that add pizzazz to your outfit.
It's also helpful to remember that patterns make your garment less formal.
The pattern's size also indicates formality level; larger prints are more casual than smaller ones.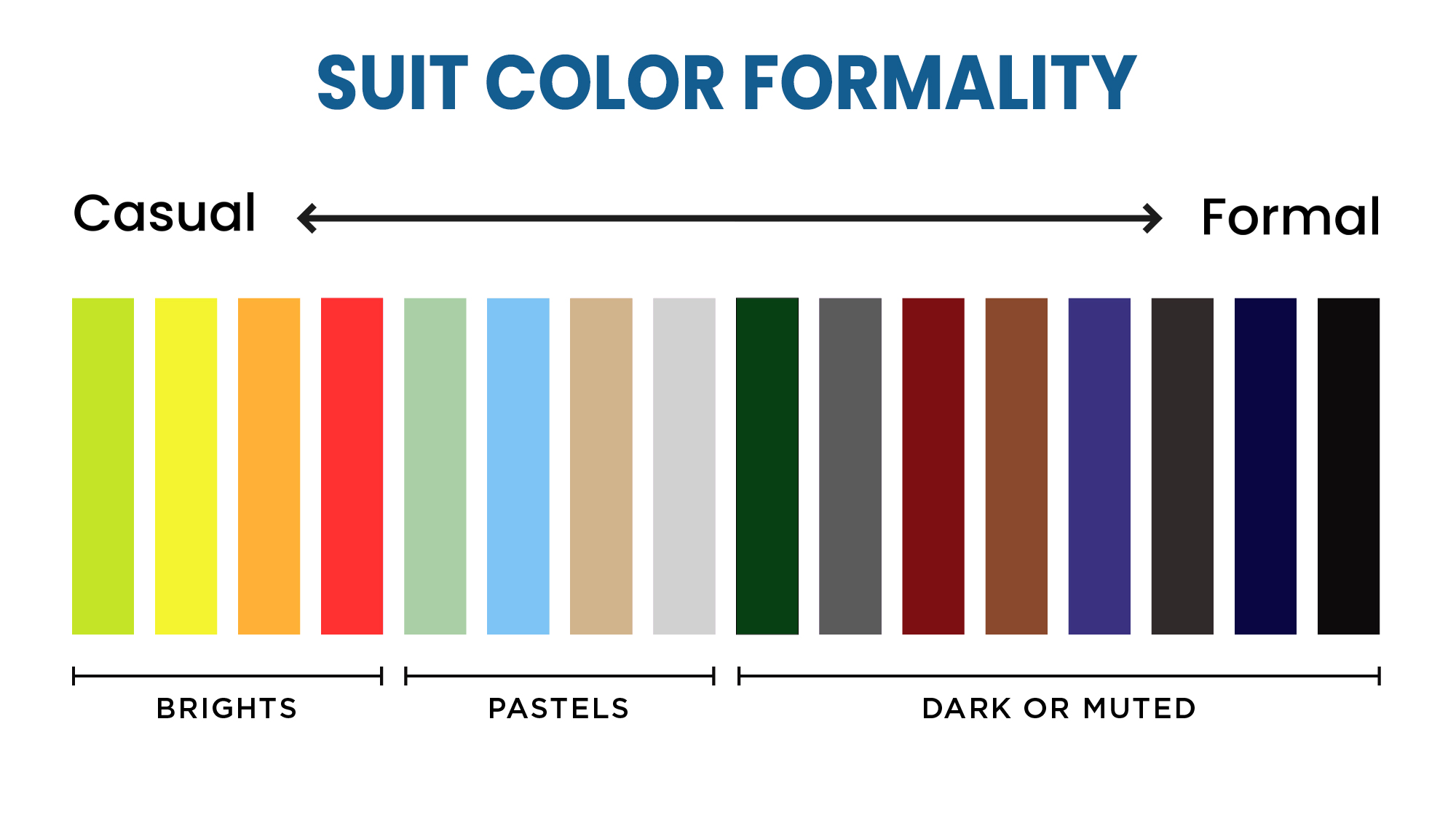 Finally, your color choice can also affect your formality.
The Power of Separates
Not all outfits need to be part of a matching set. Wearing a blazer and dress pants is a perfect way to tone down your formality and keep your look clean and suave.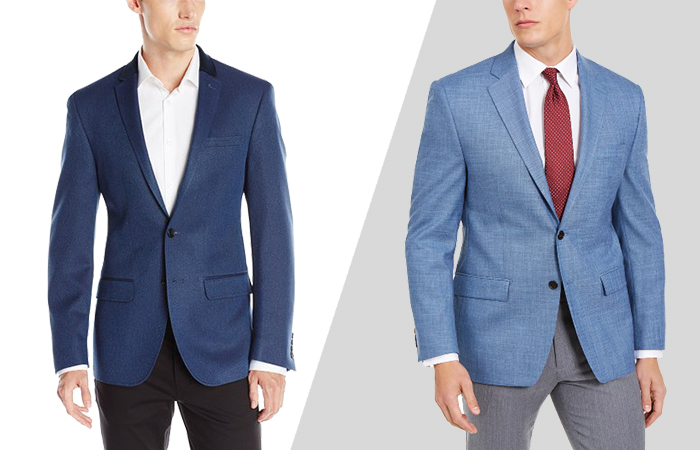 This is also a helpful approach for when you need to smarten your informal days. For example, a full suit may be overkill if your office has a laid-back dress code.
That's when separates can ensure you look professional and still fit in with your colleagues.
Master the Art of Layering
Nobody enjoys feeling underdressed in cold weather. Thankfully, staying warm and creating an elegant outfit with stylish layering is possible.
You can incorporate versatile outerwear for warmth and style.
For example, you don't need to feel chilly in a button-down dress shirt all day. Instead, add a sweater over your dress shirt.
You can also toss on a blazer over your sweater.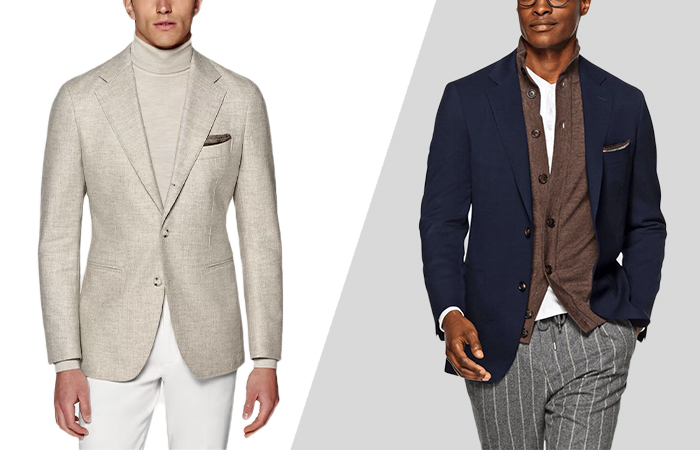 Only you know the secret that you're battling the chilly air; everyone else will be impressed with your mad layering skills.
Consider the Right Fabric for the Weather
You may have mastered the art of layering, but it's also a good idea to master your fabrics. Not all materials are appropriate for all seasons.
Lighter, breathable fabrics like linen and cotton are your go-to's for warmer weather. These will keep you from overheating under the pounding sun.
Conversely, opt for heavier wool and wool blends in winter months to stay warm without breaking a sweat.
Try Different Brands
You're more likely to realize your preferred styles when experimenting with different clothing brands.
Different brands offer varying elements, so you have a greater chance of finding a fashion you love. This can help you define your look.
When you stumble across one you love, you will likely gravitate toward that brand more often. This makes dressing easier.
You don't need to spend your whole paycheck on designer prices. Many brands are quite affordable and are of excellent quality.
Good Shoes are Essential
Don't skimp on your dress shoes. High-quality shoes will ensure that your feet don't hurt at the end of the day and will also last you for many years if you take proper care of them.
Well-made shoes can also serve you well across many dress codes.
So while it's helpful to have a couple of different styles of shoes, you can use just a couple of quality pairs to cover all your formality needs.
And always have at least one black and one brown pair to match any outfit.
Take Care of Your Attire
Treating your clothing well accomplishes two things: your clothes look better when you wear them, and they last longer.
Always clean your garments as directed and only when needed.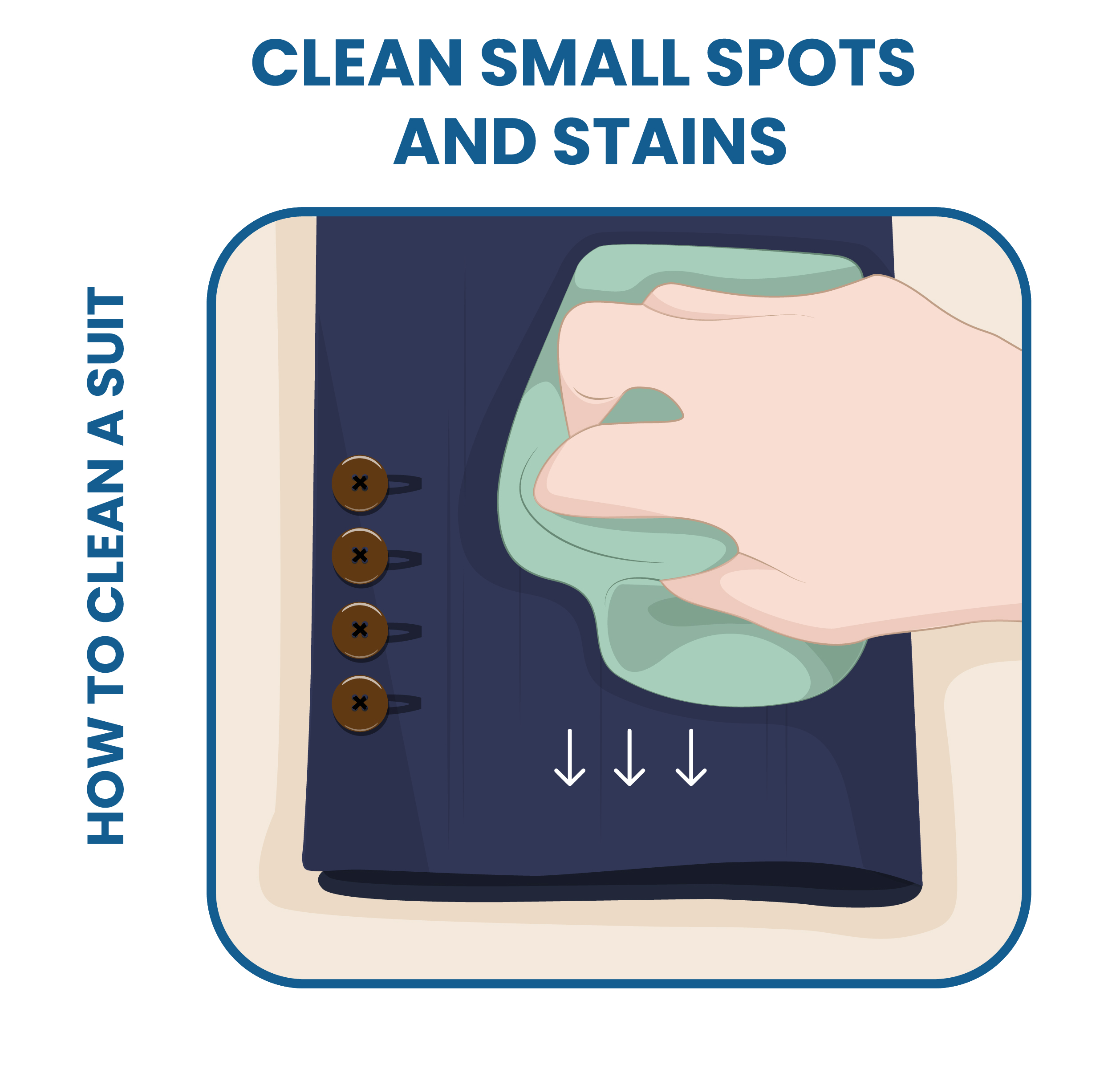 Washing too frequently will cause them to degrade more quickly. Your suits should be dry cleaned, but if other clothes can be washed at home, do so.
Dry cleaning is too harsh for frequent use. Be sure to store your clothing correctly, too.
For example, never crumple them up on the chair in your room; instead, hang them up as soon as you take them off.
Consider Buying Over Renting
You may save some money in the short term when you rent a suit for an event, but you'll do better in the long run if you purchase your own.
A rented suit won't be able to be tailored to your precise specifications as your own suit would be.
A rented suit also looks worn. It's been used by many other men, so it will lack some of that luster of a well-cared-for suit.
Invest your money now in a suit you can wear many times over the next several years. Be sure the style is classic instead of trendy, so it always looks good.
Make a Statement with a Classic Timepiece
You may not need a watch, but you'll never regret wearing one. They look exquisite on your wrist and make an excellent conversation starter.
People always have a story about their watch. Opt for a dress watch that will go with all of your suits.
Keep its face clear and simple, and invest in a leather watch band. Make sure it matches your dress shoes!
Accessories are the Cherry on Top
Accessories may feel like a minor part of your wardrobe, but they can add up to a bigger picture. It's the small details that cement your style.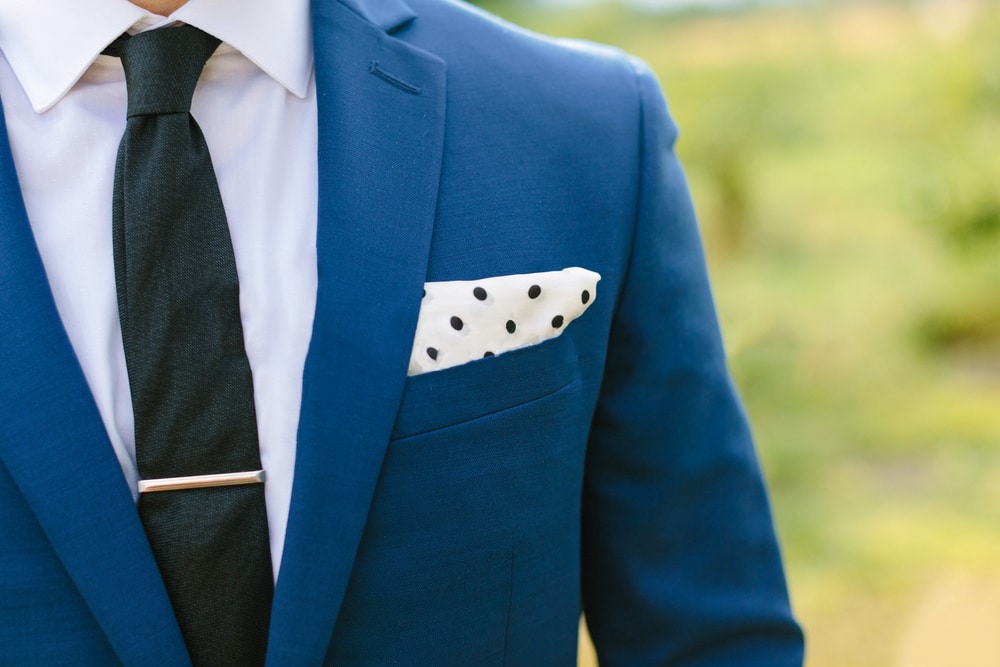 You can add a pocket square, watch, tie bar, or cufflinks to give your ensemble some personality.
However, remember that less is more when it comes to accessorizing. Pick one or two, and let them shine.
Too many minor touches can wind up looking tacky.
Establish a Presentable Image
You may not immediately equate personal hygiene with dressing well, but it's all part of the package.
The best clothing won't be able to cover up a man who doesn't take good care of himself.
The most crucial thing is to develop a signature scent. Use a good fragrance that helps you smell clean and well but is appropriate for the occasion.
Grooming is as crucial as properly caring for your clothes to keep them in good shape. Opt for a well-groomed look that matches your face shape.
Also, learn the best habits for skincare, keep your hair healthy with frequent trims, and don't forget to look after your nails.
Confidence is Key
Have you ever seen a man wearing an outfit you thought was objectively ugly, but he could somehow pull it off and make it look good? In most cases, it's all about the confidence of the wearer.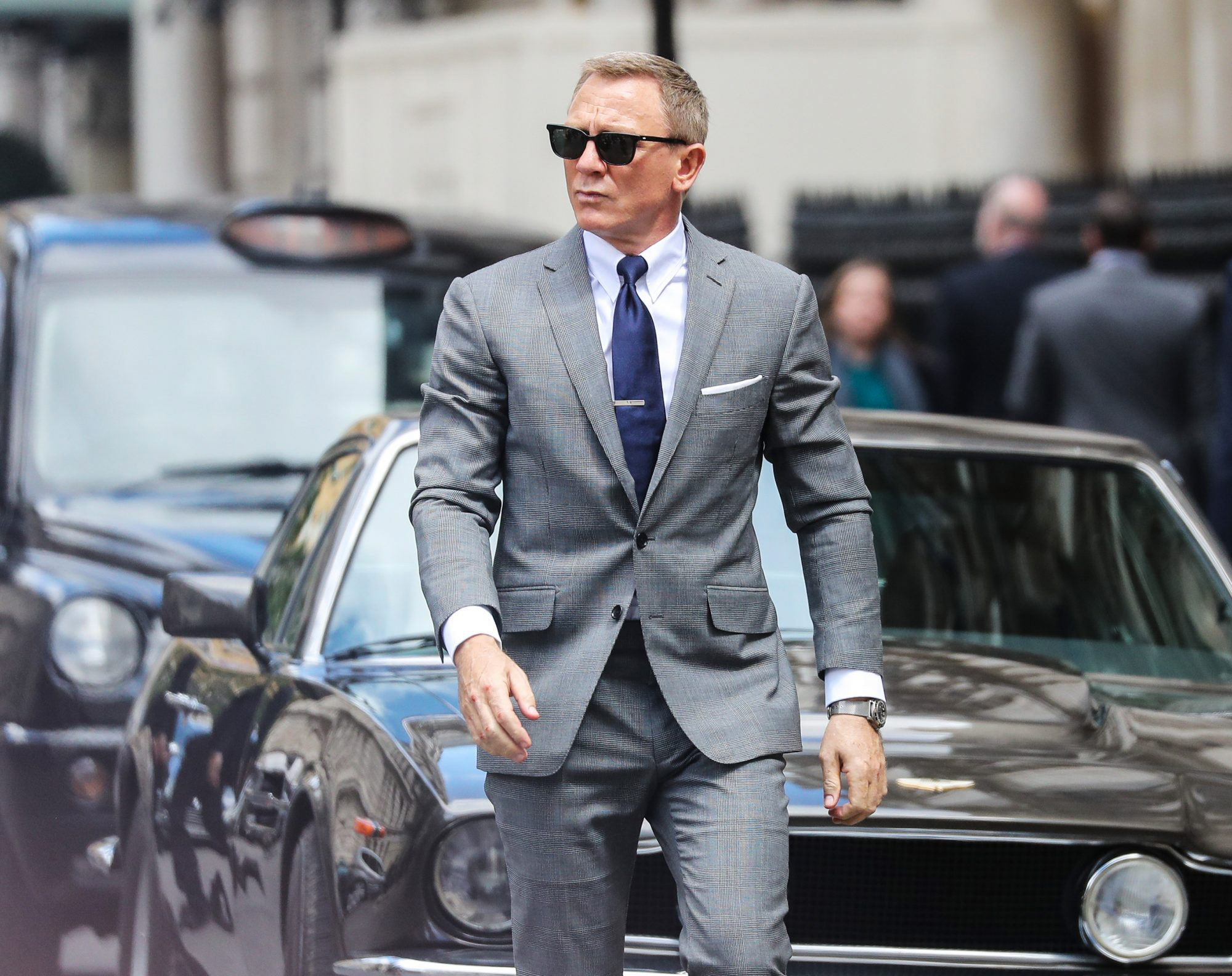 If you feel totally at ease in your clothing, you'll project a sense of comfort and confidence that radiates out.
It will quickly be apparent if you aren't confident in your clothing. You'll likely be tugging or pulling at specific parts of your suit or holding your body in a closed-off way.
Unfortunately, all the style tips in the world can't fix a lack of confidence.
Author: Alexander Stoicoff
Hi, I'm Alex, and I've studied and specialized in styling in Rome. Through my writing, I want to help men dress well and learn the purpose and significance of suits and other formal attire. My final goal is to make men more confident in their wardrobe choice and life in general.