There doesn't seem to be a great mystery about how to tuck in your shirt.
You just stuff it down into your pants, and you're good to go, right? Not exactly.
Some situations might call for specific types of shirt tucks that can work better, depending on your shirt or outfit.
When you get your shirt tucked right, it's a sweet little detail that can clean up your entire appearance.
Basic Shirt Tuck
This method of tucking in your shirt is likely more or less what you already do and have been doing your entire life.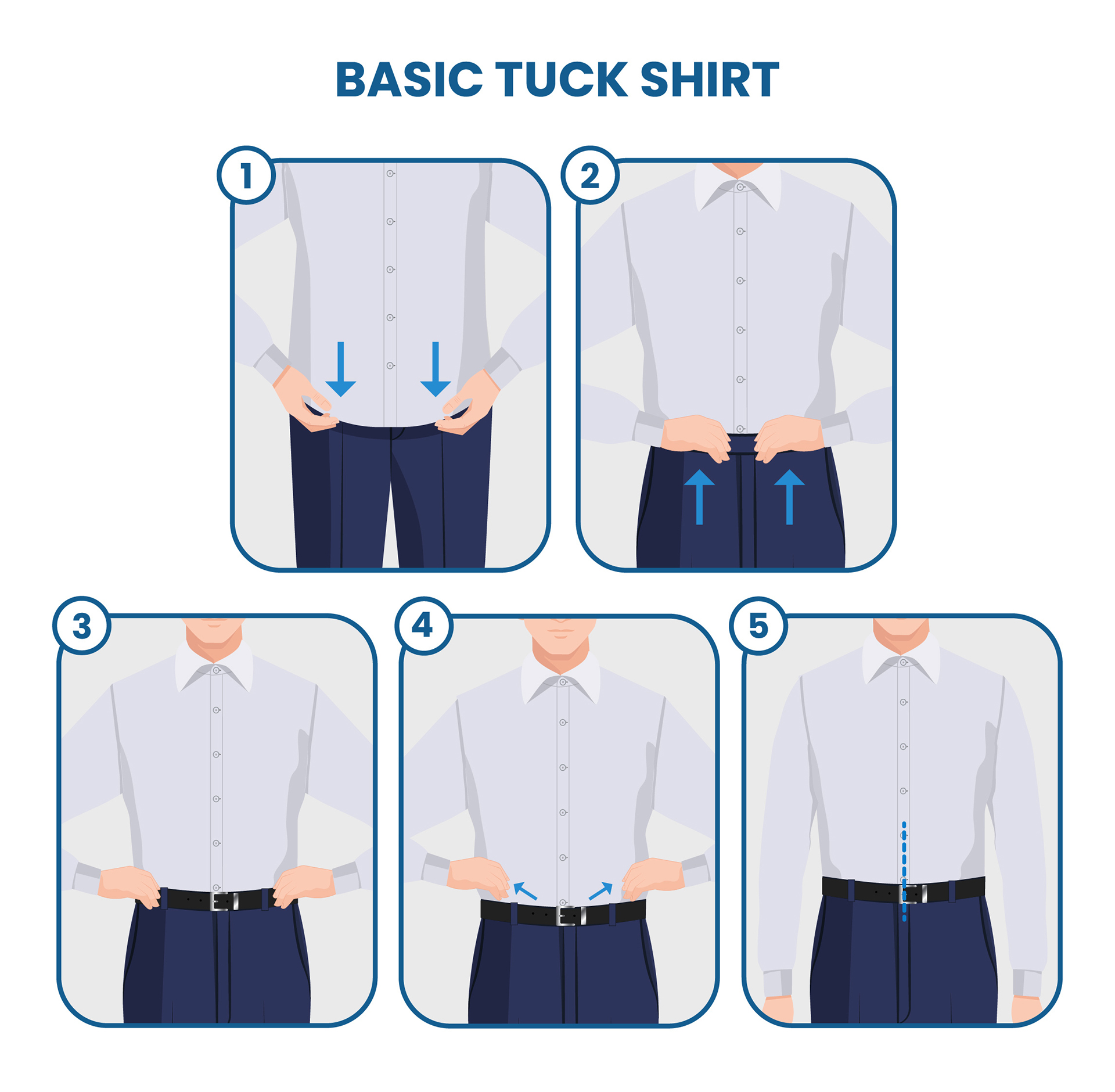 Still, there's always room to perfect it.
Start with your shirt fully buttoned. Your pants can be on, but they need to be opened, giving you room to work.
With your shirt outside your pants, pull on its hem, tugging it down toward your thighs. The purpose of this is to get it to sit smooth and tight across your chest.
Pull the pants up and over your shirt tails, giving them an assist by pushing the hem inside the waistband (but not into your underwear!).
As you are tucking, keep the fabric even all the way around.
Next, fasten and zip your pants. You shouldn't have any bulk or bunches around the top of your pants.
Now it's time to add your belt; that's what you do when you tuck in your shirt! Then pinch your shirt just above your belt, and pull it up very gently.
Work around your waist doing this, pulling about one inch of fabric all around.
Don't puff your shirt out too much; you are only creating enough room to accommodate your movement throughout the day.
Ensure your placket aligns with your fly and belt buckle. You're done!
Military Tuck
Use the military tuck to give you a very tight and trim appearance.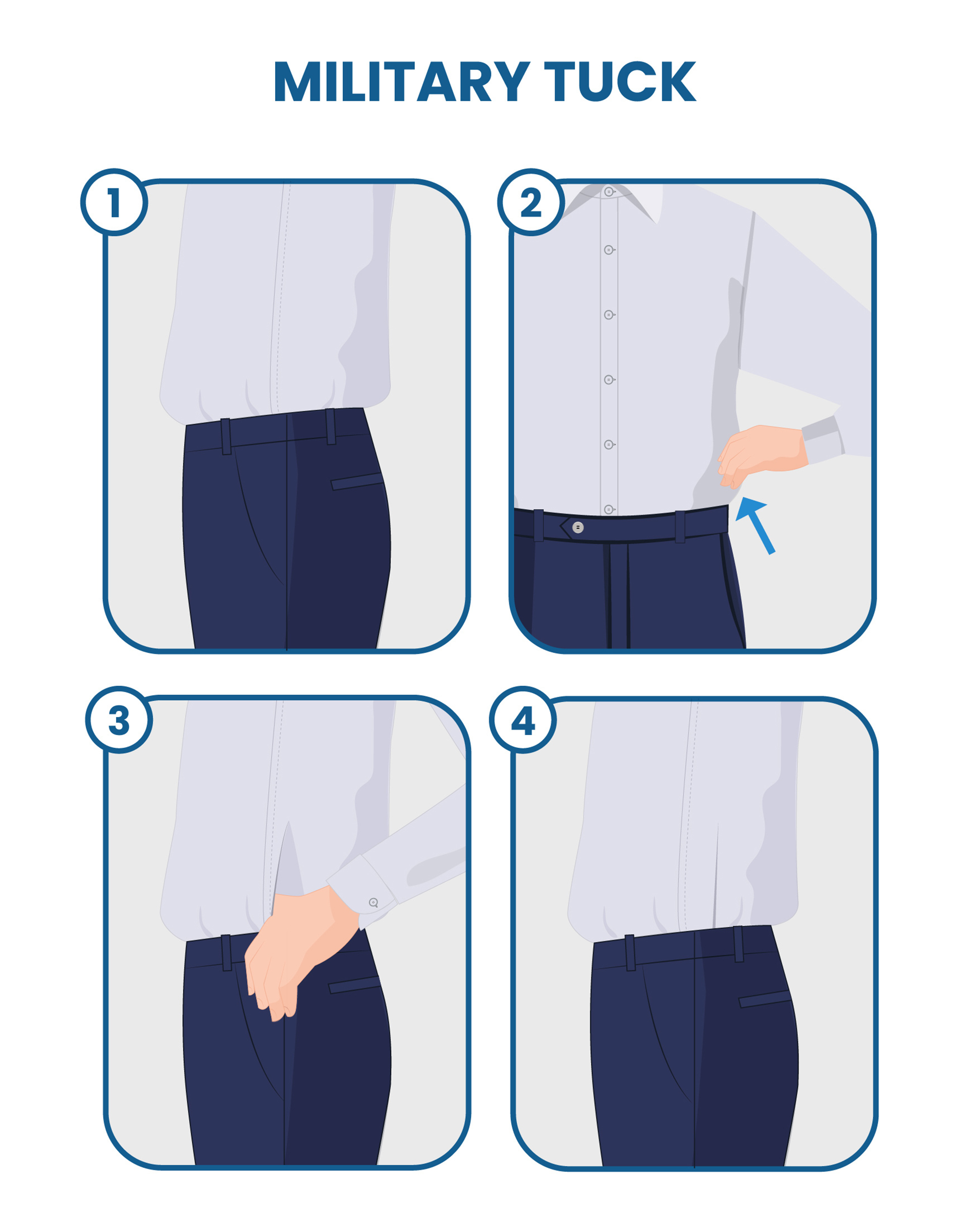 Begin by tucking your shirt the way you usually would with the basic method. Now let's clean it up.
Unbutton your pants to give you space. Then, grasp a bit of material directly at the side seams, just above your trouser waist.
Pull the fabric firmly out but downwards to prevent untucking your shirt.
Form a pleat on the sides by folding the fabric back on itself, pulling your shirt as taut as possible.
Double-check here that your buttons are still centered. Keep your shirt tight as you pull your trousers into place and quickly button them.
Don't tug on your waist to loosen this tuck! It's intended to be very fitted.
The Underwear Shirt Tuck
Don't be fooled by the name of this tuck; I'd never recommend tucking your dress shirt into your undies! That has great potential to be quite humiliating.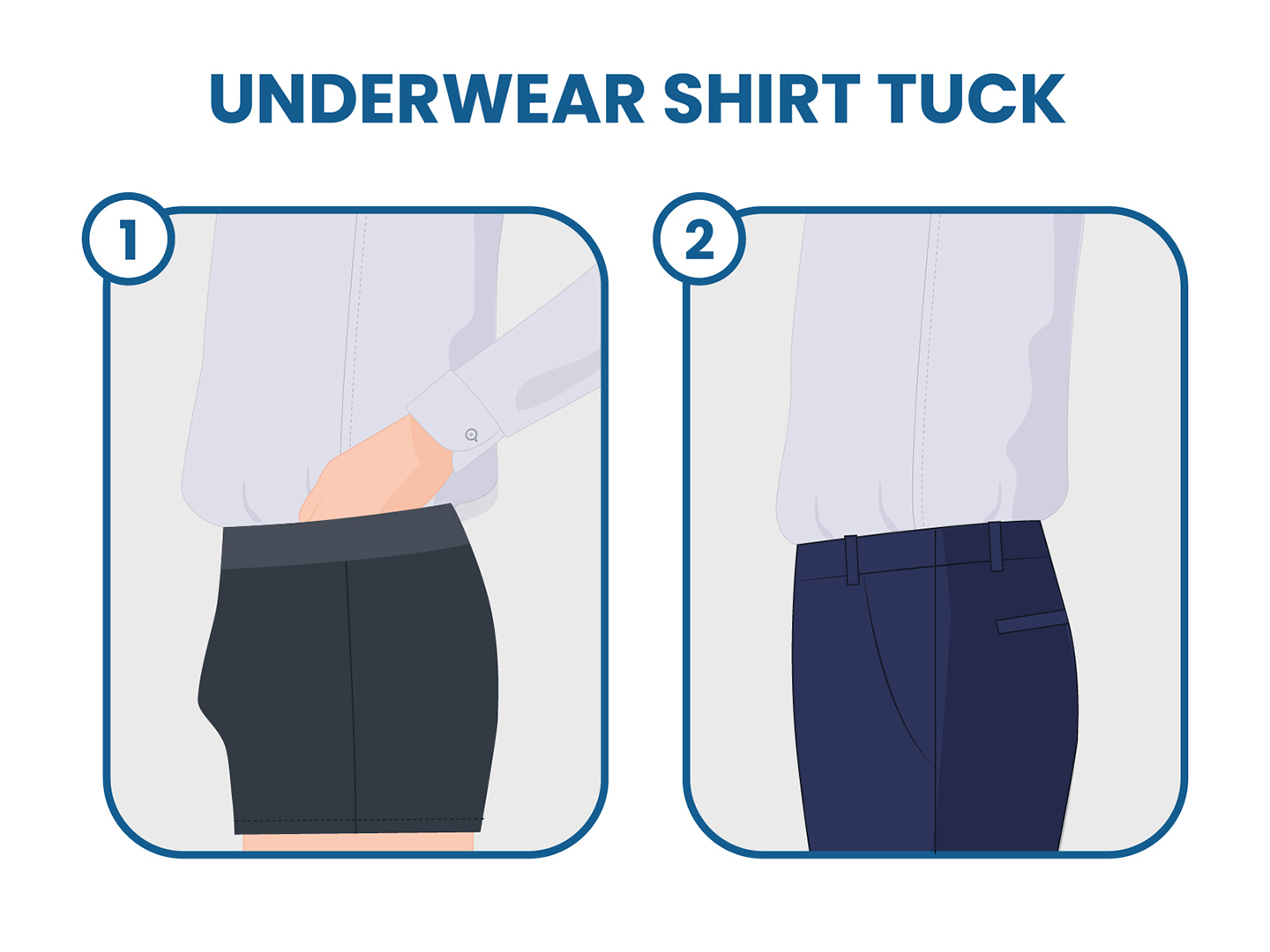 Instead, this tuck is for when you wear an undershirt with your dress shirt. Tuck the undershirt into your underpants first.
Initially, your undershirt goes into your underwear, then your dress shirt on top, and finally, your trousers are the final layer.
You can tuck your dress shirt any style you like when you use the underwear shirt tuck; even the tight military tuck works.
French Tuck
This is technically a half-tuck, so it isn't appropriate in most situations.
It's pretty relaxed, so I don't suggest you wear your dress shirt this way for formal or professional occasions. It's mostly a good tuck for women and the younger crowd.
A French tuck isn't the trendy half-tuck where only one side gets tucked in. Instead, to pull off this style, you do a front tuck.
That's where you tuck in only the front half of your shirt, leaving the back to hang down over your pants. It works best with knit shirts, like t-shirts and henleys.
Dress Shirt Tucks to Avoid
Not all shirt tucks are created equal. Tucking your shirt in is a technique meant to give you a neat and tidy appearance.
Unfortunately, some versions only make you look sloppy. And that might be worse than no tucking at all!
The Half Tuck
Just no. This tucking method may lead people to wonder what happened to you; did you get into a fight?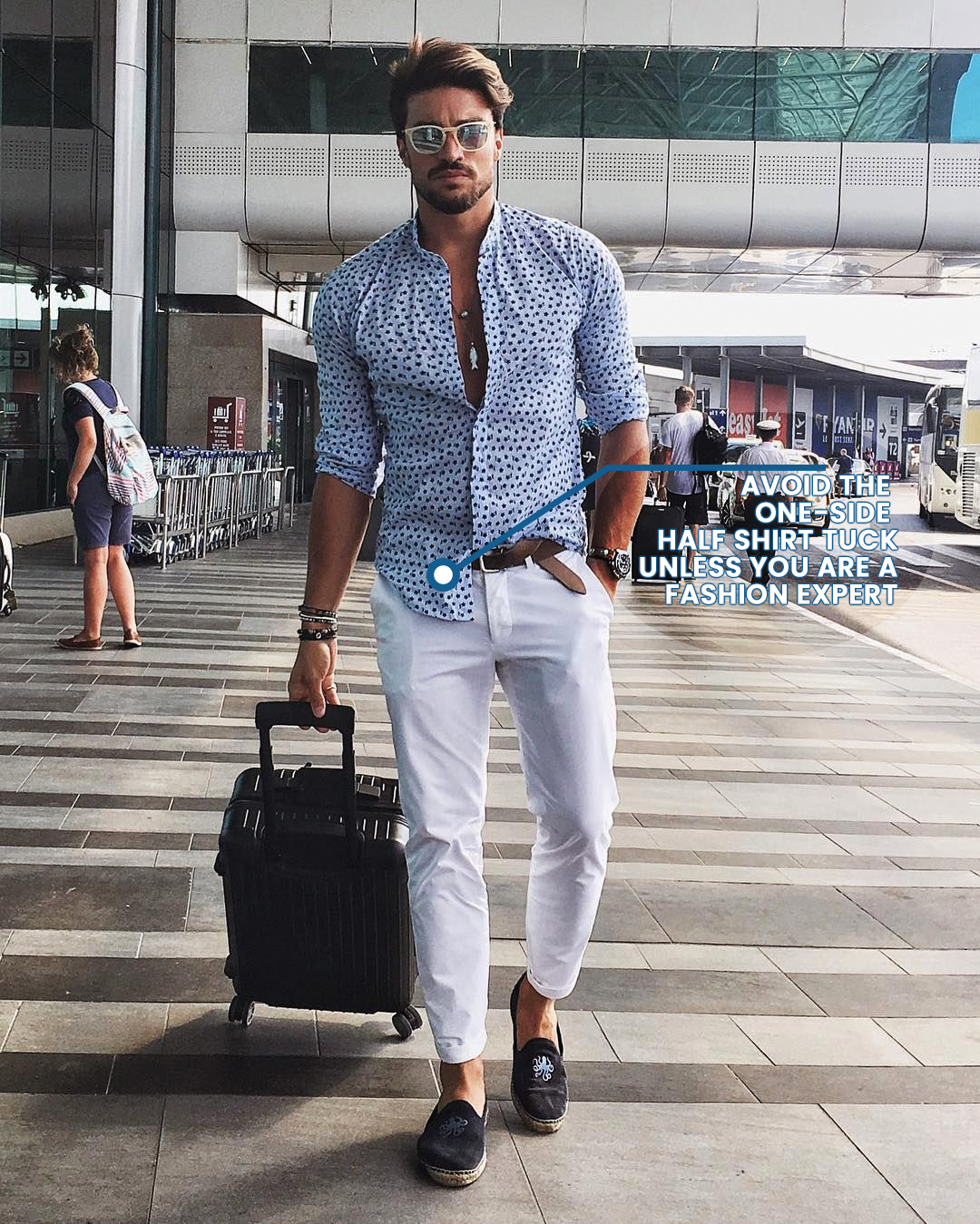 You'll recognize this carefree look by the one shirttail left hanging out of the front of your pants while the rest of your shirt is tucked in.
I get it; you want to look jaunty and rakish. But this doesn't fit the bill.
Instead, it leaves you looking slovenly or as if you are petulantly refusing to conform to a dress code.
Untucking a Tucked Shirt
This is worse than not tucking in your shirt in the first place.
You can't untuck your shirt partway through your day. Once your shirt has been tucked into your pants, it's been bunched up inside and pressed so that the bottom part of your shirt will definitely have wrinkles.
You probably don't want to walk around looking wrinkly and disheveled. Once you commit to tucking in your shirt, it needs to stay there.
Shirt Stays to Keep Your Shirt Tucked In
If you notice that your shirts have difficulty staying in place, you might want to wear shirt stays.
These tightly hold your dress shirt in place, which can be awfully handy when you need to ensure you look elegant at all times. For example, when you wear a tuxedo might be a good time.
Shirt stays attach from your sock cuff to your shirt's hem, working together to keep you smooth (at least, from the outside).
But, admittedly, shirt stays are completely ridiculous looking. So, you should keep these private.
Other Important Things to Consider
Do you need to tuck in your shirt one hundred percent of the time? No, of course not. In fact, it's necessary to decide on a case-by-case basis.
Sometimes you need to go with your gut and leave your shirt untucked. Some shirts aren't meant to be tucked.
Remember, your goal is to have a neat appearance. However, sometimes we need to take a different path to "neat."
The Shirt's Hem
Have you ever wondered why some shirts have a curved (rounded) hem?
It isn't so you can leave them untucked and look fashionable; they're actually designed to give you a better tuck!
A curved hem stays in well and still allows for good movement. That's because the curve gives you excess fabric to work with.
If you want an untucked look, find the right hem to start with. The hem should be a shorter length and have a square tail or very gentle rounding.
Always Tuck In Your Shirt for Formal Events
Unfortunately, formal events are one of the times when you don't get a say in fashion rules.
For formal dress, you need to follow the protocol, especially when wearing a suit. Otherwise, you'll look very out of place.
If you try to rock the untucked look in a formal setting, you'll come off looking like a slob, drunk, or disrespectful.
Best to play it save and do a basic tuck, at the very least.
Tuck In Your Shirt for Business Occasions
Again, you need to follow fashion protocol here if you want to make a good impression.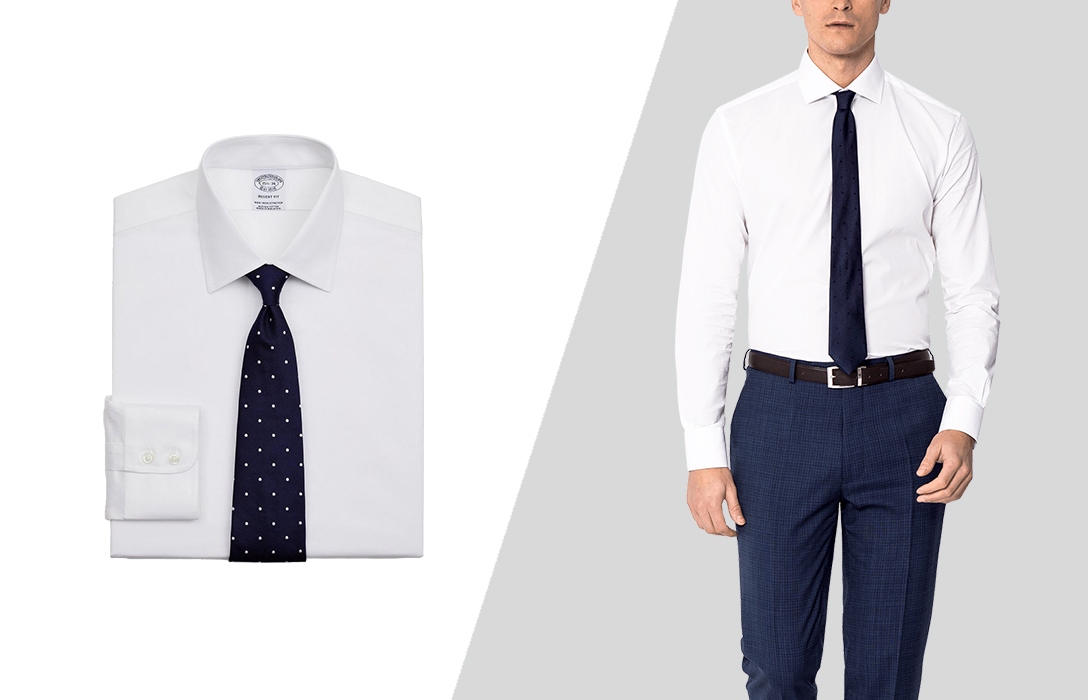 Wearing a button-up shirt with a suit must always be tucked in.
Dressing by the rules shows respect for your job and the people around you and that you care about your work.
Taking your appearance seriously shows you are invested in your career.
And that starts with tucking in your shirt.
Wearing a Belt is Recommended
It isn't a requirement that you wear a belt when you tuck in your shirt, although there are some sources that will beg to differ.
While I don't believe that a belt is always a necessity, there's no denying that belts make your outfit look put-together and professional.
And besides, belt loops are meant to be used!
Leave Shirt Untucked for Casual Settings
There are some scenarios where tucking in your shirt makes you come across as too stiff or severe. Sometimes you need to relax your style and leave your shirt hanging out.
Skipping the shirt tuck is an excellent way to signal your informality when you want a more approachable and laid-back image.
However, your shirt needs to be a shorter length for this look to work. If your hem hangs very low, leaving it untucked might look like your shirt is too large.
Don't Tuck in Polo Shirts and Tees
Casual shirts like t-shirts and polos aren't designed to be tucked in. Instead, they have straight hems and sit close to the body.
These are both indications that a shirt shouldn't be tucked in. You'll also notice that polo shirts have vents at the side seams and usually a longer back than the front.
Leave these shirts hanging out and embrace their casual feeling.
Author: Alexander Stoicoff
Hi, I'm Alex, and I've studied and specialized in styling in Rome. Through my writing, I want to help men dress well and learn the purpose and significance of suits and other formal attire. My final goal is to make men more confident in their wardrobe choice and life in general.