When was the last time you wore a casual suit? If the answer is never, prepare to have your world rocked.
Adding a suit to your everyday outfit list is one of the smartest sartorial things you can do.
It opens up a whole new avenue of dressing and elevates your typical go-to outfit of jeans and a t-shirt.
You just need to learn the proper way to style your suit to make it work for a casual look.
What is a Casual Suit?
Wearing a suit casually is a masterstroke of fashion. That's partly because it takes a particular eye to be able to pull it off.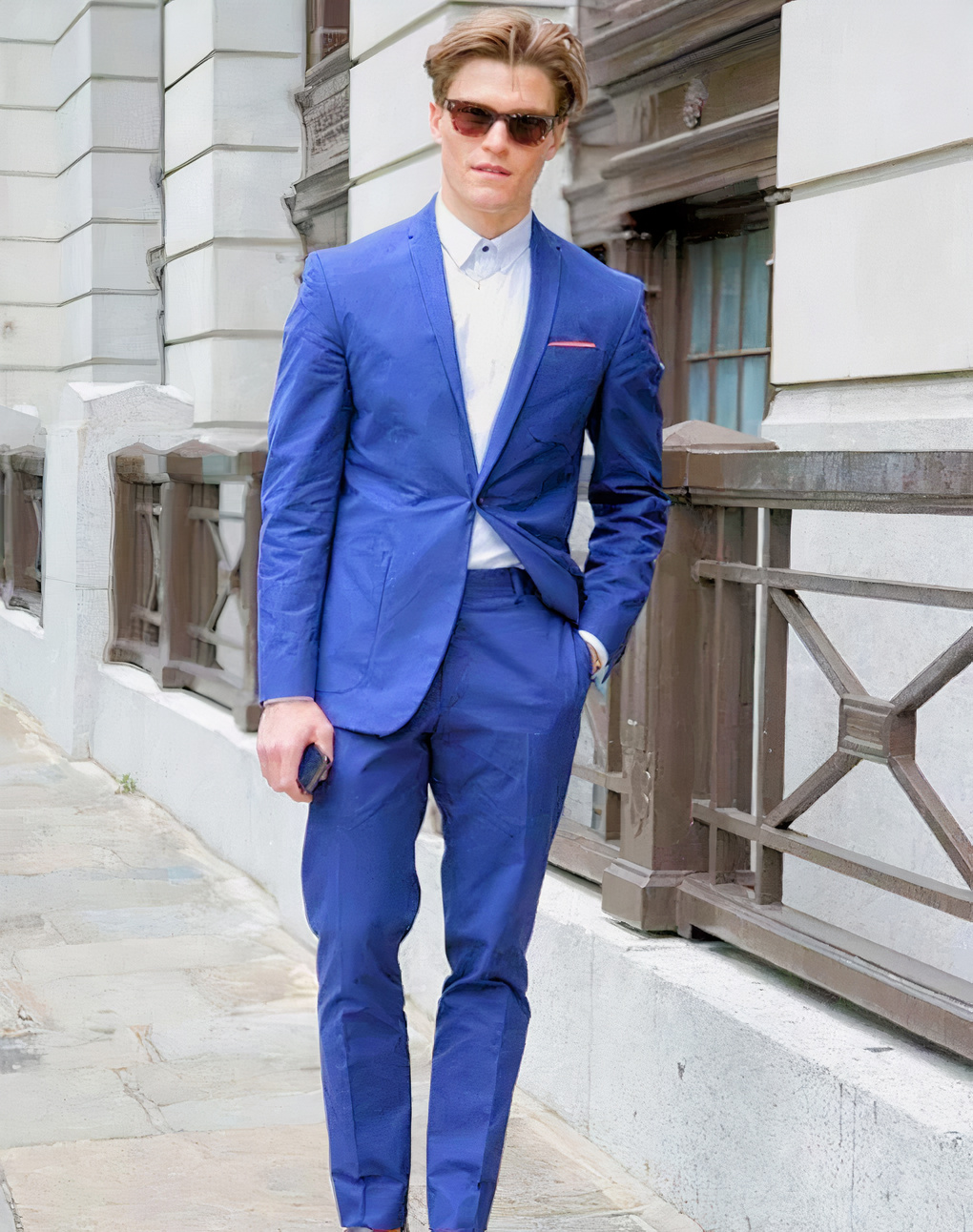 You can't take just any old suit you please and turn it into casual wear. Your suit needs to have specific casual features; some suits are too standard or fancy by nature.
For example, your suit fabric plays a prominent role in setting your outfit's tone.
Starting with a casual material as your base, such as linen or cotton, is a significant influencer of the style.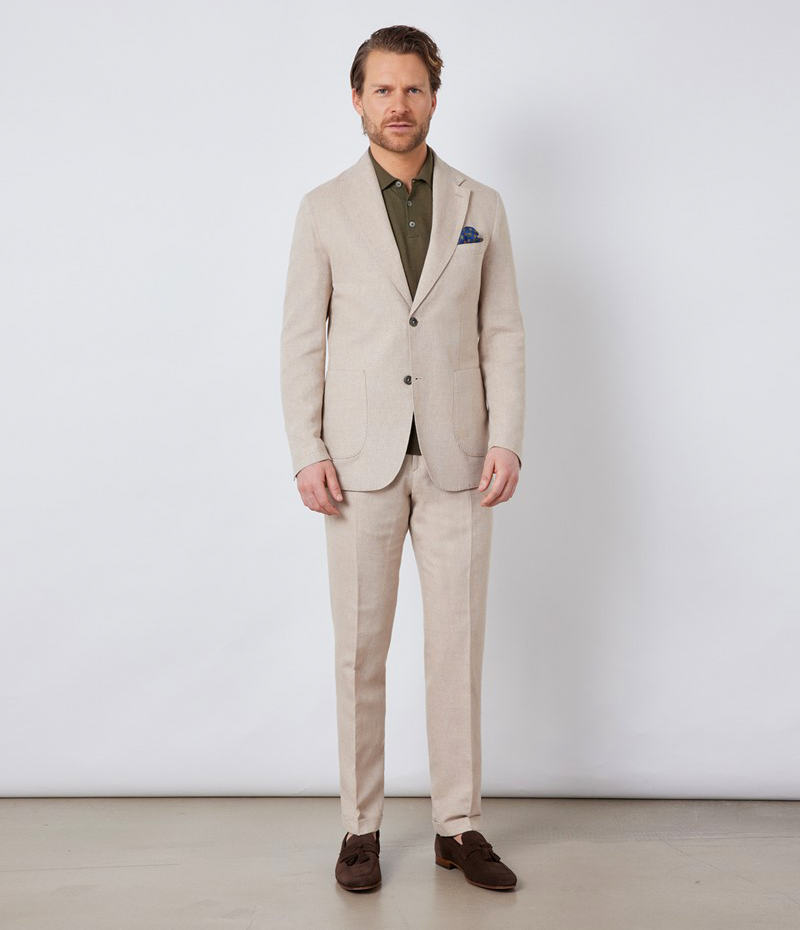 These fabrics have a naturally relaxed drape, playing up the relaxed nature of your suit.
A standard definition of a casual suit fabric is also seersucker. These suits are only appropriate as summer casual wear because of their cooling effect.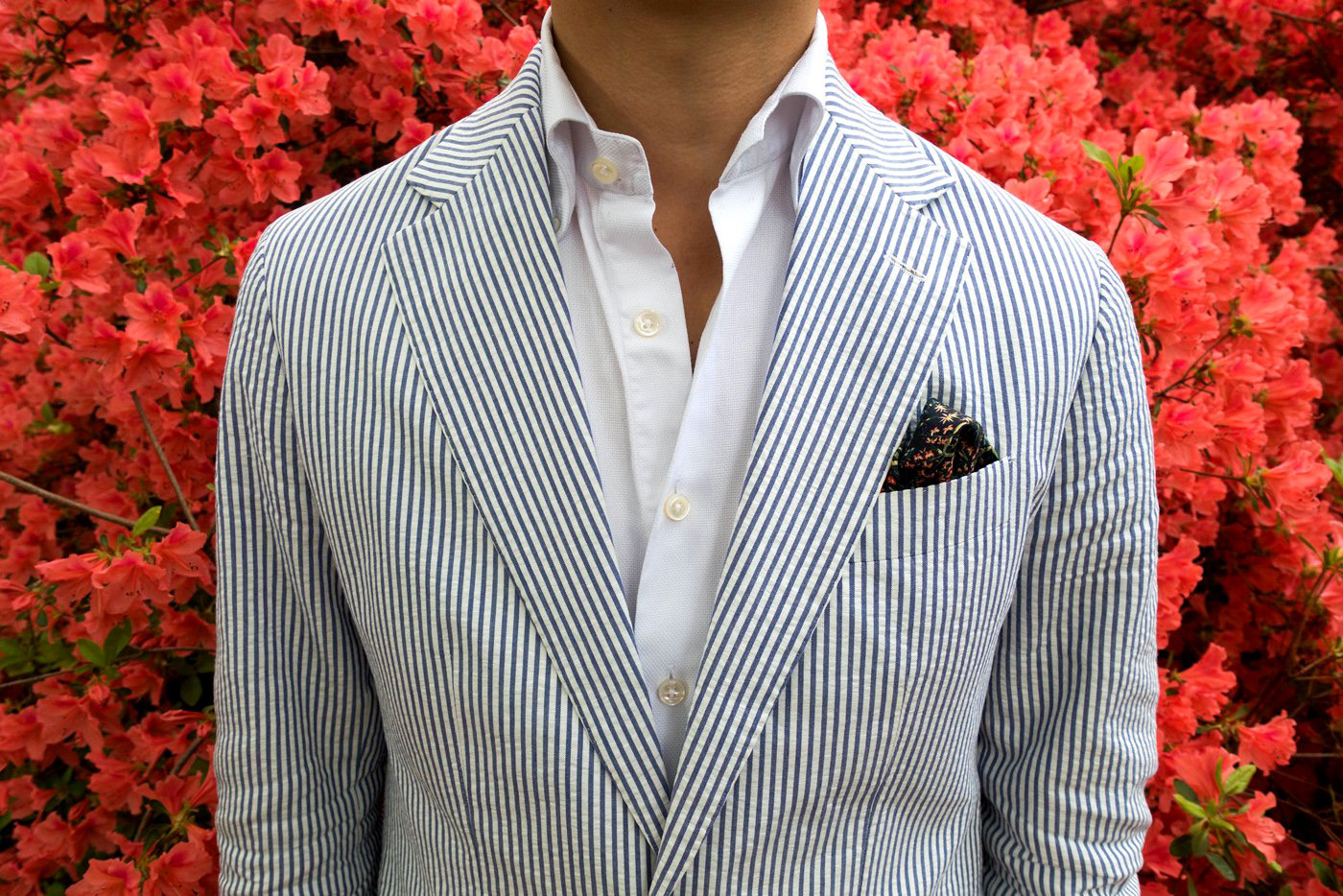 Structure actively defines your suit, so soft shoulders are essential. Shoulder pads add shape and an unnatural stiffness to your suit jacket, which is ideal for formal.
However, casual style is all about being relaxed. Your body should look natural.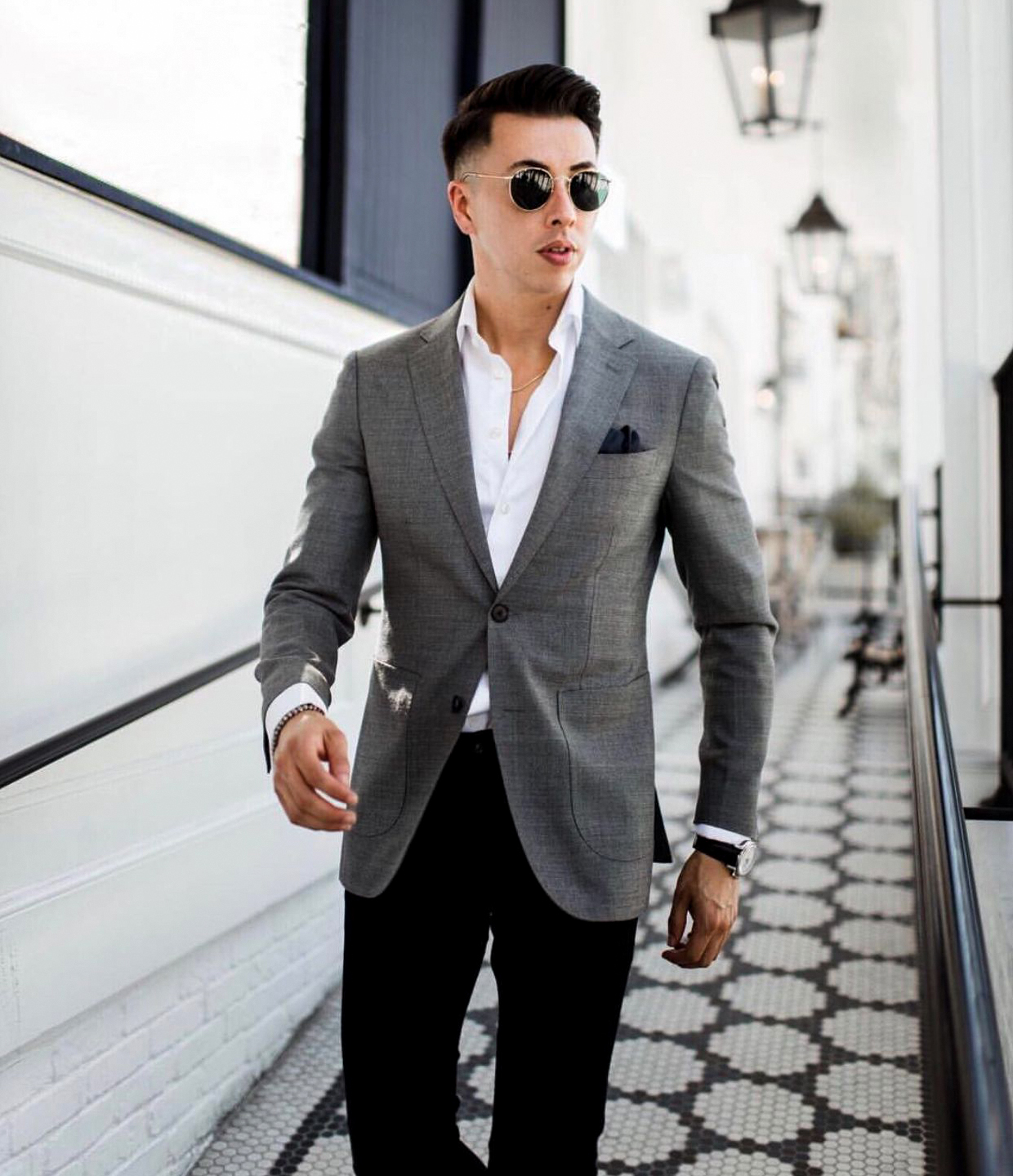 Since pocket style factors heavily in formal suits, they must also be considered when veering toward casual.
Patch pockets are the least formal pockets on a suit jacket.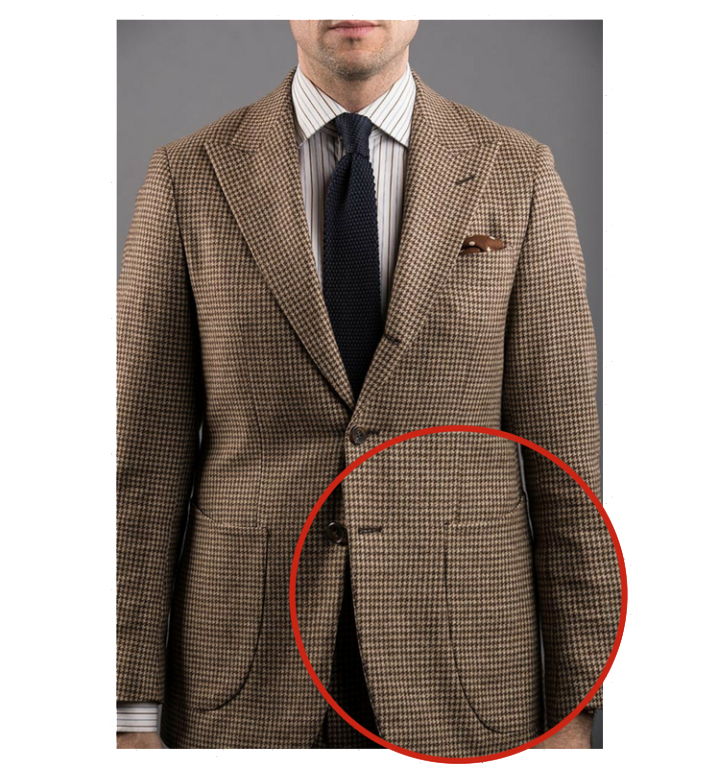 If your suit doesn't have patch pockets, at least be sure it doesn't have piping around the pocket openings. Flaps are a more casual option than jetted pockets.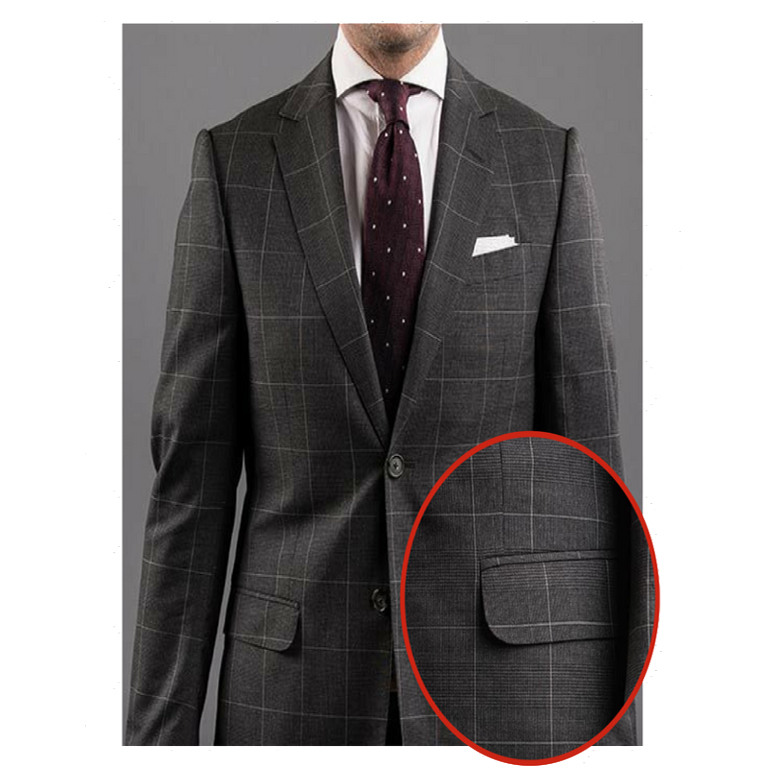 Jacket lapels seem like a minor detail on your suit jacket, but they have a bold influence. Notch lapels are the casual lapel of choice.
The Suit Still Fits You Perfectly
You don't need to follow a firm set of fit rules as you do when dressing professionally, but you still must follow some basics to avoid looking sloppy.
Don't let your suit bunch in any area. This can make you look like a sad sack, no matter how relaxed your style is.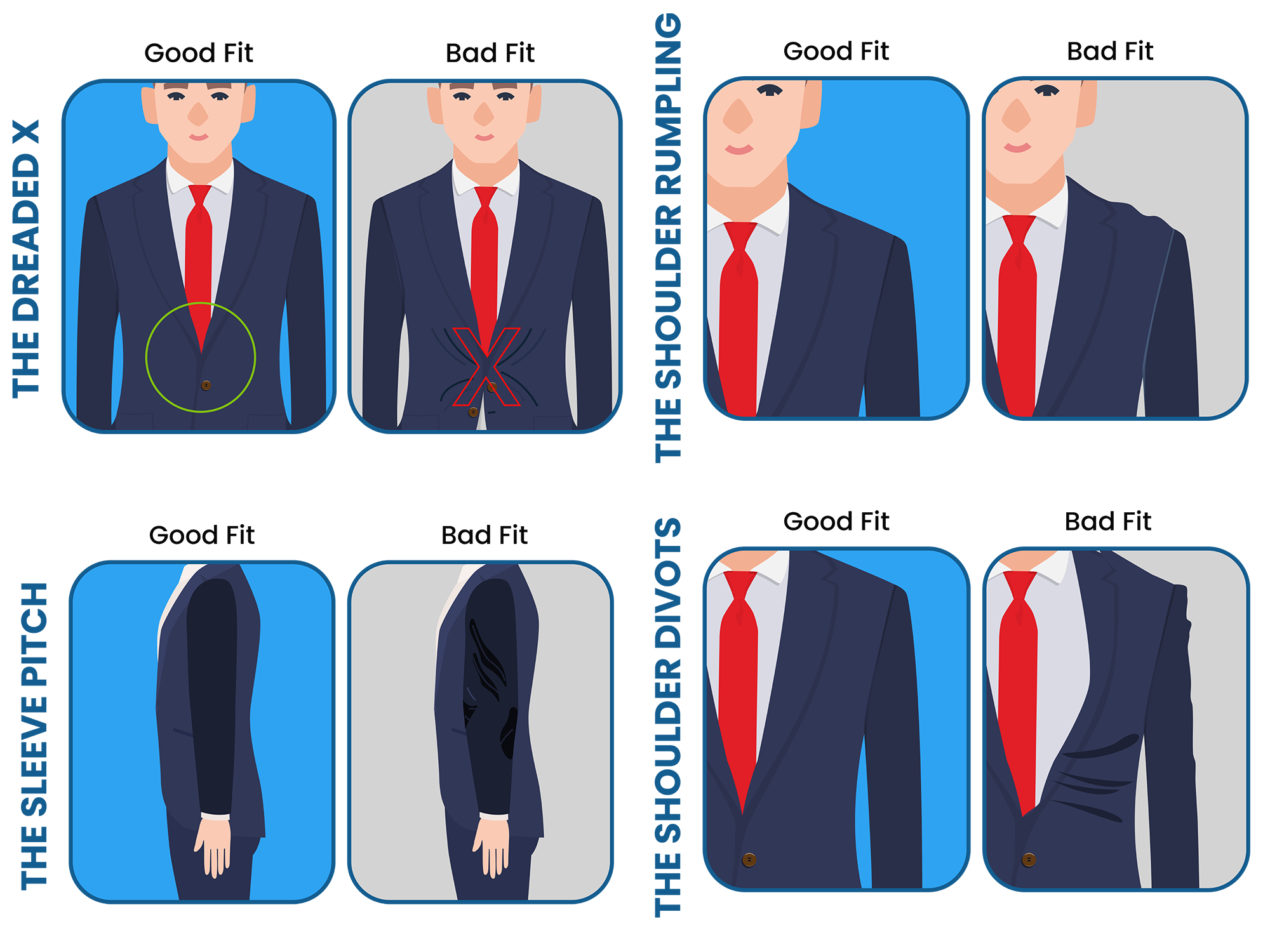 Also, avoid a pant break. Pants without a break look way more trendy.
Also, be sure that your suit jacket and sleeves are of the correct lengths. Pants and sleeves that are too long can result in a clownish look.
Why Wear a Casual Suit?
Wearing a suit casually is the perfect way to nail a smart casual way of dressing.
It extends your options with trendy chinos and dress shirts, giving you the perfect middle ground.
Casual suits expand your wardrobe, too. They provide a variety in your style. After all, informal doesn't always require a t-shirt and jeans.
A dressed-down suit always rises to the occasion in terms of fashion. It's a little bit formal, with a casual twist.
So you can still feel like you're dressing your best without being overdressed.
And besides, suits are expensive! So you should wear them frequently so you can get your money's worth!
Different Ways to Wear a Casual Suit
When wearing your suit formally, you don't have much say in how you wear it. As a result, there are only a few acceptable choices.
But with a casual style, the sky's (almost) the limit. You can be playful and experimental, wearing unusual combinations that would not fit most offices.
Wear the Suit Without a Tie
A tie just screams stuffy and formal. That's not the way to pull off a casual style!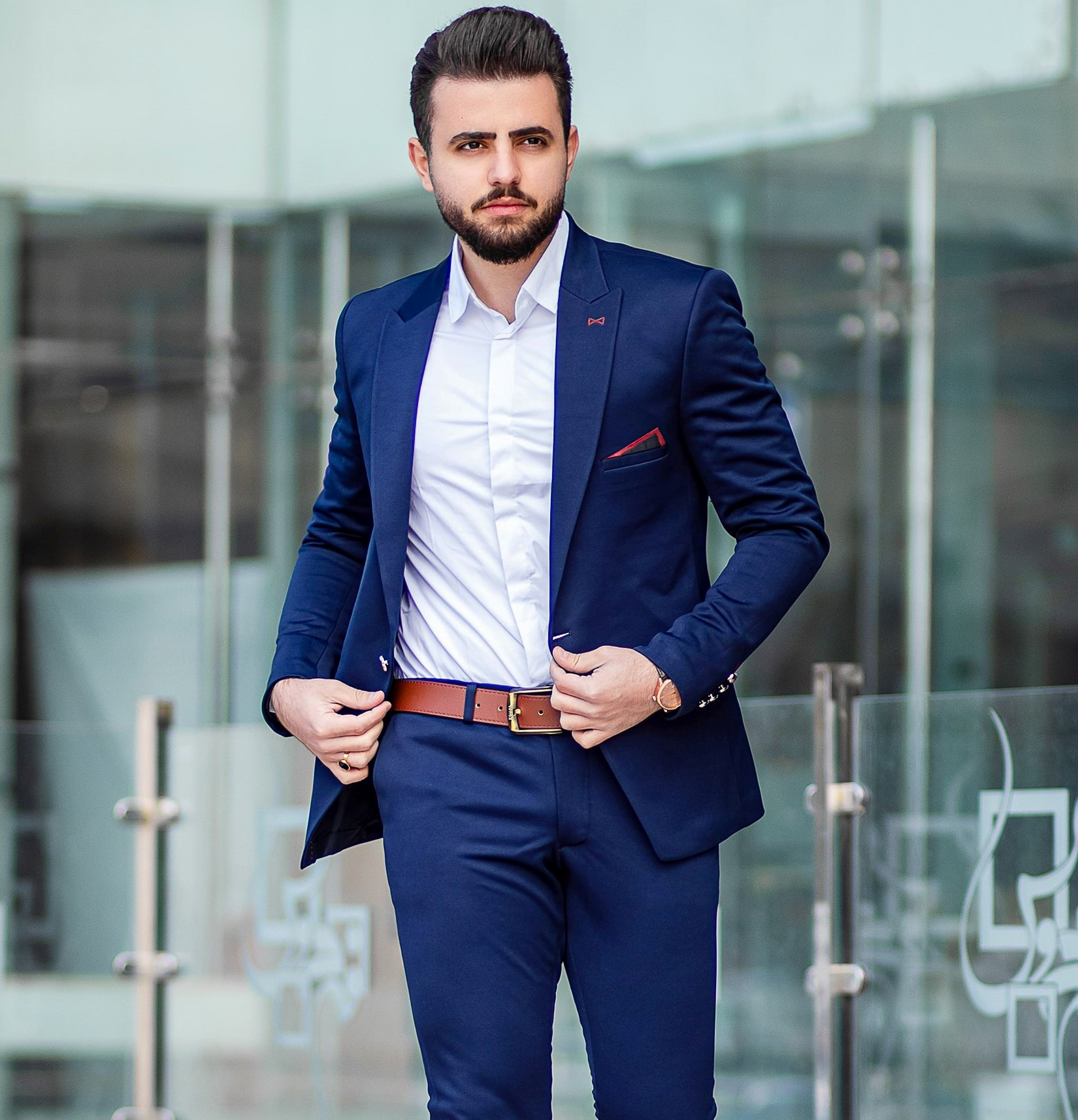 It's completely appropriate to wear a suit without a tie.
You need it for the office and other formal events, so why would you wear it when you don't have to?
Instead, loosen up your image by leaving your top button open. Maybe even two buttons for an extra laidback look.
Add a Colorful or Pattern Shirt
A plain white button-up dress shirt is the height of formality. It looks absolutely stunning with any suit but is too dressy by far for a casual look.
Color automatically lowers the formality of your dress shirt, and prints take it even further.
Larger prints make your shirt even more casual than smaller ones, so keep that in mind as you choose your printed shirt.
And the brighter your colors are, the less dressy your outfit will be.
Feel free to play with texture, too. For example, floral or denim button-down shirts stand out as the perfect casual shirt.
This is partly for their texture and partly because denim is an everyday, casual material.
Layer Up with Knitwear
A turtleneck or a light crewneck sweater under your suit jacket greatly changes your look.
Layering steers your look away from the traditional suit model. Instead, it creates an interesting and unusual effect.
Adding a thin sweater also gives you another opportunity to play with color. The more colorful your outfit is, the more casual it is.
Swap the Dress Shirt with Polo or T-Shirt
T-shirts are the ultimate in casual dressing. However, they can be tricky to pull off with a suit without looking like a wreck.
Your T-shirt must be a great fit. It can't be loose at all; it must be slim-fitting and hug your body.
The fun part of wearing a T-shirt with your suit is that it doesn't need to be a solid color.
Instead, it's OK to include a cool graphic or a print on the shirt. You are the king of casual if you can make this look work.
A polo shirt is a bit easier to style, mainly because its collar helps to elevate this knit shirt.
But, again, it can't be baggy but needs to have a slim fit. Use the color of your polo shirt to create a contrast with your suit.
Read more: What else can you wear under your suit jacket?
Shoes to Wear with a Casual Suit
Loafers are the ultimate leisure footwear that still retains a bit of dressiness. Going sockless in loafers makes a bold statement of relaxation.
But if you want the sockless look with added comfort, consider no-show socks with loafers. They give the appearance of bare feet while keeping your loafers fresh and your feet protected.
Embrace the vibe that says, "I've got the sockless style, but with a hidden comfort secret."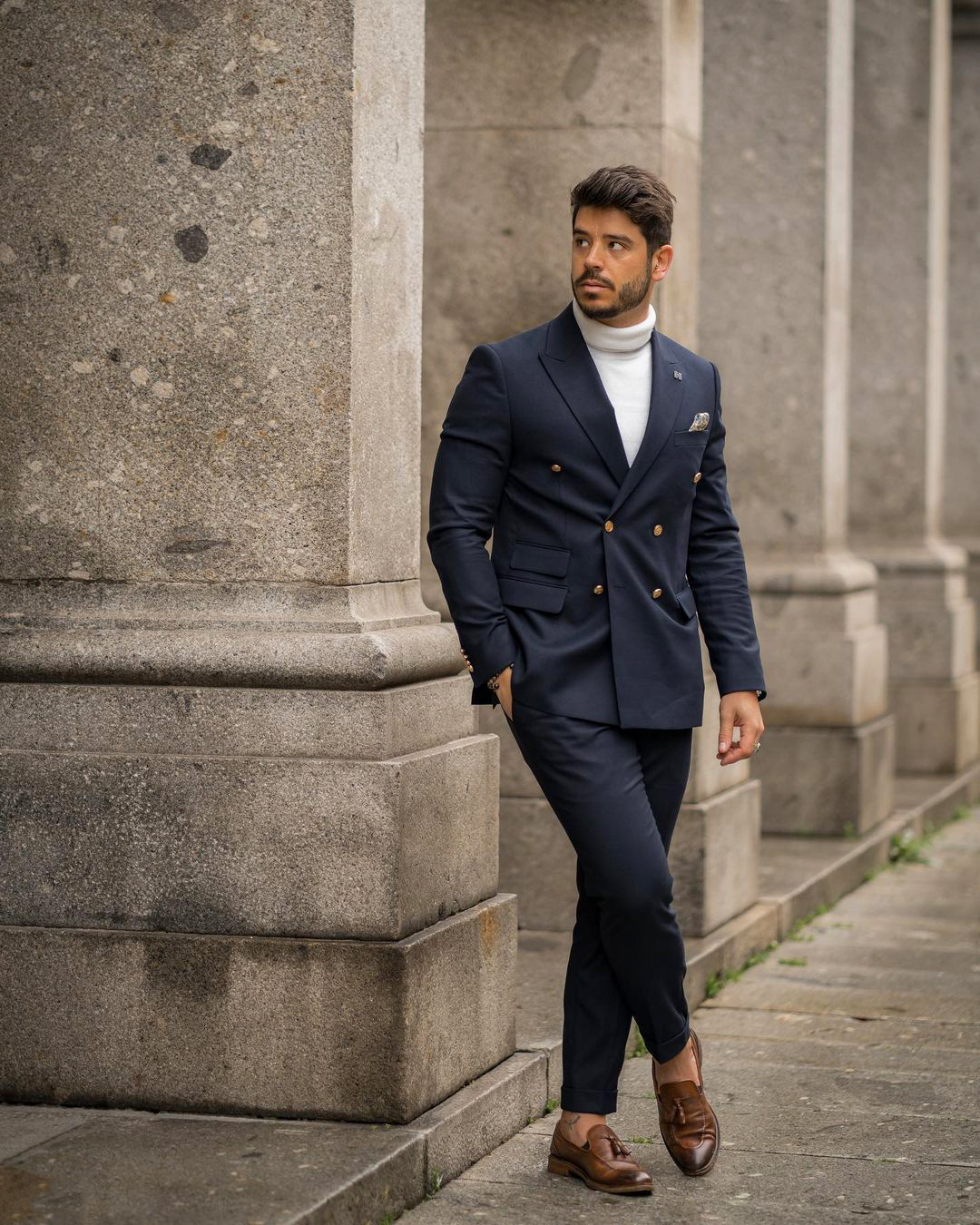 Sneakers with suits are acceptable, too, when done correctly. They need to be simple and in top condition.
Keep in mind that not every sneaker type will look good. Thus, sporty sneakers aren't the right style to wear with your casual suit.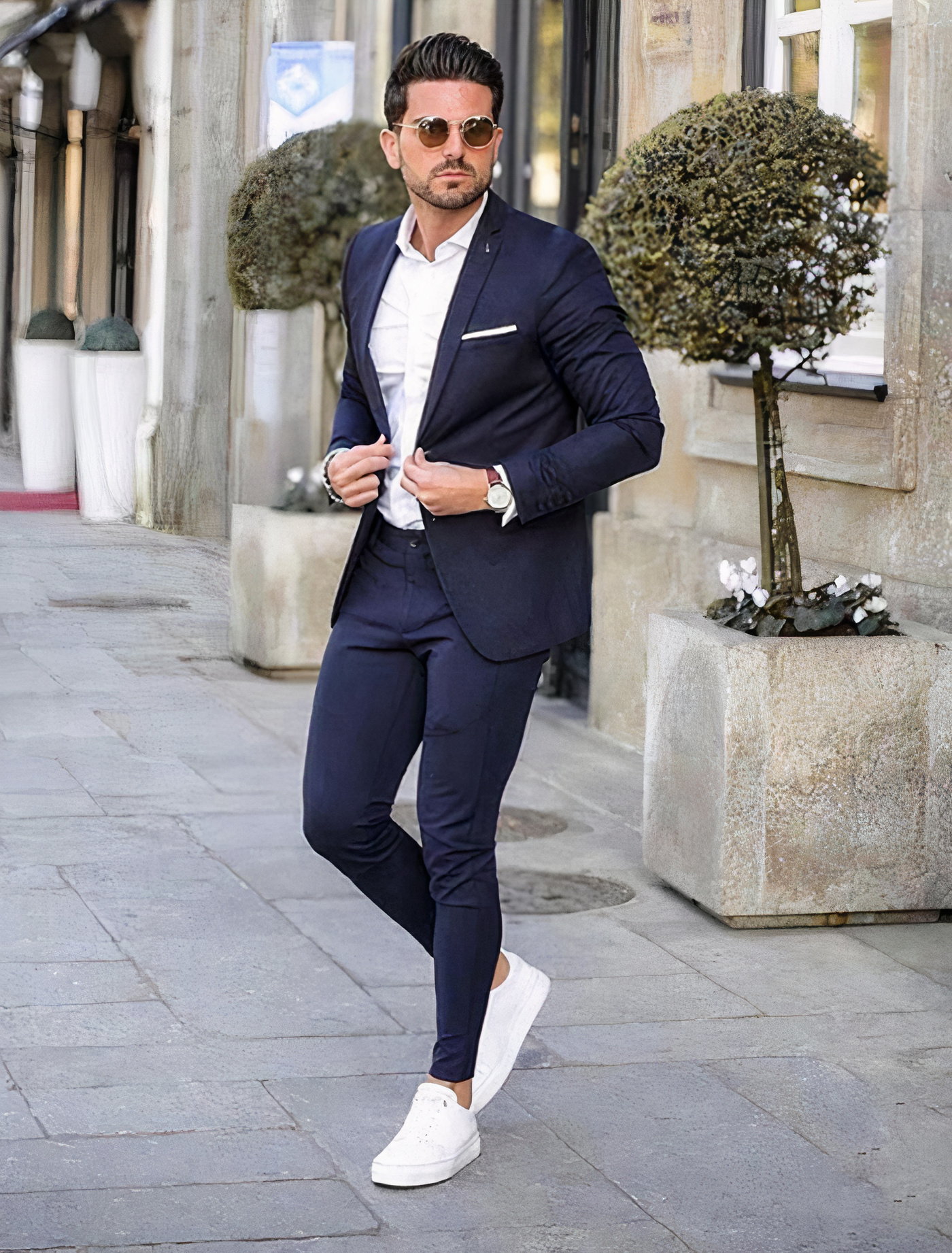 Leather and canvas are both fine materials, but avoid logos and bold designs.
How to Accessorize the Look
Accessories are always an excellent way to add personality to your suit; often, they are the only way to add a dash of you.
Your accessory options are relatively limited when you're adding them to a formal suit, but you have room to branch out to wear casually.
For example, your belt is one area where you can really change things up.
Feel free to skip it altogether if you like. Your pants really shouldn't need one, anyhow.
Or, you can make a statement with a casual belt. Try a braided leather belt, or go in a completely different direction with a canvas one. And add color to it!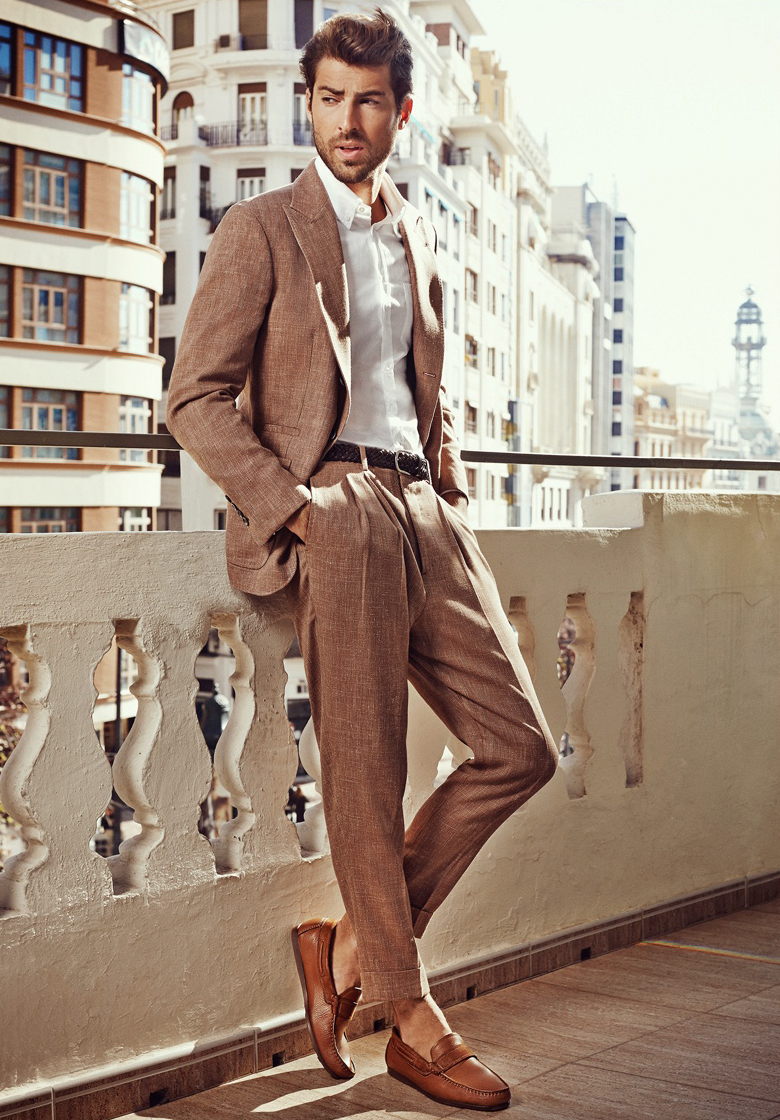 How about your watch? A casual suit allows you to expand beyond the standard dress watch. Why not try a more casual watch type, like an aviator or a pilot watch?
Pocket squares are generally a way to add charm and elegance to your suit. But when added casually, it can add pizazz to your outfit in place of a tie.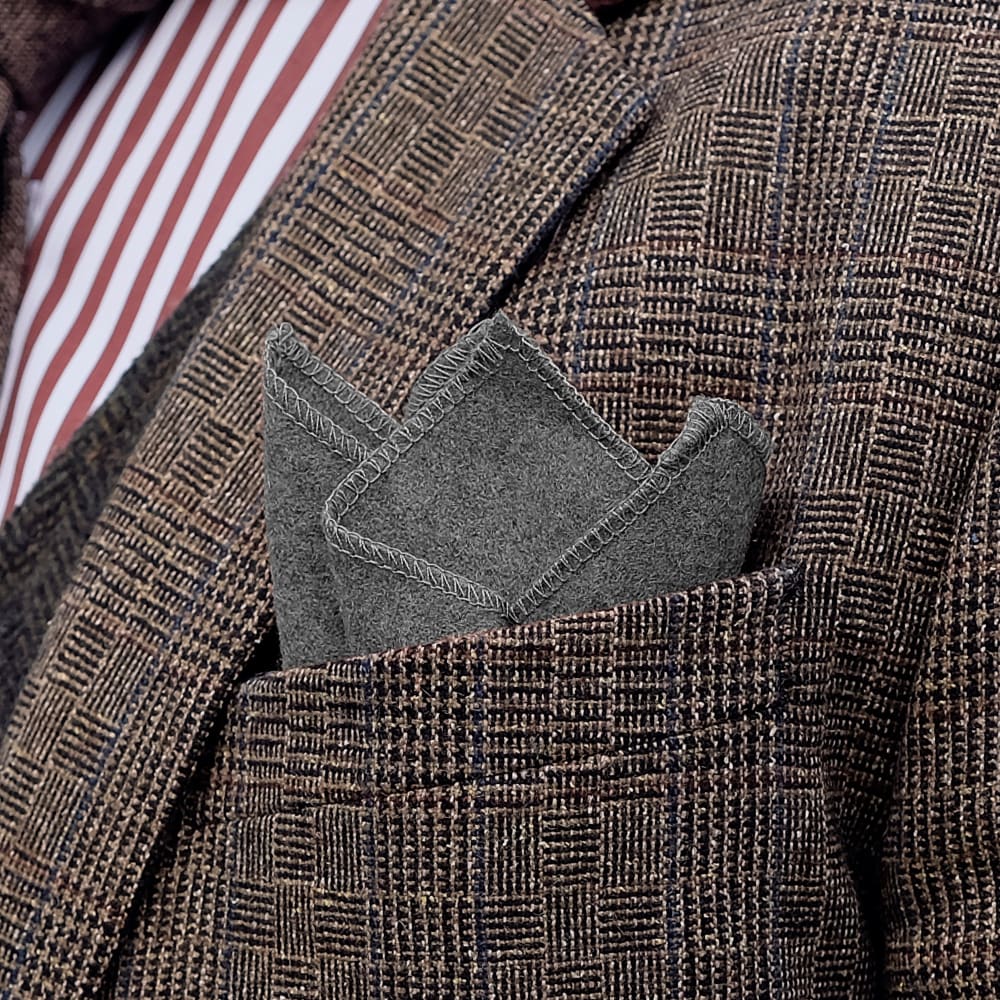 So again, play with the color and print!
When to Wear Casual Suits
Anytime you need to look good is the perfect time to don a casual suit.
This could be the ideal outfit for heading to a casual office or a daytime wedding.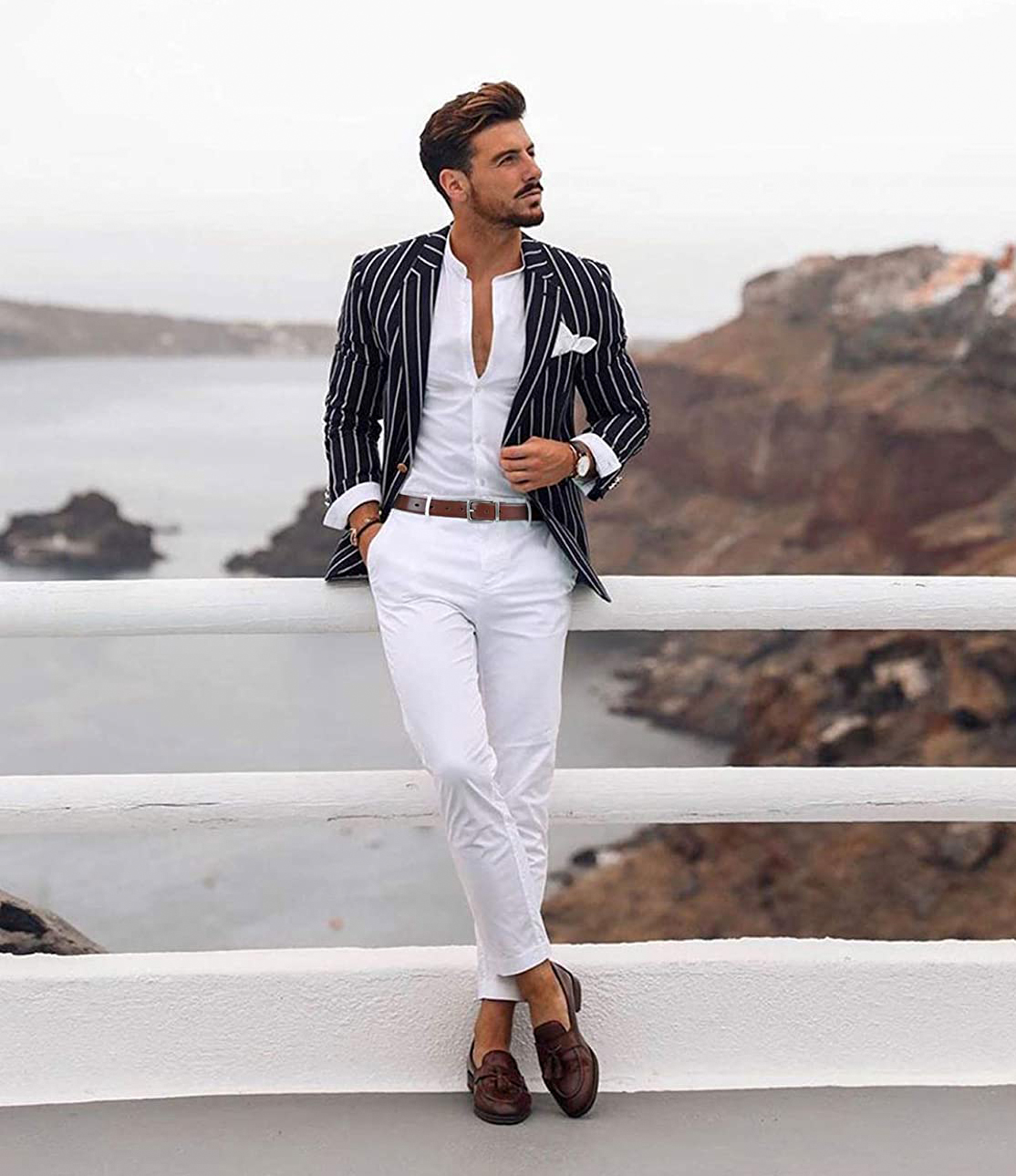 Other, less structured social events are also ideal for casual suits: brunch, date night, or a family gathering are all places and events where you're sure to impress with your smart casual style.
When you don't need to be formal but still want to dress stylishly, casual suits are the way to go.
Author: Alexander Stoicoff
Hi, I'm Alex, and I've studied and specialized in styling in Rome. Through my writing, I want to help men dress well and learn the purpose and significance of suits and other formal attire. My final goal is to make men more confident in their wardrobe choice and life in general.