Chelsea boots have been a staple of men's footwear for generations, and it's easy to see why.
These ultra-cool boots look great with nearly any style and are oh-so-comfortable.
You can indeed dress them up or dress them down; the secret to pulling off Chelsea boots lies in how you style them.
Let's check out several different outfit options for this remarkable boot.
Ways to Wear Chelsea Boots with Formal Attire
Men's boots are known for being heavy-duty footwear, typically best worn for work or bad weather. In modern times, they've traditionally been utilitarian, not fashionable.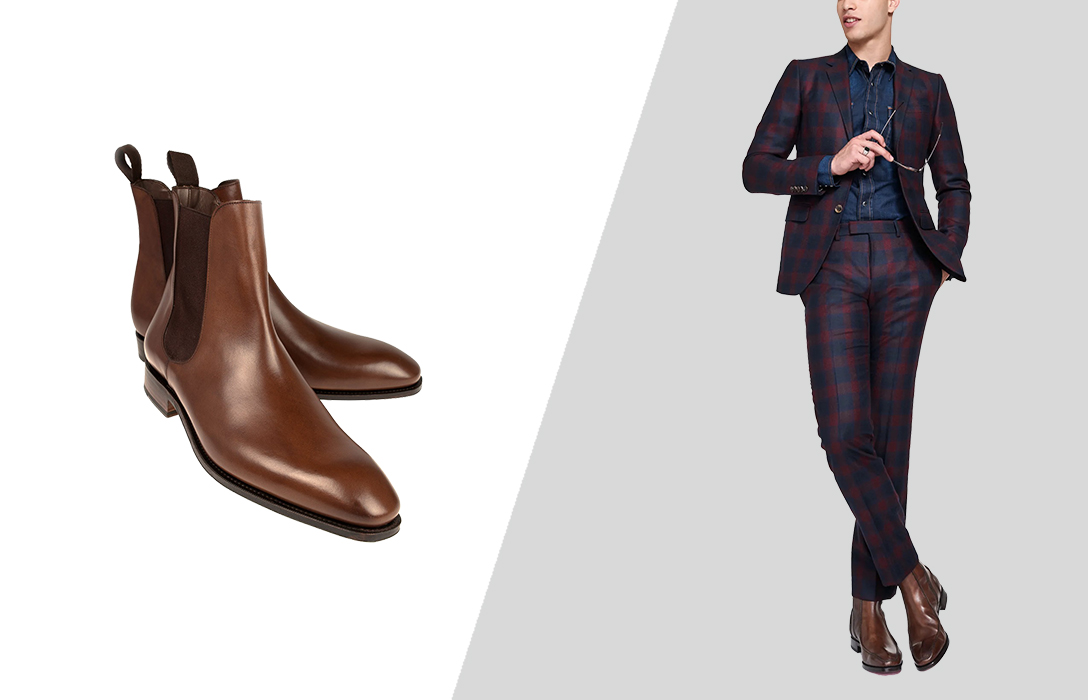 However, boots don't have to be just for function. You can even dress up certain styles, especially men's Chelsea boots.
This may seem to create a conflict, but Chelsea boots can transform from casual to a perfect complement for a sleek, sophisticated outfit.
They can even make your outfit a bit funkier.
Wear Chelsea Boots with a Suit
Spice up your semi-formal look with these ankle boots.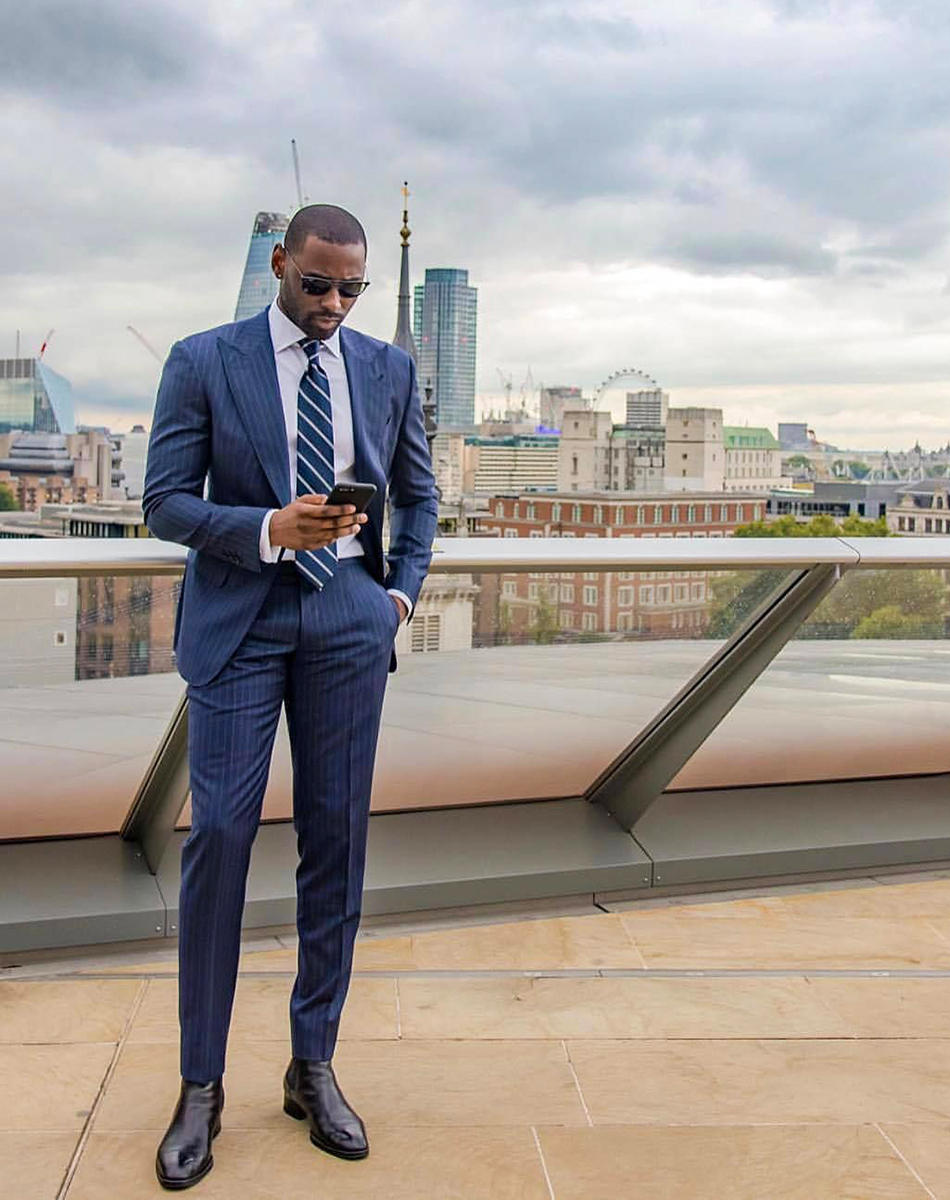 You can keep your outfit looking polished and professional when you add a pair of leather boots. Choose ones in black, but dark brown can also work.
For example, make your standard navy suit more exciting when you swap out your black Oxford dress shoes for black leather Chelsea boots.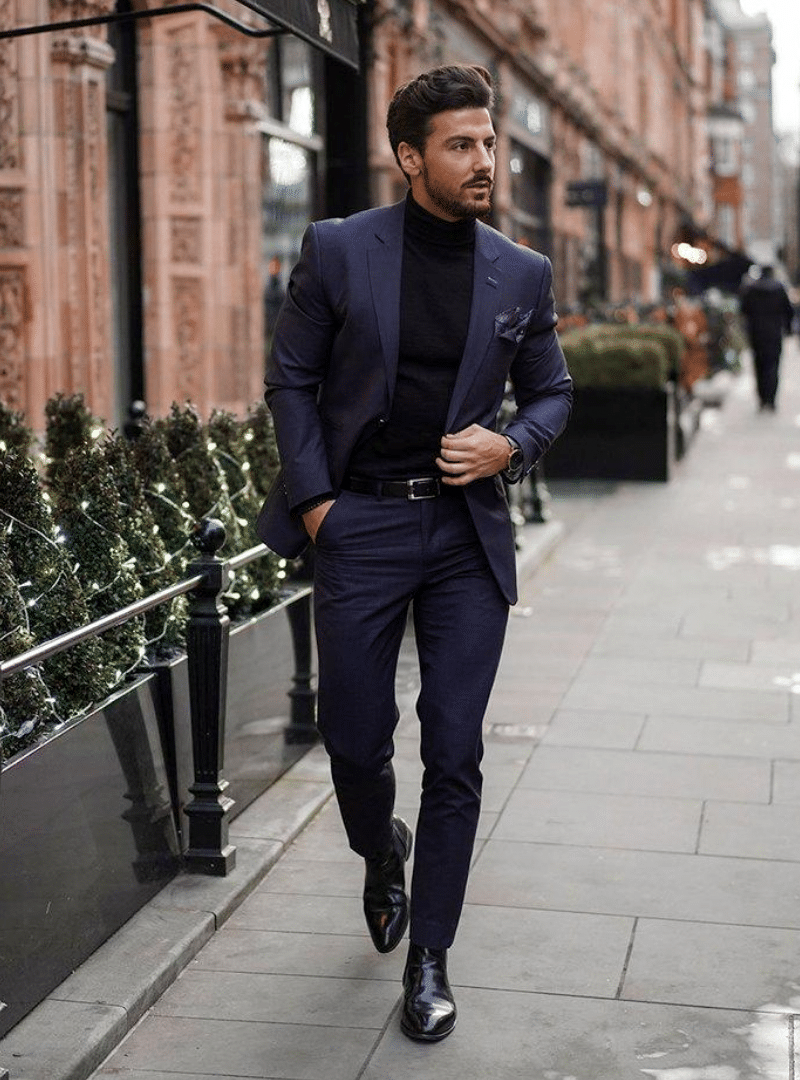 Another excellent option is a charcoal suit. Pair them the same way you'd match your other dress shoes.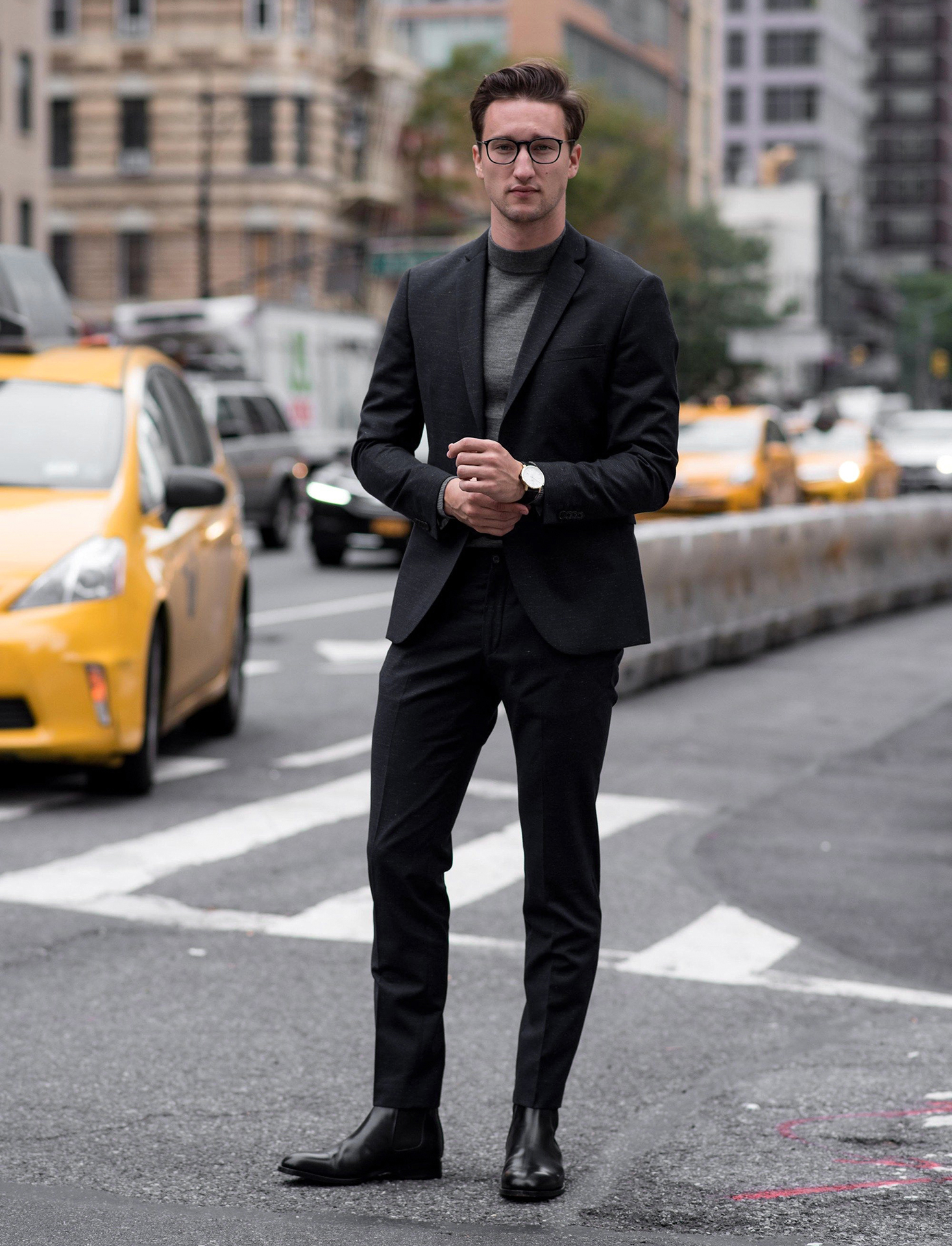 Don't allow the high ankle to confuse you, though. Your suit pants should still fit you the same way they do with your other men's dress shoes.
You should still have a slight break at the bottom.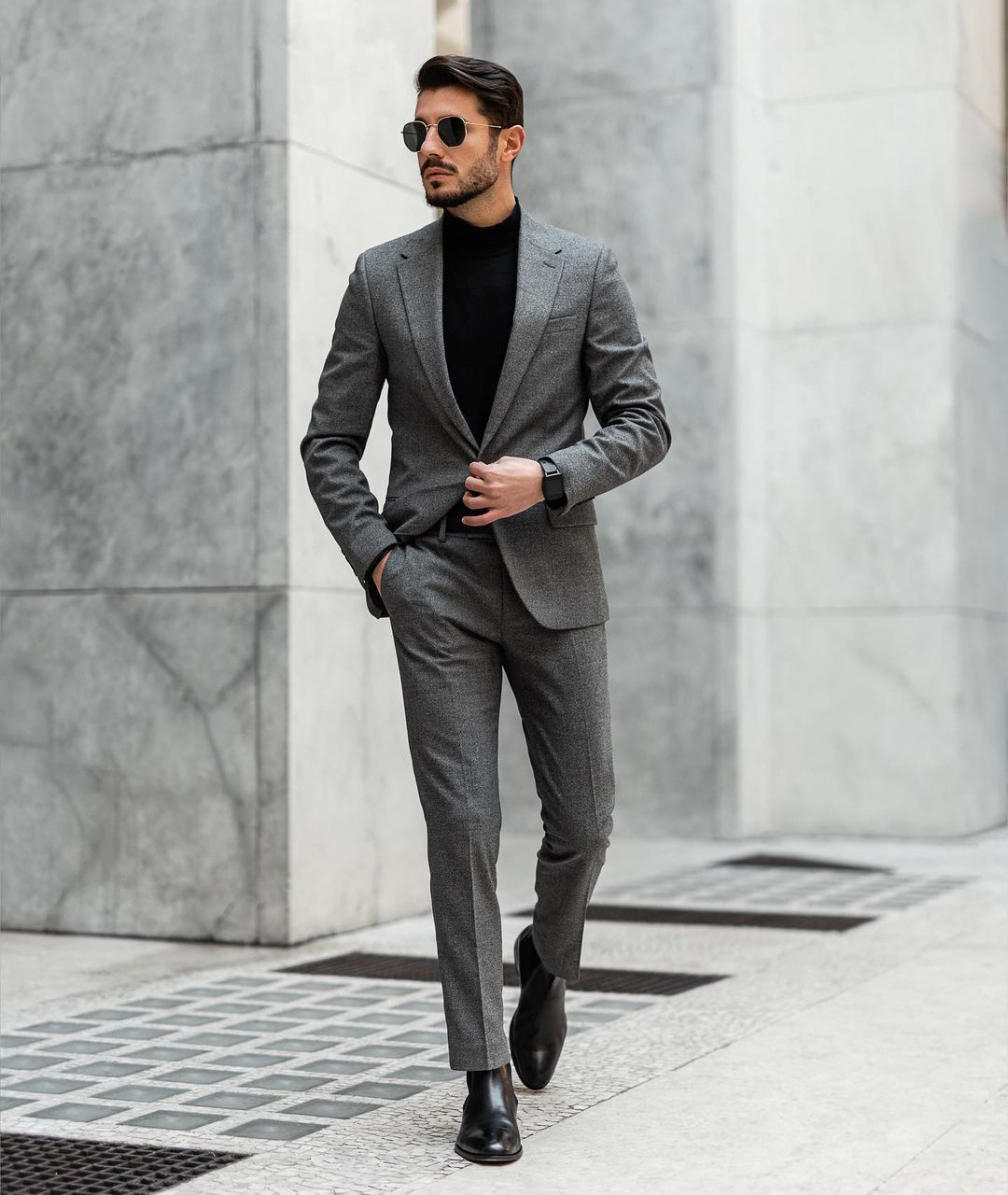 Wearing a turtleneck below your suit jacket is a perfect replacement for the standard dress shirt, especially during colder months.
For more inspiration on how to match Chelsea boots with a suit, read this article.
Chelsea Boots with Blazer & Dress Pants
Business casual clothing doesn't need to be boring or cookie-cutter.
You can flavor your favorite blazer and trousers outfit more when you incorporate Chelsea boots.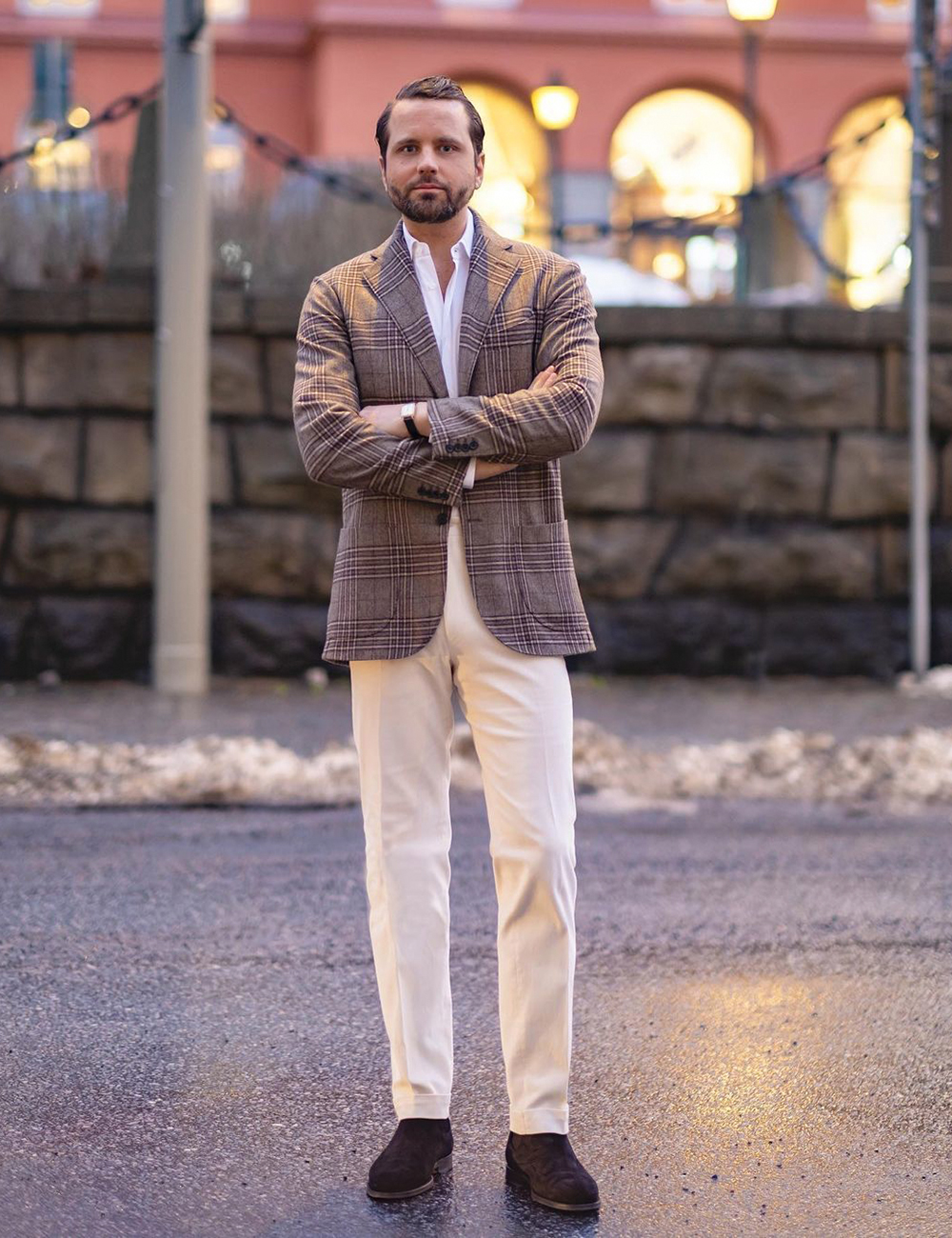 Wearing these unexpected boots can be a breath of fresh air, a way to break away from dress shoes without resorting to entirely casual shoes.
Grey dress pants with a navy or charcoal blazer over a sweater or dress shirt look well with both black or brown leather Chelsea boots.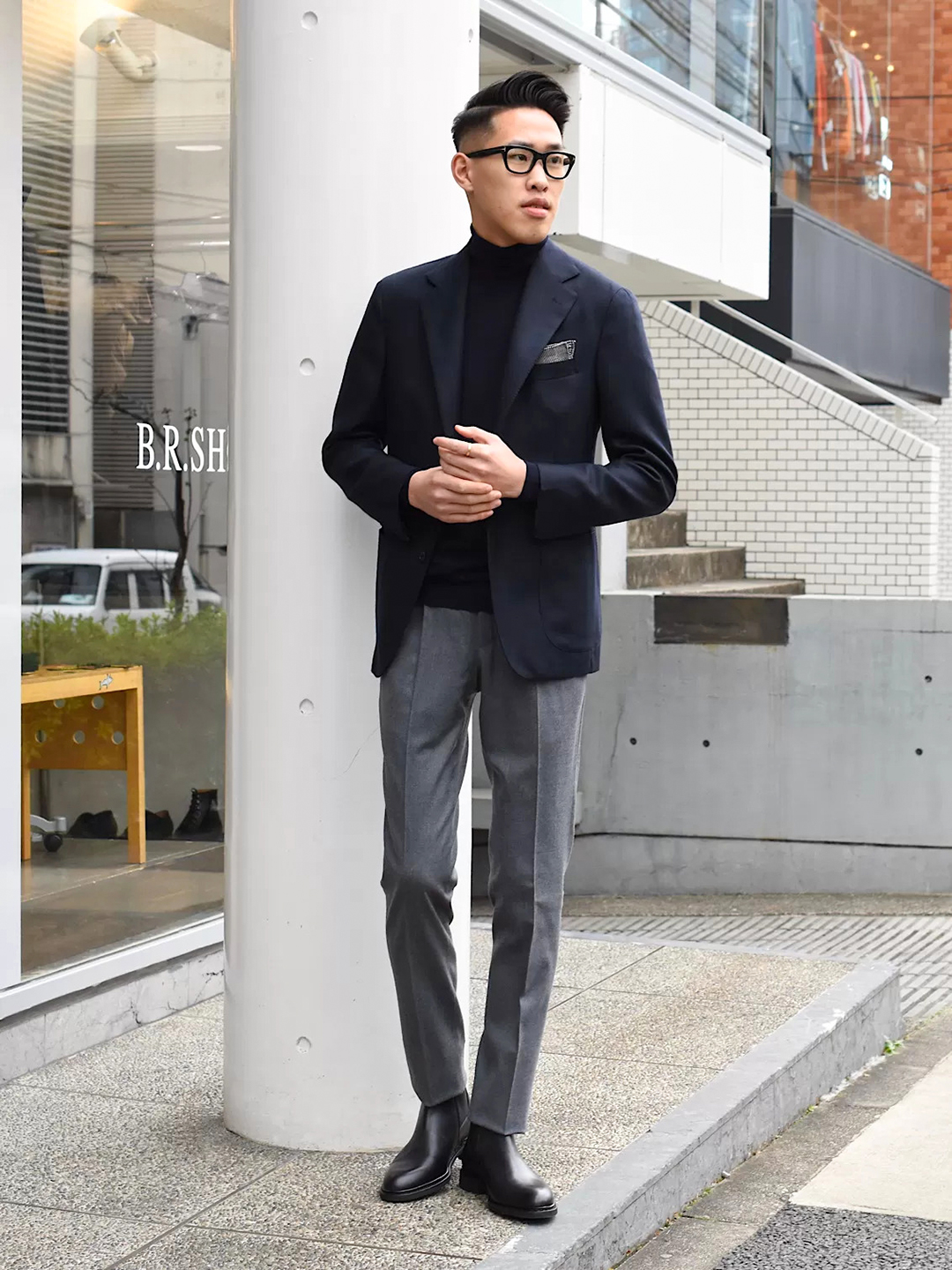 A white dress shirt is always a win. But you can also add a dash of flair with a subtly patterned shirt.
Another stand-out ensemble is a pair of grey trousers, a pink button-up dress shirt, and a printed blazer, with black leather Chelsea boots.
Chelsea Boots with Sweater & Blazer
A relaxed way of dressing up can include a lightweight sweater underneath your blazer.
Consider slipping on a sharp-looking pullover before you put on your blazer. You'll still be dressy, but a somewhat relaxed formal.
A thin crew neck or V-neck sweater in a neutral tone creates a subdued look that's appropriate for the office.
Or wear a jewel-toned or light pastel for a more fun and exciting aesthetic. You can also include a button-up dress shirt below your sweater (more below).
Again, a turtleneck is another excellent option. Again, keep the material thin and dark, and you'll have an awesome dressy style.
You can dress up the look with a blazer and dress pants when headed out for cocktails.
Choose your boot color based on your pants. You can also wear dark or khaki-colored chinos or keep things smart casual with a pair of slim, dark jeans.
Formal Coats to Wear with Chelsea Boots
A peacoat or overcoat makes the perfect complementary topper for Chelsea boots. Not only are these coats a good way to stay warm on cold days, but they also fit the aesthetic of your sleek boots.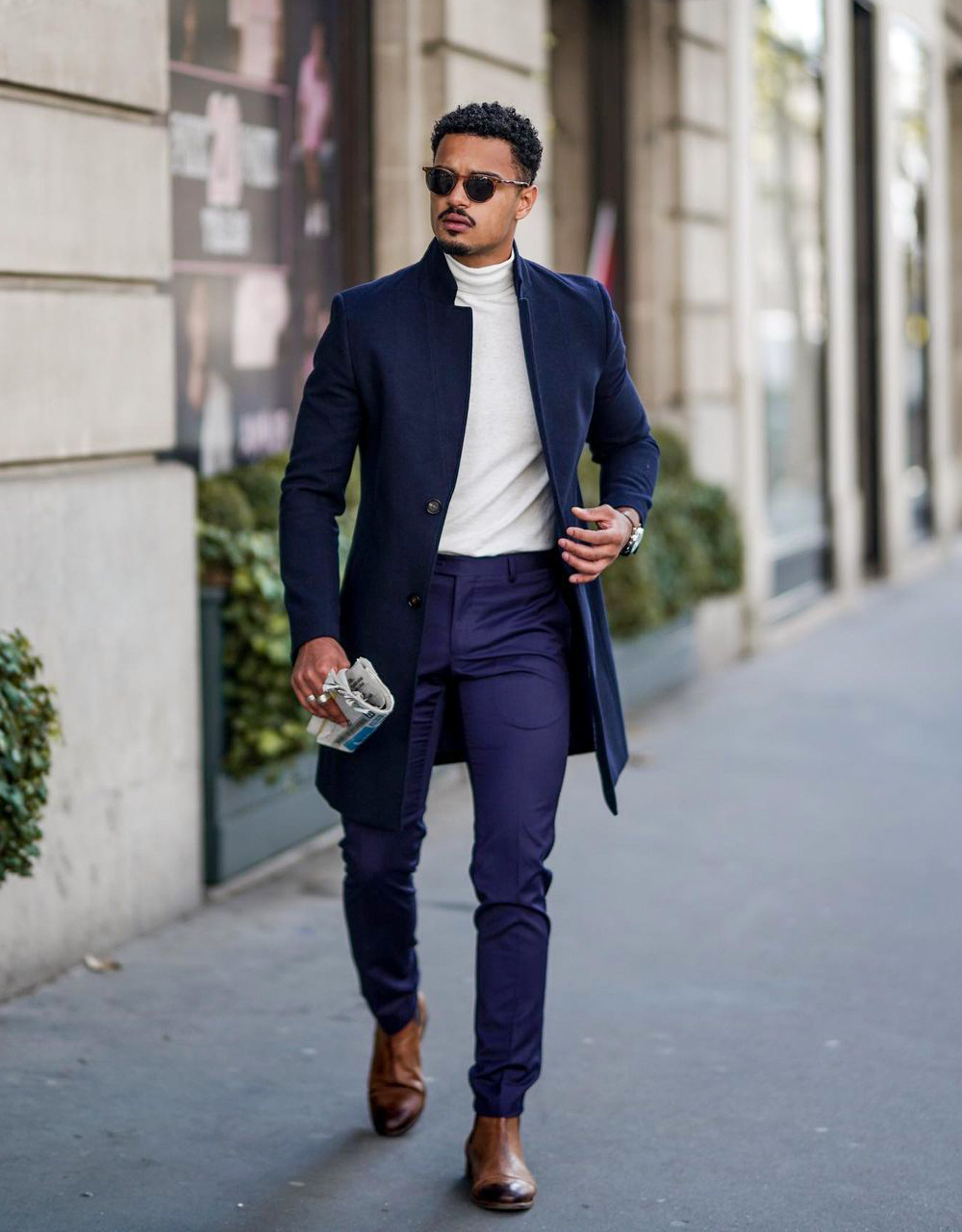 Keep your trousers slim so they create a balanced silhouette with your coat.
If the weather is chilly enough to require a jacket, you'll be thankful for the Chelsea boots keeping your ankles warm and dry. They'll surely serve you better than loafers!
Wearing Chelsea Boots with Casual Outfits
Part of the beautiful versatility of Chelsea boots is that they can trend from smart casual all the way to very laidback.
They can upgrade any look thanks to their sleek, clean lines. They fit right in with the basics without feeling overly fancy.
A good point to remember is that suede Chelsea boots will always be more casual than leather ones.
T-Shirt and Chinos for Smart Casual
You can create a very smart business casual outfit by incorporating Chelsea boots into your chinos and t-shirt ensemble. Then, top it off with an unstructured blazer for the finishing touch.
For example, mix navy or black chinos with a white t-shirt and a tan or brown blazer. Add black Chelsea boots, and voila! You're ready to head to work.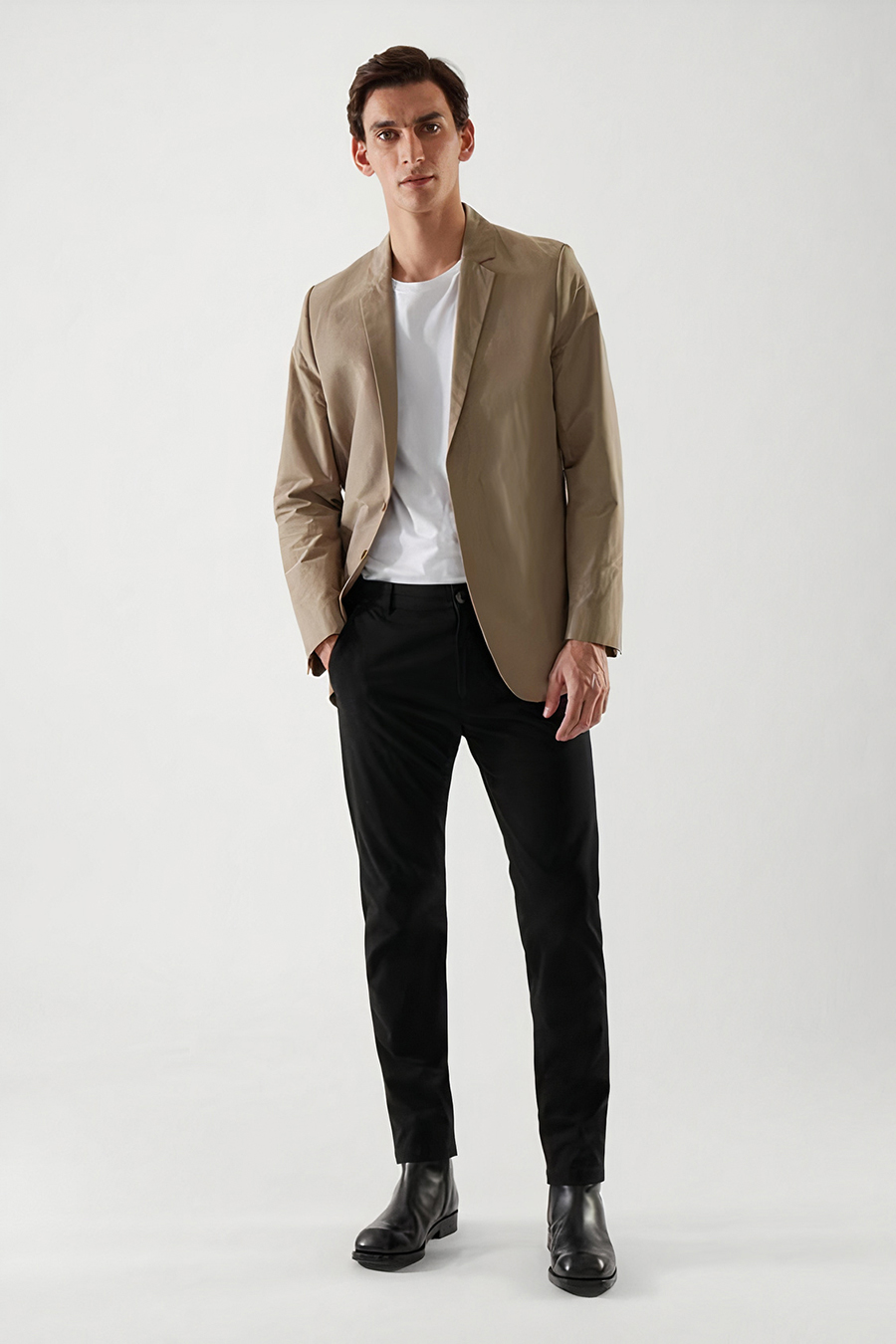 Dark pants make your clothing more office-friendly, but khaki chinos are ideal on the more casual end.
Try mixing them with a navy blazer and brown boots for your dress-down Friday.
Matching Chelsea Boots with Jeans
Chelsea boots look super hot worn with a pair of well-fitted jeans. You don't need to try hard to make an impressive entrance when you add a plain black t-shirt and black Chelsea boots.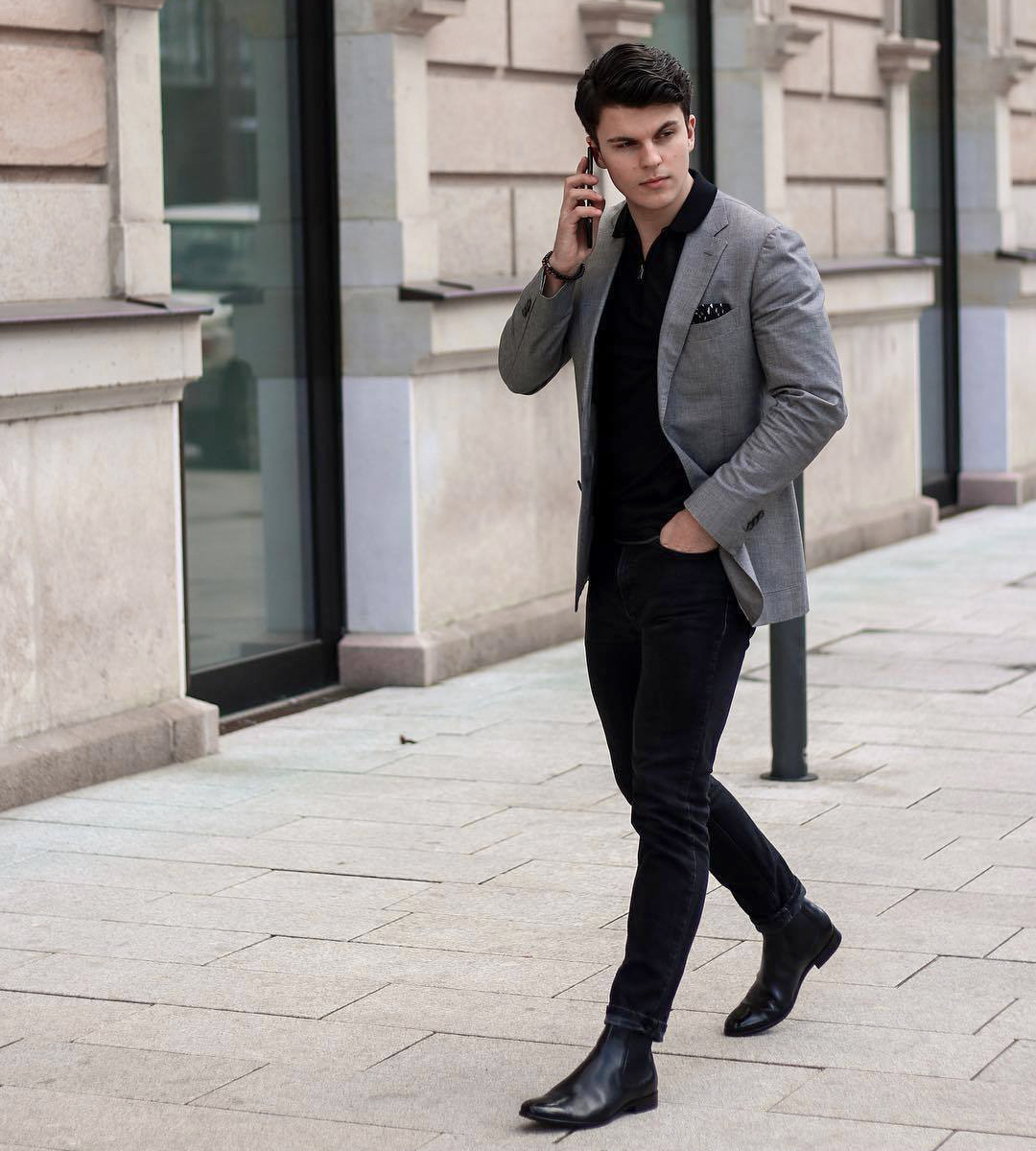 The black boots look amazing because they create an unbroken line between your shoes and jeans.
Change things up with a light sweater or white t-shirt. Also, you can throw a flannel or blazer over your t-shirt if it's cool out.
Ditch dark jeans for some lighter denim when the weather is warm. Instead of black leather, opt for brown suede Chelsea boots. This will feel more seasonal.
Sweater over Dress Shirt with Jeans or Chinos
For an awesome weekend look that says you're relaxing but still striving to look put-together, a casual pair of jeans or chinos look fantastic with Chelsea boots and a lightweight sweater over a dress shirt.
It looks absolutely effortless and is comfortable. You could look even more laidback by layering a cardigan over your dress shirt instead of a pullover.
Adding a sweater means you are spicing things up with a bit of texture.
Since you aren't wearing this look for a business casual day at the office, this is a great opportunity to add some color.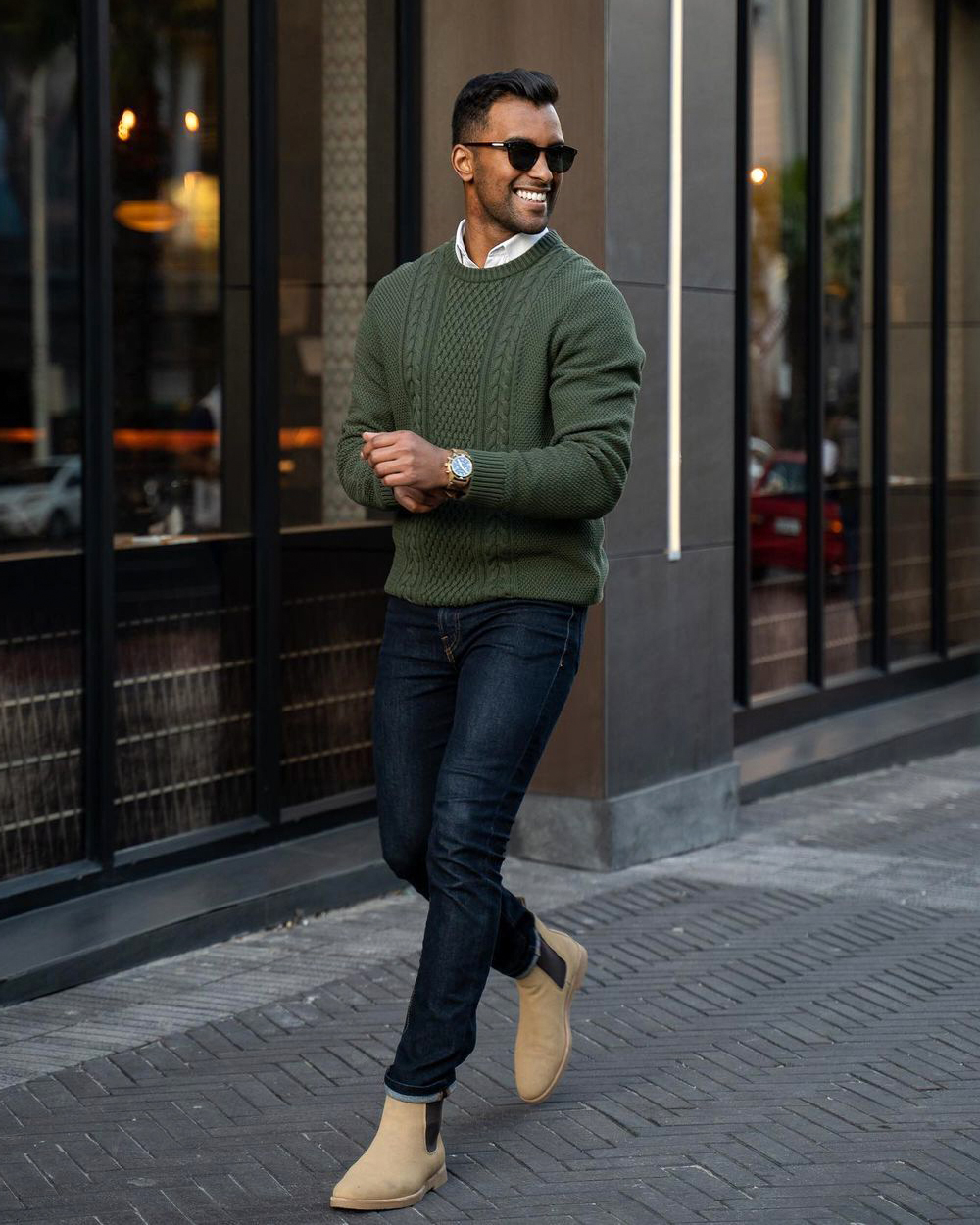 Create a contrast between your pants and your top. Brown boots help keep your effortless style, preventing you from looking overly dressed.
Casual Jackets to Wear with Chelsea Boots
When it gets cold out, don't skip a jacket for fear of ruining your ensemble.
Instead, find the right jacket that can be the centerpiece of your outfit. A leather jacket or a bomber can achieve this goal easily.
The right jacket will make your entire image feel completely classic. However, the rest of your outfit should be unremarkable.
That said, keep all your other garments subtle for a more casual look. Stick to black jeans, a t-shirt, and a hoodie.
Match your boot color to your jacket, and don't mix materials. For example, if your jacket is leather, your boots better not be suede.
What Defines the Chelsea Boot
The Chelsea boot is a classic style that's been around since Victorian times. It found renewed enthusiasm in the 1950s and 60s in London and soon rocked the rest of the world.
You'll instantly recognize this iconic footwear with its laceless ankle boot. Many Chelsea boots are made from one piece of leather from toe to heel, with a seam in the back.
However, some can have seams along the top. Since the boots don't have laces, you slip them on with the help of wide elastic gussets on the side and a pull tab at the heel.
They are generally unadorned, but some Chelsea styles will be the exception to the rule.
Best Chelsea Boot Colors for Men
Chelsea boots come in many colors and shades. Despite the array of tan, grey, and navy options, black and brown are the most common.
These are the best color choices because they're highly versatile.
You can wear dark brown and black Chelsea boots for all styles of outfits, from formal to super casual. Of course, the lighter your boots are, the less dressy they are.
Of course, black leather Chelsea boots will be your most formal choice. However, a pair in brown are probably easier to match with more outfits, giving your more ways to wear your boots.
Leather Chelsea vs. Suede Chelsea Boots
Leather Chelsea boots are the most common style among these men's boots. They are more flexible because they are sleek enough to wear with dressy suits but still able to stand in for casual shoes.
You can wear leather for formal, business casual, or very casual; all of it is fair game.
On the other hand, suede boots have a softer and looser appearance. Therefore, they feel more casual.
Brown suede Chelsea is more common than black since brown is a more laid-back shade. You can wear these boots with either smart casual or fully casual clothing.
Be cautious when buying suede Chelsea boots, though. They can stain very easily, even just from water, so be sure you apply some protection to them before wearing them for the first time.
Simple Style Tips for Chelsea Boots
With a few basic guidelines, you can ensure that your boots always look perfect with your outfit:
Want to wear them with a suit? Go for it! Just don't wear scuffed and dirty boots. Always clean them off and give them a polish first.
Whether you're wearing dress trousers, chinos, or jeans, don't ever tuck your jeans into your boots.
Instead, make sure your pants cover the ankle of your boots. Your pants should be long enough to hang over the ankle and fall to the top of your foot.
Don't wear trousers that have very wide ankles. There's already enough going on at your ankle with the boot top. Extra fabric makes for too much happening there.
Conversely, the pants shouldn't be too skinny, either. If they are, they won't be able to fit over the boot.
And finally, always choose the right boot material for your outfit. For example, suede is far too casual for a professional suit.
Author: Alexander Stoicoff
Hi, I'm Alex, and I've studied and specialized in styling in Rome. Through my writing, I want to help men dress well and learn the purpose and significance of suits and other formal attire. My final goal is to make men more confident in their wardrobe choice and life in general.