It's an understandable error not to know how to wear your Derby shoes properly.
After all, they look so much like other dress shoes, like Oxfords! And since they're so similar, it's understandable to assume they're interchangeable.
However, thinking you can substitute one for the other is a rookie mistake.
Your footwear game will rise drastically once you know the basics of the good old derby shoe.
What are Derby Shoes?
The derby is a traditional lace-up dress shoe with a simplistic design. They're considered an evolution of the Oxford shoe.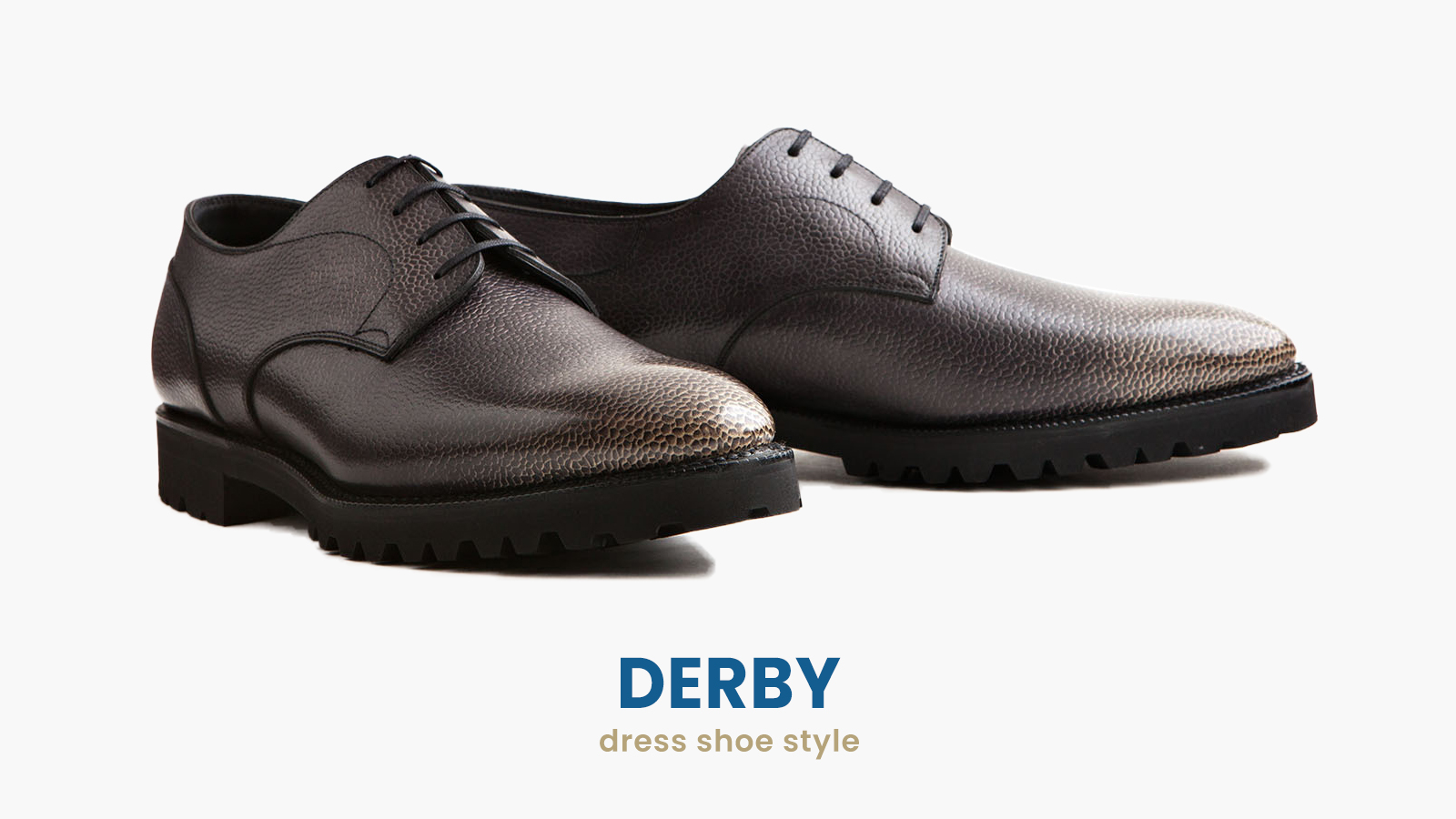 Legend says that the derby shoe was popularized in the 1850s. However, its origins are much earlier, presumably when the Earl of Derby asked for a shoe that could accommodate his wide feet.
Today, Derbies are an enduring men's shoe because they're incredibly versatile; you can wear them with a suit for your more formal moments or jeans for your laid-back days.
Also, they are a more relaxed counterpart to Oxford dress shoes due to their minor yet substantial differences.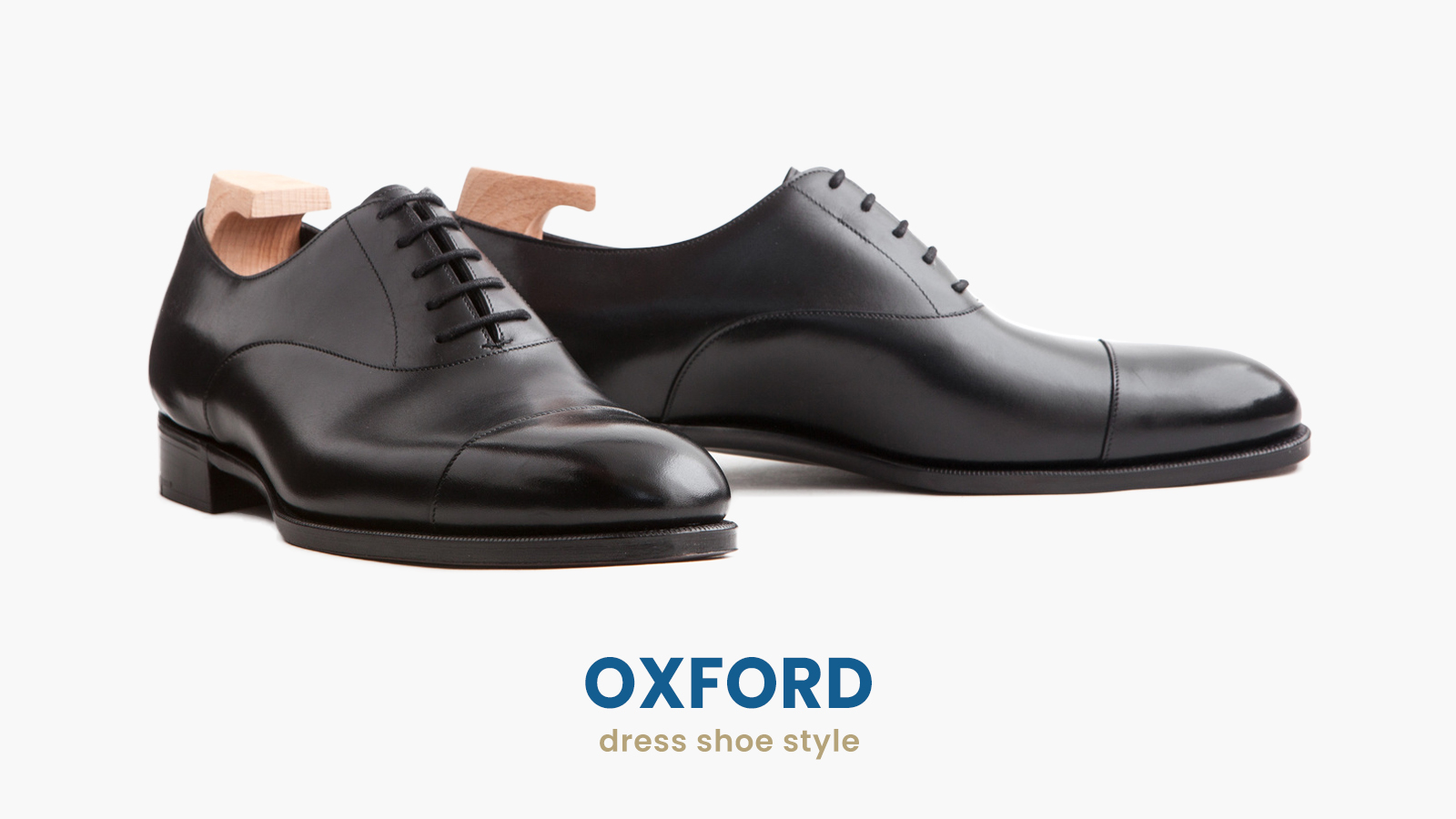 Even though they are less dressy than Oxfords, Derby shoes can make any outfit feel sophisticated. In addition, you can play with colors to vary the formality.
Dark shades are decidedly formal, while you can make your shoes firmly casual by choosing a non-traditional shade.
Derby Shoe Anatomy & Features
Derby shoes stand out due to their unique open-lacing system. This means the eyelets are found on top of the vamp instead of under it.
As a result, the eyelet strips appear as loose flaps, not sewn down as they are on Oxfords.
The result is a more open shoe top, lending the footwear a more informal and carefree appearance.
Make no mistake, though. Derbies are still considered a formal dress shoe type.
Different Derby Shoe Types
Derbies have been around for so long that it's only natural that they have developed a few variations.
However, despite different embellishments and distinctions, they are still derby shoes because of the open lacing feature.
Classic derby dress shoes are simple and unadorned. This is their original design and is the most formal and traditional.
Chunky derby shoes have a sole far thicker than standard derby dress shoes; they also have more pronounced features. This overemphasis on features is an intentional attempt to make an even more informal version of derbies.
Brogue Derbies feature perforations that create a design along the toe and sides of the shoe. Keep in mind that broguing is not unique to derby shoes.
Derby boots are surprisingly full of character and fun. This hardcore derby features a high ankle. It may be harder to fit with a suit, but it offers many casual fashion options.
Suede vs. Leather Derby Shoes
The material of your shoes can also alter how you can style them.
For example, leather is the traditional material for derby shoes. Leather dress shoes are always more formal and refined than any other shoe.
Derby shoes are also available in suede, a relaxed and casual version of the leather counterpart. Suede goes far in softening your look by adding texture and interest to your outfit.
Suede derbies are still available in a swath of colors and styles, making them suitable for semi-formal and smart-casual dress codes.
How to Wear Different Derby Shoe Styles
The shoes you choose can change up your outfit, and the shoes' details can also significantly impact how your ensemble comes across.
You can wear derby shoes for a formal, casual, professional, or smart-casual aesthetic. The details on the dress shoes will indicate where and when you can wear them.
Plain Toe Derby Dress Shoes
Plain toe derby dress shoes are the traditional derby shoe. They include zero embellishments and are slim, resulting in a narrow silhouette.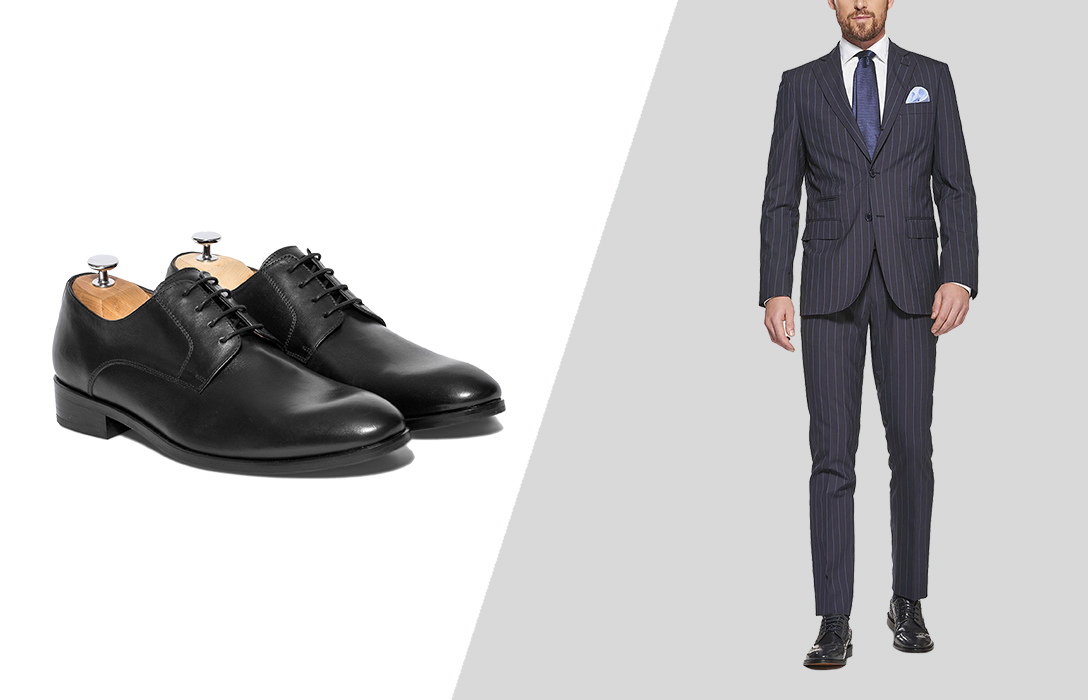 This is the classic derby, more formal than the other styles. Plain toes are best worn with a suit; they are well-suited to formal events.
Therefore, they should be made from dark leather, preferably black, but dark brown is acceptable.
If you have a formal wedding to attend, you can wear a pair of black leather plain-toe derby dress shoes with your formal black suit.
Cap Toe Derbies
A cap toe shoe features stitching across the tops of the toes, creating a sectioned appearance. However, it is still a formal style, and this detailing adds some interest to the shoe's design.
Cap toe derby shoes are wonderfully professional looking. You can wear a pair of these with your best work suits.
Try wearing a pair of black cap-toe derbies with a charcoal suit and a light blue button-up dress shirt. Add a black tie to harmonize with your derby shoes.
Another excellent option is to wear dark brown cap toe derby shoes with a navy suit. Keep it dressy with a white dress shirt and a burgundy tie for a splash of unexpected color.
Wingtip Derby Brogues
Broguing lends a very contemporary flair to your outfit, but it also makes it slightly less dressy.
However, don't go overboard with this detailing; otherwise, you risk making your appearance too busy looking as it can clutter your outfit.
Wingtip derby shoes add panache to a casual suit; for example, they greatly complement a royal blue suit. They are also a superb way to make generic chinos and button-up shirts more interesting.
For a further twist, you can add layers, like a jacket or sweater.
If you are looking for a way to make your dark denim very dressy, wingtip derby brogues are precisely what you need.
Add a blazer to top off this ultra-chic combination.
Derby Dress Boots
The high ankle here gives this dress boot type a slight army feel, making your outfits feel a little tougher.
These are reminiscent of workboots but aren't as hefty. But, again, they are made for aesthetics, not function.
You can pair these with a standard grey suit for a super modern, funky look. Or slip into a pair of casual trousers; chinos, khakis, and jeans are excellent options.
You could also pair these dress boots with casual navy pants with cuffs. A nice, fitted t-shirt is ideal for finishing your outfit; add a bomber jacket for cooler weather.
Best Derby Shoe Colors
The detailing isn't the only factor influencing how you wear your derby shoes.
Color plays a significant role, as well. For example, the exact identical shoe in different shades has different outcomes.
Of course, how you style it matters, too. You can wear the same color with ensembles of different formality levels, creating fresh new looks.
Dark shades are usually formal and professional, while light colors are carefree and casual; of course, there are exceptions to every rule.
Black Derby Shoes
Black is a very versatile color because you can pair it with many outfits in most settings. It's the only choice for formalwear, yet you can also use it casually.
We always see black shoes paired with tuxedos.
But you can also match black shoes with more colorful attire for a casual feeling! Think about iconic Doc Martens, a famous style of derby shoes paired with a pink shirt.
Yet most men choose to wear black derby shoes with a formal suit.
Of course, they fit perfectly with a black suit, but you can also elevate the formality of other suit colors, like charcoal grey.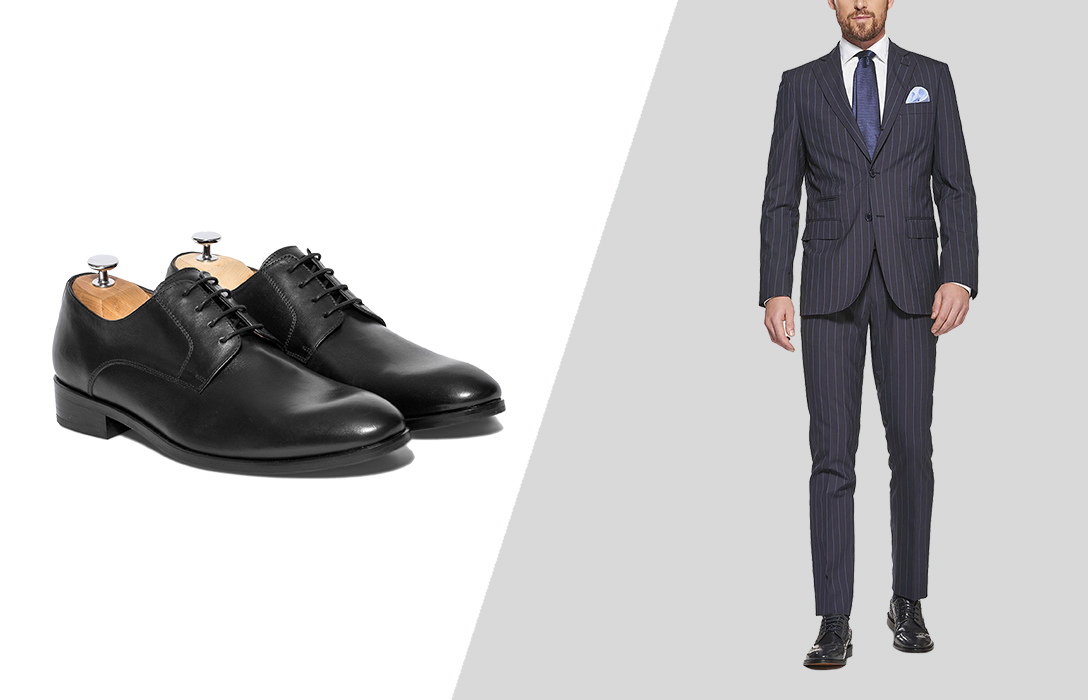 A navy suit, for example, is typically formal and works very well with black derby shoes.
On the casual side of the spectrum, a light grey suit also pairs great with black Derbies.
Brown Derby Shoes
Dark brown derby dress shoes are well-suited for business and dressy social events, such as weddings or other cocktail events.
The dark shade makes them acceptable as a dressy footwear option. Pair them with a well-tailored suit.
For example, a navy suit and dark brown derby shoes are magnificent together; the dark brown warms up the cold navy.
You can switch over to lighter brown derbies for standard blue suits.
Brown shoes are a natural fit with a brown suit paired with a light blue dress shirt.
You can also wear them with a tan suit with a white button-up dress shirt. In addition, they also can lend your favorite khakis respectability.
Burgundy Derby Shoes
Burgundy is a classic yet underutilized color. Moreover, burgundy shoes are sleek and contemporary looking; they are an excellent way to add warmth to your neutral color suits.
Burgundy derbies are casual but can add a dash of creative elegance to your professional suits. Charcoal and navy suits feel fresh and exciting with burgundy derby shoes.
Brown suits can also benefit from the warmness and vibrancy of the burgundy.
For a smart-casual vibe, wear them with dark denim that fits perfectly, and finish the look with a navy blazer or sweater.
You can also spice up your casual suits with burgundy; blue and light grey suits look very dapper with a pair of burgundy derbies.
Burgundy derbies are also an excellent addition to printed suits.
Light Grey Derbies
Light grey derby shoes are a very casual approach to footwear. They're almost always found in suede.
You can wear these unique shoes with cuffed dark denim and a grey graphic t-shirt to establish a chic casual style.
Casual suits are another fine pairing with light grey derby shoes. You can put together an unconventional outfit with these derbies and a light grey suit.
They are also fun with white trousers.
Derby Shoes FAQs
How formal are Derby shoes?
Oxfords are the most formal shoe for men. Derby shoes are a step below Oxford dress shoes in formality; they can pass for formal footwear but aren't the dressiest option.
How do Oxfords and Derbies differ?
It's all in the lacing system. Oxford shoes have a closed lacing system; the eyelets are located under the shoe's vamp. Derby dress shoes have an open lacing system, so their eyelets are on top of the vamp. Derbies have a lot more open space between their laces.
What types of Derby brogues are there?
There is more than one way to brogue a shoe. Full/wingtip brogues, semi-brogues, quarter brogues, and longwing brogues all locate the perforations in different parts of the shoes and various designs. The more broguing a shoe has, the less formal it is, so full brogues are the most casual.
Can I wear Derby shoes with shorts?
You sure can! This posh outfit can be pulled off only with a lighter-colored shoe; dark derby shoes with shorts would look tremendously clunky and awkward. The goal is to display your clothing, not your feet.
Author: Alexander Stoicoff
Hi, I'm Alex, and I've studied and specialized in styling in Rome. Through my writing, I want to help men dress well and learn the purpose and significance of suits and other formal attire. My final goal is to make men more confident in their wardrobe choice and life in general.