If your wardrobe involves frequently dressing up and many casual outfits, you should consider getting yourself a pea coat.
Pea coats are surprisingly versatile, switching from dressy to relaxed in the bat of an eye.
Ready to find out all the wonderous ways you can style your new favorite coat?
Best Ways to Wear the Pea Coat Formally
One of the pitfalls of dressing formally in winter is that it's darn near impossible to keep your outfit looking good and stay warm at the same time. Most winter jackets aren't dressy enough for a suit.
Thankfully, a pea coat is a smart way to stay warm when the temperatures drop. Because it's a close-fitting, tailored coat, it works well with formal wear.
It may not be the most formal coat you could wear with your dress clothes, but it still works well. So some winter attire can be compatible with dressing up.
Pea coats come in many colors, so it's a snap to grab a dark one for your dressier needs.
And while wool is the standard fabric for a pea coat, you can get one made from merino or cashmere, both of which are lightweight and very soft.
Wearing a Pea Coat Over a Suit
One of the biggest fashion faux pas is wearing a coat over your suit shorter than your suit jacket. You risk this problem with a pea coat since it's classically on the short side.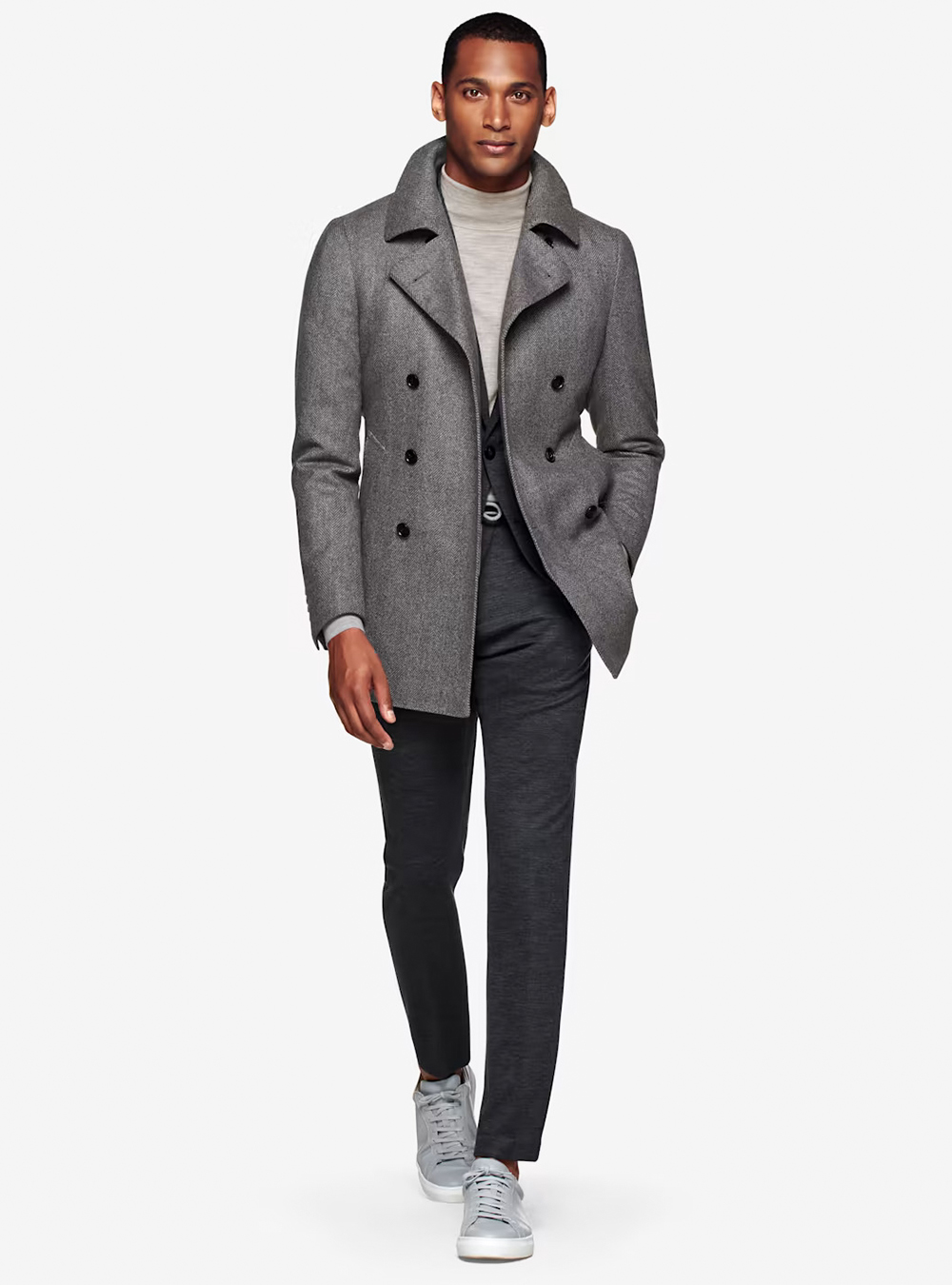 Since you need to ensure that your coat is long enough to fully cover your suit jacket, opt for a bridge coat style of pea coat. This version of pea coats is longer than the traditional style.
Pea coats work with any color suit. You could stick with the standard formal black or play with your coat color to complement your suit.
For example, a black pea coat looks fantastic with a charcoal suit, but navy would work well, too.
Dress Shirt and Pants for Business
The length of your coat isn't as much of a worry here. Because you don't need to cover a suit jacket, you can opt for the classic hip-length version of pea coat.
In fact, a pea coat can be an excellent way to adhere to your work's dress code.
If you're wearing trousers and a dress shirt for your business-casual office, a pea coat is the perfect styling for your casual office. It adds a polished layer that shows you pay attention to your outfit's details.
You don't need to worry about being cold without your suit jacket adding another layer of warmth; the pea coat's extra large collar and lapel make an ideal shield from the wind.
Add a Tie for a Formal Look
Elevate your outfit's formality by including a tie. Wear a white dress shirt to mark the contrast between the pea coat and your tie; the pale background will accentuate your tie, making it the focal point.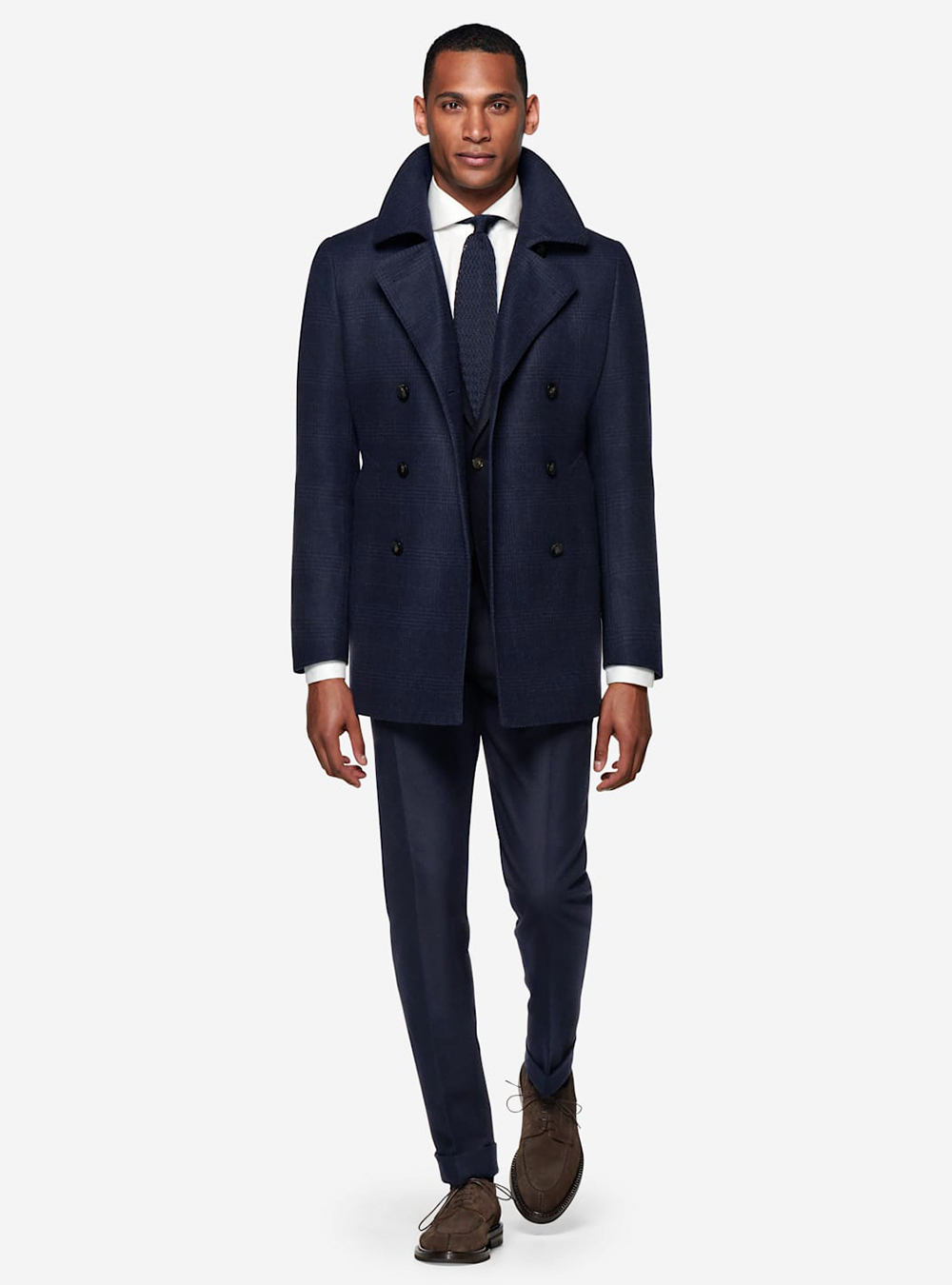 The wide neckline of your coat provides plenty of room to show off your tie, even when it's buttoned.
This way, it's apparent that you are dressed to the nines even before you remove your coat. This is a handy way to always be dressed up if you attend an outdoor event.
You can play with your style, too. For example, choose a striped tie for greater noticeability.
Wearing a Sweater Over Dress Shirt
Sliding into a pullover is very simple to dress and look good.
Your dressiest way to pull off this style is to choose a thin sweater and include a dress shirt underneath. Keep your collar open and loose for an easygoing appeal.
A crewneck sweater looks best with a pea coat to help balance out the V-neck of the coat's lapels. Likewise, a light-toned sweater creates a lovely contrast with a dark pea coat.
One major don't is wearing a striped sweater. It's too sailor-y.
Formal Shoes to Wear with Pea Coats
If you want to land heavily on the formal scale, head straight for a pair of leather Oxford dress shoes.
Oxfords provide the most conservative appeal. Derby shoes are very similar, so they're an acceptable alternative when you need to be as dressed up as possible.
However, don't discount a sleek pair of Chelsea boots.
These sophisticated leather boots add a very polished look to any outfit and work well with many suits.
Wearing a Pea Coat with Casual Outfits
If you thought wearing a pea coat with a formal outfit was great, just wait until you see what it does for a casual outfit.
The right pea coat will transform your casualwear into a chic, stylish statement. From sweaters to t-shirts, the pea coat can cover it all.
Don't put your pea coat away just because it's the weekend. Keep it going all through your days off from work. It is super casual without being sloppy.
You have more flexibility when wearing a pea coat casually. It can be either light or dark, and you needn't worry about the length.
Pea Coat Over a Button-Down Shirt
With a button-down shirt, you can still get the nice feeling of being dressed up but more relaxed and less stuffy.
Button-down shirts are naturally more carefree than their stiffer counterpart, the button-up dress shirt.
A button-down gives you more opportunity to add some color to your outfit. You can easily add a bright, bold shade that will really stand out under your pea coat.
If color isn't your thing, try a patterned shirt. That will allow you to add some color while keeping it simple.
Choose the direction of your outfit with your pants. Chinos will steer you toward a smart casual outfit, but you can also wear your favorite jeans for a very informal approach.
Wearing a Long-Sleeve T-Shirt with Chinos
A long-sleeved t-shirt is a very comfortable garment, but that doesn't mean that it is only for activewear.
A plain t-shirt dresses up surprisingly well. You can look nice when you put it together with certain other elements.
For example, chinos prevent your ensemble from looking sloppy.
Finding the right fit is one of the most important aspects of making this shirt work. Your shirt should be somewhat tight; a loose fit looks careless. However, when a fitted style is very attractive.
Pea Coat Over Turtleneck and Chinos
A turtleneck is an elegant way of dressing informally. They always look warm and cozy and can be an unexpected touch under a pea coat.
A dark turtleneck looks most dignified, though perhaps it should be a slightly different shade than your pea coat. Again, it looks best if it stands out.
You should also create a contrast with your pants; it isn't flattering to be entirely monochrome from neck to ankle.
Pea Coat with Sweater or Turtleneck & Jeans
Cable knit sweaters and turtlenecks are amazingly cozy, just perfect for colder months.
And since your pea coat is also ideal for low temperatures, they make a picture-perfect couple.
Darker jeans will be more dressy, so determine how laidback you want to be with the shade of your denim.
However, if you plan on keeping your coat on, perhaps opt for a light-colored sweater. In that case, create distinction from your jeans.
Choose an earth-toned pea coat to settle into a comfortable look.
Casual Shoes to Wear with Pea Coat
Non-athletic sneaker types are often suitable footwear for your most casual outfits.
However, if you want to step it up a bit, you have a variety of boots you can choose from.
Chelsea boots are sleek and sophisticated, but you could also dial things down with lace-up chukka boots.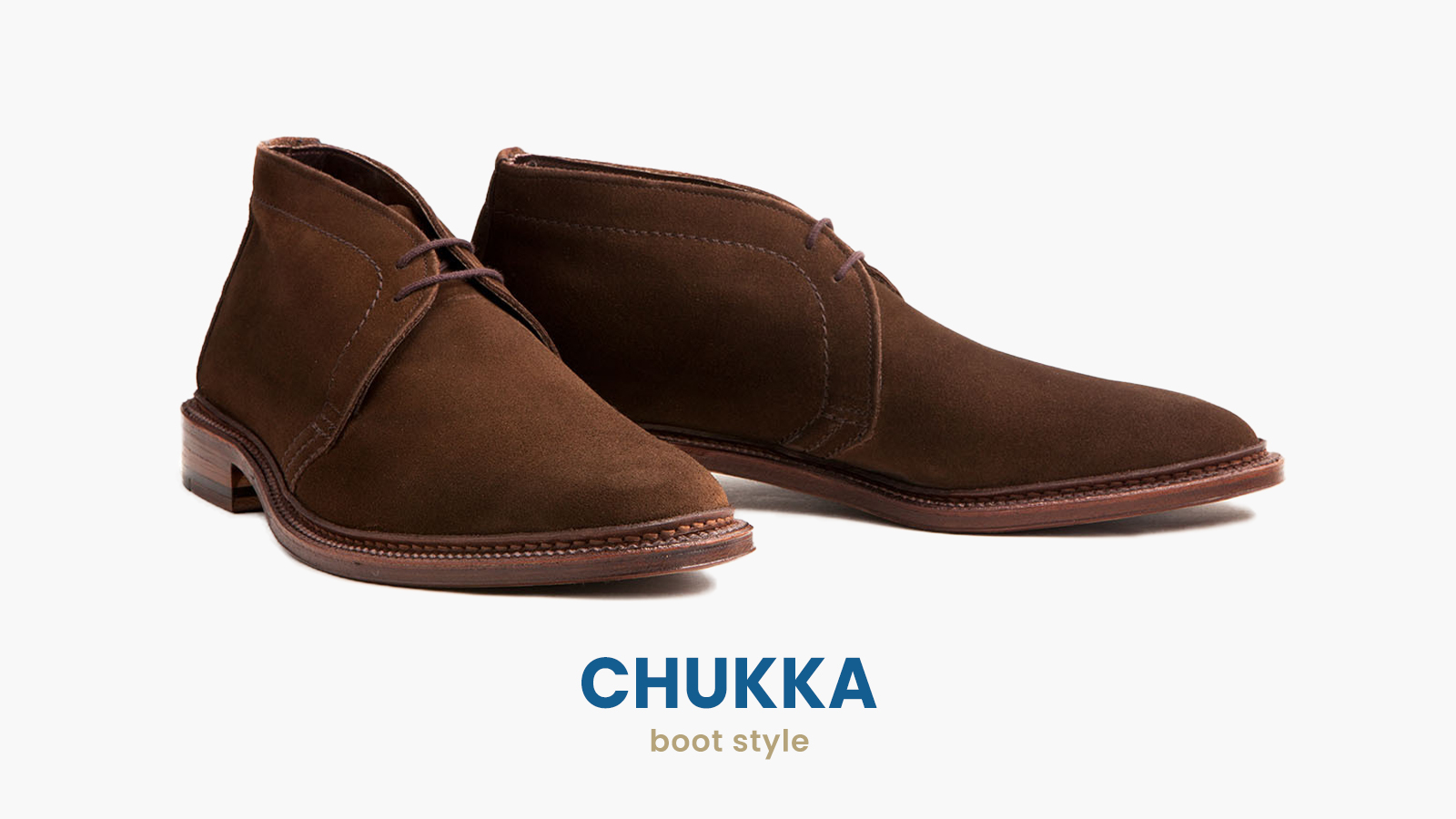 For a truly cozy appearance, choose suede instead of leather.
What Defines the Pea Coat
The peacoat is a completely iconic and instantly recognizable coat type. But what makes it so distinctive?
This coat was first popularized thanks to the British royal navy, but the sailors could not keep it to themselves for long.
This durable wool coat is set apart from others with its double-breasted style, large collar, and oversized lapels.
There is slight tapering at the waist, and the hem flairs out for easy movement. Not only is it stylish, but it also does a good job of keeping the chill out.
Different Pea Coat Styles
There are two varieties of pea coats, which I briefly touched upon earlier: the classic and the bridge coat.
The classic pea coat is called that for a reason: it's the traditional style that navy men have worn for the past two centuries. It ends at the hips and has a slight flair out.
The bridge style has some slight modifications. It is longer, sometimes as long as knee-length, and may sometimes have brass buttons.
While the classic coat is what sailors usually wore, this style was also worn in the navy by officers stationed in the cold on… wait for it… the bridge.
How Should a Pea Coat Fit
Before purchasing a pea coat, it's important to consider how you'll wear it. For instance, do you plan on wearing it over a suit jacket or heavy sweater?
Try on the coat over these garments before you pay for it. You might find you need to go up a size to give you wiggle room.
Your coat's sleeves must be the right length, so it doesn't look like you're wearing the wrong-sized coat. It needs to cover your shirt sleeve completely.
When you stand with your arms at your sides and flex your hands (so your palms face the floor), the sleeve hem should graze the back of your hand. Any longer, and the sleeves are too long.
The body must be fitted so that it isn't baggy. But, on the other hand, it shouldn't be so tight that your buttons cause the front panels to tug or pull when closed.
Consider the Fabrics
Pea coats are traditionally 100% wool, which is the best material for your coat.
Wool is the warmest and most durable fabric for this coat. It doesn't just hold up in cold, wet weather; it's breathable, too, so you won't overheat.
If you can't find (or afford) pure wool, up to 20% synthetic/wool blend is acceptable. It costs less money than pure wool and is similar enough.
Best Pea Coat Colors for Men
You can find pea coats in various colors, and there's no "one" way to wear them.
Navy is the most common color for pea coats because that's the traditional navy color. It's incredibly iconic.
Navy goes with everything, looks good on everybody, and can be both dressy and informal.
A grey pea coat is another fine option. Grey softens the military look of this coat.
You can match your outfit depending on which shade of grey you opt for; charcoal is good with darker neutrals or jewel tones, while lighter grey is excellent with white.
Black goes with everything and makes every outfit just a bit bolder. A black pea coat is sophisticated and is the easiest to dress up.
Green pea coats are a unique take on outerwear. Think olive, like a military green, versus a true green, like emerald. It's much more versatile.
Camel and brown pea coats are similar and are more relaxed than their darker counterparts, which helps set them apart. They are great for matching with neutral shades and black.
Simple Pea Coat Style Tips
The number one rule when wearing a pea coat is to keep it buttoned. This will give you the full, intended effect of your pea coat.
Otherwise, it hangs open awkwardly – no good. But be sure to undo the bottom button, just as with a suit jacket.
You are certainly free to flip up your pea coat's collar but do so sparingly. It's a cool style but can look absurd if the weather is pleasant. So it's only to be used against wind or biting cold.
And the final style tip is to experiment! Pea coats look amazing with all sorts of outfits; what else can you discover?
Author: Alexander Stoicoff
Hi, I'm Alex, and I've studied and specialized in styling in Rome. Through my writing, I want to help men dress well and learn the purpose and significance of suits and other formal attire. My final goal is to make men more confident in their wardrobe choice and life in general.