You don't realize what fine-art dressing is until you need to wear a tie.
Sometimes, choosing a tie that goes well with your suit can feel paralyzing.
There are many factors to consider. Color, fabric, width, and length are only a few of the things that can influence your overall appearance.
Let's examine the many aspects of choosing a tie.
How to Wear a Solid-Color Tie
A solid tie is the most formal appearance; the darker it is, the more dressy it is.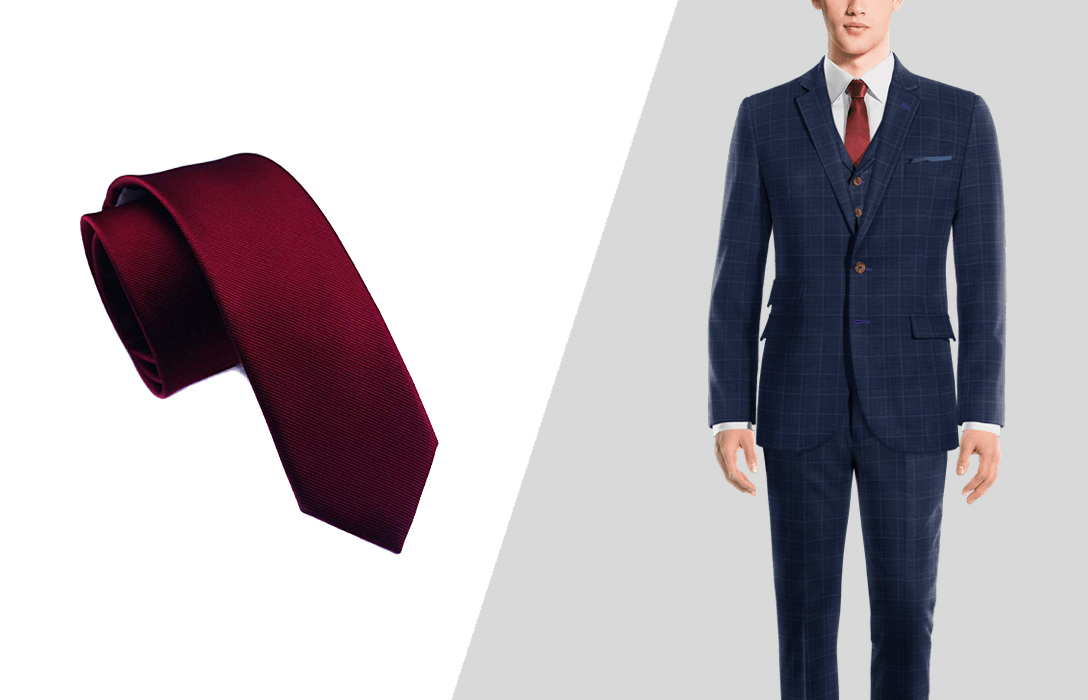 For example, black ties are considered more formal and generally only appropriate for formal events or funerals.
You can create many different looks with how you choose to pair your solid-colored tie.
Just think about the message you want to send when planning which tie you'll wear.
Match it with a Contrasting Dress Shirt
Contrasting colors are shades that lie opposite each other on the color wheel. Pairing contrasting colors create a very striking visual.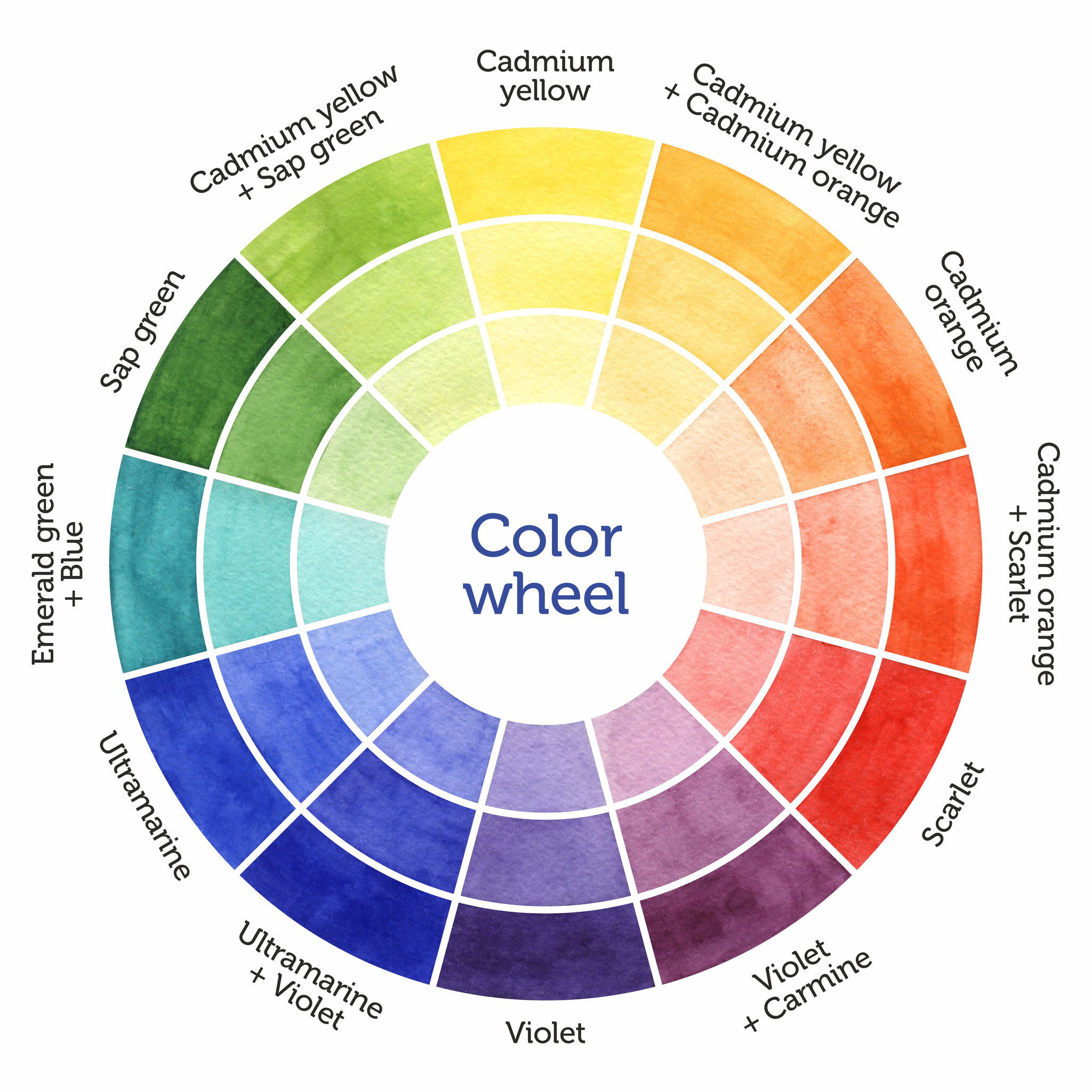 It isn't always an easy fashion choice to pull off, but relying on your color wheel can help.
A white dress shirt is a perfect match for any tie color, regardless if it has cool or warm tones.
Another appealing example would be a blue dress shirt with an orange or dark red tie.
A pink dress shirt with a blue tie is another lovely way to incorporate contrasting colors, and you can play with different shades of blue for varying effects.
For example, royal blue would be a fun and energetic look, while a navy tie with a pink shirt is quite professional.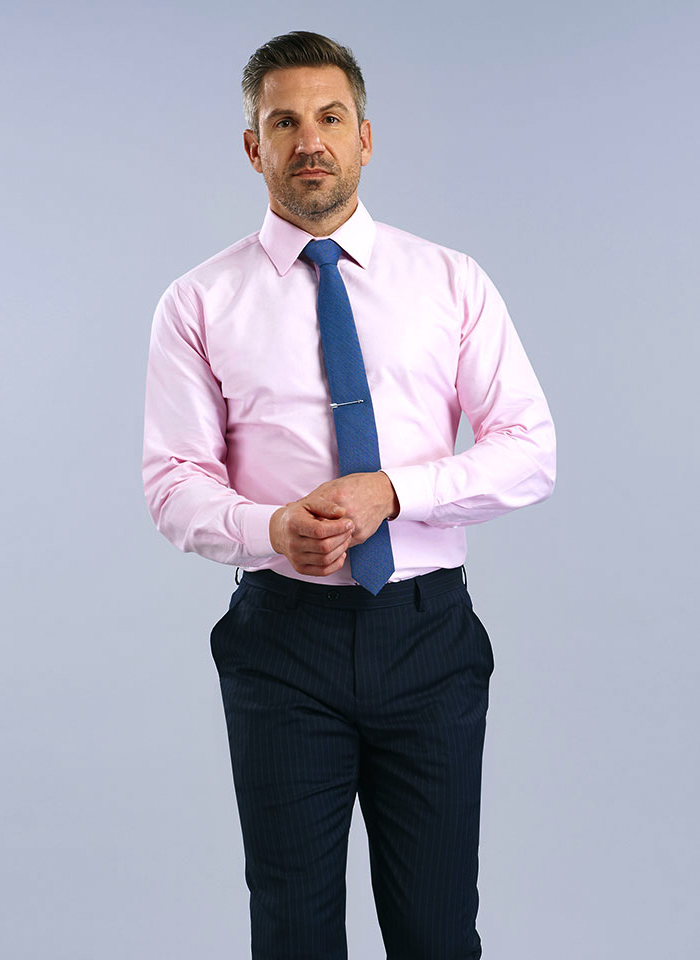 The trick is to find the proper tone on the tie.
For example, an electric orange tie against a light blue dress shirt might look garish, but a burnt orange tone is refined.
Or Pick a Shirt in the Same Color Family
A monochromatic color scheme is one of the simplest styles to incorporate into your wardrobe successfully.
Pick a tie that's a different shade of the same color. The secret to making this style appear professional is choosing a tie that's darker than your dress shirt.
For example, a light blue dress shirt and a navy tie are a winning combination.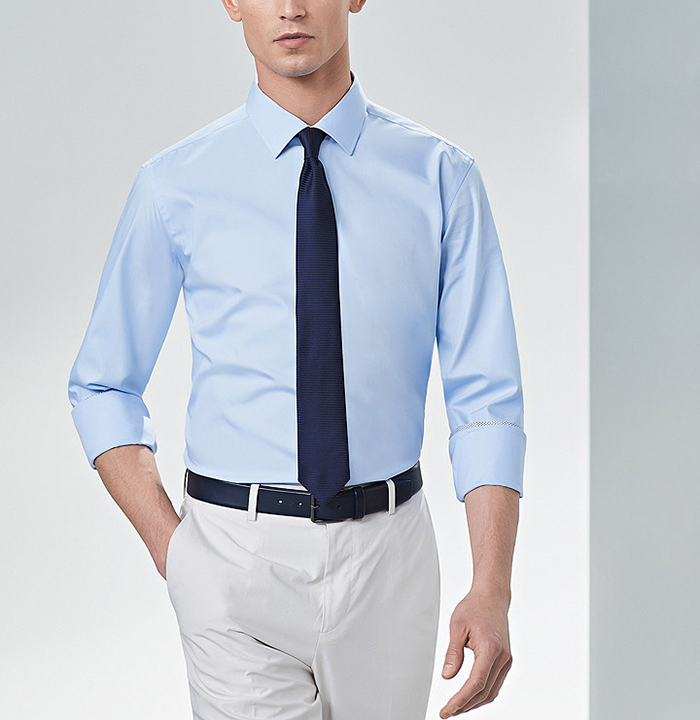 To take it to the next level, wear this with a navy suit; just be careful that you don't look overly blue. Use accessories wisely to help break up your colors.
A pink dress shirt with a red tie is another creative example of pairing colors from the same family.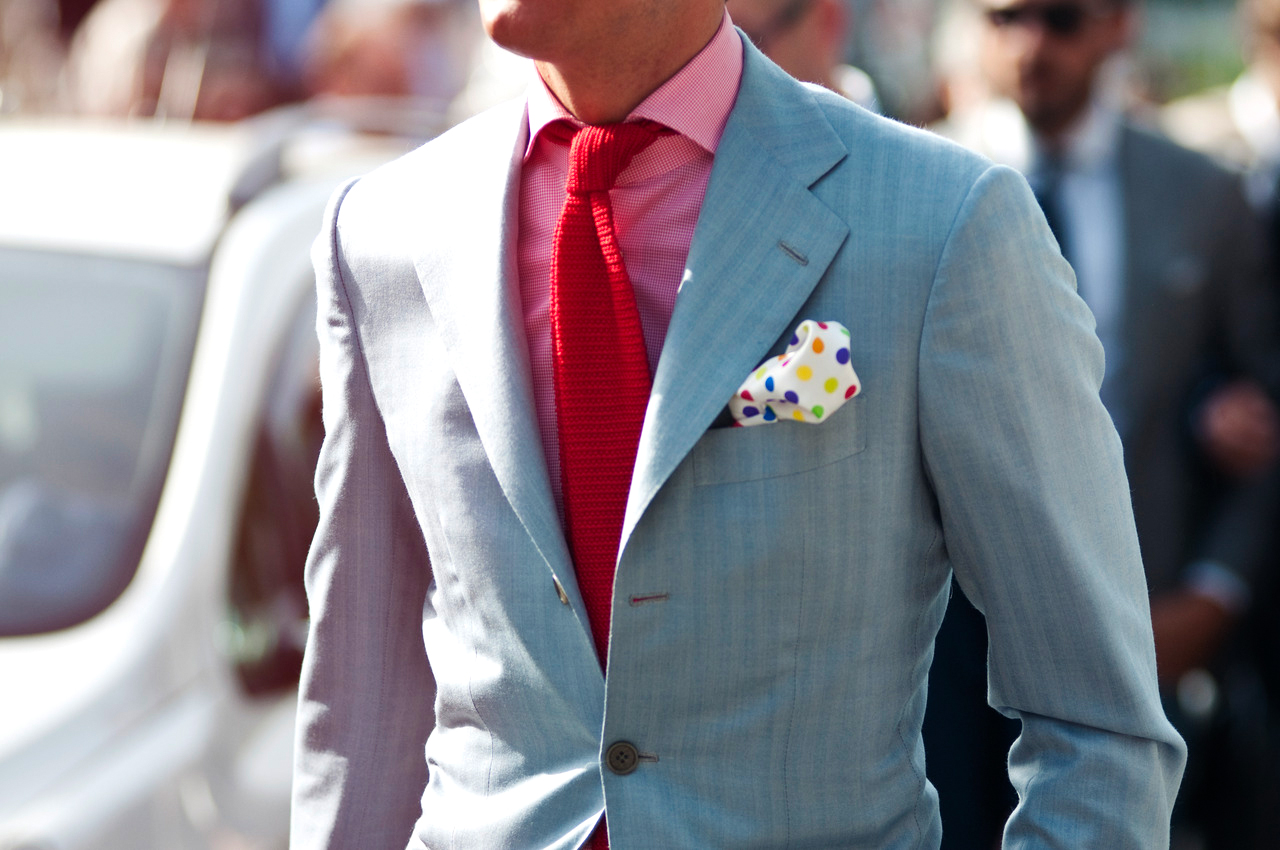 But you can also branch out to colors next to each other on the color wheel. For example, a purple tie with a light pink dress shirt is very stylish.
Portray an Image with the Tie Color
Your tie choice sends a message. The color you choose can hold meaning, and others will subconsciously pick up on certain feelings.
A red tie is authoritative, passionate, and powerful. Navy ties convey an air of professionalism and business, while yellow ties subliminally convey cheerfulness and positivity.
If you have an important work meeting and you're trying to influence people to get on board with a particular project, you might choose a red tie. It might help people see that you have the strength to get the project completed successfully.
Have your annual review with your boss and hope for that raise? Wear a navy tie so he picks up on how professional you always are.
Or Pick A Strong Color to Make a Bold Statement
Choosing a bright or unusual color tie will set you apart from others. People won't help but be able to notice you.
For example, a teal tie is a distinctive color for a tie, but it's remarkably striking and lovely. People will look twice in surprise and admiration.
To be successful in this look and avoid looking tacky, keep your shirt color simple when opting for a bold tie. Two bold colors together would be overwhelming and have a negative impact on your style.
So instead, stick to a white, pale blue, or light pink dress shirt for the best results.
How to Wear a Patterned Tie
A patterned tie is less formal than a solid-colored one. You can still wear one in professional settings, but you'll need the correct pattern.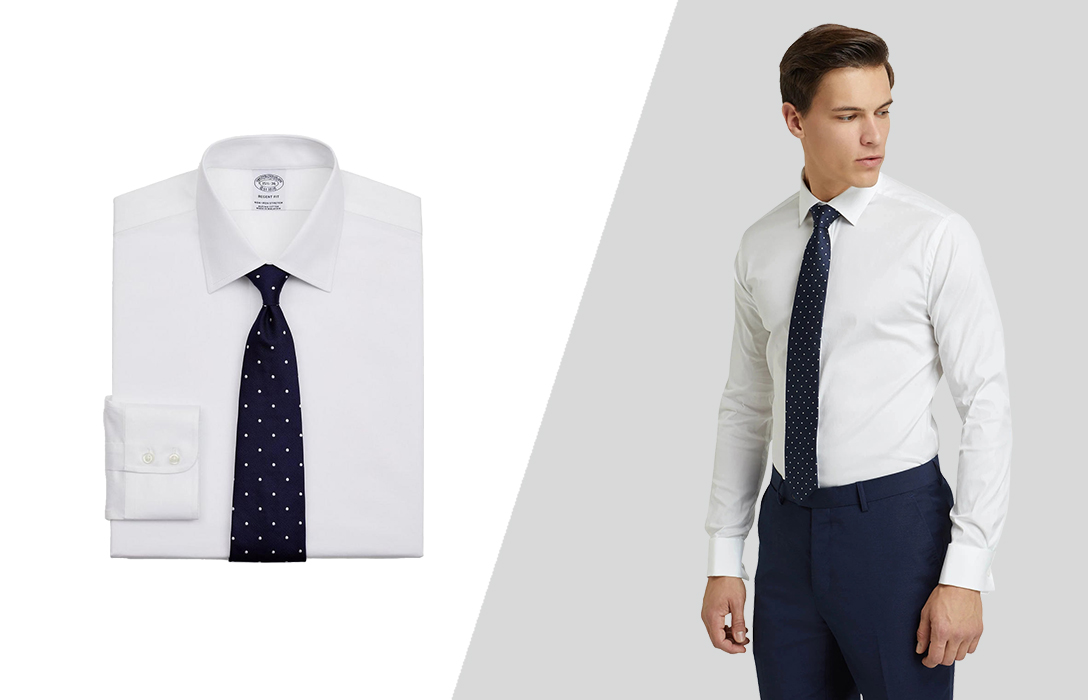 Tie prints can be small and subtle, very conservative, or they may be big and bold, or even unusual patterns.
Standard vs. Non-Traditional Patterns
Even the type of print on your tie can affect how casual or formal your tie is.
A standard pattern is the most conservative, therefore, more dressy. These prints would include checked, plaid, diagonal stripes, or dots.
Examples of patterns that are unique and non-traditional are paisley, vertical stripes, floral, or a tartan print.
But how do you know which pattern is appropriate for your outfit?
If your suit or shirt is unusually bold, like a large print, stick with a subtle tie. On the other hand, you're free to go more daring with your tie if your suit and dress shirt are solid.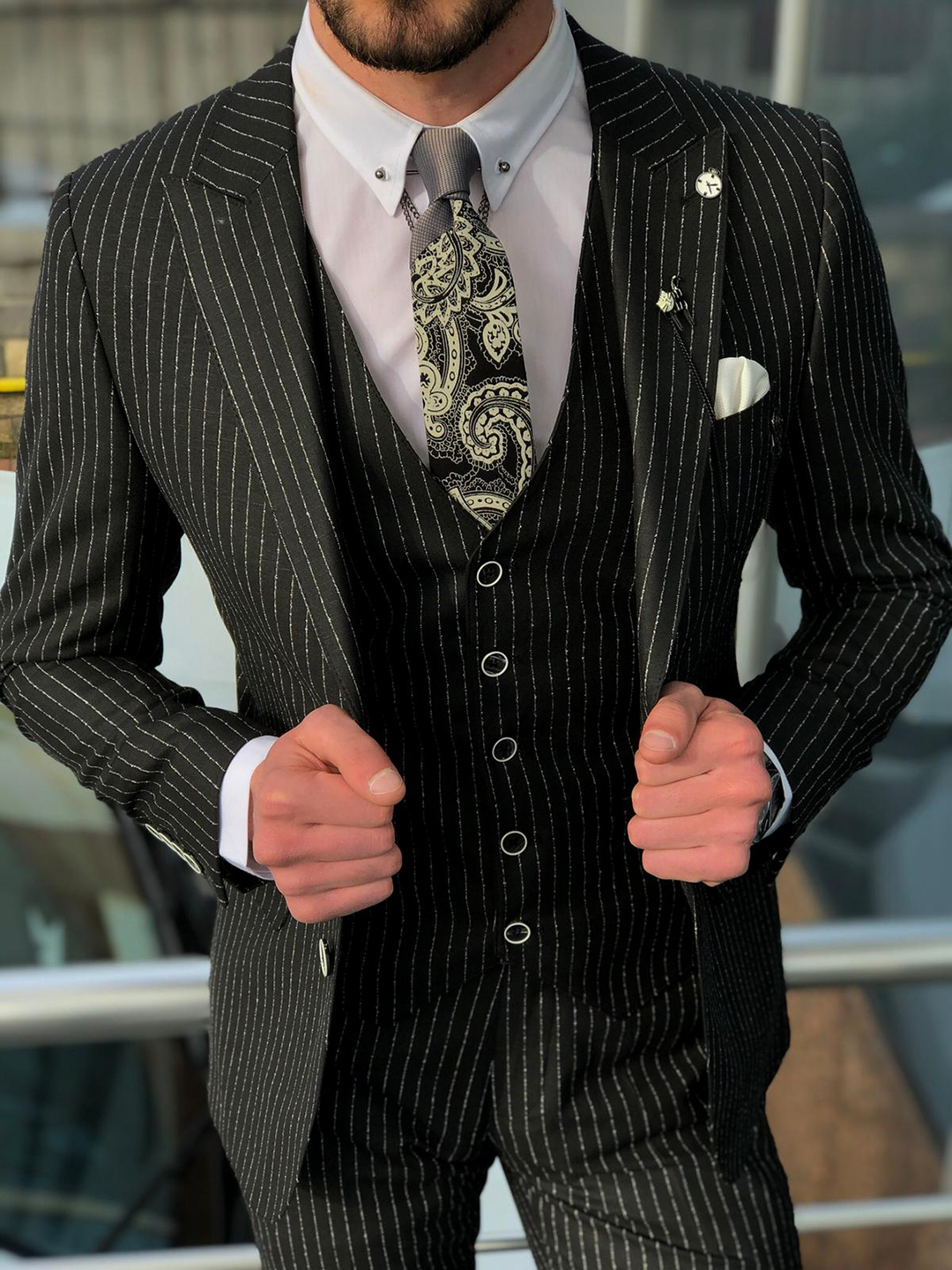 If you're new to patterned ties and feel tentative, stay subtle at first. Small polka dots are a terrific beginning pattern.
Then, as you grow more confident, you can expand to larger designs.
Best Patterned Tie Match for a Solid-Colored Shirt
The easiest way to pair a patterned tie is with a solid-colored shirt style.
All patterns are fair game when wearing a solid button-up dress shirt.
White dress shirts are always a winner because nothing clashes with a white background.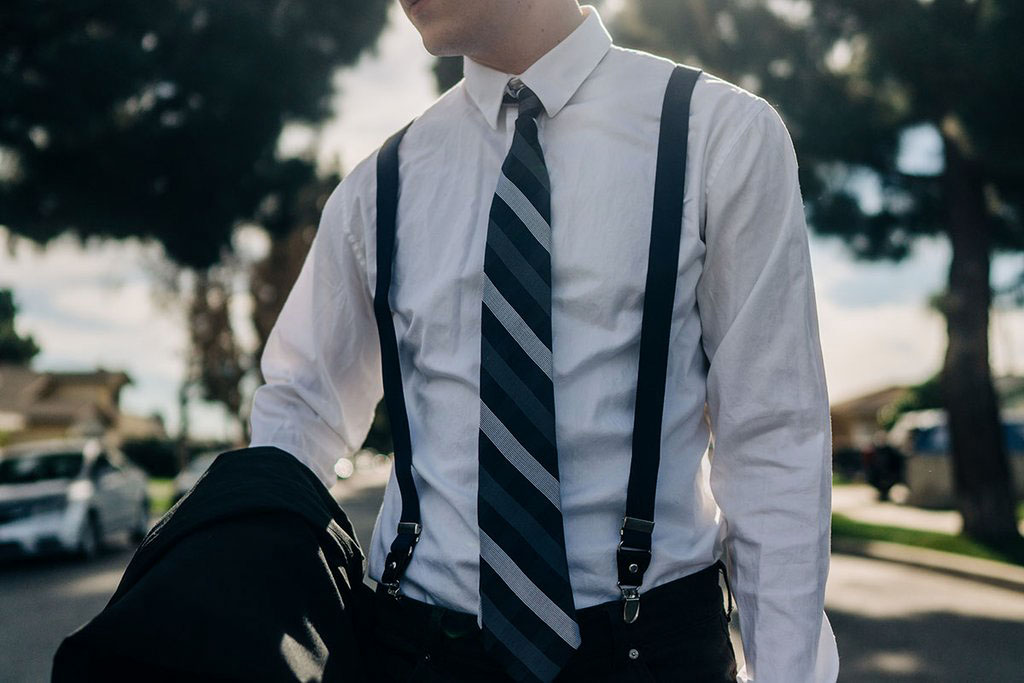 Light blues and pinks for dress shirts are excellent backgrounds and can match with a surprising amount of tie patterns and colors.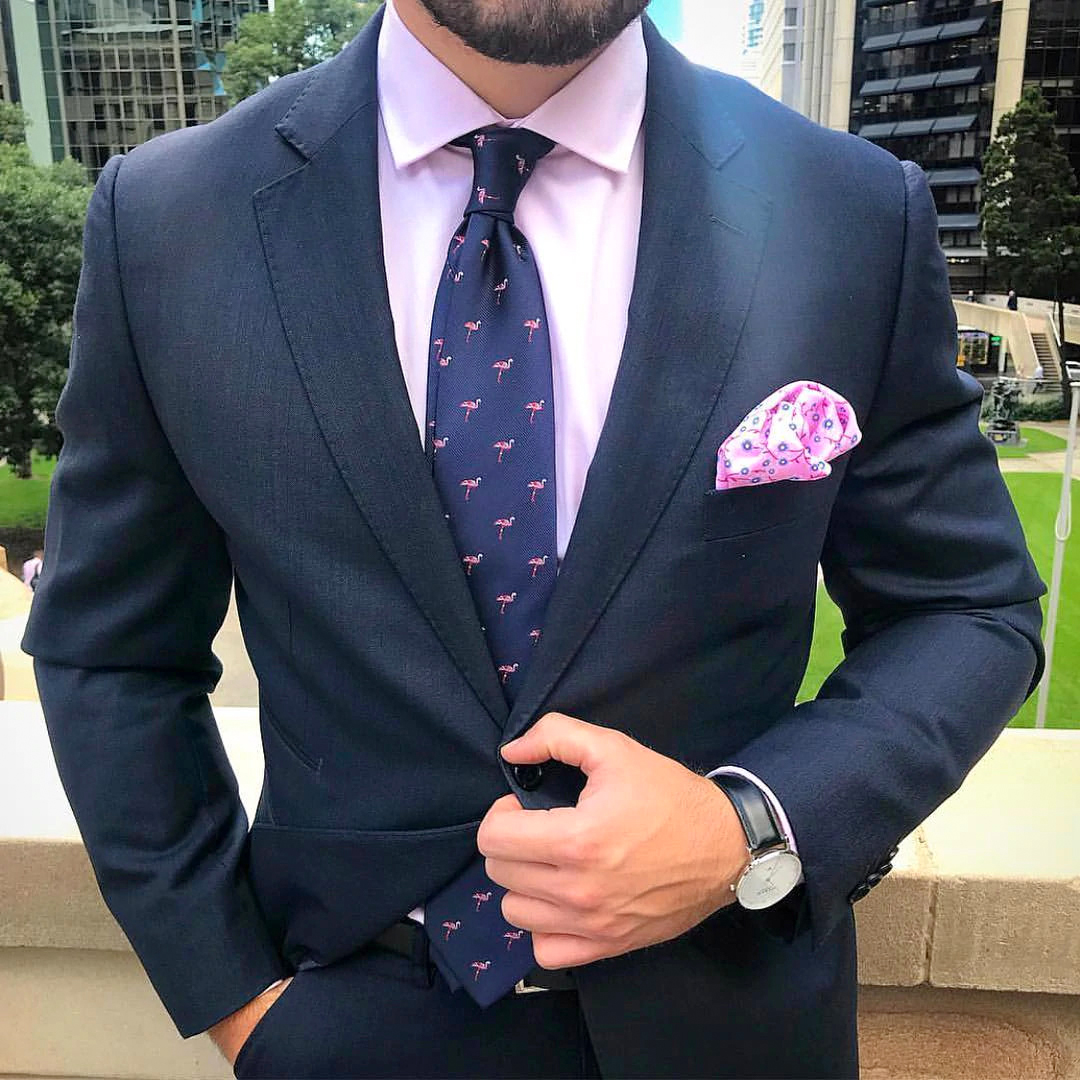 Before choosing your patterned tie, decide how important formality is to you. If you need to look professional, opt for a smaller print.
One or two main colors will dominate no matter which pattern you end up with on your tie. That's the color that should match your shirt color.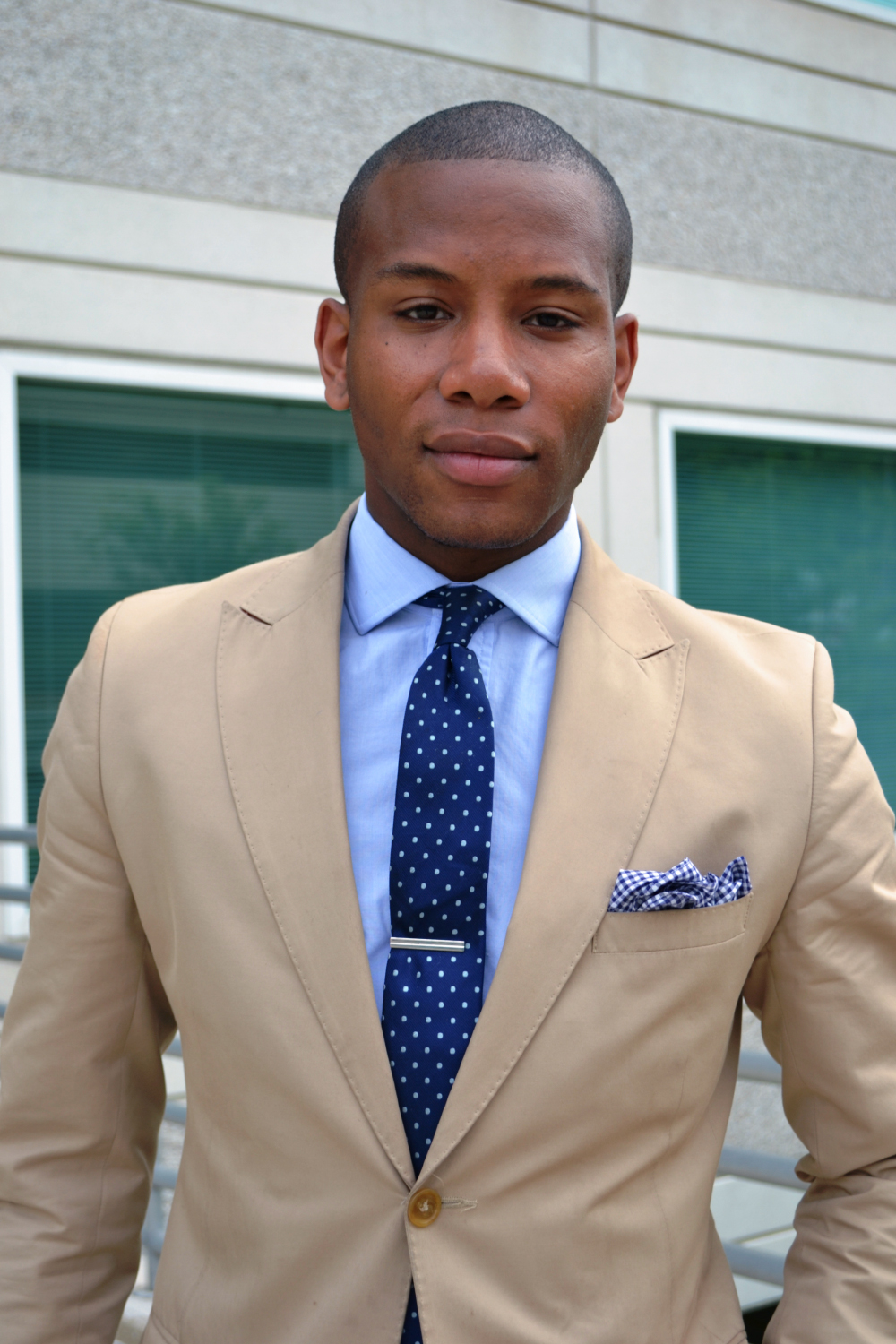 A patterned tie can also help expand your color scheme.
Because there are multiple colors in a tie with a design, you can work in a triadic color scheme. That's when you have three equally distant colors on the color wheel.
How to Match & Wear a Patterned Shirt & Tie
A mix of patterns on your shirt and tie is entirely doable, with a little bit of finesse.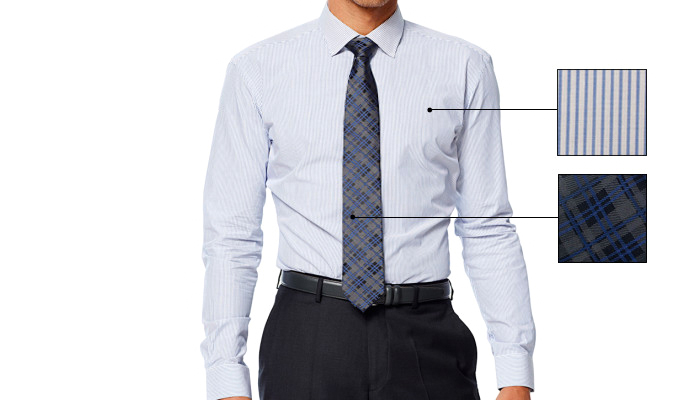 The key is to ensure that your tie stands out from your shirt. The prints must be substantially different sizes from each other.
Wearing the same pattern on each garment is fine as long as you can create contrast.
For example, a striped dress shirt with a striped tie is acceptable, even if the stripes are going in different directions. The trick is to have the lines on one garment thicker than the lines on the other piece.
The exception to this rule is that if you wear a striped dress shirt and a tie with a different pattern, both designs should be similar in scale.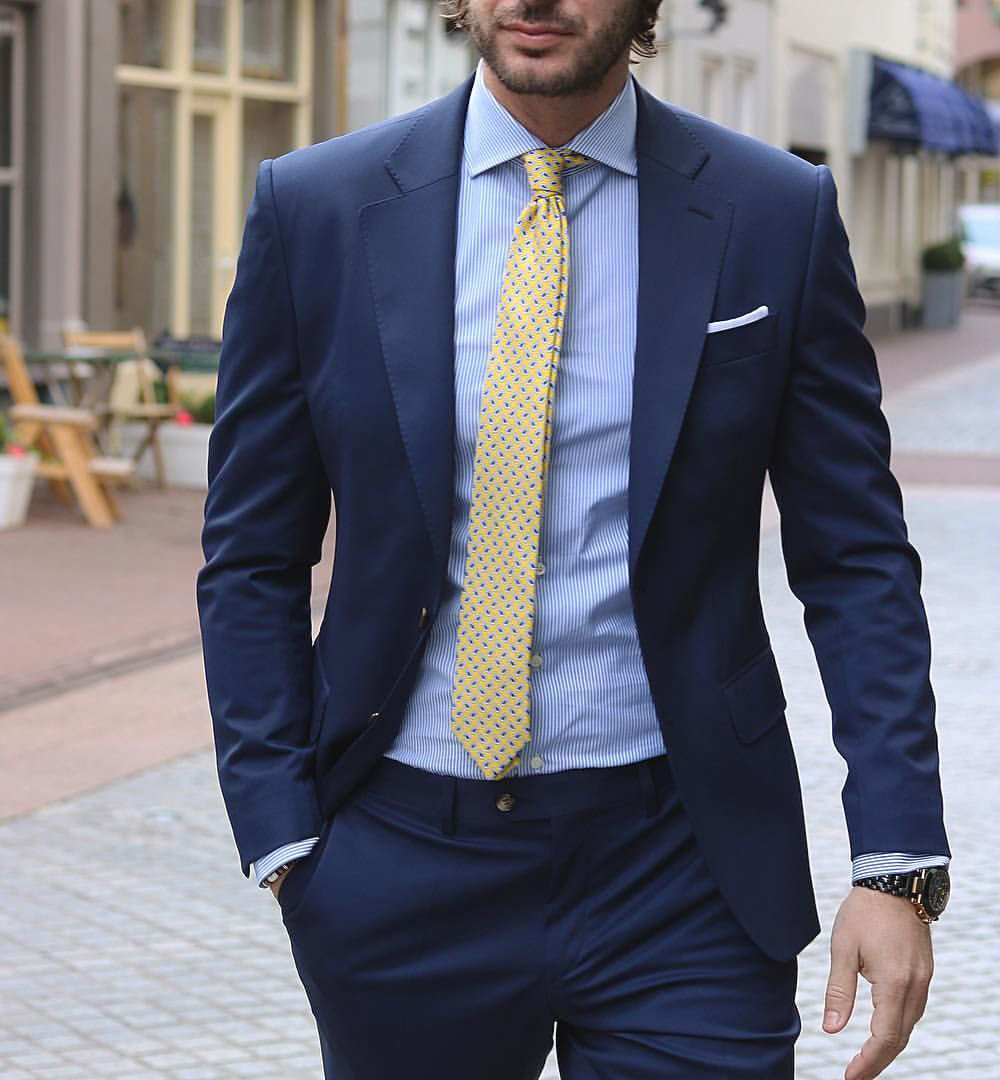 Checked shirts are trickier. Small checks tend to be better with patterned ties because you have more options for matching.
Proper Tie Width & Length
A good rule of thumb for proper tie length is to aim for the tip of your tie to end just around your belt buckle.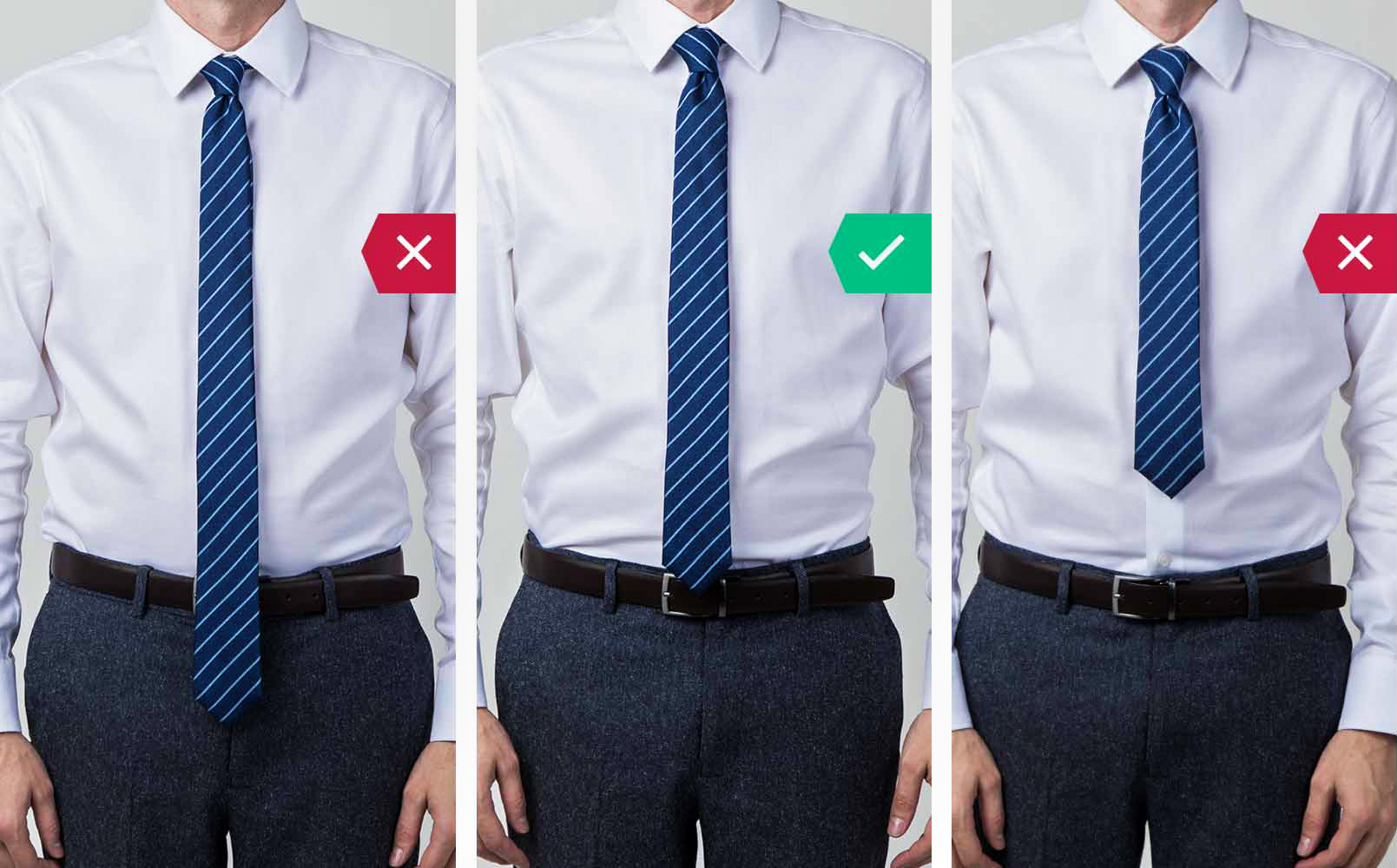 You do need to ensure that your tie isn't too long or too short relative to this soft "rule".
Try using a different knot style if your tie isn't an appropriate length after you've tied it.
Some knots (such as a Windsor knot) will raise your tie no matter how many times you retie it. Others will lower your tie, like a Four-In-Hand.
If you still can't get the length right by experimenting with various knots, that tie just won't work. Switch it out for a different one.
How to Choose the Right Tie Knot
One of the best parts of wearing ties is changing to a different color and style each day.
But the even more fun part is making the same tie look different each time you wear it using a different knot.
Full Windsor, Half Windsor, and Four-In-Hand are the three most common styles for knotting your tie. They are slightly different from each other and are appropriate for different occasions.
Go for Standard Knots like Windsor or Four-In-Hand
The Full Windsor knot is one of the most standard ways of knotting a tie, especially in formal settings. It is wide and perfectly symmetrical.
A Half-Windsor knot is the little brother of the Full-Windsor. It's about three-quarters the size, so it isn't tiny, but not as large as the Windsor. It's slightly asymmetrical, but suitable for ties that aren't very thick.
Four-In-Hand is another popular knot style. It isn't a large knot and is also not perfectly symmetrical. However, it's one of the easiest and most simple styles to do.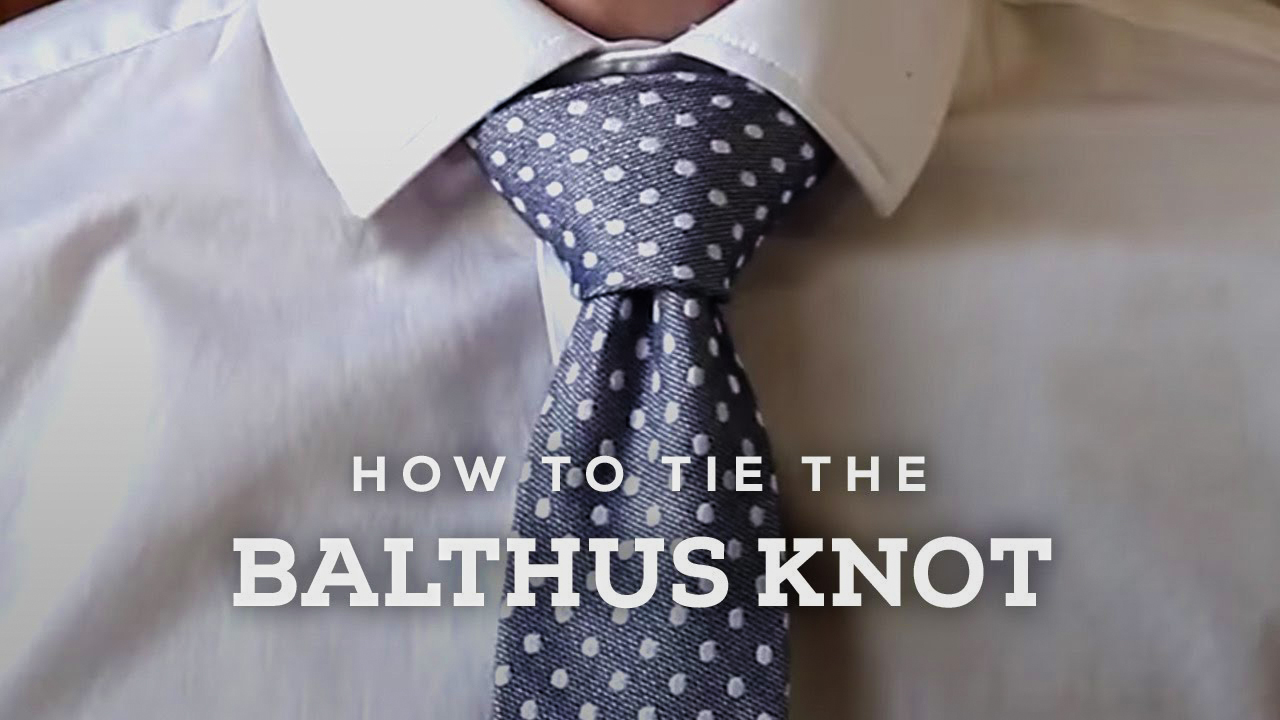 Over time, as you become more advanced at knot tying, try a Balthus knot. It's a very large knot that looks like a wide cone, making the tie end short. Unfortunately, a Balthus knot is a pretty tricky style to perfect.
Pick a Tie Knot Style Appropriate for the Shirt Collar
The width and style of your dress shirt collar should influence how you knot your tie. The best way to choose your collar style depends on your face shape.
A spread collar is a wide collar with tips pointing at angles away from each other. This style makes a narrow face appear wider. For this type of collar, opt for a Windsor or Half Windsor. The large knot fills the vast space nicely.
A point collar is the most common style and is highly traditional. It's characterized by narrow points that sit pretty close together. A Four-In-Hand knot is excellent with a point collar.
Both this knot and collar style give structure to broad or round faces.
How to Choose the Right Tie Fabric
Tie color and knot style are essential in determining your formality, but so is fabric. Unfortunately, not all tie fabrics are suitable for all occasions.
Silk ties are suitable for nearly any occasion but appropriate for professional and formal events. A tie with some sheen is required to convey a dressy vibe.
A matte material is informal. Wool is excellent for business, especially when worn with heavier wool suits. And if you have texture to your tie, that will make it more casual.
Cashmere is a luxurious material, but it isn't dressy. Instead, it's similar to wool and appropriate for business casual.
The only time it's ever appropriate to wear a knit tie is for the most casual occasions.
How to Wear a Pocket Square with a Tie
Your pocket square should never perfectly match your tie. Instead, it should be different; it can look nice if it complements your tie, but it's best not to be the same pattern or color.
Adding a pocket square to your suit can create depth to your outfit. In addition, it helps mix up your everyday, reliable styles.
It's also good to pick a pocket square that's a similar color shade to your tie. But if your pocket square has a pattern, the primary color can be the same shade as your tie, but never two matching solids.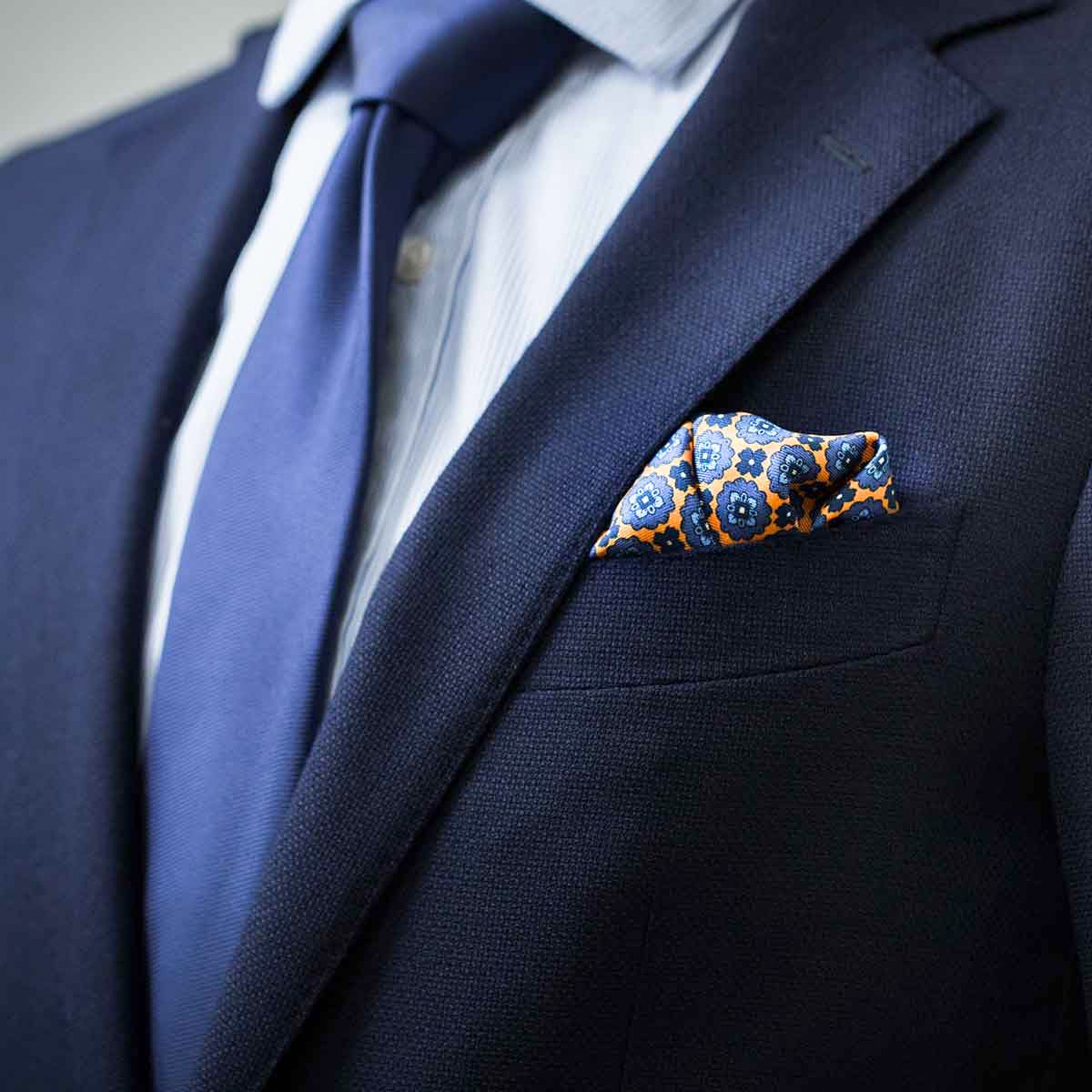 When in doubt, fall back on the reliable plain white pocket square. It never fails.
How to Wear a Tie Clip
A tie clip does more than keep the two pieces of your tie together. It also holds the tie to your shirt placket, so it doesn't swing away from your body when you lean over.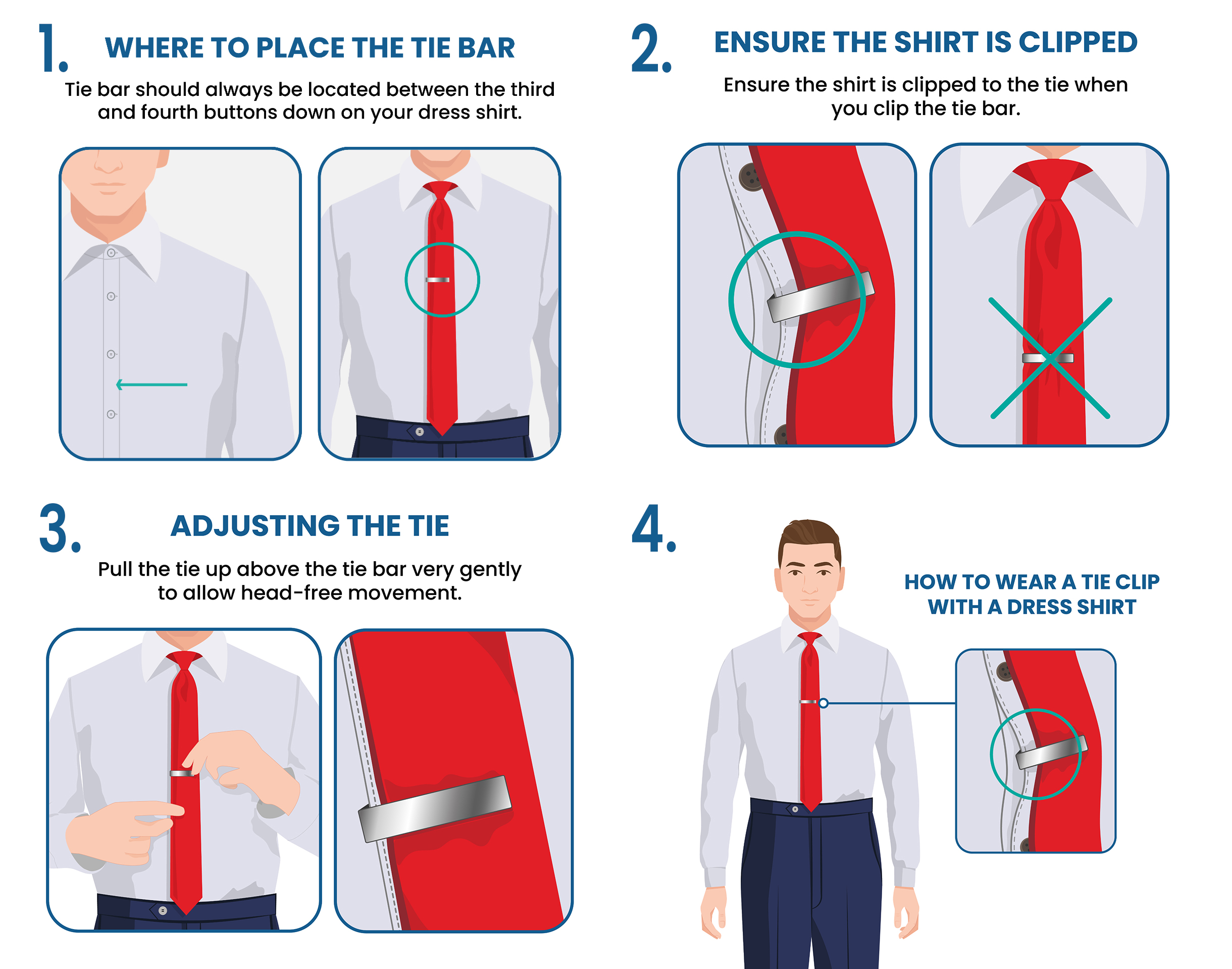 It's a fun detail that adds a pinch of panache to your suit.
Place your tie clip between the third and fourth buttons of your dress shirt.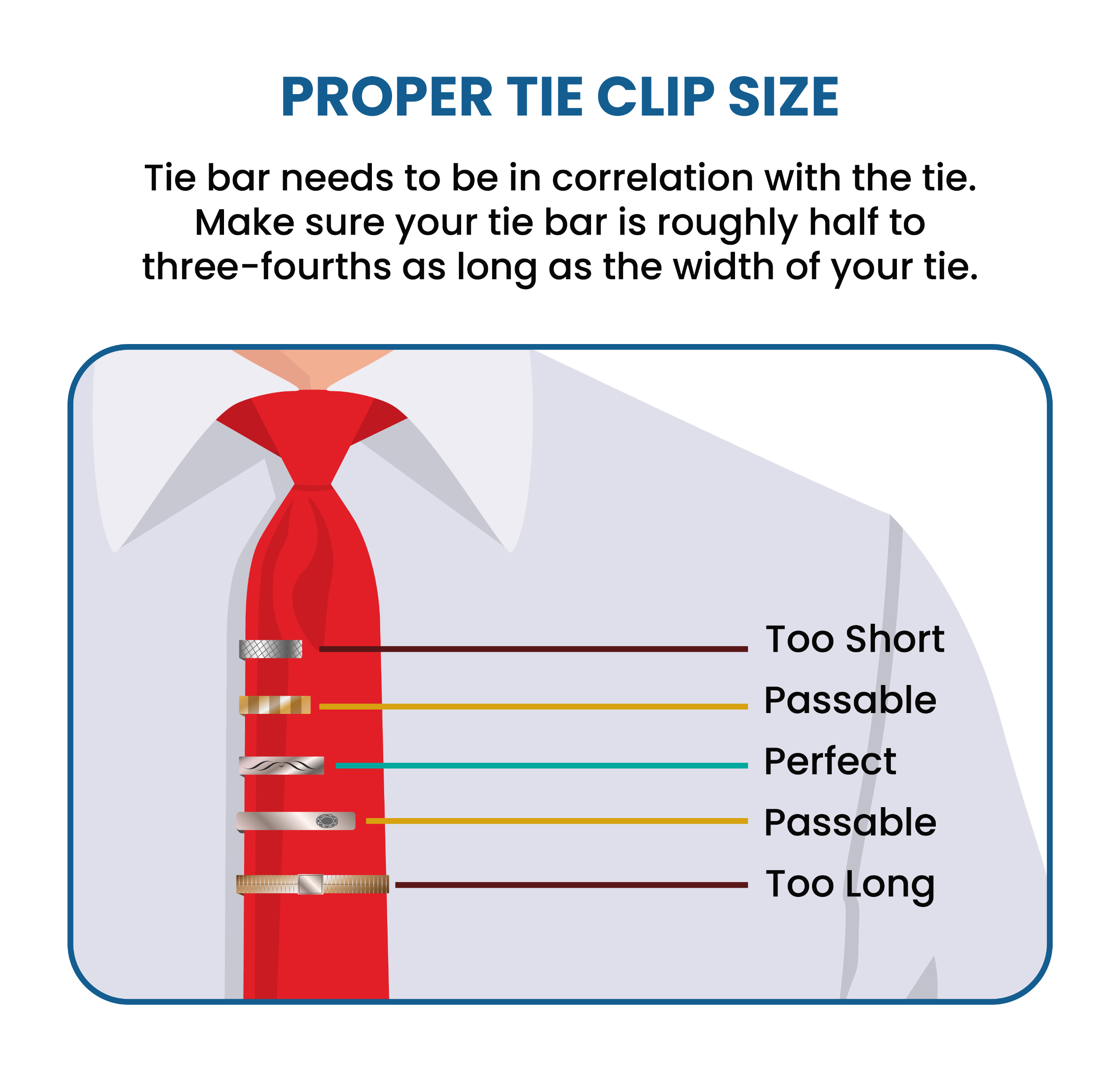 Keep the length of the accessory shorter than the width of your tie. It should not hang past your tie.
How to Wear the Right Tie According to the Occasion
Your tie is the final touch on your outfit. Much like the cherry on top of an ice cream sundae, no suit is complete without it.
But the wrong tie with your suit can sabotage your outfit, making it inappropriate for the setting.
Formal Events
Black is the most elevated tie color, so it's adequate to wear a black tie for such formal events.
If a standard necktie isn't dressy enough for the most formal black-tie events, a black bow tie will be your best choice.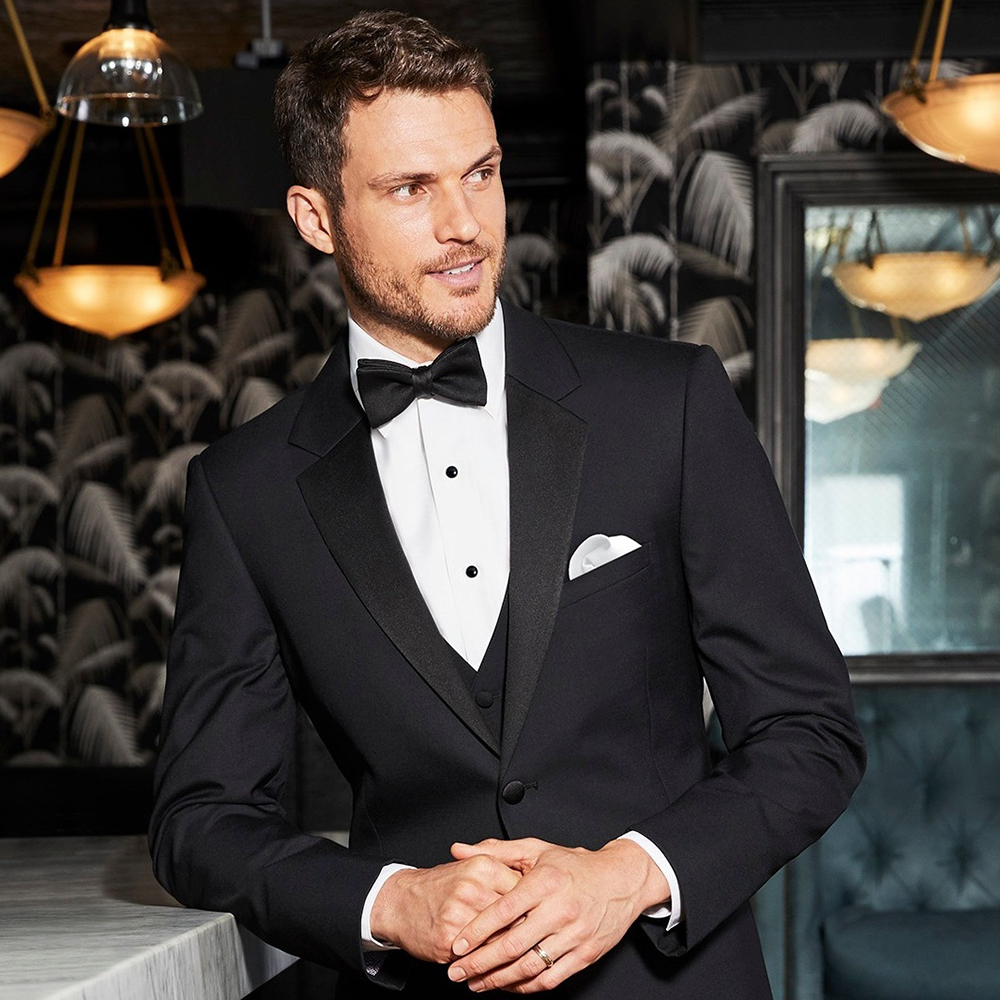 Black may be the most traditional color, but you'll be fine with another dark color, such as a deep navy. It needs to have some sheen to it, so be sure it's silk.
Wear your formal tie with a white button-up dress shirt and a dark suit.
Semi-Formal Events & Weddings
Ties are optional for semi-formal dress codes, but I recommend sticking with tradition and keeping your tie.
Because there's a bit more flexibility in semi-formal dressing, you can add some color to your outfit through your tie.
Again, don't go big and bold, but a splash of refined color can look elegant. It can be solid or patterned, although solid ties work better for conservative semi-formal events.
Your tie can still be silk. However, microfiber and cotton ties are perfectly fine.
A thin tie is more trendy than a wide one. But if you want sophistication and class for your wedding, pick a standard tie width (usually around 3″-3.25″).
Business Events & Meetings
Try a solid navy or charcoal tie to convey a sense of professionalism.
Solid ties are your safest choice in conservative settings, and a dark color is good because it isn't distracting.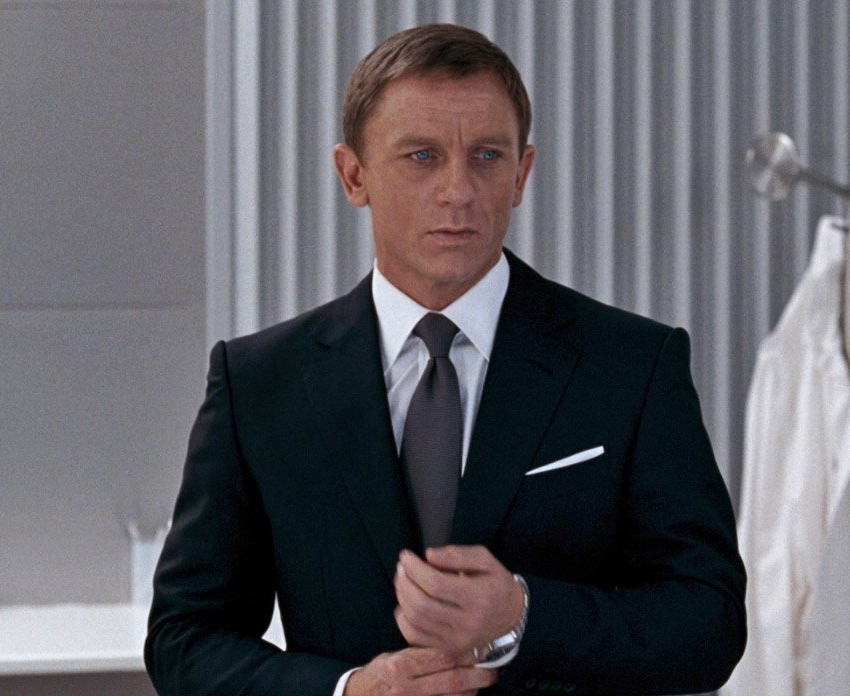 You don't want too much personality in your outfit for most professional business meetings.
However, pairing it with a patterned shirt is acceptable, as long as the pattern is subtle.
Silk ties are impressive in this setting, but a matte tie like wool or cashmere is also appropriate.
Wear a Tie for Casual Events
When you wear a tie casually, there are no rules you must abide by.
The best plan is to wear a matte tie, such as wool or a knit tie.
A shiny tie will be too dressy and look out of place; otherwise, you have complete freedom in your tie choice.
This is the perfect opportunity to choose a bright, bold shade.
You can convey entertaining energy with an unusual color choice. It's also the ideal time to experiment with big, bold patterns.
Author: Alexander Stoicoff
Hi, I'm Alex, and I've studied and specialized in styling in Rome. Through my writing, I want to help men dress well and learn the purpose and significance of suits and other formal attire. My final goal is to make men more confident in their wardrobe choice and life in general.