A khaki suit would make a great addition to any wardrobe if you are looking for a change of pace.
Khaki is a very laid-back suit color; it's excellent for many settings and will help you stand out from the crowd.
And one of the best things about khaki suits is that they go well with almost any color.
Things to Consider When Wearing a Khaki Suit
Khaki is a very versatile suit color, mainly because it will mean different things to people.
This is because many have different impressions of what khaki represents; since there are so many shades and tones of khaki, there's bound to be a khaki suit that's just right for everyone.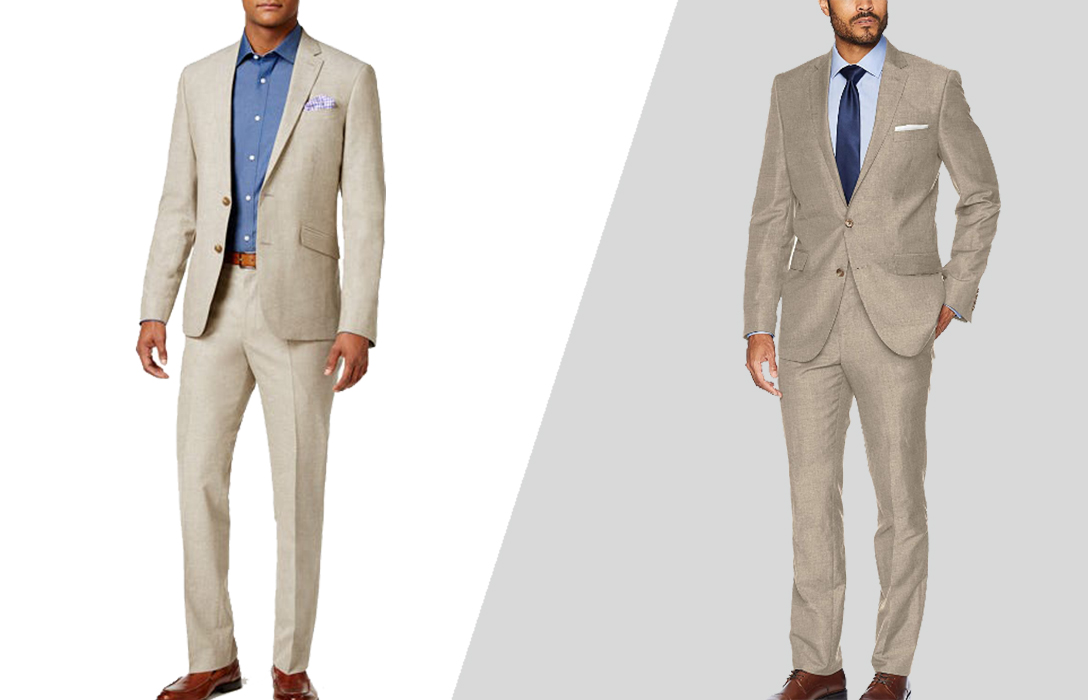 The shade of khaki you choose will determine its suitability for the season.
However, the most crucial feature to consider when choosing your khaki suit is how well it fits. No matter what, your suit must be well-fitted.
Otherwise, the cut and color will be overshadowed by your ill-fitting outfit.
The Shade of the Khaki Suit
Khaki has a variety of shade variations; it can be light or dark, with brown, green, or yellow undertones.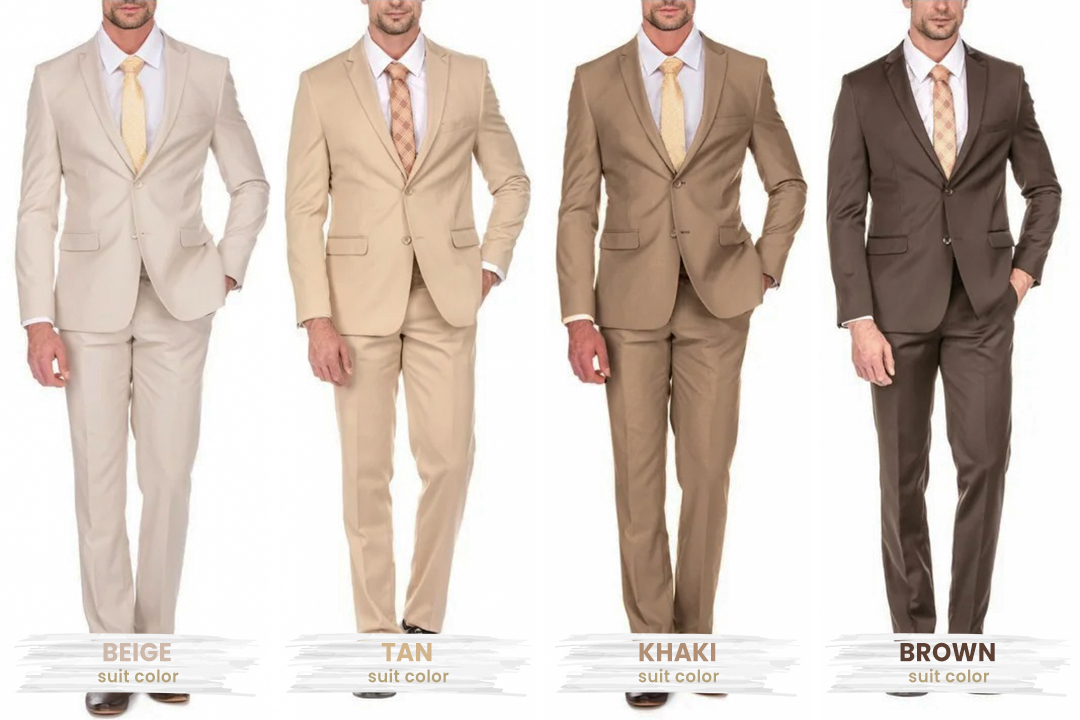 A light khaki has yellow tones to it. It is usually a softer shade, adding some brightness to your wardrobe. Lighter khaki suits are best for summer wear.
Dark khaki has hints of green and brown. It's a heavier shade that is best worn in winter.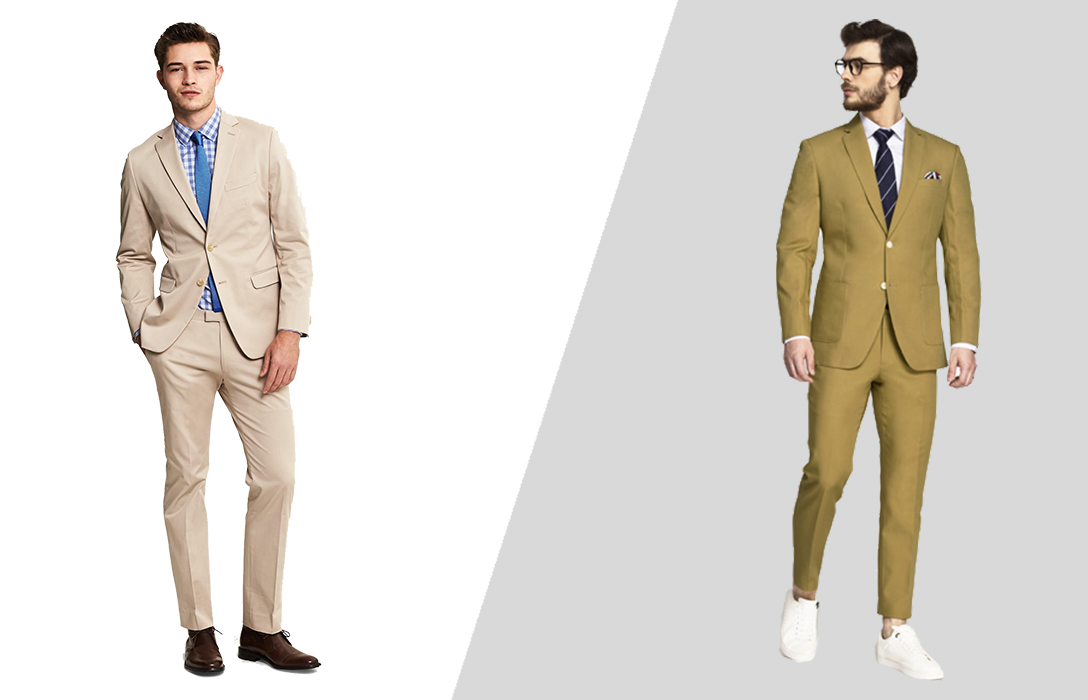 These different tones make it a color that everybody can wear; each person can pick which variation best suits their own coloring.
If your skin is dark or tan, choose a khaki suit with a warm brown. For fair complexions, a khaki with cool green tones is flattering.
The Season & Suit Material
Khaki is most popularly thought of as a light, neutral color. Therefore it's usually considered a relaxed suit for summer weather.
Summer suits need to be lightweight materials to help with comfort. Cotton or linen khaki suits are an excellent choice for a relaxed summer outfit.
Just be careful since these materials wrinkle relatively quickly, so they won't be best suited for more formal outings.
To wear khaki in winter, you'll need a darker, heavier material to not freeze or look like you are in the wrong setting. A wool blend is an excellent choice and is also more formal.
Khaki Suit & White Shirt
A khaki suit paired with a white dress shirt is one of the crispest looks I can think of.
Although khaki is, by nature, a more casual color, a white dress shirt makes it a little more dressy. Plus, it looks incredible with both light and dark khaki suits.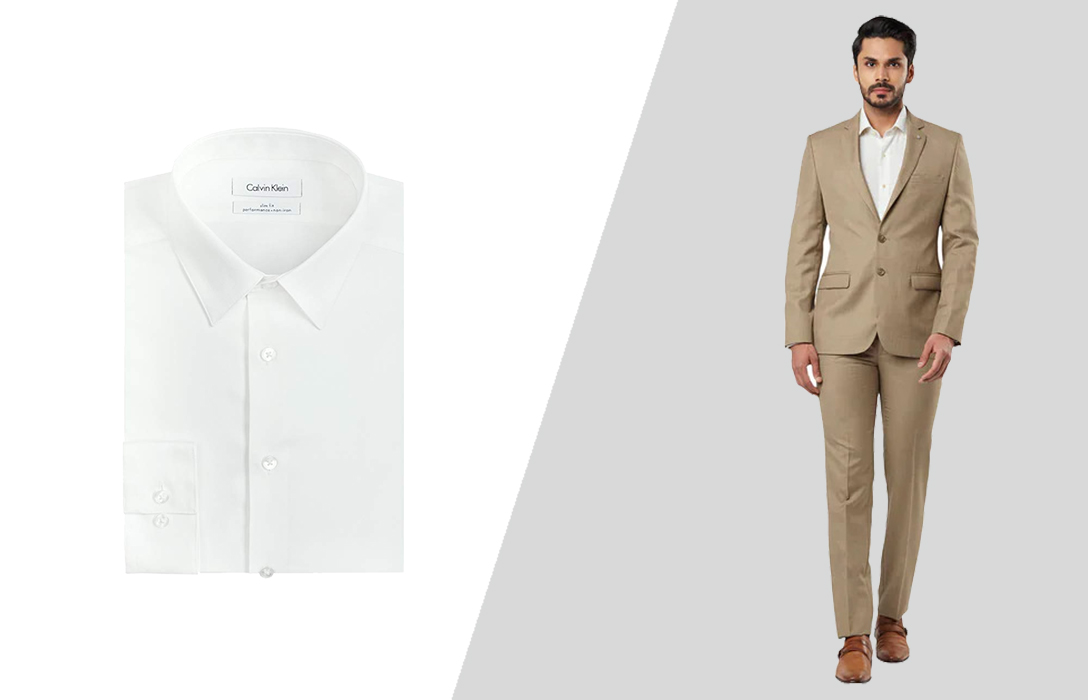 This simple combination doesn't need much embellishment; it speaks volumes on its own.
Medium brown accessories work best, such as your belt and shoes. However, thanks to khaki's versatility, almost any color will work if you add a tie.
Neutral ties, such as medium grey, are fine, although a more exciting shade might be green or burgundy.
Khaki Suit & Blue Shirt
A light blue dress shirt with your khaki suit achieves a relaxed look while still feeling dressy. It's a cool and fresh twist on your standard, stuffy suit colors.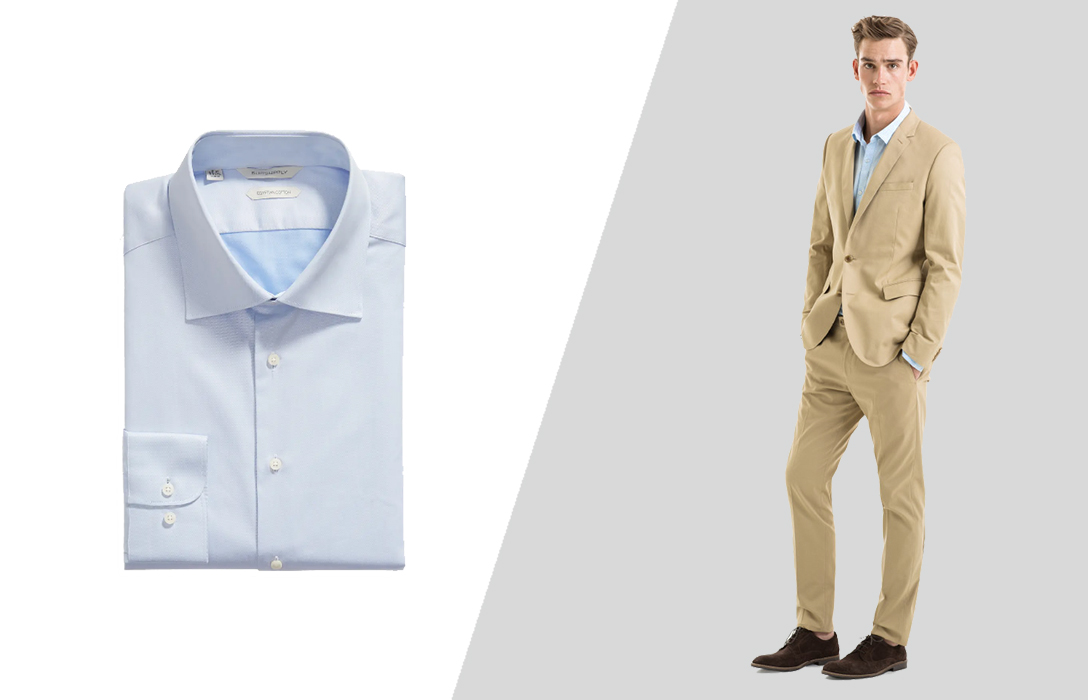 Of course, you can substitute a darker blue for a more professional appearance, but that would only work well with a darker khaki suit. And be sure that the suit doesn't have too many green tones.
Again, brown accessories work best with this combination.
Because of the sense of leisure from a light khaki suit and pale blue dress shirt, why not try a shoe style that reflects this sense of fun, such as a pair of loafers?
Khaki Suit & Pink Shirt
A pink dress shirt is becoming an indispensable part of a well-dressed man's wardrobe. It pairs well with almost any suit, especially khaki.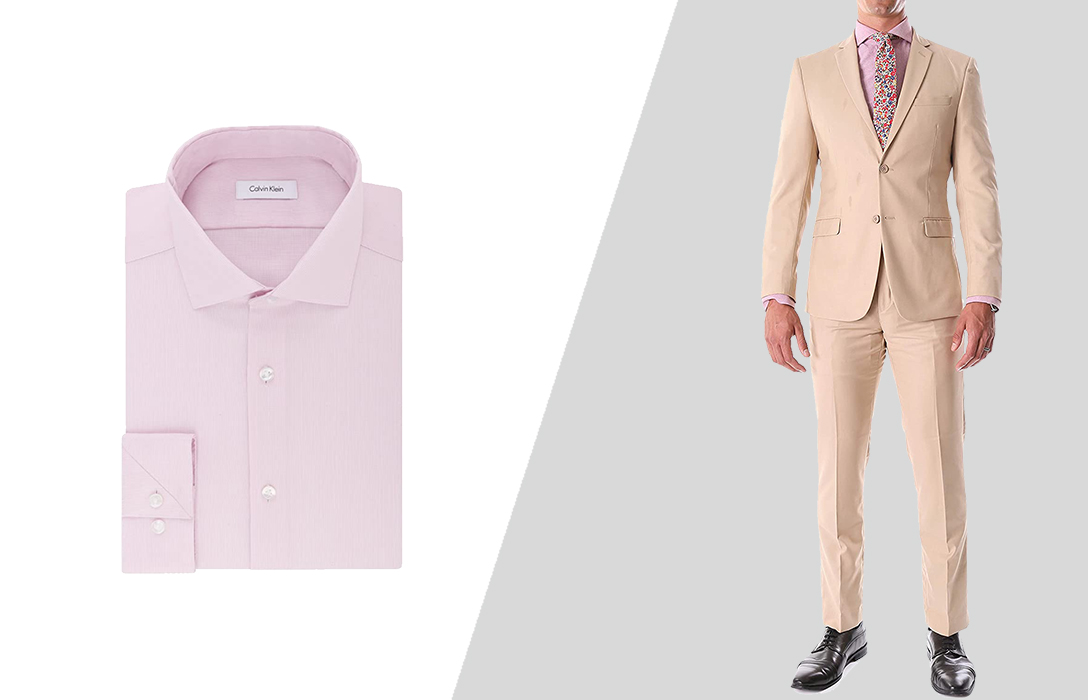 This combination is very summery and relaxed. Pink and khaki are an exciting combination because they both feel incredibly cheerful.
However, be careful that your pink dress shirt isn't too strong; paired with a light khaki, it may look too dominant.
You may want to leave off the tie with this outfit, leaning into the tranquil aesthetic.
If you decide to add a tie, a blue tie would nicely complement the pink and khaki. You could also opt for a dark purple or a shade of pink darker than your shirt.
A pair of brown loafers or brogues would perfectly top off this look.
Khaki Suits & Patterned Shirts
Checks or stripes are a terrific way to mix things up and add some interest to what could easily become a dull, neutral color suit.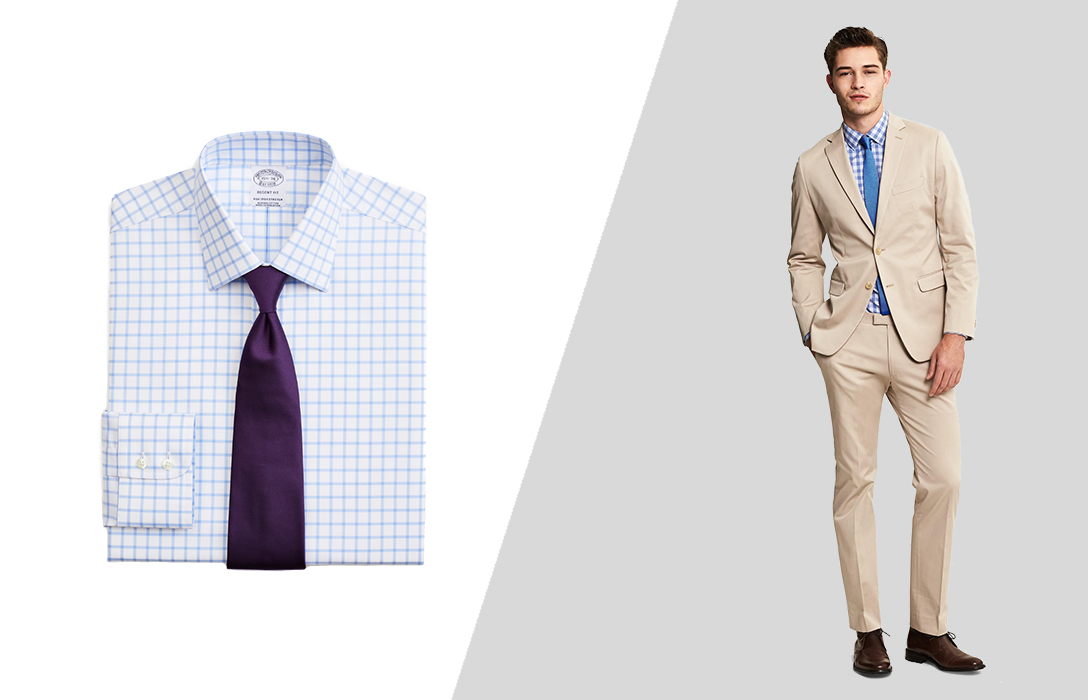 This dress shirt style pulls your suit to a more casual side but is fine if you work in a relaxed, business casual work environment.
If you are dressing for a casual get-together or a social event, you might want to go even more bold with either a floral or paisley print.
These are eye-catching and great fun, just not suitable for most work environments.
Your color choices are wide open! You can choose pastels or bold shades; just make sure that your colors don't clash with your khaki suit's undertones.
Khaki Suits & T-shirts
You can wear a t-shirt with your khaki suit for an incredibly casual and smart outfit.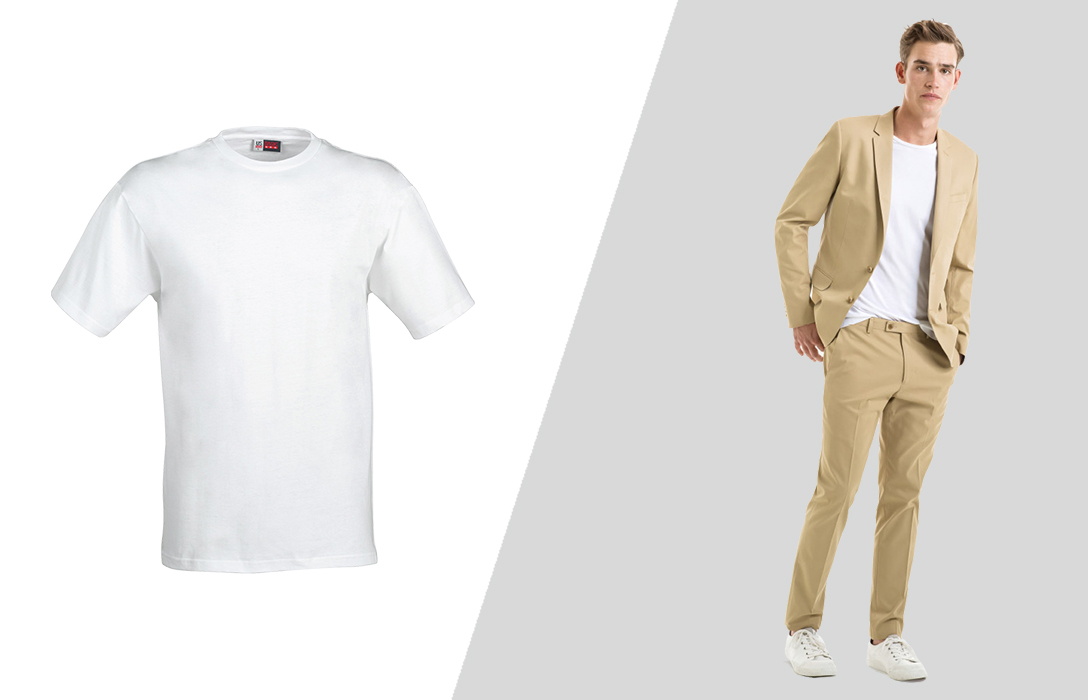 Yes, it sounds unusual to wear a t-shirt with a suit, but it looks spectacular when done properly.
A white crew-neck t-shirt is best for this style. The only catch is that your t-shirt absolutely must be spotless and wrinkle-free.
Your suit might also look good with a colored t-shirt, but it needs to be clean and ironed.
Because this look is so relaxed, you can wear bright, sparkling white sneakers with it. You can ditch the socks as well.
How to Wear a Khaki Suit at Weddings
Outdoor summer weddings are an ideal setting for your khaki suit.
Because weddings generally aren't a casual affair, though, keep in mind that you need to keep your wedding suit on the formal side.
Your dress shirt should be a solid color; white is usually the most dressy color for dress shirts. It would be best if you had a tie.
A pattern is fine; pastel shades are ideal because they are light and summer-like.
Ties are also preferable for weddings. Perhaps a blue or pink tie would fit in best for daytime weddings. Burgundy or navy ties are better for the evening.
For shoes, keep in mind that you want to be as dressy as possible. Either black or medium brown Oxford shoes are the best choice. If you don't have Oxfords, derby shoes are the next best choice.
Also, you can wear brogues or monk straps if it's a daytime wedding.
Don't forget to accessorize with a brown belt and possibly a matching watch.
Separating the Khaki Suit
Because khaki is amazingly versatile, khaki suits are excellent for wearing as separates.
The khaki suit jacket looks perfect over a nice summer shirt, such as a polo shirt. This would look great with a pair of dark dress pants, such as navy.
Wearing khaki suit pants as separates is different from wearing a simple pair of khaki pants. These are more dressy, of course, since they are part of your suit.
That's why they are most commonly paired with a navy blazer. But, for a twist on this typical approach, why not try a blazer with an earth tone or perhaps a light blue?
You can wear a dress shirt with this combination or a well-fitted t-shirt.
Author: Alexander Stoicoff
Hi, I'm Alex, and I've studied and specialized in styling in Rome. Through my writing, I want to help men dress well and learn the purpose and significance of suits and other formal attire. My final goal is to make men more confident in their wardrobe choice and life in general.