A light grey suit feels like a cool breeze swooping in to shake things up. It is unique and playful, just like you.
That's because grey is a versatile color, and adjusting the shade only shifts the colors you can wear.
Still, it can be a bit trickier to match shirts and ties to a light suit. However, once you get the feel of how to do it, you'll realize it's so refreshing.
Understanding the Different Shades of Grey
I could make a joke about a popular naughty book here, but I really don't have that many shades of grey to talk about.
There are many hues, of course. But when it comes to suits, there are only three we need to focus on – charcoal, medium, or light tones.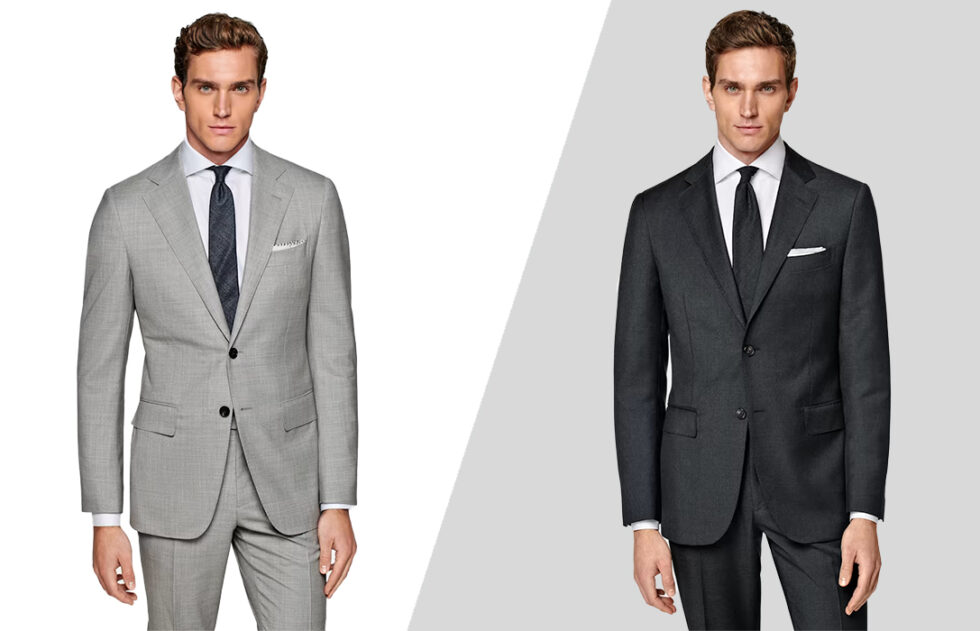 So, it is essential to understand the difference between the three and what each shade is appropriate for.
Dark grey or charcoal is close to black. As such, it's the most formal of all grey color suits and is incredibly professional looking.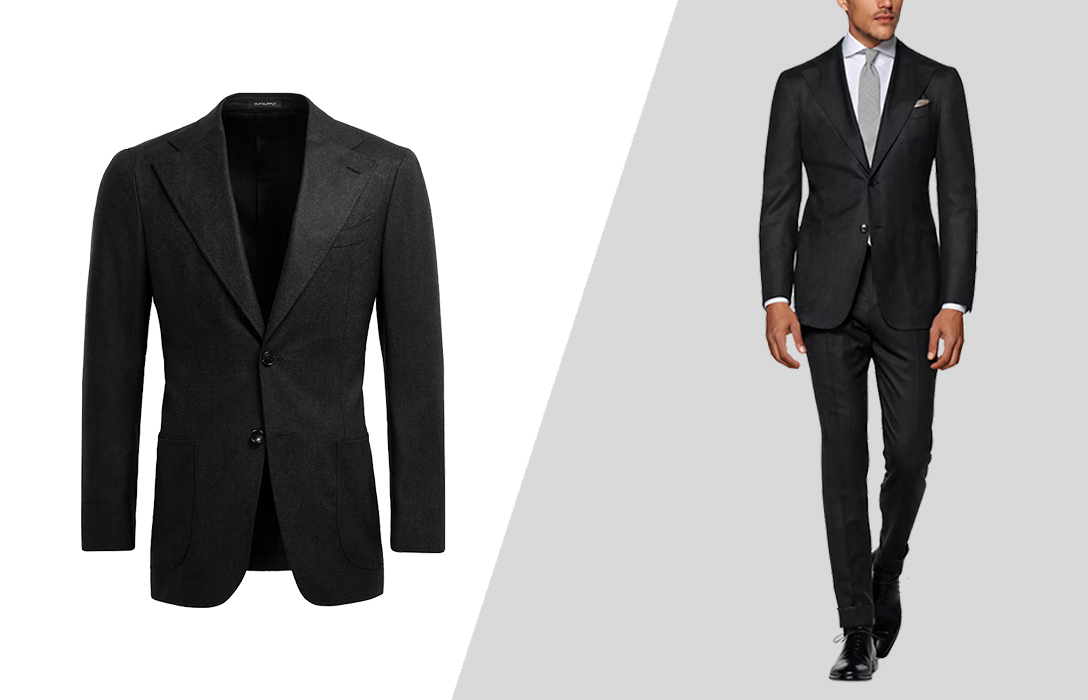 Therefore, dark and charcoal grey suits are best suitable for formal or professional business events.
Medium grey is incredibly versatile and can swing back and forth between business and casual. Also, it matches well with a wide variety of colors, making it an easy suit to dress with.
Finally, light grey is the daytime counterpart to the evening dark charcoal shade.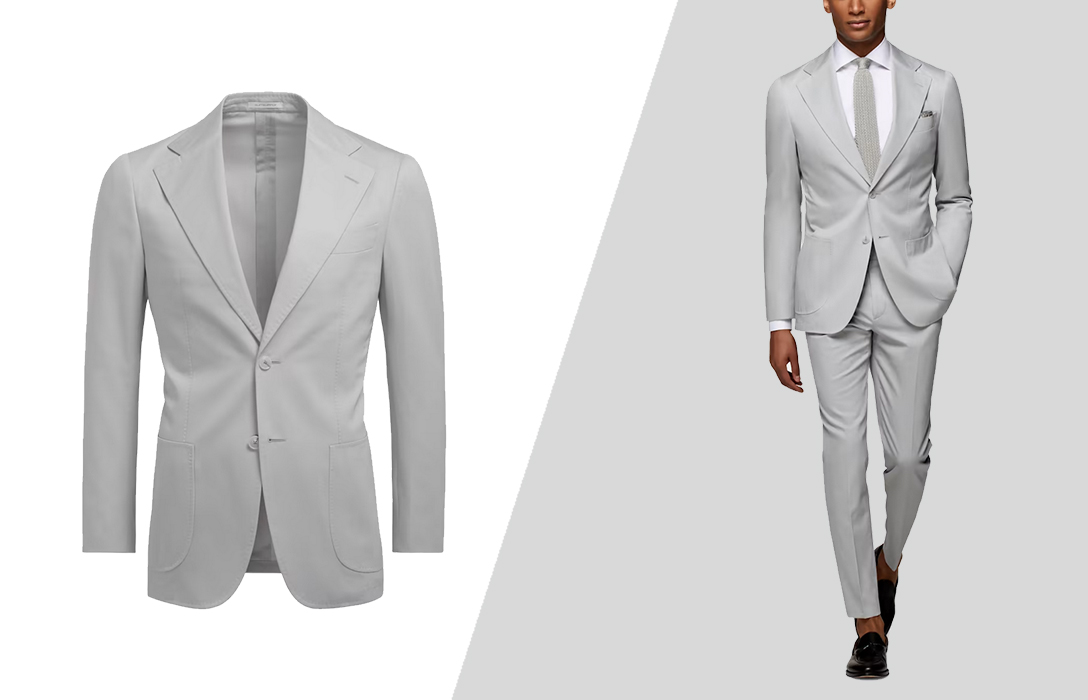 It is excellent for semi-formal events and more casual business needs. On that note, it's not typically appropriate for most formal office wear.
Choose the Best Light Grey Suits by Fit
Choosing the suit cut is one of the first things you have to do.
The correct cut ensures your suit will fit well on you. With small alterations, you'll be able to achieve the perfect look.
Classic-Fit Light Grey Suits
Also known as "traditional fit", the classic-fit suits provide comfort for the wearer. This fit is recommended for larger men or men who avoid looking tight up and trendy.
Just be careful not to look baggy. You'll still need to adhere to the suit-fit basics and retain the clean and tidy silhouette look.
Top Choices
Slim-Fit Light Grey Suits
Slim-fits suits are tailored closer to the body. This suit cut is designed to be both stylish and somewhat comfortable to wear, especially for skinnier men.
Top Choices
Double-Breasted Light Grey Suits
Light grey double-breasted suits are pure elegance. It has the class to make you stand out from the rest yet appear minimalistic and appropriate for warmer days.
Top Choices
Colors That Match with Light Grey
Light shades can be challenging to match the clothing and accessories to, but light grey is one of the easiest.
Because grey is a neutral color, it pairs well with most other colors.
One of the common dangers of wearing a light grey suit is looking washed out. That's because too many other light colors will not look right with the light suit.
To avoid looking colorless, add a color variety through shirts and ties.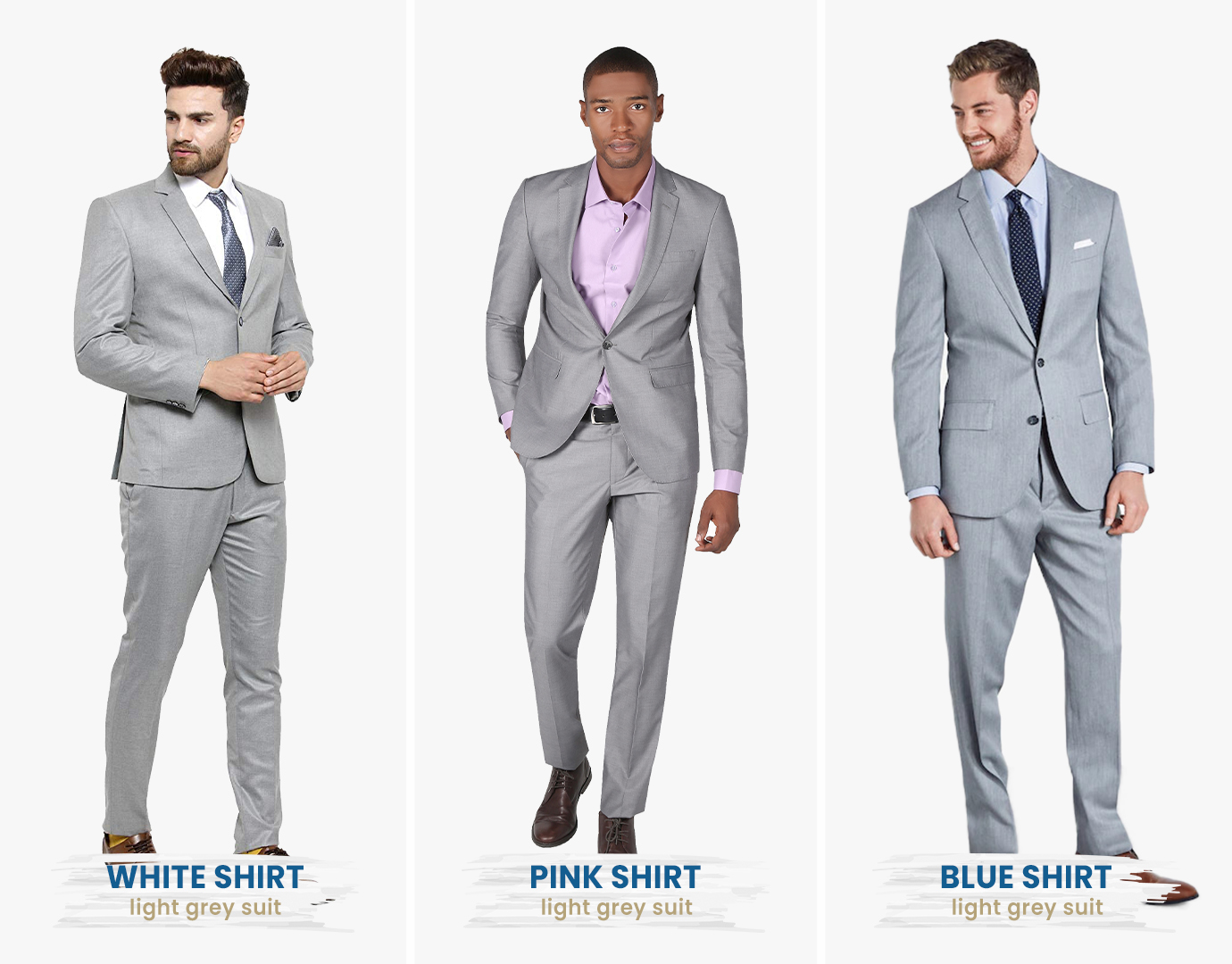 White is usually a go-to color for dress shirts, but it needs to be handled with care.
White shirts pair well with light grey suits, but the shirt will need help standing out. A deeper pattern on the shirt or a darker tie will help achieve that.
Light Grey Suit and White Shirt Color Combinations
A white shirt is the most formal option you can wear with any suit. It is a classic that always feels fresh.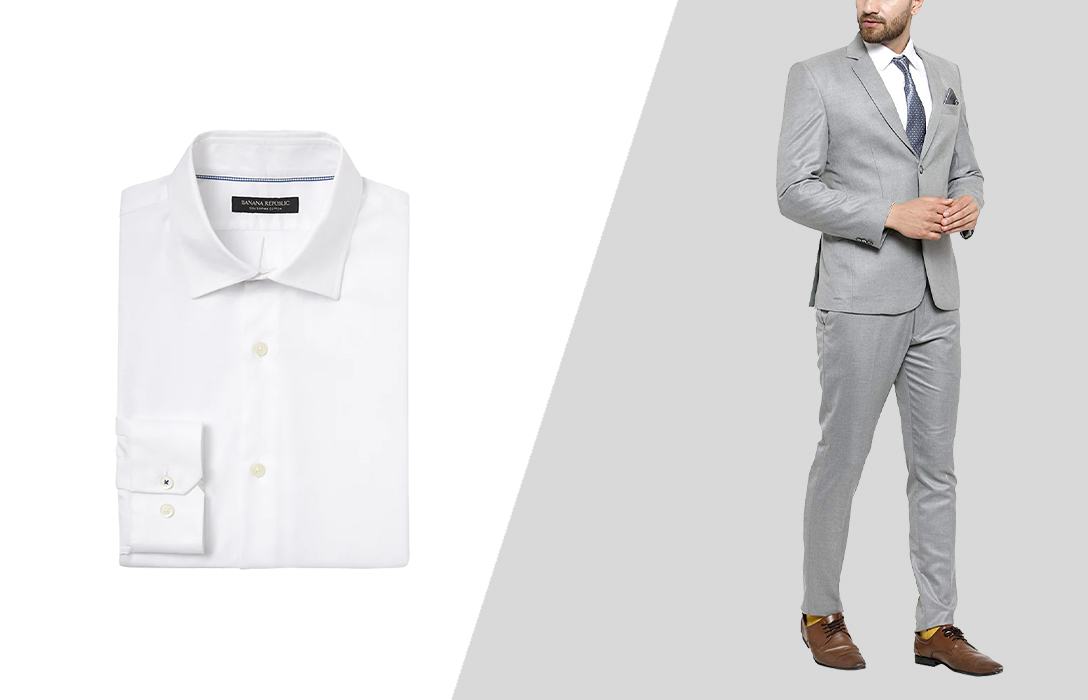 While you can't go wrong with traditional white, be cautious when pairing it with your light grey suit.
Be sure that the shades are not too similar. If you can differentiate the suit from the white dress shirt when they are side by side, you are good to go!
Best Choices
Red & Maroon Tie
Such a deep color creates a startling color contrast. It stands out from all the typical neutral colors that are the standard go-to.
Red ties of any shade cannot go with many color suits. Light grey and white are one of the few color combinations it works with. Opt for this dazzling power tie when you want a confidence booster.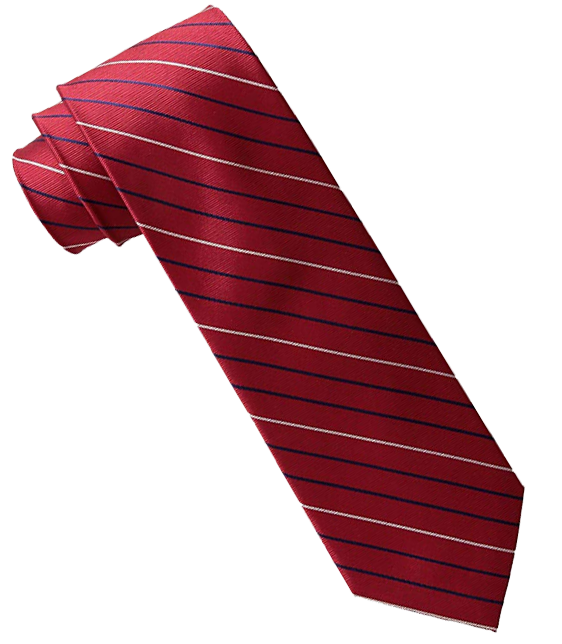 Grey Tie
Find a tie that is the same shade as your suit for a trendy monochromatic look. For a more classic and crisper look, choose a charcoal tie. It dresses up the suit and raises its formality level.
Black Tie
One can't get more classic than a black tie with any suit. It always means business. This never-fail combination of grey, white, and black is a flattering look on any person.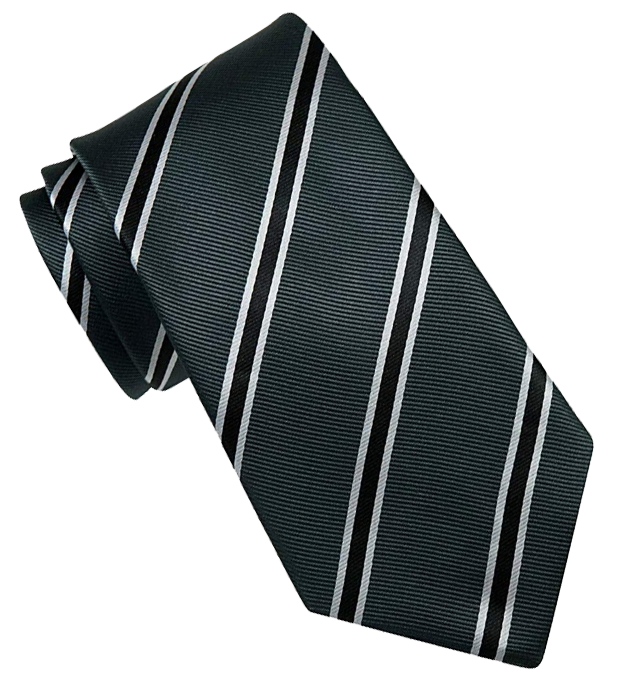 Brown Tie
Brown is a warm color. It will soften the sometimes harsh edge of the light grey. Also, a brown tie makes this suit more casual. It looks excellent when pulled together with brown shoes and a belt.
A slight texture on the tie will create an interesting visual. It will soften the look a bit.
Light Grey Suit and Blue Shirt Color Combinations
Light blue is a classic color for dress shirts. It is similar to white in this aspect but slightly less formal.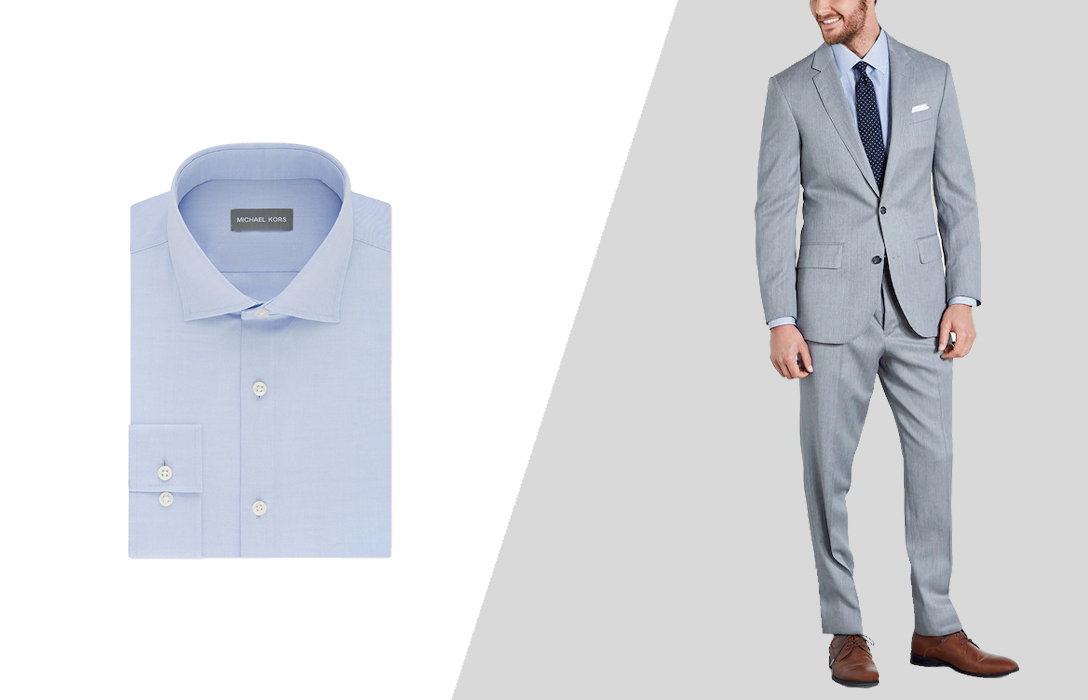 The blue complements the grey tones and brings out the blue hues in the grey. These two together are cool, crisp, and soothing.
Shop The Look
Blue Tie
You must choose a tie that is a different shade from your shirt. Darker or lighter is fine, so long as it is different.
You don't want to lose the tie against the background of your blue shirt. You can also opt for a tie with some subtle patterning to soften up the look.
Blue is a playful color. Have fun choosing accessories to match!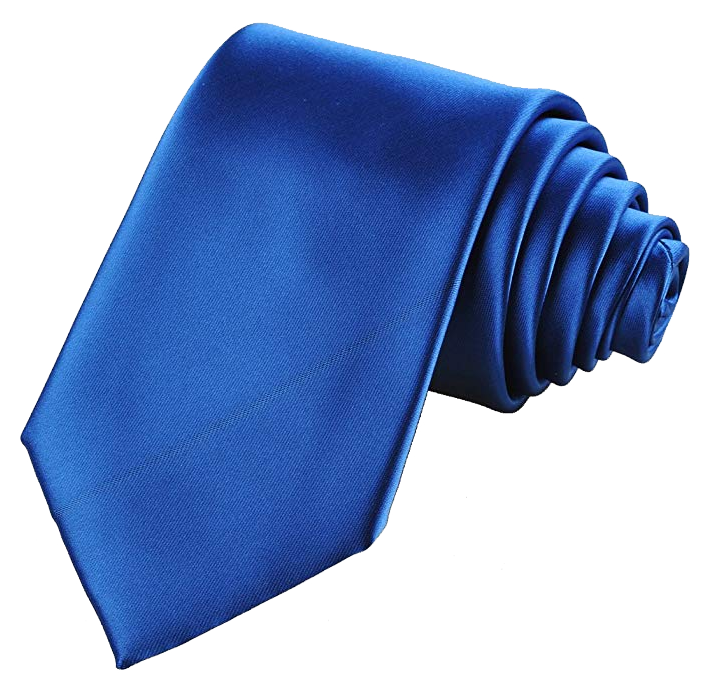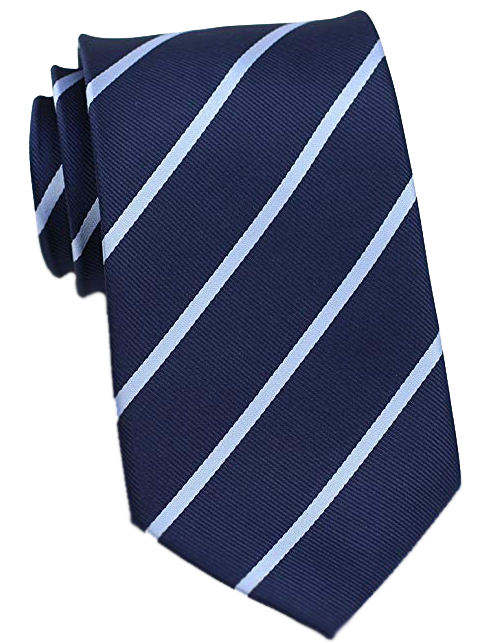 Navy Tie
A navy tie will dress your suit up. Since it is a dark color, it lends a more formal feel to the ensemble. It is a classy look and not as playful as a true-blue tie.
Navy ties show your maturity. They are elegant with any suit, but on a blue background look very sophisticated.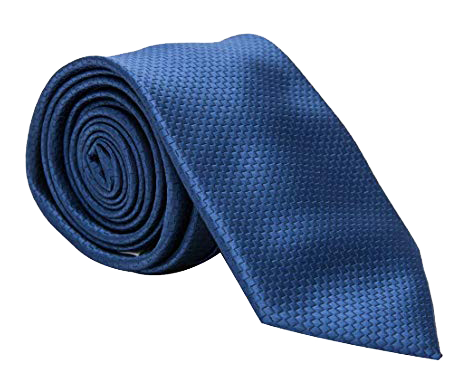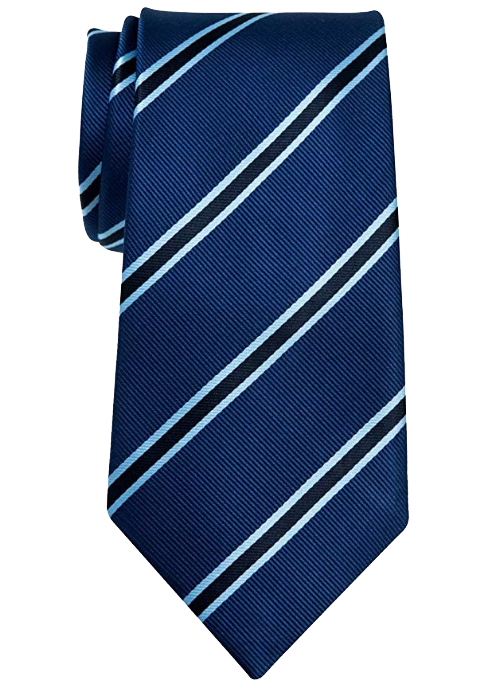 Grey Tie
A tie of the same shade as your suit, with a pale blue background, is very chic. It does all the heavy lifting of pulling your suit together. Also, it comes across as a very put-together, cool-toned ensemble.
For a dressier style, on the other hand, go for a darker tie. A nice medium grey or charcoal tie will raise the formality of your light-grey suit.
Black Tie
For a no-risk, can't-fail combination, wear a black tie with your pale blue shirt. This is the dressiest way to wear a shirt and is also the most traditional.
It adds a dash of sobriety to the cheery blue. When you need to create a more somber look but still want a touch of color, a black tie will achieve that.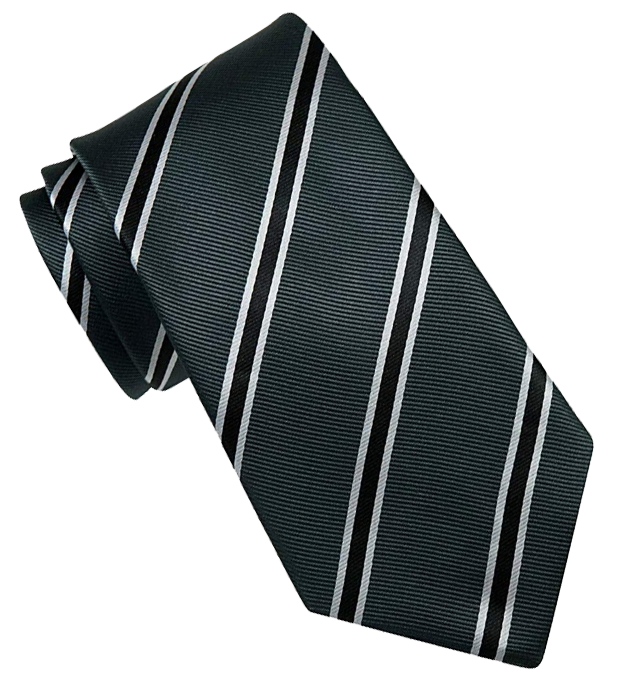 Light Grey Suit and Pink Shirt Color Combinations
Pink is a very cheery, summery color. When paired with a light grey suit, pink dress shirts create a contemporary look.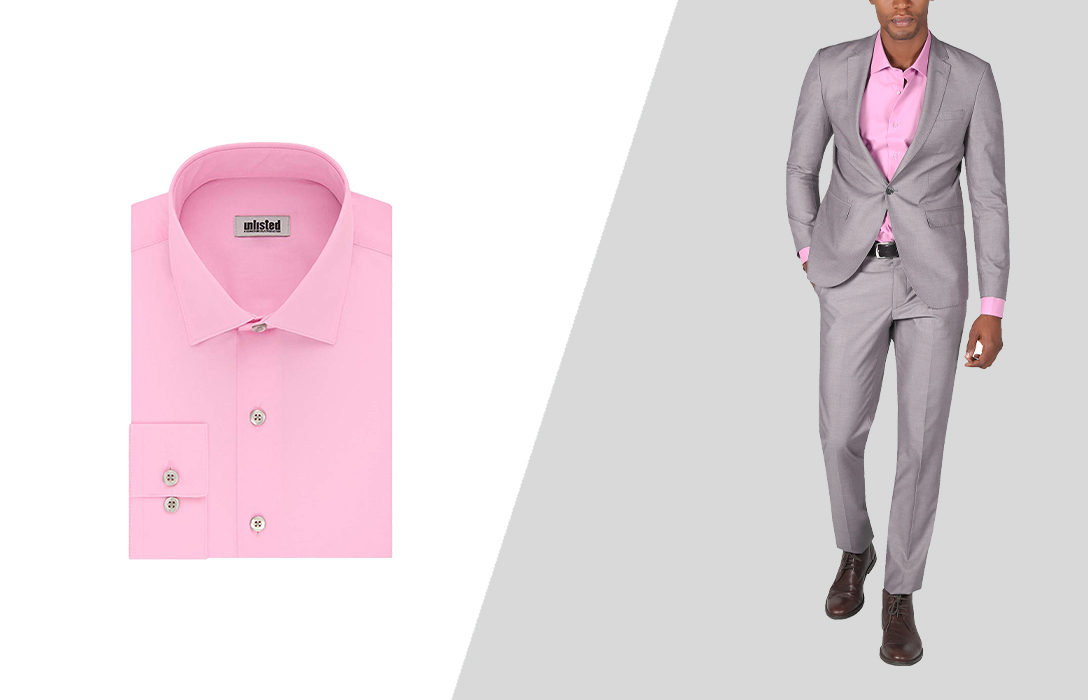 Be wary of choosing a too-cool-toned shirt so that you don't end up washed out. If it is too pale, it will only appear bleached out next to the light grey.
Shop The Look
Red Tie
We already know that red is a powerful color, and pairing it with a pink shirt is a very bold move.
However, this combination will no doubt turn heads and draw attention to your amazing fashion sense.
If you are feeling confident, give this very fashion-forward combination a whirl.
Pink Tie
Pink on pink is an ultra-cool image. It is a high risk of looking washed out, so be sure that you are putting the correct shades together.
The tie should be slightly darker or lighter than the shirt to not look too matchy-matchy. The contrast in pink feels contemporary.
Try mixing pink and navy, too. It can give the necessary severity and formality to your suit.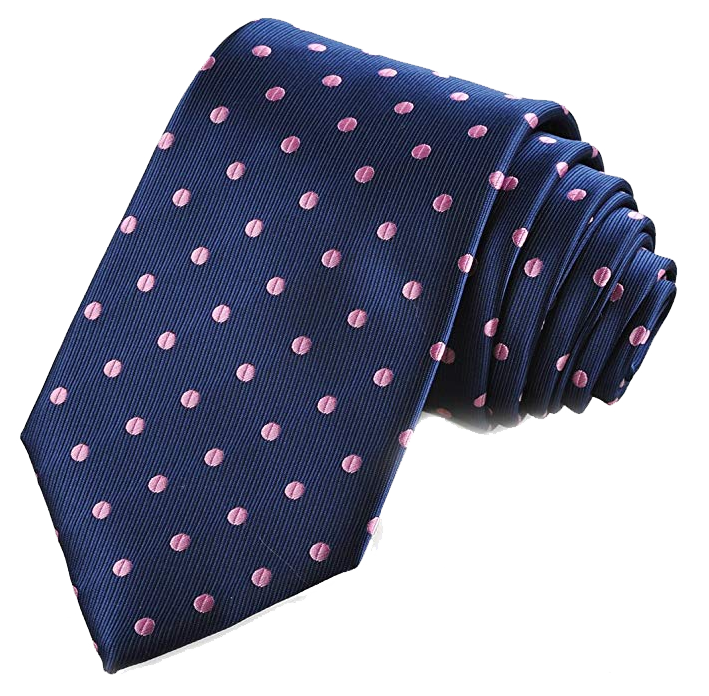 Purple Tie
Purple is a very striking color when done correctly. Avoid a pastel shade so that you don't end up looking like an Easter egg.
Dark purple is very confident and bold. But next to a pink shirt, it is unique. People will appreciate your innovative approach to fashion and be surprised by how well these colors go together.
Light Grey Suit and Black Shirt Color Combinations
A black shirt with a grey suit is a very modern and sleek look. The contrast between black and light grey is shocking.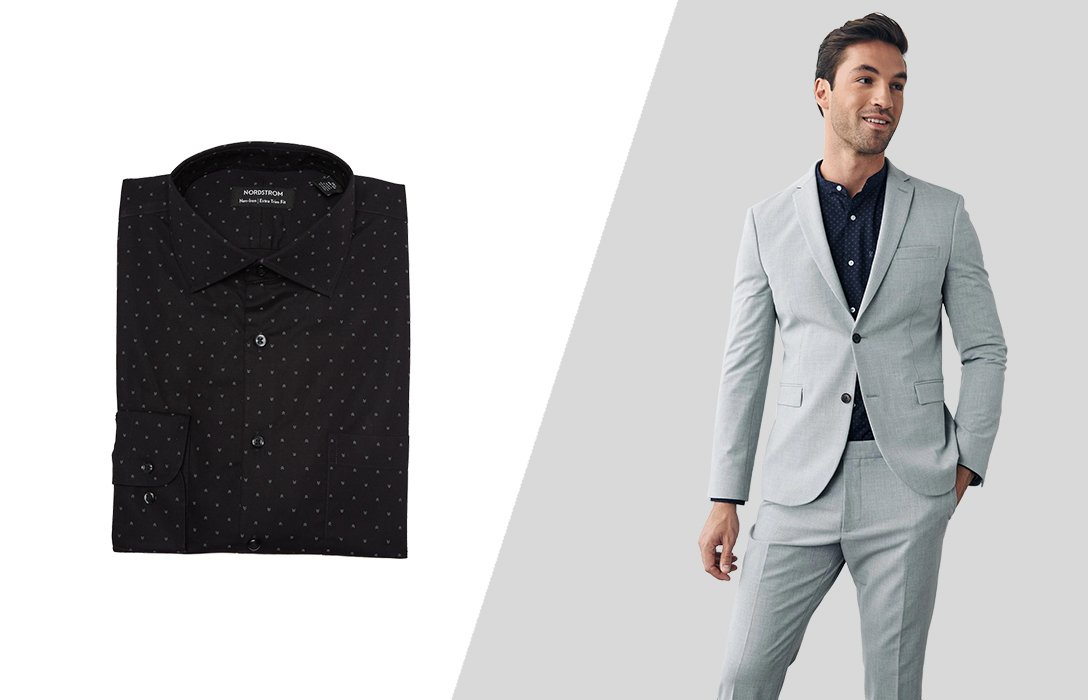 If your style has a sharp edge to it, you need a black dress shirt. It is perfect for a night out, making your suit appear a shade darker than it is.
Black Tie
A black tie on a black shirt is ultra-modern. If you want to pull off this fashion-forward style, the two shades of black must match exactly.
Be sure that you keep both the shirt and tie solid; patterning will only end up looking awkward.
Light Grey Suit and Striped Shirt Color Combinations
Try a white shirt with either blue or pink stripes to spice things up. Besides, a printed shirt makes a light grey suit even more casual.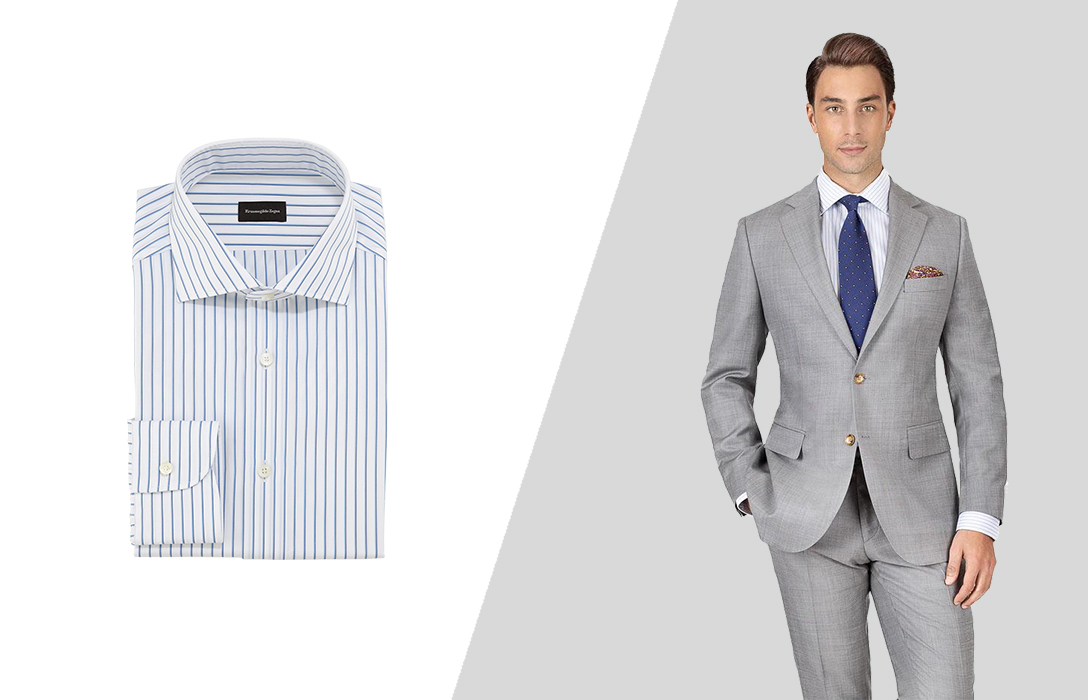 Be sure to keep it a simple pattern. Stripes on your shirt make a statement and might be eye-catching enough for you to leave the tie at home.
Shoes That Match a Light Grey Suit
Light grey suits are straightforward to pair shoes with because they are compatible with most shades of shoes.
Go with warm-hued shoes to balance out the coolness of the suit. For example, brown dress shoes pair perfectly with a light grey suit.
Black dresses up the suit while warming it up. But brown dress shoes look trendy and spiffy. Also, keep the brown darker for a more traditional approach.
Burgundy shoes are incredibly beautiful, too. But keep the shoe style simple and traditional. The color is bold enough; adding stylizing on top of it will be too much.
The Formality of a Light Grey Suit
A light grey suit tends to look more casual. However, it fits in a wide formality spectrum.
If your work requires a strict formal business dress code, this suit might not meet your company's standards unless dressed up using the right colors and accessories.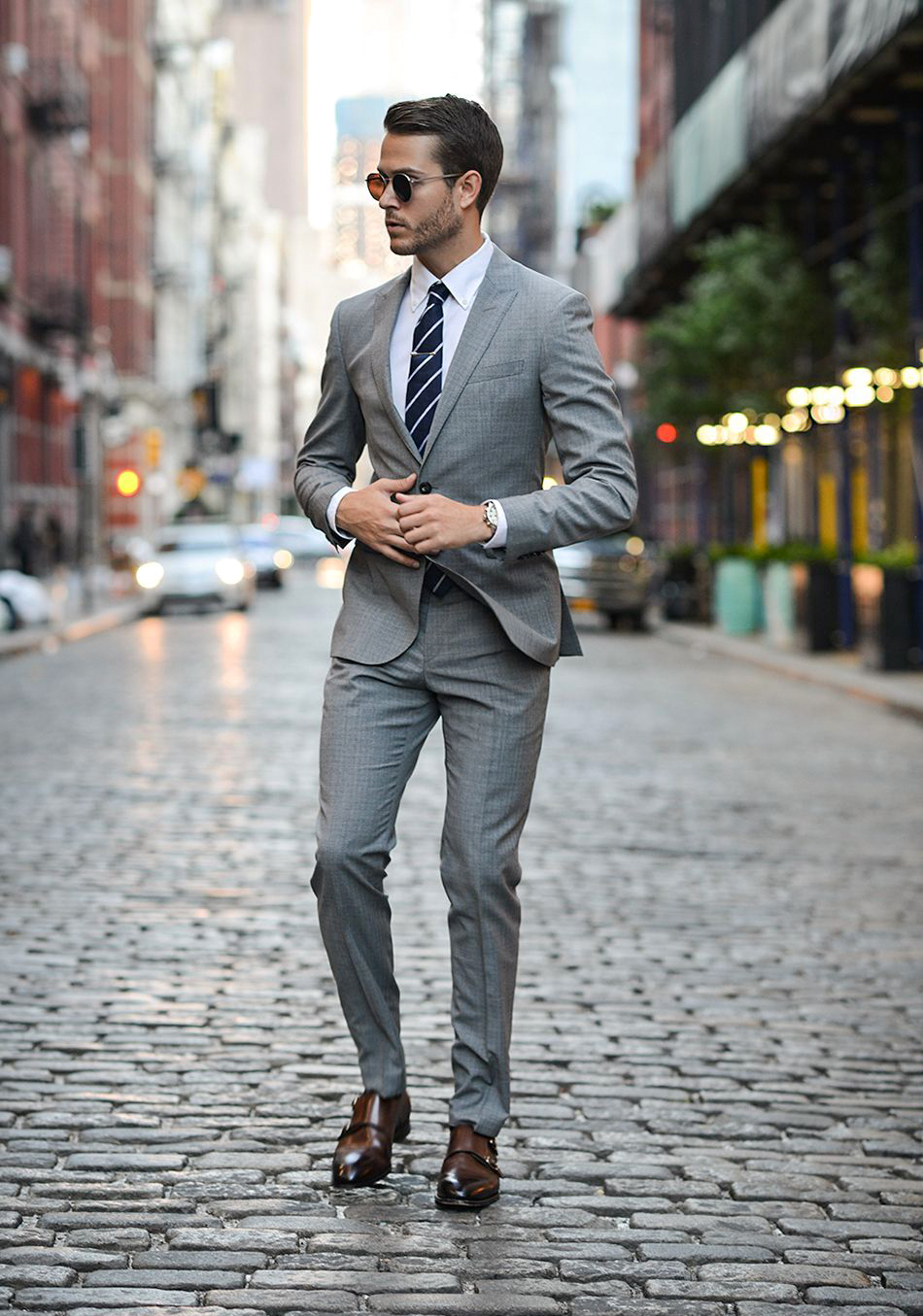 Still, a daytime personal and business casual occasion, a daytime wedding, or a casual evening with friends is exactly the right setting for a light grey suit.
Patterns on the fabric make the suit even more casual. If you are a fan of smart casual dress, invest in a suit of this color with a subtle pattern.
You will feel good wearing it when you are on the go and not worry about feeling overdressed. You can't go wrong with a light grey suit, either with or without patterns.
Who Can Wear a Light Grey Suit?
If you like to be dressed up even on your off days, you will want to invest in a light grey suit.
Light grey suits are an excellent choice to wear for socializing. They look polished but still casual enough not to make you feel overdressed.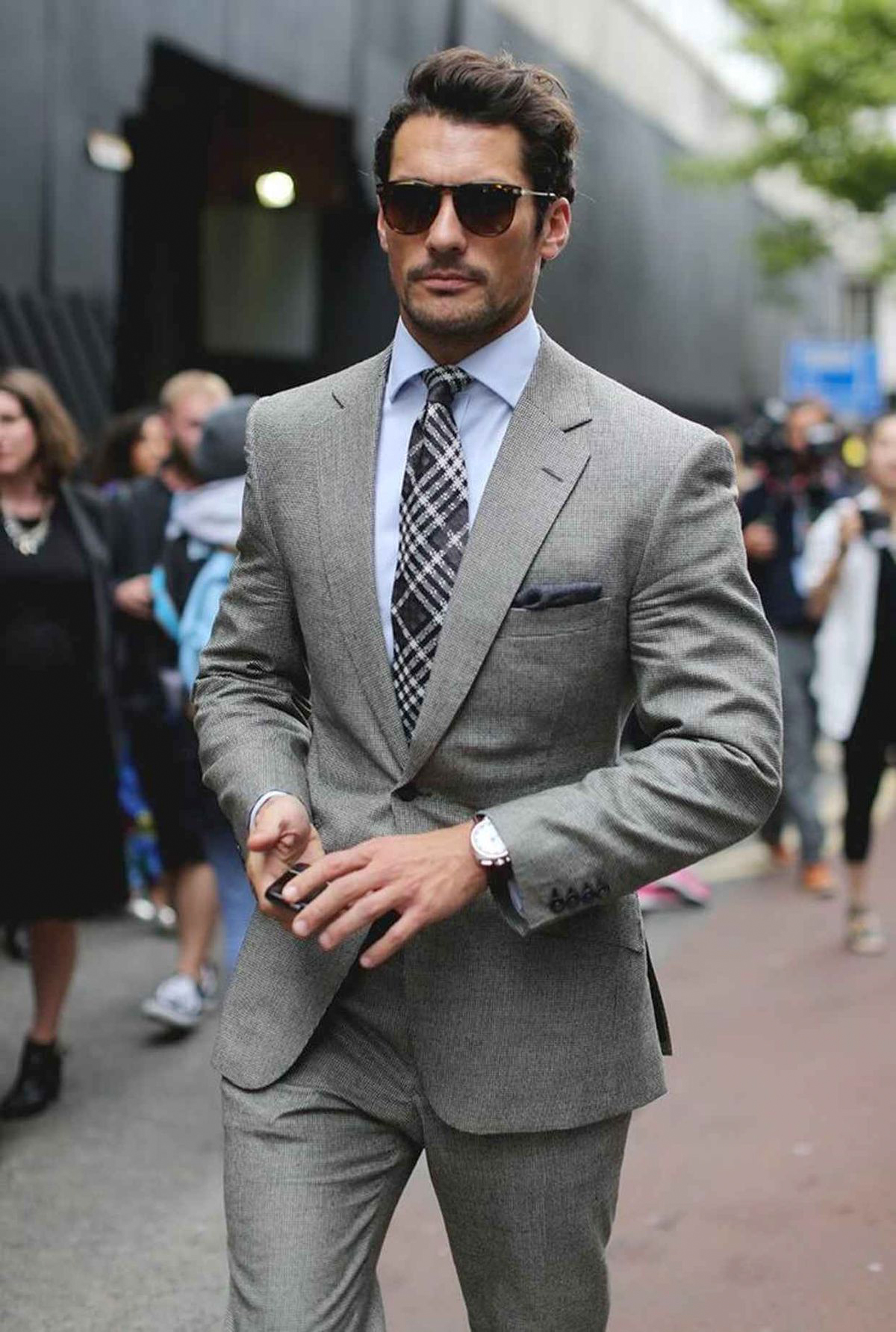 This suit shows you care about your appearance but aren't trying too hard to look suave.
They are also a must for anybody who lives in a regularly hot climate. You will be much more comfortable in a light suit than a dark one when the weather is humid.
It's good to own this suit if your collection covers all the traditional suit colors. You will never be sorry to have a full range of options in your wardrobe.
Author: Alexander Stoicoff
Hi, I'm Alex, and I've studied and specialized in styling in Rome. Through my writing, I want to help men dress well and learn the purpose and significance of suits and other formal attire. My final goal is to make men more confident in their wardrobe choice and life in general.