Linen suits don't get enough love. People are frequently worried they may look too casual in them or are intimidated by how they wrinkle.
So I'm here to tell you that you need to give linen suits a second look. You'd be doing yourself a huge favor on many levels because, quite frankly, they are very cool suits.
And I mean that both figuratively and literally.
Best Linen Suits & Brands for Men
The best linen suits are going to act as a catch-all, addressing many of your summer dressing woes.
Linen suits are breathable, cool, and hide unsightly sweat stains. All this while looking good! If a linen suit can check off all these boxes, you know you've found a winner.
Here are a few of my personal picks to help get you moving in the right direction.
Suitsupply Plain Lazio Blue Linen Suit
The suit is made from a blend of fabrics, including linen, wool, and silk. It's a tailored slim-fit two-button suit with flap pockets and a notch lapel for a somewhat casual look.
This mid-blue suit jacket comes with slight padding on the shoulder for a sleeker silhouette. The pants feature a flat front construction and a hook and button closure.
The half-canvas construction of the suit's jacket and the after-dinner split on the pants also speak highly of the suit's quality.
Hockerty Beige Peak Lapel Linen Suit
This linen suit is a 4-button double-breasted classic fit suit. It has a peak lapel, which increases the jacket's formality, so it fits your dressiest needs. It comes in a natural beige.
This suit is constructed from Vailly linen, which is pure linen. There is no lining.
Hockerty is a made-to-measure suit company, so you know your suit is going to fit perfectly. They can also customize your suit to your requests.
Reiss Double-Breasted Indigo Linen Suit
Here's another double-breasted linen suit. However, this one has six buttons. It also has peak lapels and is a classic fit suit; it's very traditional looking.
The only color this suit comes in is indigo, making it perfect for a nighttime event.
It's made from 100% linen and has a partial lining made from viscose. The sizing is pre-set, which makes returns easier if you need a new size.
Kitonet Powder Blue Slim-Fit Linen Suit
This slim-fit linen suit comes with a single-breasted jacket featuring two buttons. The only color it comes in is light blue, so this might be the perfect option for a daytime wedding.
It's fully lined and is a linen-cotton blend. The breakdown is 52% linen and 48% cotton, making it a little less wrinkle-prone.
Hockerty Windowpane Blue Linen Suit
This classic fit linen suit is double-breasted and has a rare shawl lapel. Shawl lapels are most frequently seen on tuxedos.
It comes in electric blue and has a subtle print of white windowpanes. The linen suit is made from Welch linen, which is a cotton blend.
It has a little more linen than cotton, with 55% linen and 45% cotton. This breakdown helps resist creases somewhat.
US Polo Two-Piece Regular Fit Linen Suit
This 100% linen suit comes in natural tan only. It is a two-button single-breasted linen suit sporting notched lapels.
The pants are unhemmed when you receive them. You'll have to take them to a tailor for finishing, but you know you'll end up with the perfect length pants.
What is Linen?
Linen is a natural material woven from the fibers of flax plants. It is the oldest woven fabric, dating as far back as the Egyptian civilization.
Linen is the ideal suit material for hot climates because it's so lightweight and cool. Not only is it breathable, meaning more air can circulate through it, but it also pulls the moisture away from your body.
As a result, it's much better at keeping you dry than cotton is. Linen is also a very durable material.
It isn't easy to manufacture linen. It is a pretty tedious process and also takes a long time. For this reason, linen suits can be pricey to purchase.
The biggest downside to linen is its tendency to wrinkle very easily. It doesn't take much to crease this material, so some people avoid it for situations requiring a bit more formality.
Perhaps that's why linen suits are mostly a more casual way of dressing.
Why Buy Linen Suits?
If you've ever had to spend time outside under the boiling sun while wearing a full wool suit, you'll understand the beauty of linen.
Any relief from the elements is always welcome, and linen can feel like a godsend during the summer.
Aside from helping you stay cooler, therefore, more comfortable, linen is remarkable for hiding your sweat marks. In addition, this fabric dries quickly, so you can still look good.
Linen doesn't just feel good; it looks good, too! It is excellent for creating a laidback, relaxed vibe. If you want to steer away from formal suits, linen is the best way to do it. It isn't at all stuffy.
Linen Blend Suits
Your linen suit doesn't need to be pure linen. There are linen fabric blends out there that are wholly acceptable.
The best choices for linen blends are either silk or cotton. These will help your suit wrinkle a little less.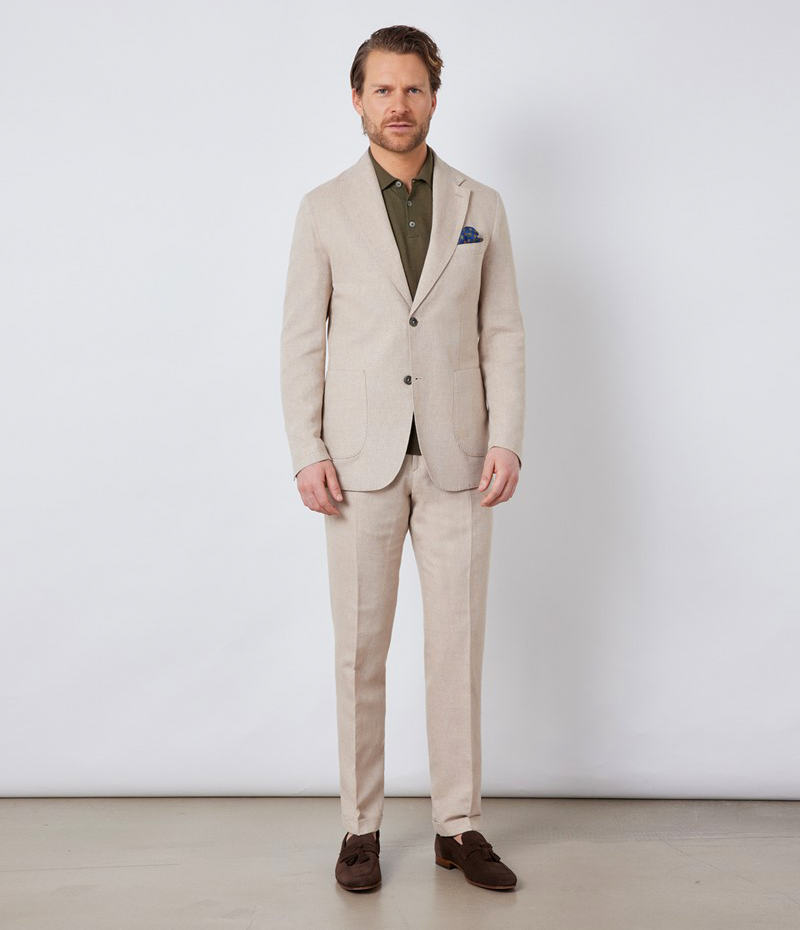 You can wear linen as a full suit, but that isn't your only option. Linen is a trendy material for separates, as well, for an even more informal look.
You can opt for a linen blazer if you need something light for an evening out. Linen pants are excellent for any time of day.
You can find linen suits in nearly any suit color you have in mind. In addition, linen suits run a full range of colors, from white and pastels to very dark shades.
Natural, undyed colors of linen suits look terrific; those are ivory, ecru, tan, and light grey.
When to Wear Linen
The most obvious event where you'll find linen suits is at a wedding. Linen suits were practically invented for beach weddings.
You don't need to wait around for a beach wedding, though. Linen suits are excellent at any outdoor summer wedding.
Summer garden parties, vacations to warm places, and any social outing with your friends are all great places to wear your linen suit.
Of course, you can play around with its formality level, dressing it up with the proper shoes and shirt. Or it can become a very casual outfit, needing only a t-shirt and sneakers.
Social events aren't the only proper place for a linen suit. For example, you may be able to get away with linen suits in your office.
You probably wouldn't want to wear linen if your work has a business professional dress code, but business-casual offices are excellent places for linen.
How to Match the Linen Suit
Another remarkable aspect of the linen suit is that it's so versatile. It's effortless to match things with. So whether you are looking to be dressy or casual, linen can accommodate either look.
If you need a more formal style, wear a dress shirt with your linen suit. It can be poplin or another cotton, or a cotton blend shirt fabric.
On the other hand, if casual is more what you're looking for, you may be surprised to know you can wear a linen suit with a nice t-shirt.
You may be able to pair your suit with a linen shirt but tread carefully here. It can quickly start to look too relaxed.
Pocket squares seem to go hand in hand with linen suits. They add a touch of elegance to any suit, and it's often an unexpected twist. You can choose a linen or cotton pocket square, either plain or print.
Shoes are possibly the easiest thing to match with your linen suit, simply because there are so many possibilities.
If dressing up, wear leather shoes of either black or brown. Brogues or monk shoes are a great touch.
For a laid-back, smart-casual shoe style, slip into a pair of loafers. They can be either leather or suede.
Finally, for a very casual and relaxed look, put on a clean pair of sneakers!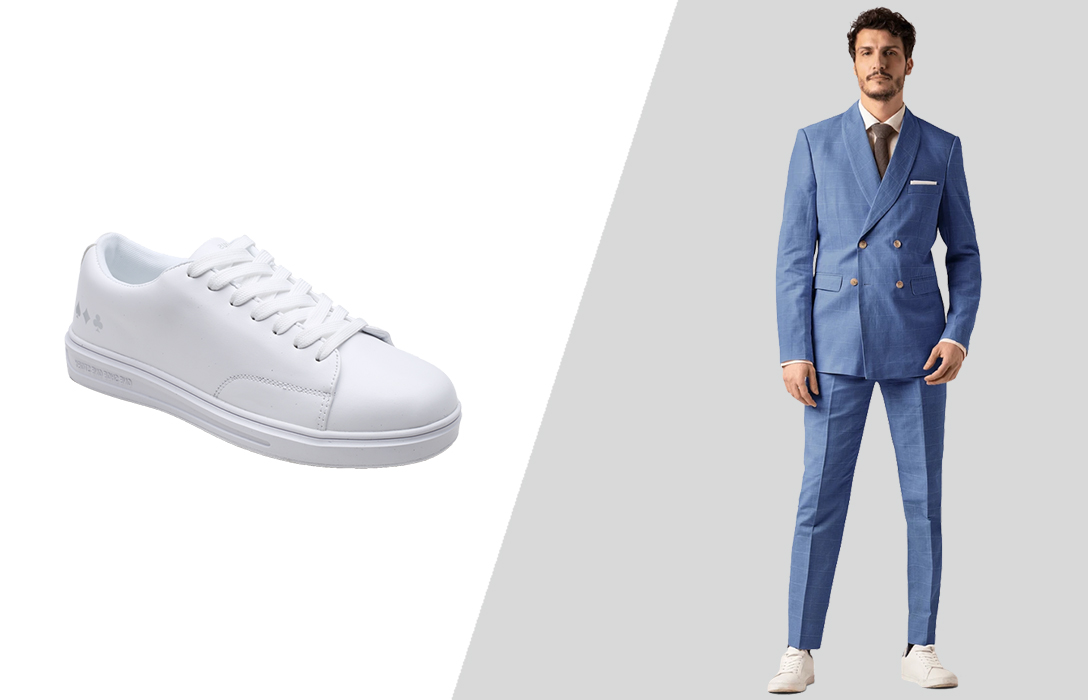 You can add other accessories as you feel appropriate. For example, if you wear a tie with your suit, match your tie to your jacket and go with a linen one.
Don't forget a belt, and be sure it matches the color and material of your shoes.
Linen Suits FAQs
By now, I should have answered all your burning linen suit questions. Here's a quick wrap-up to refresh your memory.
What are the best linen suit colors?
The best-looking colors on linen suits tend to be natural colors, like tan or cream. That's not to say that other colors can't look very nice, too. In fact, it's preferred that you wear a dark linen suit, such as navy or charcoal, for evening events.
Do linen suits wrinkle?
Oh yes, they sure do. Linen is infamous for being very easy to crease. The good news, though, is that people are very forgiving about wrinkled linen. Because it's so challenging to keep pressed, a few wrinkles are socially acceptable.
How to prevent the linen suit from excessive wrinkling?
Linen blends are not as quick to wrinkle as pure linen is, so if you're very worried about looking rumpled, you may want to consider a blend. Otherwise, take off your jacket when you sit down for long periods.
Are linen suits good for weddings?
They are if the wedding is taking place in warm weather. A linen suit will look wonderfully seasonal but will also feel super refreshing compared to a wool suit.
Author: Alexander Stoicoff
Hi, I'm Alex, and I've studied and specialized in styling in Rome. Through my writing, I want to help men dress well and learn the purpose and significance of suits and other formal attire. My final goal is to make men more confident in their wardrobe choice and life in general.