As intuitive as it seems, people often ponder how to match their shoes' color with their suit.
Your shoes say a lot about you. Therefore, getting the right choice of footwear is crucial for projecting the perfect image.
There are many styles of men's shoes, and each has its place. The constructions and colors you choose are a matter of personal taste and style.
But there are a couple of conventions to keep in mind. So when selecting which shoe color to wear with your suit, you'd need to adhere to these rules.
The Best Shoe Colors to Wear with a Suit
Black and brown are universal dress shoe colors.
But pairing shoes with your suit can be tricky. The wrong type of shoes or the right pair with the wrong color can ruin your sartorial look. This is because your shoes can instantly alter the aesthetic of your outfit.
But how do you know which shoes work best with the rest of your attire?
Carefully explore the image to learn how to match the color and type of your shoes with your suit color: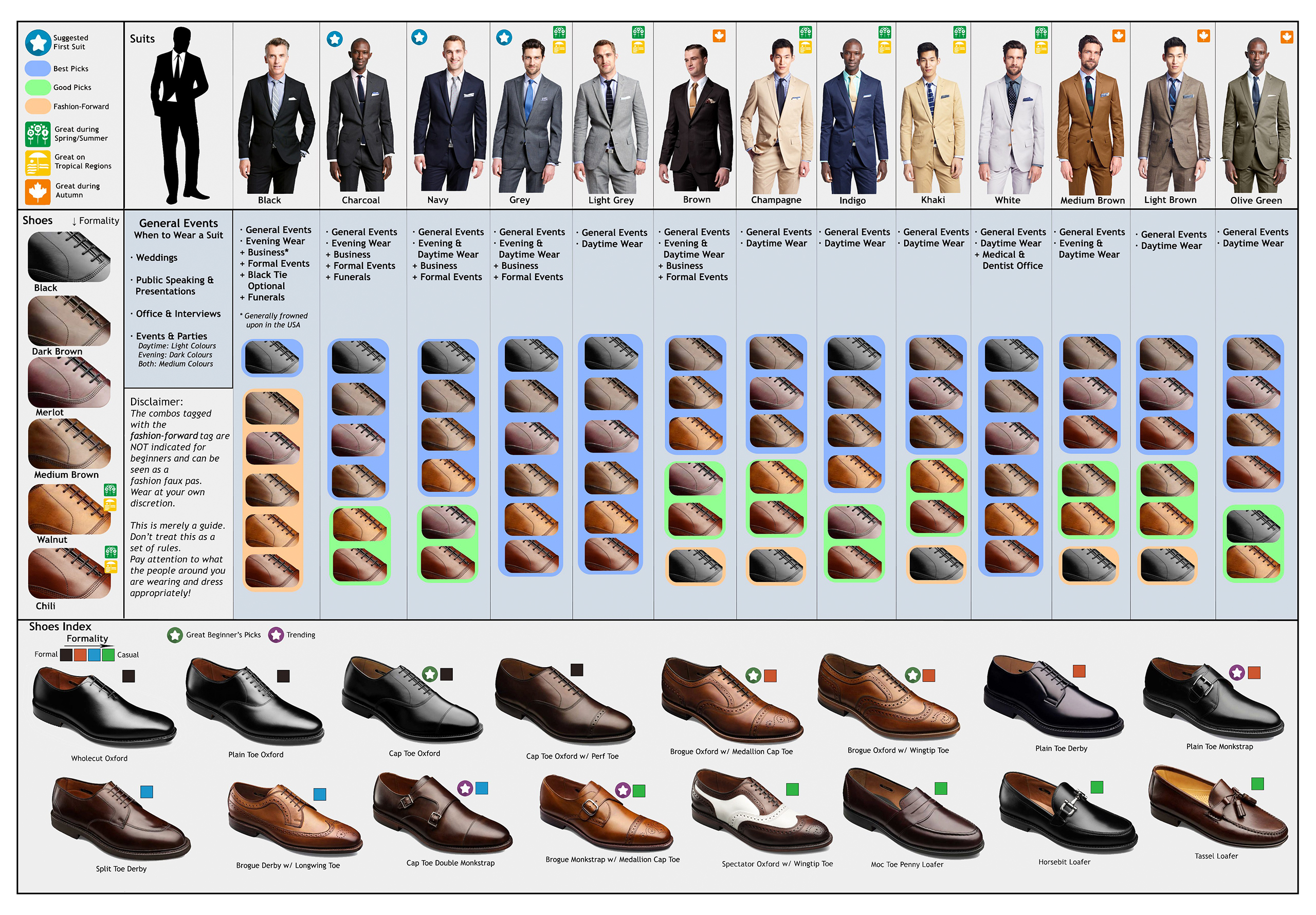 Your safest bet is to start with a pair or two of absolute footwear stalwarts. A pair of black, standard Oxfords or Derbies will have you covered for most events, formal and informal.
Both of these are great options for almost any suit color, from black or navy to grey and blue.
This doesn't mean that there are no exceptions to the generally accepted conventions. On the contrary, both style and color are subjective concepts. So it's perfectly fine to experiment a little.
Just remember the words of Pablo Picasso; before you can break the rules, you have to understand them. With that in mind, here's our guide to the best shoes to wear with a particular color suit.
Shoes to Wear with a Black Suit
Black is the absence of color. Therefore, black shoes are the most obvious choice for a black suit. It's good to follow this traditional rule whenever possible. But in a pinch, other colors can work too.
This means that it doesn't make such a compelling backdrop as grey. Technically, nothing is stopping you from mixing a black suit with shoes of a contrasting color.
Just be aware that you risk looking brash rather than well put together.
Black Suit & Black Shoes ⭐
Go with black Oxfords as your first and best option, especially if you attend a formal event. Next, you can go for Derbies, monk straps, Chelsea boots, and brogue boots.
If this is still too subtle for you, try suede loafers. These are certainly not suitable for a black-tie event, but if that's the occasion, you should be wearing a dinner jacket, anyway.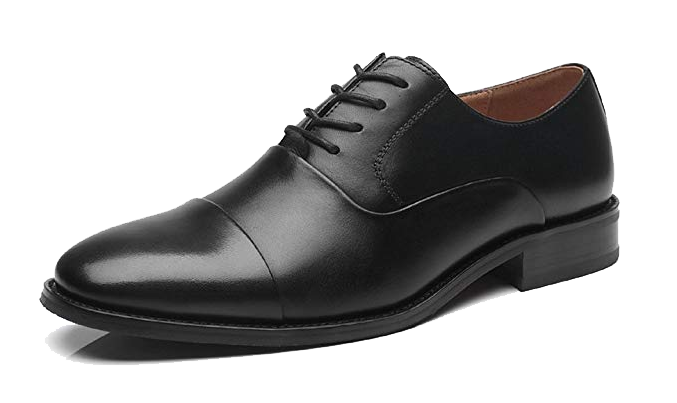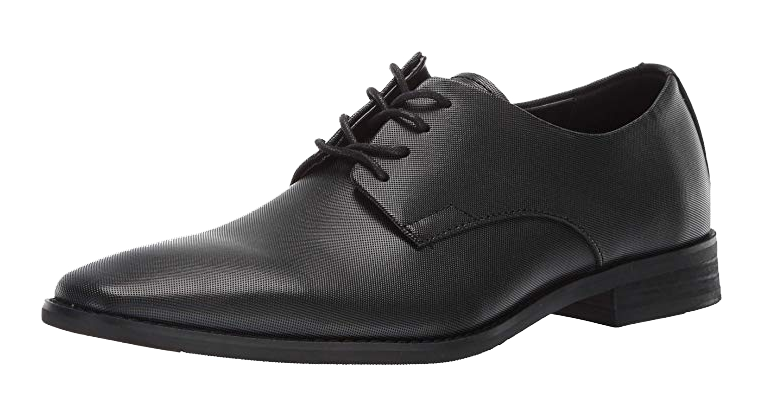 #1: Black cap-toe Oxfords by La Milano.
#2: Black derby dress shoes by Calvin Klein.
Black Suit & Brown Shoes
Okay, this can be a tricky combo to pull off. But a mix of a black suit with brown shoes can lead to some surprisingly sartorially pleasing results.
Similar to matching black and navy, brown and black can create a purposeful look.
There's still enough difference between the two shades to create an aesthetically agreeable outfit. Also, the look is a favorite of David Beckham, so if it's good enough for him, why not give it a go?
#1: Brown derby shoes by Vostey.
#2: Tilden cap brown derby shoes by Clarks.
Shoes to Wear with a Blue Suit
A blue suit is an excellent choice for men with a busy, smart-casual social calendar. The color is always contemporary, always bold, and works all year round.
Blue is less traditional than navy, and lighter shades of blue are also a little less versatile. This means you should choose your shoes with a tad caution.
Your blue suit is smart enough to pair with classic brogues and leather oxfords yet versatile enough to match suede loafers or even Chubba boots.
Blue Suit & Black Shoes
Many fashion experts consider wearing black shoes with a blue suit another sartorial faux pas. The formal nature of black can clash with the more casual aspects of blue.
That said, this is not a combo you should not be afraid of. Just be sure to double-check the mirror before you head on out in a black shoe & blue suit combo.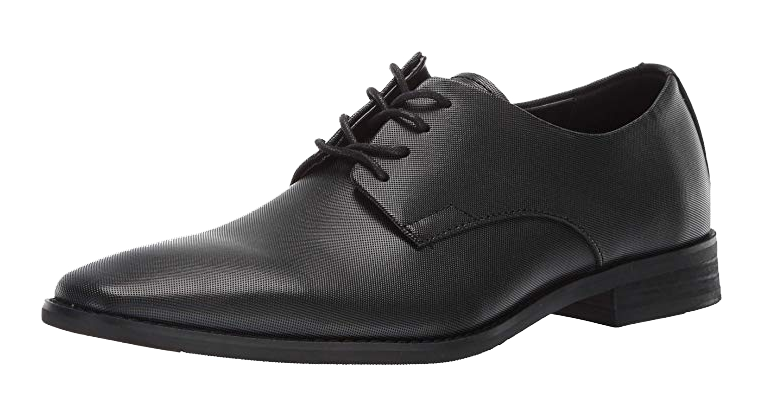 #1: Black Derbys by Calvin Klein.
#2: Black loafer slip-ons by Calvin Klein.
Blue Suit & Brown Shoes ⭐
Similar to navy, brown footwear goes best with lighter tones of blue. And while dark browns can complement the depth of a navy suit, your best option here is to stick with lighter hues.
Monk straps work well here. So do tan brogues and Derbies in slightly richer shades of brown. Think milk chocolate rather than dark Mocca.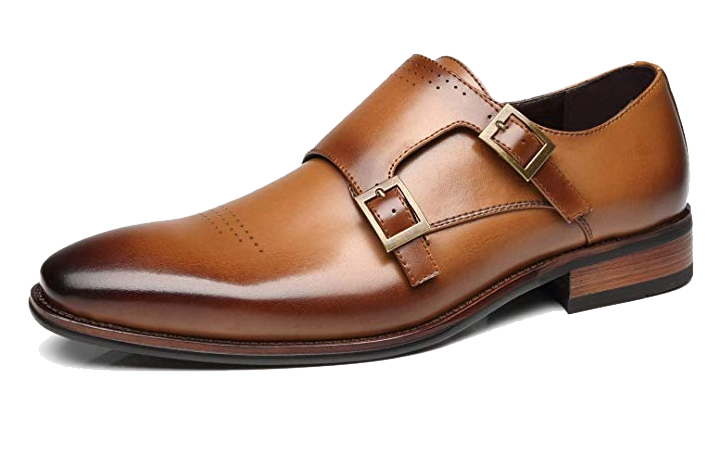 #1: Light brown double monk strap shoes by La Milano.
#2: Brown double monk straps by Faranzi.
Blue Suit & Burgundy Shoes
A mix of rich red and brown tones with burgundy shoes blends well with a blue suit too. The look verges on the formal without being stuffy.
It effortlessly couples a contemporary feel with a classic and classy appearance. Sharp Oxfords are your best option, but loafers and monk straps work well too.
Go for leather, and keep them suitably polished to project a refined, confident air.
#1: Burgundy cap-toe Derbys by La Milano.
#2: Double monk strap burgundy shoes by Asher Green.
Shoes to Wear with a Navy Suit
Navy is widely revered for being one of the most versatile shades in the color wheel. So it's hard to go wrong with a navy suit. Navy is a color that complements just about every skin tone.
It also provides an effective balance of casual and smart. A navy suit will serve you equally well at formal events and in the office.
As adaptable as navy might be, there's still a clear favorite when it comes to choosing your suit/footwear combos. Your best options here are suede styles or shiny brown leather.
Don't worry too much about getting the shade exactly right. Hues from dark to light chocolate all sit well with a navy suit. The richness of these colors offers a pleasing contrast to the steely neutrality of the navy.
The choice of style is pretty much open too. You can go with everything from Chelsea boots and loafers to Derbies and Oxfords, depending on the occasion at hand.
Navy Suit & Black Shoes ⭐
Navy and black is indeed a savvy partnership. There is no other gent's outfit as office-ready as a single-breasted navy suit paired with black shoes.
Stick with a pattern-free style for the suit, and go for monk straps or black Derbies to add an accent to that boardroom look.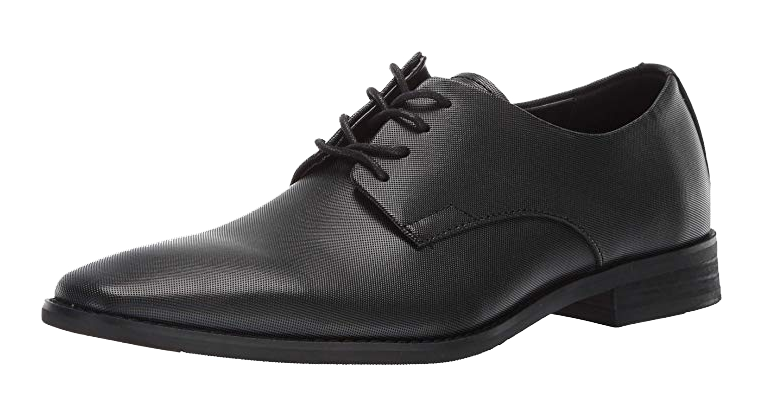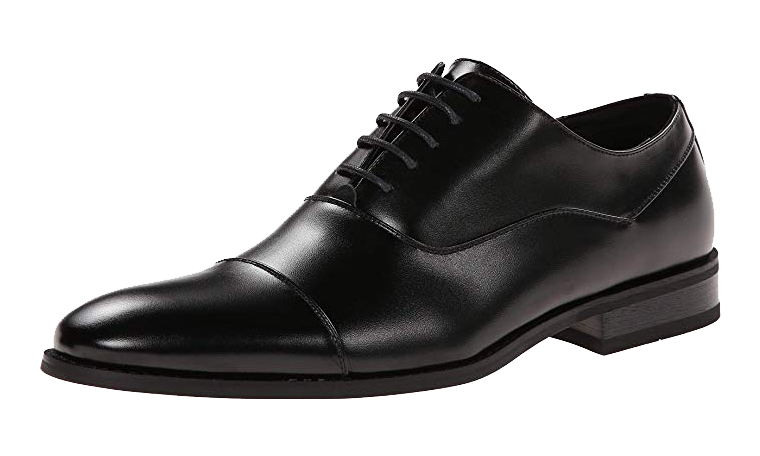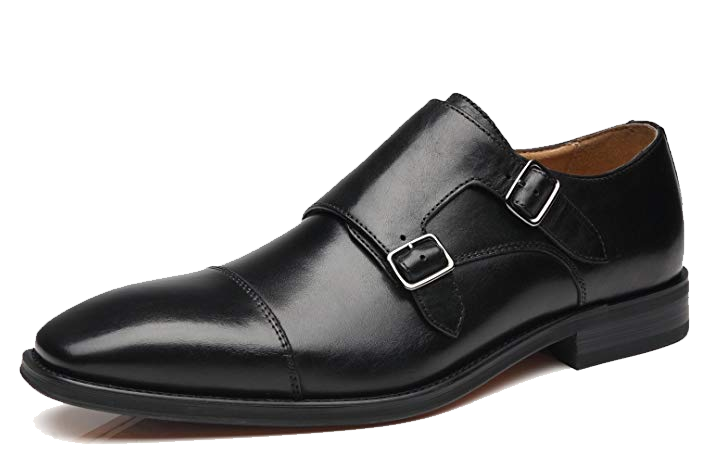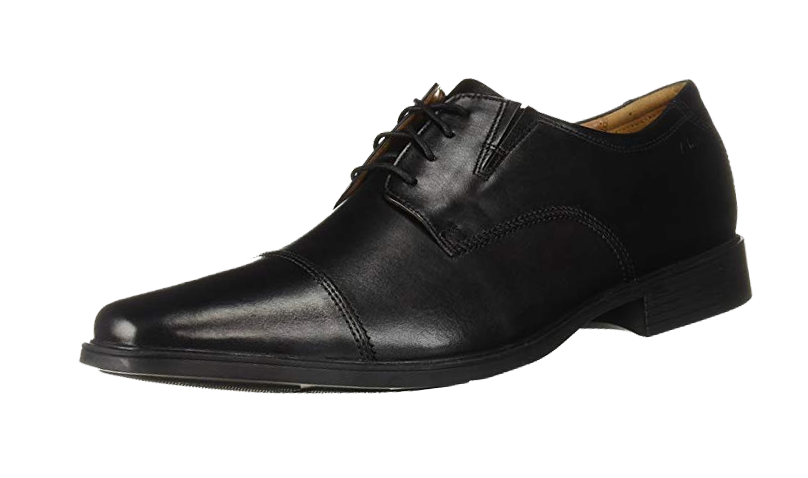 #1: Black Derbys by Calvin Klein.
#2: Black cap-toe Oxfords by Kenneth Cole.
#3: Double monk strap black shoes by La Milano.
#4: Black derby shoes by Clarks.
Navy Suit & Brown Shoes
If there's one outfit match to make a note of, this is it. It's a truly handsome duo, no matter what the occasion might be.
Pairing brown shoes with a navy suit is a classic combo you can rely on time and time again. However, keep in mind that navy and brown tend to the more casual.
Be sure to choose a shoe from the higher end of the range to keep your look sharp. A good pair of Oxfords, monk straps, or leather Derbies are ideal.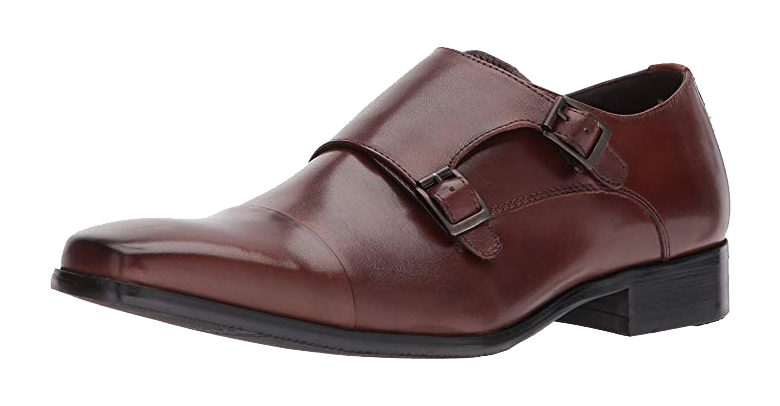 #1: Light-brown derby shoes by Jousen.
#2: Brown monk strap shoes by Kenneth Cole.
Navy Suit & Burgundy Shoes
If brown or black shoes make you yawn, you can try injecting a burst of color into your outfit.
Burgundy footwear, especially monk straps and Derbies, creates an aesthetic counterpoint to the coolness of your navy-colored suit.
This combo is a winner for just about any occasion that isn't black-tie. Just be careful in the office, or you might find yourself in a disciplinary.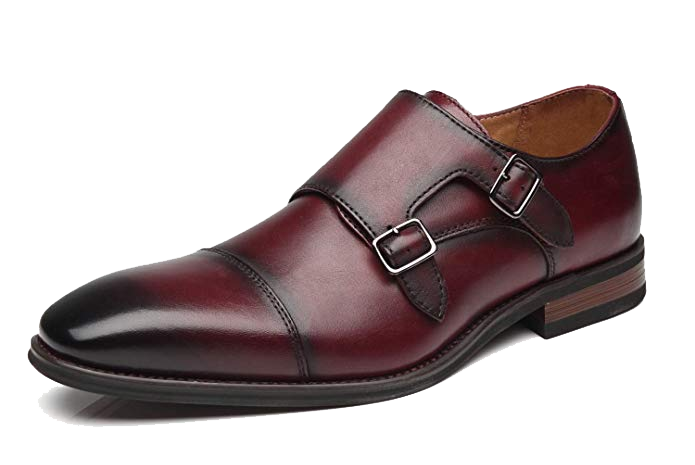 #1: Burgundy cap-toe Derbys by La Milano.
#2: Double monk strap burgundy shoes by La Milano.
Shoes to Wear with a Light Grey Suit
When it comes to shoe compatibility, a light grey suit will always be a safe bet.
This neutral color pairs well with pretty much any shade the color scientists can think of, from pink suede to oxblood leather and everything in between.
But there are still some classic combos that are well worth having in your sartorial repertoire.
Because it's cool, both lighter and darker shades of grey work best with warm, rich colors that pop. Navy and oxblood are some good examples, but so are burgundy and brown.
Any of these shades can inject sufficient color to create a clear point of distinction. Darker tones, like burgundy and brown, work well too. In summer, pastels should be the shades of choice to go with your light grey attire.
Grey Suit & Black Shoes
Just as dark grey suits pair well with black shoes, so too do the lighter greys. Black's darkness tempers the overall impression of a light grey suit. This gives the outfit a more formal look.
Although a sharp and sophisticated outfit, it's also a great, lighter option for men who can look a tad washed out in darker suits.
The color black also means your choice of shoe is pretty much unlimited. Play it safe with a pair of patent leather Oxfords. Or go playful with Chelsea boots in suede.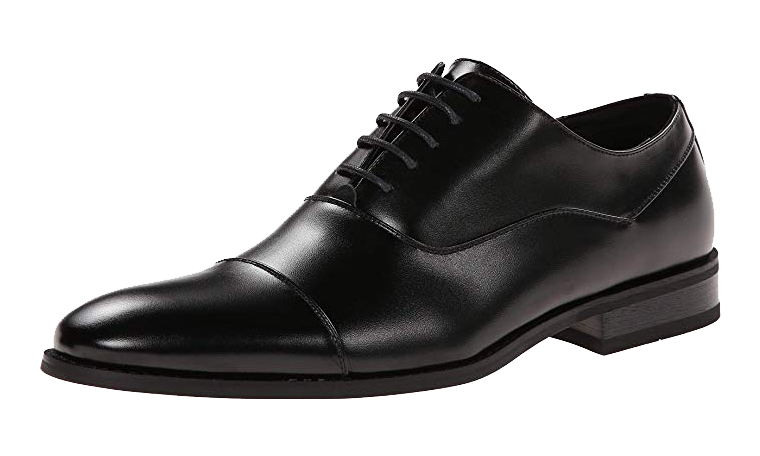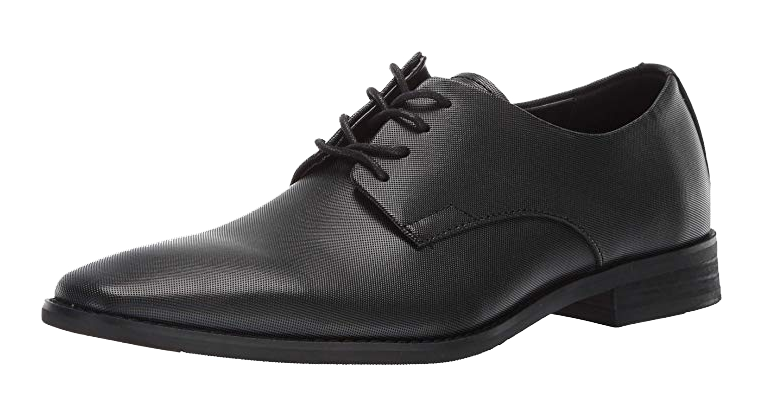 #1: Black cap-toe Oxfords by Kenneth Cole.
#2: Black derby dress shoes by Calvin Klein.
Grey Suit & Brown Shoes ⭐
Shoes in a brown warm hue work surprisingly well with light grey suits. The tone is perfect for creating an overall summery air for the light-suited outfit.
Brown shoes are my recommended option with a grey suit because it feels very friendly and professional at the same time. It's also a trendsetter, and I "give my regards" to that.
The lighter shades of brown provide a more modern look, while darker shoes can add a visually pleasing traditional touch. Oxfords, Derbies, or monk straps all work in this slightly different combo.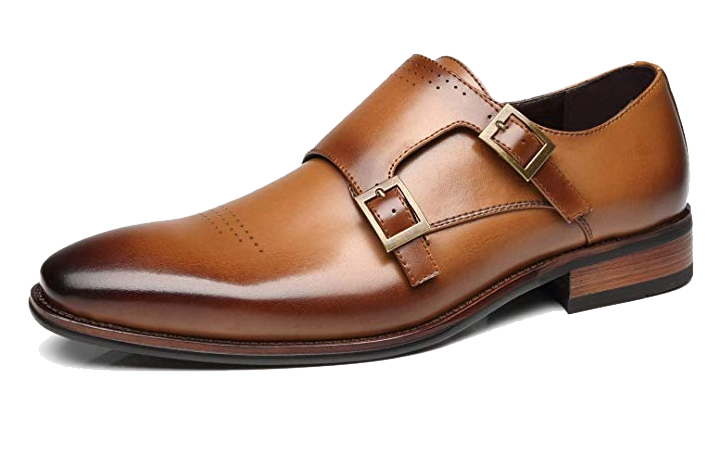 #1: Light-brown Derbys by Jousen.
#2: Double monk strap brown shoes by Faranzi.
Grey Suit & Burgundy Shoes
When juxtaposed with a light grey suit, burgundy shoes can give your outfit a stunning impact. This bold contrast adds an 'edge' to the stylish look.
Stick to sharp and uncomplicated shoe styles like Oxfords to maintain a sophisticated and suave appearance.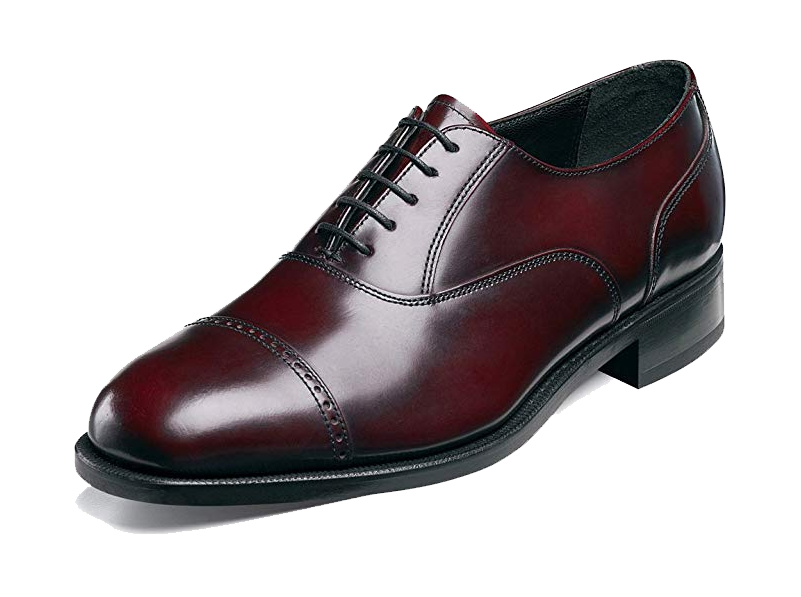 #1: Burgundy cap-toe Oxfords by Florsheim.
#2: Burgundy cap-toe derby shoes by La Milano.
Shoes to Wear with a Dark Grey or Charcoal Suit
Despite being a neutral color, a charcoal suit has a lot of depth. So a charcoal suit can look sharp when paired with burgundy, black, and brown shoes.
While the outfit is ideal for formal occasions, it's also an excellent choice for semi-formal events, especially when you wear it in a slightly less traditional way.
As for the shoes, your best options are by far burgundy or black in high-quality leather. Deep shades of brown work, too, particularly mocha and chestnut.
Go with black, polished Oxfords for formal events; pointed black monk straps for more fun occasions.
Loafers or Chelsea boots in suede are also an option that will add a sartorial note to your charcoal outfit.
Charcoal Suit & Black Shoes ⭐
There can be no doubt that black suits look best when matched with darker shades of shoes. The same can be said for charcoal suits.
It follows then that black shoes are the easiest option to go with your charcoal suit. It's a sharp and stylish look and a great alternative to the usual black suit for formal events.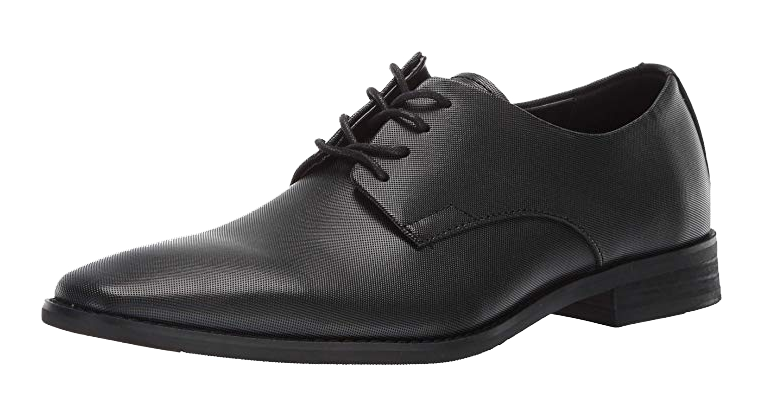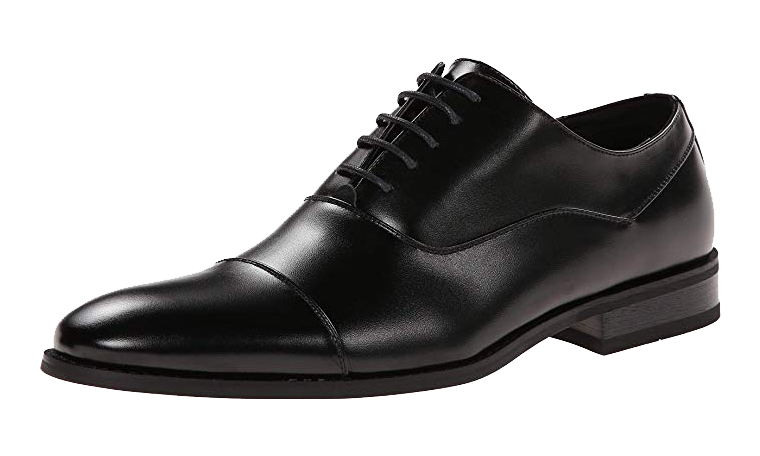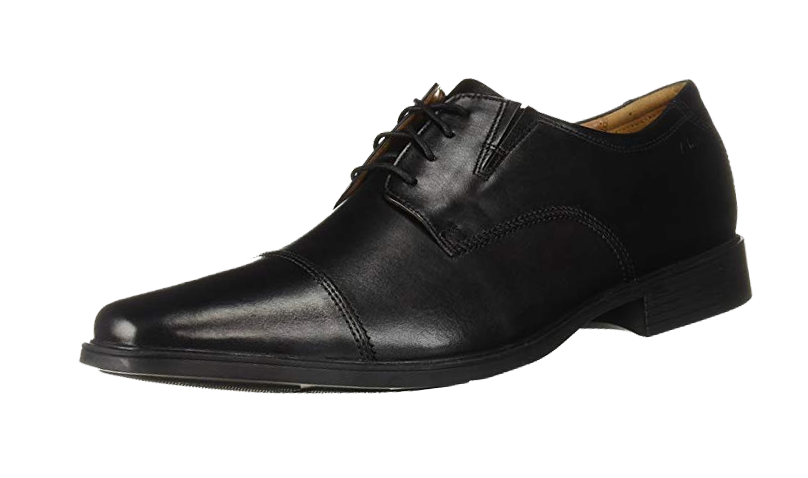 #1: Black derby dress shoes by Calvin Klein.
#2: Black cap-toe Oxford shoes by Kenneth Cole.
#3: Black derby shoes by Clarks.
#4: Black cap-toe Derbys by Golaiman.
Charcoal Suit & Brown Shoes
As tricky as it sounds, this combination is a firm favorite at weddings. The vintage-inspired, traditional effect is a classy alternative to the standard light-grey outfit.
Charcoal is an intense, rich color, so your choice of footwear should match its depth. The smart, casual balance can be achieved with a pair of monk straps, brogues, or even brogue boots.
#1: Tilden cap derby brown Shoes by Clarks.
#2: Dark brown leather Chukka Boots by Rockport.
Charcoal Suit & Burgundy Shoes
While brown shoes don't always work with a suit in dark grey, burgundy shoes ace the job. The deep, dark tone of burgundy paired with dark grey creates a balanced look.
The outfit works for formal occasions. But it's also a great option for semi-formal occasions, particularly when worn with a less traditional flair.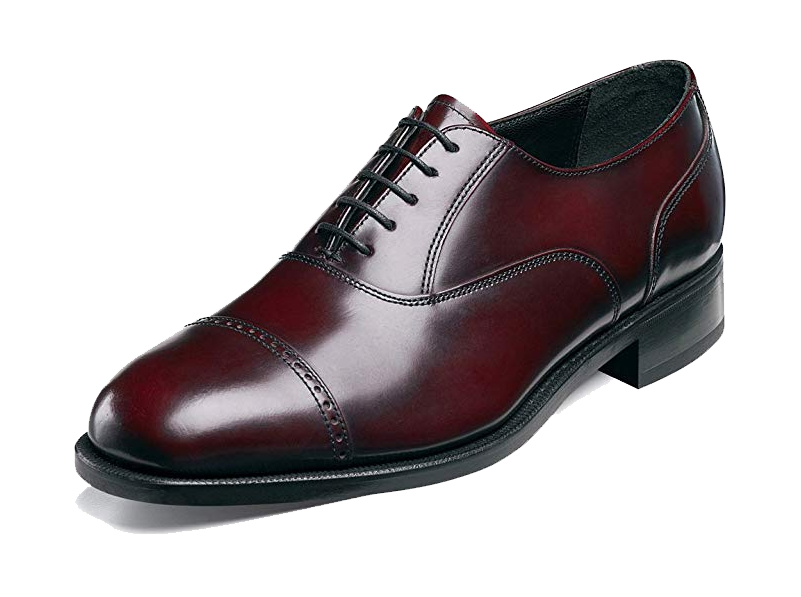 #1: Burgundy cap-toe Oxfords by Florsheim.
#2: Lace-up burgundy Oxfords by Bolano.
Shoes to Wear with a Brown Suit
Brown may not currently be the most popular color in the world of men's suits. But when done well, a brown suit can look as stylish and slick as a navy or grey number.
Black is a safe bet for almost any color outfit, including a brown suit. But you can also match brown with a limited number of other shades.
Wear your brown suit with brown lace-ups or monk straps for the best effect. Or you can take advantage of the warm, earthy tone and go with Chubba or Chelsea boots.
Brown Suit & Brown Shoes
This slightly obvious brown shoe combo creates a blended look that is both smart and smooth. It's a great optic for a meeting with the boss but it works on a smart night out, too.
For less formal events, mix up the shades, from dark to light khaki. Lace-up boots, Oxfords, and brogues are the ideal footwear for this far-from-boring outfit.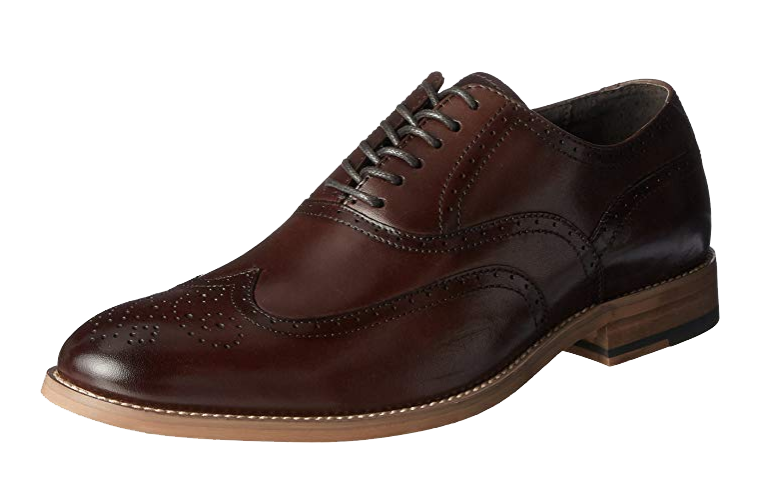 #1: Brown brogue Oxfords by Stacy Adams.
#2: Brown derby shoes by Clarks.
Brown Suit & Burgundy Shoes ⭐
As you've probably noticed by now, burgundy works with pretty much any shade of suit. Brown is no exception. Moreover, the almost blood-red burgundy is the perfect compliment for your brown suit.
Leather brogues with a high-quality shine or suede oxblood Chelsea boots finish off the look with flair and panache.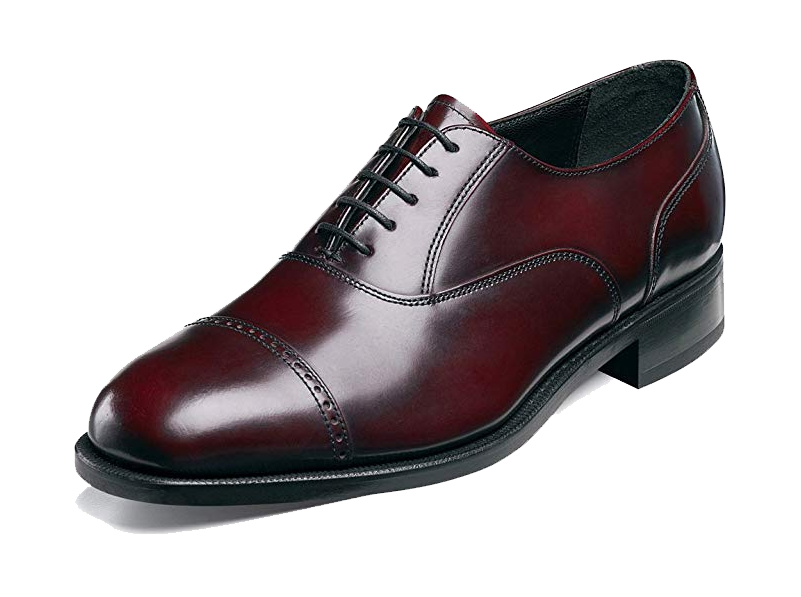 #1: Burgundy brogue derby shoes by Rockport.
#2: Burgundy cap-toe Oxfords by Florsheim.
Shoes to Wear with a Tan/Beige/Cream Suit
The light and breezy appearance of tan, cream, and beige suits make them a popular summer choice. Maintain this bright and clean aesthetic with a pair of light shoes.
Dark brown, black, and burgundy might look far too heavy. A better option is to pair the outfit with white or light brown footwear.
Beige/Cream Suit & Light Brown Shoes ⭐
This is an excellent option for beige or cream suits. It's an ideal look for summer but classic enough for formal functions.
Choose between Oxfords or brogues for a classic, polished look. Or go for loafers and suede for a more laid-back touch.
#1: Light-brown derby shoes by Jousen.
#2: Light brown double monk straps by La Milano.
Beige/Cream Suit & White Shoes
If you're invited to a semi-formal occasion, you can pair your beige or cream suit with white shoes. This all-over light look works refreshingly and is ideal for outdoor events.
Stick to the more casual styles. Relaxed brogues, loafers, and even spotless white sandals add panache to this daring style.
#1: White loafers by Kenneth Cole.
#2: White loafers by Bruno Marc.
Types of Dress Shoes You Can Wear with Suit
Generally speaking, sleek dress shoes are considered the most formal. Also, color-wise, brown is less formal than black, and lace-ups rank above slip-ons.
In the closed-lacing style, the sides of the footwear emerge from the top. They then fan slightly out and form a V where the laces meet in the middle of the shoe.
In contrast, open lacing consists of separate side pieces that fold over to meet the tongue's center. Again, patterns and rows of broguing detract from the formality of the shoes.
And the more detailing, the lesser the level of decorum. So here are the different types of dress shoes men can have in their wardrobe.
Oxford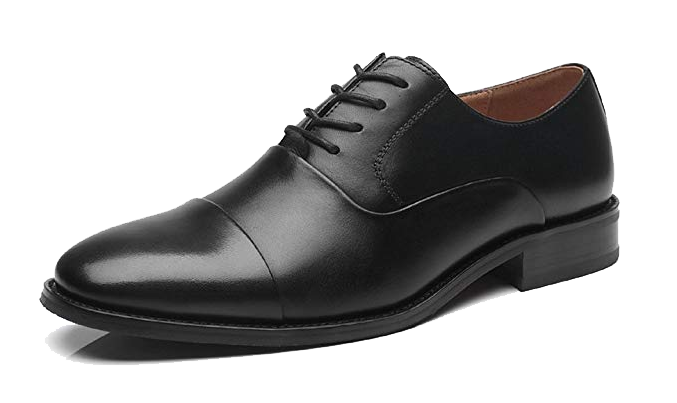 This is the classic dress shoe that every sartorial-minded man should own. The Oxford can be easily recognized by its closed lacing system, with distinct stitching along the bottom.
The Oxford style will often feature short backs and low heels. This gives the shoes a polished and neat appearance. Perfect to wear with a suit, Oxfords are a go-to option for every formal occasion.
Black, polished styles work well for even the strictest of dress codes. But other Oxford varieties are appropriate for all kinds of social occasions, formal and less formal.
Derby
If Oxfords are the most popular dress shoe type, the Derby comes in a very close second. This shoe style has an open lacing system with a marginally less intricate design, whereby the Oxford is closed.
The Derby is also a very comfortable shoe style. It can be paired easily with a suit and is entirely appropriate for all semi-formal events.
Traditional, highly polished styles in leather create the perfect classic look. But a pair of suede Derby shoes can also be a great, versatile choice if you're looking for casual and comfortable footwear.
Brogue
The term 'Brogues' can be quite confusing. The name is a reference to the broguing process, which involves embellishing the shoes with deep perforations.
It means that technically speaking, other styles with this kind of decoration are often classed as Brogues. Even if, in reality, they are, at heart, a Derby or an Oxford.
All confusion aside, the Brogue is a shoe with style and personality. They can be worn with ease, with almost any suit, and with jeans too.
Monk strap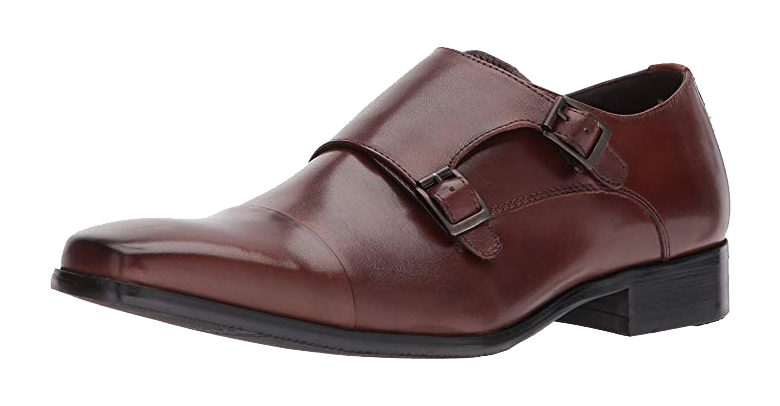 If a stylish and unique type of dress shoe is more your thing, you can't go wrong with a monk strap. A single strap over the top of the shoe, with a buckle or two, creates the monk strap's sartorial impact.
The monk strap is a good choice for most looks, from formal, like a job interview or professional business meeting, to a night out with the guys. The style caters to any man looking for a polished style.
It gives your outfit an interest level above the standard Derby or Oxford. Stick with highly polished leather to maintain that refined, sharp look.
Loafer
This shoe comes in laceless, very similar to the Moccasin construction. Loafers are designed to be comfortable slip-ons, and they are perfect for adding a relaxed touch to formal outfits.
The style works well with any number of looks. Loafers can go great with a suit, especially when worn with flair. Penny loafers are a popular classic, while leather tassel loafers create a casual but still dapper look.
If you're out to impress, consider a pair of decadent velvet loafers. They're more or less guaranteed to turn a lot of heads.
Chelsea Boot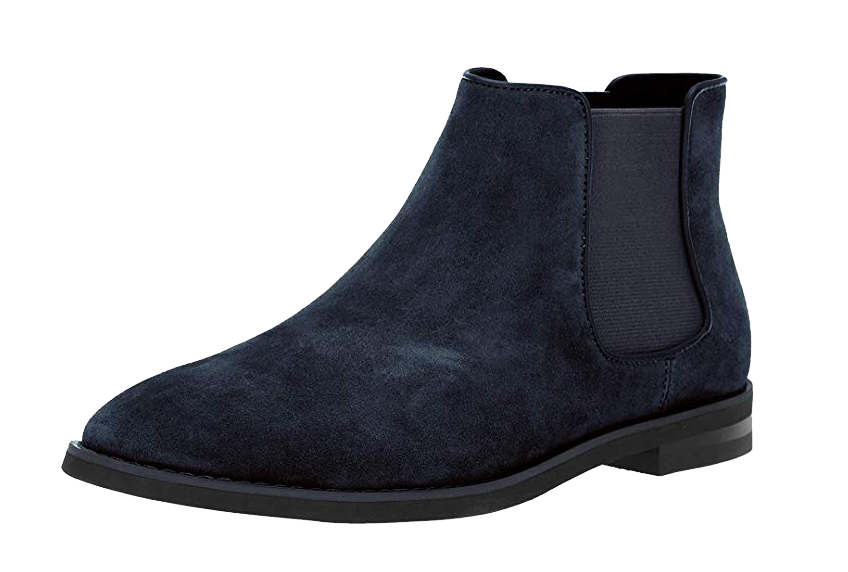 Okay, so boots may not come immediately to mind when you're thinking of stylish dress shoes. But it doesn't have to be that way.
The right boot style perfectly creates a stylish finishing touch to a man's formal look. Chelsea boots, for example, can be matched with anything from cocktail attire to comfy and casual.
The secret to these round-toe ankle boots is the elasticated sides. This means they can be slipped on or off with incredible ease.
It also eliminates the need for buckles or laces. And it is the absence of traditional fastenings that gives Chelsea its ultra-clean and super sleek look.
Chukka Boot
As the name suggests, Chukka boots are a cozy dress boot style that stops at the ankle. This short height means that Chukkas require minimal lacing, which creates an uncomplicated look.
This simple but sharp style also means that Chukka boots are ideal for both semi-formal and casual dress codes.
The style can sometimes appear in traditional leather, but suede is also very common. Which simply adds to the boot's comfortable and laid-back image.
Boat Shoes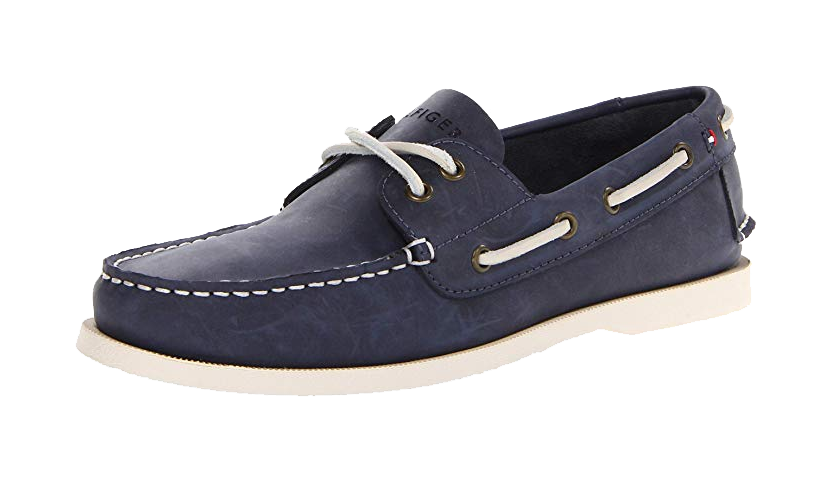 Boat shoes are becoming more and more popular nowadays. Especially in the southern regions of the US. Generally made of leather, they can come laceless or with lace.
Boat shoes are not the recommended option for a suit. But on rare smart-casual events in warm and "watery" environments, they can be found pretty useful.
Taking part in a boat or yacht event or participating in a beach wedding might be a good reason to wear boat shoes. It can be quite a comfortable solution.
Sandals
You don't have to put up with sweaty feet to dress in style in summer. True, flip-flops can undoubtedly be inappropriate in a formal, dressed-up scenario.
However, a sleek pair of sandals can sometimes be exactly what your outfit needs. While not advisable for a black-tie function, a pair of sandals can work well at weekend get-togethers and smart casual events.
Go for leather in smart and unique styles to add some pop to your hot-weather outfit for the best effect.
Final Words
Clothes are a major part of a gentleman's presentation. But his shoes are just as significant as his suit.
There was a time when selecting a pair of shoes to wear with a suit was as easy. You had the option of formal Oxfords or less formal Derbies.
But in our more relaxed, less rule-bound age of men's attire, things are not as simple. Everything from casual footwear to leather sandals can serve as suit shoes. You just need to know which suit to pair them with.
That said, classic styles still dominate. And with good reason. Oxfords and Derbies remain bastions of men's dress footwear. Every sartorial-minded gent should own at least one pair of each.
Black Oxfords are elegant, classy, and ideal for wearing with a dinner suit. Also, brown derbies make a handsome workhorse and are versatile enough to be worn to weddings and the office.
Finally, both these shoe styles will stand you in good stead for whatever your calendar throws at you.
Author: Alexander Stoicoff
Hi, I'm Alex, and I've studied and specialized in styling in Rome. Through my writing, I want to help men dress well and learn the purpose and significance of suits and other formal attire. My final goal is to make men more confident in their wardrobe choice and life in general.