Wearing a suit vest is often considered old-fashioned, but it's notably making a comeback.
In the past few decades, this traditional look has fallen by the wayside but was never considered out of style.
Thankfully, more men are re-discovering how sophisticated this style is.
Now is a great time to fall back in love with the classic three-peace suit! You can very easily incorporate a suit vest into your wardrobe, and it will instantly revitalize your look.
What is a Vest?
A vest is any piece of fabric without sleeves worn over another piece of clothing, generally a shirt.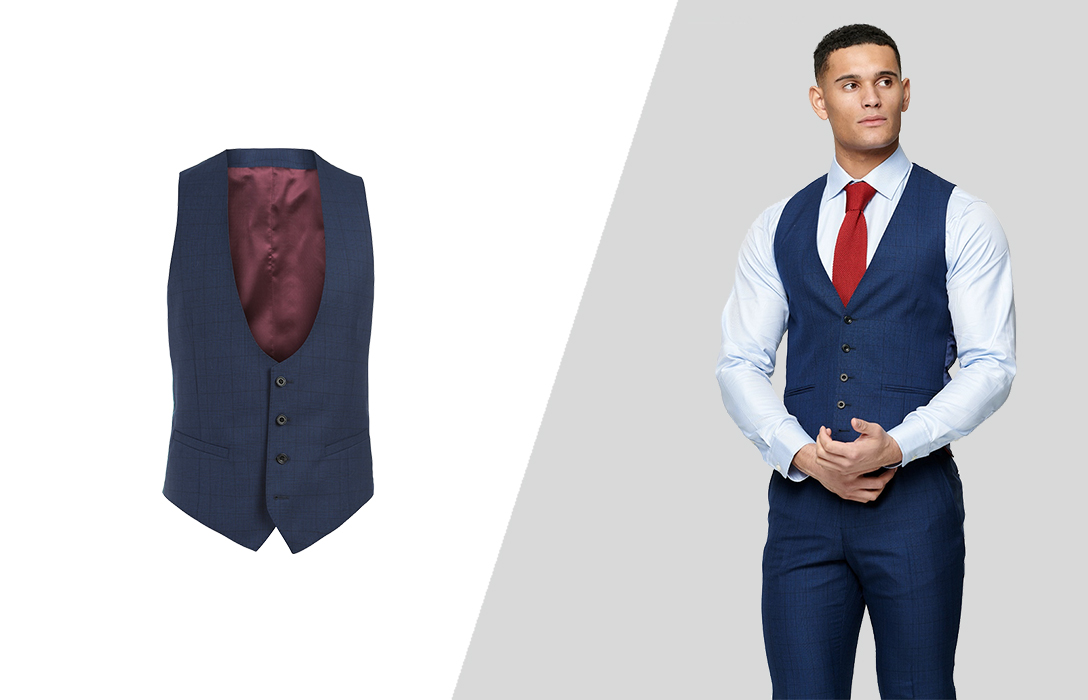 You may sometimes hear it called a waistcoat. You'll find many different types of vests in fashion, in both women's wear and men's wear.
When men wear a vest, it is most often the third part of a three-piece suit. In fact, it's the main item that makes a difference between a three and a two-piece suit.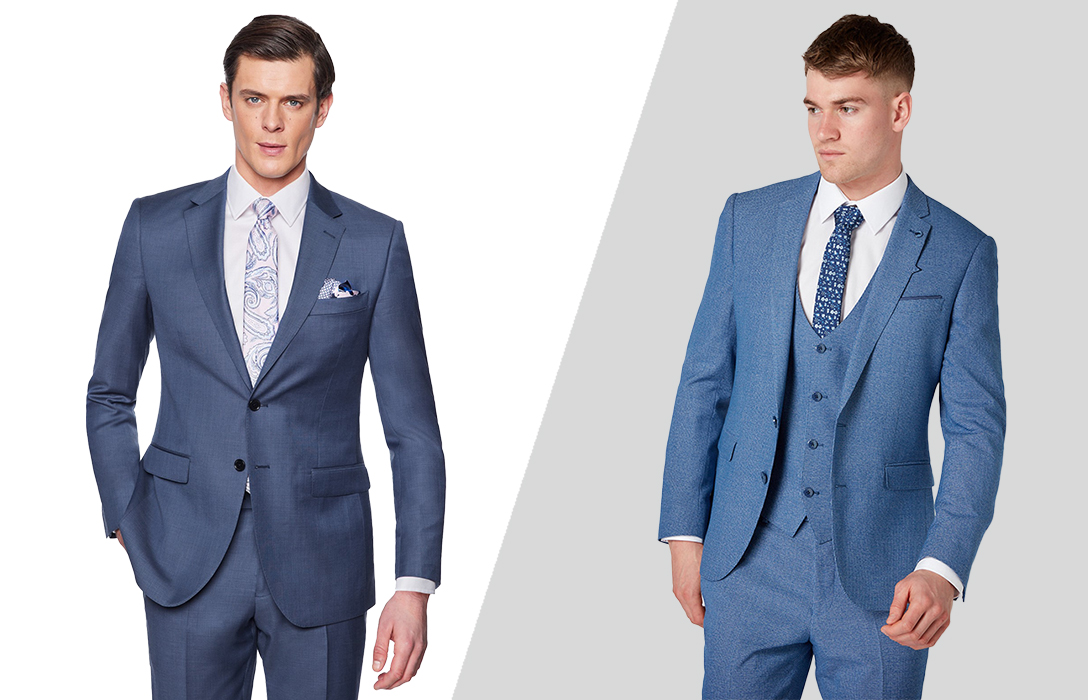 The word "vest" was originally a French term "veste," meaning either jacket or sport coat. Today, the French use the term "gilet" instead to indicate vest or waistcoat.
One can trace the term back to the Ottoman Empire when the Turks called this garment "yalek." Thus, this style of men's fashion has a long, deep-rooted history.
Vest vs. Waistcoat
So, what exactly is the difference between a vest and a waistcoat? Most people use the two terms interchangeably, even though there are differences.
As I stated above, a vest is any material you wear on your torso over another article of clothing and is sleeveless. Technically, a vest can be very informal.
It can be made of any material. It can be knit, such as a sweater vest. In fact, it can even be worn as outerwear in cool weather.
On the other hand, a waistcoat must be worn with a jacket and a tie. It is a dressier style of vest. It's usually cut lower in the front; it may only have a few buttons, while a vest can button much of the way up to your torso.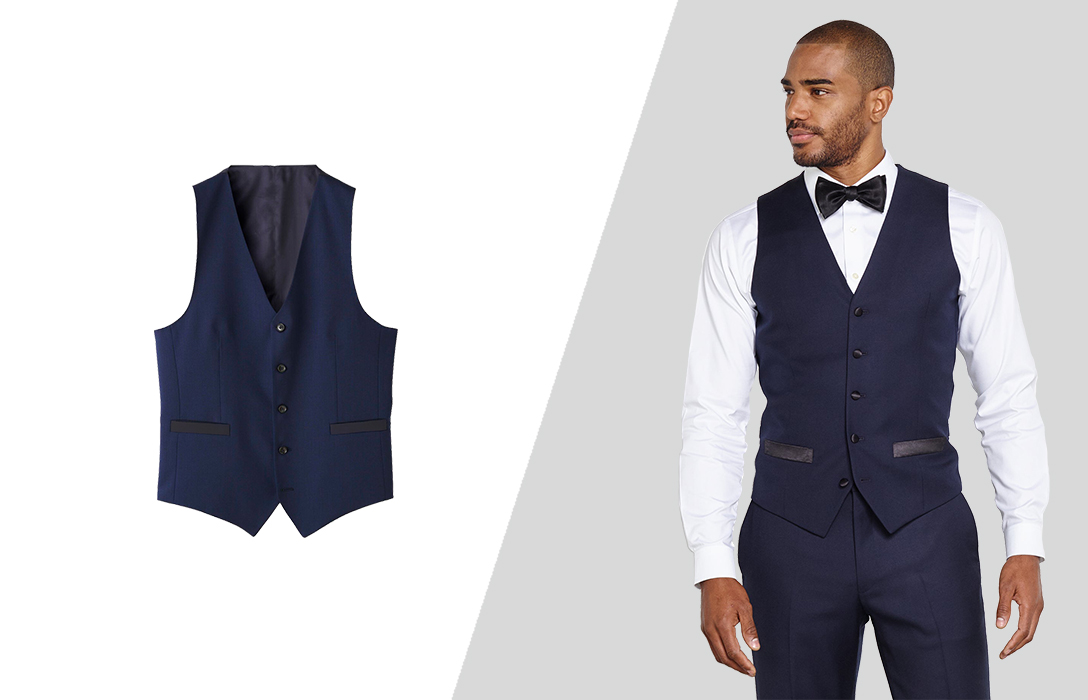 When referring to either of these articles of men's clothing, you can call a waistcoat a vest, but not the other way around. All waistcoats are types of vests, but not all vests are waistcoats.
Single-Breasted Vest
The single-breasted vest is a far more common variant. It usually comes in between 3 to 6 buttons. The most traditional choice is the five-button single-breasted vest.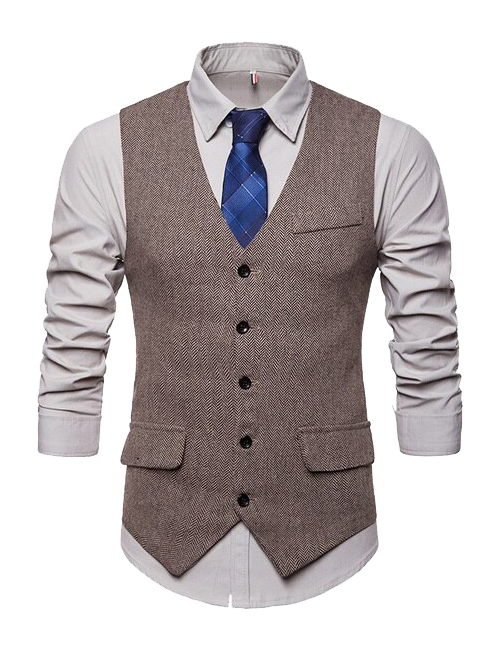 Your vest should have at least one button more than your suit. Thus, if you're wearing a three-button suit, your vest should have at least four buttons.
Double-Breasted Vest
The double-breasted vest is less common but more formal than the single-breasted. Most double-breasted vests have 4 to 8 buttons, the most common being six.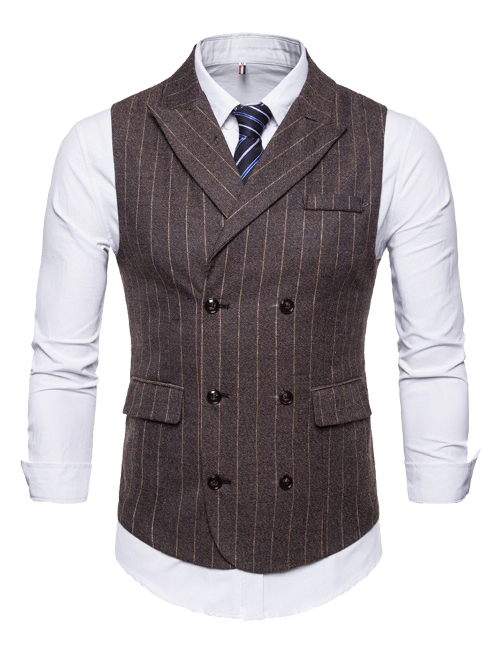 Double-breasted vests should always be fully buttoned. Usually, they feature peaked lapels, making them more sophisticated and stylish.
How to Fit the Suit Vest
As with all clothes, the proper fit is important for comfort and appearance. A lot of men claim they hate wearing suits because they feel uncomfortable.
What they don't realize is the nature of the clothes doesn't cause this discomfort. It's because the suit fits badly. A suit vest, and indeed your entire suit, should feel so comfortable you could almost forget you're wearing it.
A well-fitting outfit will always make a good impression. You'll look organized and trim and come across as professional.
On the other hand, if your suit is too big, you will look disheveled and possibly older than you really are.
If it's too tight, you will look like you've gained weight or borrowed someone else's clothes.
The Front
A suit vest should be slim cut and tapered slightly at the waist. This creates a very tailored look, which is what you want from your vest. You'll look baggy and unkempt if it just hangs in a straight line with your torso.
The shoulders should be snug and lie flat against your body. There shouldn't be any gapping of the shoulder line.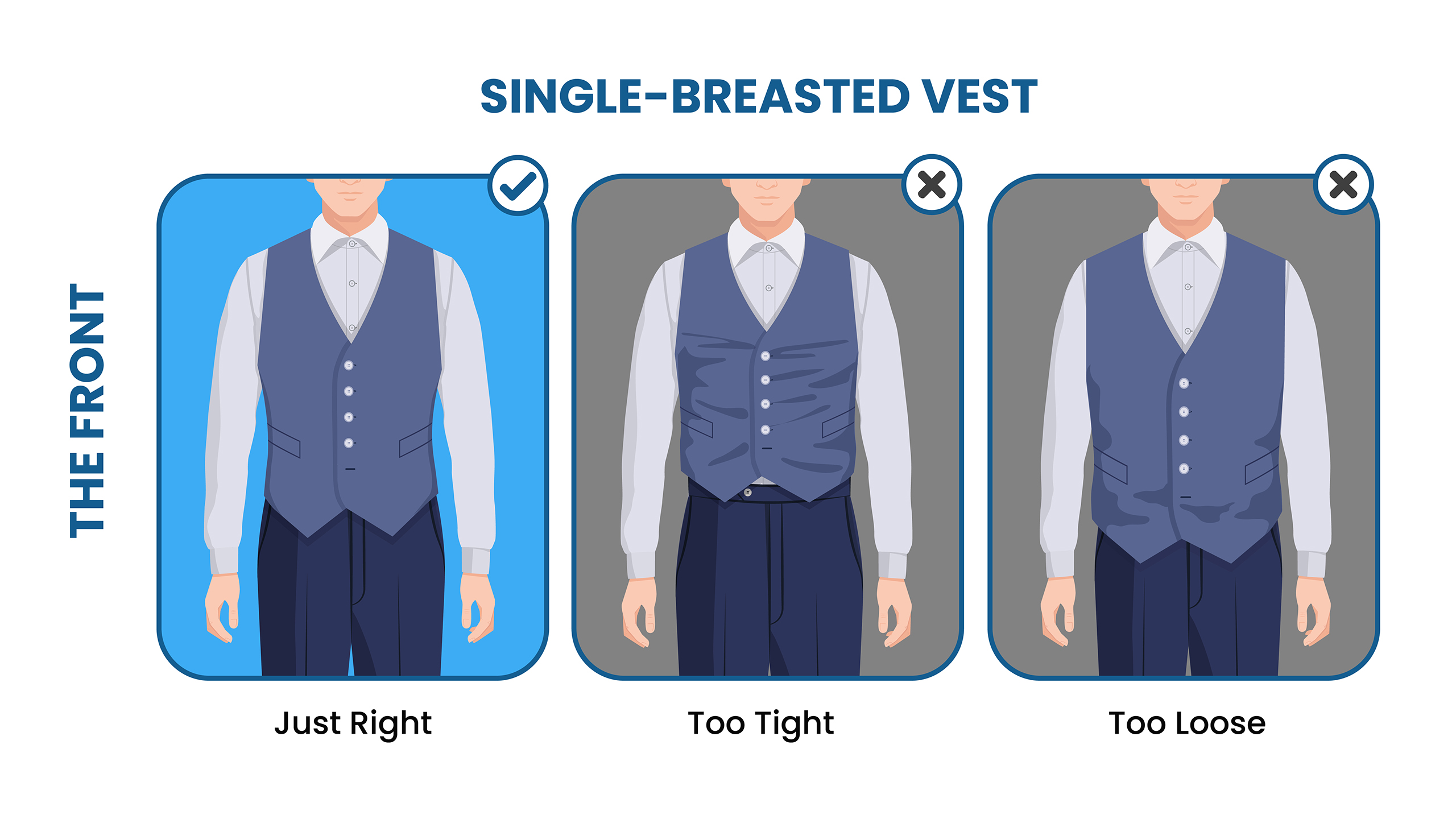 The armholes should be high up against your underarms, ensuring a better fit against your body. If there is any straining or pulling of the vest buttons, the vest is too small and needs some alterations.
The neckline of your vest creates a V-shape and rises relatively high against your chest. The shape of the V should be narrow enough so that others can see a hint of your vest when you button your suit jacket.
Your vest should have at least one more button than your suit jacket. And remember to leave your bottom button undone.
Generally, most suit vests will be single-breasted. However, in those rare instances when you are wearing a double-breasted suit vest, it will likely have lapels.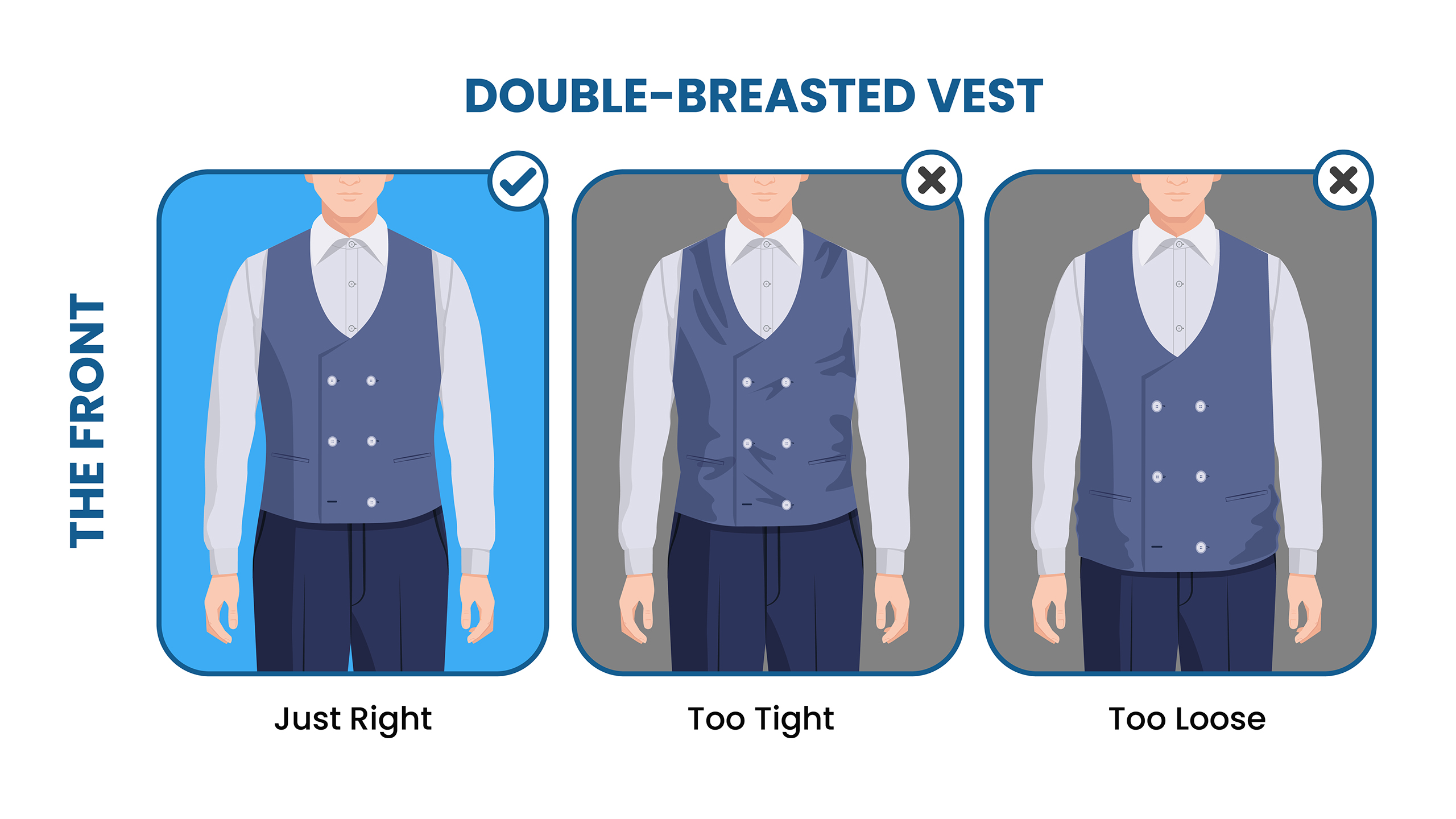 Most commonly, you'll find peak or shawl lapels on double-breasted vests. But, again, this is a circumstance where you should always keep your jacket on because it will be a more formal occasion.
The Back
Suit vests almost always have a buckle in the back to adjust the waist of the vest. This can help make the vest slimmer or give you breathing room.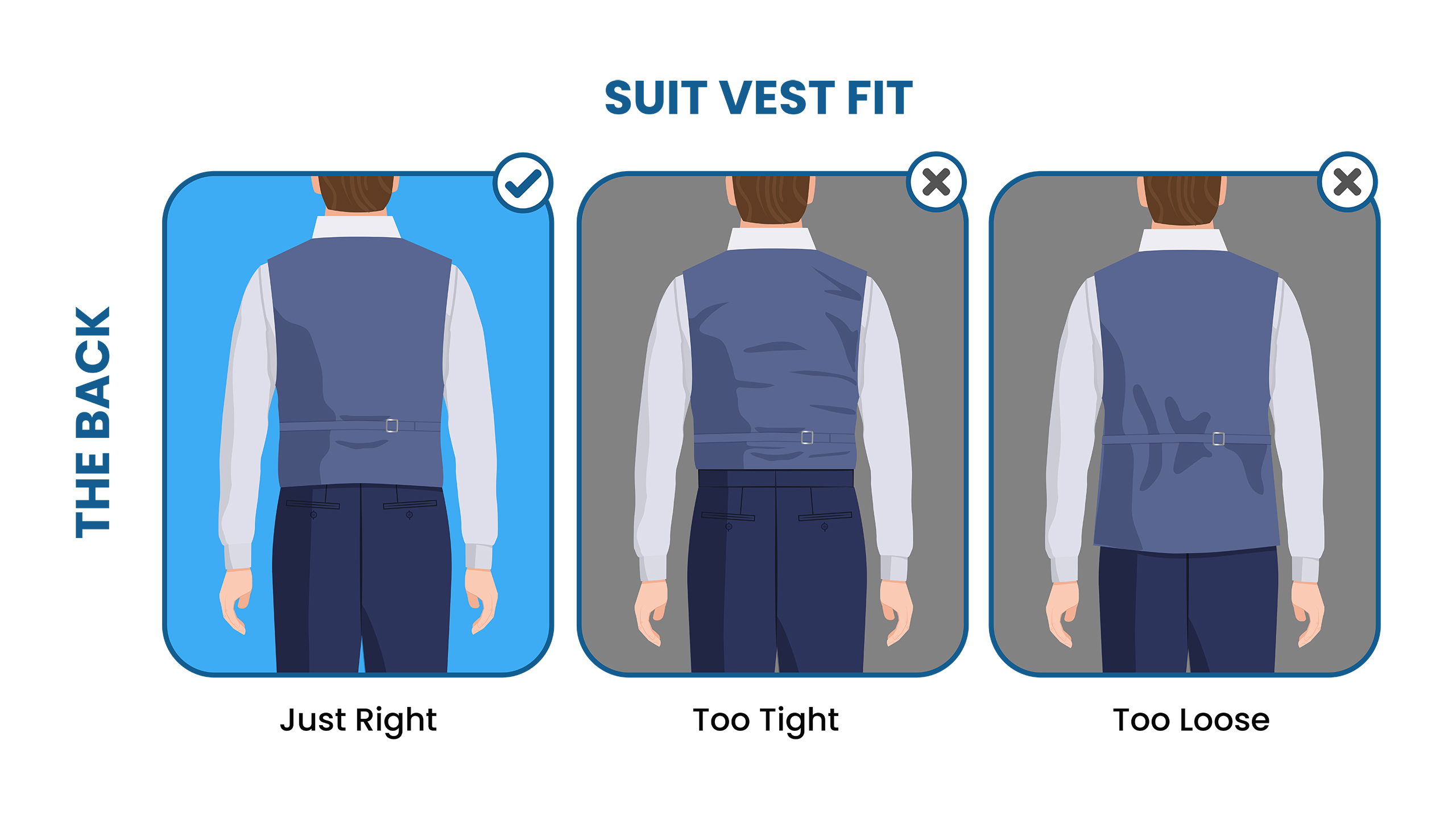 Just don't loosen the buckle so much that your vest looks baggy.
Again, there should be no gaps around the armholes or the shoulder straps, even in the back. A good fit will sit smoothly against the body.
Suit Vest Length
The length of your suit vest is crucial. It needs to cover your whole waist and fall past your pant line. In addition, it needs to fall around 1″ below the waistline of your pants.
At no time should your dress shirt poke out from underneath your suit vest.
If this happens, your vest is most likely too small for you. You can fix this issue by moving up a size, even if you need a tailor to adjust the shoulders and armholes.
A suit vest will often be longer in the front than in the back, forming points on either side of the opening.
How to Wear the Vest with a Suit
The secret to wearing a vest is about choosing the right vest to go with your suit. You have two options when going with a vest.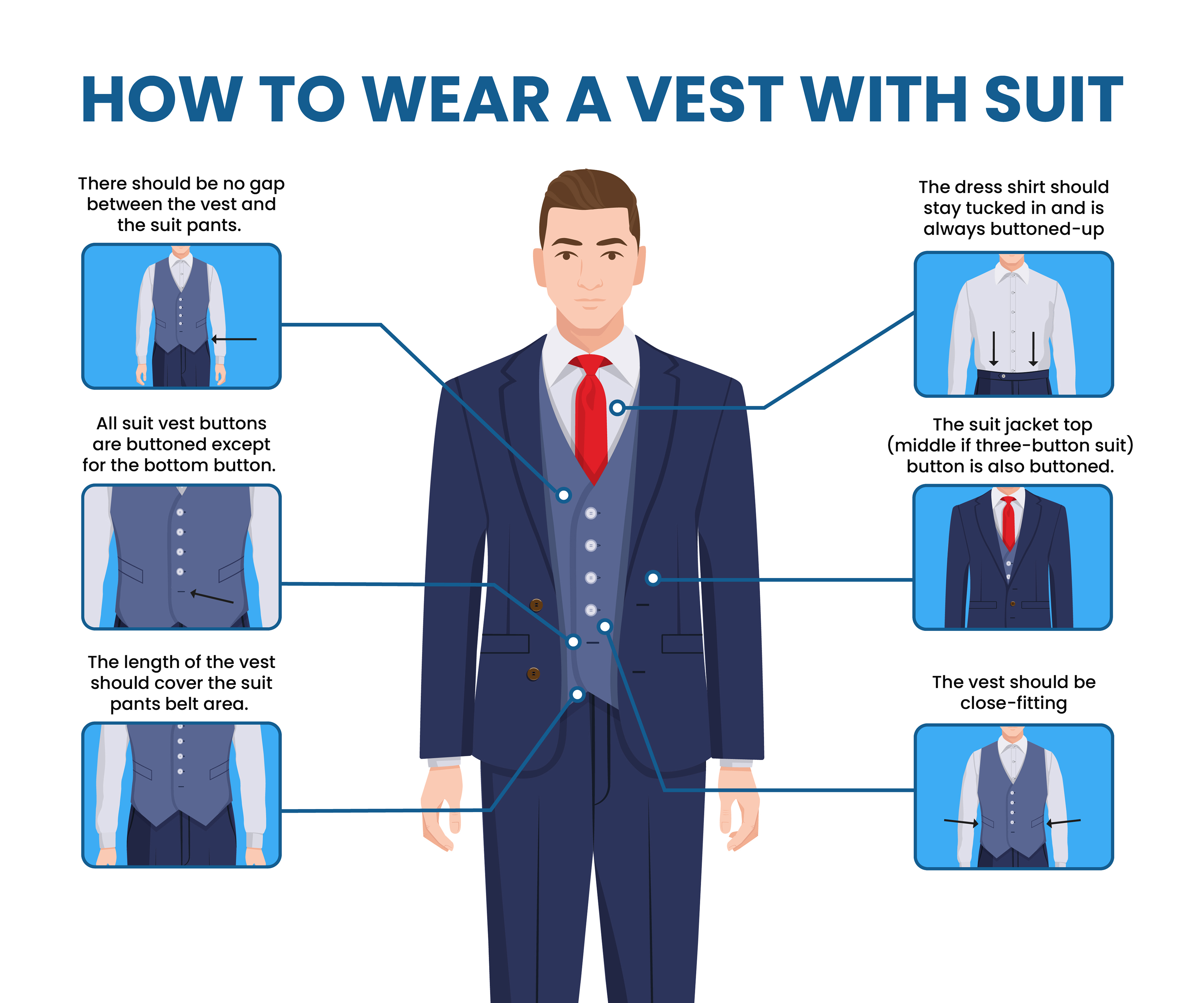 Your first choice is to wear a vest that's part of a three-piece suit. It will usually be an exact match to the suit jacket and pants; the material and the fabric will be the same.
If you are not looking for a vest that matches your suit, you can go with a contrasting vest. This choice will still need to be the right material and color to go with your vest.
The details of your vest matter, as well. It should be made from quality material, with buttons that aren't cheap plastic.
The Vest as Part of a Three-Piece Suit
A three-piece suit is a formal approach to the standard suit. It is a very traditional look and gives off an air of extreme professionalism.
The vest of a three-piece suit is usually the same color and material as the jacket and pants, but it doesn't necessarily always have to be so.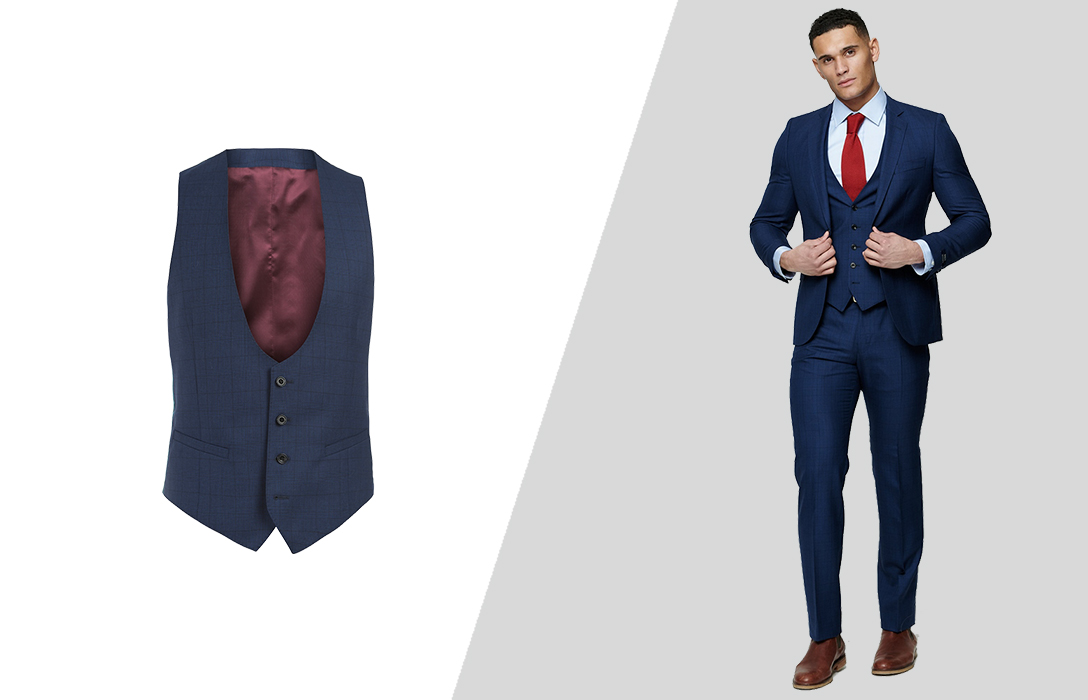 For example, if your suit is black, you may substitute another very dark color for the vest.
This only goes, however, if you are not attending a black-tie event. If your event is black-tie, the vest (or waistcoat) must also be black.
With a three-piece suit, if the material of your suit jacket is a solid color, the vest must also be solid. However, if you have a patterned suit jacket, the vest should also be patterned. The patterns must match.
Wearing a Contrasting Vest with a Suit
Mixing things up a bit is perfectly fine, and opt for a vest that stands out from the rest of your suit. However, it is best to coordinate your colors in accordance with the color wheel.
You don't want to go for too great a contrast, but something complementary in color. For example, a pale yellow vest would look stunning if you are attending a spring wedding wearing a royal blue suit.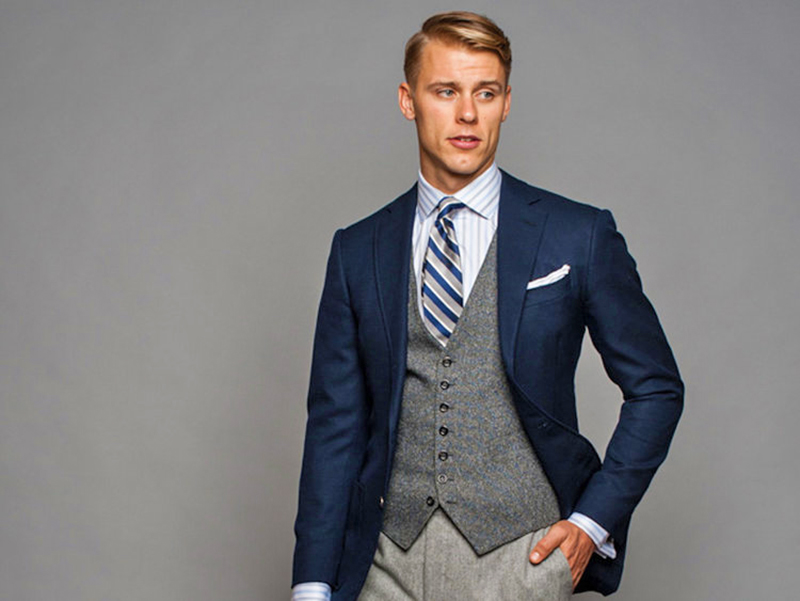 Another way to break the mold would be to mix pattern and solid. If your suit is a solid color, you can try a lightly patterned suit with it.
When you opt for a contrasting vest with your suit, the vest will become the focal point of your outfit. Typically, it is only meant to blend in. A contrasting vest is a greater fashion risk but has high rewards.
How to Pair the Vest with Other Attire
Your suit isn't the only thing you need to ensure that goes well with your suit vest. Many elements flow together, some better than others.
We've established that a waistcoat is meant for more formal wear, where there isn't usually a lot of room for play. However, that doesn't mean that you can't have a little bit of fun with your suit vest.
Suspenders or Belt
Suspenders are your best choice to wear beneath your suit vest. A suit vest is designed to hide your suspenders very well.
It can also hide your belt reasonably well, but belts add bulk around your middle.
Since the vest is already an extra layer of fabric around your waist, why add additional dimension by adding a belt? Not only will you look a bit slimmer, but you'll feel less encumbered.
But don't get me wrong. It's still OK to wear a belt with a suit vest.
And suspenders are more fun than belts, anyhow. They come in various styles and colors, which you can change out for a new splash of color each time you wear your suit.
Necktie or Bow Tie
Bow ties are inherently more formal than neckties. A black-tie event not only means that the tie is black but is almost always a bow tie. They go best with formal vests or waistcoats.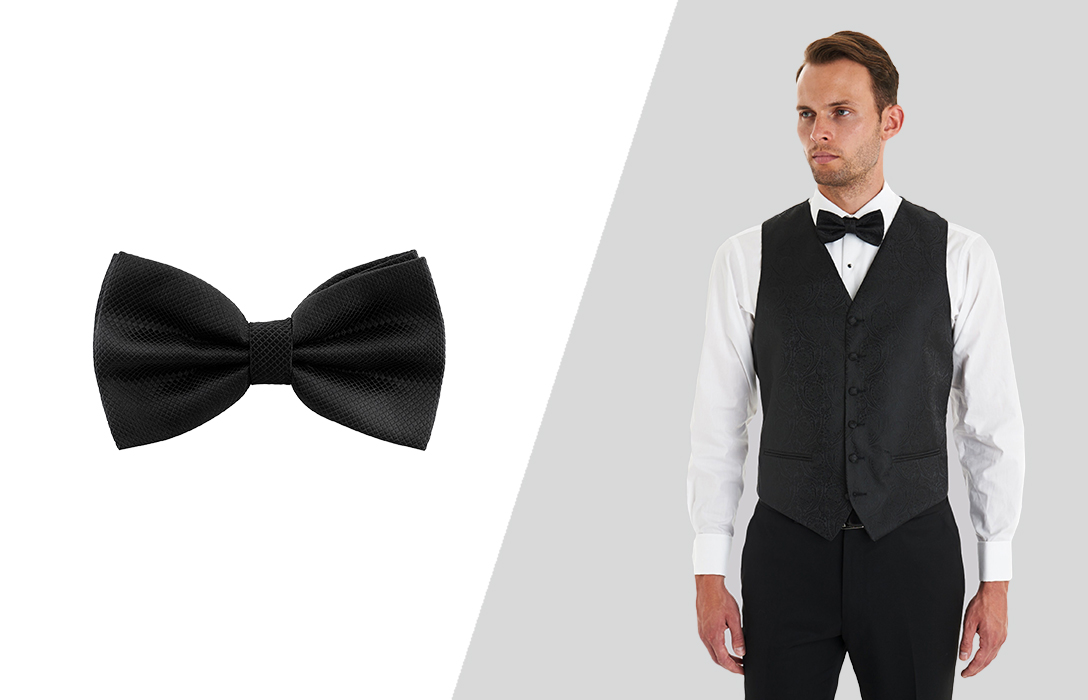 Contrary to popular belief, bow ties can actually pair well with your standard three-piece suit, not just tuxedos.
Read more: How to match a bow tie with a suit.
Neckties are another excellent accessory for adding color and personality to your suit. You can add a tie that's a complementary color or a neutral color, depending on how flashy you feel like going.
This is also an excellent opportunity to add a tasteful pattern to your otherwise all-solid outfit.
Jeans for a Casual Look
If you aim for a smart-casual look, jeans paired with a vest are an excellent way to achieve that.
The right jeans are essential, though. They should be dark and preferably have a slim cut. In fact, this look is becoming very popular these days.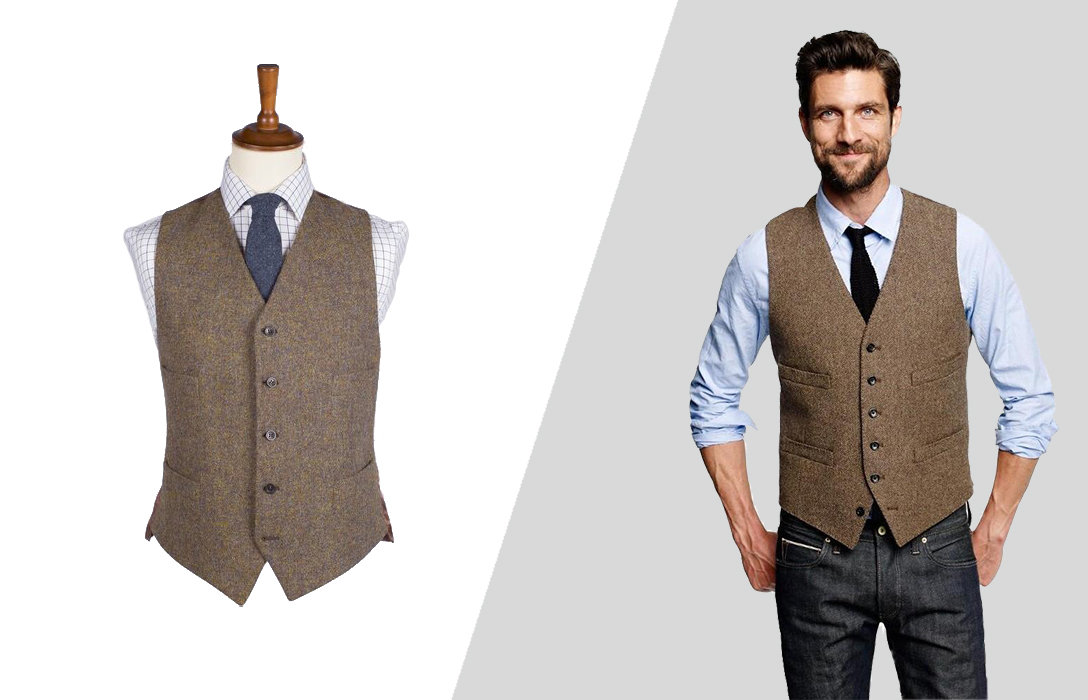 It's a great way to convey "casual" while showing that you put significant effort into your appearance.
While jeans are acceptable for this smart-casual look, a t-shirt is never part of this look. It is simply too relaxed and can end up making you look sloppy.
But the good news is that you can leave off the suit jacket or blazer with this casual vest style!
Suit Vest Color Combinations
The vest can always be paired with the original suit. Broadly speaking, you should always be able to match the vest with the same color suit.
But it's not unusual for a man to have a couple of mismatched suit vests in his wardrobe. The problem is, what to wear them with? The good news is that these seemingly surplus vests are great for creating eye-catching color combinations.
A contrasting vest can change the look and feel of a suit entirely. A white vest, for example, works well when worn with a darker-colored jacket. So too, do sand, beige, or light grey vests.
Wearing a suit with a different color vest immediately makes you look less formal and less intimidating. It can also be helpful if the vest color is in some way linked to the rest of your outfit.
For instance, a navy vest with a subtle red stripe can match with a navy suit and red tie. The effect is a combination of casual cool and underlying elegance, both at the same time.
Black Vest
A black vest is extremely versatile. It goes well with several looks, from formal to almost casual. For the most formal look of all, you should pair your black vest with a black suit. This is ideal for formal occasions and weddings.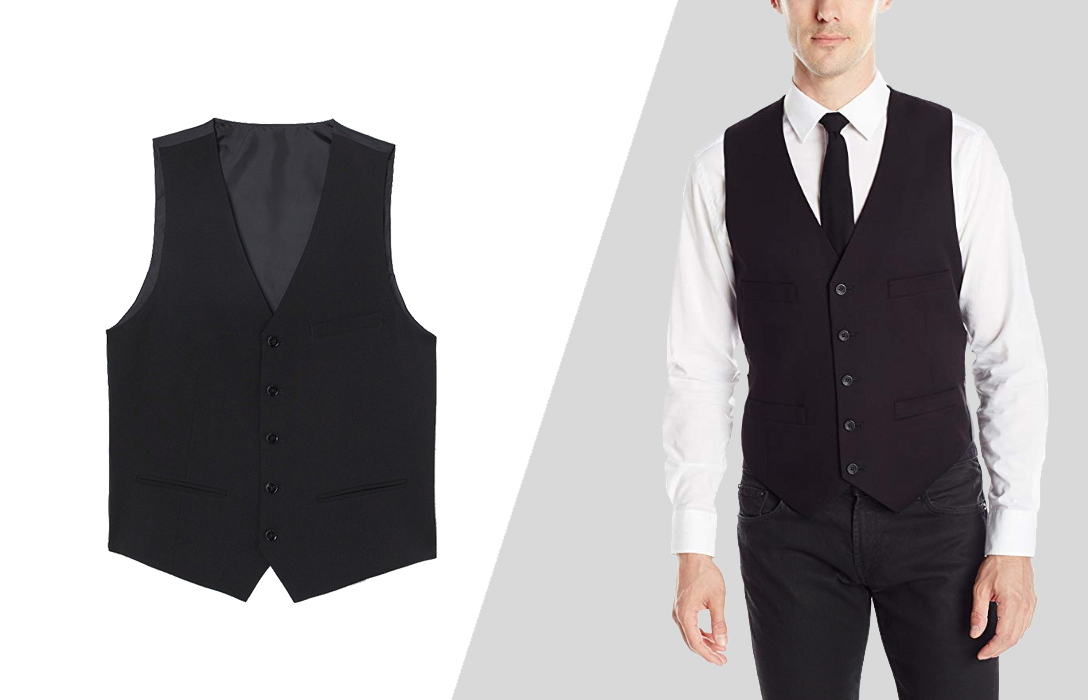 At the other end of the fashion spectrum, your black vest can also create a relaxed and comfortable look. Simply wear it with casual black trousers, a light blue chambray shirt, and black or brown leather boots.
You can wear a black vest with charcoal grey trousers, a light blue chambray shirt, and brown leather boots. Alternatively, wear it with a navy suit and black shoes.
Add a crisp white shirt, and you're good to go. A contrasting red tie would look great here, too. You can also combine your black vest with charcoal grey pants, but avoid wearing a jacket.
Grey Suit Vest
A grey vest and a pair of well-fitting black trousers or jeans are investment pieces every man should own.
Grey goes great with navy, black and red. These colors suit most men. But if red is not your color, swap it out for another hue, like burgundy.
Combine the grey vest with matching grey pants, but wear a dark navy jacket over the top. Alternatively, mix the grey vest and black jeans but leave the jacket at home.
This look is perfect for autumn days when you can get by without wearing those extra layers.
Brown Suit Vest
A brown suit vest doesn't just pair with its original brown pants and jacket. Brown combines very well with blue as well. For example, try navy pants with a light blue dress shirt and a brown vest.
Add dark brown shoes to your outfit. Pick a tie with a navy background, brown accents, and perhaps a few contrasts of an even lighter blue.
If you want to wear your brown vest in a completely different way, find a pair of well-fitted blue jeans. Then, add a pair of brown leather shoes and don a white, open-neck shirt.
Finish the look off with your brown vest and matching jacket. Casual? Sure. But darned stylish, too.
Red Suit Vest
Wearing red in anything larger than a tie takes confidence to pull off. If you're a shy, unassuming character, then you might want to steer clear.
We suggest toning the red down to a burgundy rather than going for a bright cherry red. Unless, of course, you intend to make a real impact.
A red vest with a black or charcoal grey check throughout is attractive and eye-catching. Pair it with plain black or charcoal trousers and a matching jacket.
Where to Wear a Vest
The most formal occasion where you will always need to wear a vest is a black-tie event.
In this case, your vest (or preferably waistcoat) can have lapels and be manufactured from the same fabric and color as the rest of your tuxedo. Oh, and you have to wear a tuxedo for black-tie events, not a suit.
On the other side, you can wear a suit vest for business formal settings, semi-formal occasions, and other casual events.
A vest is useful for adding an extra layer of warmth on autumn days when a two-piece suit won't keep out the cold.
Pairing a contrasting vest and suit is considered inappropriate for most business settings. So, if you prefer a contrasting vest and suit, be aware that this look is only suitable for more informal occasions.
Also, if you're headed for a job interview, leaving the vest at home is probably best.
A simple two-piece suit combined with an unobtrusive tie is usually enough to convince HR of your dress sense. And the last thing you want is to appear overly flamboyant.
Author: Alexander Stoicoff
Hi, I'm Alex, and I've studied and specialized in styling in Rome. Through my writing, I want to help men dress well and learn the purpose and significance of suits and other formal attire. My final goal is to make men more confident in their wardrobe choice and life in general.