Belts are likely the least considered, least noticed part of men's fashion. That is, until somebody wears the completely wrong one with their suit.
The best men's belts will melt right into your outfit so that it seems like a natural extension of your suit. But if it sticks out and screams, "Look at me!" it's probably a poor choice for that suit.
What makes a particular belt a good fit for your outfit? Unfortunately, there aren't many rules to follow for this thin strip you place around your waist.
However, the ones that do exist are critical in making sure you get your look just right.
What is a Belt
In theory, a belt is a functional accessory. In reality, it's more there for aesthetics these days.
It's a statement I make because your pants should fit well enough that you don't need a belt. At best, a men's belt can make loose-fitting pants feel a bit more secure.
Anything at all can be wrapped around your waist and considered a belt. For the sake of fashion, however, leather (with a buckle) is the best material to use. This is especially true if you are wearing your belt with a suit.
In certain outfits, your belt can be the focus of your entire ensemble, depending upon the style of the belt. Also, you can wear it as a statement piece.
Belt Anatomy
The main components of men's belts are the strap and the buckle. Both of these parts can vary significantly in style and function. Therefore, the material and design options are practically endless.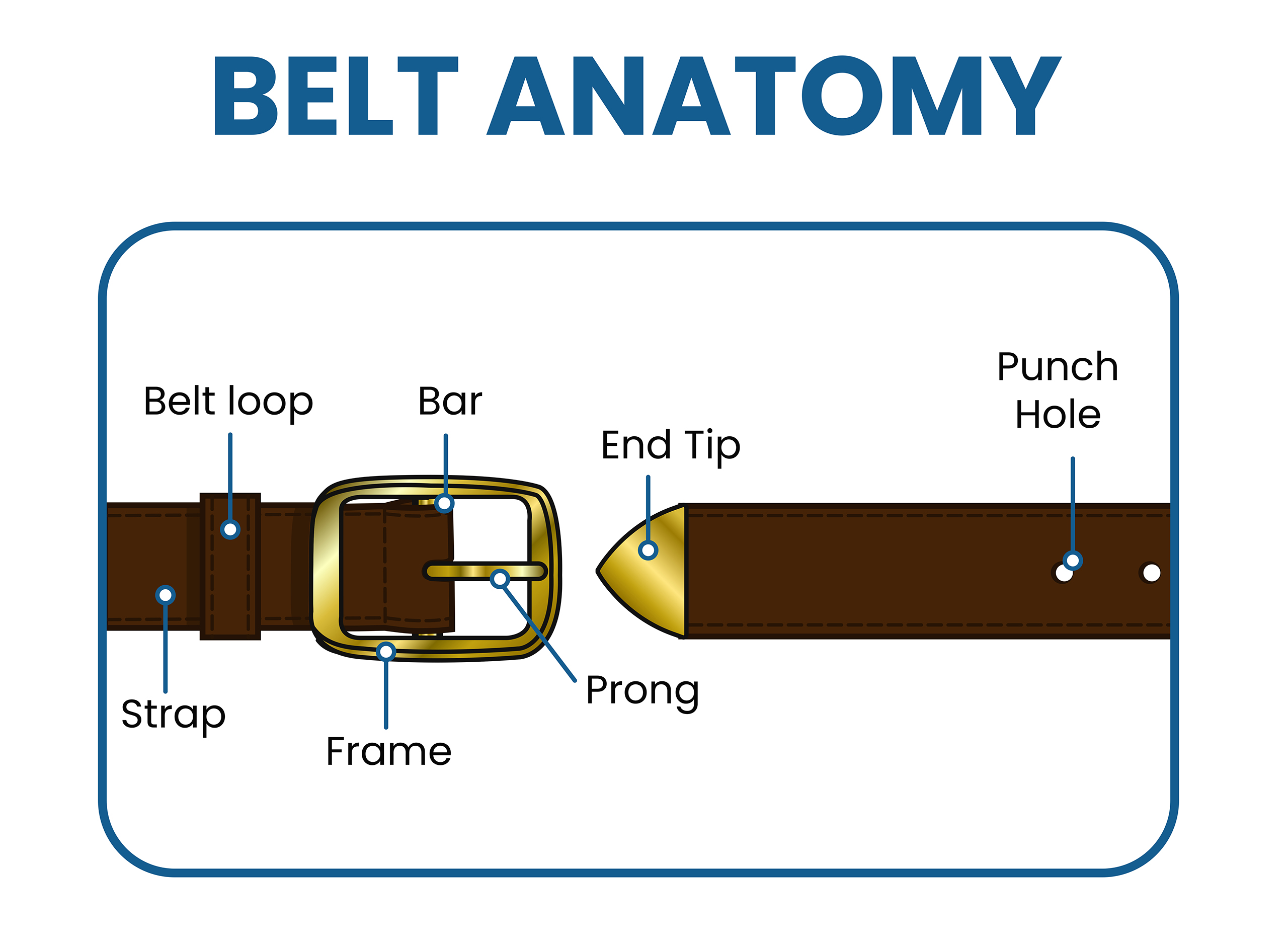 Aside from those two most commonly recognized parts, there are a few other pieces often used to make a successful belt. Some designs will also include more complex mechanisms.
The buckle itself frequently (though not always) consists of a frame and a prong, which then secures via punch holes in the leather strap. The buckle also features a bar that holds the belt attached to the strap.
The strap ends with an end tip, usually made of the same material as the strap. Many belts also have a belt loop to tuck the end close to the body after it has come through the buckle.
When to Wear a Belt
The most obvious time to wear a belt is if your pants are feeling a bit saggy. However, you can wear a belt for fashion or decorative purposes.
If your pants have belt loops, that is a strong signal to put a belt on. But if you are dressing casually and leaving your shirt untucked, you may skip the belt. Also, if others see your belt loops, you can put one on.
When you are wearing a suit or formal outfit (except a tuxedo), you must wear a belt. Your suit isn't complete without a belt!
There are certain scenarios where you should never don a belt. For example, if you are wearing suspenders, your pants have no belt loops, or you simply don't have an appropriate belt for the outfit. It's better to commit the sin of no belt than the sin of an unsuitable one.
Belt vs. Suspenders & Cummerbund
Suspenders and cummerbunds are an alternative to a belt. Of course, you would never wear all three together.
A cummerbund is a piece of fabric that wraps around your waist, similar to a sash. It is only worn as part of formalwear, which means you can only wear it with a tuxedo.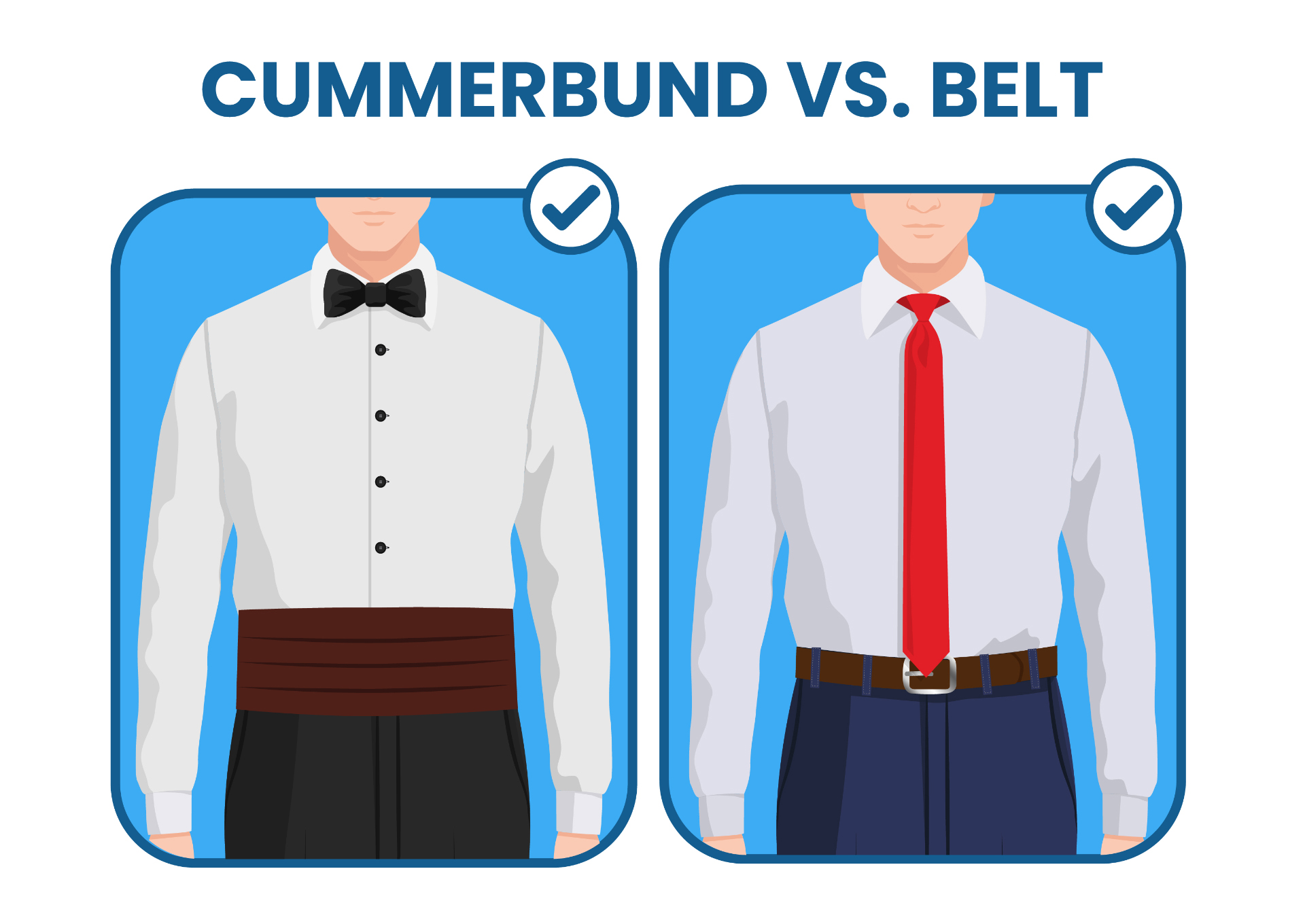 Because the cummerbund already covers your waist, you don't need to pile on yet another item around your midriff. In addition, it would add unnecessary bulk around your waist.
Also, tuxedo pants don't have belt loops, so you can't wear a belt with a tuxedo.
Similarly, wearing a belt with suspenders would be redundant. The suspenders already function to hold up your pants; you don't need to add two pieces that serve the same function.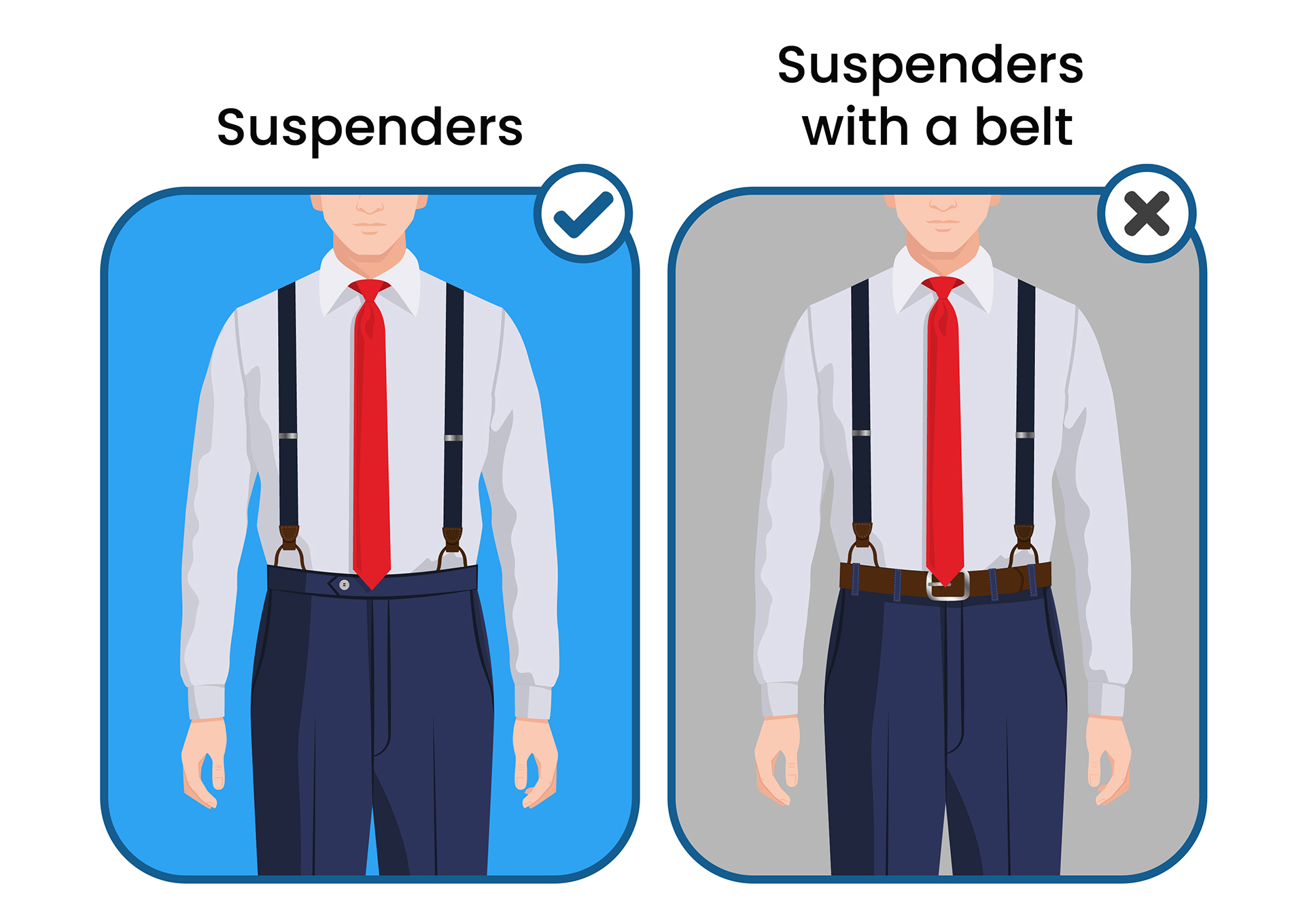 Also, wearing a belt and suspenders would simply look too busy and would distract from the rest of your outfit.
You can, however, wear suspenders and a cummerbund together. But that's a story for another time.
Belt Sizing Guide
To determine your belt size, simply add 2 inches to your pant's waist size. For example, if your pants are generally a 36-inch waist, your belt size should be 38 inches.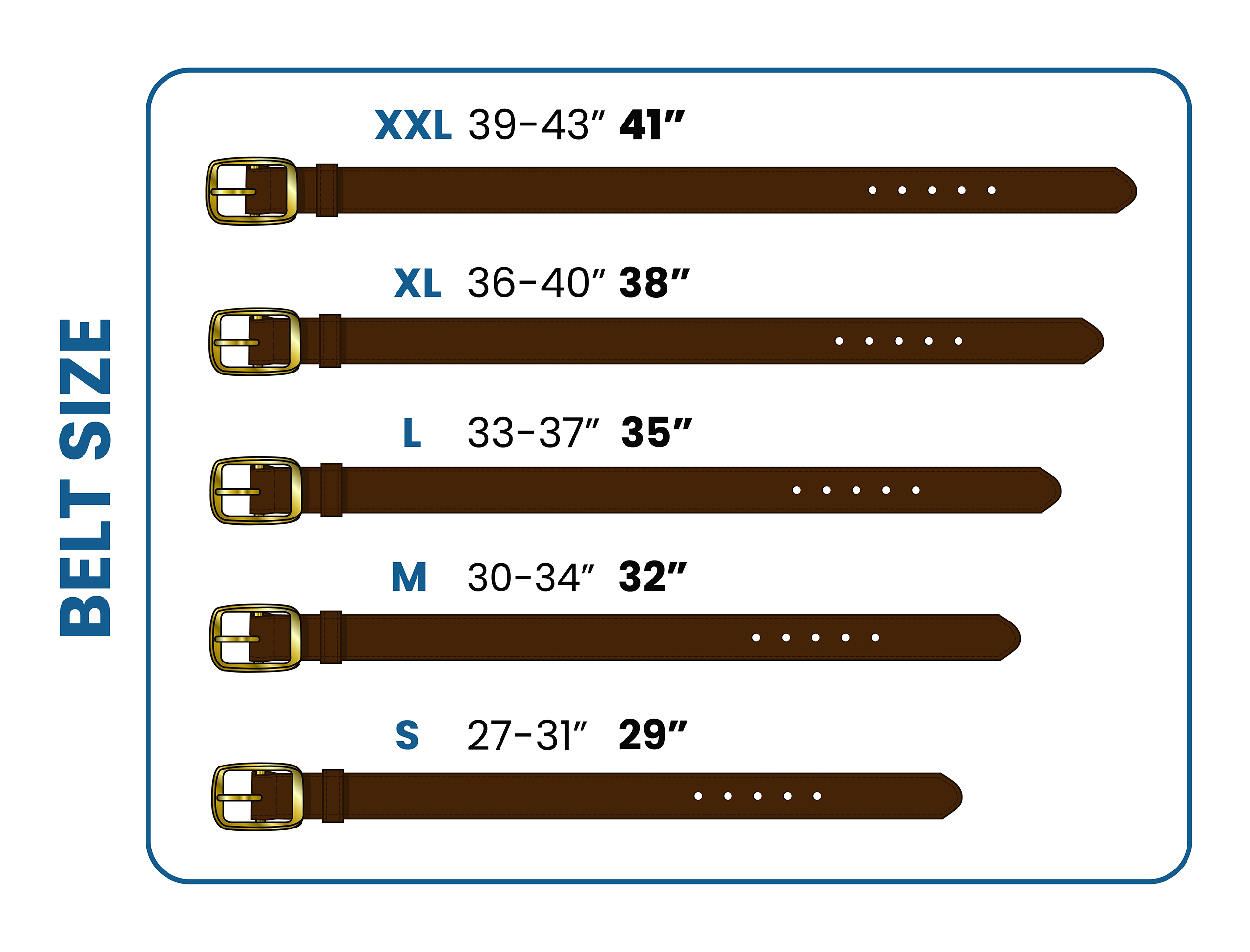 Another way to get your waist measurement is to measure an old belt. Find the hole that you most commonly use and measure the length from there to the end of your belt.
If you've got an overly large belt that you are simply dying to wear, you may be able to make it work. You can create a new hole to fit your smaller waist, but don't try this at home; you risk destroying the belt.
Instead, be sure to have a professional, like a cobbler, do it for you. He'll have the proper tools.
One side note about using a belt that's too large. The men's belts size matters. You don't want to end up with a belt that is so long that you have a crazy long tail sticking out of your buckle. That just gets awkward.
However, you need to ensure that your belt is long enough to have a couple of inches of a tail to slip through your belt loop.
Belt Width
The width of your belt is just as important as its length. Different widths are suitable for certain outfits but not so much for others.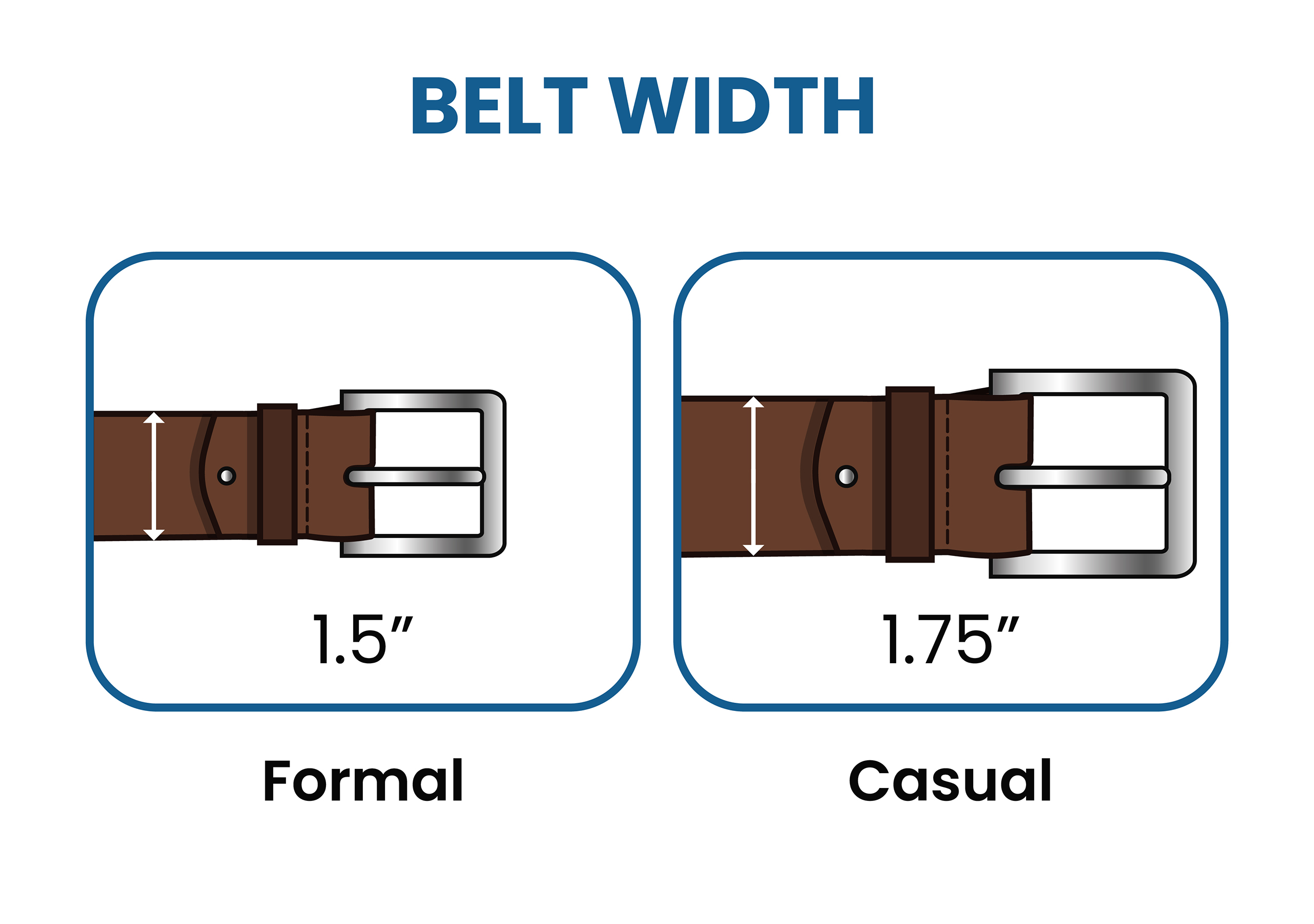 In general, your dress belt should be relatively thin and sleek. It should stay within the range of 1¼ – 1¾ inches wide. Anything greater would look too wide.
Wider men's belts tend to be more casual. The wider it is, the more relaxed. These can be up to 2 inches wide. Sometimes you can get away with it wider when you are wearing it with denim.
However, if you opt for a belt with a very large buckle, you will definitely want a much wider belt.
Types of Belt Buckles
You can make all kinds of statements just using your belt buckles. With so many options and styles for belts to choose from, there is an appropriate men's belt buckle for any look you want to create.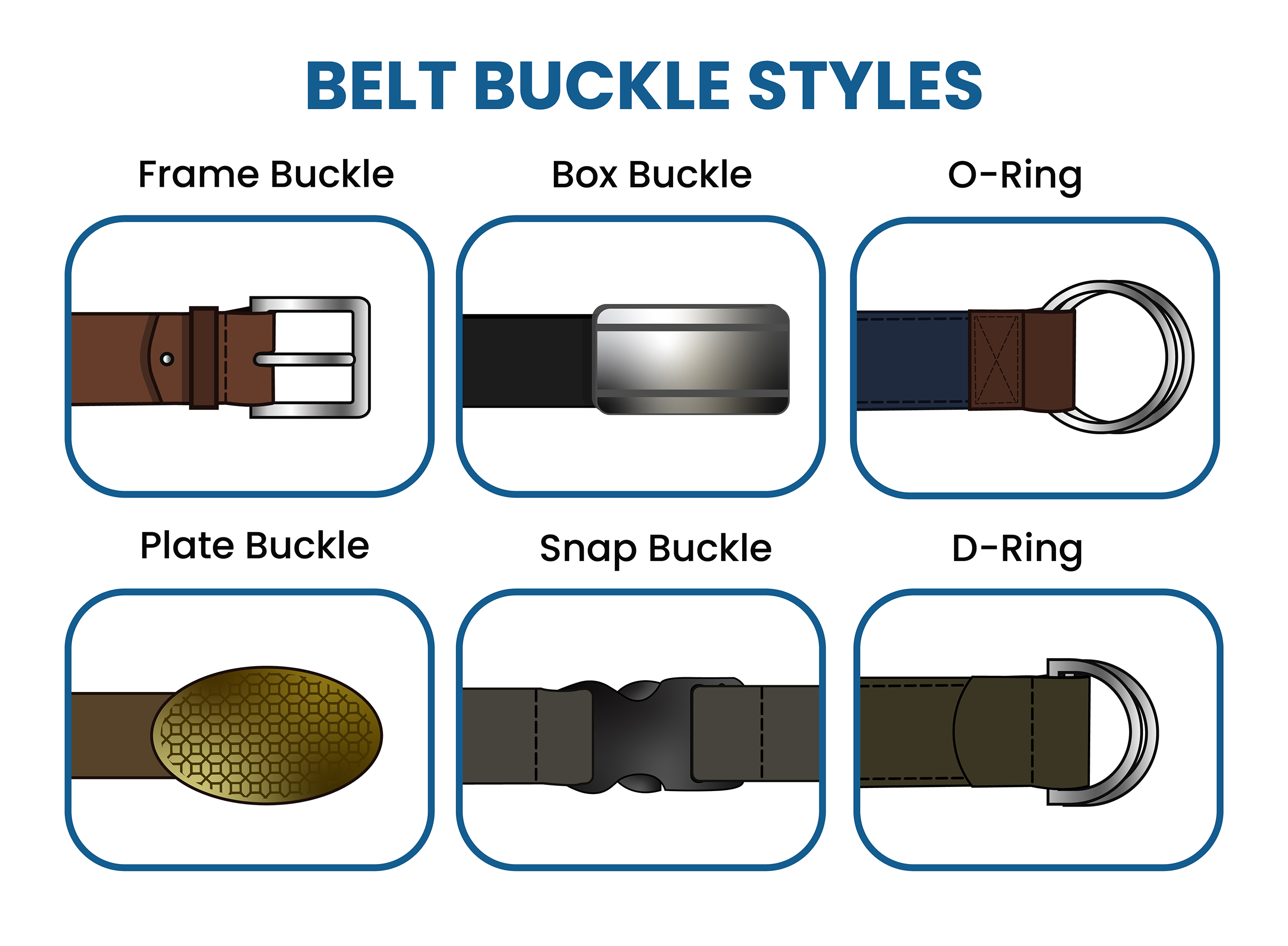 Generally, belt buckles are made from metal. This is especially true for men's dress belts. And just like you need always to have all leather you wear be the same, the same goes for metal. You can't mix multiple metals in your accessories.
Frame Buckle
This is the style of belt buckle that you are most likely familiar with, seeing how it's the most common one. It's the classic metal square or rectangular-shaped frame, empty in the center except for a prong.
You'll find this style of belt buckle on all varieties of belts, whether dressy or casual.
The frame buckle is a simple concept. The strap inserts through the frame, and a prong pokes through the hole in the strap to secure it in place. The remaining piece of the belt, the tail, gets tucked into the belt loop, so it doesn't flop around and get in your way.
Since men's belts for dress pants are thinner, their belt buckle will also be more petite. On casual belts, though, the clasp will be more prominent in order to accommodate the thicker strap, and the metal will have a wider girth.
Box Buckle
This buckle style is a rectangular piece of metal. It looks solid from the front but is actually hollow on the other side. It is also open on both edges.
You slide your belt strap in one end and through the other side. When you press down on the box buckle, it presses against the strap to secure it against the underside of the box. There are no holes to worry about for this style of belt.
Plate Buckle
Here is a belt buckle that is detachable. You can change out plate buckles on snap belts, which are just the leather strap.
Plate buckles are designed to be decorative and are almost always large. Think cowboy belts.
They operate simply, just by hooking through the front of the belt strap. However, plate buckles do add a bit of length to the belt due to the throw of the buckle, so keep that in mind when sizing.
O-Ring/D-Ring Buckle
You'll often see these types of buckles on very casual men's belts made of canvas or braided material.
You simply weave the belt strap through two side-by-side rings, then double the strap back through one of them. Finally, pull on the strap to secure it in place.
Snap Buckle
This belt buckle style is very similar to a strap you would find on a backpack. It's plastic, and one end (the male end) inserts into the other end (the female end.) You simply click them together and press in on the sides to release.
Snap buckles are very casual.
Best Belt Strap Materials
There's no getting around it if you are wearing a dress belt: it's got to be leather. Leather can be versatile and be worn for casual outfits, as well. However, there isn't another material that can be used for formal and business wear.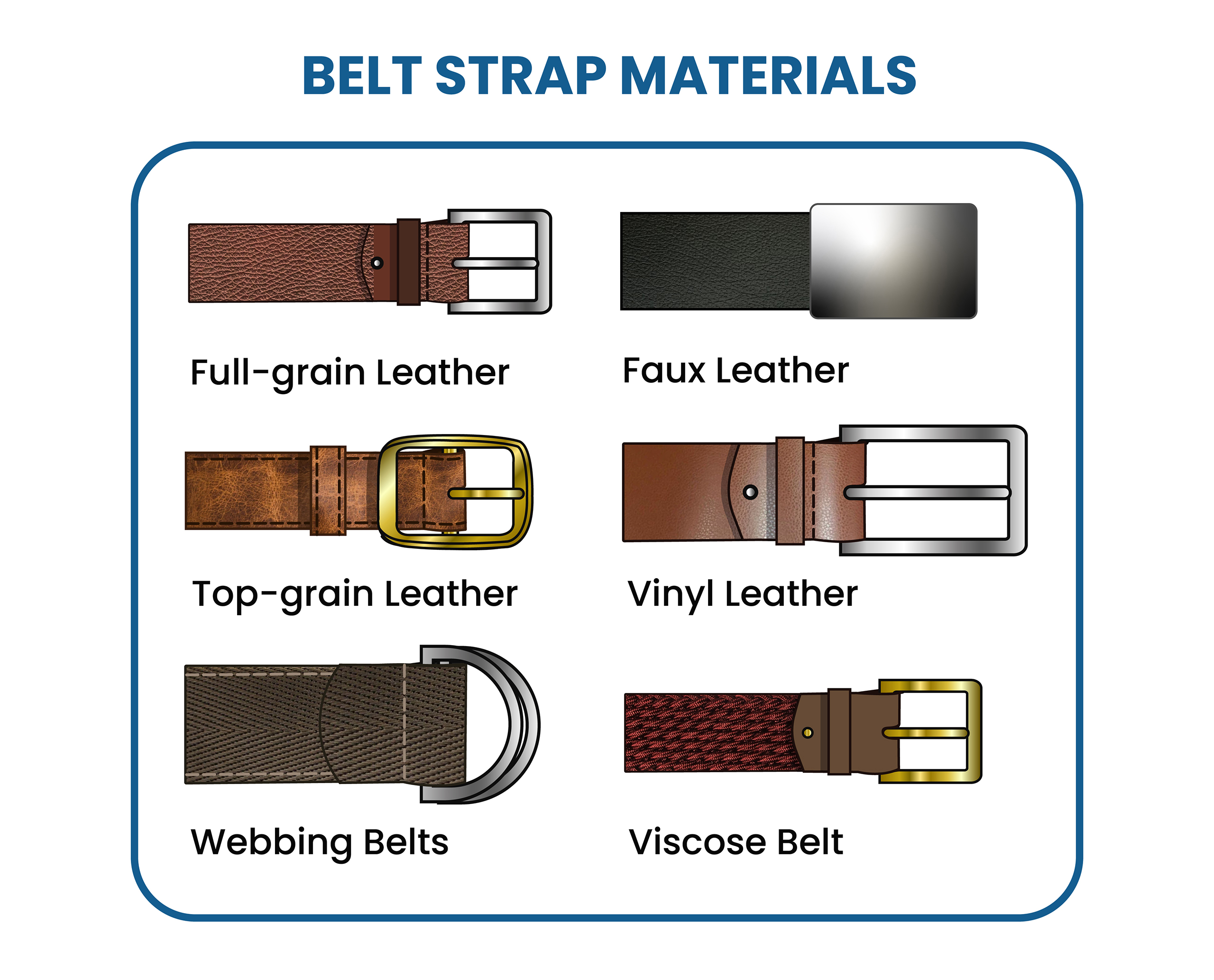 Of course, technically, any material can be used as a belt, but that doesn't mean it should be used. For example, a rope can be functional but probably won't look as nice as, say, canvas. This still leaves us with a wide range of materials and colors.
Leather Belts
Quality leather should last a long time. Most leather belts for men are made from cowhide or calfskin. Even within that category, though, there are many different types of leather.
Full-grain leather is the best quality leather you can get. It's the most durable and is beautiful. To recognize full-grain men's leather belts, you'll see natural texture and folds on the surface of the leather.
Top-grain leather is another high-quality leather option. Again, it's a high-end fashion choice, similar to full-grain, but most of the texture has been smoothed out.
Suede leather is very soft and is usually casual leather. You'll frequently find suede in smart-casual ensembles. Its biggest downside is that it isn't as durable as full-grain leather.
Braider leather looks precisely as it sounds. It's made from strips of top-grain leather that have been braided together. It's a simple way to add some texture to your casual outfit. Sometimes it's also made from suede.
The final type of leather steers away from cowhide. Fashion often uses exotic leathers. Exotic leather can include alligator, ostrich, and lizard skins. Exotic leathers are typically casual. You may use them for dressier outfits as long as they are dark, simple, and do not stand out in any way.
Viscose Belts
Viscose is a plant-based material; it's better looking than canvas and is more durable, to boot. You'll usually find viscose braided. It has a somewhat elastic-y feel to it and is always casual.
You can find a wide selection of viscose belts in nearly every color—what a great way to add a dash of color to your outfit effortlessly.
Webbing Belts
Webbing belts are most often made from some sort of canvas. They usually are found with a D-ring buckle.
If you require a great outdoor belt that's heavy-duty and super sturdy, a webbing belt will fit your needs.
Other Belt Strap Materials
There are so many other materials to choose from for your belt. Most other materials, however, are purely fashion statement belts intended to accent your casual outfit.
Watch out for these types of men's belts, though, because though they may be trendy now, trends go in and out of style.
Vinyl and faux leather are some standard accent piece options. However, they aren't ever appropriate to wear with a dressy outfit when you need to impress somebody.
Different Belt Color Options
Most belts will come in one of a few colors. Knowing what to do with those colors is essential. If you wear a belt that is out of place, it will become the focal point of your outfit in a way you didn't intend.
Stick with a few basic guidelines when pairing your common belts with your suits. The simplest one is to match the belt's color with the color of your shoes.
Black Belts
Black is a flexible color that can adapt to many suit colors. It's the most formal color choice so that it will elevate your suit a notch or two.
Black goes very well with most suits, but especially any hue of grey and black, of course. It also works well for separates.
If you are wearing a black belt, make sure that your shoes are also black. If you wear a watch with a leather strap, the strap also needs to be black.
Dark Brown Belts
Dark brown is another very versatile color for belts. It can also go with most suits, as long as you are also wearing brown shoes. (Don't forget about your watch strap.)
Try brown with a navy or royal blue suit. It isn't as formal as black would make it, but the brown certainly softens the look. It also would look great with a brown suit or even a light grey suit.
Dark brown is also an excellent belt for earth-toned separates and chinos.
Light Brown Belts
Brown is a very warm color, so it can make other colors feel less harsh. It can also be a lovely complement to other light colors.
Light brown is even more casual than dark brown. It can be a perfect pairing if you are wearing pastel shades, such as a seersucker suit. If you want to dress down a blue suit, try a light brown belt to accent it.
Tan Belts
Tan is another casual shade. It's even lighter than light brown and also pairs well with navy or brown. You can even pair a tan belt with jeans for a very casual effect.
Obviously, you need to match a tan belt with tan shoes if you are wearing a suit.
Oxblood/Burgundy Belt
An oxblood or burgundy belt certainly makes a statement. Just like oxblood shoes look good with a navy suit, so does an oxblood belt.
You can also wear an oxblood or burgundy belt with a light or dark brown suit to give it a bit of color pop. Any neutral-colored ensemble may just benefit from the oxblood-accent belt.
Match your oxblood belt with burgundy shoes, preferably made from the same leather.
Formal Dress Belts vs. Casual Belts
When you are in the market for a new belt, the odds are good that you will have a particular pair of pants in mind.
You'll know from the outset if you are shopping for a dress belt or a casual belt based on the outfit you are looking to pair it with. This helps significantly in narrowing down your choices.
But how can you tell if the belts you are looking at are better suited for a pair of jeans or your new suit? There are a few key areas you can focus on to clue you in.
The material is always a good start but won't usually give you the complete answer. The buckle, the belt width, and the buckle's size are all great areas to examine to know what style of belt you are dealing with.
Formal Dress Belts
The formal dress has more rules than the casual dress does. These rules extend to all aspects of your wardrobe, including something as seemingly insignificant as your belt.
Leather is the only acceptable material for a men's dress belt. No matter how nice it looks, any other belt material is too casual and won't match the formality of your suit.
Either black or brown leather is appropriate, depending on whichever color is a better fit with your suit. Your belt must be the same color as your shoes.
Keep your belt thin. A wide belt will be more noticeable and sets a casual tone. A narrow belt, on the other hand, is not as visible. A width of 1¼ – 1¾ inches is the ideal size for your dress belt.
A small frame buckle is the style of choice for dress belts. Although there are many buckle styles, only a frame buckle is formal enough to wear with a suit.
Also, since your belt isn't meant to stand out, a small frame is best so that your belt remains inconspicuous.
Your formal belt buckle needs to be a metal buckle. There is no one required type of metal. The only requirement is that the metal must match any other metal you are wearing.
For example, if your accessories are all bronze, but your belt buckle is silver, it will stick out very noticeably.
Casual Dress Belts
Casual wear is always a lot more easy-going. Almost anything goes for a casual belt. These are frequently meant to be more visible and are acceptable as a part of the aesthetic of your outfit.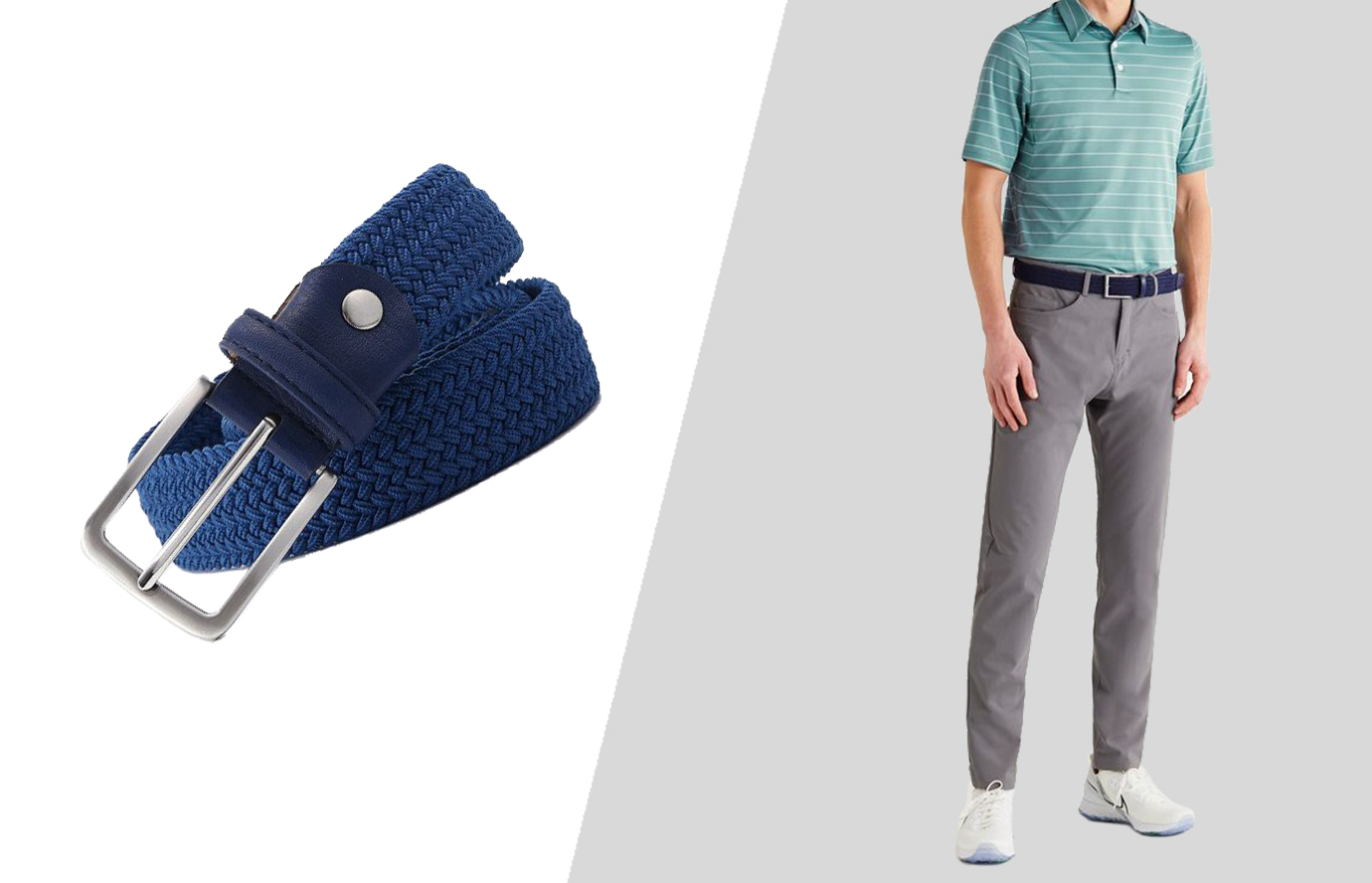 Casual belts can be made of nearly any material. Leather is still an excellent choice for casual, but there are many other options, as well.
For example, the canvas can convey a specific tone, while webbing or even vinyl create different effects.
Wide is a king among casual belts. If belts are incorporated as a visible part of the men's casual outfit, wide straps are preferable because they are much easier to notice.
The buckle can also be prominent on a casual belt. It doesn't need to be the size of a dinner plate, but if you are looking to make your belt a statement piece, it can get rather hefty.
You don't need to have a cowboy-sized belt buckle, though. A tasteful, more petite belt buckle can also look fantastic.
The style of the buckle is also much more flexible on casual belts. Rather than sticking to just a frame style buckle, there is a wide range of choices.
It can be decorative, like a box frame or a plate buckle. It can also be functional, such as a snap buckle. If it complements the style you are going for, it is fair game.
Formal vs. Casual Belts: Similarities and Differences
Let's laid out the two primary forms of belt styles side by side for easy reference. When in doubt, see which boxes your belt can check.
The anatomy of your belt can go far in helping you determine if it's a casual or dressy belt.
For example: examine the buckle. If it's an O-ring enclosure, you know for sure it's a casual belt. If it has a frame buckle, it could be either dressy or casual, so you'll need to look further.
How wide is it? If it's thin, you can be pretty sure it's a dress belt.
The bottom line is that if you are wearing a suit or dress pants, you need a belt of good black or brown leather. It needs to be thin and most likely have a small frame buckle.
Casual wear is always a lot more easy-going. Almost anything goes for a casual belt. It can be thin or wide, and the buckle can be large or small. Any color and material are appropriate, as long as they match your outfit.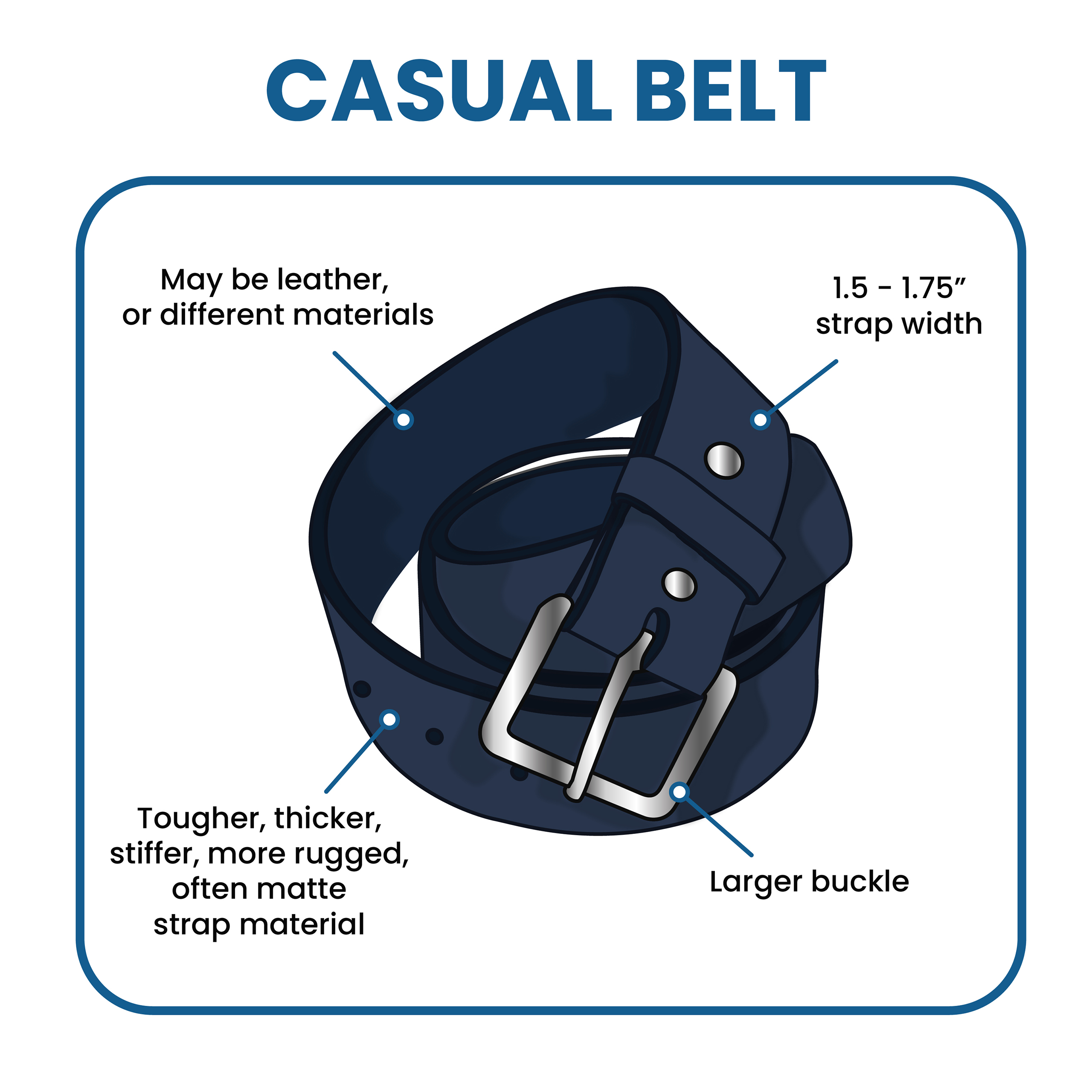 Remember: casual belts are more likely to be intended as a focal point of your outfit. However, they are not required to be a statement piece and may also be as subtle as a formal belt.
| Formal | vs. | Casual |
| --- | --- | --- |
| Leather, black or brown | Material | Any material: leather, suede, canvass, fabric, etc. |
| Thin strap | Belt Strap | Wide strap |
| Frame style buckle | Buckle Style | Variety of buckle styles to opt from |
| Buckle made of metal | Buckle Material | Buckle may be constructed of any material; usually metal |
| Small, discrete buckle | Buckle Size | Buckle may be large and very visible |
How to Pick the Best Belt for Men
Now that we've gone into detail about everything you need to know about men's belts, let's summarize.
Leather is always the best option. Whether casual or dressy, it is the nicest looking material you can use. Just make sure it matches the style of your dress shoes.
Match the buckle's metal with other metals you are wearing, aside from perhaps your wedding ring. For example, if you wear a watch or are wearing cufflinks, all the metal on your body should be the same.
Match the color of your belt with other accessories. Again, this goes toward creating a fluid look and ensuring that nothing sticks out like a sore thumb.
Pick the right size belt. A belt that's too big for you will have a very long tail hanging around your waist. You could try to tuck it in, but that only adds more bulk, which will attract the eye.
On the flip side, a belt that's too small will crush your waistline and also create an unsightly visual.
Pick a belt with a finish or weave that matches the rest of your accessories. Again, this goes back to creating a smooth appearance. If one piece doesn't blend in, it will look as if you put no thought into how you look.
When you are matching a belt with jeans, take a good look at the jeans. Are they very casual jeans, or perhaps dressy slacks?
If they land more on the side of smart-casual jeans, you'll want a more formal belt to go with them, one that's appropriate to the style. And if you are wearing baggy, ripped jeans, you wouldn't want to pair them with a thin dress belt.
Author: Alexander Stoicoff
Hi, I'm Alex, and I've studied and specialized in styling in Rome. Through my writing, I want to help men dress well and learn the purpose and significance of suits and other formal attire. My final goal is to make men more confident in their wardrobe choice and life in general.