The blue dress shirt is having a moment. This classic garment has been around for decades but is finally getting the attention it deserves.
It's a versatile, trendy color that can create many looks. So whether you're going for traditional, conservative, or looking for a modern, sleek look, you've hit the jackpot with a blue dress shirt.
With so many shades to pick from, blue is the hardest-working dress shirt in menswear.
Best Blue Dress Shirt Materials
Many factors will contribute to the success (or failure) of wearing a blue dress shirt. Your choice of material may be one of the top issues.
The best choices for dress shirt material are poplin, cotton, twill, and Oxford cloth. It doesn't even matter if your dress shirt is knitted or woven.
Cotton is the standard. So whether it is Pima, Egyptian, Supima, or plain weave cotton, your shirt will look its best.
Cotton dress shirts are supremely flexible; you can wear them with your most formal suits or in the most casual settings.
In addition, cotton is a very affordable fabric and is usually quite soft. Perhaps the best perk of cotton dress shirts is their comfort.
Linen is an excellent material for laid-back outfits but wrinkles super quickly and is only appropriate in warm weather.
Silk dress shirts are another option, but you need to be very careful combining this material; it can very quickly end up looking cheap.
How to Wear a Blue Dress Shirt with a Suit
The material of your dress shirt is critical to your overall appearance, but even more important is how your shirt fits.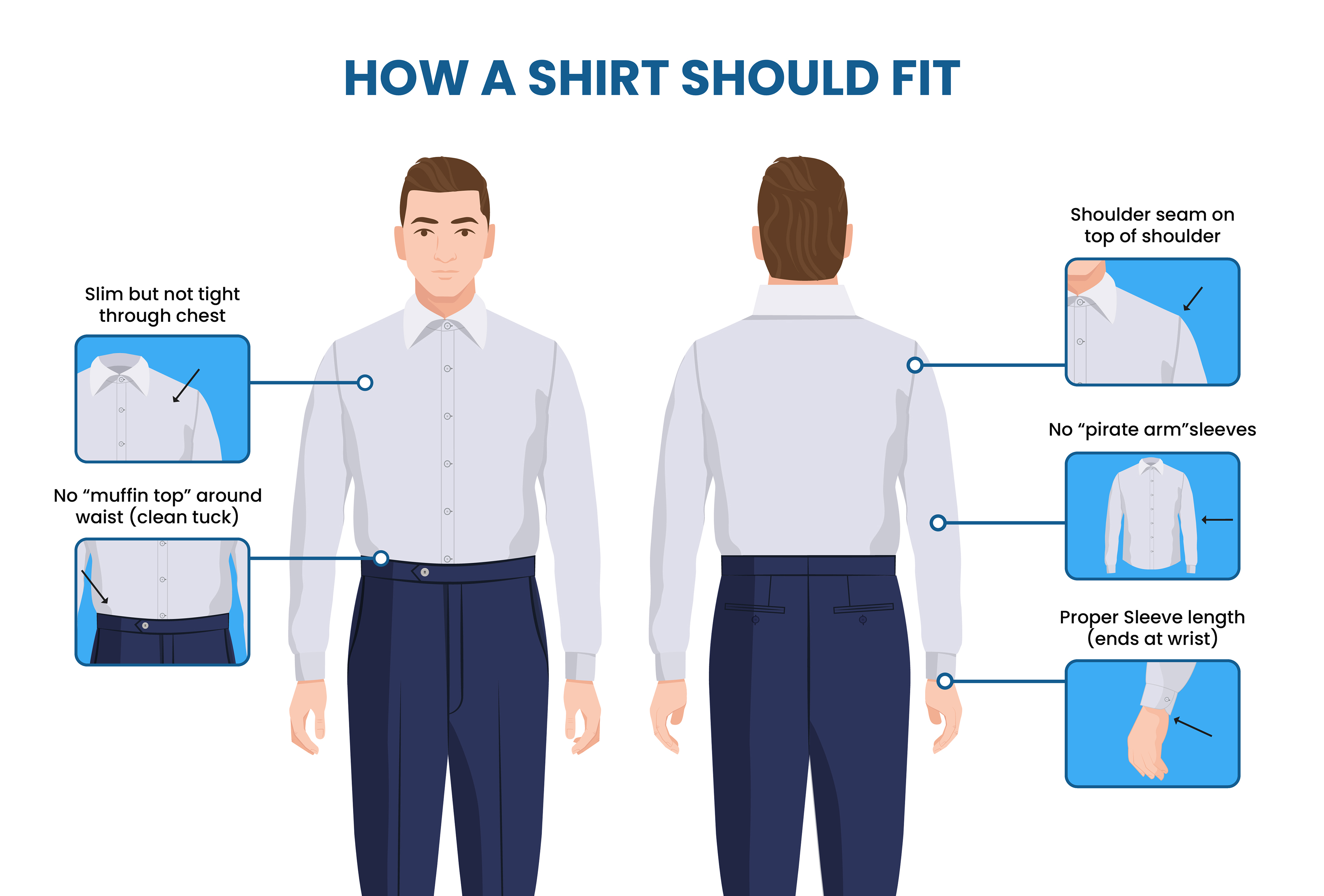 A blue dress shirt must fit you well; otherwise, your dress shirt will divert from the rest of your outfit.
To know if a dress shirt fits appropriately, try it on and examine where specific seams and hemlines fall.
For example, first, look at your shoulders: do the shoulder seams end right at the tips of your natural shoulders?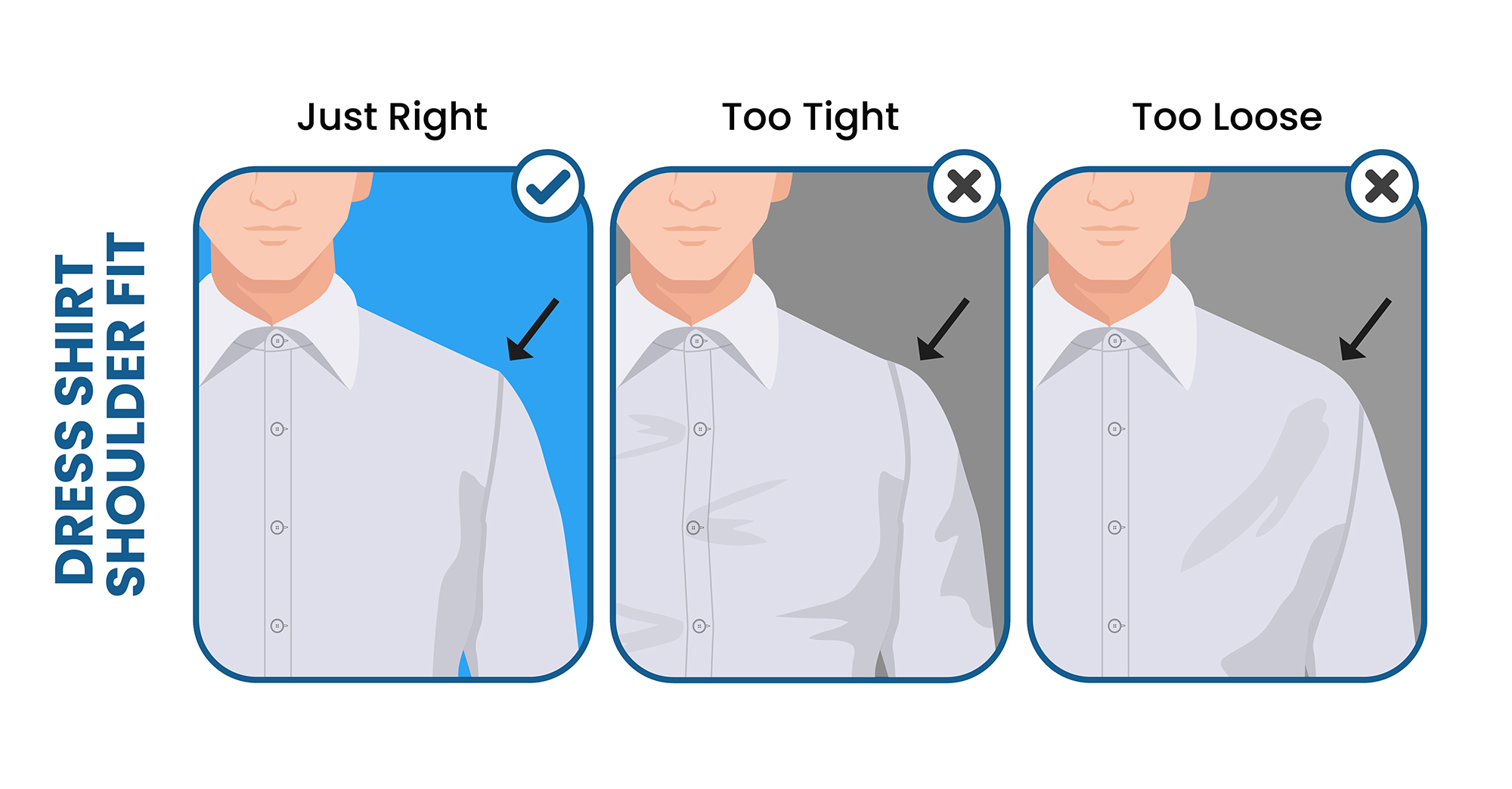 The shirt is too big on you if they hang over the edges.
On the other hand, if they don't make it to the very end of your shoulders, then the top of the shirt is likely bunched up near your neck and is too small for you.
Next, look at where your cuffs fall on your arms. They should go just past the top of your wrist, ending along the area of your hand where your thumb meets your palm.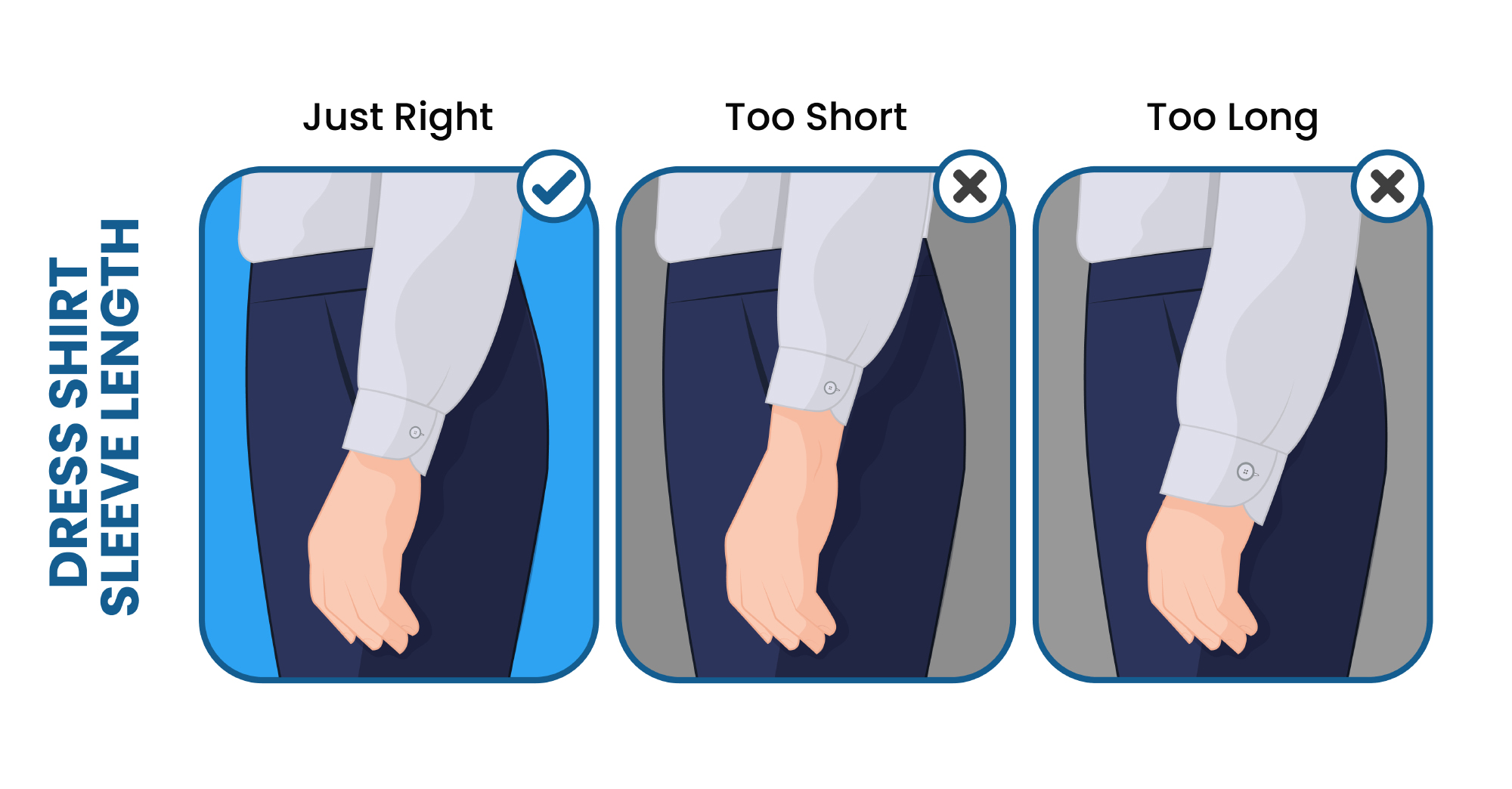 And the bottom hem of your shirt should fall to your mid-crotch level, just covering your entire rear end.
Blue Shirt & Navy Suit
A navy suit is one of the dressiest suits a man can wear. It's a very conservative, traditional business suit.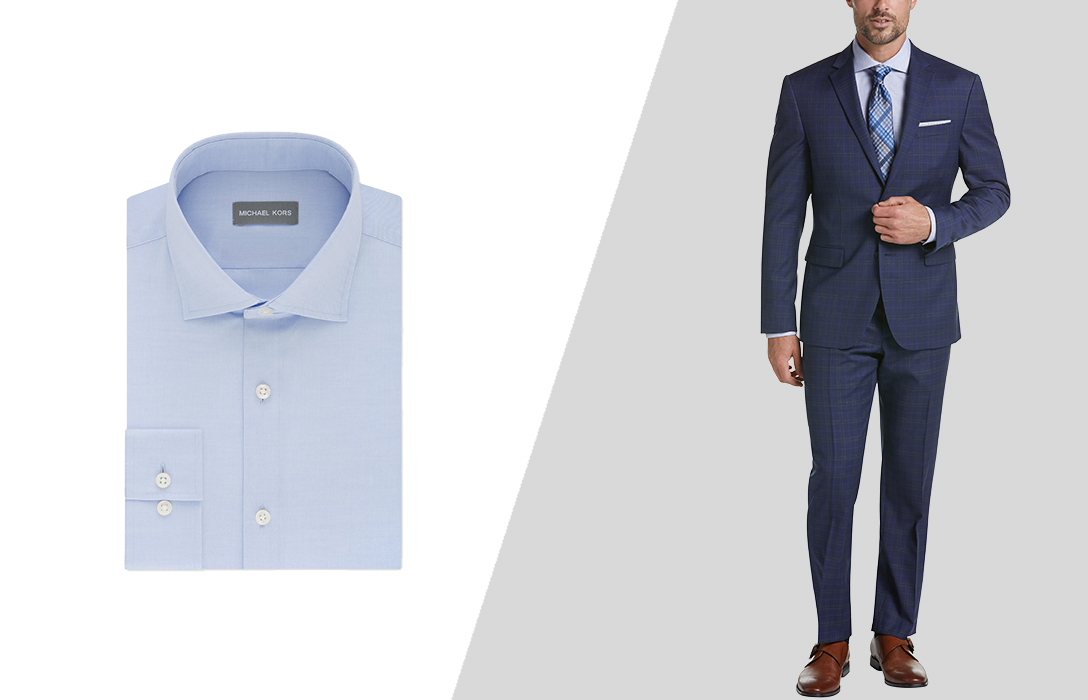 Men typically wear a white dress shirt with this suit color. However, you can pair a blue dress shirt with navy to liven up the look.
A pale blue dress shirt is your best bet, but you can also try a sky blue if you want to be even more daring.
Avoid a blue shirt that's too dark, so you don't create too much of a monochromatic color scheme.
Because navy is a pretty formal color, you should match your tie to this style as best as possible. A solid or small-pattern tie would be the best fit.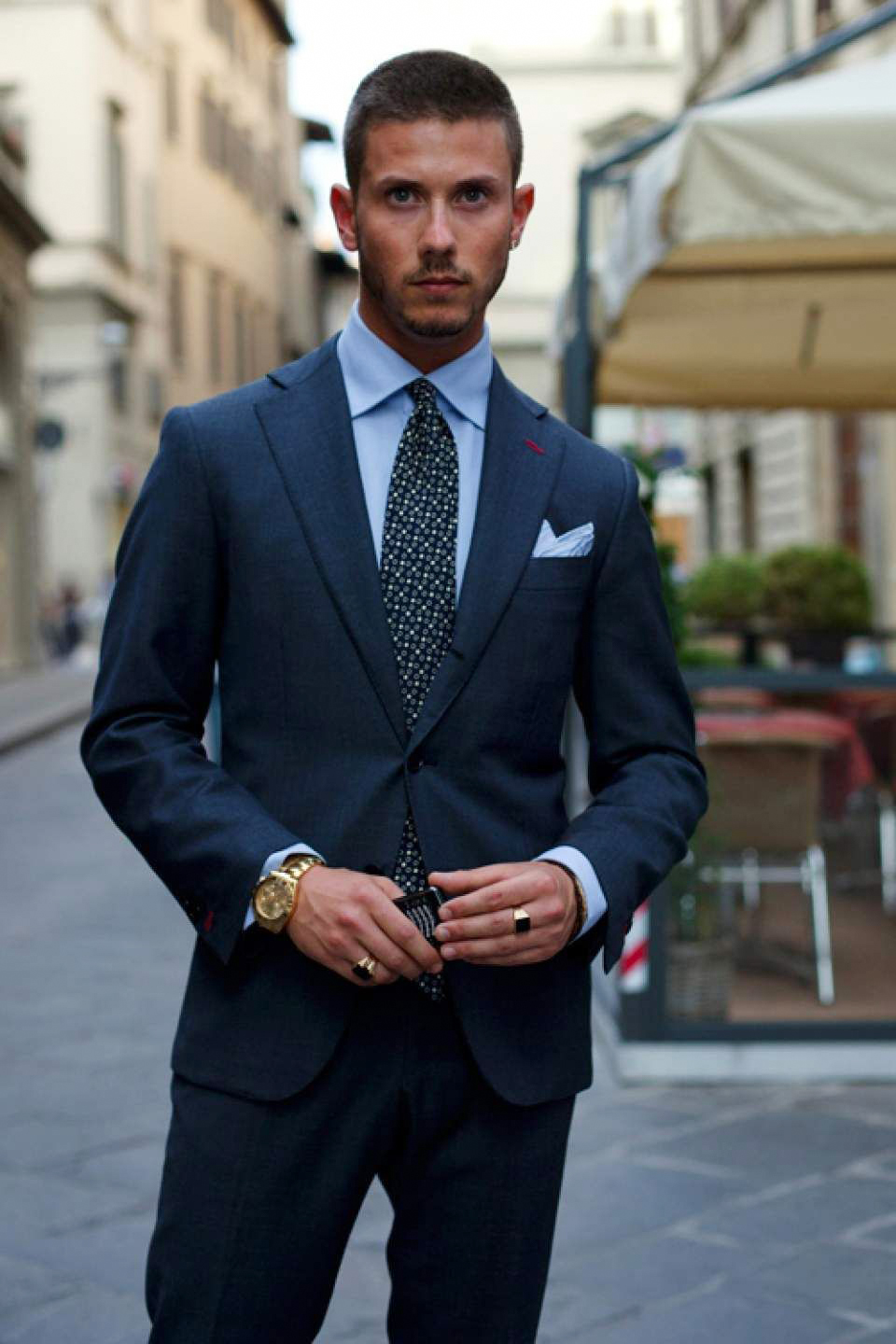 You should stick with a dark color; black and charcoal grey are the classic choices, but you could also go slightly bolder with a power red tie.
Burgundy would be in the same vein but a bit softer looking.
Read more: Tie colors for a blue shirt.
Blue Shirt & Blue Suit
Wearing a blue suit and shirt may appear monochromatic to most people, but it's actually a dapper color combination.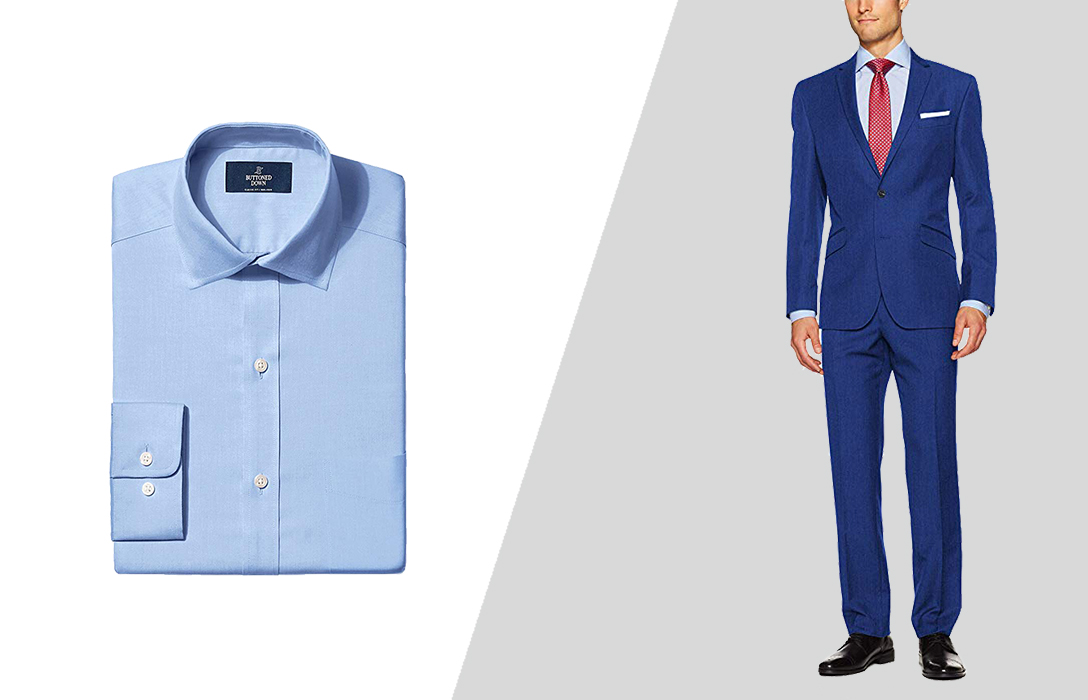 This color combination is perfect for daytime semi-formal events and is a good cocktail attire example.
The shirt has to be light or pale blue to allow the blue suit to shine. In addition, dotted or small pattern ties complete the overall appearance.
Pair them with a dark blue or navy tie for a full monochromatic look. It's best if the tie is a similar shade to your suit.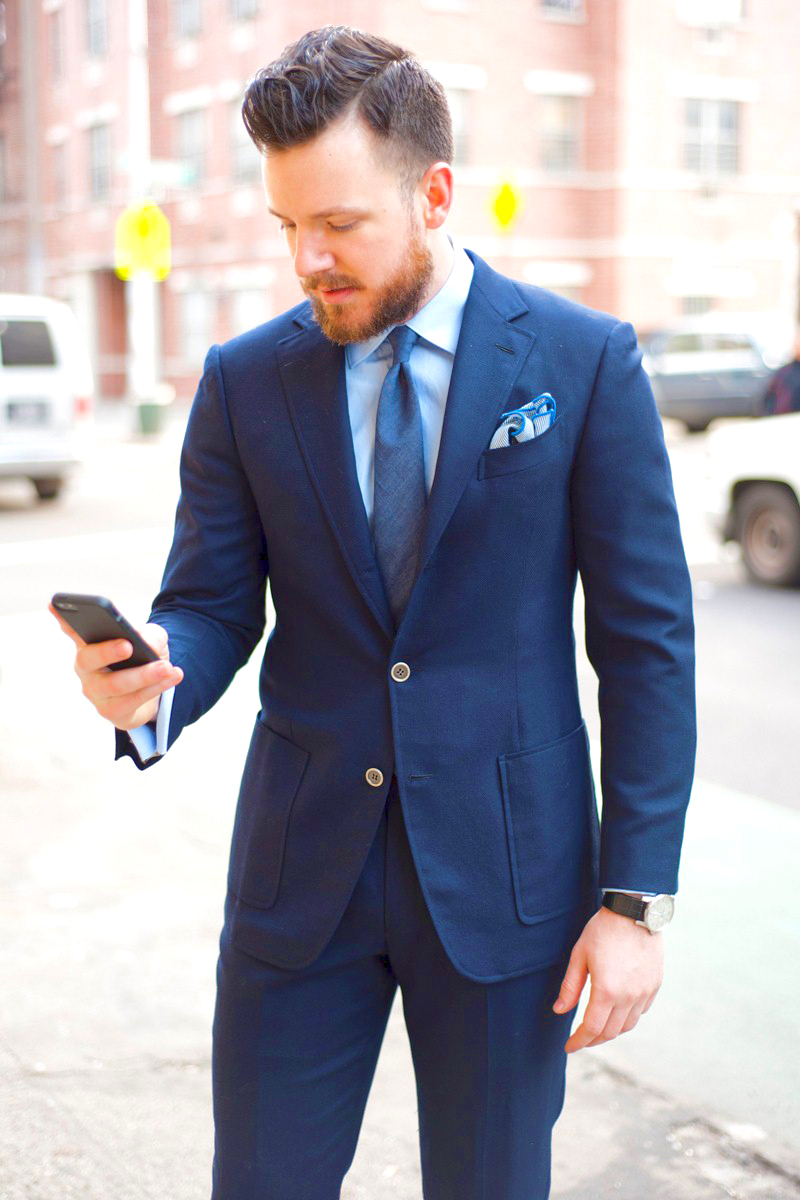 Red ties also work here. Just make sure the red is not too shiny. Instead, go for darker red shades, like maroon or burgundy.
Blue Shirt & Charcoal Grey Suit
Charcoal suits are similar to navy suits in that they are sophisticated and classy. They are among the most formal suit colors and are usually paired with a white dress shirt.
But substituting a blue dress shirt instead is a twist that loosens up this suit.
For the sake of formality, you need to keep your blue dress shirt very pale. A formal tie would be appropriate, so a dark-colored silk one is your best option.
Black, navy, or charcoal in solid color ties look very classy with this suit and shirt combination.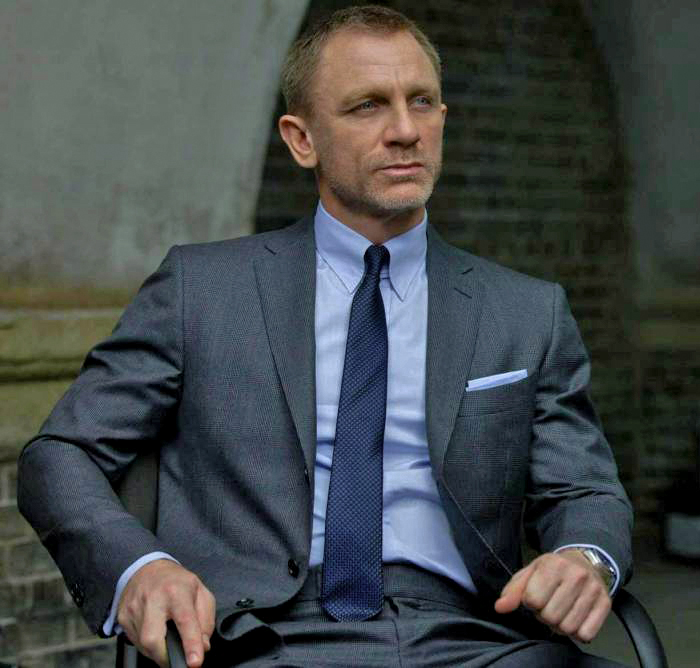 This is an ideal outfit for most business settings. You can wear a blue shirt with a charcoal suit if you work in a conservative office or have an important stakeholders meeting.
It's also suitable for a wedding or a cocktail party, although charcoal suits mostly resemble a business look.
Blue Shirt & Brown Suit
Brown suits are earthy and somewhat casual. A medium or light blue dress shirt is a lovely addition to soften up this suit and add some nuance.
Because it's casual, you have many tie options. Feel free to play with stripes, polka dots, and even texture; a knit tie might look divine!
An earth tone for your tie would help balance your brown suit, so aim for a dark brown, burgundy, or gold to brighten up the ensemble.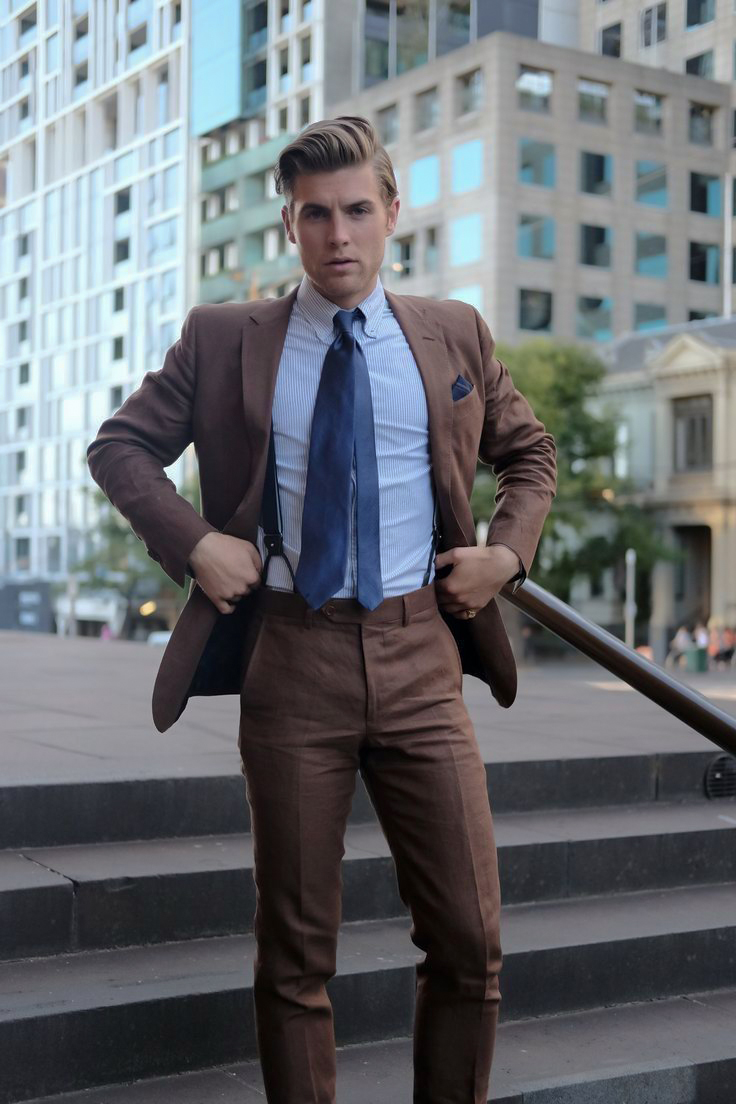 This isn't a very dressy suit, so it's wonderful to wear this to an office that's a relaxed atmosphere or perhaps out to dinner on a weeknight.
Blue Shirt & Tan/Khaki Suit
Tan and khaki suits are part of the casual suit world and typically convey a relaxed vibe. These colors are ideal suits for warm weather.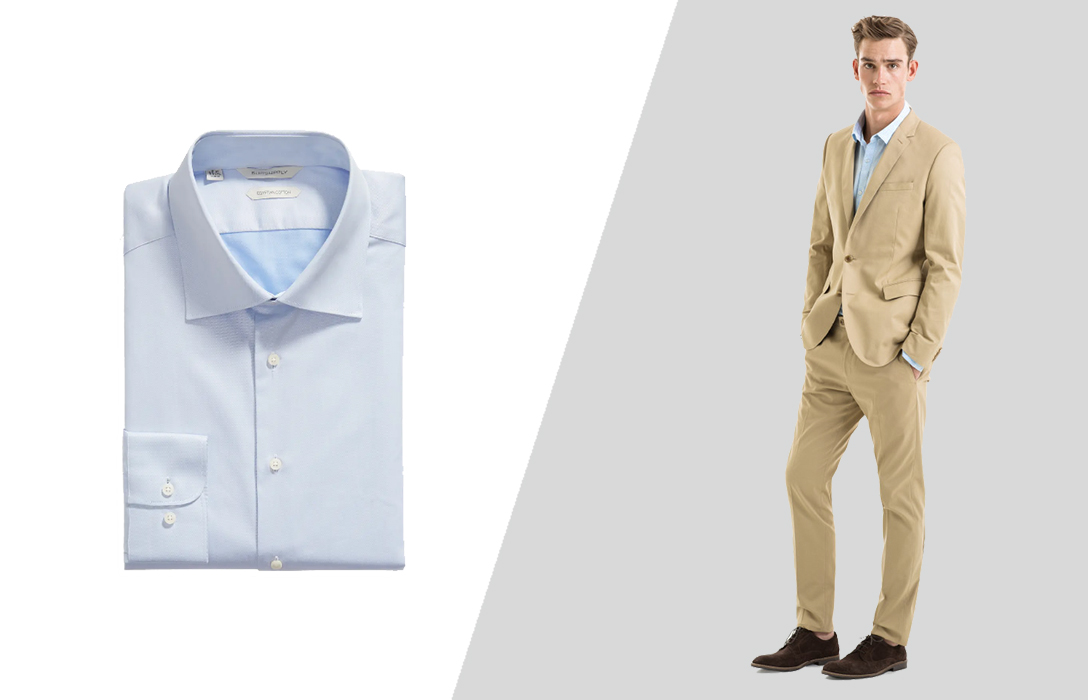 For example, a tan suit is perfect for an outdoor wedding or a weekend social outing.
A blue dress shirt seems to be a natural fit for this light suit. You also have flexibility with the shade of blue you choose.
Light blue is possibly the most popular choice for a tan or khaki suit, but a dark blue dress shirt adds a new level of interest to the standard approach.
However, a darker blue makes this outfit even more vibrant.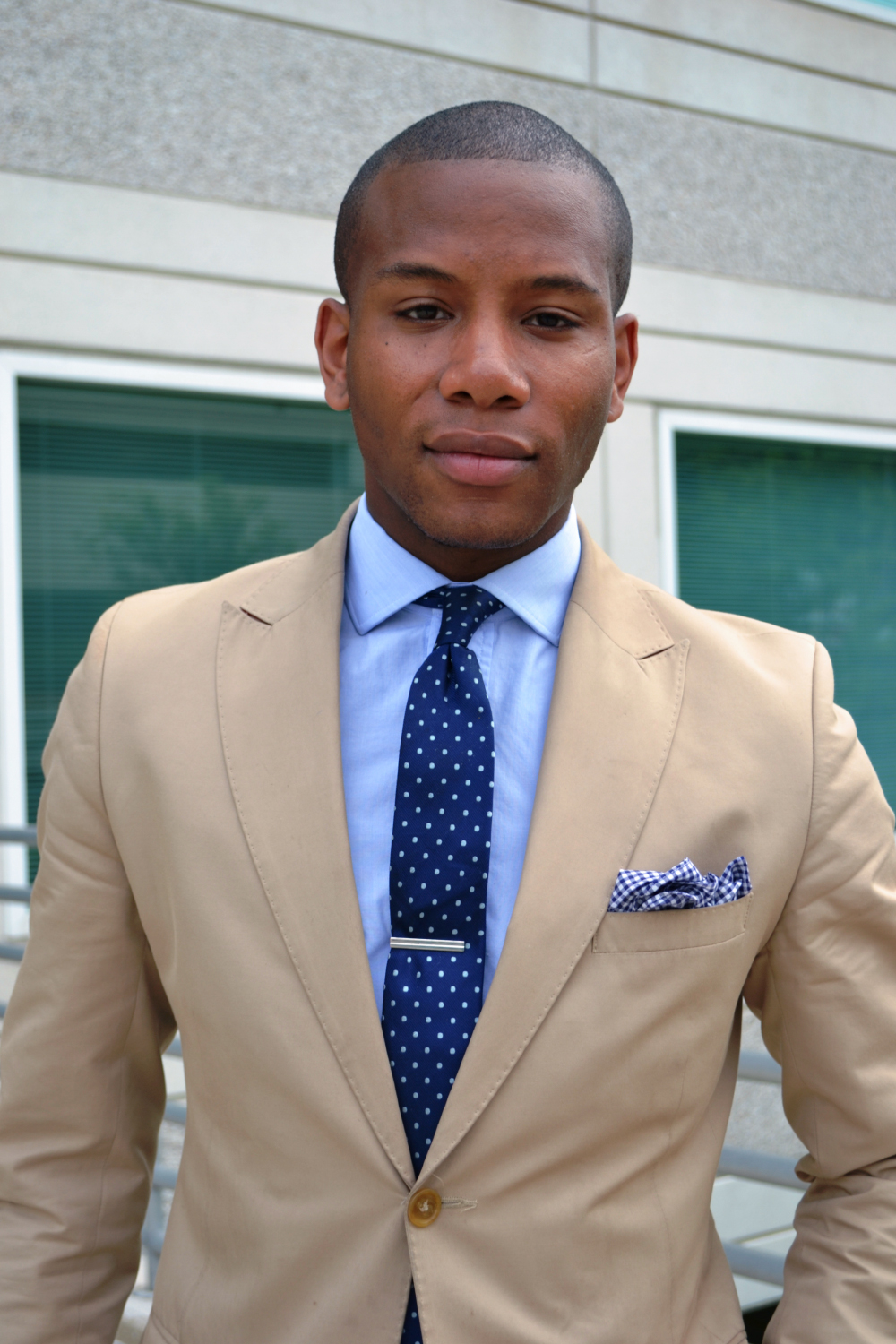 You can leave the tie at home if your aim is entirely casual. However, if you want to spruce up your suit a bit, this is the perfect time to play with colorful ties.
Pink or green would be cheeky and fun; black or navy are safe shades for a more serious combination.
Blue Dress Shirt with Separate Blazer & Pants
If you need a business casual outfit or wonder what you can wear for a casual weekend get-together, look no further than this combination.
A blue dress shirt paired with separates indicates that you want to look good and also take things easy.
Khakis or chinos and a navy blazer are classic examples of separates. It's the ultimate combination for a preppy style.
A blue dress shirt would take this traditional pairing and slightly tweak it.
Or, why not mix it up even more and wear charcoal or navy trousers and a light grey wool blazer.
This combination flips the light and dark combination of the chino and navy blazer but still looks sophisticated.
With both of these outfit choices, you can skip the tie. However, if you want to accentuate the dressiness of your outfit, wear a dark tie such as black, navy, or charcoal.
Blue Dress Shirt with Slacks/Khaki/Chinos
Pairing a blue button-down dress shirt with either slacks, khakis, or chinos is classic shorthand for preppy casual.
Khakis and chinos are very relaxed while also sticking to a smart-casual dress code. This outfit is rich, slick, and great for making an impression on a first date.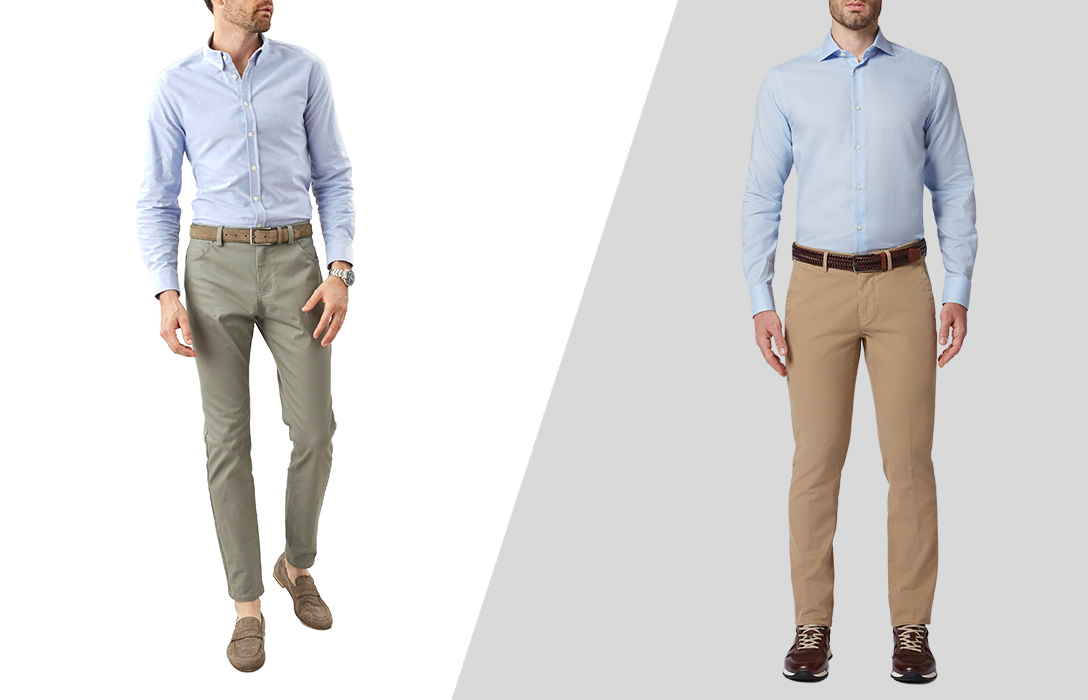 If you want to spice it up a bit more, you can wear dress slacks with your blue shirt. If not, you may consider adding a tie instead.
Navy slacks are suitable for a serious style, but if you want to try a look that's a bit more fun, wear grey. The neutrality of grey is refreshing.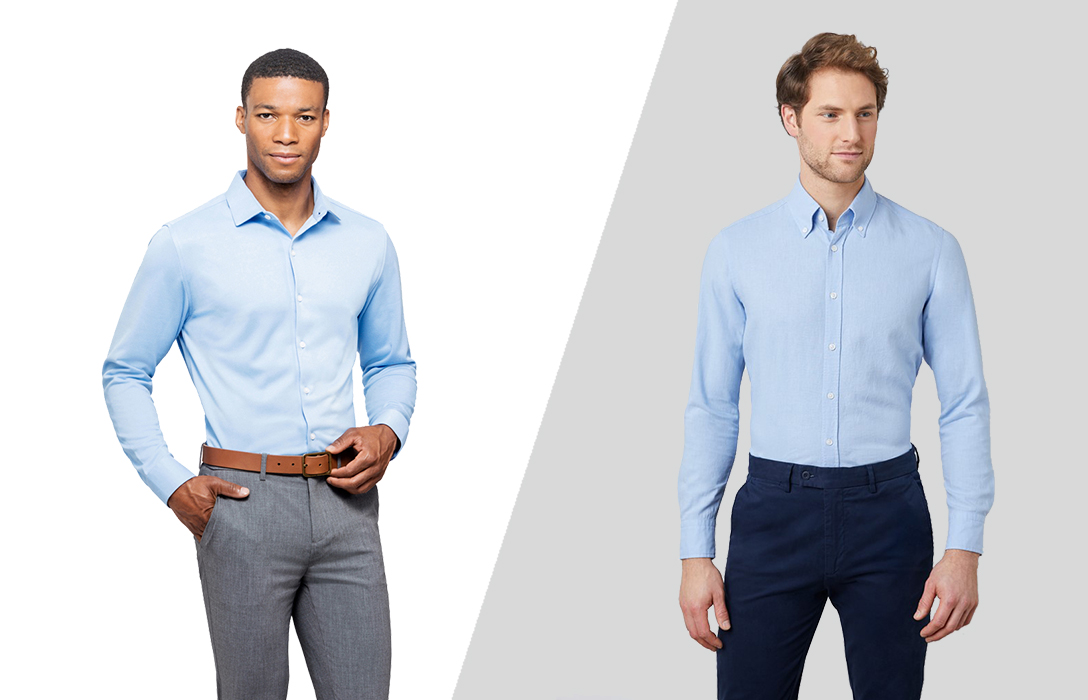 When you see these outfits, the blue shirt is a light shade most of the time.
However, if you want to try something unexpected, a dark blue shirt is a fun touch, although more casual.
Blue Shirt with Jeans
Jeans sometimes get a bad reputation for being sloppy and too laid-back.
Of course, they can be both of those things, but a pair of well-fitting dark or blue jeans can be perfect for a smart-casual outfit.
The key to pulling off a blue dress shirt with your jeans is to create a contrast between your top and your bottom.
You don't want your shirt to be the same shade as your jeans. A bright, sky-blue shirt can look unique and very trendy. A pale blue dress shirt may also dress your jeans up a bit.
Avoid black shoes and belts with very dark jeans; a medium shade of brown leather perfectly complements this color scheme.
Shoes You Can Wear with a Blue Dress Shirt
A blue dress shirt can fit any number of looks, from very dressy to super relaxed casual. That is fantastic news for your shoe choices!
When you wear your blue dress shirt in a dressy ensemble, such as a charcoal or navy suit, the number one shoe style choice is Oxfords.
Oxfords definitely need to be black if you are in the charcoal suit, but you have some options with the navy suit.
Dark or medium brown Oxfords or Derby shoes are the preferred choices for a navy suit, but you can get away with black, too.
Loafers are an excellent option for warmer days. They are slightly more casual but look way more fashionable.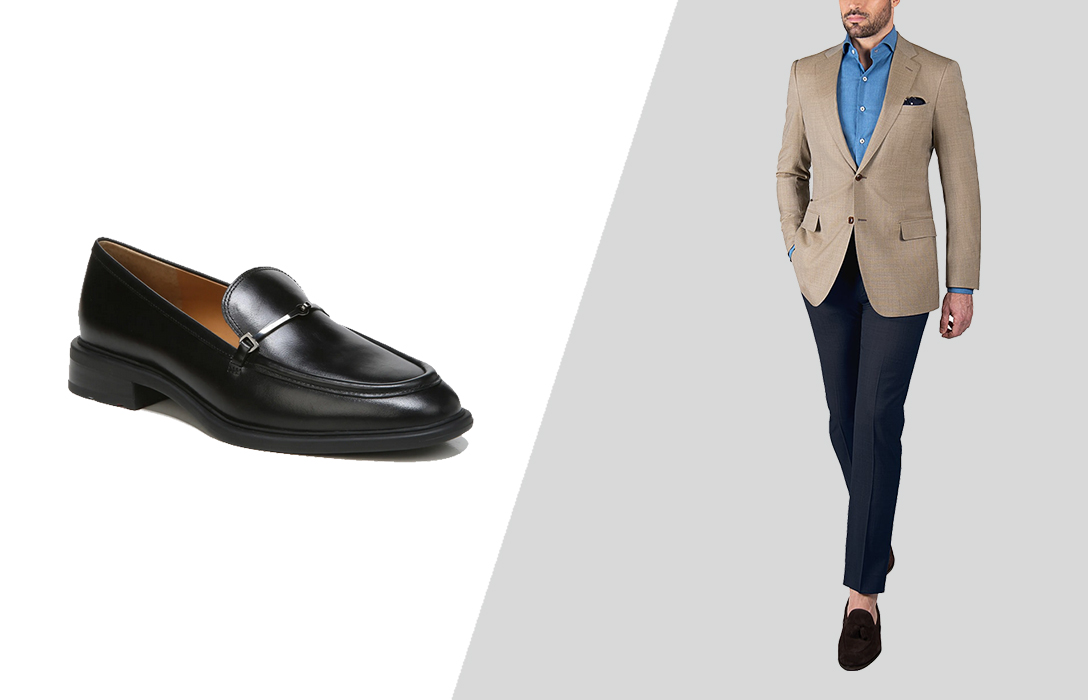 For more casual nighttime outfits, experiment with more unusual shoe choices. For example, monk straps stand out, while brogues look incredibly contemporary.
Author: Alexander Stoicoff
Hi, I'm Alex, and I've studied and specialized in styling in Rome. Through my writing, I want to help men dress well and learn the purpose and significance of suits and other formal attire. My final goal is to make men more confident in their wardrobe choice and life in general.