Men's casual attire has become indispensable in nowadays wardrobe, business and non-formal alike. It can easily give you an elegant and ideal look. Especially if you know how to master it.
If you're going to spend a serious amount of time and money on your clothes, you'll want to get as much mileage out of it as possible.
While a suit is traditionally considered the basic formal attire, it doesn't mean that you can't dress properly for a business occasion without a suit.
In fact, today's clothing choices are more versatile than they have ever been, and the 'casual' look allows you to create your own style. Good taste and dress sense aside, the only limit is your imagination.
How is Casual Attire Defined
The casual attire falls into two main categories; Business Casual, and Smart Casual. Business Casual is further defined as no suit, but no jeans either. It also means adapting your outfit to your place of work and the job you do.
Smart Casual, on the other hand, is all about avoiding the extreme ends of the sartorial spectrum. This means no jeans, trainers, hoodies, or sweatpants. It also means no tie, suits, pleated trousers, and no dress shoes in black.
Business Casual Attire
The business casual look should fit in with your company's culture. Age is essential too, and the older you are, the more formal the look should be.
White-Collar Business Casual
If you work for a bank, a law firm, or an accounting company, this is the look for you.
It is on the more formal end of the business casual attire spectrum, and should include the following:
Blazers and Sports Coats
A blazer is an essential component in your business casual wardrobe. Stick with dark colors and avoid gold buttons.
Navy is probably your best bet as it is the most classic blazer color of all. Go single-breasted rather than double, as this can look too powerful.
Example: Slim fit navy blazer by Ferrecci.
A sports coat is another good choice for the white-collar environment. Stay away from brash colors and opt for something less loud and with a more subdued pattern.
Dress Shirts
Go for a long-sleeved white dress shirt in cotton. Pastel tones, or light blue, are a good choice here, too. An Oxford, for example, is perfectly acceptable. Leave the top button undone, or go for a knit tie to tone things down.

Example shirt: Slim fit white shirt by Calvin Klein.
A plain white oxford is ideal for business casual wear. Add a serious tie, throw over a blazer, and you're ready for that unexpected meeting with the boss.
Neckwear
White-collar doesn't demand you wear a tie, but you surely can if you want to. Choose knit or grenadine ties because they underscore the business casual character.
If you want to make a real statement go with a bow tie, but when in doubt, stick with a tie.
Dress Pants
Solid navy dress pants work well. So do grey or even charcoal. You can choose flat fronts or pleated for your business casual wear.

Example pants: Grey slim fit dress pants by Veggors.
Tuck your dress shirt in neatly, add a sports coat or a blazer and you're good to go.
Khakis, Chinos and Corduroys
Khakis and chinos are appropriate in a lot of casual work environments these days. But check to see what everyone else is wearing first.

Example pants: Navy slim-fit chino pants by Van Heusen.
Pair them with a contrasting blazer to prevent your pants from looking 'too casual'. Corduroy pants can be allowed in the colder months. Just apply the same rules to these as you would to chinos.
Sweaters
Cardigans and turtle necks work well on colder days when paired with a sports jacket or a blazer. Slip them over a cotton shirt for casual Fridays. Generally speaking, knitwear will make a formal outfit a look a lot more relaxed.
Shoes and Boots
Rather than the classic oxfords or derbies, get creative and go for unusual colors like Burgundy and oxblood. You can also try chukka boots, monk straps, or comfortable loafers.

Example shoes: Casual oxblood dress shoes by Jousen.
Balmoral or Chelsea boots are ideal too.
Service Industry Business Casual
This sector includes jobs in sales, trade positions, and any situation where you interact with the public.
On the other hand, if you sit in an office without any customer contact, your boss will probably have a more relaxed sartorial attitude.
Jackets
Wearing a jacket is likely to be optional. So if a dress shirt and blazer is too much, try a vest or cardigan instead.
Shirts
A classic shirt for business casual is the button-down shirt. But a long-sleeved polo shirt can be acceptable too. Again, check first to see what your colleagues are wearing. You don't want to be the only one wearing polos.

Example shirt: Slim fit blue shirt by Tommy Hilfiger.
Hoodies, t-shirts, pullovers or casual sweaters without a collared shirt underneath, might be some men's idea of casual. But not when you're aiming for business casual.
Neckwear
In this environment, neckties and bow ties are optional. But they can elevate your look and work well with casual jackets, cardigans, and even knitted vests.
Pants
Dress pants are perfectly fine, but khakis and chinos are probably the best options. Darker tones like grey or navy are the most versatile, but lighter colors are preferable in warmer weather.

Example pants: Dark khaki casual pants by Amazon Essentials.
Sweaters
Once you decide to drop the jacket, let sweaters become your best friend. They'll keep you warm, look stylish, and add a casual note to your outfit.
Shoes/Boots
Stay away from tennis shoes and sneakers. Instead, choose something that is modern and casual at the same time.

Example shoes: Navy/brown casual shoes by Sperry.
You are allowed to vary the material though, so they don't have to be leather. Fabric or suede work too.
Startup Business Casual
Startups can be far more casual than traditional companies. They are likely not to have a company dress code.
Hierarchies will be typically low, and staff can usually wear what they want. This is especially true of the tech environment.
Jackets
Jackets are probably too overdressed here, but startups are known for their generous culture of acceptance. If you enjoy looking sharp, feel free to wear your jacket however you like.
Shirts, Sweaters and Neckwear
Most startups consider t-shirts to be just fine. But a nice, trim polo looks a lot smarter.

Example shirt: Red/Navy regular fit casual shirt by Double Pump.
Sweaters are entirely acceptable. Neckwear is not the norm but as with jackets, go for it if you want to.
Trousers and Shorts
Most startups will be totally fine with denim. You might even see people wearing cargo shorts. That said, you'll probably make a better impression wearing lightweight summer slacks.
This is because, subconsciously at least, people will judge you on your appearance. Looking your best can never harm your reputation. Turning up at the office dressed as a slob can.

Example pants: Slim fit navy blue pants by Dockers.
Try a sports jacket matched with a pair of good quality jeans. This combo will create an effortless, polished look that will fit in with most work-related situations.
Boots and Shoes
An attractive pair of boots or shoes will always make a better impression than a pair of sneakers. Be adventurous here. Mocassins, spectators, and stone, blue, green, or even red suede loafers, are all allowed.

Example shoes: Blue oxford shoes by Golaiman.
If you must wear sneakers, go for a clean pair in good condition. Nice canvas shoes can be acceptable too but stay away from tennis shoes.
Bags
A leather or canvas bag is your best bet here. Color-wise, anything goes, except maybe a glow-in-the-dark green and pink with a cartoon figure on the front.
Bags with cable and camera compartments along with built-in chargers are widely accepted these days. But whatever you go for, skip the backpack.
Business Casual Attire & Accessories
If your job involves being constantly on the move, you need to pair what you wear outside with your indoors attire. The active, weatherproof jacket you wear on your travels may not sit well with your office blazer, for example.
The Quilted Jacket
This wrinkly warm and lightweight classic is easy to care for and machine washable. Just make sure it's slightly longer than your indoor jacket for a well-put-together look.

Example: Navy/grey quilted jacket by Vince Camuto.
The Trench Coat
Trench coats look great in the Spring and Fall. If you want to create a less mature impact, go for one that stops just above the knees.
The Peacoat
A perfect cold-weather business casual companion, the peacoat is less formal than an overcoat. But it's still stylish and due to the many pockets, it's also highly functional.
Gloves and Scarves
A lovely paisley scarf and a pair of quality leather gloves can provide the perfect finishing touches to your business casual attire.

Example: Wool lined dress gloves by Acdyion.
When in Doubt Dress Up, Not Down
You might be unclear whether or not business casual is allowed in your workplace. If that's the case, always go for an overdressed look rather than underdressing.
When in doubt, wear a suit and tie the first day, then see how people react. If all else fails, ask your supervisor or a superior.
Business Casual Attire Conclusion
Business Casual for men means different things in different work environments, so it can be difficult to get absolutely right. The trick is to observe your surroundings and check out what your peers are wearing.
Finally, if you're unsure, always dress up rather than down.
Men's Smart Casual Attire
The term 'smart casual' came about to prevent people from showing up overly casual. Smart does, after all, imply no trainers or jogging shoes.
But the lack of any clear guidelines has meant that smart casual attire has become something you simply throw on. The truth is, the look is entirely open to interpretation and is best not taken too literally.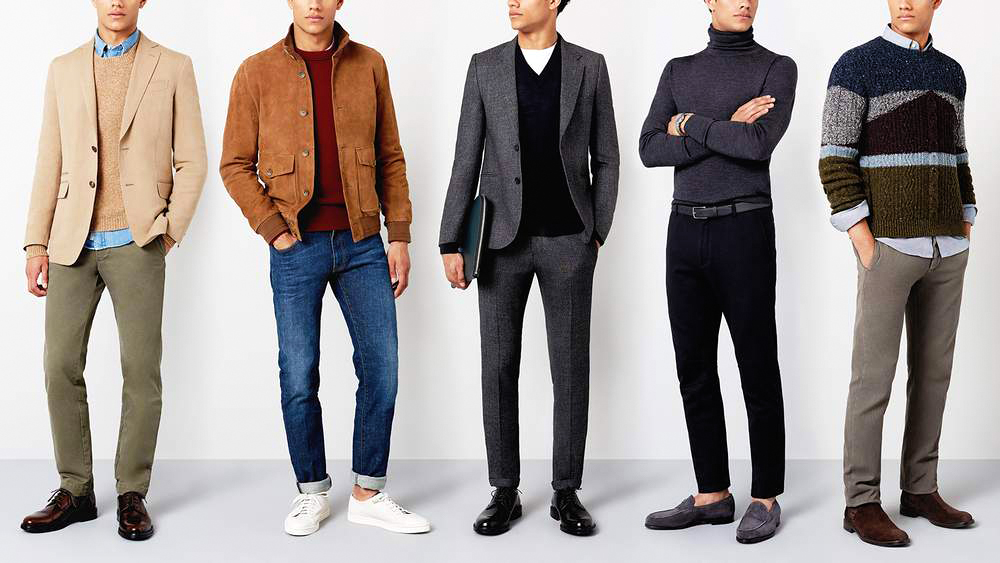 This doesn't mean you should wear sweatpants with a blazer. Or a dress shirt and tennis shoes. Smart casual isn't about combining different pieces of clothing from various degrees of formality. Instead, pick something in between a formal, and a casual outfit.
A hoodie would be obviously very casual. So you don't want to match it with a pair of wool dress pants. On the other hand, chinos, combined with a nice polo shirt, hit the perfect smart-casual sweet spot.
The smart casual dress code allows the use of multiple colors in one outfit. It also means you can combine items you otherwise wouldn't. The secret is to stay away from the extreme ends of the clothing spectrum.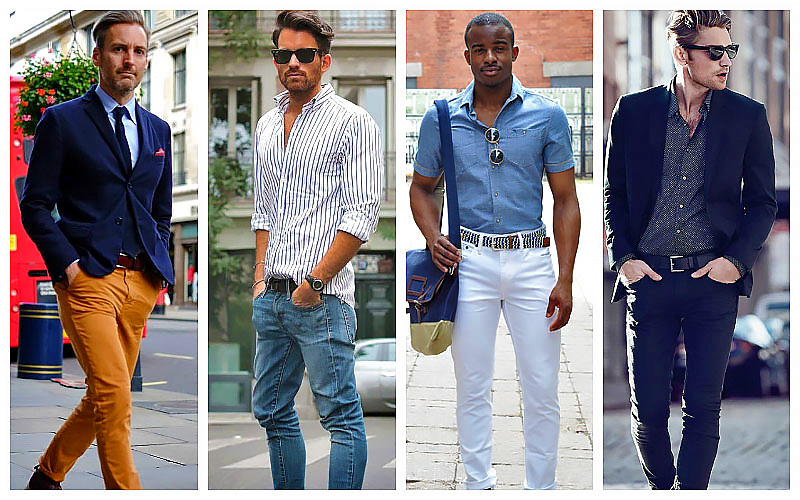 This means no sweatpants or jeans, and no hoodies and trainers. At the same time, neckwear, suits, pleated pants, and black dress shoes should also be avoided.
Where Men's Smart Casual is Allowed
You won't find this look in the office. You will, however, encounter smart casual on cruise ships, at vacation resorts, and in restaurants. The goal is to avoid appearing over-stuffy and to look neat and presentable instead.
Let's assume you work in a white-collar environment, and your boss invites you to a casual after-work event. He usually sees you in pinstripe suits, dress shirts, and ties.
Hence, you want to bring a change of clothes. If your office dress code is a bit more flexible, you could get away with wearing a blazer and chinos to the event.
You can also feel free to wear bolder socks and shoes. Tones of brown, dark red, dark green, or navy, can help create a more comfortable outfit. Remember, your look should not be as stuffy or boring as you usually wear in the office.
Dress Up Or Dress Down?
Just as with business casual, the rule of thumb is to dress up rather than down. This way you may look a little overdressed, but you certainly won't embarrass yourself.
Just make sure you stay within that smart casual boundaries, and away from the extreme ends of the clothing spectrum.
Must-Have Smart Casual Items
When it comes to smart casual attire, most of the choices remain with the wearer. However, some things are almost "mandatory".
Odd Jacket or Blazer
If you're aiming for the formal side of smart casual, a slightly bolder, odd jacket or a blazer is ideal. Unusual here doesn't mean strange, just that it doesn't match your pants.

Example: Three-button dark blue casual blazer by Jinidu.
This doesn't mean you should wear an orphaned jacket from your pinstripe suit with a pair of red pants. That would be just too odd.
If you'd prefer a more casual jacket choice, feel free to go for a cotton or linen jacket in a pastel color. You could even wear a leather or bomber jacket if it compliments your overall outfit.
Checked Shirts
Dress shirts are fine for smart casual, but steer clear of t-shirts. And choose something other than a solid white or pale blue. These colors have been reserved for formal business wear since time immemorial.

Example: Aqua classic fit shirt by Buttoned Down.
Even better, go with a collared, checked shirt. Smaller checks like houndstooth work well, but bolder stripes are also good. Just make sure you have some contrast with color, and it's not all too stiff.

Example shirt: Teal/Navy slim fit shirt by Amazon Essentials.
Linen shirts are perfectly acceptable in warmer climates. If you prefer short sleeves, then stay away from dress shirts and go with a classic polo instead.
Chinos, Corduroys and Linen Trousers
Avoid jeans and pleated pants of worsted wool. These are office wear and far too extreme for smart casual. Go with chinos, and perhaps corduroys in colder weather.

Example pants: Mallet chino pants by Tommy Hilfiger.
Linen pants are great for the summer. Choose pants with a subdued pattern, and a bit more texture to stand out a little from the crowd.
Smart Casual Footwear
Going casual doesn't mean you should leave your leather shoes at home. A pair of good quality, clean leather shoes always work, just about anywhere, and with any outfit.
Both leather and rubber soles are allowed but avoid the overly formal black. Brown tones or tans are ideal and even dark red, green, or off-white, are entirely acceptable for most events.
Remember, you're looking for a pair of shoes more casual than traditional business shoes. Penny loafers or two-tone tassel loafers are great. Driving moccasins work well too. But they will wear thin when worn on a daily basis.
Your safest bet is probably a pair of quality boat shoes. They are leather, look relaxed, and you can even wear them sans socks. In my opinion, tennis shoes and trainers are a little bit too casual.

Example shoes: Blue/Brown boat shoes by Golaiman.
But a lot of men like designer sneakers or leather sneakers, so if you're into that kind of thing, go for it.
In Conclusion
If you're ever in doubt about smart casual, always dress a tad more formal. This way, you can be sure you're correctly attired, and still radiate an air of relaxed confidence.
You'll gain the respect your dress sense deserves, and show everyone that you do understand the smart casual look.