You've noticed that more men are wearing a pink dress shirt these days.
The color is becoming more popular with suits and menswear in general, and with good reason.
It's a soothing color that is so flexible that you can wear it with nearly any suit color. It's a nice change of pace from the traditional crisp white dress shirt.
And don't forget, it's a very cheery color. Who couldn't use a little pick-me-up throughout their day?
Different Shades of Pink
There is a vast range of shades and tones of pink.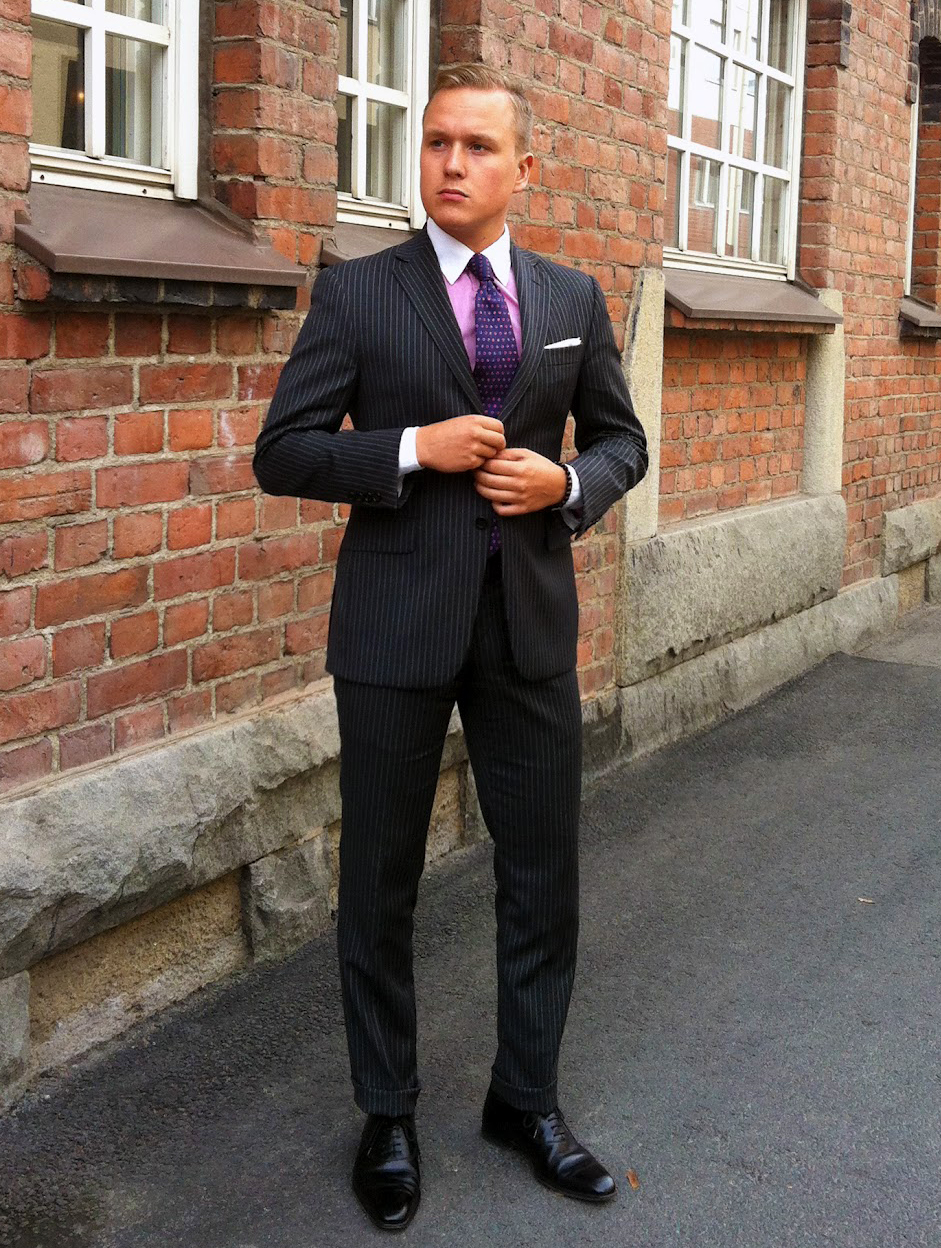 For example, you can find neon hot pink, pale carnation pink, or even a peachy salmon that fits into the pink family.
Some pinks are closer to red; these are the deep shades of pink that tend to be bold and bright.
If you add tinges of purple, you find pinks that are in the Fuschia and mauve spectrum.
For business suits, however, it is best to go lighter. Pink tones with a lot of white in them are pale pink and are most professional.
What Colors Match with Pink
Pink has a reputation for only being a niche color. That's all changing these days. And thank goodness, too, because pink goes with a surprising number of other colors.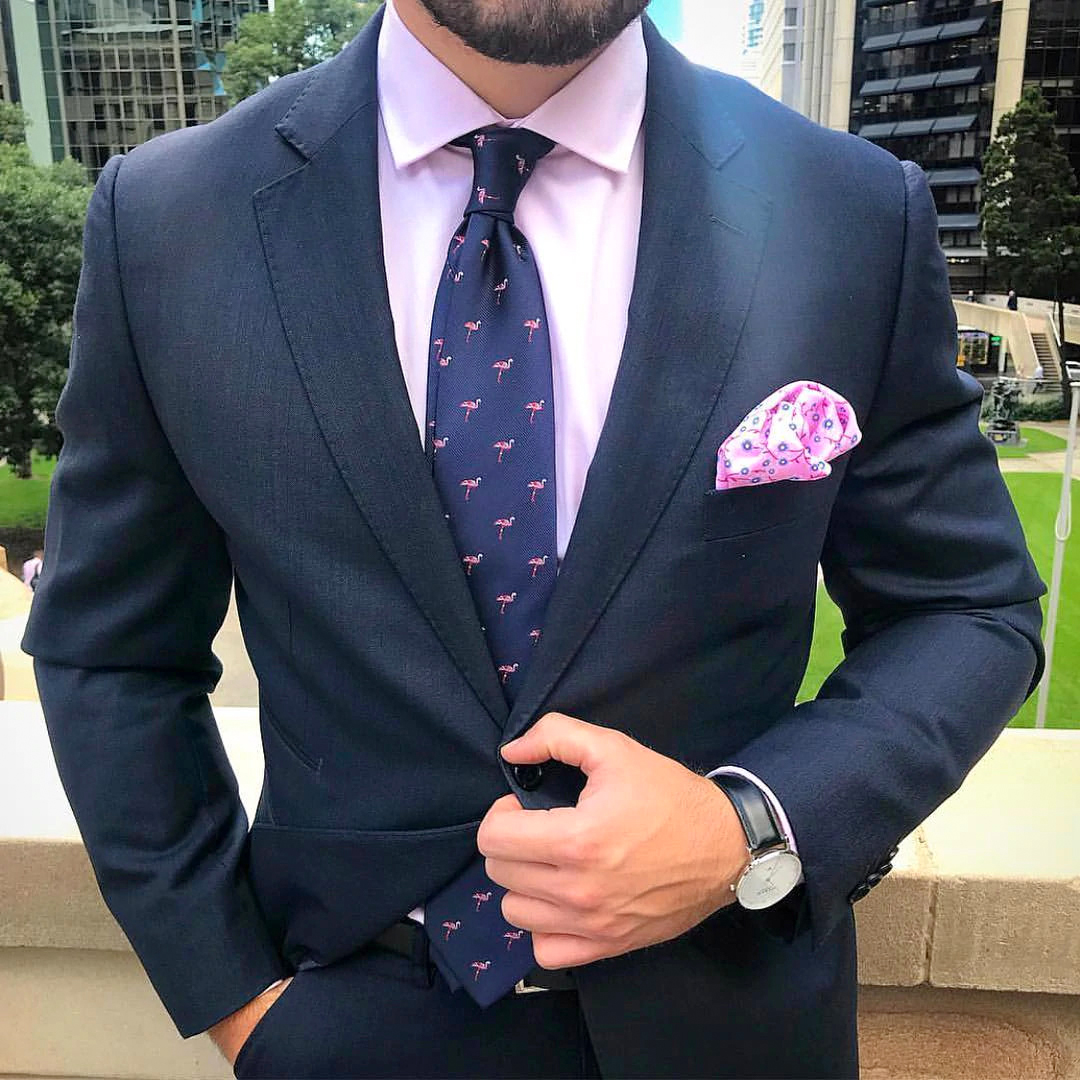 Neutral shades are especially easy to pair with pink, as they play up the richness of this color.
Pink will always match with blue, navy, grey, cream, brown, and even red shades. These are the most common ways to match pink dress shirts in men's fashion.
However, don't shy away from making a bold color choice when pairing pink. You might be surprised to learn that the right shade of green can be the exact right partner for your pink.
Different Pink Dress Shirts for Men
Now that you are well-versed in the various shades of pink and what other colors complement them, you may wonder how to incorporate this trend into your wardrobe.
A pink dress shirt is the most natural way to work this color into your closet. There are several dress shirt styles that you can rely on to make this transition.
Button-up Dress Shirt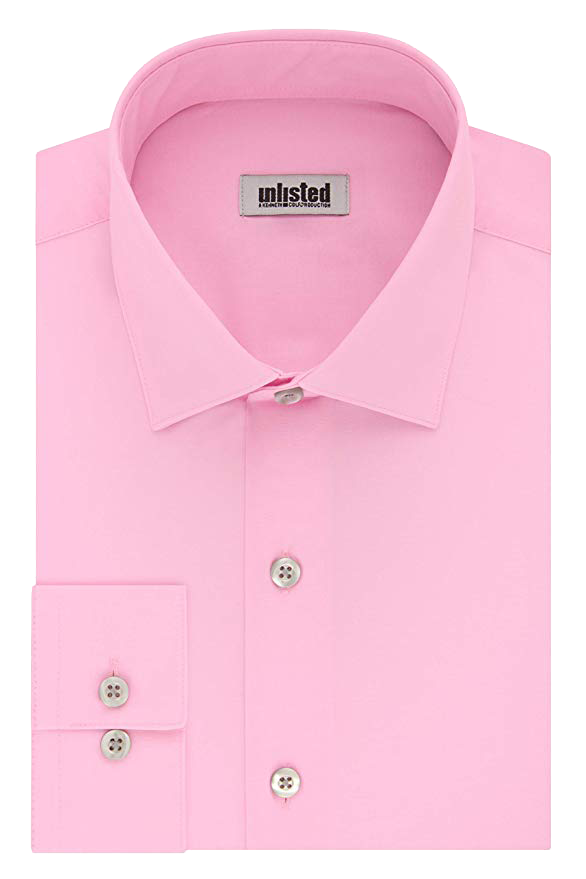 A button-up dress shirt is the most formal style for men's shirts.
If you are concerned about dressing conservatively or need the dressiest look possible, this is the style of shirt you should rely on.
It's perfect for work and formal social events, whether you need a semi-formal or cocktail dress.
A light pink button-up dress shirt paired with a suit and a tie is an elegant alternative to the standard white dress shirt that most men wear.
Keep in mind, though, that even a very pale pink will slightly lower the formality of your ensemble.
Light pink is the perfect color for this garment because it's very subtle yet noticeably stands out.
However, if you are looking to be slightly cheeky, you can choose a somewhat darker shade.
Button-down Dress Shirt
A button-down dress shirt varies slightly from its cousin, the button-up dress shirt.
It's similar in most ways; both have long sleeves and buttons the entire front length.
The main exception is that the collar has tiny buttons to button it down. It makes this dress shirt style more casual than a button-up dress shirt.
This dress shirt shouldn't be your number one choice if you plan to wear a tie.
However, it's totally acceptable to wear a tie with a button-down dress shirt, especially if you try to increase the formality of your business attire.
Keep in mind that a button-down collar shirt is considered more of a casual work shirt, pairing well with chinos and similar trousers.
Pink Striped Shirt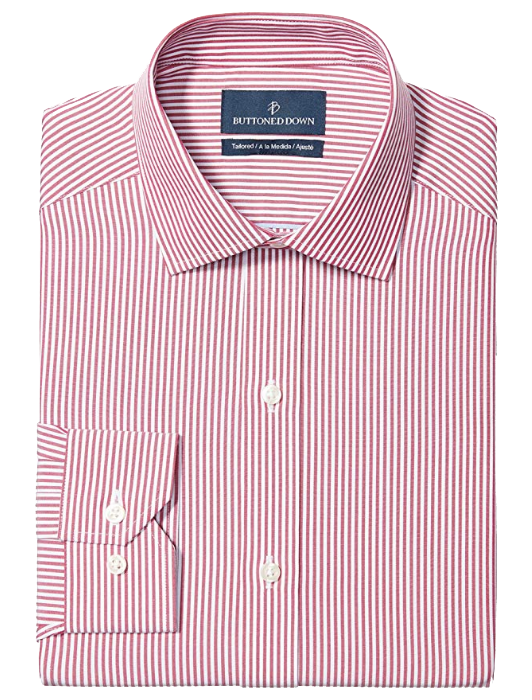 If you still aren't feeling quite ready to fully commit to wearing a pink dress shirt, try easing into it with a dress shirt with pink stripes.
You'll get a hint of pink while still staying within your comfort zone.
This dress shirt style looks great with suits, but consider that printed shirts are more casual than solid ones.
Be careful if you combine a pink striped shirt with a patterned suit. It's acceptable to do so, but you need to ensure that the patterns don't clash.
A subtle plaid print on a grey suit, for example, would look quite sophisticated.
Short-Sleeve Shirts
You don't need to confine your pink to only dress shirts. A short-sleeved shirt is a wonderfully sporty way to mix pink into your casual ensemble.
If you are comfortable enough to have on a shirt with short sleeves, that must mean that the weather is warm.
Since you're dressing casually and it's warmer weather, you can dare to dabble in bolder tones of pink. Or perhaps a gingham pattern would suit your mood.
You can pair a pink short-sleeved button-up, polo shirt, or t-shirt with nice blue jeans or khakis.
For a very warm and leisurely day, a nice pair of shorts are perfect, too.
How to Wear a Pink Dress Shirt with a Suit
Pink is a superb dress shirt color, even if it isn't appropriate for formal or conservative settings.
Pink dress shirts elevate a dull suit, taking it from boring to stimulating. It even cheers up the tedious black suit.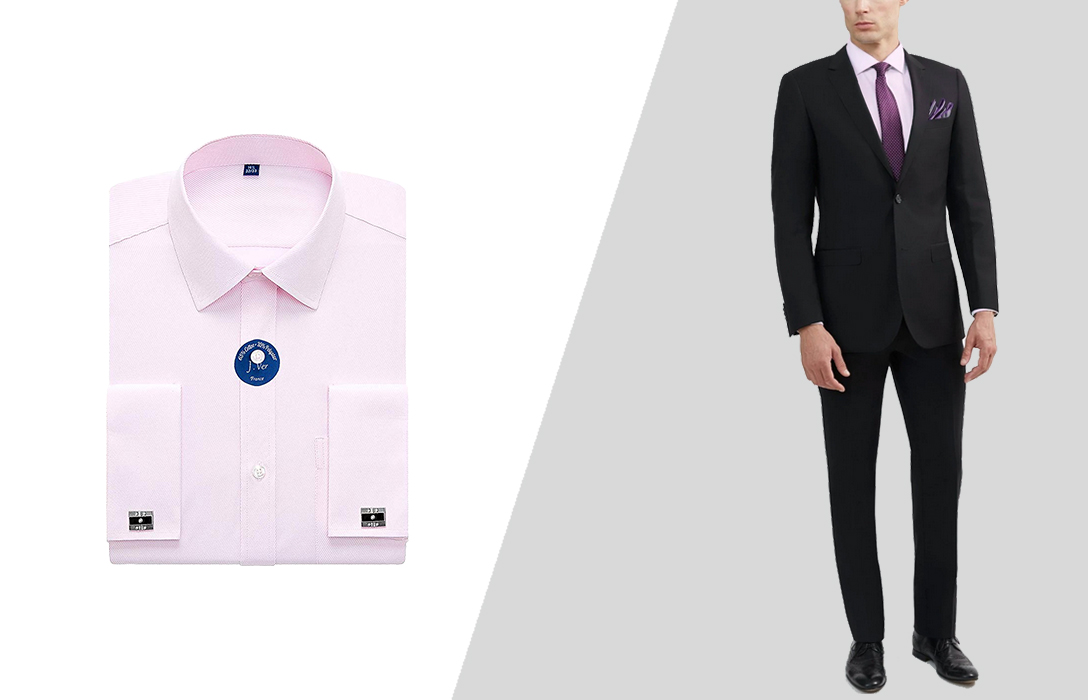 It may take a little practice to get used to matching pink with the rest of your wardrobe, but the effort is well worth it.
Pink Dress Shirt & Navy Suit
Navy is such a deep, dark shade that looks very sophisticated and stylish. This makes navy suits the most desired suit color choice for men.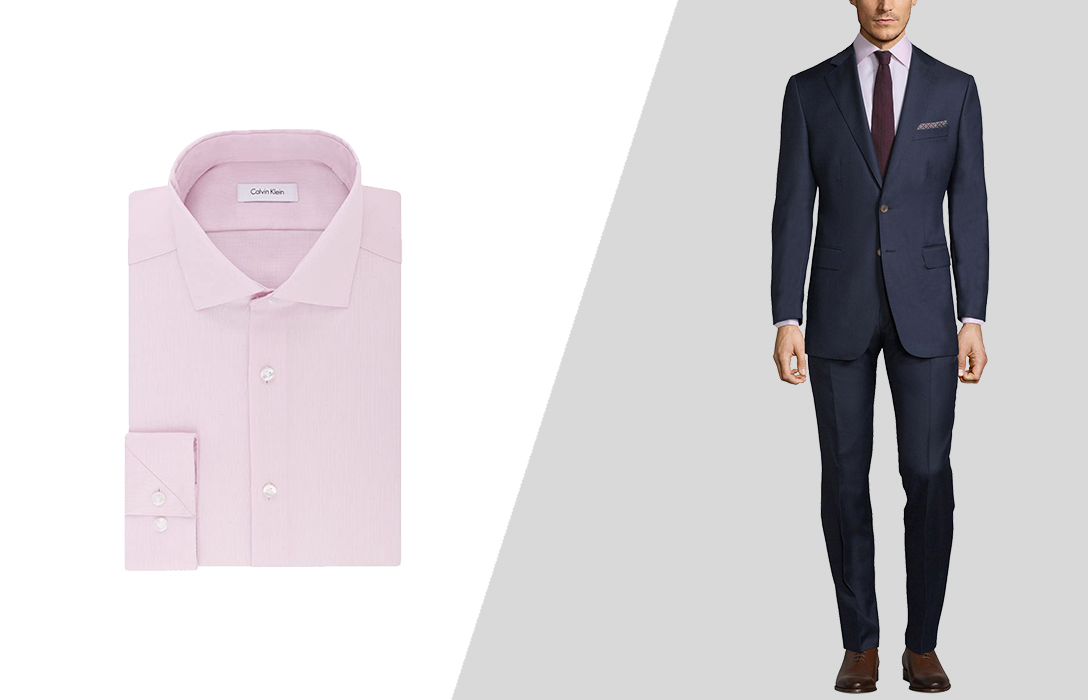 Because navy is such a dressy color for suits, very pale pink is the best shade of pink to wear with it. It feels close to a white dress shirt but with a hint of shading.
Tie color choices are in abundance with this ensemble. You can keep the tie in the same color family and go with a navy tie or a darker pink one.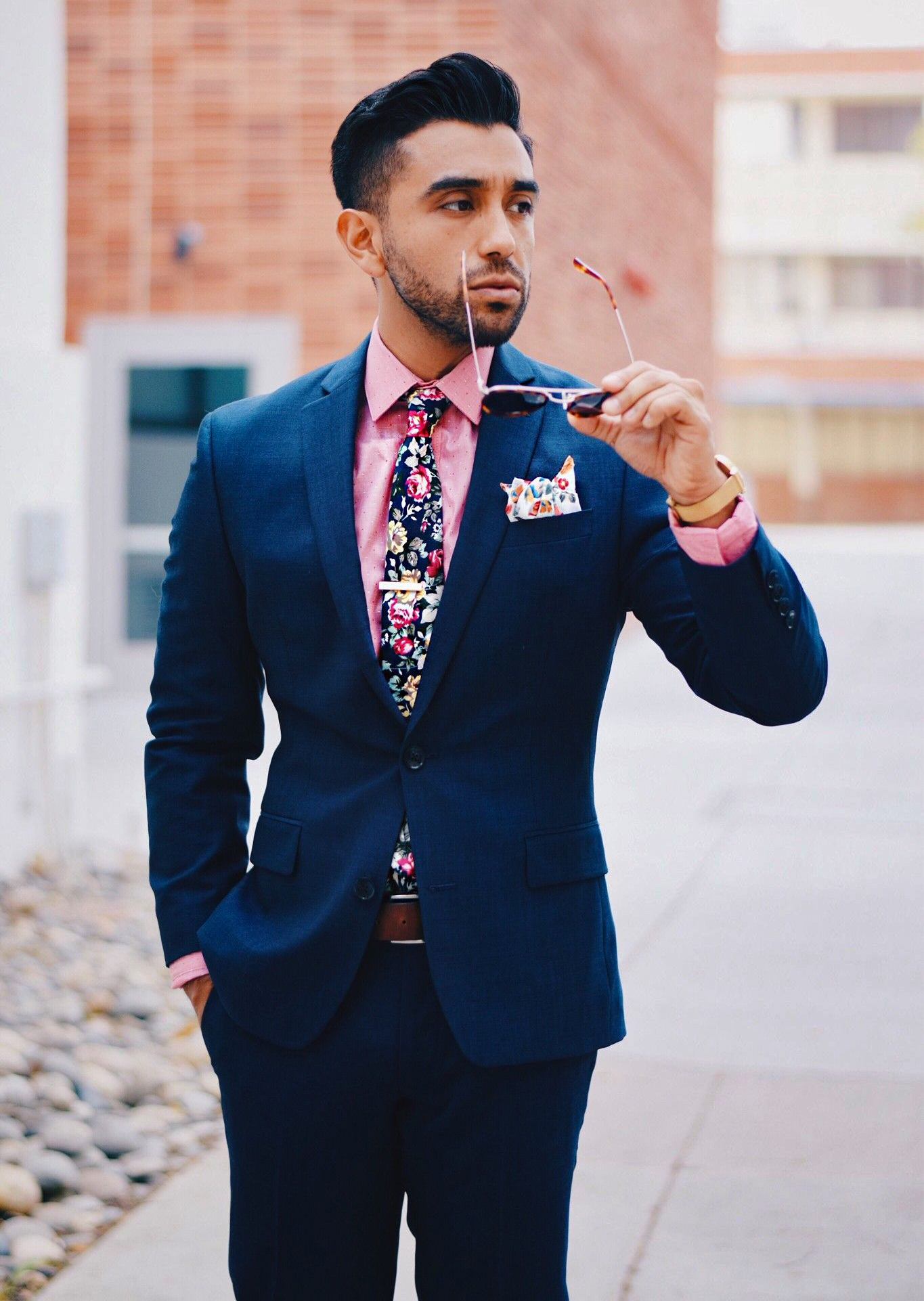 Light blue is a lovely, less formal choice, and red is surprisingly robust. Try burgundy for a more toned-down, subtle red tie option.
If you need semi-formal or cocktail attire, this outfit is ideal.
Pink Dress Shirt and Blue Suit
A blue suit is perfect cocktail attire. It's not a formal outfit, but it is both dressy and fun at the same time.
Because this shade isn't as deep as navy blue is, you can opt for a deeper, more true shade of pink for your dress shirt.
However, it should still be paler and not flashy. The blue suit covers that.
Subdued tie color is your best choice. Black, navy, or charcoal grey all look elegant next to the blue and pink.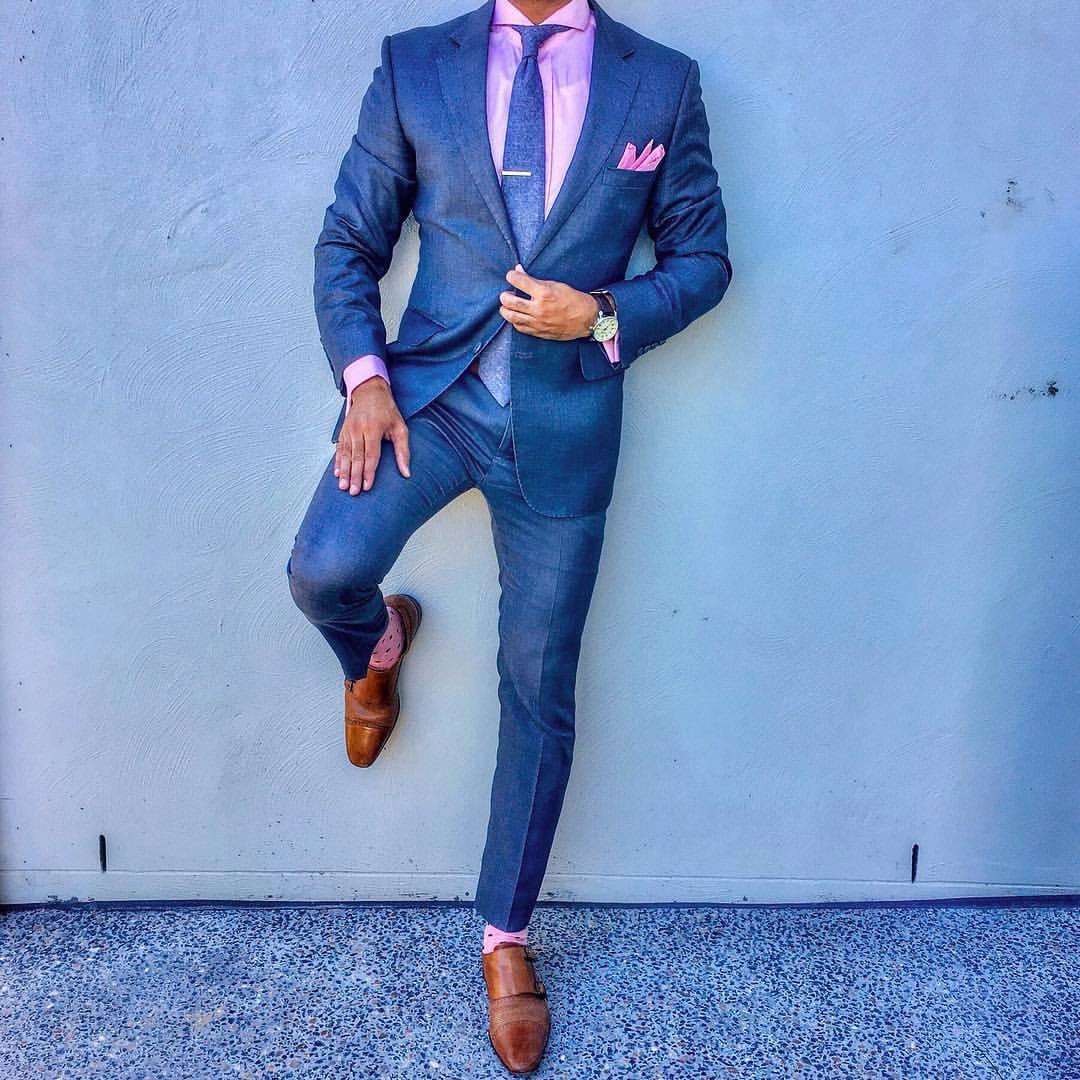 However, an infusion of color can keep your ensemble fully cheery; look for a blue tie to match your suit or a pink tie that's darker than your dress shirt.
Fuschia is a bold, fun choice. Again, a power red makes a bold, assertive statement.
Pink Dress Shirt & Grey Suit
Grey suits can cover a lot of ground; charcoal suits for formalwear or light grey for business casual.
The shade of your pink dress shirt depends on which end of the spectrum you fall with your grey suit.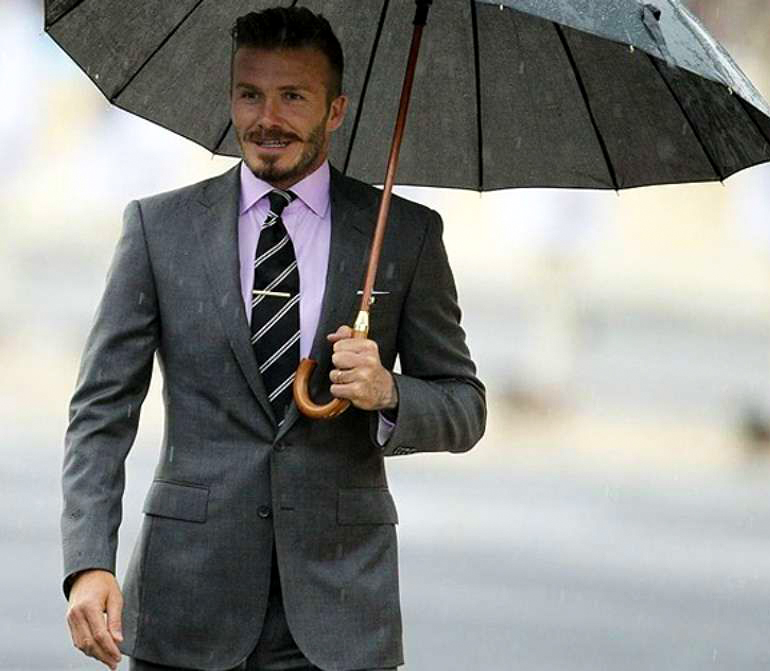 As a general rule, if the suit is dark, a light dress shirt looks best. If the suit is light, you can go for a deeper color. It's all about creating balance.
Both suit tones work well with a variety of tie colors.
For example, a dark grey tie looks very nice with either suit. As does black, blue (both light and dark), deep pink, and burgundy or maroon.
Burgundy doesn't seem like a natural fit with pink; however, it adds subtle sophistication because it's a toned-down red.
Pink Dress Shirt & Brown Suit
Brown suits are casual and are frequently considered rather dull. The addition of a pink dress shirt perks up the brown and makes it more interesting.
Pink and brown make an exciting combination and save this possibly dull suit.
A pale pink dress shirt may look too bland; you can afford to bump up the pink shading with a brown suit.
This could also be the right opportunity to wear a patterned dress shirt. A striped or plaid pink dress shirt will add further depth and interest.
If you decide to wear a tie, a darker brown than (or at least as dark as) your suit makes for some nice layering.
You could opt for black, which would look quite sophisticated, or burgundy. Olive green is another surprisingly chic choice.
You'll stand out from the standard business casual suits in your office with this ensemble. It's also good for a casual dinner date.
Pink Dress Shirt & Tan/Khaki Suit
Khaki and tan suits are staples of summer weddings and warm-weather cocktail parties; essentially, they are the ideal suits for summer outdoor occasions.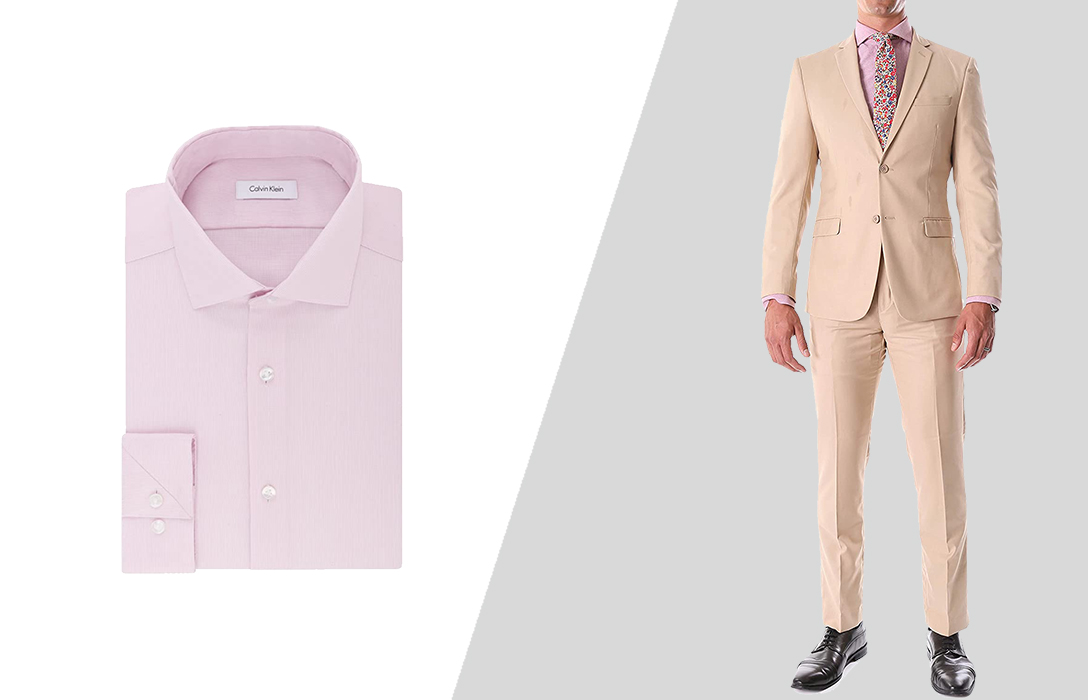 And since these lighter suits aren't formal, they are the perfect shades to kick up the fun and pull out the brighter pink dress shirts.
You'll dazzle in a khaki suit with a true, cotton candy pink dress shirt.
If you are up for attracting a good deal of attention, consider trying out a fuchsia dress shirt. It's bold but a fantastic shade that perfectly complements a neutral suit color.
If you opt for a bright pink dress shirt, you can rein things in slightly with a neutral tie, such as navy, black, or tan.
A pale shade of pink is another acceptable option. Or a small print, such as thin stripes or plaid, is a great way to keep things interesting.
Pink Dress Shirt & Burgundy/Maroon Suit
Nothing radiates suaveness like burgundy or maroon suit. You'll only find these on special celebratory occasions, and they are radiant.
The addition of a pink dress shirt is irresistible, like a cool summer drink.
It would be best to look toward lighter shades of pink; a bright pink might leave you looking too flashy.
Soft baby or cotton pink is very eye-catching if pale pink feels too muted and soft.
You don't need to go crazy trying to find the ideal tie color. You can be playful, or you can even ditch the tie.
Burgundy or maroon ties keep your ensemble feeling airy; navy will ground it elegantly.
Floral ties look absolutely phenomenal as well. Don't shy away from striped or dotted ties; light dots can add an interesting sense of texture.
Pink Dress Shirt with Separate Blazer & Pants
A pink dress shirt isn't only for suits. It can spice up your more casual outfits, too.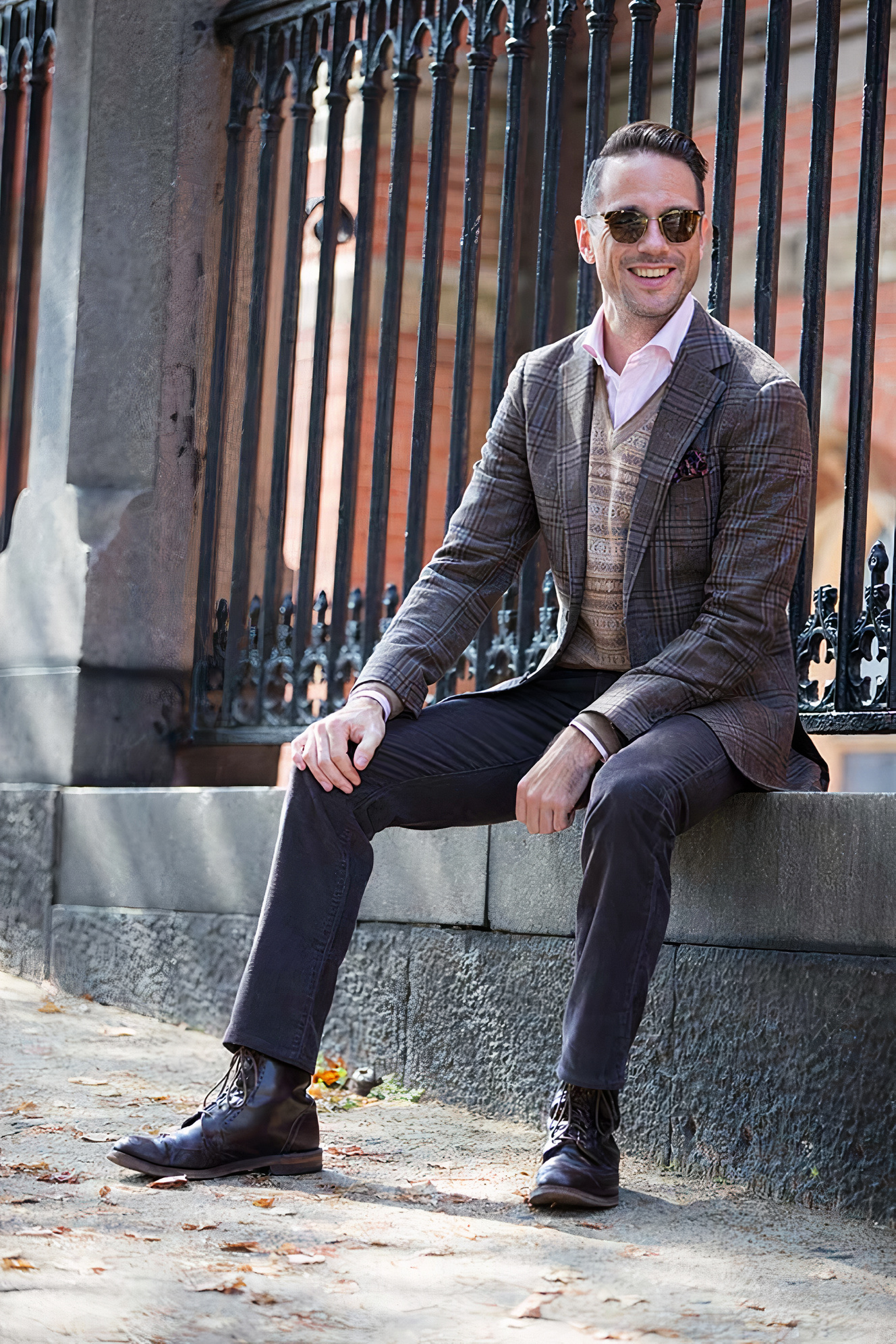 And because pink is such a versatile color, there are multiple color combinations for this business casual ensemble.
Navy pants are always a fantastic foundation for separates. Once you add the pink dress shirt, try out a grey blazer; this is an exceptional color scheme.
If you are looking for something a little more casual, a brown blazer is an excellent alternative. Also, a tan blazer is warm and fashionable if you want to go for something vibrant.
Or, you could reverse the above orders. Start with a pair of medium or light grey trousers, and top it off with a navy blazer. It's casual but still very professional-looking.
If you want a super laidback yet polished outfit, your pink dress shirt will look stunning against a pair of white dress pants.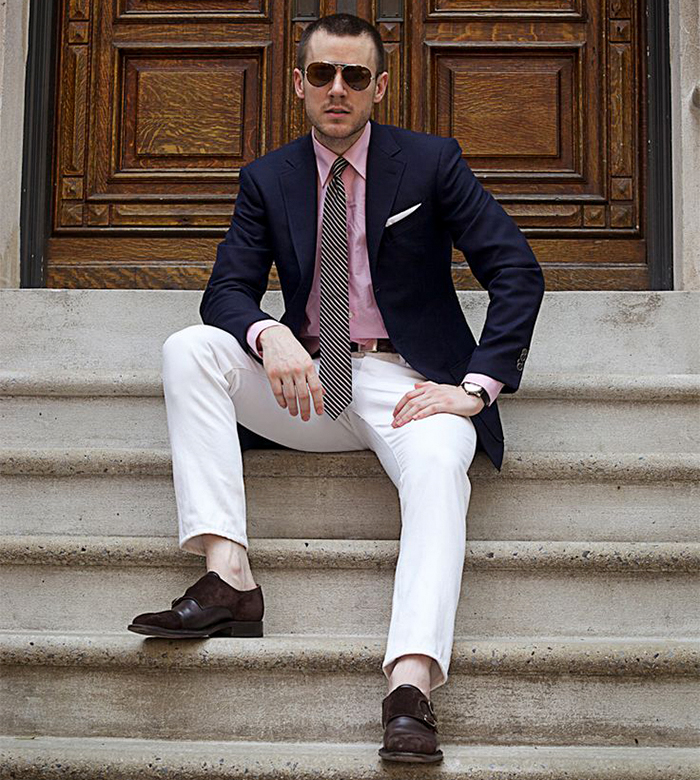 You can then lean into this relaxed, summertime vibe with a vibrant blazer of sky blue, mint green, or another layer of pink. However, this probably won't work for most offices.
You'll find this outfit best suited for beach weddings, vacation dinners, or your next tropical cruise.
Pink Dress Shirt with Slacks/Khaki/Chinos
Slacks, khakis, and chinos are the basis for most of the best smart casual outfits. The addition of a pink dress shirt opens up many possibilities.
Navy pants are a time-honored classic, and a pink dress shirt is an excellent contemporary upgrade.
You can mix things up with a charcoal grey blazer, but you definitely don't need to wear one. Roll up your sleeves, untuck your shirt, and keep things relaxed.
Khakis vary in shade, so the exact color of your pants will affect which shade of pink you should choose for your dress shirt.
You need to be sure that your pink matches the tone of your pants. So, for example, if your khakis are on the darker side, like tan, light pink would work best.
But beige tends to be one of the lightest khaki colors; you can go bright pink with those, so your colors don't blend too much.
Pink Shirt with Jeans
You don't need to save your pink shirts only for when you are dressing to impress. Try out a pink shirt with blue jeans for a relaxed, trendy style.
One of the nice things about wearing jeans with a shirt is that you can dress them up slightly or be one hundred percent casual, as long as they are in good condition.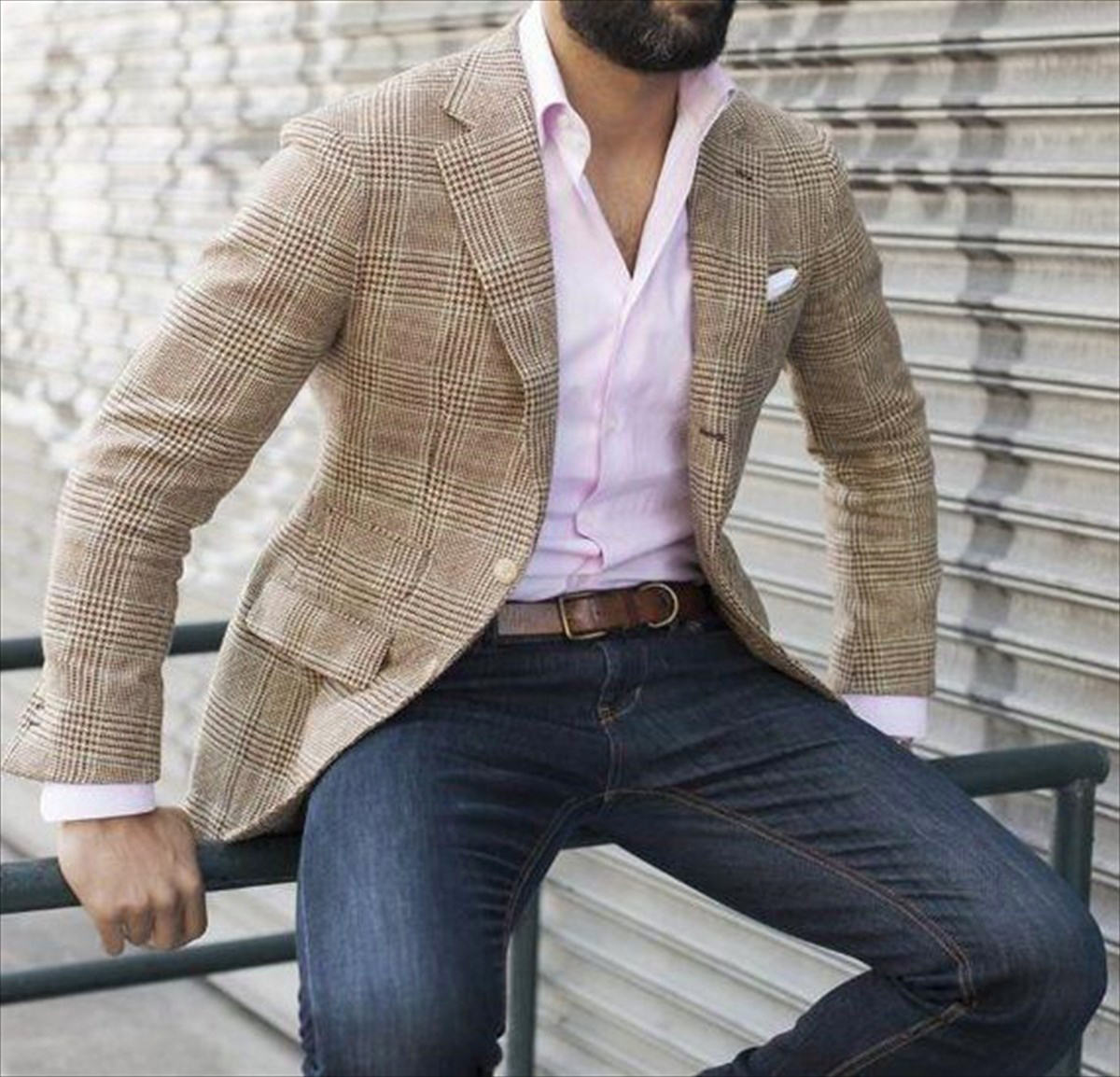 So, your pink button-up dress shirt will be a brilliant pairing with your blue jeans, but you can also be comfortable in a pink polo shirt or a pink t-shirt.
No matter which shirt you choose, leave it untucked. It's a perfect touch for that laidback effect.
You can even top off any of these shirt choices with a blazer. It will completely change the tone of your outfit, which is all the more fun.
Shoes You Can Wear with Pink Dress Shirt
When you know what type of message you hope to send with your outfit, you will have a pretty good idea of some shoe options.
Depending on the colors of the rest of your outfit, you can wear either black or brown leather shoes if you are leaning toward a dressy appearance.
Oxfords or derby shoes are the most formal shoe choices, so stick with those for your more conservative suits.
Brown Chelsea boots, brogues, or monk strap shoes are terrific choices if you wear your pink dress shirt with a business casual or smart casual ensemble.
If you're entirely casual, consider white or grey sneakers. Or, those colors are also excellent shades to try out a pair of loafers for your leisurely days.
Play with the material since you are already being daring with your pink shirt. For example, grey suede would make a particularly sophisticated statement.
How to Wear a Pink Dress Shirt FAQs
You might still feel like a pink dress shirt is a little outside your comfort zone. That's understandable, but you'll get its appeal once you try it out. Here are a few final thoughts to leave you with.
How do I choose the proper shade of pink?
The colors in the rest of your outfit will be your strongest guide. You should make sure that your pink doesn't overpower your suit or leave you looking bland.
Your own coloring is also helpful in determining your ideal shade.
Can I wear light blue jeans with a pink shirt?
Absolutely! Light blue is one of the greatest matches with pink, no matter which shade. They make the perfect team.
Just be sure that you have enough contrast between your blue and pink.
Should men wear pink?
Definitely. The notion that pink is a girl's color is entirely outdated. It was devised as a marketing tool and nothing more.
Let's break those associations and make pink dress shirts mainstream for men again!
How do I know if I have the right coloring to wear pink?
You have the right coloring to wear pink. That's because pink is flattering to all skin tones and hair colors. The key is simply finding the perfect shade for you.
Author: Alexander Stoicoff
Hi, I'm Alex, and I've studied and specialized in styling in Rome. Through my writing, I want to help men dress well and learn the purpose and significance of suits and other formal attire. My final goal is to make men more confident in their wardrobe choice and life in general.