No doubt you've seen other men wearing a pinstripe suit and noticed how fantastic they could look.
If you're wondering how you, too, can pull off the look, rest assured.
Yes, pinstripe suits require a little extra effort. However, once you learn some of the basics for bringing this suit to life, you'll see that it can serve you well.
What is a Pinstripe Suit – The Basics
Pinstripe suits have been around for decades, seeing the height of their popularity in the 1940s.
They typically have very professional associations, often connected with bankers and Wall Street financiers.
However, the pinstripe suit is much more versatile than it's given credit for. And anybody can wear one!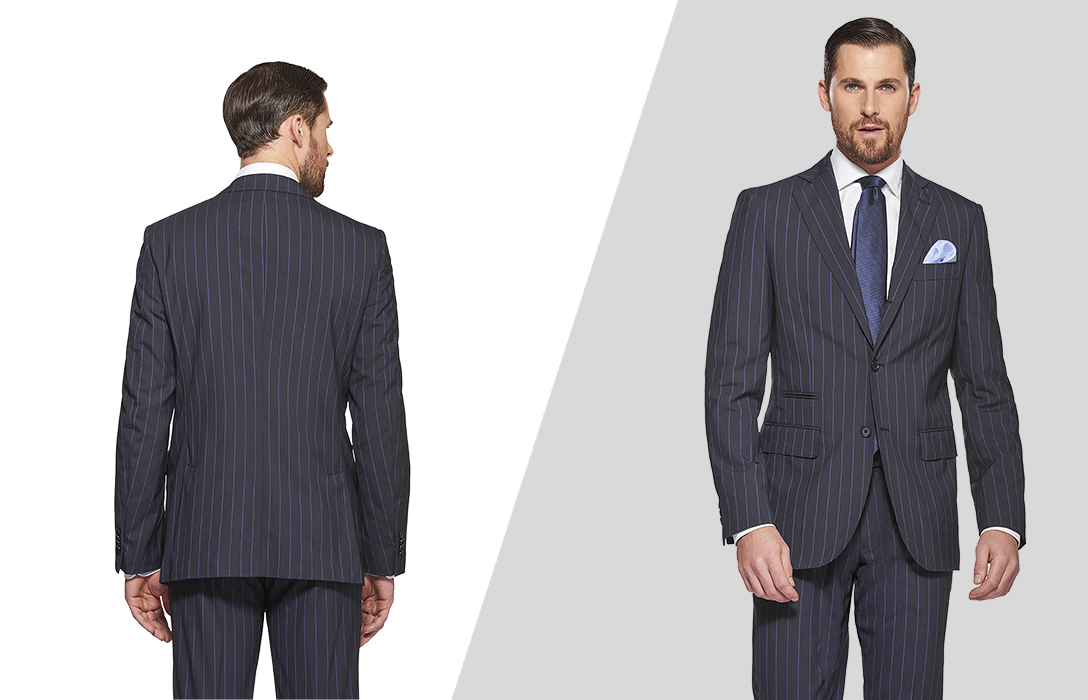 Skinny vertical stripes characterize the pinstripe suit. Ideally, they should be very subtle and light. However, if they are bold, they can look comical.
A pinstripe suit can flatter many body types. However, very tall and lanky men should avoid them.
The fit is the most important thing to focus on when wearing a pinstripe suit. It is critical to get a perfect fit; otherwise, it risks looking like a cheap costume.
When to Wear a Pinstripe Suit
The best setting for a pinstripe suit is when you're going for a formal business look. But it doesn't only need to stay in the business world.
You can dress down your pinstripe suit for a business-casual office or even for a completely informal environment.
Although pinstripe suits may have a reputation for being stuffy, it's entirely possible to dress them down.
The stripes make the suit more playful and exciting. If you accent your stripes with accessories and wear your suit with unconventional pairings, it will be clear that you're breaking the mold.
No matter how you wear your pinstripe suit, don't rely on it as your main suit. You need to have at least one solid suit, ideally more, in your rotation.
If you rely too heavily on your pinstripe suit, it will stand out every time you wear it; it's too recognizable.
Best Pinstripe Suit Colors
Whether you are wearing a pinstripe suit or a solid one, the color you choose means a lot.
Keep the formality of your occasion in mind, as well as the season. Some colors are very versatile, while others, not so much.
Navy Pinstripe Suits
Navy is among the top choices for professional colors. It's ideal for your most conservative settings, like professional offices or weddings.
But, aside from how professional it is, it just looks exquisite.
To play up the dressy nature of your navy pinstripe suit, stick with other neutral or cool tones for your dress shirt and accessories.
However, if you aren't confined to keeping your suit conservative, you can expand your color palette to include some bold colors.
For example, you can incorporate a burnt orange or dark yellow tie and pocket square for a true head-turning ensemble.
Black Pinstripe Suits
Black is a very traditional color for pinstripe suits. It's always a formal shade, but the pinstripes lower the dressiness.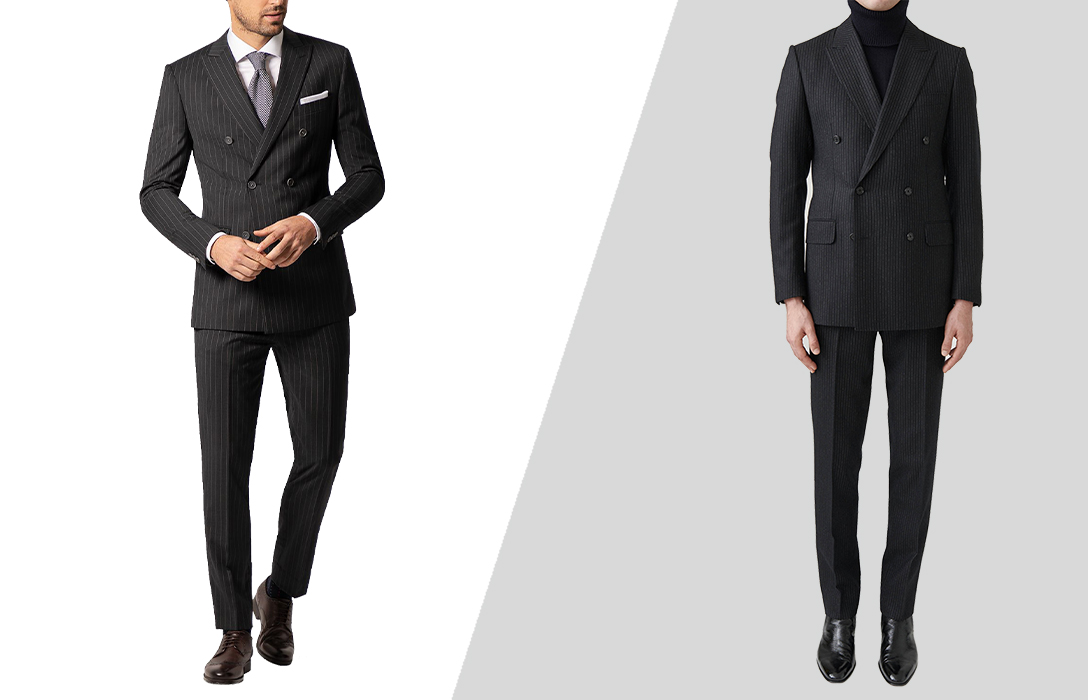 A black pinstripe suit is ultra-conservative, especially when paired with a white button-down dress shirt.
You can play up the more casual nature of the pinstripes by deviating from the standard white dress shirt.
Instead, try a light-colored dress shirt in a pastel shade. And you aren't obliged to wear black dress shoes because your suit is primarily black.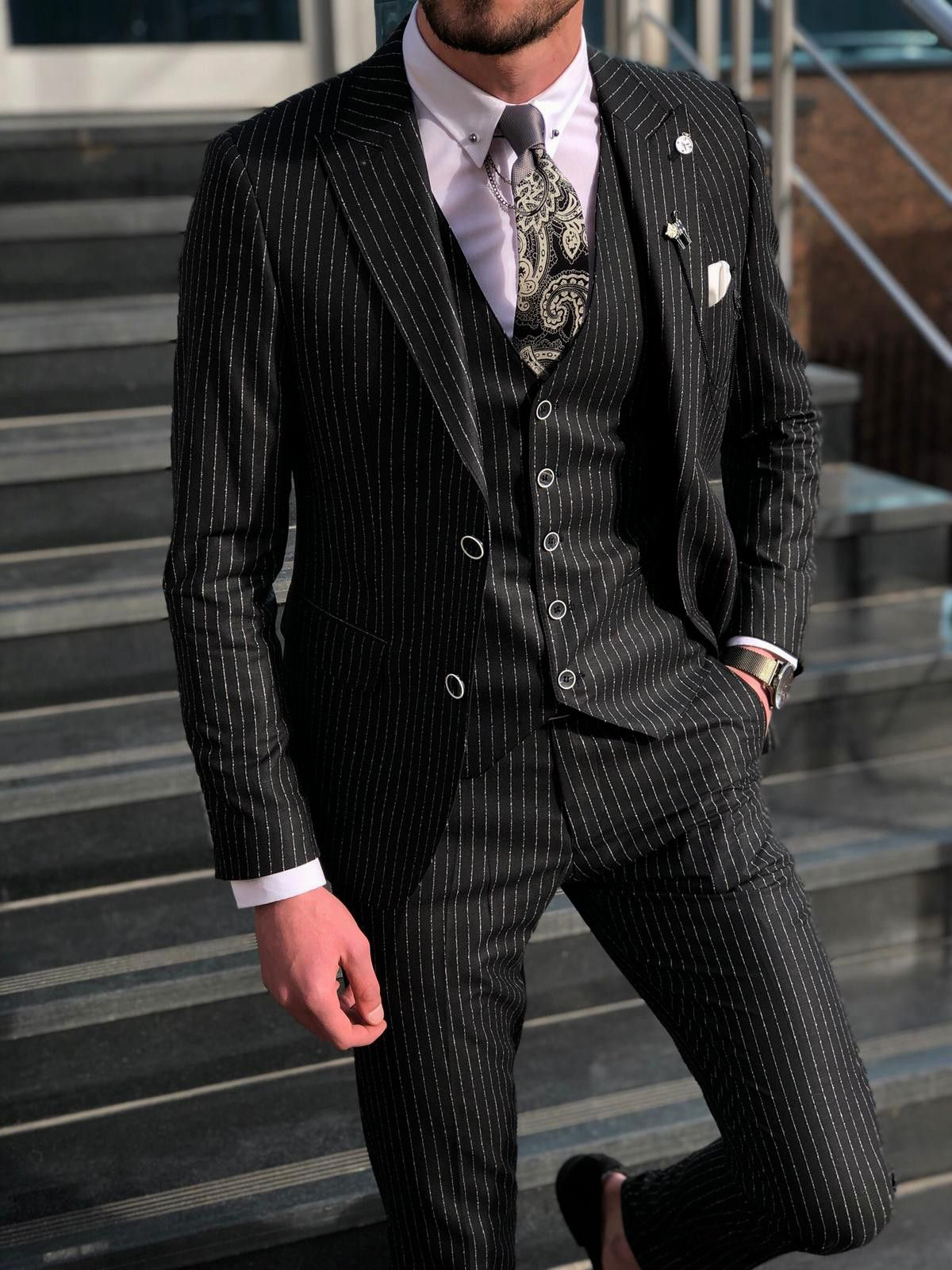 Instead, you can go for a trendier feel with dark brown leather dress shoes.
Blue Pinstripe Suits
Can you really wear a bright blue pinstripe suit? Absolutely! It's a perfect color all year long; it cheers up dull winter days and fits right in with cheery sunny days in summer.
You can have great fun playing with color combinations with your blue pinstripe suit.
Your standard white, light blue, or pale pink dress shirts look terrific.
However, so do green, yellow, and lavender. So there are nearly endless possibilities for playing with color.
No matter which color you pair with your blue pinstripe suit, you will stand out.
Grey Pinstripe Suits
Grey is a lovely color for a suit because it's so versatile. Because grey is a neutral color, it looks good with just about any other shade.
And the exact shade of your pinstripe suit, either light grey or charcoal, conveys a unique sense of elegance.
Darker shades tend to be more formal, so a charcoal pinstripe suit is excellent for professional or more formal settings.
On the other hand, light grey is a casual color, so you can have more fun with a light grey pinstripe suit.
White/Beige Pinstripe Suits
It isn't often that you see such a light shade on a pinstripe suit, but white or beige is very eye-catching.
The key to pulling off a suit this light is to be sure that your pinstripes aren't bold. They should be super fine and light-colored, not broad and dark.
Keep all your other colors subtle; you can splurge with a bold tie or pocket square.
Class is the name of the game, though, so keep your other colors and accessories refined, and you'll have a sophisticated casual outfit.
Different Pinstripe Suit Styles
As with all suits, you'll find many style options for pinstripe suits.
The color and the print of a suit are certainly decisive in your overall style. But the fashion of the suit dictates your entire feel.
Double-Breasted Pinstripe Suit
A double-breasted pinstripe suit is so retro and so suave. It feels as if pinstripes were explicitly designed with this style in mind.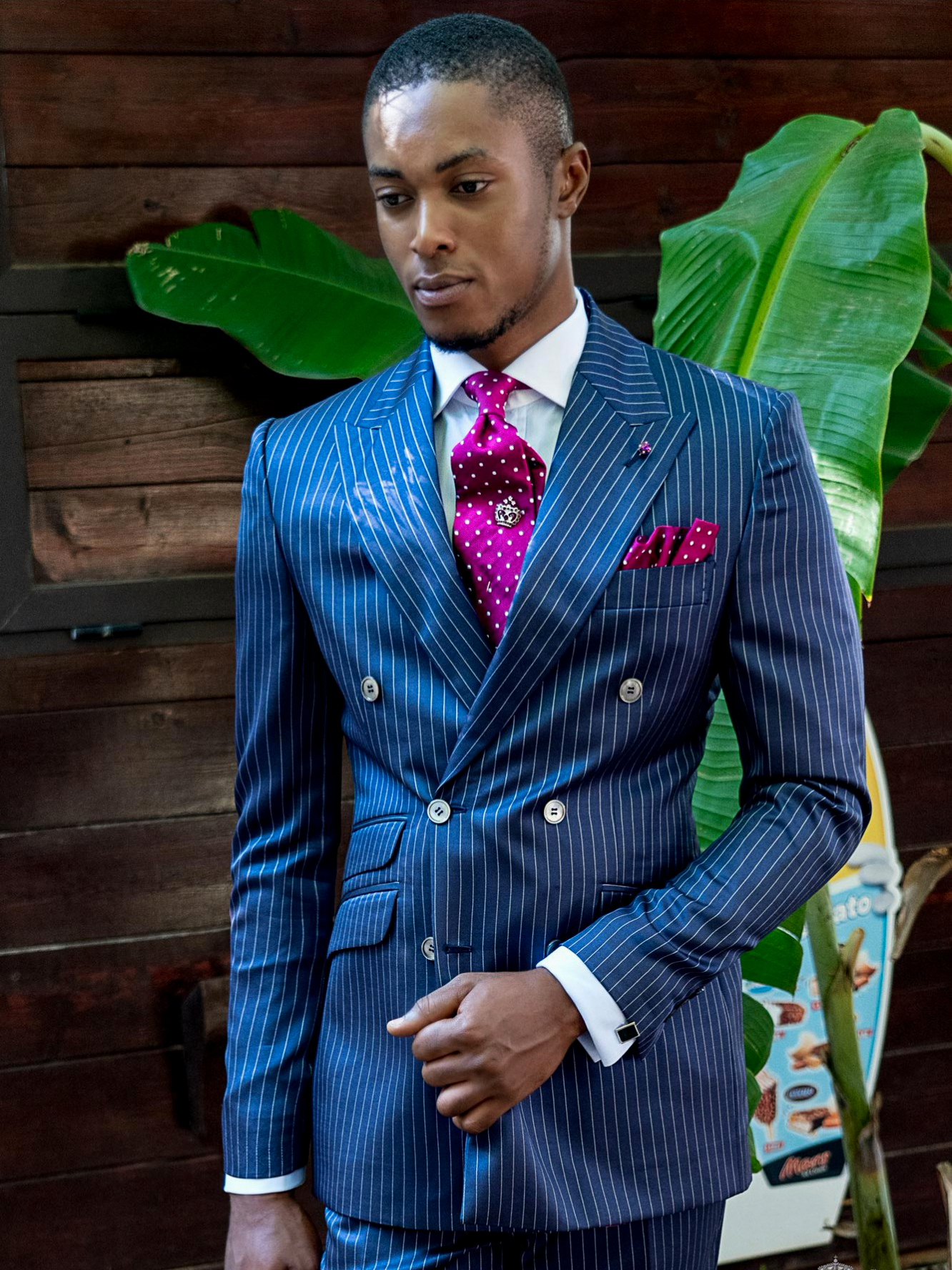 A double-breasted jacket isn't always easy to pull off, but it is incredibly winning when you can.
Keep your shirt and tie muted; the jacket cut is the star of this show. Don't try to enhance or compete with it.
A dark shade is very classic, so that should be your first choice.
Three Piece Pinstripe Suit
The addition of a vest makes any suit even more classy, including pinstripe suits.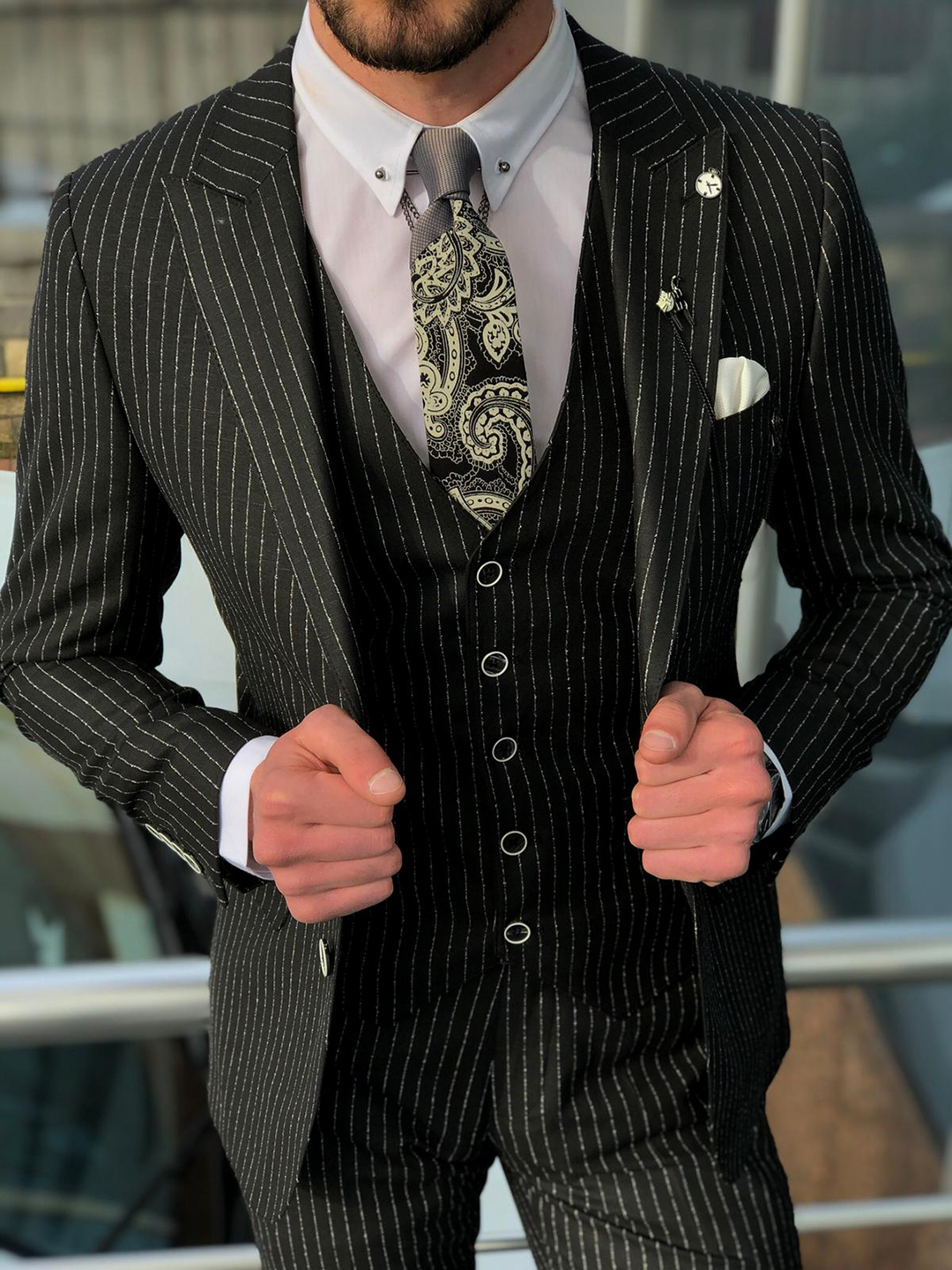 However, it runs the risk of looking prim and perhaps a little stuffy if you wear a three-piece suit outside the appropriate setting, so save it for your more formal needs.
On the other hand, the vest helps dress up your suit by restoring some of the formality you lose when you add in the stripes.
Once you add your third piece, you'll be showing a lot of pinstripes, so you need to work a little harder not to look so monochromatic.
Again, employ bold colors to make your tie and pocket square stand out.
What to Wear with a Pinstripe Suit
Learning what you can and can't match with your pinstripe suit can be a juggle.
You don't want to overwhelm your appearance; the pinstripes already stand out. You may quickly look like a mess if you add in inappropriate distractions.
You should opt for a little more color than you would typically wear, but don't go incredibly bold. Avoid too much contrast when you make your pairings.
Solid Dress Shirt
A pinstripe suit is ideal for wearing a complementary colored dress shirt.
You want to create some distinction between your suit and your dress shirt. A touch of color will nicely play up your subtle pinstriping.
Of course, though, a white dress shirt is always a very safe option. But a light blue dress shirt complements most suit colors as well.
Avoid stripes; you will look more like a walking candy cane if you add more stripes.
Checks are another dress shirt you should avoid; again, the goal is to avoid looking messy.
Any dress shirt style is suitable, so button-up or button-down dress shirts are both acceptable.
Colorful Tie and Pocket Square
A solid tie and pocket square will help ground your outfit and keep you looking refined.
Steer toward colors that will attract some attention and draw the eye away from the pinstripes.
A colorful tie will end up helping your pinstripes to pop and look natural on your suit.
Patterns are perfectly acceptable for your tie, but which ones?
Small dots can look very charming when paired with pinstripes, and they won't appear too bold or gaudy.
Regimental stripes, worn with caution, look refined. However, be sure that the stripes are broad to set them apart from your pinstripes.
Dress Shoes for Formal Occasions
The style of your shoes can really dictate the tone of your suit.
For example, the proper dress shoe will raise the formality level of your entire outfit, just as a casual shoe will make your whole suit look relaxed and laidback.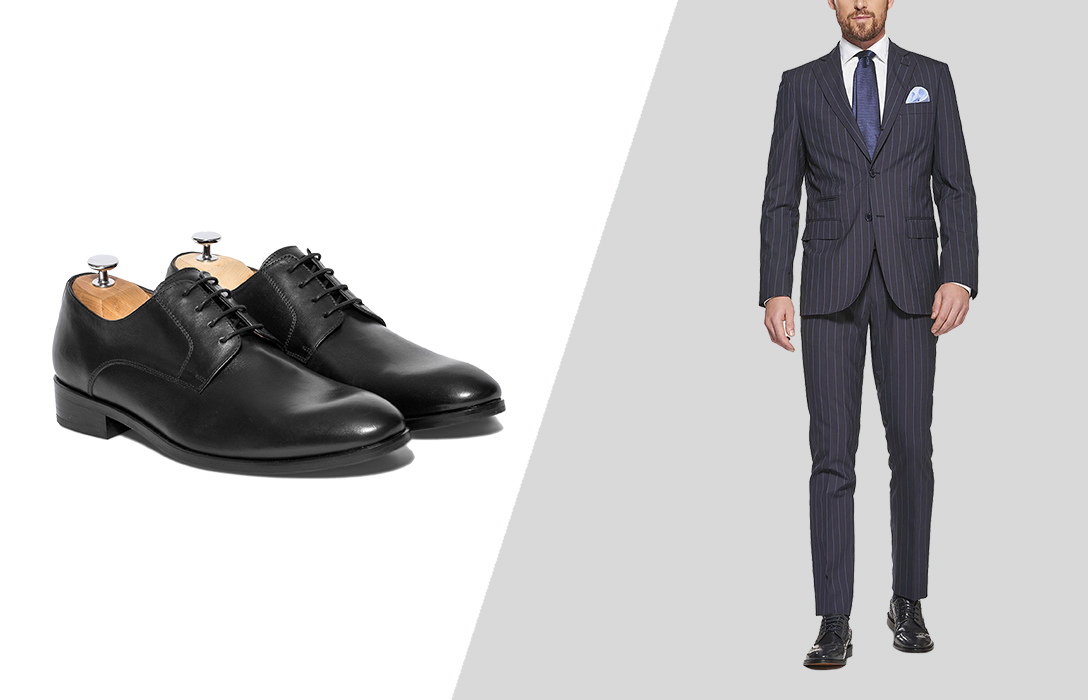 You can't go wrong with Oxford or Derby dress shoes for your most formal appearance. They are classic professional dress shoes and suitable for most formal events.
Take a stroll in a pair of monk strap shoes for more fun and modern spin on your pinstripe suit! These contemporary shoes are unique and will cement your status as a fashion icon.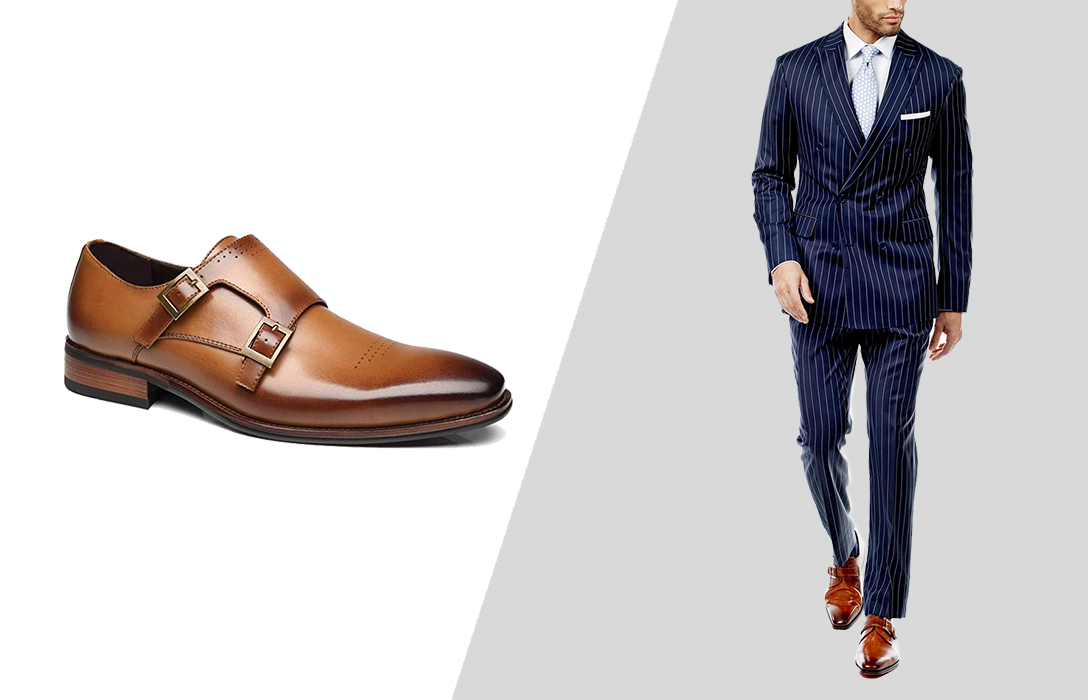 Want to be completely casual and perhaps leisurely? Loafers are the perfect shoes to send the message that you're in a relaxed state of mind.
How to Tone Down the Pinstripe Suit
You can downplay your suit if you're feeling a little overwhelmed by the stripes or perhaps feeling too much like a slick Wall Street player when you put one on.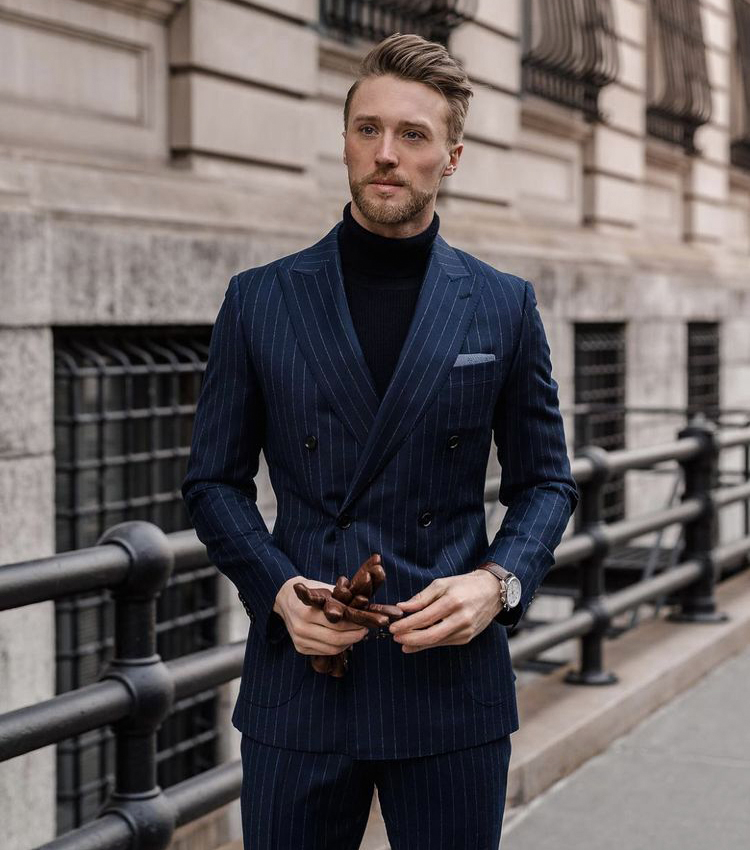 Loosen up the standard suit rules and break out of the traditional way of styling your suit. Instead, try a few new combinations.
Who says you need to wear the complete suit? You can separate the jacket from the trousers and wear just the pinstripe trousers.
Toss on a pair of white sneakers with it for a smart weekend look.
Or, keep the Oxford dress shoes but try replacing your standard dress shirt with a t-shirt or a turtleneck.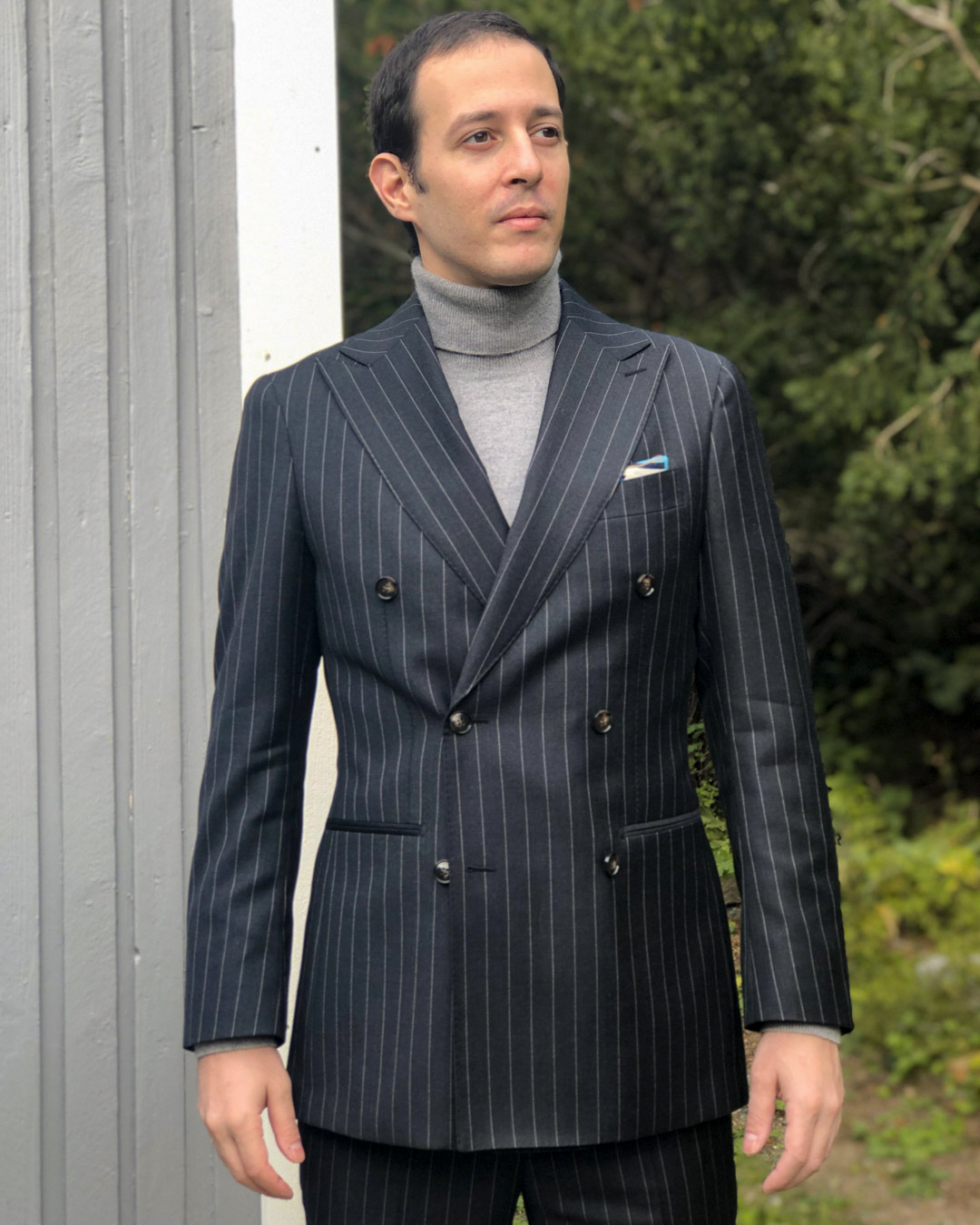 Finally, you could decide to keep the jacket to help tie in your dress shoes. These combinations are unexpected and will surprise you with how well they work.
Pinstripe Suit FAQs
Before you jump into your first pinstripe suit adventure, let's tidy up a few lingering questions.
How can I tell if I can wear a pinstripe suit?
Most men can get away with pinstripes. They are usually very flattering and can make you appear taller. Avoid them if you are extra tall and somewhat lanky.
Can I wear a striped shirt with a pinstripe suit?
You can, although it is best to avoid this combination. If I can't talk you out of it, here's my best tip: the stripes on your dress shirt need to be a different size than the ones on your suit. Generally, this would mean they should be wider.
Are pinstripe suits good for black-tie events?
No, they aren't your best choice. No matter how nice they look, they are too casual for such a formal setting. Whether on your suit, dress shirt, or tie, any print isn't appropriate for the most formal occasions.
Can I wear a pinstripe suit without a tie?
Yes, you absolutely can! The beauty of a pinstripe suit is that it gives you the freedom to style it in many ways, so you aren't obligated to follow a standard norm. Experiment!
Author: Alexander Stoicoff
Hi, I'm Alex, and I've studied and specialized in styling in Rome. Through my writing, I want to help men dress well and learn the purpose and significance of suits and other formal attire. My final goal is to make men more confident in their wardrobe choice and life in general.