How often did you need to wear a white dress shirt when you were growing up? Probably never.
When you were in control of your wardrobe, you probably chose whatever style of shirt was in fashion at that moment.
But now that your tastes have (hopefully) matured, you are ready to discover the beauty of the white shirt.
It isn't just for your middle school jazz band concerts. These days, a white dress shirt can be a fashion icon all on its own.
Best Material for a White Dress Shirt
Men's dress shirts are made from a wide variety of materials.
Three materials rise to the top when it comes to white dress shirts for men: poplin, twill, and linen. These each offer a different effect and feel; each will change the feel of your suit.
Poplin is the most professional fabric for your dress shirt. The fabric is tightly woven. As a result, the fabric has minimal sheen.
Poplin has no texture, making it very smooth. Watch out for this material, though; it wrinkles easily. If you wear this for a formal event or an important meeting, you need to be careful.
Twill is not as prone to wrinkling. The weave of the fabric is on the diagonal, which can be very subtle or very large textured.
Twill has a very tight weave with a high thread count. That makes it very similar to silk. It does have a sheen and is very soft.
Pinpoint is the most casual of these three materials but still formal enough to reflect high quality. It is incredibly durable but not very lightweight.
It means it is the best material for everyday office wear. Besides, pinpoint dress shirts are easy to maintain and do not wrinkle easily!
How A Dress Shirt Should Fit
It can make a huge difference in how you present yourself by how your dress shirt fits.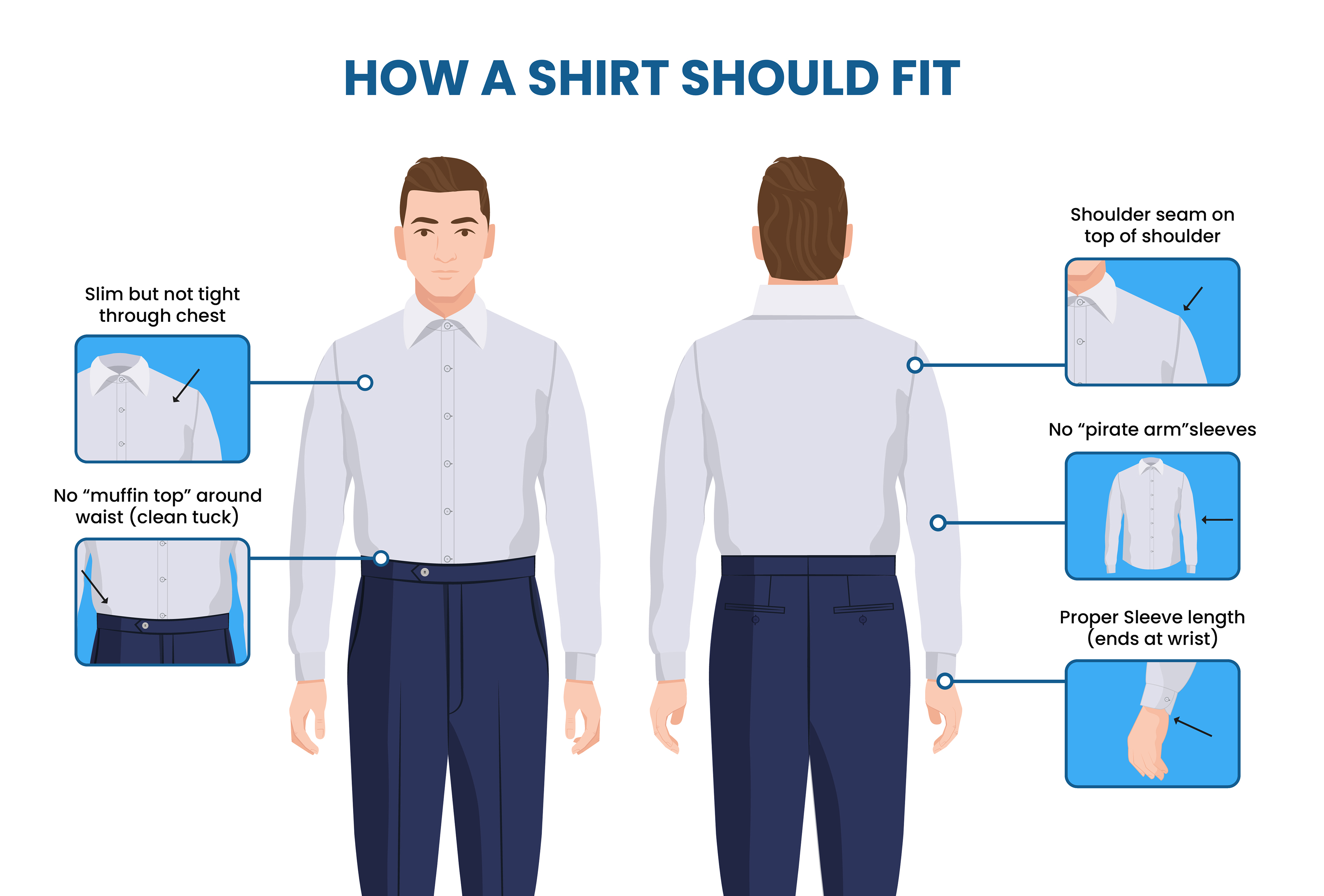 Too tight, and you end up looking overstuffed. Too loose, and you look like you are swimming in your shirt.
There are a few key points to pay attention to when searching for a perfectly fitting shirt.
The sleeves are essential in fit. The upper arms should be roomy enough that the movement of your biceps is not restricted.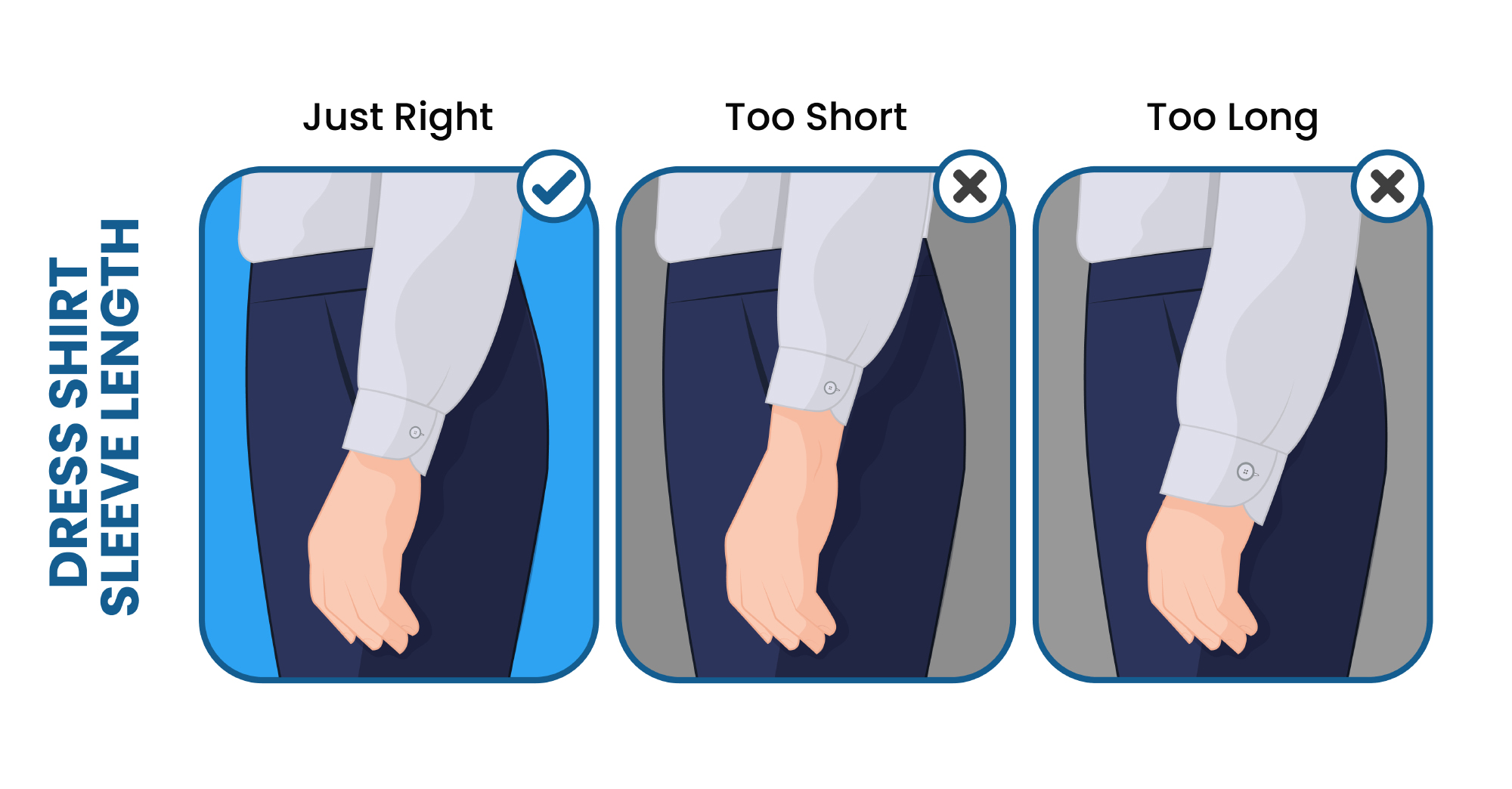 The armhole needs to be wide enough to allow for a comfortable range of motion.
From the roomy upper arms, the sleeves should taper toward the wrist, ending at the base of your thumb.
The length of the shirt should be long enough to cover your bottom. This will ensure that it does not become easily untucked when you sit or stand.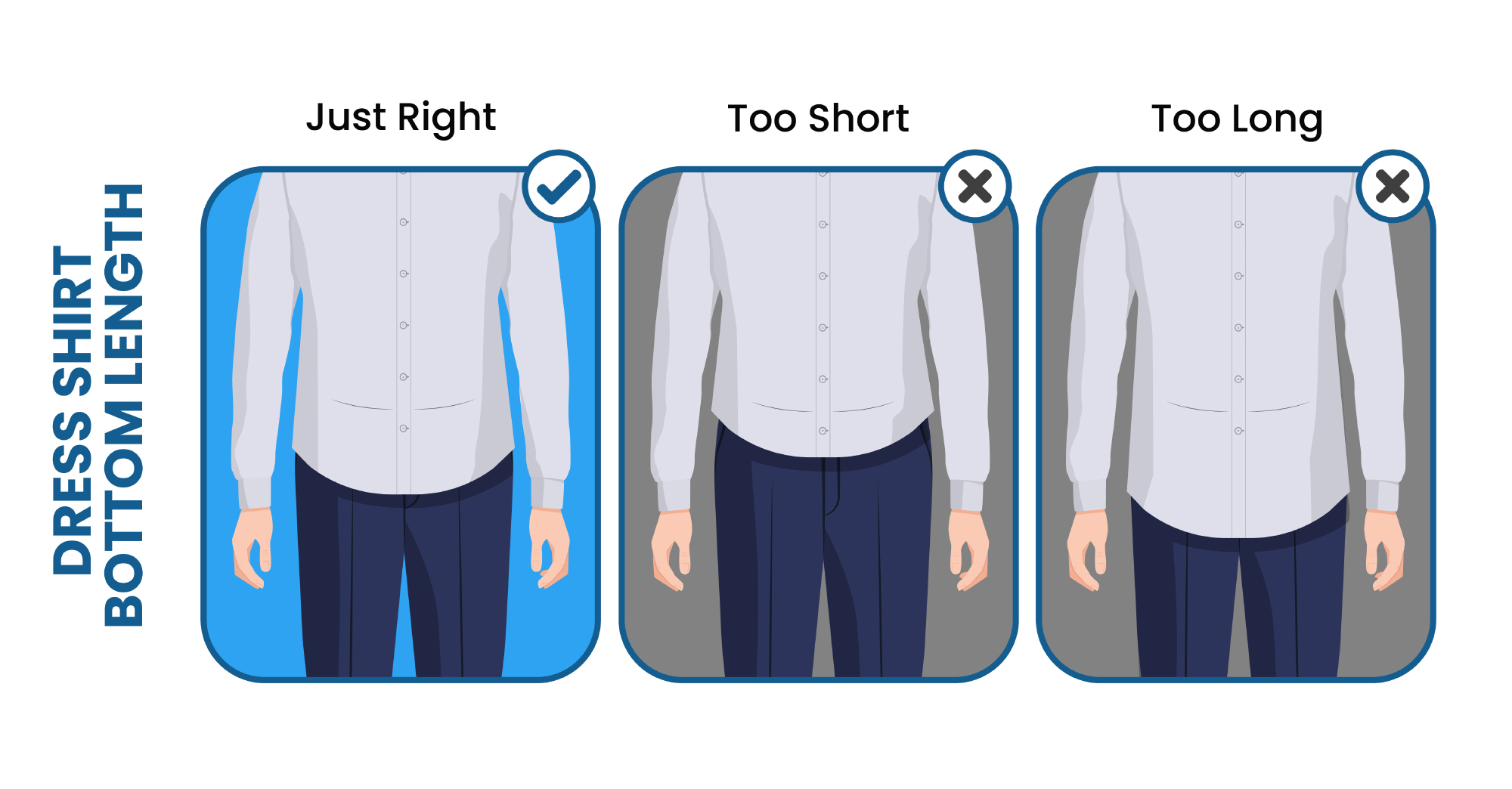 Your collar is the final vital area to pay close attention to. There should be very little space between your skin and the material.
You want to slip two fingers into that space with no extra room.
White Dress Shirt with Suit
When dressing up in a suit, you already know that the suit is the center of attention. Everything else you wear is there to support that suit.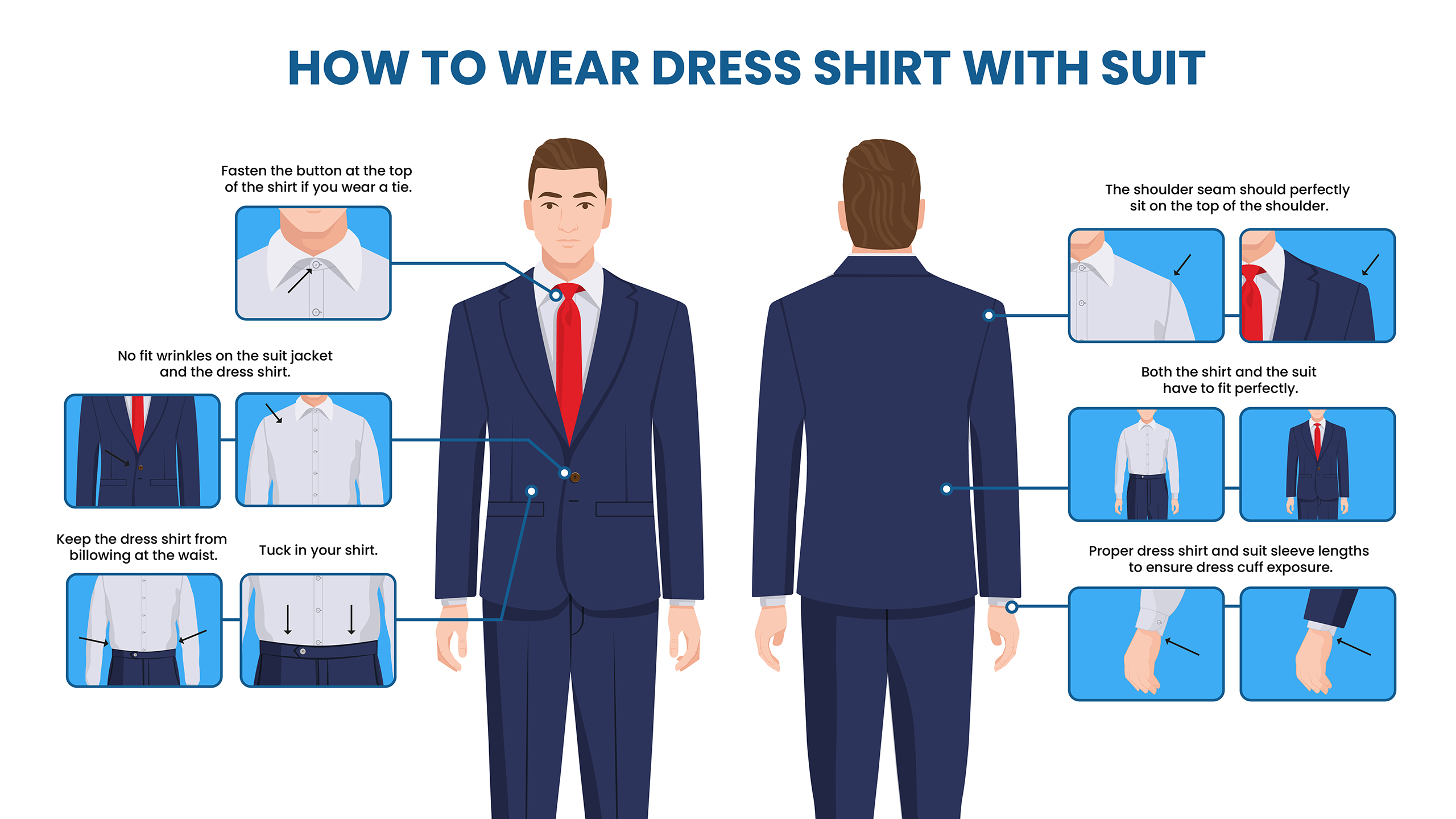 There is a wide choice of colors in dress shirts to match your suits, but often nothing comes close to matching the elegance of a nice white dress shirt. It is always a breath of fresh air.
White Shirt & Black Suit
Black and white go together better than just about anything I can think of. Possibly because they are total opposites or because of how much they bring out in each other.
A black suit with a white dress shirt is a no-brainer. It is the most classic color combination for suits, and for a good reason.
Black is a very sleek and polished color for a suit. Add the white shirt, and you have one sophisticated ensemble.
This suit pairing is great for nearly any occasion. It is the standard in formal wear.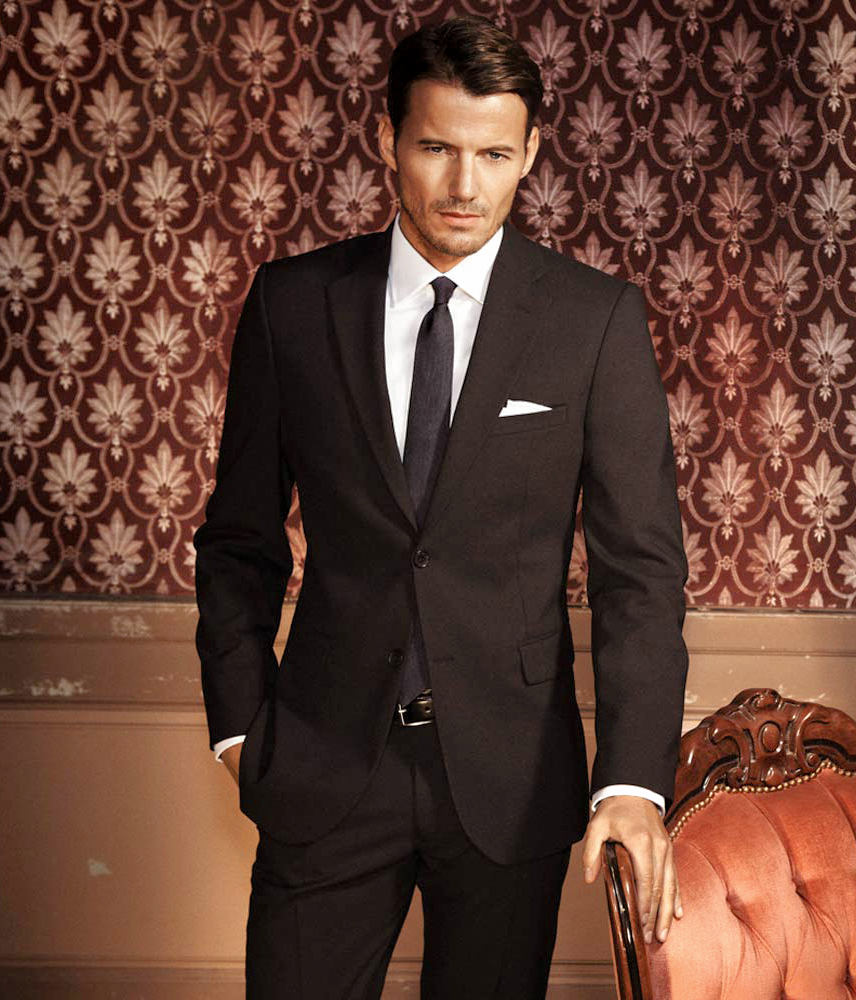 Shop The Look
You will see this combination all over formal and semi-formal events, from a tuxedo to a very well-made suit.
Changing up your accessories can transform into a great business professional look. For a slightly more casual look, lose the tie and other accessories.
White Shirt & Navy Suit
A navy suit is just as much of a classic as a black suit since navy is such a dark color, but it probably leaves you with more questions about how to match it.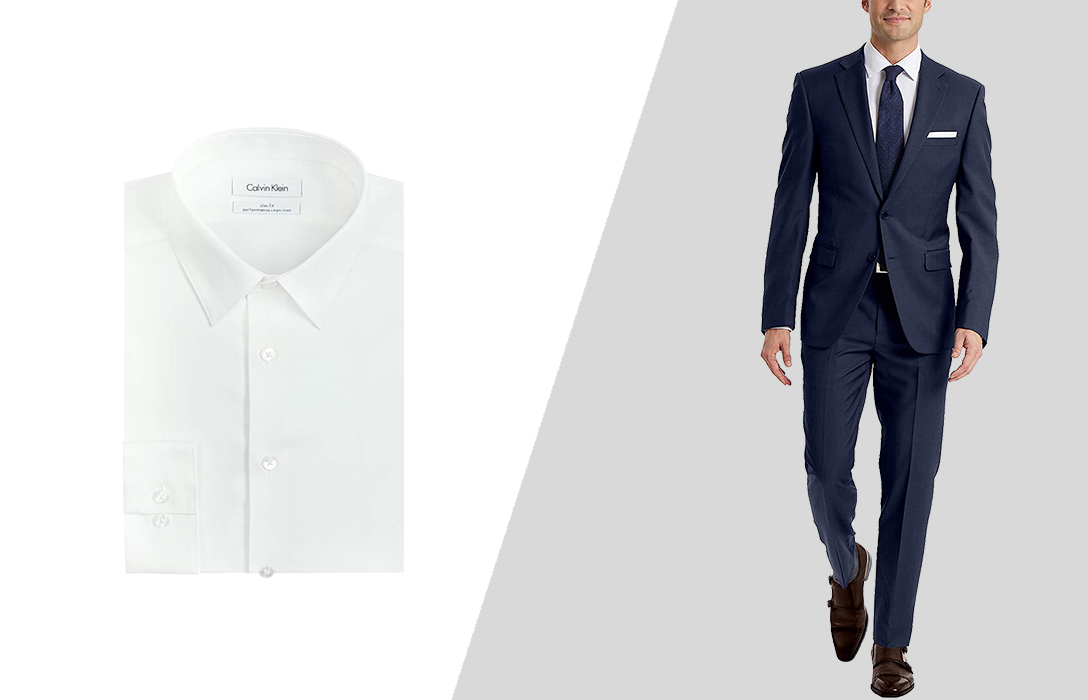 But navy is more firmly placed on the color wheel and has firm matches and clashes.
You know that white will always be a definite "yes" with a navy suit. And the main reason to wear white with your suit is that they just look so dang classy together.
However, a white dress shirt is in stark contrast with the dark suit, highlighting its blue tones. In return, the dark suit makes the whiteness of the shirt pop.
Shop The Look
This is another fairly dressy look. It can be dressed down a bit more than a black suit can, but it still shouldn't be your go-to outfit for a casual event.
White Shirt & Blue Suit
The rising popularity of this suit color means that you should sit up and pay attention to it.
Blue is so bold that it projects major confidence. Also, it is a drastic departure from its sober navy-blue cousin.
A true-blue suit is brighter and cheerier. It is, indeed, head-turning, quite versatile, but it is also very tricky to match.
There are not many apparent choices that go well with true blue. This is one way you know that white is the best choice to wear with a blue suit.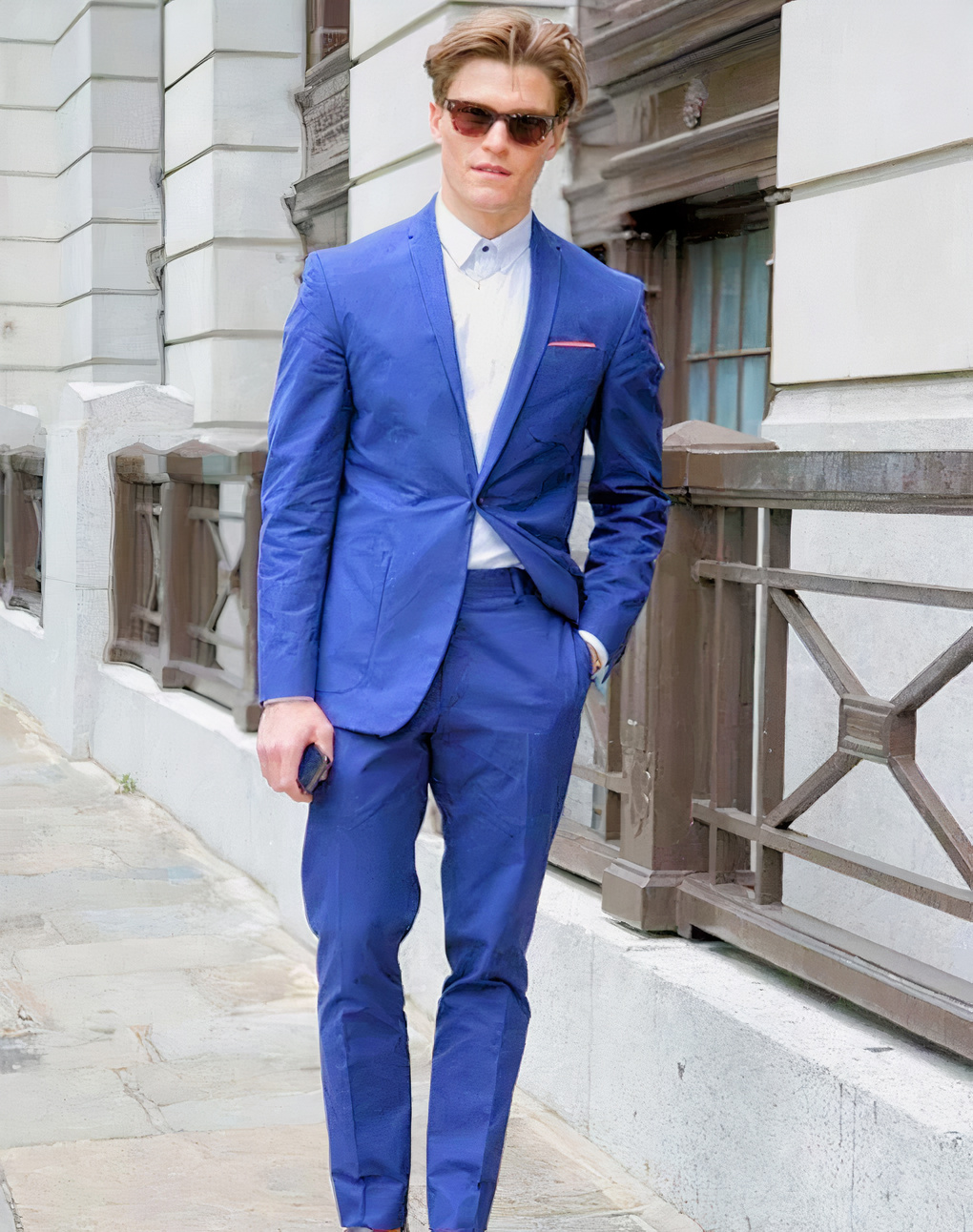 Light reflects off the white of the dress shirt, accentuating the blue and making it seem even brighter.
The white makes the blue feel very pure. It can be sobered up or emphasized with the right accessories, depending on which way you want to go.
White Shirt & Charcoal Suit
A charcoal suit is one of the most professional suits you can wear. When you pair it against the background of a crisp, white dress shirt, you wind up with one seriously polished outfit.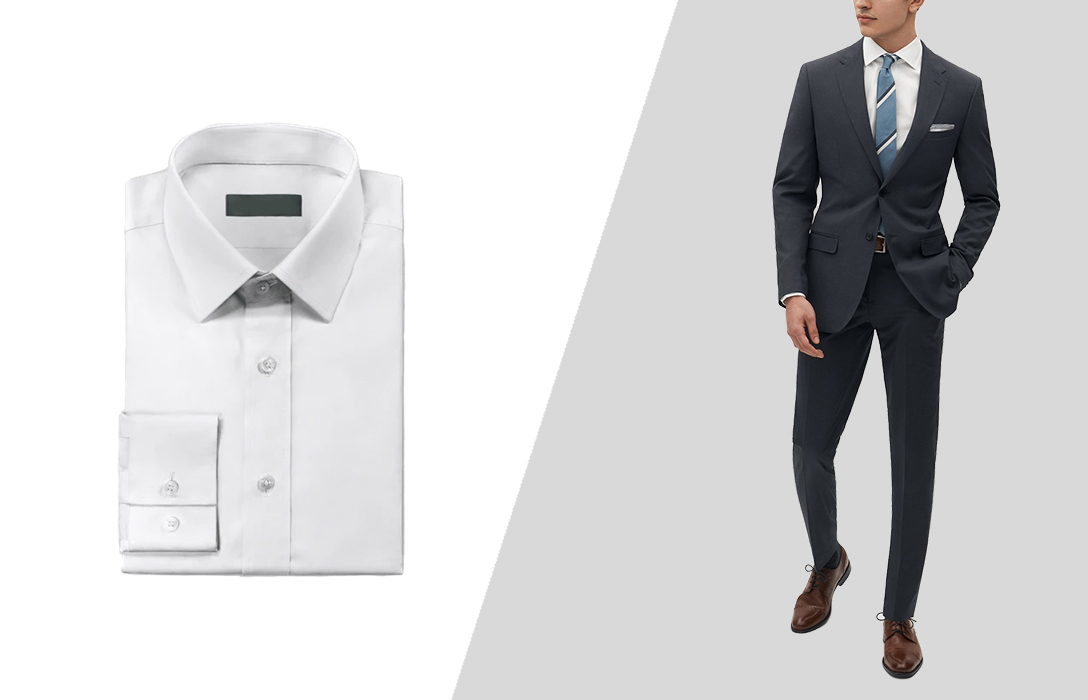 Charcoal is very close to black, so it's a very dressy color. Because black is sometimes a little too intense for daily wear to the office, charcoal is an ideal alternative.
A white dress shirt is the most formal way you can wear this suit, and it is also the best color match.
The two shades play very well off of each other. The bright, clean tones of the white dress shirt make the charcoal feel very deep and tonal.
The darkness of the suit makes the white of the dress shirt really pop, and it creates a gorgeous contrast.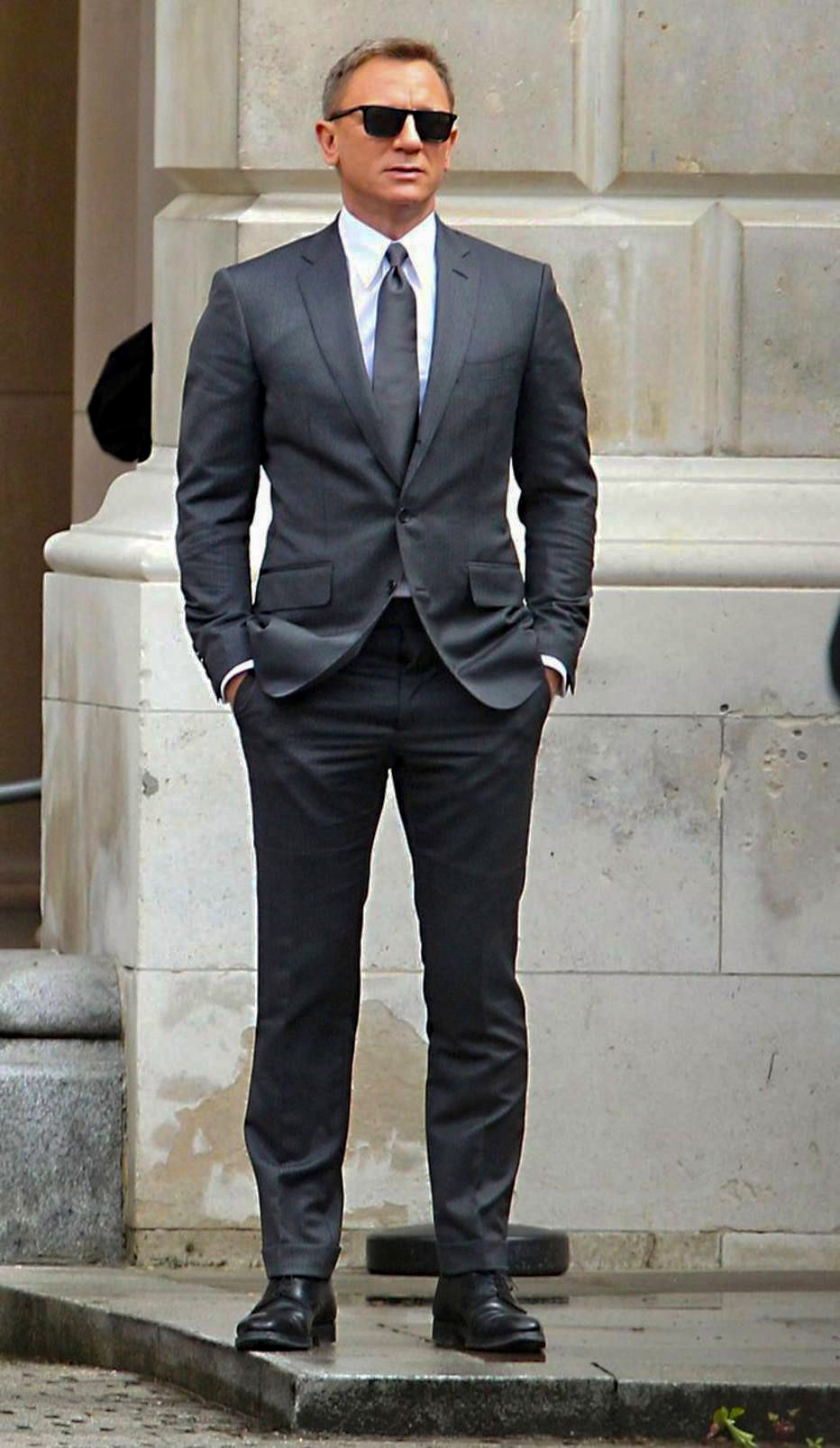 Shop The Look
The best part of this pairing is that you can match nearly any color tie with it.
White Shirt & Grey Suit
For a lively color combination, don't overlook a light grey suit with a white dress shirt.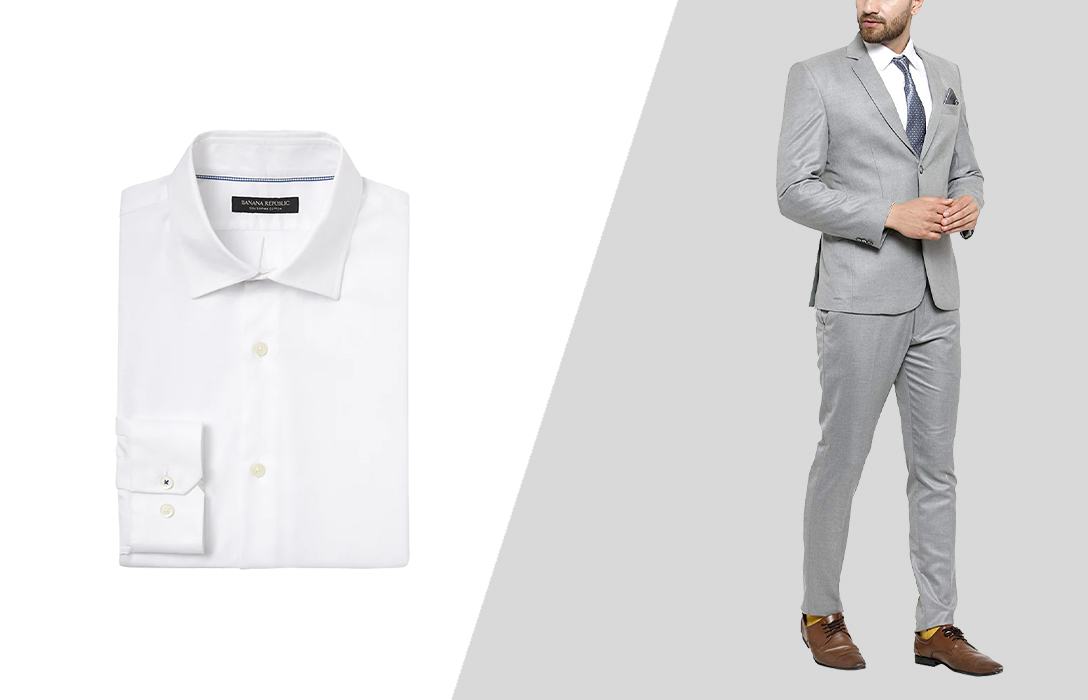 Grey suits don't need to be dark and dreary, and a white dress shirt can help brighten any shade of grey.
A medium to light grey suit is a casual option, excellent for most offices that aren't very conservative.
However, adding a white dress shirt is a terrific way to keep your suit well within the more formal end of the spectrum.
Again, you have a great wealth of color options for your tie when you pair a white dress shirt with a grey suit. Because light grey is a neutral shade, nearly any color is suitable for this outfit.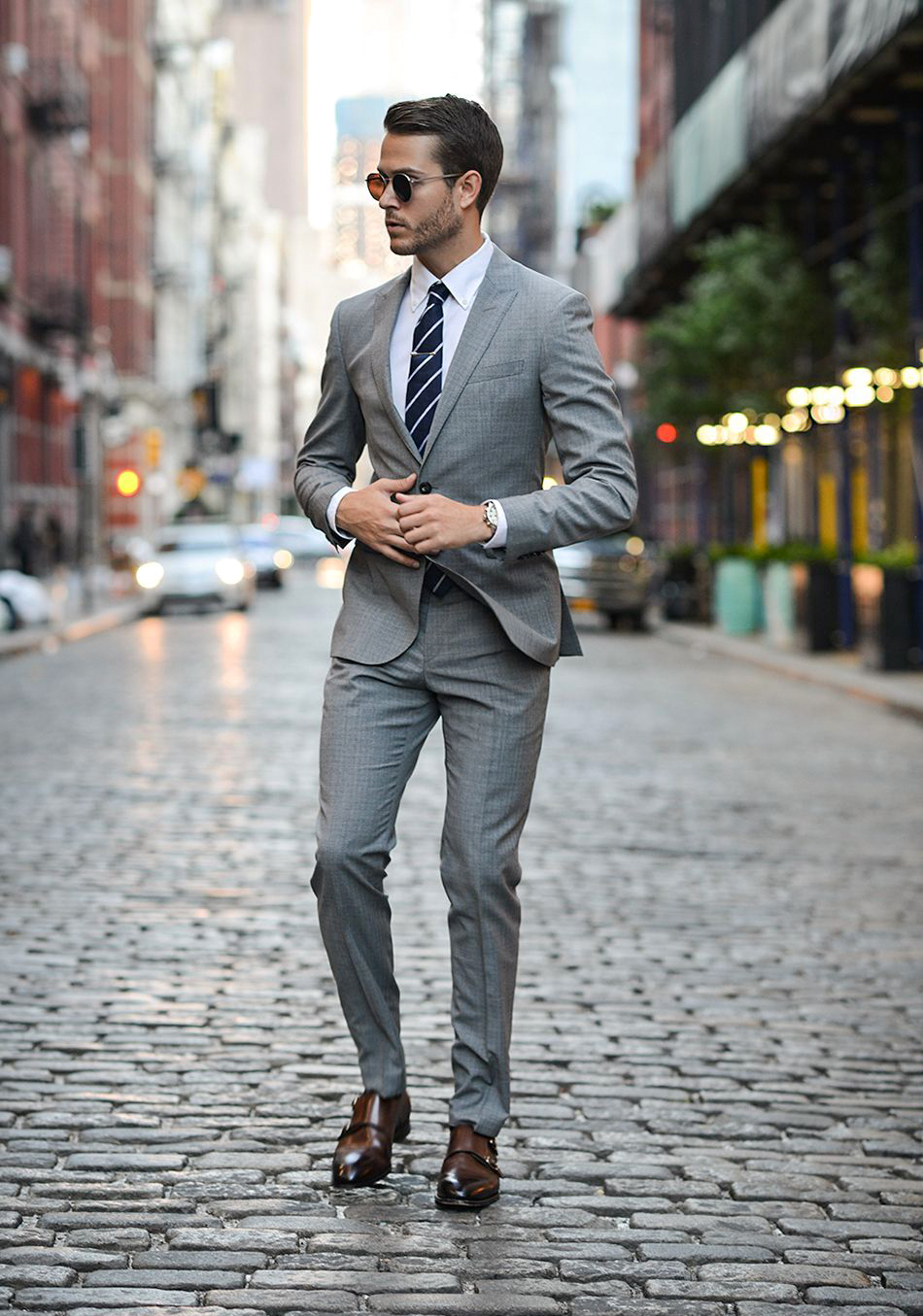 If your suit is too light, you need to tread carefully. The shades may be too similar, and it's essential to avoid a monochromatic impression. You don't want to appear too washed out.
White Shirt & Brown/Cream/Khaki/Tan Suit
Though these are all different shades, with varying hues of brown, they all work well with white.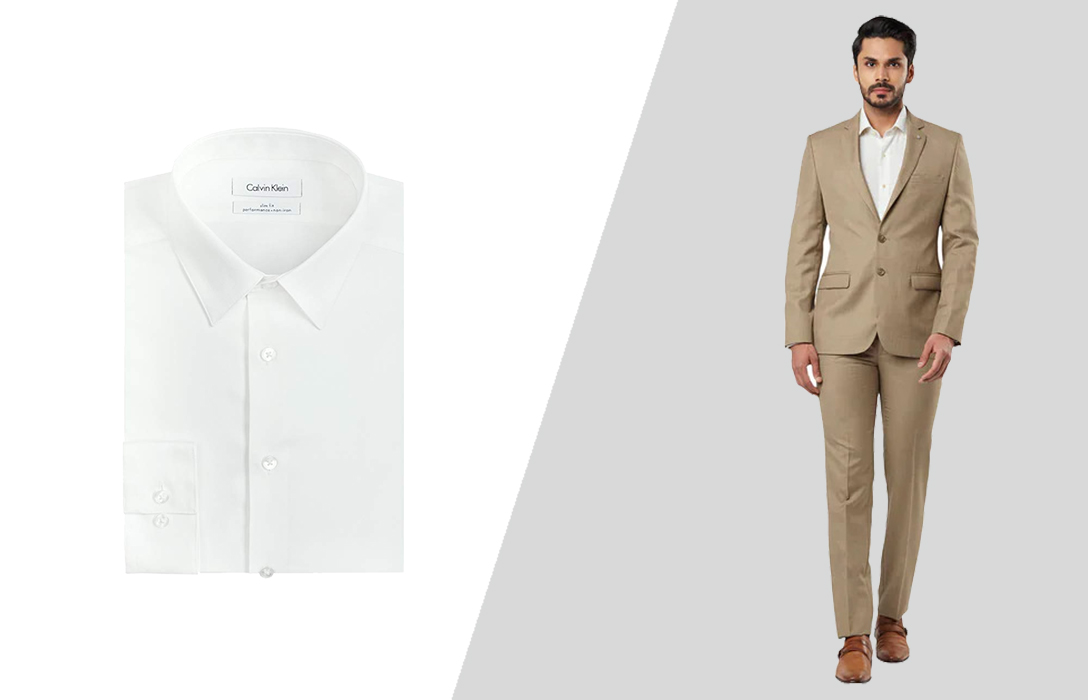 A pure brown is a warm shade; paired with a crisp white, it is inviting. The white against the dark makes a perfect combination.
As the suit gets lighter, trending toward tan, the whiteness of the shirt begins to stand out more. It seems brighter, being accentuated by the tan suit.
A cream suit warms up the white dress shirt. The two light colors are the ideal warm-weather combination.
The white dress shirt is also a great addition to the khaki suit, making this casual suit color slightly more formal.
White Dress Shirt with Pants
Sometimes you want to ditch the suit.
That doesn't mean that your only other clothing option is a t-shirt and jeans. There are many other outfit possibilities out there to still look chic sans suit.
A fresh white dress shirt can jazz up just about any pair of pants. It shows the world that you can pull off simplicity and sophistication simultaneously.
Chinos
Chinos can seem like the trouser equivalent of vanilla ice cream. They aren't fascinating to think about.
But just like with vanilla ice cream, it isn't until you try them that you remember why they are a classic.
Chinos are the perfect match with a white dress shirt because they are both so crisp and fresh.
Chinos and a white shirt are the preppy looks at its best. Both articles of clothing are as simple as can be, yet when both are high quality, they stand out.
This combination is winning without making you look as if you are even trying.
Khakis
A white dress shirt paired with a pair of khakis is the epitome of smart casual. It is a relaxed style without getting sloppy.
Khakis are possible to be both comfortable and classy at the same time. You don't ever need to sacrifice elegance. They are comfortable to match with nearly anything, including a white shirt.
In addition, the white shirt raises the style level of the khakis. Color or print shirt will match but don't look as refined.
Dress Pants
Some days you need a good business casual outfit or want to step out in a smart-casual style.
A nice pair of dress pants can cover many bases. Pair them with a white dress shirt, and you have one very versatile outfit.
It can follow you throughout your entire day, transitioning from your office to socializing at happy hour.
Well-tailored dress pants show that you care about your appearance. They are flattering as long they fit you properly and are incredibly versatile.
A white shirt is a simple way to ensure that your outfit looks good and feels fresh.
Jeans
You can't do any better than matching jeans with a white dress shirt for a super cool and polished casual look. It is the perfect combination of relaxed and refined.
This ensemble draws a lot of attention because it is stylish without trying hard.
Possibly because of its simplicity, it is frequently overlooked, so men don't often think to wear this combination! You will stand out just by being basic.
The only way this combination will work, though, is if you have the right jeans. Dirty jeans or ripped knees will also work for this style.
However, they must be a pair of high-quality jeans and need to fit all over. And here is the most important part: they must be clean and in excellent shape.
Shoes to Wear with a White Dress Shirt
Because white dress shirts are so versatile, your shoe choice is nearly endless. Therefore, it is best to consider the rest of your outfit to decide which way to go.
If you are matching your shoes to your suit and a white shirt, you can't do much better than a pair of oxfords. Derby shoes are a close second.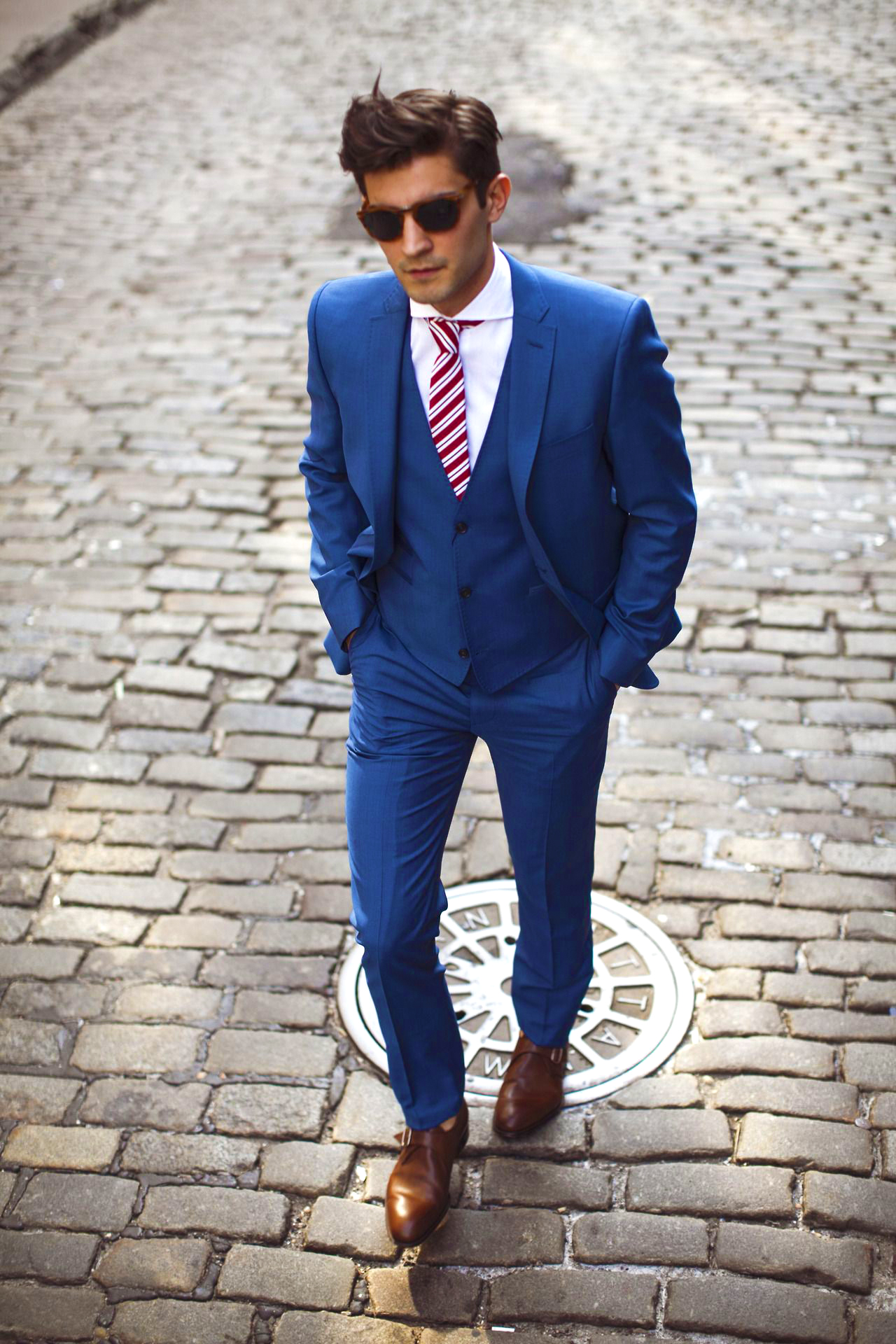 If you are pairing your white shirt with some nice trousers, you have more options. Depending on how casual your pants are, you can try monk straps or even loafers.
When you step out in a nice pair of jeans and a white shirt, your choice of shoes will do a ton to dictate the tone of your outfit.
You can dress it up with cool brogues. A pair of loafers will indicate a casual yet preppy vibe.
Even a very clean pair of white trainers will work; swing your outfit into the "casual cool" category.
What to Wear Under a White Dress Shirt
It may seem like an old-fashioned tradition these days, but wearing an undershirt under a white dress shirt can be a savvy move.
A white undershirt increases both your physical comfort and your appearance. In addition, it's an excellent way to add a layer of professionalism and formality to your outfit.
Also, it is a fantastic way to help manage your underarm sweat; it soaks it up, away from your body, and also keeps it from getting onto your dress shirt.
As a result, you'll feel dryer throughout the day and avoid embarrassing sweat stains.
There are many undershirt styles and materials you can choose from. Cotton undershirts are arguably the most comfortable; they are soft and super breathable.
You can also go for a spandex/polyester blend that is incredibly absorbent; this would be an excellent move if you are a major sweater.
Or, for the ultimate in softness, try a bamboo undershirt! These are super soft and unbelievable at controlling temperature.
When choosing the style, you'll need to decide between crew neck or v-neck undershirts. A crew-neck undershirt is a superb choice if you are wearing a tie.
However, if you intend to wear your shirt open at the neck, you need a v-neck.
Otherwise, everybody will see the top of your undershirt, which should never be on display. It is an undergarment, after all!
How to Take Care of Your White Dress Shirt
Regular washing will only take your white shirt so far.
To keep your whites looking fresh, you need to rely on bleach. It will chase away not only the inevitable stains (white attracts everything!) but will also prevent it from becoming dingy.
There is nothing worse than a great suit ruined by a dingy shirt. You always want your white to pop. Otherwise, you wouldn't have chosen that color.
Don't forget to give your shirt good ironing after it comes out of the dryer. Don't think that it is good enough because you don't see major wrinkles in it. Trust me; it isn't.
You want your white shirt to be perfectly smooth, and a hot iron is the only way to accomplish that.
Even small imperfections will stand out against the white background, so keep it ironed.
Author: Alexander Stoicoff
Hi, I'm Alex, and I've studied and specialized in styling in Rome. Through my writing, I want to help men dress well and learn the purpose and significance of suits and other formal attire. My final goal is to make men more confident in their wardrobe choice and life in general.