Every man needs to own a few essential wardrobe pieces; navy pants and black shoes are a couple of those wardrobe foundations.
The next step is to put those pieces together successfully, so it's vital to know how to wear black shoes with navy pants.
They may look good together, but you can make them look great together with a bit of finesse. The proper pairing will draw attention to your refined fashion sense.
Things to Consider Before Matching
The dress shoe style is one of the most important aspects to consider when choosing shoes for any outfit.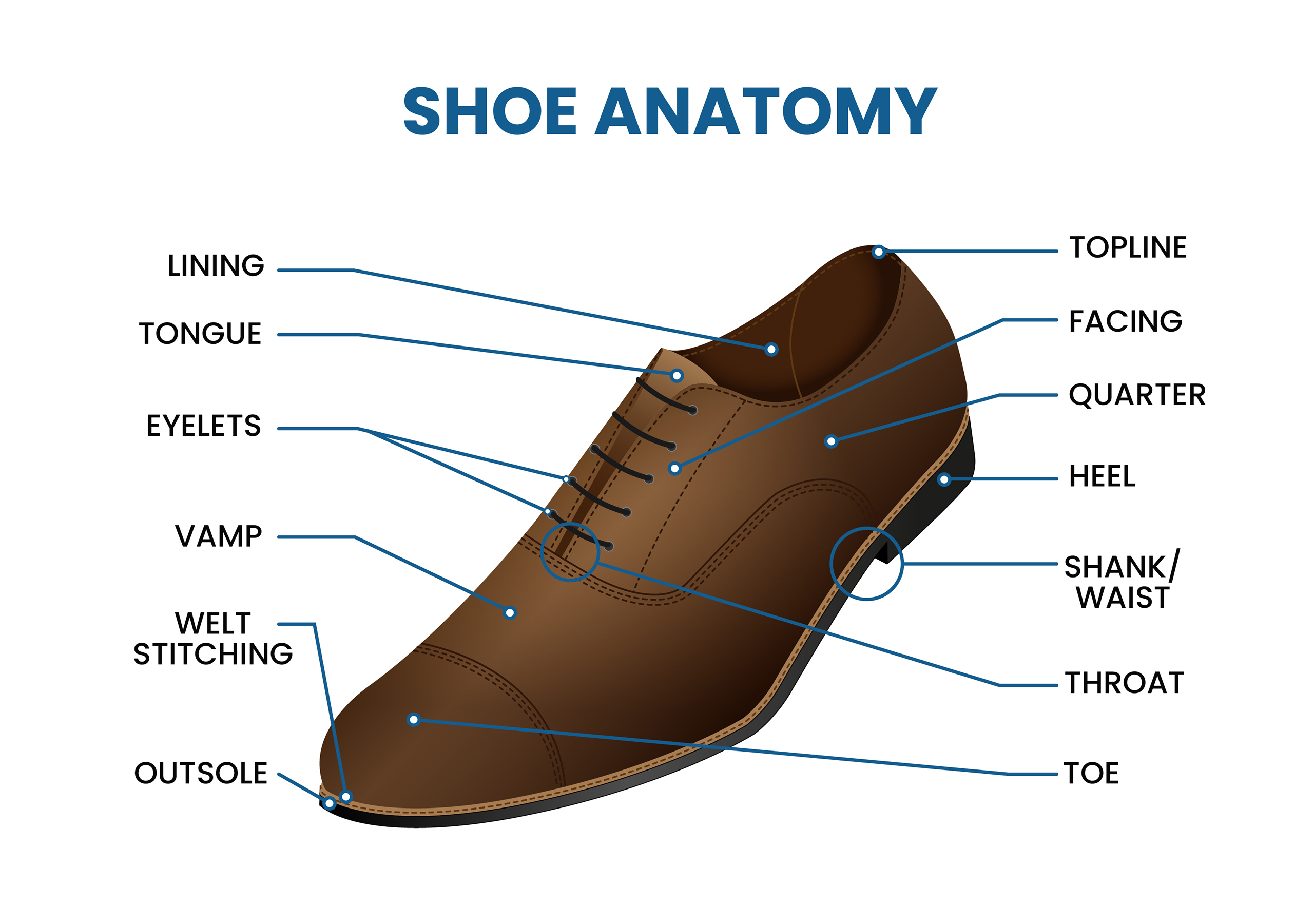 The design of your shoe dictates how dressy or casual it is, so certain styles match better with certain outfits.
So if you wear a tuxedo, you would never dream of pairing it with casual footwear, would you? Common sense tells you that they just aren't appropriate together.
That's an extreme example, but you get the point. Each type of dress shoe varies in its level of formality.
For example, Oxford dress shoes are the most formal, followed closely by derby shoes. Those should be your first choices if you need a professional business outfit.
You should also pay attention to shoe particulars. Details (such as broguing, toe caps, and even the material) impact how professional, dressy, or casual the shoes are.
Black Shoe Styles to Wear with Navy Pants
Black goes with nearly every color because it's so versatile. Every man should own a few pairs of black shoes, in different styles.
Most importantly, you'll need a pair of black formal shoes to wear with your navy suit.
Oxfords and derby shoes are the styles you need for your professional and business look. Their differences are minor, mostly related to how the vamp is attached.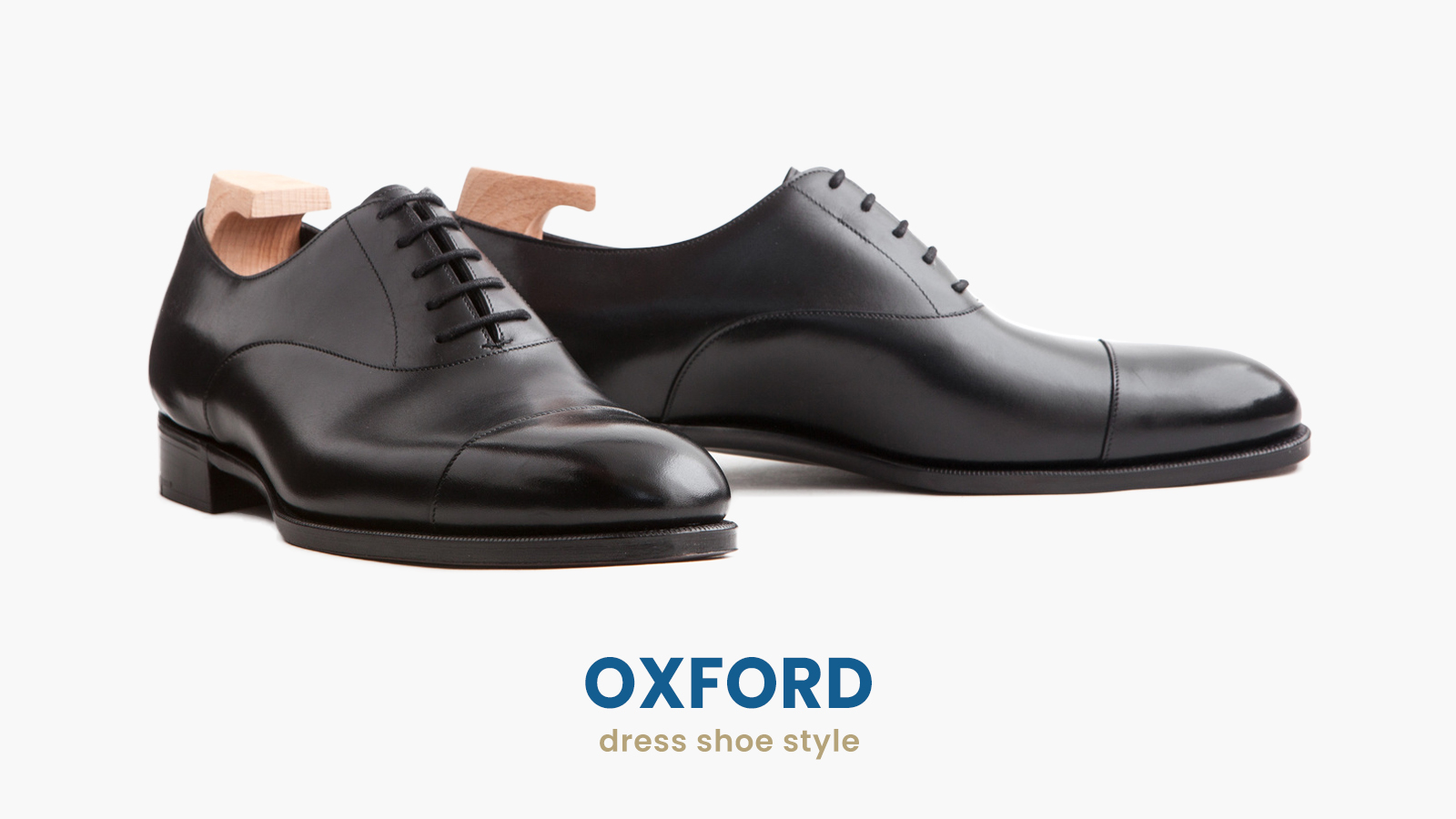 Black oxford dress shoes are the standard. They're the most formal option for navy suit pants, suitable for most formal events.
Black derby shoes are also considered a traditional option, although slightly less formal than Oxfords. That makes derby shoes best for both formal and casual business settings.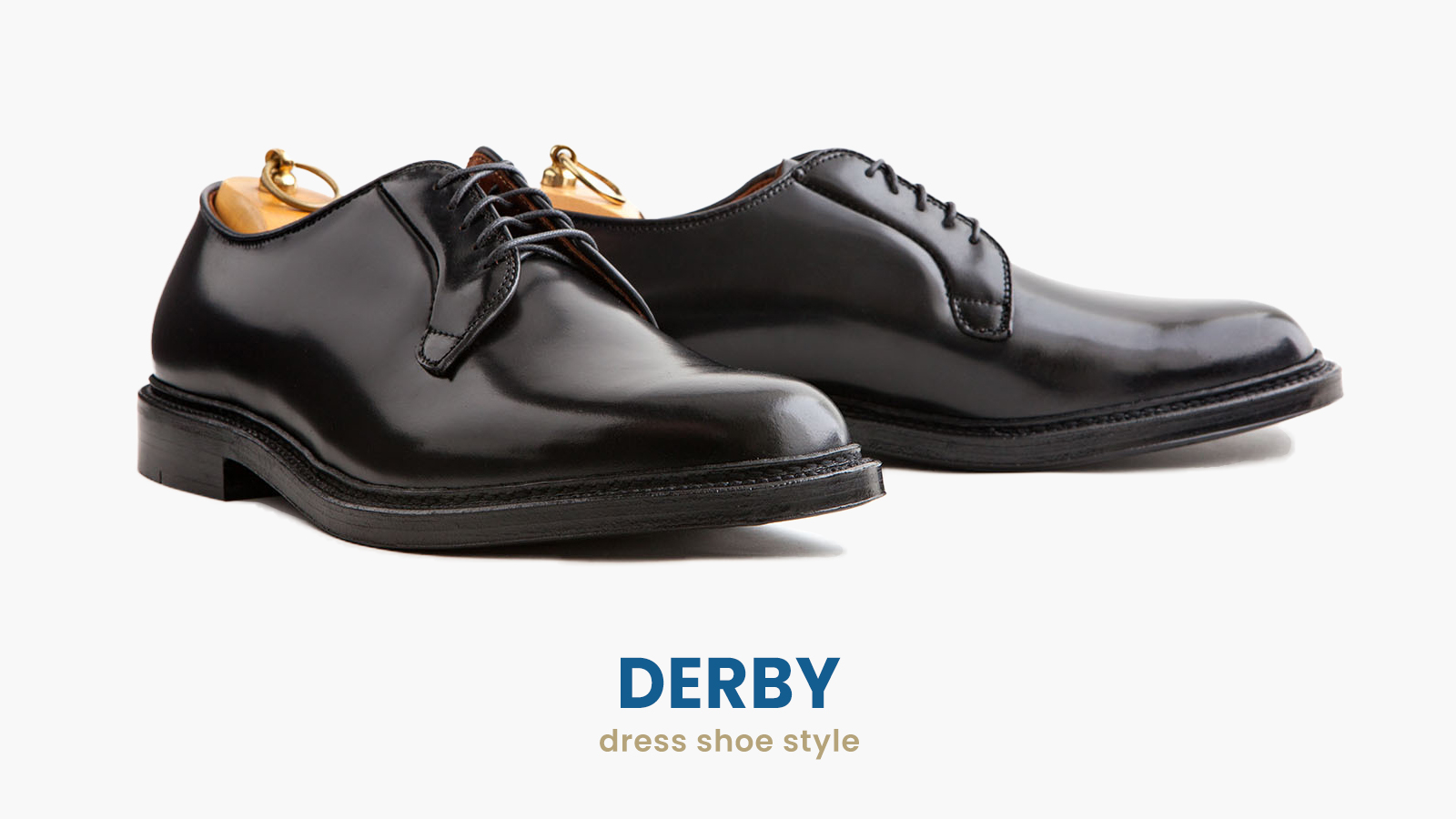 If your office isn't super conservative, or if you aren't attending an important shareholder's meeting, you can wear a shoe style that's a little less formal.
Brogues and monk straps are unique takes on dress shoes; they are much more stylized than simple Oxford ones.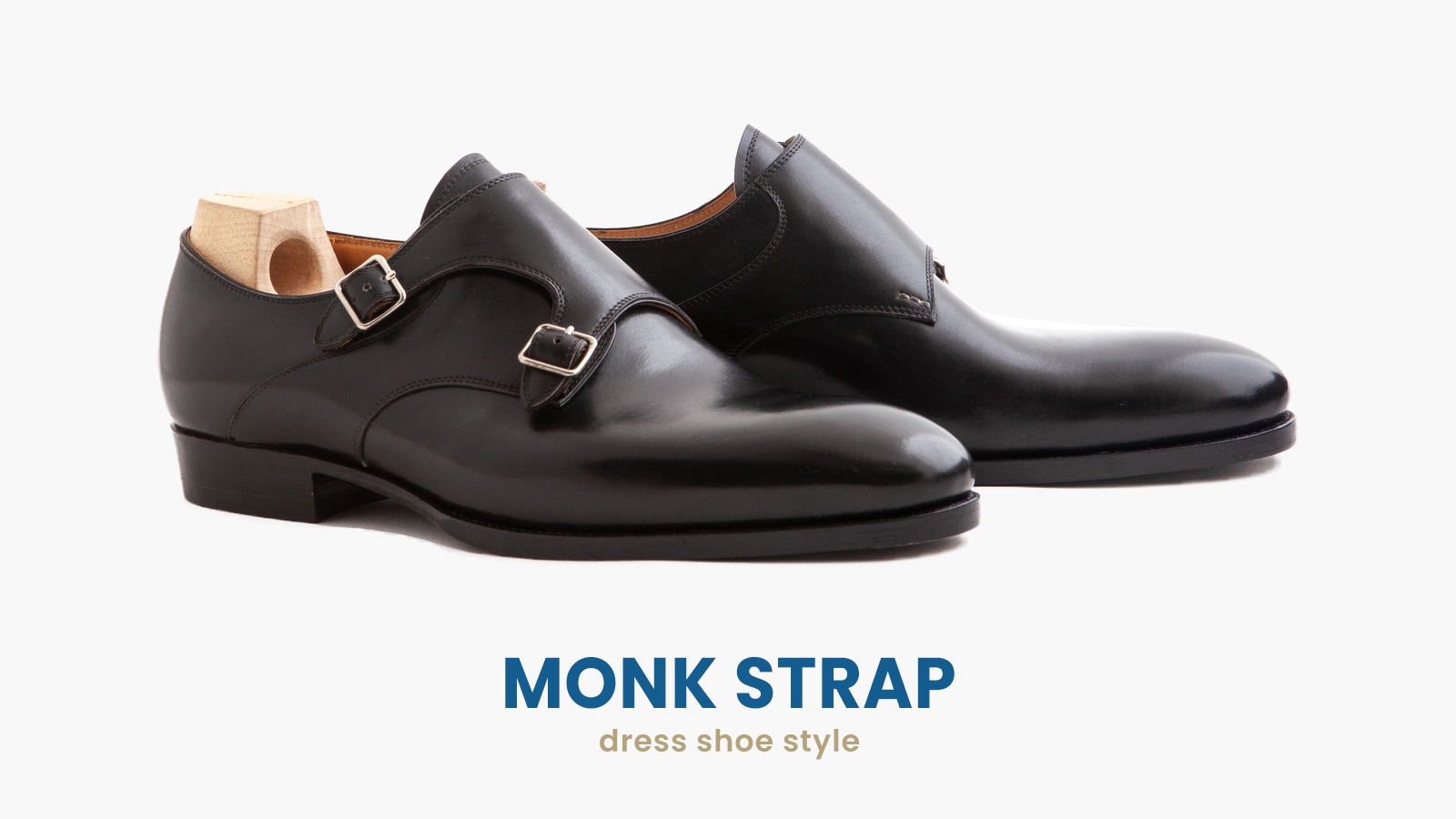 Brogues have perforated designs along the toe and sides, and monk straps have one or two straps with buckles across the top of the foot.
Although black is the most formal color, even for shoes, and navy pants are also quite dressy, you don't need to stick only to a formal shoe type.
Navy pants can look more casual, and a simple shoe style can help.
For example, why not try a pair of black Chukka or Chelsea boots? They look chic and keep your navy pants looking smart and relaxed.
Best for Conservative Settings
Wearing navy pants with black shoes is a tried and true pairing. Both shades are among the most formal colors, so finding them together is very common.
Black is the color for formal wear. Since wearing black suits to the office may sometimes feel a bit too dressy, navy suits are the next best option. This is because navy is the next darkest color to black.
Again, Oxfords and derby dress shoes are the most conservative styles for footwear.
Some men wear monk straps, leather loafers, and brogues. These shoes are acceptable for office settings, but keep in mind that they will be seen as less professional.
Fabric vs. Season
Light shades are typically best for summer, so you'll usually find that light blue and tan suits are more popular in warmer months.
Conversely, winter months and colder weather are when you'll find darker colors, so navy suits are best worn in fall and winter.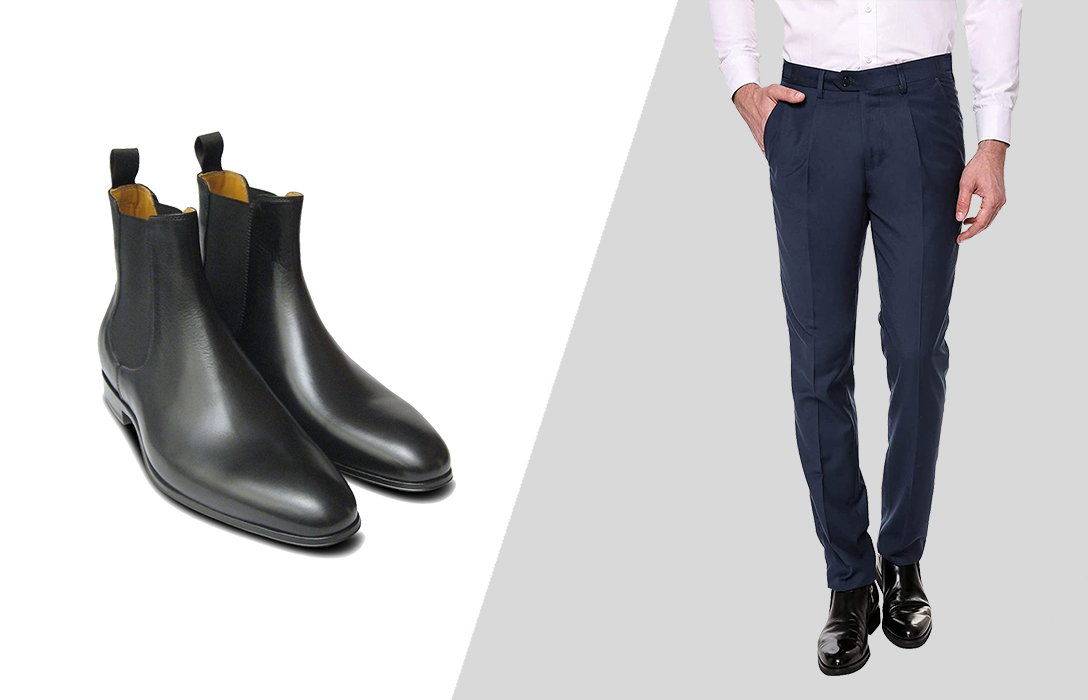 Also, think about what fabrics are best. For example, because navy is such a dark color, it wouldn't be a good fit with lightweight materials.
A dark color feels weightier than a pale shade, so you'll need heavier material for it. Therefore, fabrics like wool are ideal for a navy suit.
Navy Suit & Black Dress Shoes
Wearing a navy suit and black dress shoes is one of the most formal outfits you can put together, outside of a black tuxedo.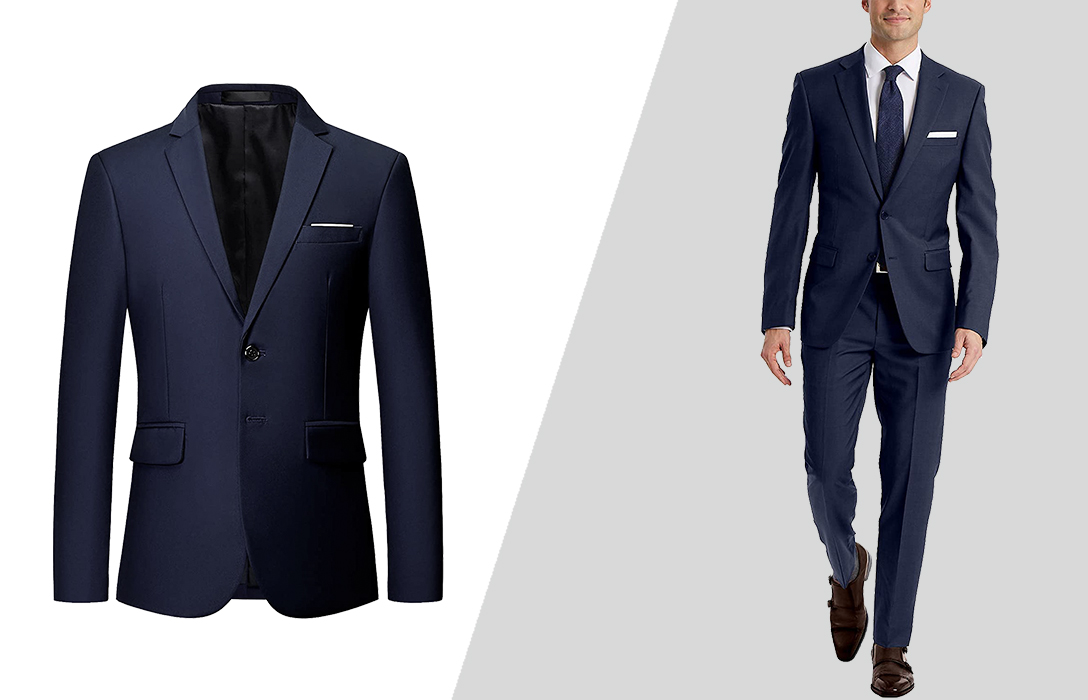 This is because navy suits are nearly as dark as black. Also, navy looks good on nearly everyone; it's a flattering shade.
Navy suits with black dress shoes are ideal for many occasions. It's the perfect suit to wear to a conservative environment; it looks professional and polished.
So, match the navy suit with black Oxford dress shoes to assemble the most traditional appearance for the office.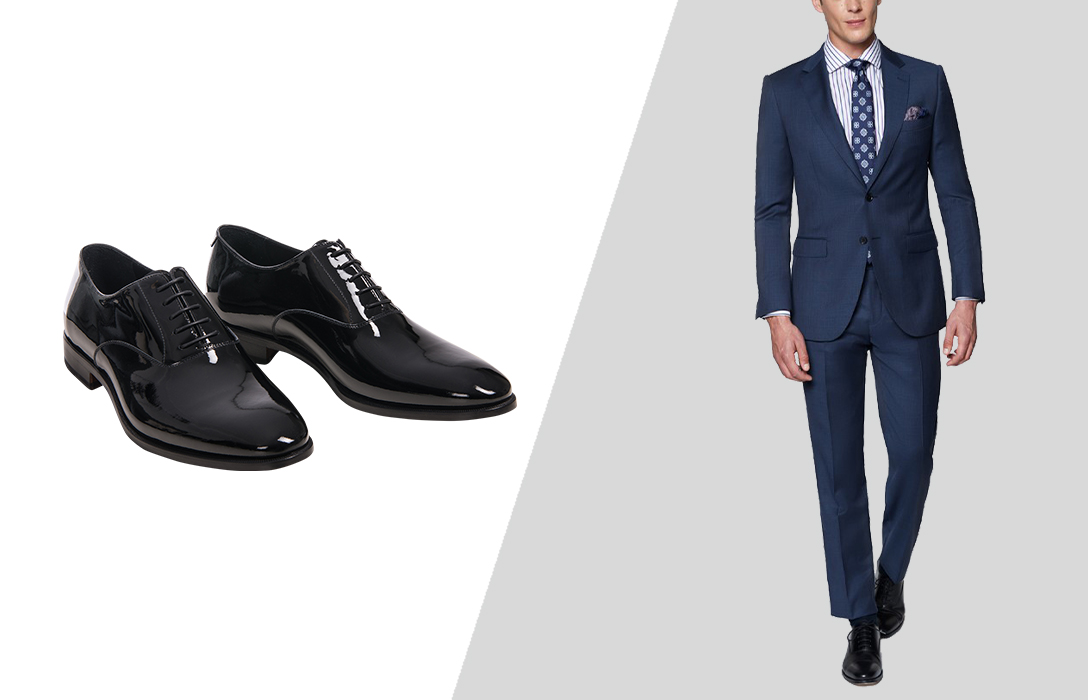 But it's also suitable for many other settings; weddings and semi-formal events are perfect occasions to showcase this ensemble.
Wear it with a white dress shirt for the most significant impact.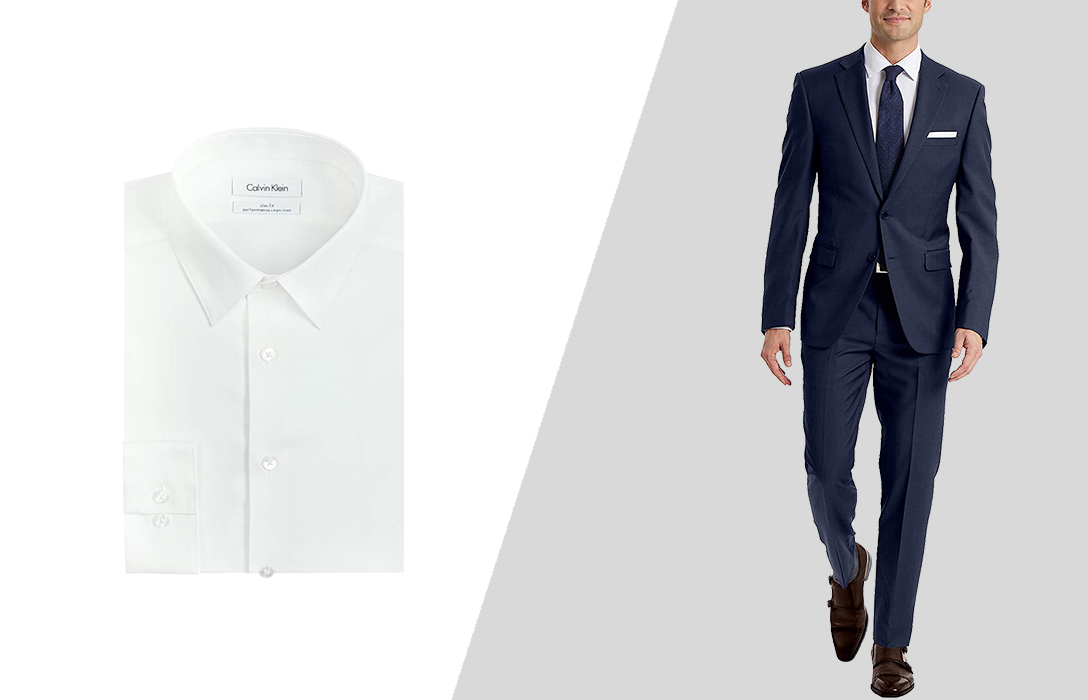 This is a classic color combination; it's an excellent way to be dressed up without going full out formal with black.
Navy Pants & Black Shoes
You can still wear navy if you don't prefer to be very dressy. Wearing navy pants without the whole suit is a way to still look very put together.
Navy dress pants are perfect for a business casual setting. So if you want to maintain some of that formality, oxfords and derbies are still the way to go.
Also, navy pants and black shoes can be suitable pairings for a sophisticated social evening out or a cocktail party.
Black brogue shoes, bluchers, or monk straps would also look natural on these occasions. They have a more relaxed feeling but still look serious.
Keep the white dress shirt to maintain a crisp appearance. You can add a blazer or go in a completely different direction with a black t-shirt or polo shirt.
However, if you want an even more laid-back appearance, ditch the dress trousers and go with a pair of navy chinos and black loafers.
Casual Navy Jeans & Black Shoes
Black shoes elevate traditionally relaxed jeans into a more chic style, worthy of a smart casual outfit.
The jeans need to be in a dark navy to pull off this style properly with no wear and tear.
Again, the style of shoe you choose will direct the tone of your outfit. You can look super casual or dressy casual, with either black sneakers or black loafers.
Black chukka boots help your outfit look relaxed, while black Chelsea boots are a more sophisticated style.
Casual navy jeans and black shoes are perfect for weekend outings or casual dates. This combination also works if you work in a start-up office or your traditional office allows casual Fridays.
Standard Top Choices for Navy Pants & Black Shoes
No matter what type of navy trousers you are wearing, you can never go wrong with a white button-down dress shirt. It is impeccably elegant and always looks very put-together.
Although a white shirt is the most traditional choice, you might be in the mood for a change. So as long as you aren't dressing for a formal setting, don't be afraid to experiment with color.
Light-colored shirts balance out the dark pants nicely. Light blue is a perfect choice; pale pink, grey, or even a soft lilac are fascinating choices that add a twist to a traditional outfit.
Of course, you can skip the conventional suit structure and separate the navy pants with other jackets and blazers.
You can go for neutral jacket colors like medium grey or charcoal.
In the mood for something more daring? Try mixing your navy pants and black dress shoes with earth tones, such as brown or khaki.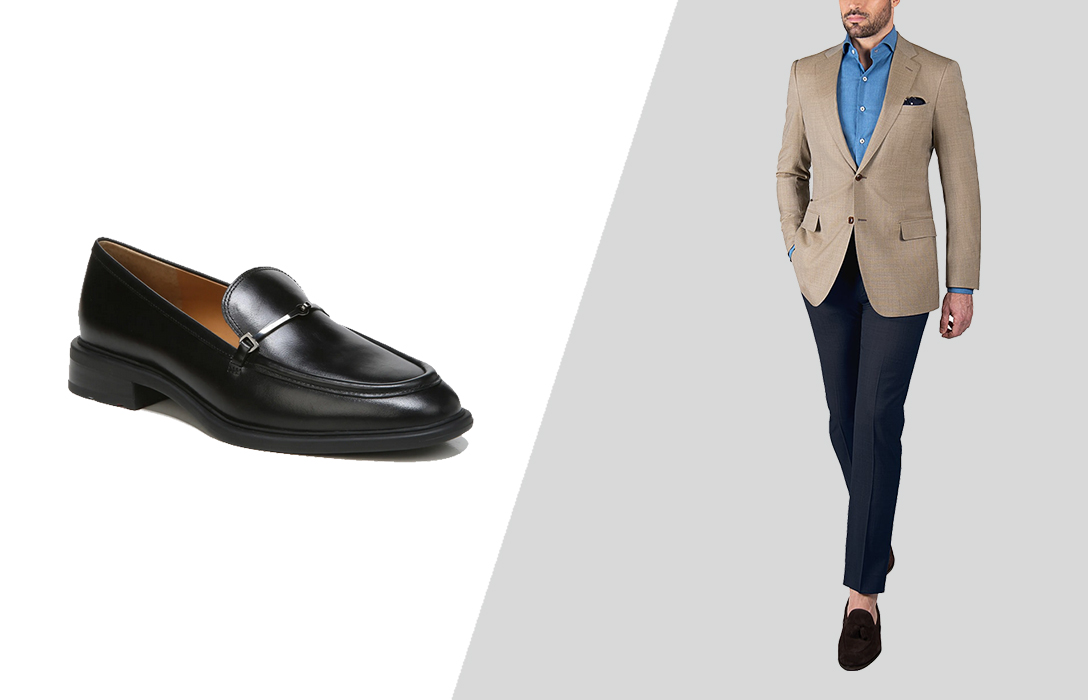 These hues together are bold and will make you seem confident.
In addition, this is the perfect time to branch out bolder footwear. Double monk straps will round out this outfit flawlessly.
Accessories You Can Wear with Navy Pants & Black Shoes
Accessories are small details that can tie all the parts of your outfit together and create one overall effect.
You have many accessories to choose from, but don't overdo them. Only select a couple so that you don't look too flashy.
Black Leather or Metal Watch
Wristwatches aren't as popular today as they were in the era before smartphones. However, a man who wears a watch signals that he is a traditionalist.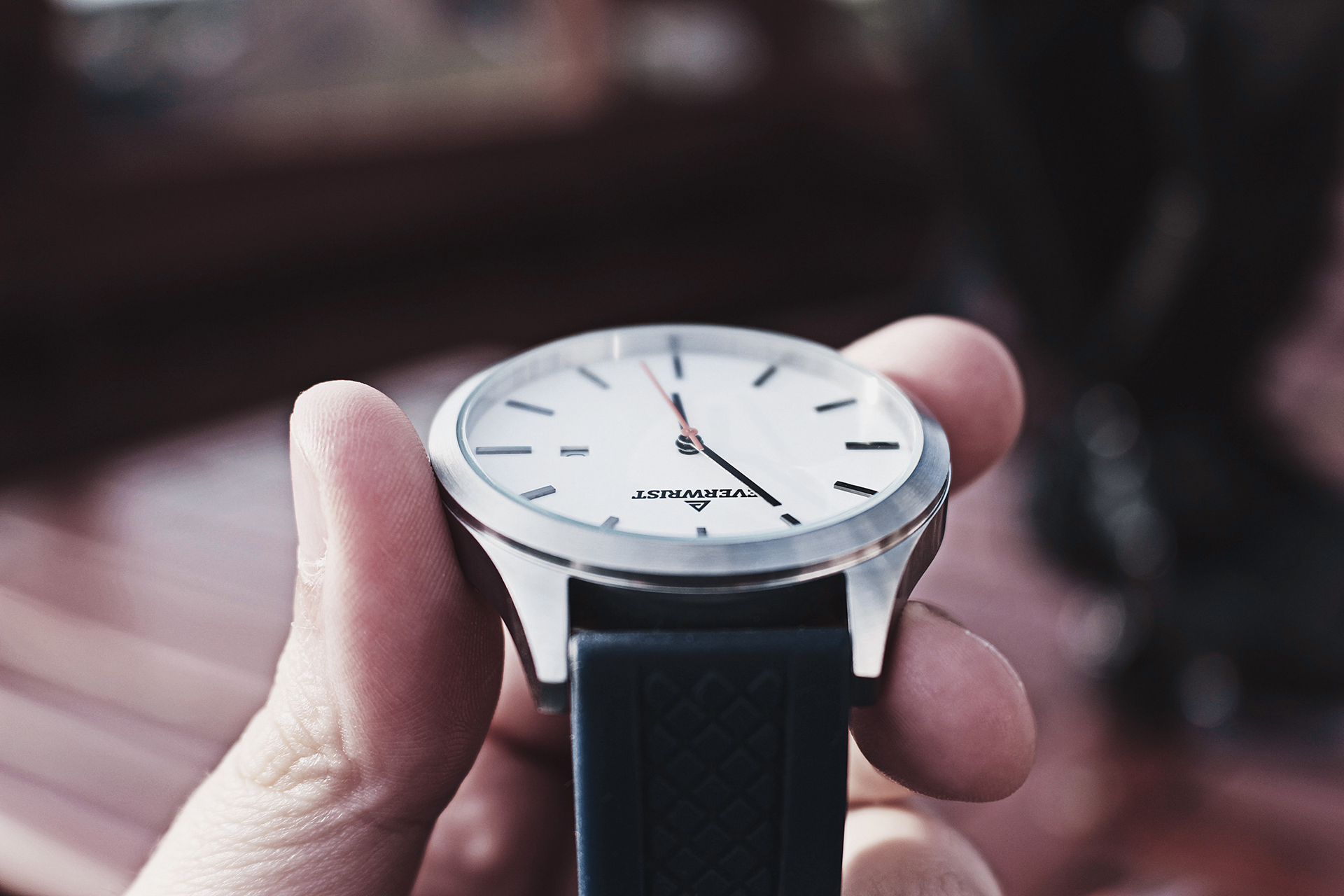 A watch is a piece of functional jewelry, and the right watch can elevate your outfit.
The style of your watch must match the style of your outfit, but more importantly, you need to be sure it fits your other accessories.
For example, if you opt for a leather band dress watch, it must be black leather to match your shoes.
You can also go with a watch with a metal bracelet for its band.
Dark Plain Socks are the Best
Some parts of your outfit are not meant to be noticed; socks are one of those parts.
Bright colors or patterns on your socks will call attention to your ankles, and that is not an area you want people to pay attention to.
Instead, you want them focused on your stylish, carefully chosen clothes. Keep them solid and dark; black would be best.
Black Belt
Any leather item you wear needs to match all other leather on your body. Therefore, your belt must also be black because you're wearing black shoes.
The belt will stand out like a neon sign on your waist if it isn't the same color as your shoes. Just like your socks, your belt should not draw attention.
What to Avoid
Black shoes with navy pants are fabulous together, so don't make a misstep to draw attention away from this classic style.
Be careful that you don't try to mix incompatible styles. So if you wear a navy suit and white dress shirt, pay attention to your dress shoes' style.
For example, black leather loafers are lovely, and they have their proper place, but don't pair them with this suit.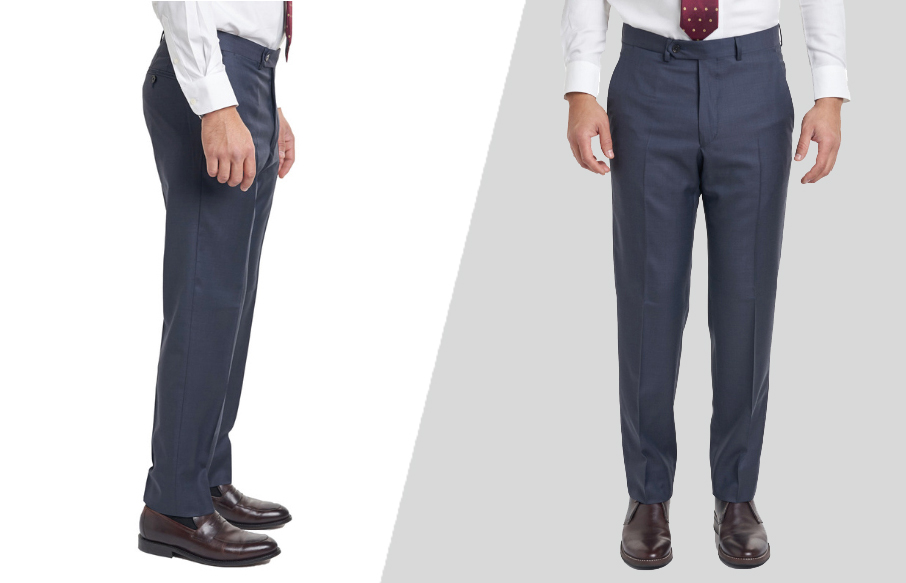 Perhaps the most important thing to avoid is an ill pant fit or an unflattering fit.
Your pants need to be the proper length; their hem should brush the top of your dress shoe or gently rest a small part of the fabric on your shoe if you want a trouser break.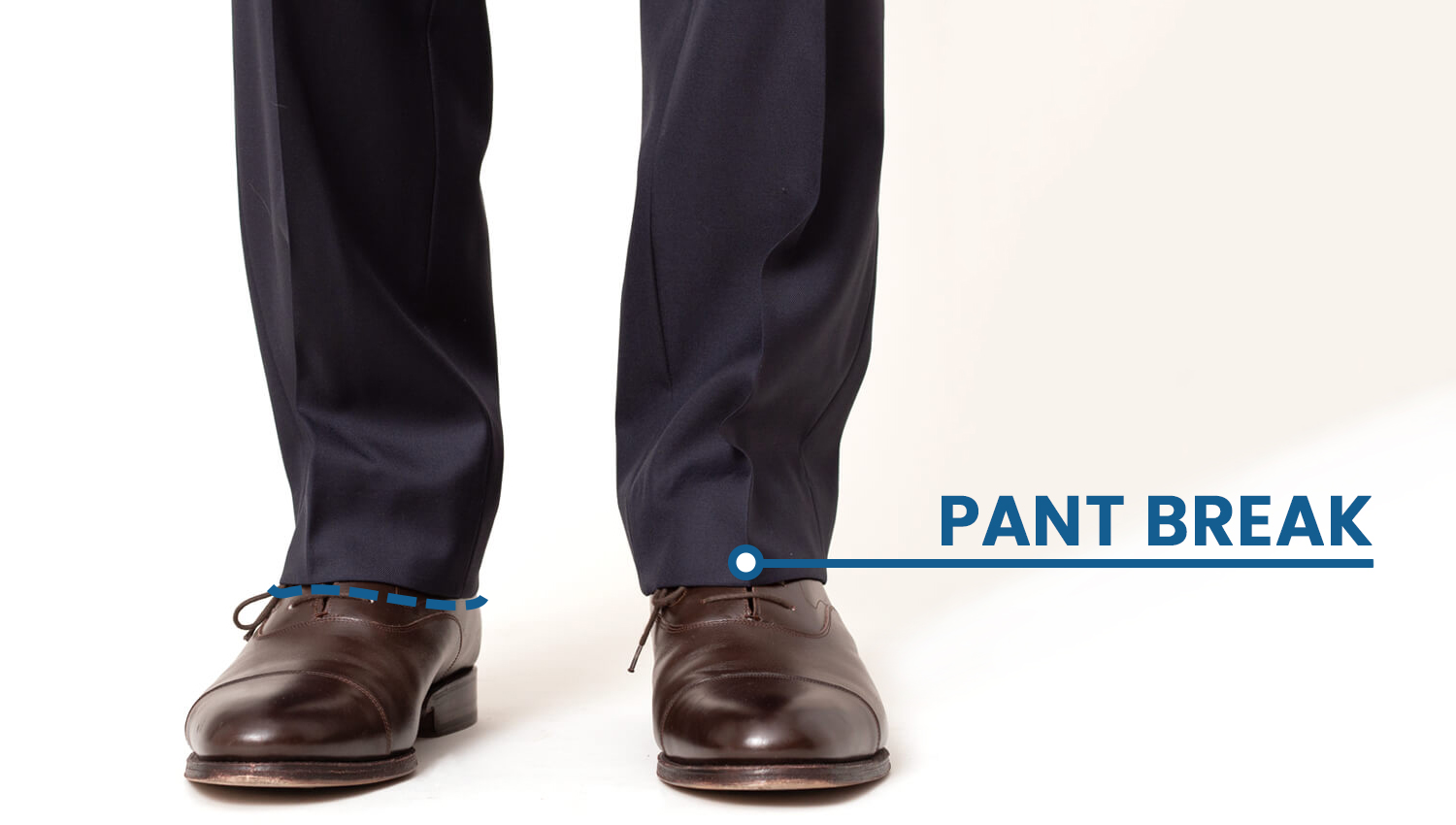 Also, make sure the seat of your pants isn't saggy, making you look diminished in too-large pants.
At the same time, they should not pull across your bottom in a way that is clearly too tight.
Best Shoe Color for Navy Pants
Black shoes are indeed a fantastic complement to a navy suit. But there is one other shoe color that is a better match – brown.
The darker your shade of blue is, the darker your shoes should be. Therefore, if you go with brown shoes, they should be super dark.
Very dark brown shoes look sublime with navy pants. Since navy is also a very conservative shade of blue, a conventional dress shoe would be an ideal pairing, such as Oxfords or derby shoes.
Author: Alexander Stoicoff
Hi, I'm Alex, and I've studied and specialized in styling in Rome. Through my writing, I want to help men dress well and learn the purpose and significance of suits and other formal attire. My final goal is to make men more confident in their wardrobe choice and life in general.