The only clothing more stressful to pick out than date outfits is club outfits.
Of course, you want to look your best and fit in with the other guests, but you also should stand out in some way.
So how can you walk that fine line and still manage to be as dressy or informal as you should be?
Thankfully, a little savvy planning can take you a long way.
Navy Suit for a Formal Nightclub
Even when nightclubs have a dress code, they aren't always very dressy. However, sometimes they require a high level of formality.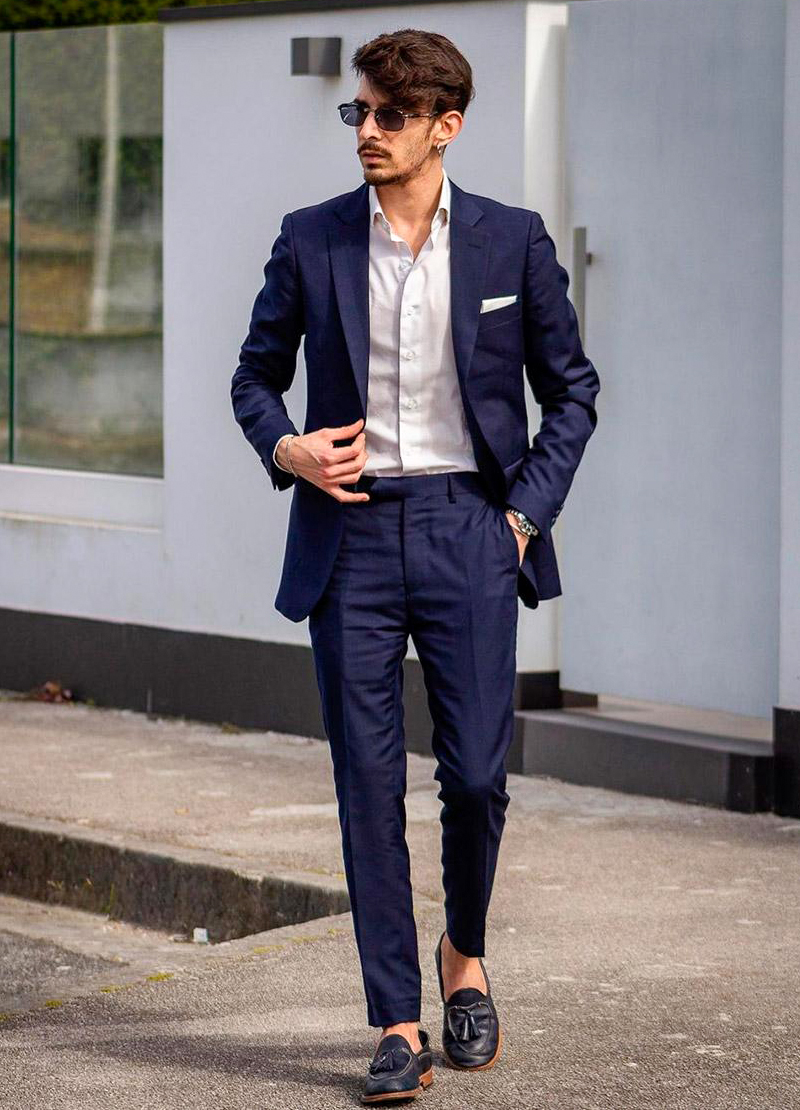 Formal nightclubs have certain expectations; this means leaving your jeans behind and bringing your A-game.
A navy suit is perfect for a classic semi-formal look when hitting the club. Navy works because it's a notch less formal than black and is flattering on everybody.
You can add a white dress shirt to keep your suit at its most formal, but play with your button-up if you want to try a more festive, less serious feeling. A light pink or pattern shirt says, "party on!"
However, if even a colorful button-up keeps your navy suit feeling too formal, wear a t-shirt instead! A fitted black or white tee is really unexpected and enticing.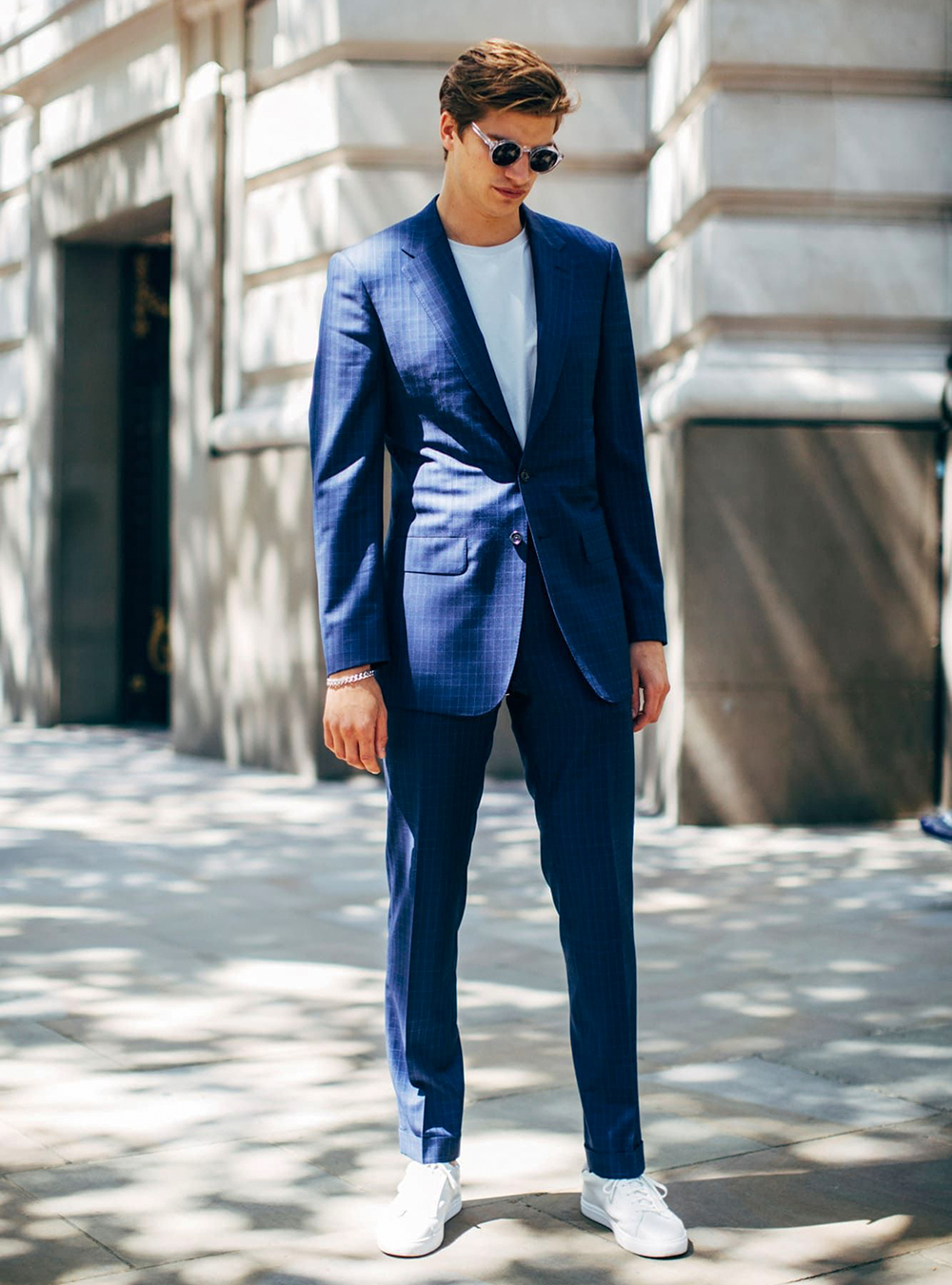 It's important to feel comfortable while you're out partying, and suits aren't exactly about comfort.
However, getting a casual suit you can feel confident in will go a long way in making you feel relaxed.
Also, a perfect fit and flattering cut are critical. In addition, your suit should be excellently tailored.
Casual Blazer with Shirt and Trousers
Adding a blazer to your wardrobe, even a casual one, is one fantastic way to keep your club outfit above the standard shirt and trouser crew.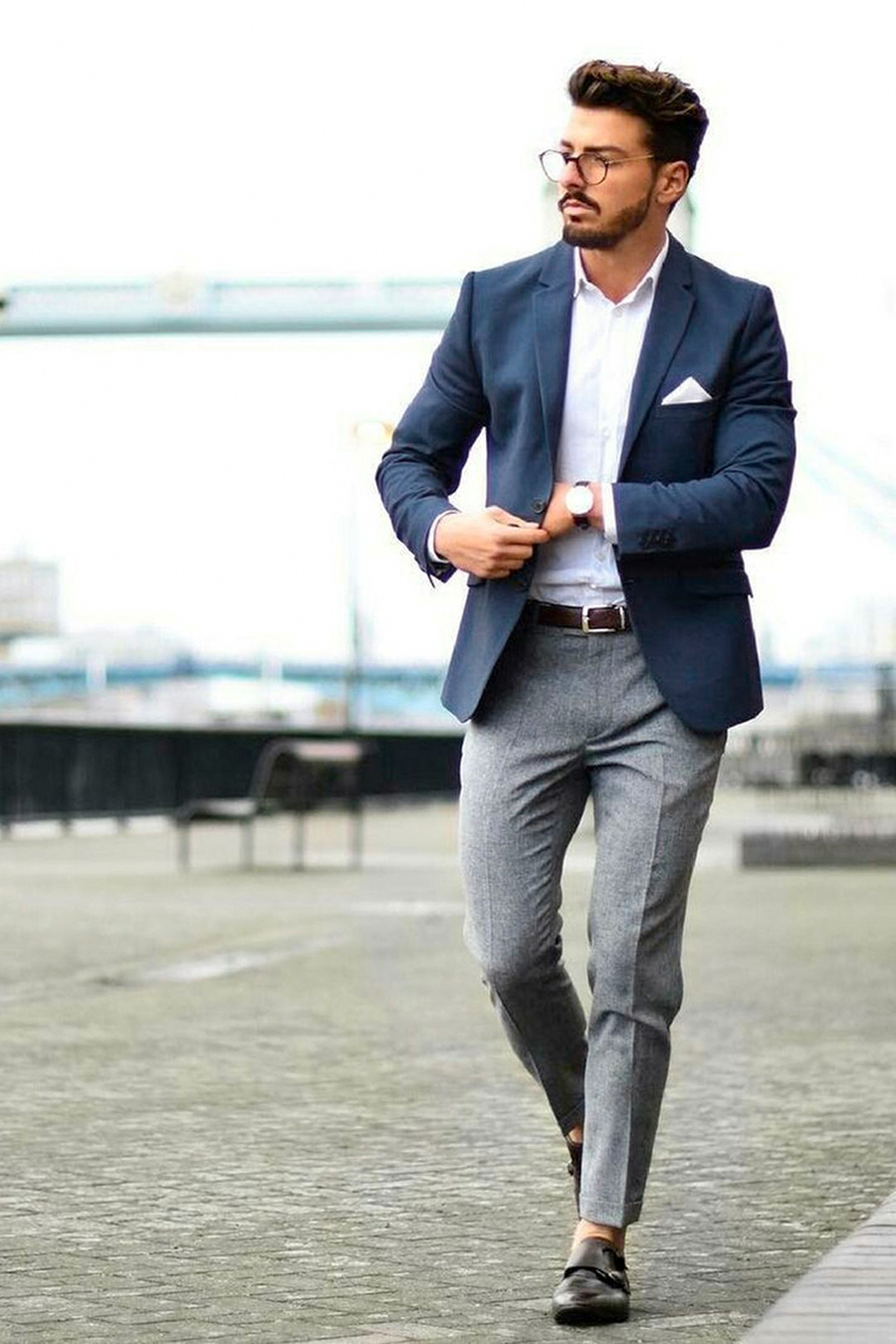 As a bonus, you can remove the blazer when you get overheated from dancing.
You can't go wrong with a grey blazer. It's easy to dress up or down; you can style it semi-formal or as a breezy "this-old-thing?" look.
A white button-up dress shirt with an open collar gives you a dressy, approachable feeling.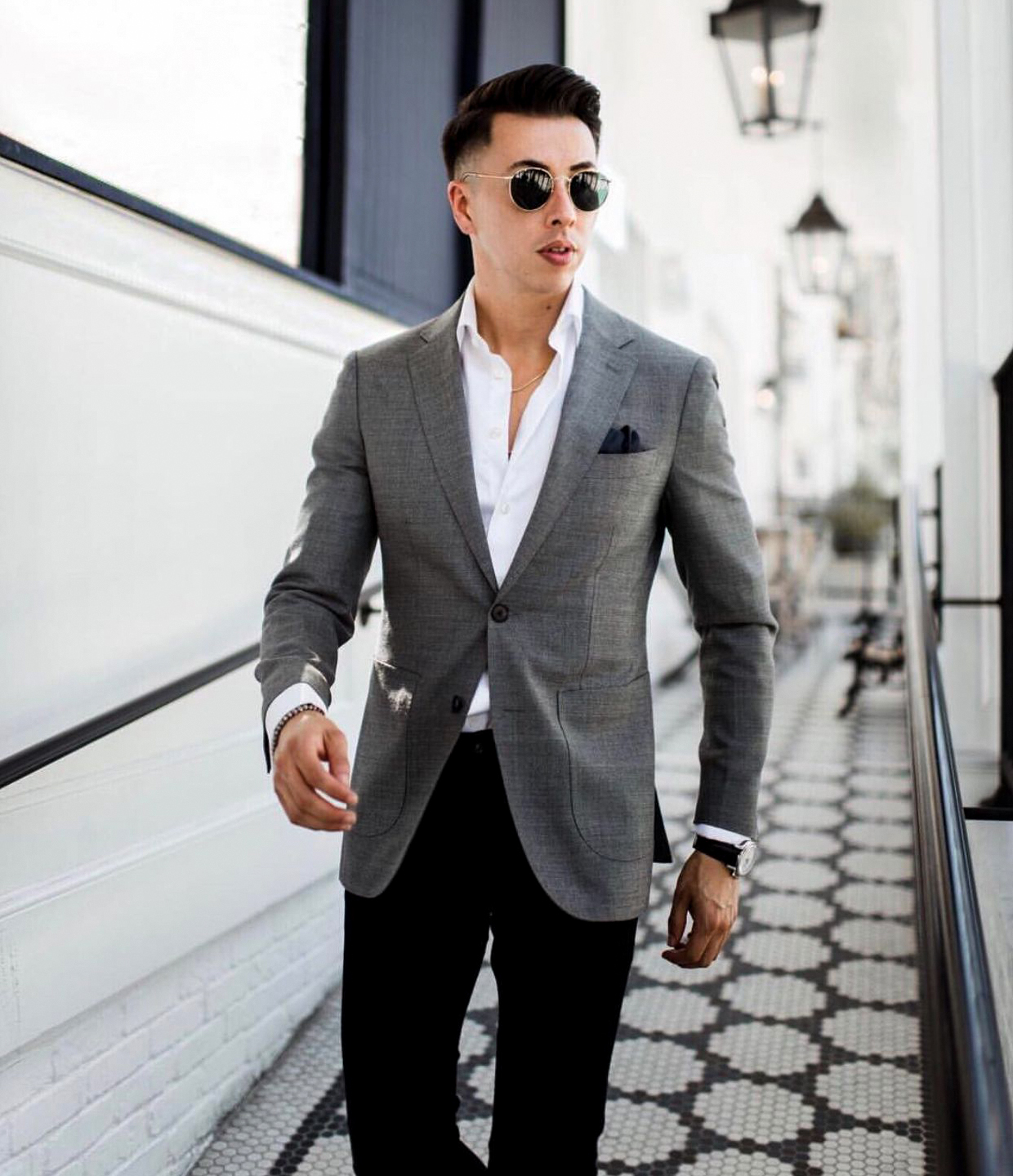 Dark pants are the best partner for a grey blazer; you can create different styles with denim or chino pants.
Read more: how to match a grey blazer with black pants.
Also, avoid Oxford dress shoes for club outfits since they'll feel too stuffy.
Instead, black leather derby shoes, monk straps, or loafers are the perfect button on this outfit.
Want to mix up your blazer look? Wear an unexpected color, like olive.
Button-Up Shirt with Chinos
Unless you are partying near a beach, tan chinos may feel too casual or work-like. That's why it's best to steer toward darker chinos for a fun evening out.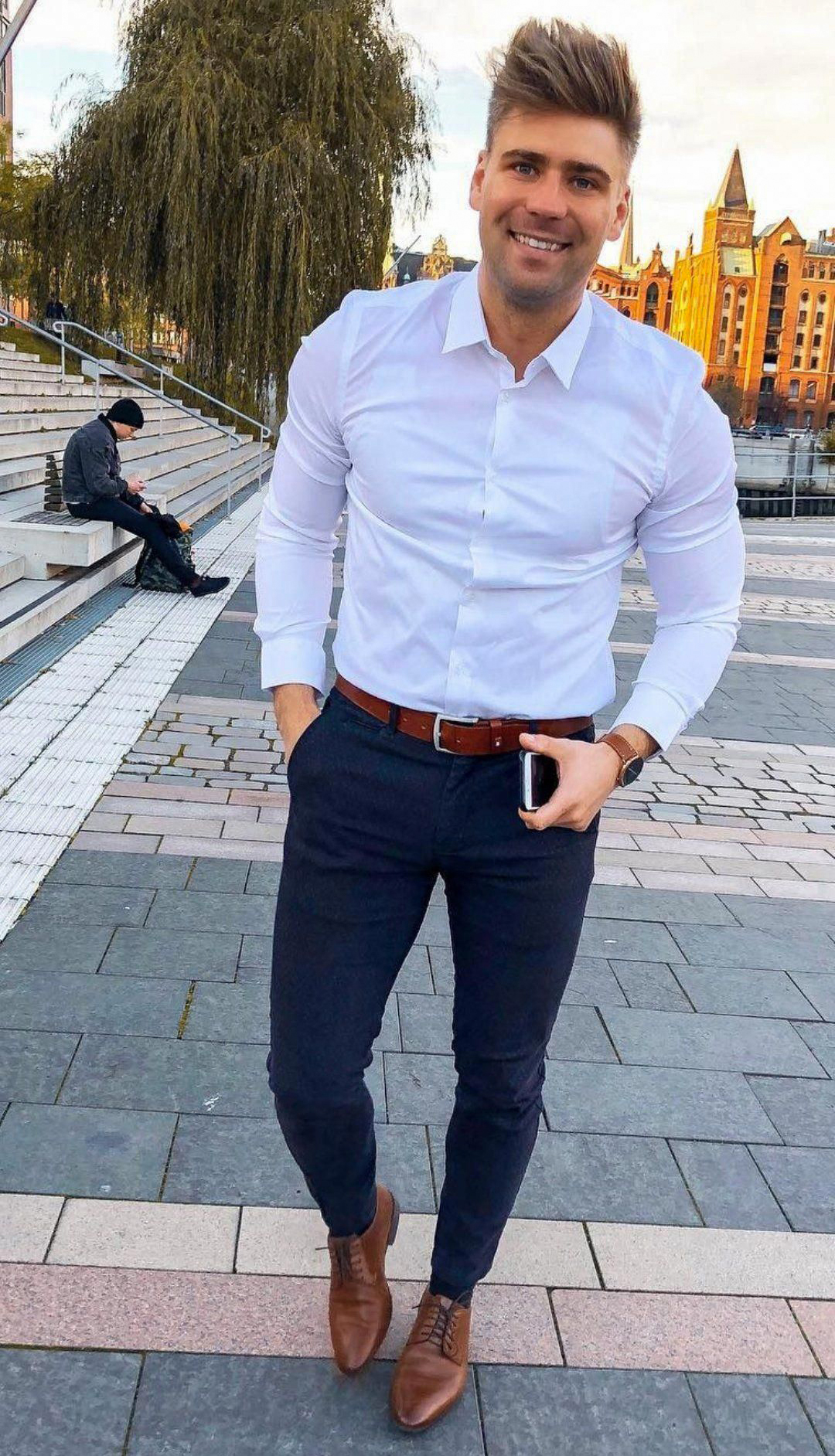 This gives you some flexibility in crafting your look. For example, a light shirt will be more formal and serious, helpful in creating playful energy.
But dark shirts are great, too; they'll lend you a mysterious image.
A white button-up shirt with a pair of navy chinos is a head-turning color combination. Still, pink shirts will work equally well.
Brown leather shoes are the perfect complement to this club outfit. Monk shoes will add a unique, modern taste, but loafers are another hot option.
Roll up your sleeves, and there will be no doubt that you are serious about dancing the night away.
Casual Blazer with T-Shirt and Pants
A blazer is an addition that makes any outfit instantly more stylish. It indicates that you put thought and care into dressing, even when adding it to a t-shirt and casual pants.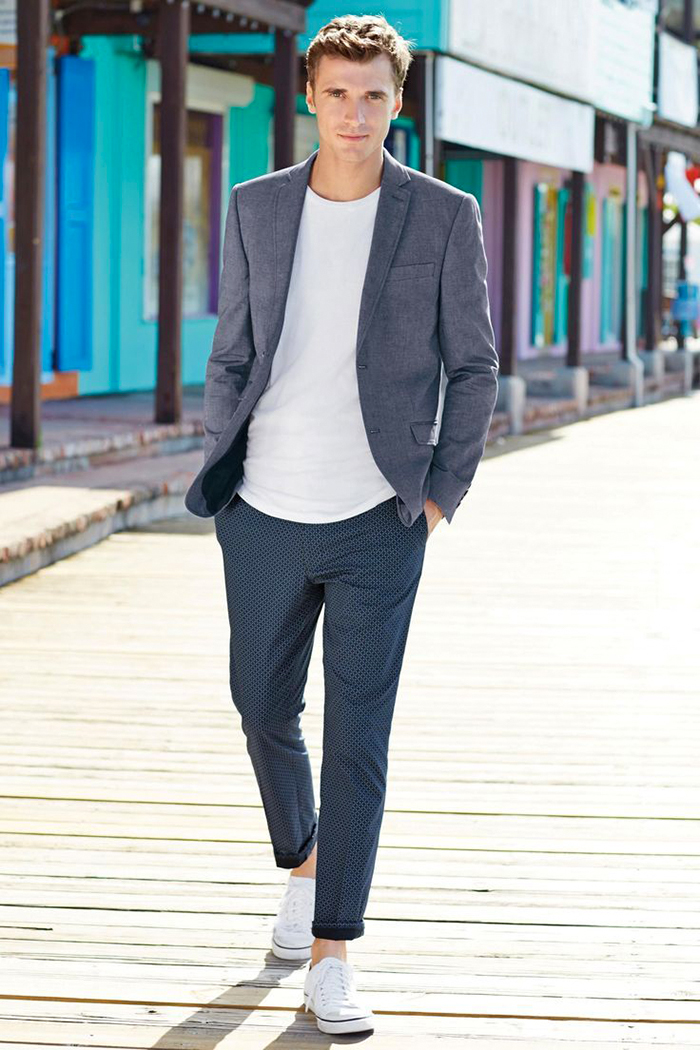 You can toss it over chinos and a t-shirt, and it will be apparent that you are dressed for an evening out, not an afternoon of running errands.
Chinos and a t-shirt are always a familiar friend, which can help you relax into your party mode much more quickly than a suit.
Keep them form-fitting, avoiding baggy at all costs.
Remember, a dark t-shirt will craft a heavier, more formal feel, while a light color creates a looser, more laid-back style.
You can even slip on your sneakers if they're clean, non-athletic, and low-top style.
Button-Down Shirt with Blue Denim Jeans
There's no reason to avoid jeans when hitting the clubs, as long as they're slim-fit and flattering on your body shape.
Look for jeans that sit low on your waist and have a gentle taper below the knee.
A button-down shirt helps your jeans feel less informal; the collar adds respectability and dresses you up. Also, a solid shade makes the outfit feel even dressier.
Don't make the mistake of wearing loose and flowy button-down or baggy jeans; that look went out of style in the 90s; fitted is the way to go.
Leather Jacket with Shirt
A plain shirt with more casual pants can be perfectly acceptable for a party. However, they aren't anything special; you'll look like just about every other bloke in the joint.
But add a dark, casual leather jacket to a crisp white shirt, and *chef's kiss* – perfection.
Dark chinos are an excellent way to anchor the dark jacket and pale shirt.
Just don't wear black pants. It will be too monochromatic and dull; you should have some variation in colors.
You can also expand the color palette with a pair of dark brown boots; it's okay that they don't match your jacket.
If a black or brown leather jacket feels too top-heavy for you, lighten up the palette with a gray or khaki bomber jacket instead.
T-Shirt with Chinos & Loafers for Summer
Hot weather never stops a good party, so you need to be prepared with some warm-weather club outfits.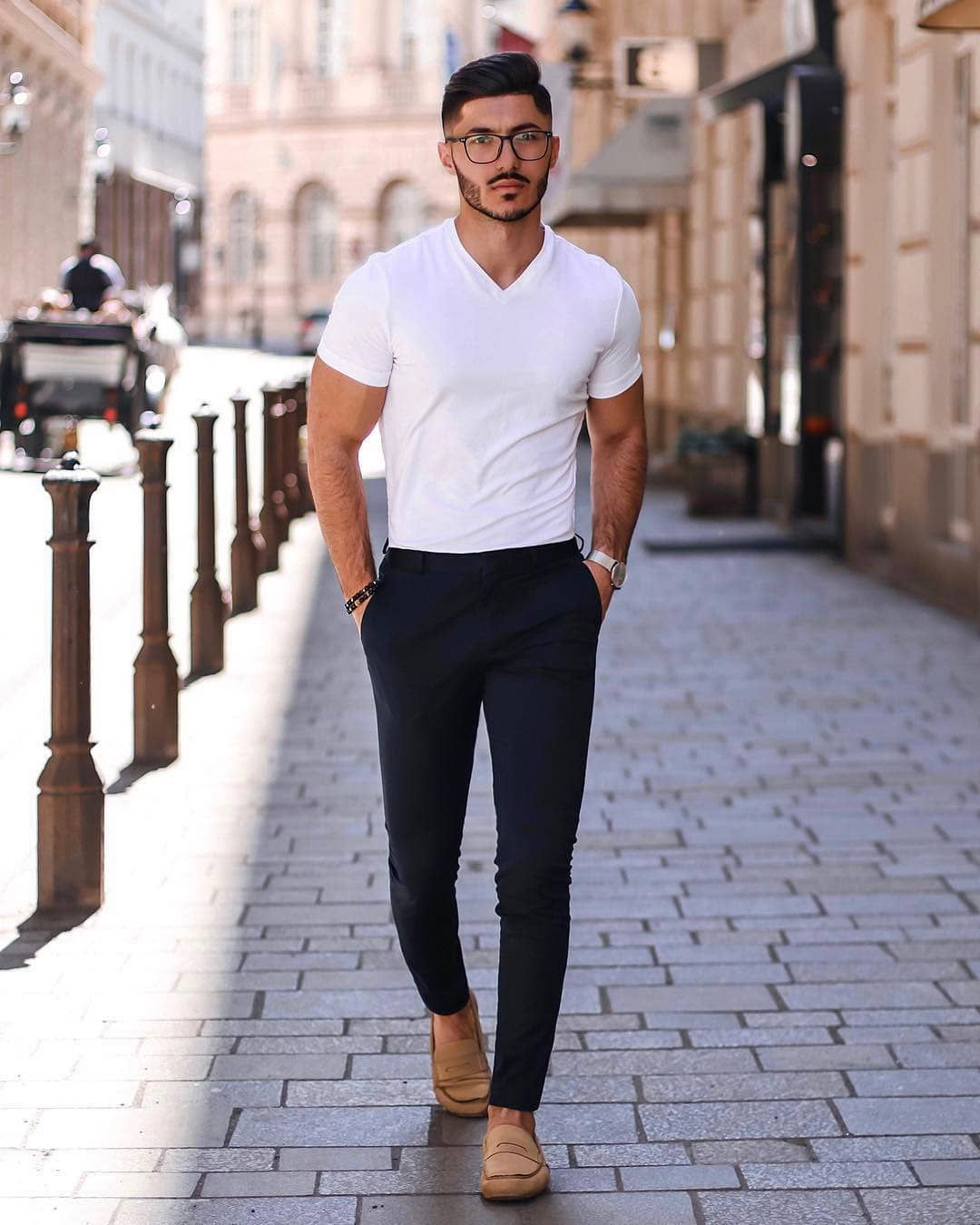 When the temps climb, keep your party outfit simple. A plain fitted t-shirt will be weather-friendly and looks chic when paired with dark chinos.
Adding simple loafers sends your outfit into the ranks of leisure party wear and conveys a carefree sensibility.
Avoid wearing all one color, but play around with all dark pieces to create an urban, after-dark summer ensemble.
Floral Shirt and Jeans or Chinos
Floral isn't a common sight at a nightclub. But since floral is an informal print, you won't ever feel overdressed, either.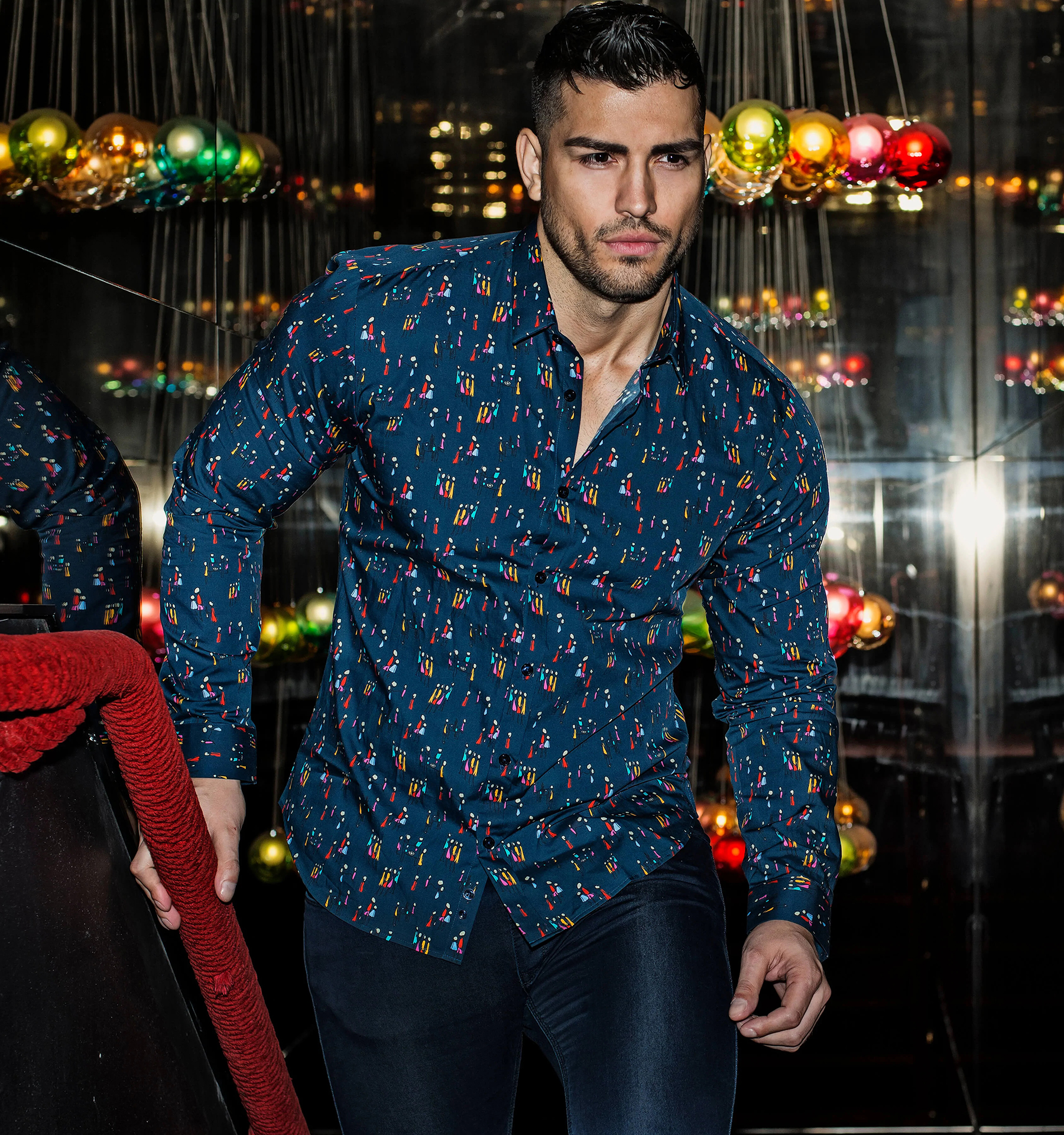 You can play around with how you fashion your floral shirt, like unbuttoning a few buttons at the top.
Whether you wear it with chinos or jeans,  you are sure to attract attention in a good way if you style this shirt right.
Even a short sleeve floral shirt will provide a rakish effect that can send off very festive vibes.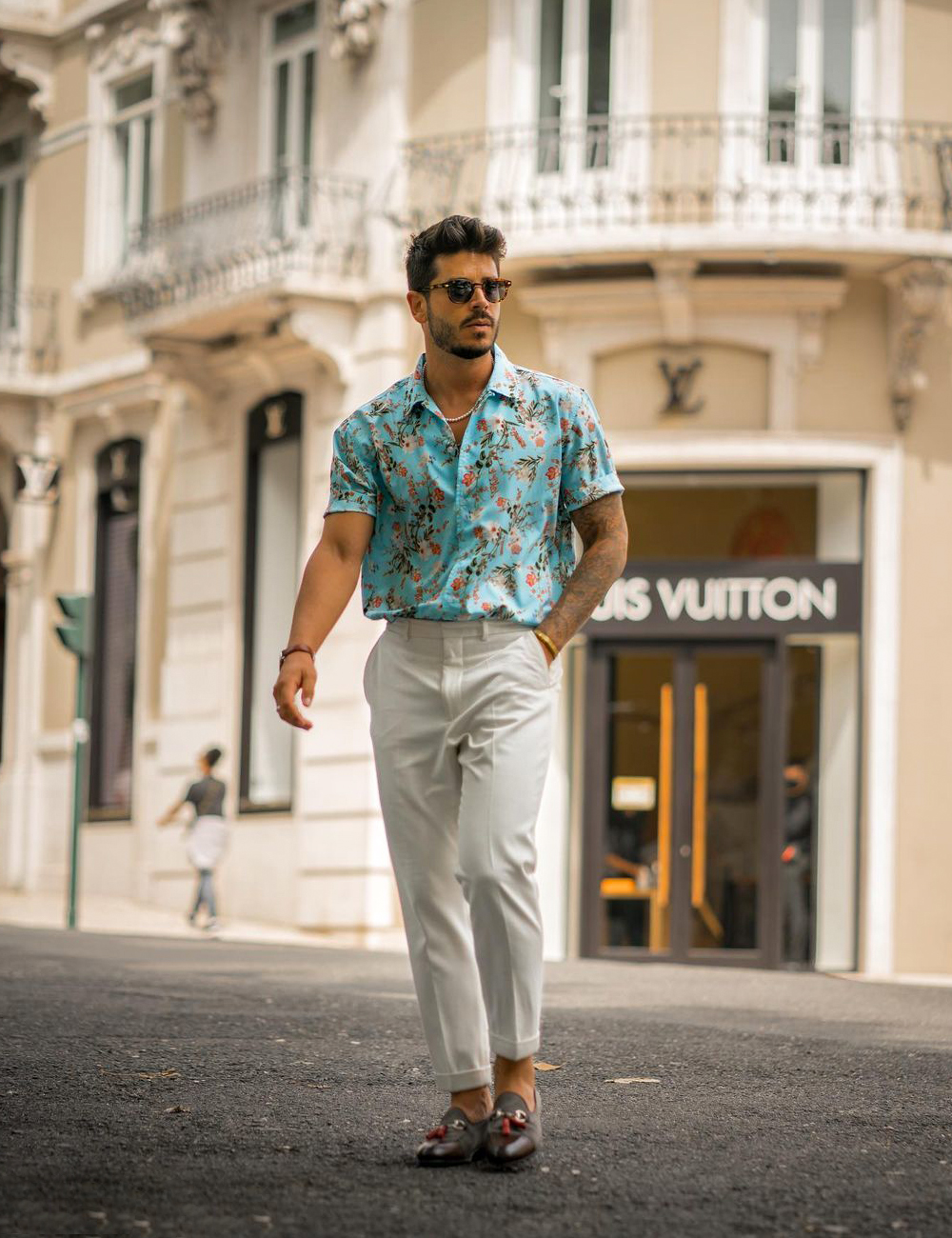 Floral shirts provide you with a fantastic opportunity to play with color. Neutrals are fine, but why not go all in and wear a green or red shirt?
And loafers are the ideal way to round out this outfit.
Turtleneck & Leather Boots are Good for Winter
Turtlenecks aren't just for scholars! Be the "thoughtful" party-goer when you wear a thin, dark turtleneck sweater.
It's an effortless look and so simple to style. You can match it with jeans, chinos, or dress trousers; it all depends on how dressy you care to go.
Brogues or derby shoes round out the dressy version of this outfit but consider incorporating leather Chelsea boots for a last-second surprise.
A turtleneck doesn't seem like a natural fit with boots, yet the boots offset the uptight feeling the turtleneck might imply.
Plain T-Shirt with Blue Denim Jeans
Sometimes, an incredibly casual look is exactly what a party calls for.
Of course, the t-shirt should be fitted, but how else can you play with its style? You might switch things up subtly by trading your standard crew neck for a v-neck.
Rolling up your sleeves is another way to make your long sleeve t-shirt different from its usual style.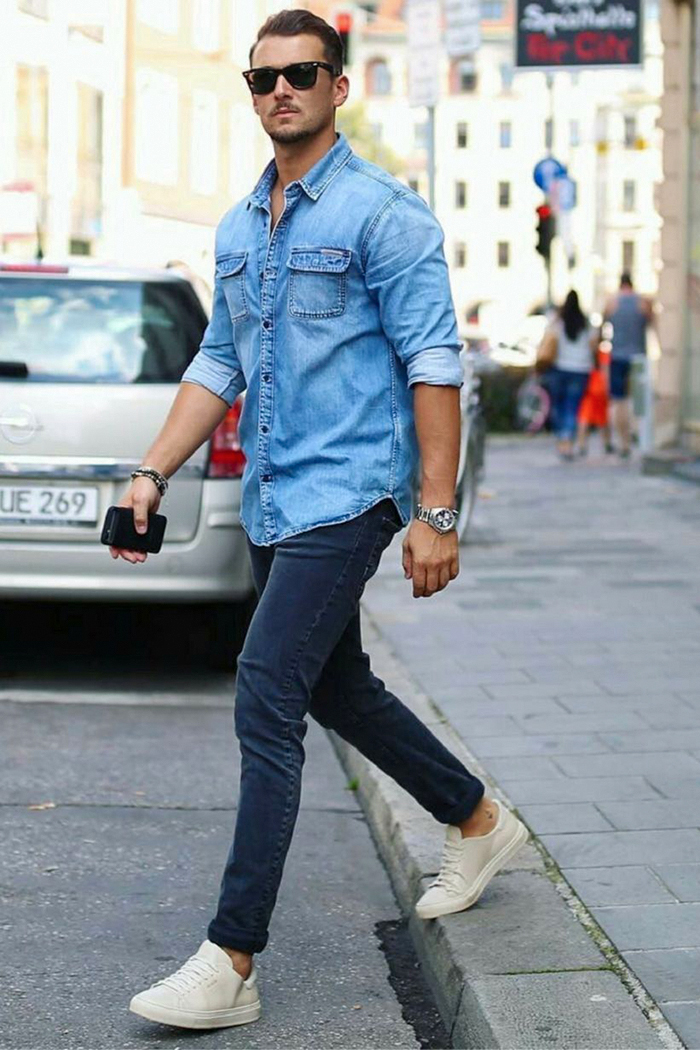 Don't head straight for the skinny jeans, but they should still be somewhat tight on you. The right fit across the seat of your jeans and in the legs is vital to pull off this look.
Match your outfit with very fashionable sneakers – either canvas or leather works.
Party Wear & Club Outfits Essentials
It can be so hard for men to know how to dress well in social situations. There's no hard and fast dress code like there is for the office.
When in doubt about how to dress, try to suss out the formality level of the club or party.
While there aren't any hard-and-fast rules about dressing for a night out, there are definitely unspoken things you should avoid (I see you, mesh shirt!) for your club outfits.
Knowing the basics can give you a huge head start in dressing, helping you stay ahead of the game.
Blazers Give You a Masculine Look
You can't ever disappoint the fashion police if you wear a blazer.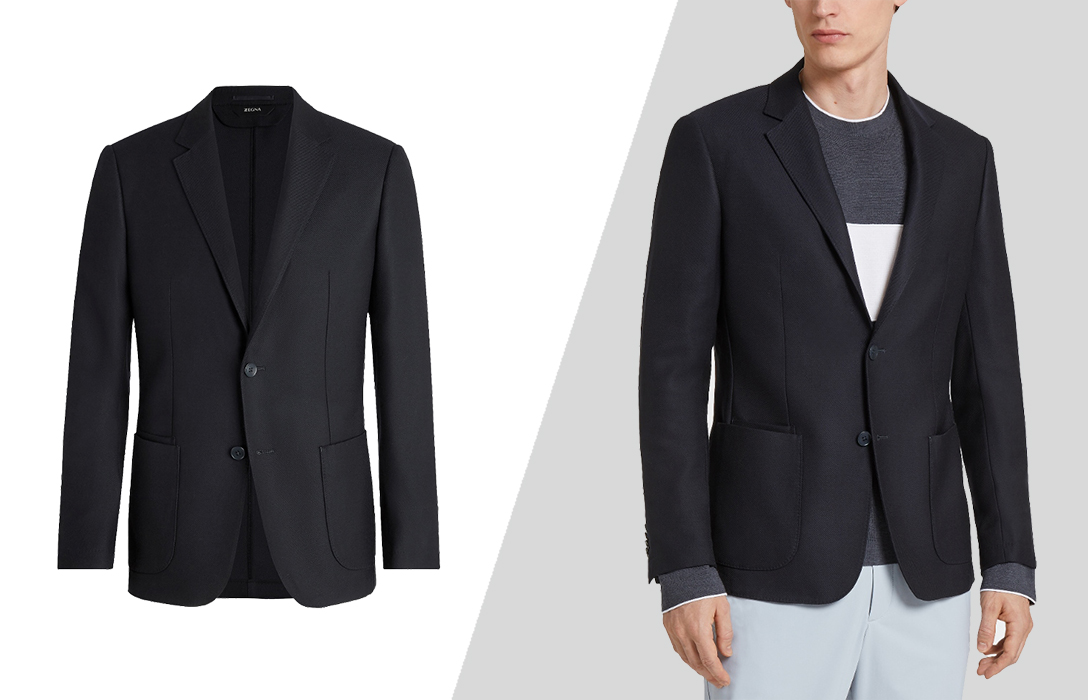 It's usually wise to lean more toward the formal side of dressing when heading to a nightclub or party, and a blazer does that without going too formal.
They are versatile enough to dress up or down. They're perfect for elevating your t-shirt or tempering your button-up.
Blazers work with jeans and dress pants; they suit Oxfords and sneakers.
In other words, blazers are the ultimate accessory in menswear.
Try to Skip T-Shirts and Sneakers
There isn't anything wrong with your comfortable t-shirt and trusty sneakers for your everyday style.
However, they're just too plain and unremarkable for a night out. You want the night to be special, so your clothes should be exceptional. Mix things up!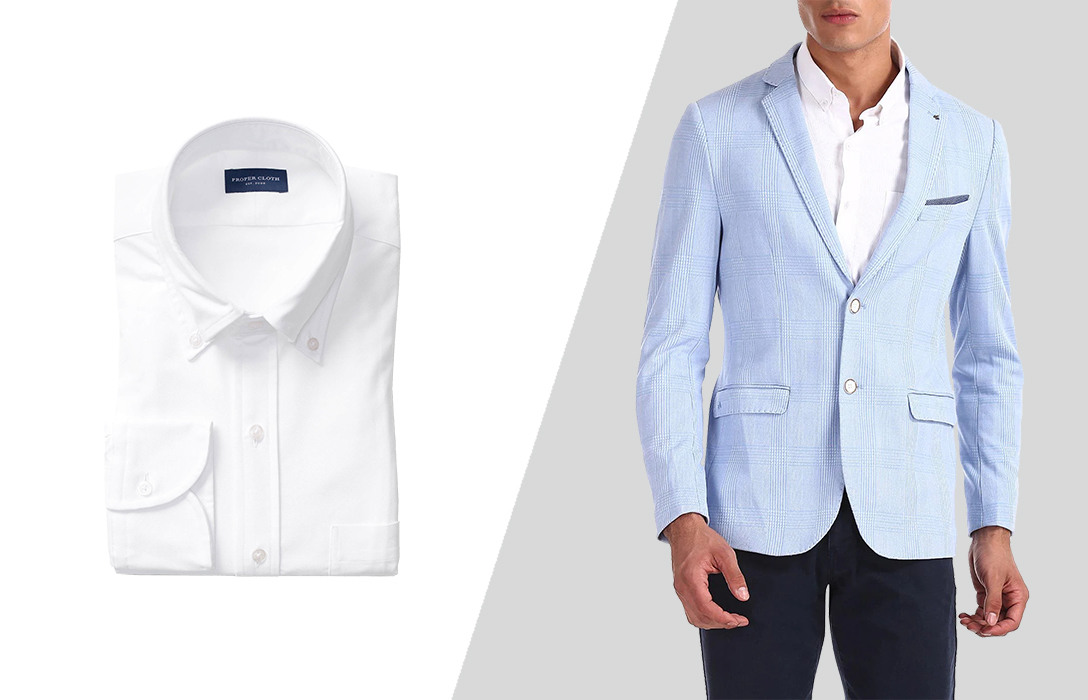 You can pick one item or the other, your t-shirt or your sneakers. But not both.
At the very least, add something dressy to your ensemble; dress pants, chinos, a blazer, or a bomber jacket will all give your outfit a step up.
Accessories to Wear in Nightclubs
Use accessories to personalize your outfit, but it's best to keep things simple.
Don't add anything that can get in your way throughout the night, such as a hat.
A watch is a subtle, classy addition to your outfit that is also functional.
Match your watchband to your outfit; a leather strap for a formal suit or a metal bracelet with a bomber jacket and t-shirt.
A belt is a great way to add more style if you are wearing your shirt tucked in. It attracts attention and makes your ensemble more than just a cookie cutter.
Remember: less is more!
Wearing Expensive Brands in Clubs
Think about the two most common activities in a club: dancing and drinking.
Dancing leads to a lot of sweating if you're doing it right. And drinking can lead to some spills if you're doing it wrong.
Either way, you don't want to risk ruining your very expensive clothing.
Of course, you want to look your best, but you would be taking a considerable risk wearing your designer gear out partying.
It's best not to, but if that's your lifestyle, you're welcome to it!
Author: Alexander Stoicoff
Hi, I'm Alex, and I've studied and specialized in styling in Rome. Through my writing, I want to help men dress well and learn the purpose and significance of suits and other formal attire. My final goal is to make men more confident in their wardrobe choice and life in general.