Let me disrobe you of the challenging thoughts when you can't recognize which outfit to wear by pointing necessary places where you should wear a suit.
Because suits are not just formal wear; they are perfect wedding attire, first date dress, or even comfortable airplane outfit. You just need to know which suit to pick when.
Believe me, once you find your perfect suit wardrobe for all occasions, you won't wear anything else. So suit up! Just let me tell you where!
Formal Events
You must've heard of formal attire and dress codes, but ever heard of white-tie? It brings back the memories of the Downton Abbey era.
The most formal menswear is white-tie attire, with a stiffened tuxedo shirt, a winged collar, and cufflinks. But these events are rare and only reserved for state dinners or galas.
The close-second most formal occasion you can be in is the black-tie dress code. Nowadays, black-tie attire is the epitome of formal dress wear for men.
Wear a tuxedo with silk shawl lapels; pair it with a self-tied black bow tie; shine your formal Oxford shoes. You will look sharp for weddings, award ceremonies, elite balls, or even opera.
This is the most frequently worn attire for the groom, so make sure to accessorize well. For example, try a cummerbund or a waistcoat for a sharp V and a fancy pair of cufflinks.
Job Interviews
This is a no-brainer for anyone. That includes those trying to get a position in casual places like Google, Facebook, or even Apple.
There's a lot of buzz around the start-up culture & dressing casually; however, most recruiters still notice your appearance.
If you wear a suit to an interview, it conveys that this interview is worth your time. You have put effort into your attire to leave no stone unturned.
Wearing a suit to an interview becomes all the more vital if you're seeking a formal, client-facing role.
Make sure the suit is comfortable enough to sit in for longer periods of time. A traditional, classic fit suit is what everyone recommends.
Networking & Business Events
You are no Zuckerberg to land up for a business meeting in your pajamas. But, on the other hand, you blend well if you wear a suit to business events or meetings.
In addition, wearing a suit to those places brings out the magnetic personality that attracts top industry people toward you. Simply put, it is the packaging that sells the product.
As it is a formal setting, you must always wear a tie, and it shouldn't be too flashy or patterned.
You can even go with a peak lapel suit because they give more entrepreneurial vibes. They make you look more confident and bring out the risk-taker in you.
For those that will be wearing their suit without a tie, consider choosing a formal belt that compliments the suit. This is common in large networking events where several different looks are on display.
Business Presentations
Unlike job interviews, this is pretty much a "mobile interview". So, looking at your best is priority #1, while comfortable shoes are priority #2.
If you're the presenter, it is vitally important to avoid patterned shirts. Of course, you can always remove the suit jacket and the tie if you're the most overdressed person in the room.
Sometimes, these places don't require you to wear your best formal suit. This presents a fantastic opportunity to try out the latest fashions in the casual-elegant suit segment.
It will definitely make you look smart and competent while giving you a simple look at the same.
The First Date
Maybe a surprise for some, but not all. Nothing impresses a first date more than a tailored suit, even a casual one.
The suit is the uniform of a suave, well-dressed man. You need to show her that you want this first date followed by many more, and a suit can be your wingman.
Besides, the suit brings out the charming and confident you. Maybe you can wear a contrasting suit jacket or lose the tie, looking slightly casual yet sharp. Or you can go all the way, if not overboard.
This is one of the many reasons the phrase "clothes maketh man" came into existence. With no guarantee of a second date, first impressions are everything.
Cocktail Meetings
A cocktail suit is synonymous with dusk if we draw a weather analogy – a perfect blend of night and day attire, a cocktail in the true sense.
You can even think of it as a bridge between casual and formal attire. You need to look classy but not too formal.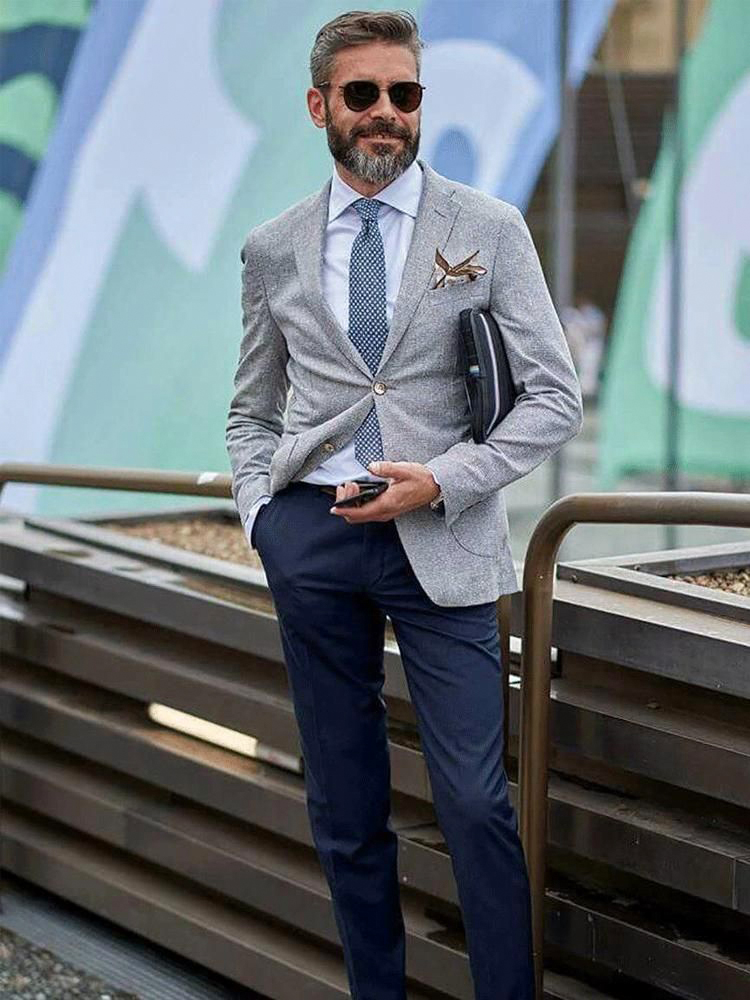 For people who ask why to wear a suit to a cocktail, the simple answer is you get to look trendy.
Cocktails offer a chance to experiment or be creative with your style. You can throw in colored or patterned ties; loafers are acceptable, and shades add glamor.
It is the perfect occasion to try out the quasi-formal attire or put together an ensemble.
Upscale Restaurants
Do you go to an elite restaurant every day? Is fine dining your regular dining? Unfortunately, for most people, the answer to these questions is no.
You head to these restaurants for special occasions. For example, maybe you are going to propose to your loved one.
Wouldn't you want this once-in-a-lifetime moment to be a cherished memory? I think that's reason enough to wear a suit to such places.
The dress code in upscale restaurants is strict by default, so never feel the need to under-dress.
Besides, you wouldn't want the picture to come out as you in your sweats while your partner looks gorgeous.
Airplanes
Want to be treated well by the cabin crew? Wear a suit and observe how the world starts revolving around you.
Get rid of the misconception that a suit can be uncomfortable on flights. You can wear it with ease, even on long-hauls, if you pick the right one.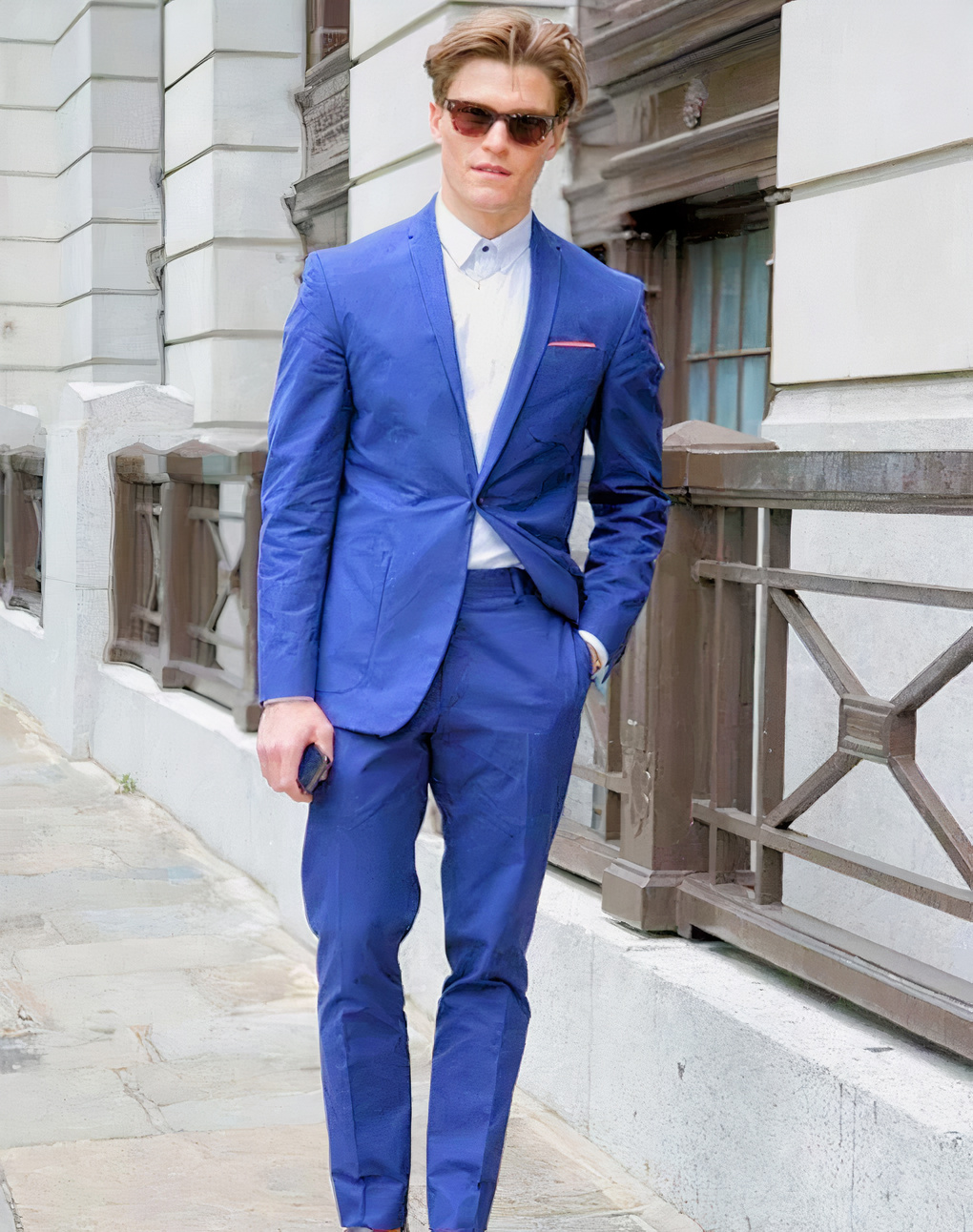 Luckily, the options in the men's travel suit are appropriately expansive. Pick a lightweight, wrinkle-resistant, slim-fit suit that will make you look sharp and feel comfortable.
Also, do you know the not-so-secret benefits of suiting up for the flight? There are several:
You don't need to lug an additional carry-on
You can head straight to an important meeting once you land
Layers are your best friend on a flight, and a suit fares well on that aspect
So wearing a suit is a good idea while flying. Who knows, you might as well get upgraded to the business class.
Author: Alexander Stoicoff
Hi, I'm Alex, and I've studied and specialized in styling in Rome. Through my writing, I want to help men dress well and learn the purpose and significance of suits and other formal attire. My final goal is to make men more confident in their wardrobe choice and life in general.