Don't feel alarmed if suit shopping feels overwhelming when faced with slim fit, modern fit, and classic fit choices.
That all sounds confusing, and the names provide very little information about what to expect from the suit. So how is a man supposed to understand which choice is the best one?
Thankfully, a little leg work can make your choice reasonably simple. Keep this guide handy for your next trip to the tailor.
Slim Fit vs. Modern Fit vs. Classic Fit: Main Differences
The three main suit cuts have many differences from each other; however, there are some things in common in some areas. The differences are vast enough that the suits can appear drastically different.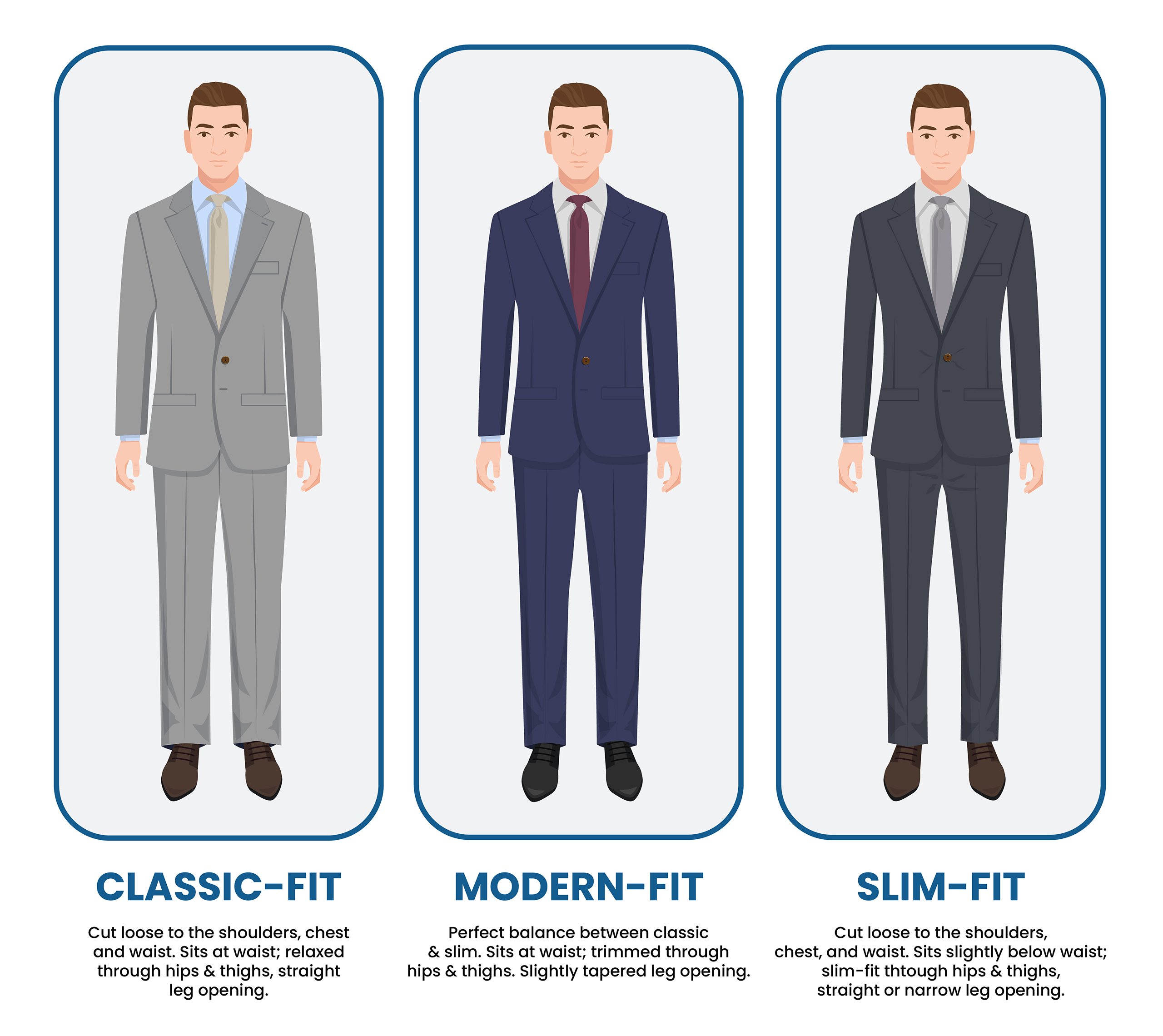 The challenge for the suit wearer becomes choosing what looks and feels the best.
Here's a breakdown of the main differences between slim vs. modern vs. classic fit and how the cut affects different parts of the suit:
| | | | |
| --- | --- | --- | --- |
| | Slim Fit | Modern Fit | Classic Fit |
| Chest | Tight across the chest area | Fitted | Relaxed |
| Shoulders | Highly fitted with severe angling | Fitted | Loose |
| Sleeves | Tapered along length | Fitted; minimal tapering, if any | Excess fabric |
| Armholes | High | High | Low |
| Waist | Heavily tapered | Low, minimal tapering, if any | Straight |
| Leg Opening | Narrow | Narrow | Wide |
| Seat & Thigh | High and tight | Fitted | Loose |
What is Slim Fit Suit
You may have an image of a slim-fit suit being form-fitting and skin-tight; you aren't wrong. However, this suit is more than just a second skin.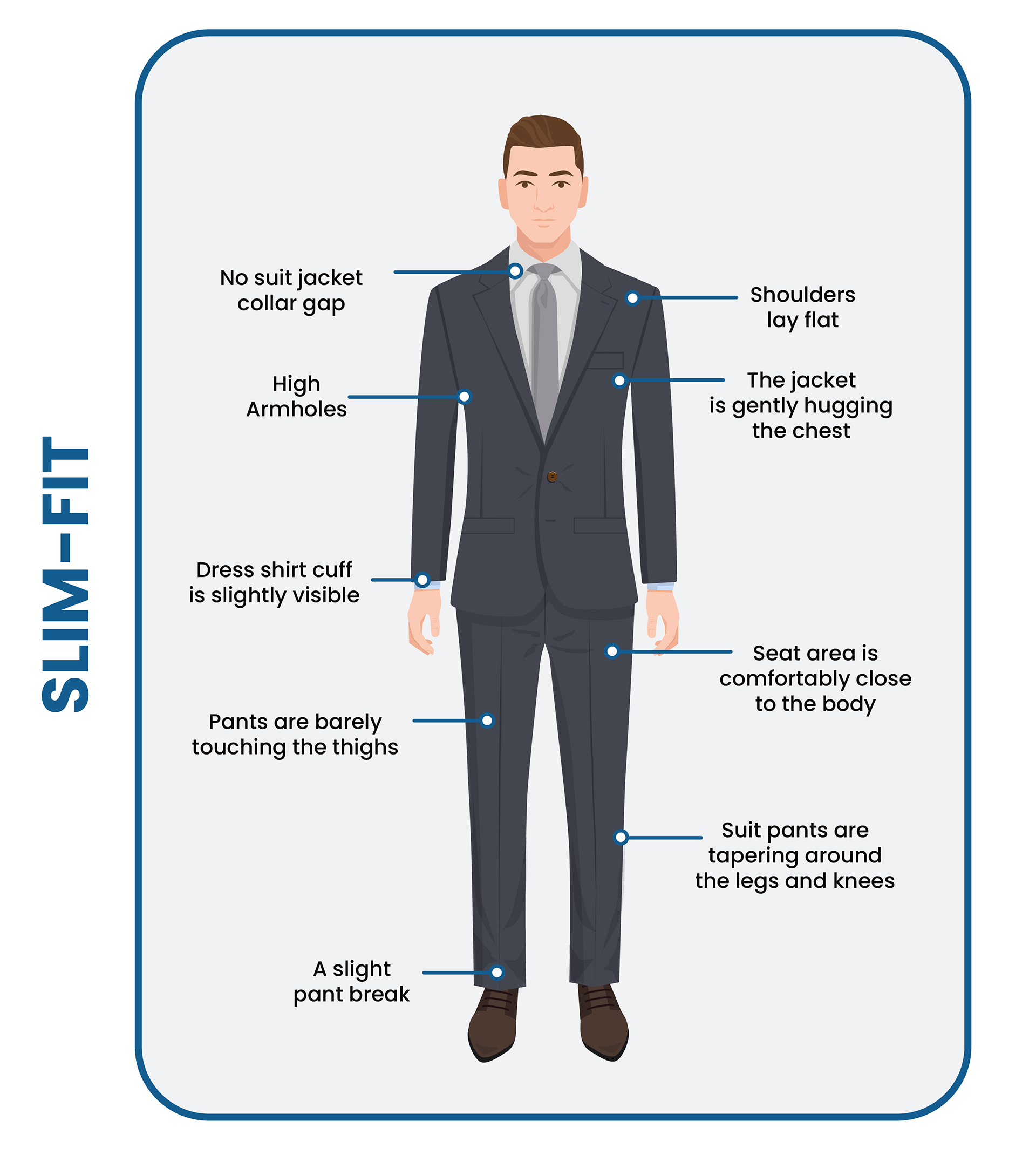 While the cut may feel very restrictive, you should be able to move pretty well in it. Slim fit isn't just about choosing a smaller suit; it requires a great deal of tapering and shaping.
It's a highly tailored look that looks incredibly fashionable and contemporary. You need confidence to pull off this tight suit, but it can actually give you confidence at the same time!
It may feel highly revealing, but it's also slimming. So, that means you don't need to be super slim to wear this style.
The drawback? Slim-fit suits are too trendy to be considered appropriate for formal wear.
Slim Fit Pants
If you know you'll be sitting all day or moving your body in a lot of twisty positions, you might find slim-fit pants a wrong and uncomfortable choice. These are (no surprise) tighter than your average trousers.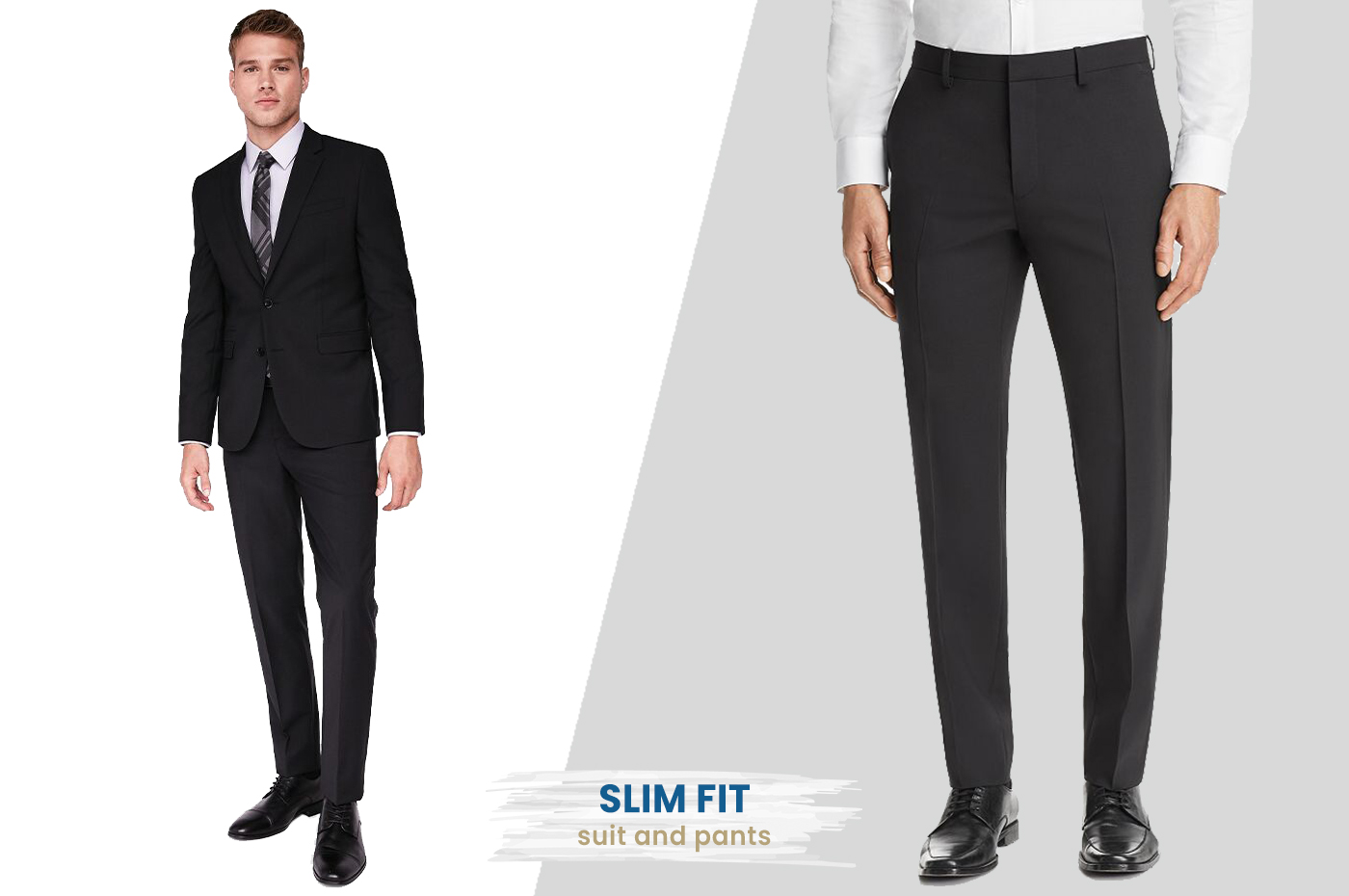 Slim-fit trousers are highly defined. They start with a lower-than-usual waist below your natural waistline.
The seat is tight, and the pants begin to taper at the hips and down the length of the legs. The fabric closely follows the natural line of the leg.
Because the legs are tight, the ankle openings are smaller than many other pants. This also leaves no room for a pants break, and the length is generally a bit shorter than average.
Slim Fit Shirts
You'll need to wear a dress shirt that matches the cut of your suit. Otherwise, your shirt will look puffy and balloon-like in comparison.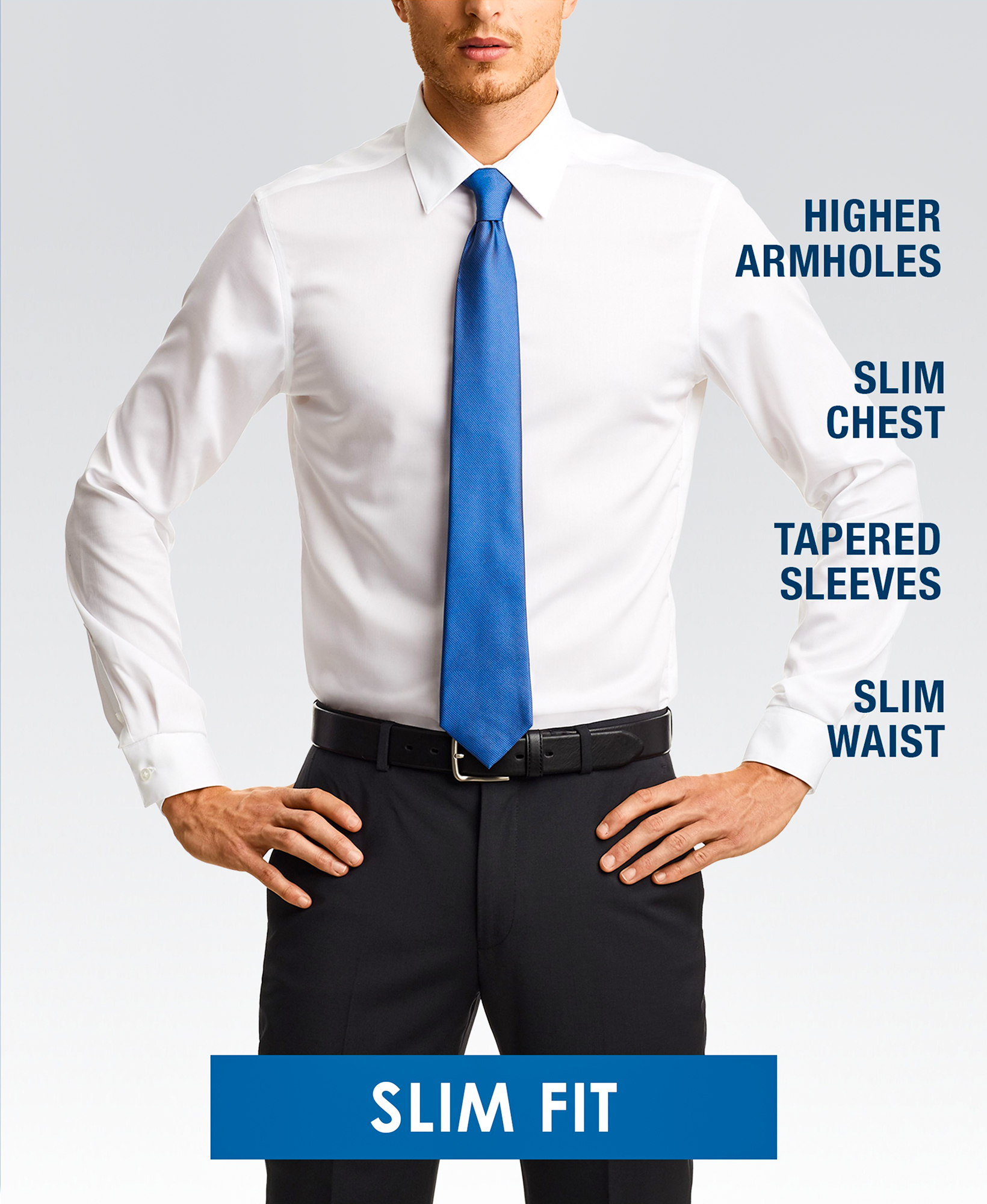 You need a shirt that is very trim. Slim-fit shirts are tapered at the waist and have no excess material.
The armholes are placed very high, directly under the underarms. As a result, the shirt tapers along the sleeve length.
There is also no extra fabric found in the chest and shoulder areas. Because it's fitted throughout, a slim-fit shirt is effortless to tuck in.
What is Modern Fit Suit
Slim-fit suits aren't the only game in town if you're looking for a very tailored look. You can get a similar effect with a modern-fit suit.
It's also sleek but not quite as form-fitting as slim suits. Though they provide more fabric ease, modern-fit suits aren't anywhere near flowing or baggy.
Modern-fit suits give the wearer more room and range of movement without seeming shapeless. They are comfortable while still employing clean lines for a sophisticated effect.
One of the reasons these suits are among the most popular cuts is that they look good on all body shapes and sizes. They can even have a slimming effect on large torsos.
Modern Fit Pants
Well-fitted modern-cut trousers sit low to medium on the waist.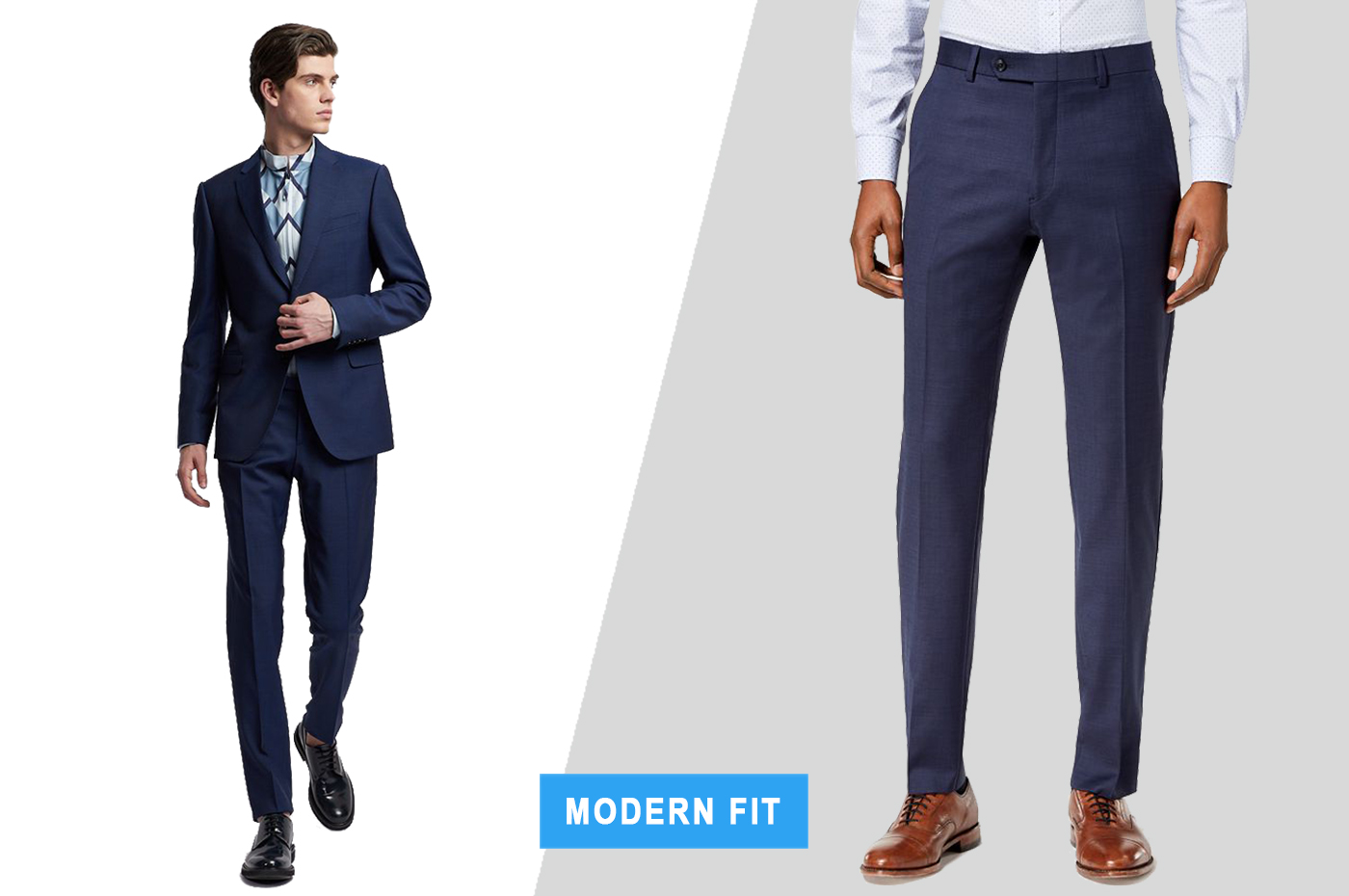 This creates a nice visual effect that makes the torso appear longer, a nice bonus for short men. Of course, they are slimming, too.
The seat is formed to shape to your bottom, but without being tight or pulling. That's why these pants are a more comfortable way to sit and move.
The material closely follows the shape of your thigh but not so tightly that the pants resemble leggings.
Below the thigh area, the pant legs are straight down to the ankle, with no tapering. This allows for a slight break.
Modern Fit Shirts
Modern-fit dress shirts should contour to your torso to match the rest of the suit cut. The result is a fitted shirt that looks extraordinarily put-together and professional.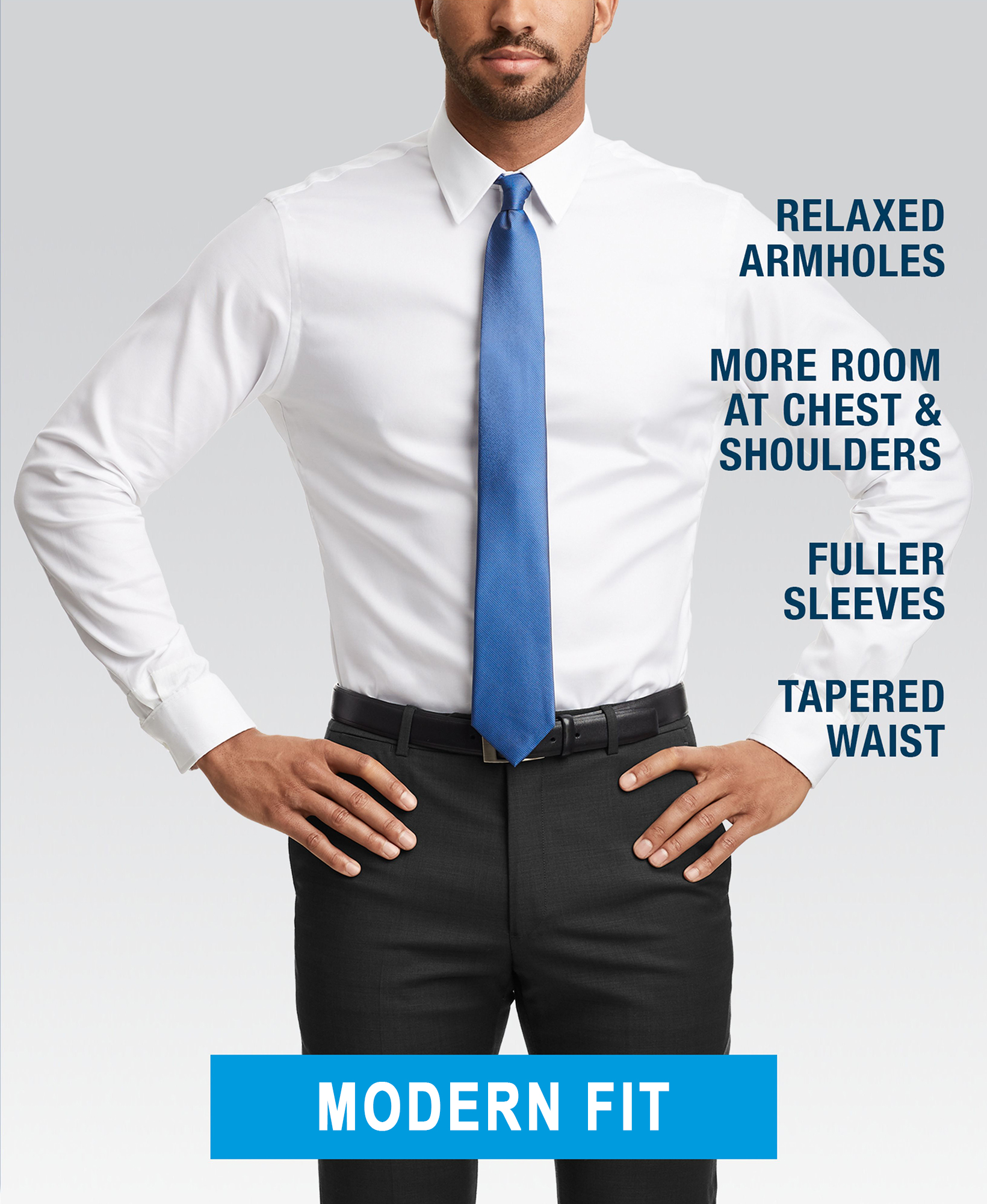 The chest area provides a bit of extra fabric for a more breathable feeling. This is aided by slightly lower armholes, helping with range of movement.
The waist is tapered along the natural waistline. The effect is a relaxed feeling shirt without appearing sloppy.
What is Classic Fit Suit
The classic-fit suit may be the old guard in fashion but don't count it out just yet. This style has been a go-to for decades and will likely always be a reasonable alternative to more modern cuts.
Classic-fit suits are traditional; they're a rather boxy shape but also way comfortable.
Classic-fit suits involve a very broad cut with many straight lines. It doesn't conform to your body, so it isn't going to show off all your contours.
It's tempting to assume that it's an ideal style for large torsos, but it's less flattering for this body shape than a modern-fit suit is. However, it is an acceptable choice.
Classic Fit Pants
The pants of a classic fit suit differ drastically from a slim-fit style. They are not a very tailored cut.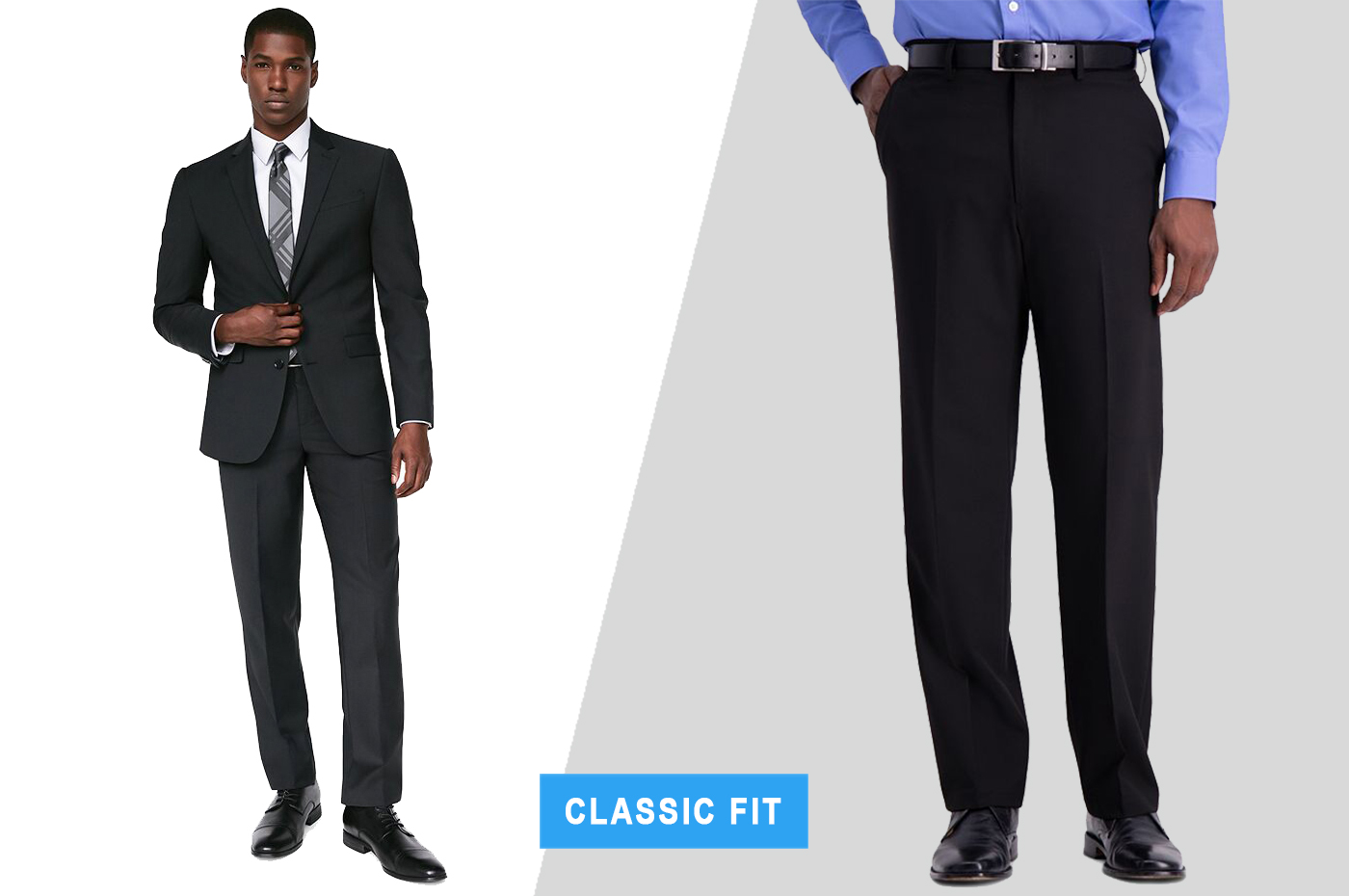 To start with, the waist is much higher; it sits at or just above the natural waistline.
Classic fit pants have wide legs from hip to ankle, with zero tapering. They have a wide leg opening, and you can choose the size of your trouser break based on the length of your pants.
The seat is very relaxed in the thigh and the seat. As a result, you can pinch a good deal of excess fabric all around.
Classic Fit Shirts
As with the pants, classic-fit shirts involve more fabric.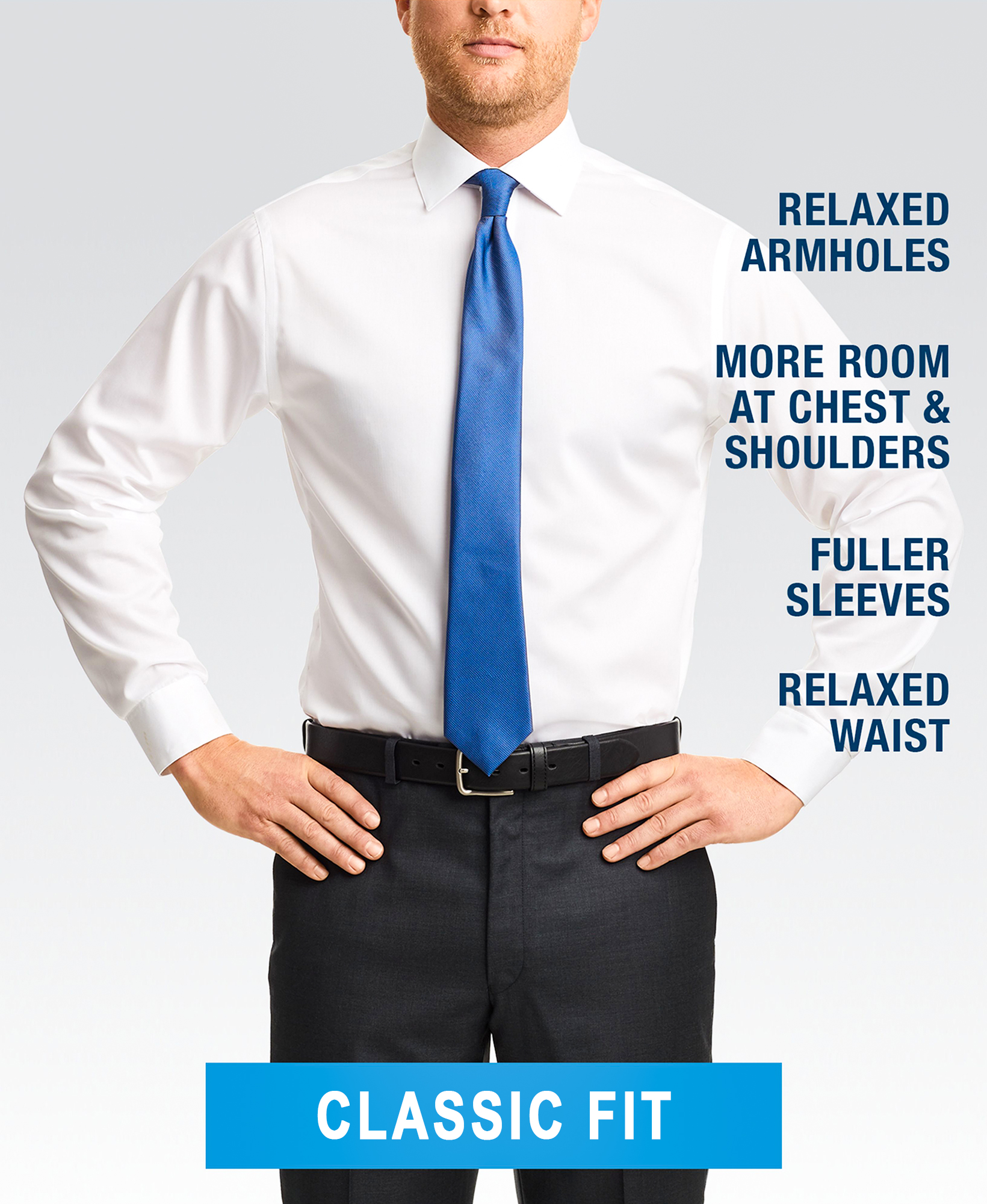 The fabric is cut straight through the torso, involving zero tapering. This leaves a lot of room, so the shirt is quite accommodating if you have a large chest or midsection.
Shoulders, chest, and arms are quite roomy, making movement incredibly simple. In addition, the armholes are cut relatively low, which helps with the sense of space in the shirt.
It may feel like you've put on a larger size when you wear a classic-fit shirt, but it's only that the cut provides more fabric.
Classic fits are also longer than other shirts, which increases your chance of ending up with an inadvertent poof around your midsection.
Choosing the Right Suit Fit According to Your Body Type
Your personal style is an important factor in choosing your suit fit, but you should also be mindful of following your body shape. For example, some figures look better in certain cuts and styles.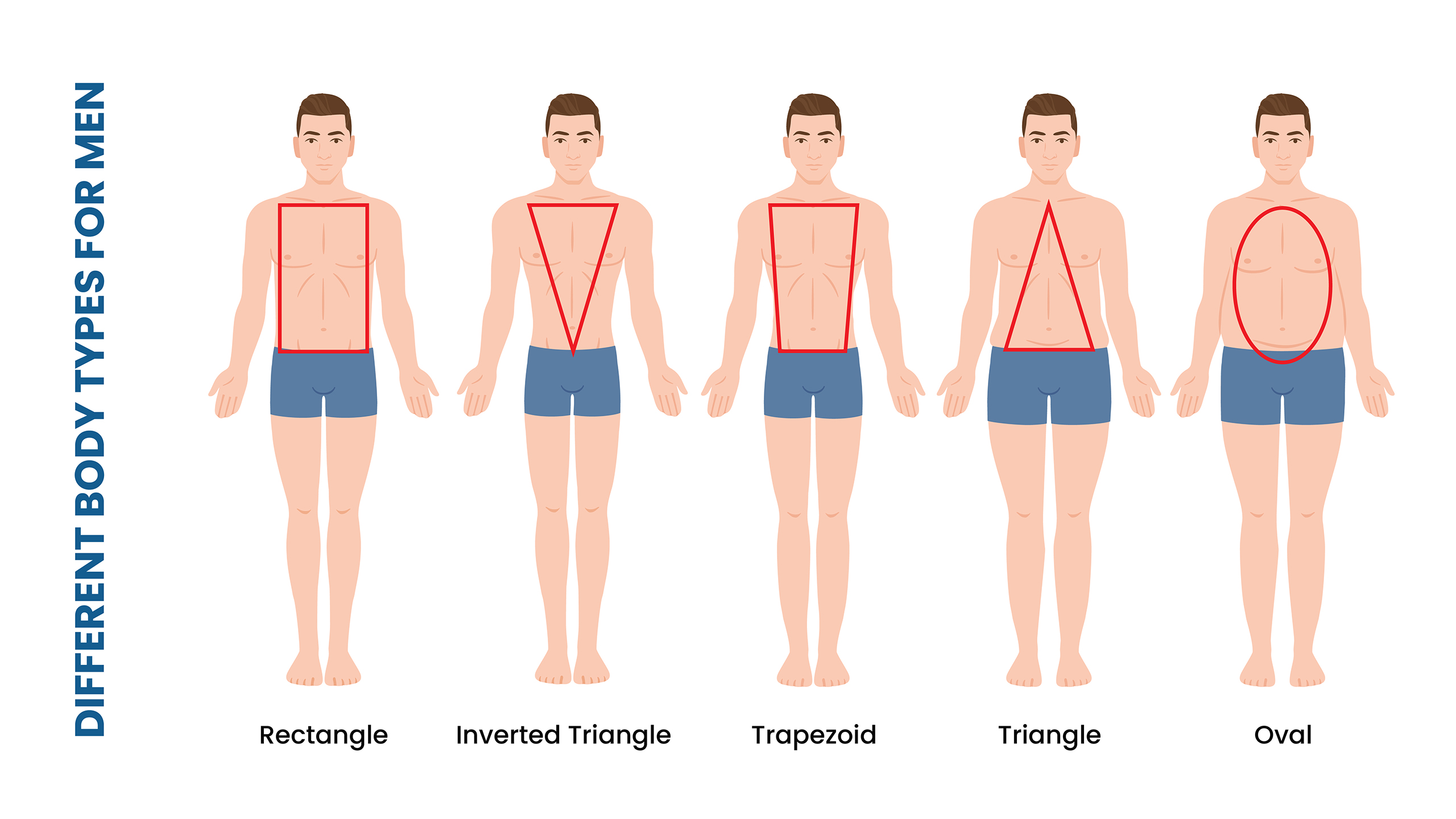 It's hard to go wrong with a modern-fit suit; this look is universally flattering.
It helps more prominent men look slimmer and shorter men look taller. It also does an excellent job of displaying the finer aspects of your body since it's fitted.
Slim-fit suits look best on lean body types. This cut effectively highlights many features, but be careful – it can backfire for very tall and lanky frames.
A slim fit is the best choice for short men as it can make you look taller. On the other hand, it may be the last thing some tall men desire.
If you sport a barrel chest, consider opting for a classic fit. This cut helps create equilibrium for large torsos or bodies with a shorter lower half.
The excess material adds a counterweight to the other half of the body, making both halves look equal.
Author: Alexander Stoicoff
Hi, I'm Alex, and I've studied and specialized in styling in Rome. Through my writing, I want to help men dress well and learn the purpose and significance of suits and other formal attire. My final goal is to make men more confident in their wardrobe choice and life in general.