If you are considering ways to expand your wardrobe, but are feeling a little stuck, don't shy away from pairing a suit jacket with your jeans.
It may not feel natural to you, but this can be a killer look when done correctly.
It's an unexpected but exciting way to pull off a smart casual approach to dressing. Before you dig into your closet, read on to ensure you do it right.
Can Your Pair a Suit Jacket and Jeans
The good news is that yes, you can wear a suit jacket with a pair of jeans.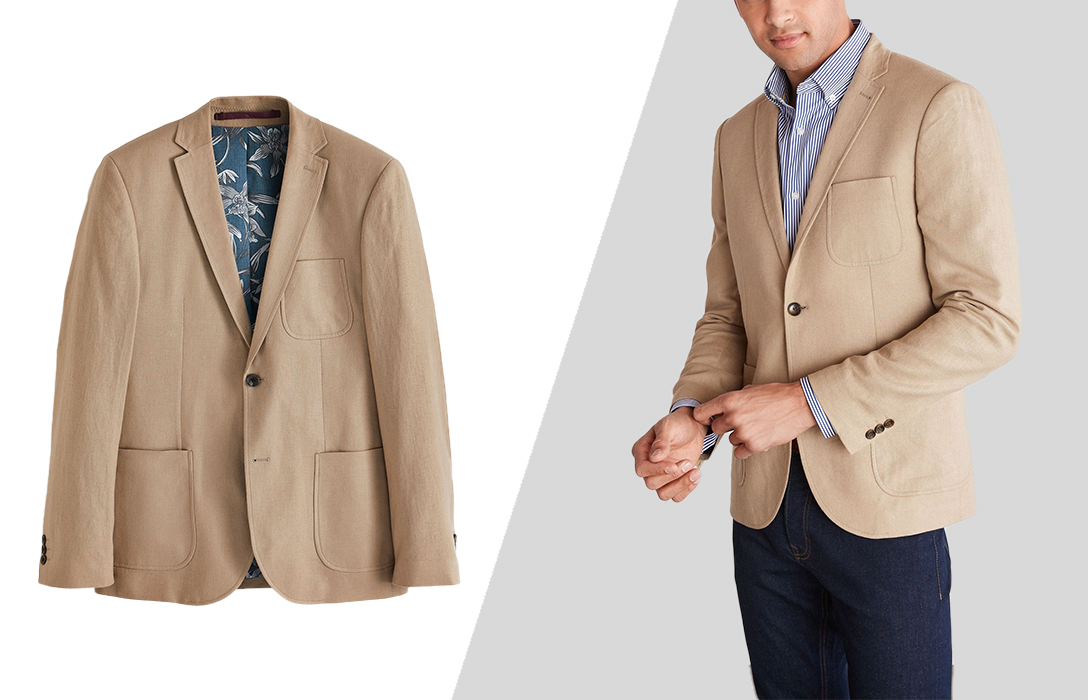 The bad news is that you can't just grab any suit jacket and toss it over your favorite jeans. So there's a catch.
For starters, you can't grab the jacket from your best suit and separate it from your suit trousers.
If you isolate your best suit jacket, you can ultimately ruin your entire suit; the jacket can become more worn and faded than the trousers, ensuring that you can't wear them together any longer.
If this happens, you will suddenly be without your best suit; that's a costly mistake. The same must be clarified if it's your only suit.
The other rule for putting on a suit jacket when you wear jeans is that it must be an excellent fit. It can be either a traditional or slim-cut style, but your upper half shouldn't appear baggy.
The jacket's shoulders should follow your natural shoulder bone, and the sleeves end just past your wrist.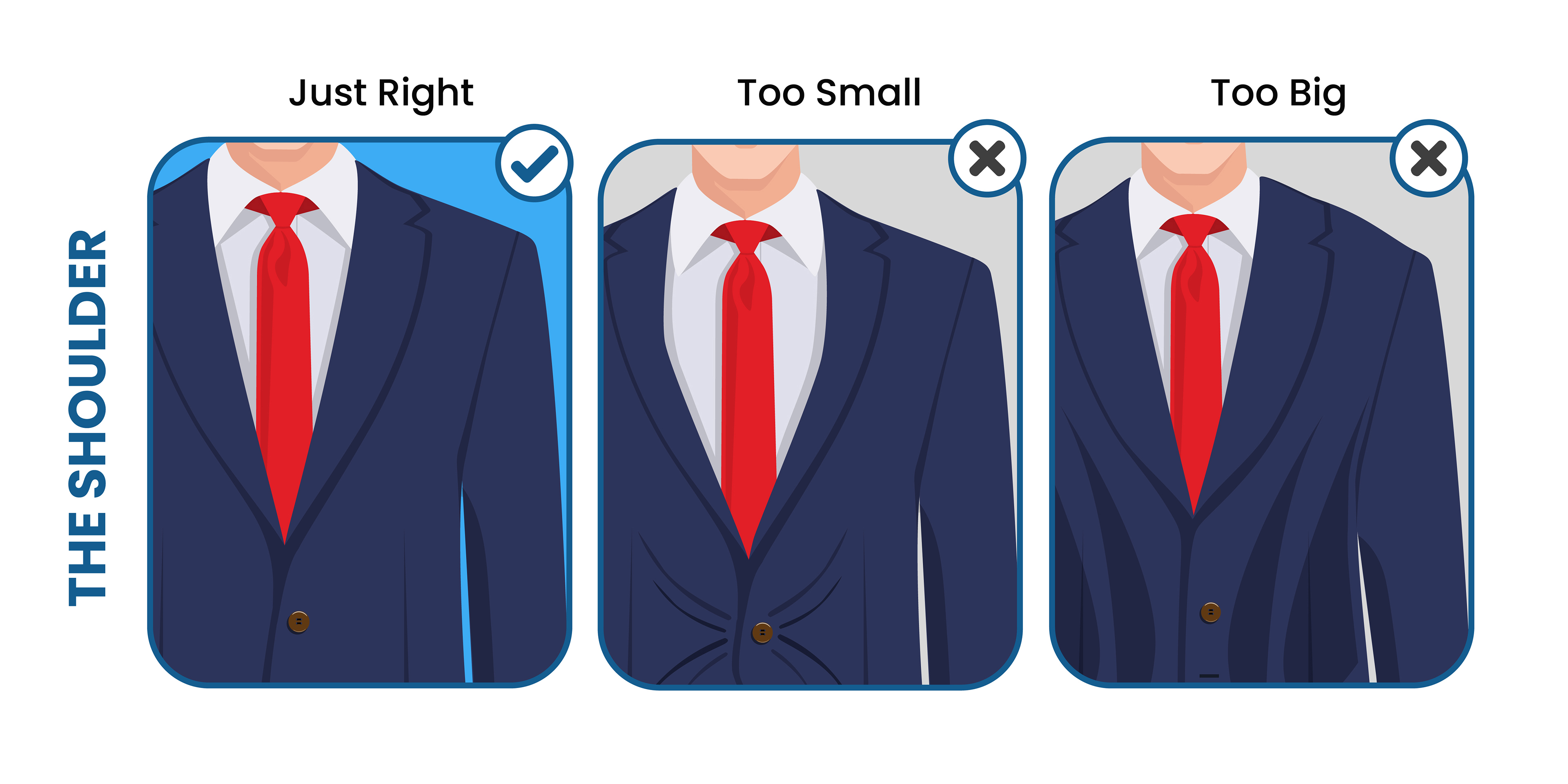 Finally, make sure the hem of your suit jacket ends just below your crotch line.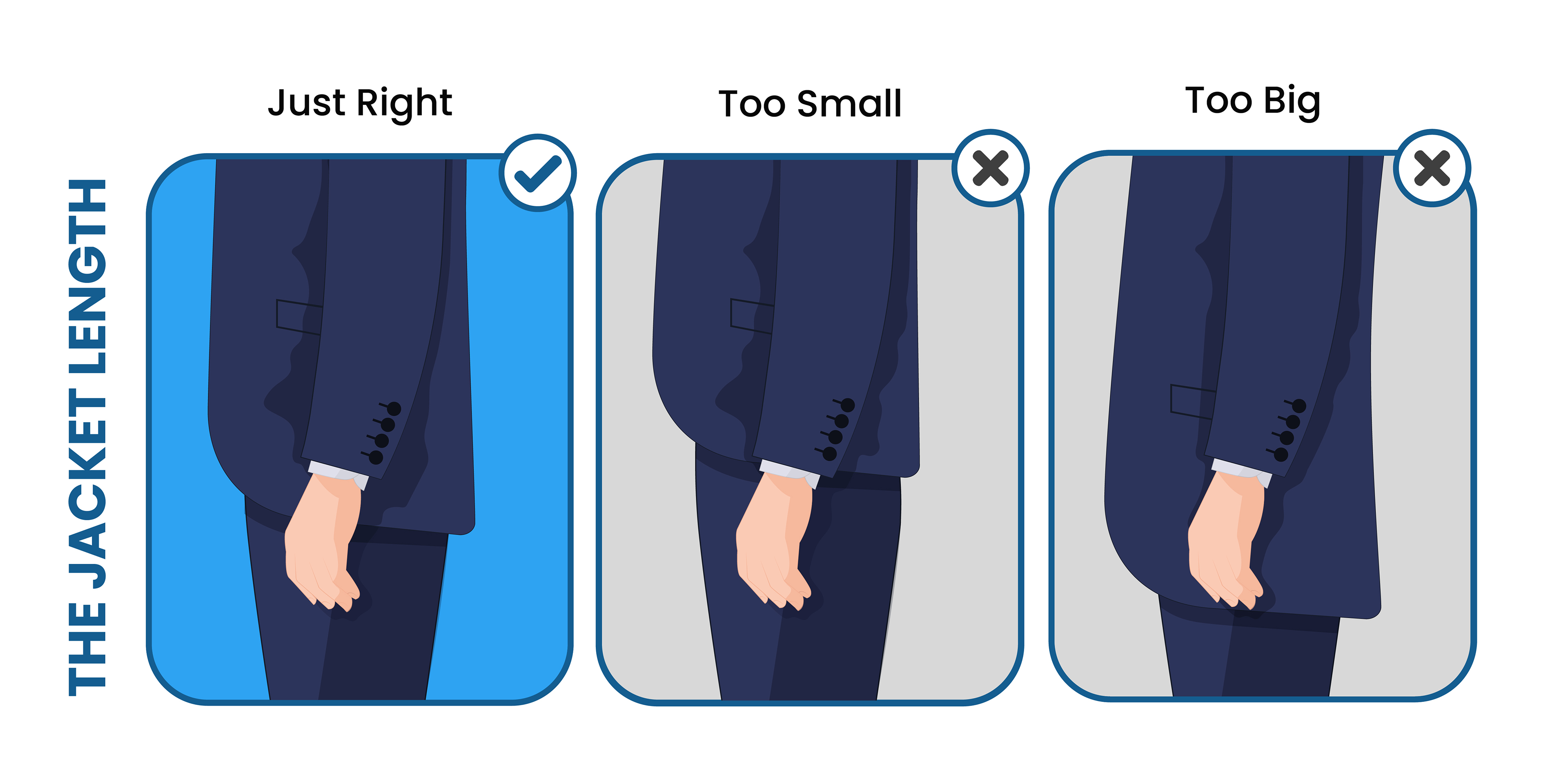 Of course, the most important aspect of wearing a suit jacket with jeans is to know when it's appropriate. For professional and other conservative settings, you need to reconsider this idea.
Suit Jacket Styles You Can Wear with Jeans
A blazer or sports jacket is the best type of suit jacket to make an informal match with jeans.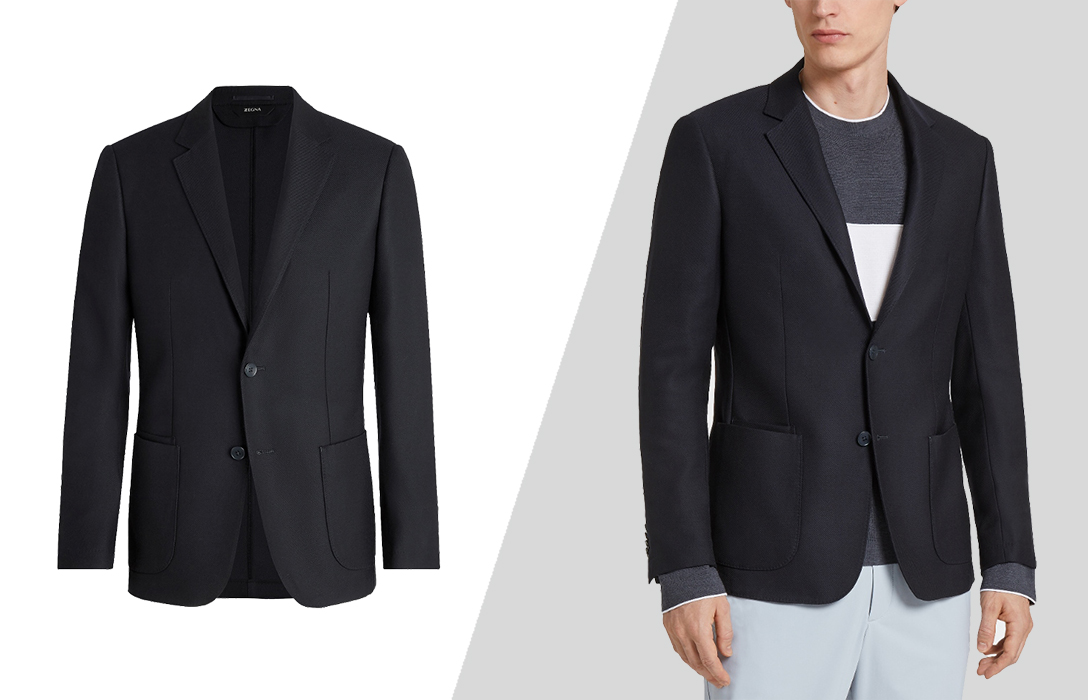 Each of these jacket styles is less formal than a professional suit jacket, making them more in line with the casual nature of jeans.
Be mindful of the other style elements of your suit jacket. The goal is to match the informal tone of the jeans, so make sure there are no details that aren't too fancy.
In other words, go for a casual suit style. It should be a more simple style, nothing retro or too trendy.
Avoid very formal suit jackets at all costs. Tuxedo suit jackets and dinner jackets are far too dressy to wear with jeans; they don't ever mix.
Suit Jacket Color and Fabrics to Pair with Jeans
Be material-minded when choosing your suit jacket for this outfit. Some fabrics don't look naturally relaxed next to denim.
Textured fabrics are more casual than typical suit fabrics. Don't wear any suit jacket with any level of shine when wearing jeans; the materials would be too much of a contrast.
Tweed is a perfect suit jacket material to dress down. It's slightly rough, which makes an ideal complement to coarse, stiff jeans. Flannel, corduroy, and cotton suit jackets are also excellent options.
A solid color is your best bet for this combination, as some prints might actually be too formal – for example, pinstripes.
However, even small patterns like checks, birdseye, and windowpane prints are all suitable choices for your casual suit jacket.
The best suit shades to pair with your jeans are likely shades of greys and blues.
For example, navy and absolute blue look fantastic with dark blue jeans, while medium and light grey suit jackets could be a perfect pairing with black jeans.
Best Color and Types of Jeans
Dark colors are traditionally more formal than light ones, so keeping your blue jeans dark is an excellent way to make them more dressy.
On the other hand, Indigo or black go far in elevating your jeans closer to the formality level of your suit jacket.
Remember that you are dressing up, so your jeans can't be your average casual, relaxed pair of pants. Instead, they must be in excellent, near-new condition.
Stylish distressing and holes may look trendy in some settings, but they aren't acceptable for this outfit.
As with any dressy clothing, the fit is essential to looking good. Your jeans must be well-fitted to your body. Avoid baggy jeans that are too long and droopy around your waist.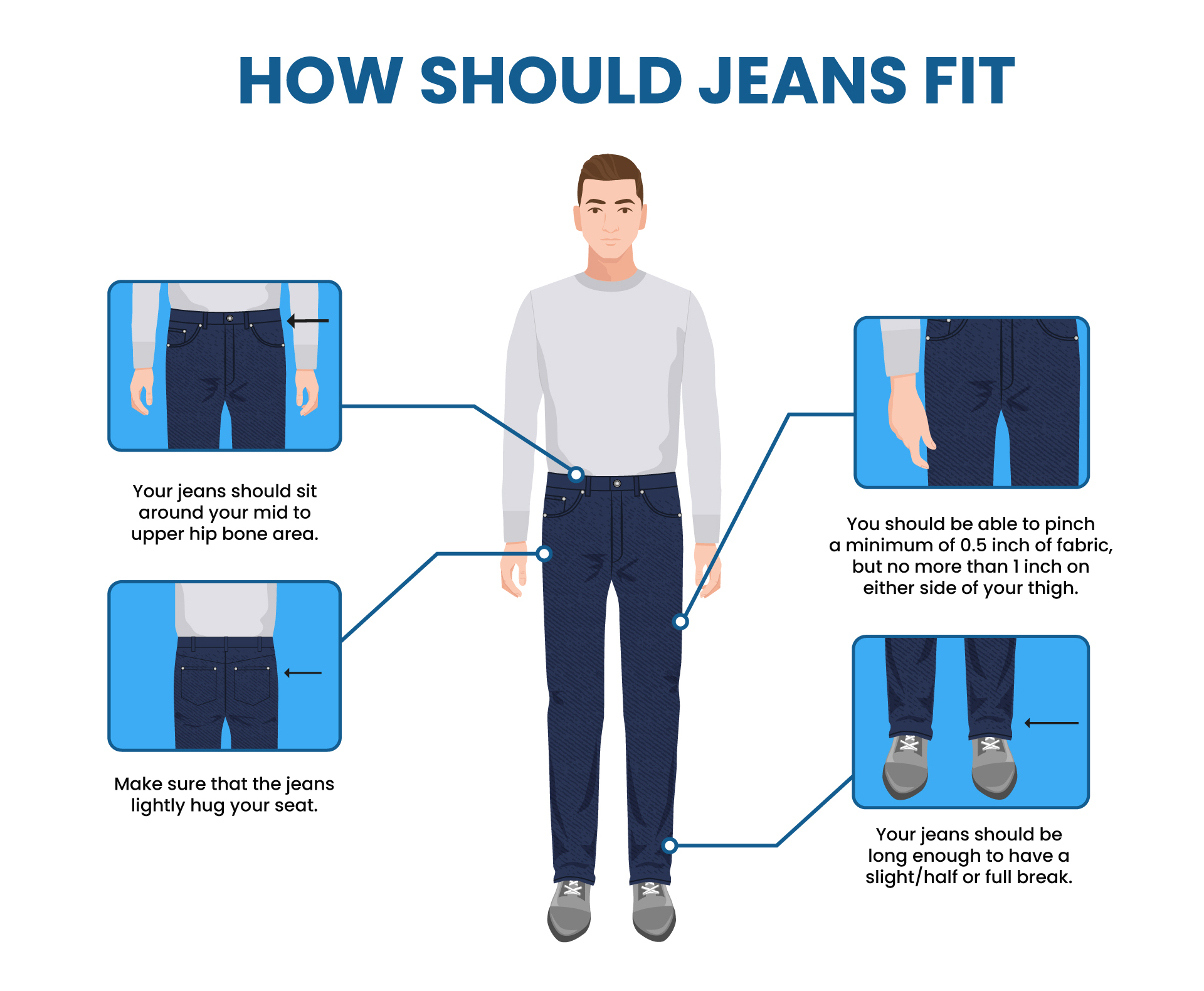 The waistband should sit comfortably at your hips, even without a belt. Pay close attention to the legs of your jeans; they should be slightly tapered and a suitable length.
Your ankles shouldn't be swathed in pooled denim fabric.
What to Wear with a Suit Jacket and Jeans
A suit jacket and jeans are, of course, the bones of this outfit, but this look isn't entirely about only the jacket and jeans.
You need to build out from there to make the ensemble work.
Styling this seemingly mismatched combo requires the right touch because the other elements of the rest of your outfit can work with or against your pairing.
So, how can you pull all of this together smoothly?
Pair the Outfit with a Shirt
Adding a dress shirt with jeans to your ensemble can help maintain the spirit of your suit jacket.
Matching your jacket's tone helps keep your outfit firmly on the dressier side of the spectrum. This style is good for keeping in line with a business casual style.
However, you won't fool anybody into believing that you're dressed formally, so embrace a few trademarks of casualwear.
Patterns are typically slightly less formal than solid dress shirts, so here is a perfect opportunity to seamlessly work them into an outfit.
Smaller prints tend to be a little dressier, so opt for smaller patterns, like checks or polka dots.
Always tuck in your dress shirt when you're wearing it with a suit jacket, regardless of how simply you are dressing.
Letting your shirt tails hang out from underneath your jacket hem leaves you looking sloppy.
Some expectations might be wearing a casual shirt or sport coat. Casual shirts usually have a straight hem and are slightly shorter than standard dress shirts.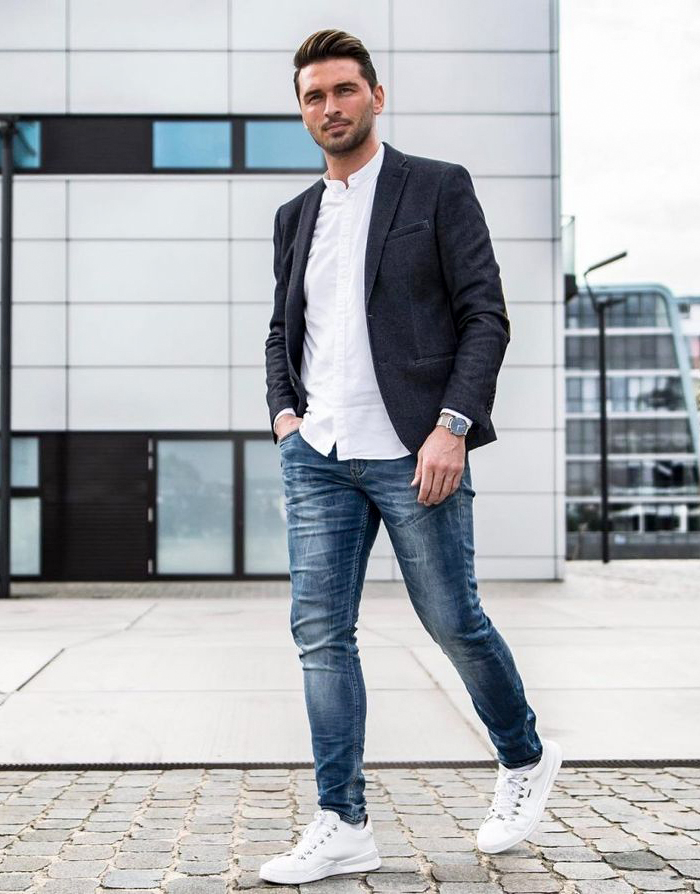 Of course, you should leave the top button or two undone. This conveys that you are completely relaxed and are intentionally dressed to embrace that feeling.
You Can Swap the Shirt for a Polo or T-Shirt
Here's an excellent idea for getting far away from business casual and embracing the relaxed aspect of your outfit.
A plain or graphic t-shirt gives your outfit fun and fresh vibe. A t-shirt can be an excellent way to add a pop of color to your ensemble; don't be afraid to go bold with this choice.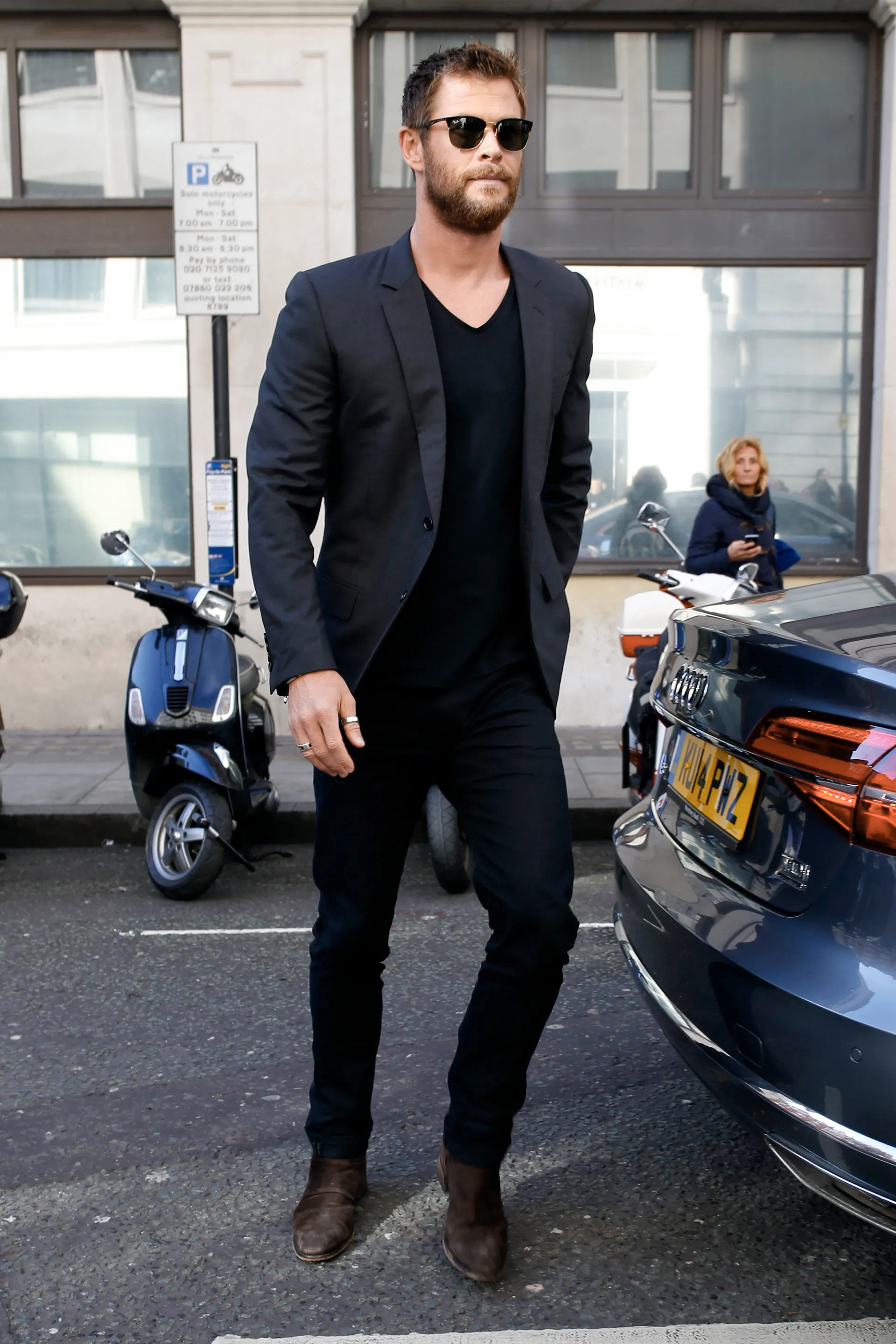 You could also experiment with a polo shirt if you want the casual feel of a t-shirt but feel lost without the collar. A polo collar helps keep your outfit feeling more traditional.
Whichever casual shirt you embrace, remember that your goal is still to look good and not sloppy.
You are invested in your look, so the best way to convey that is by ensuring that your shirt is clean, not wrinkled, and fits well. No stretched-out or baggy shirts allowed!
Wearing a Turtleneck with Suit Jacket and Jeans
Since you are already coordinating an unexpected outfit, why not go all in and add one more surprising twist?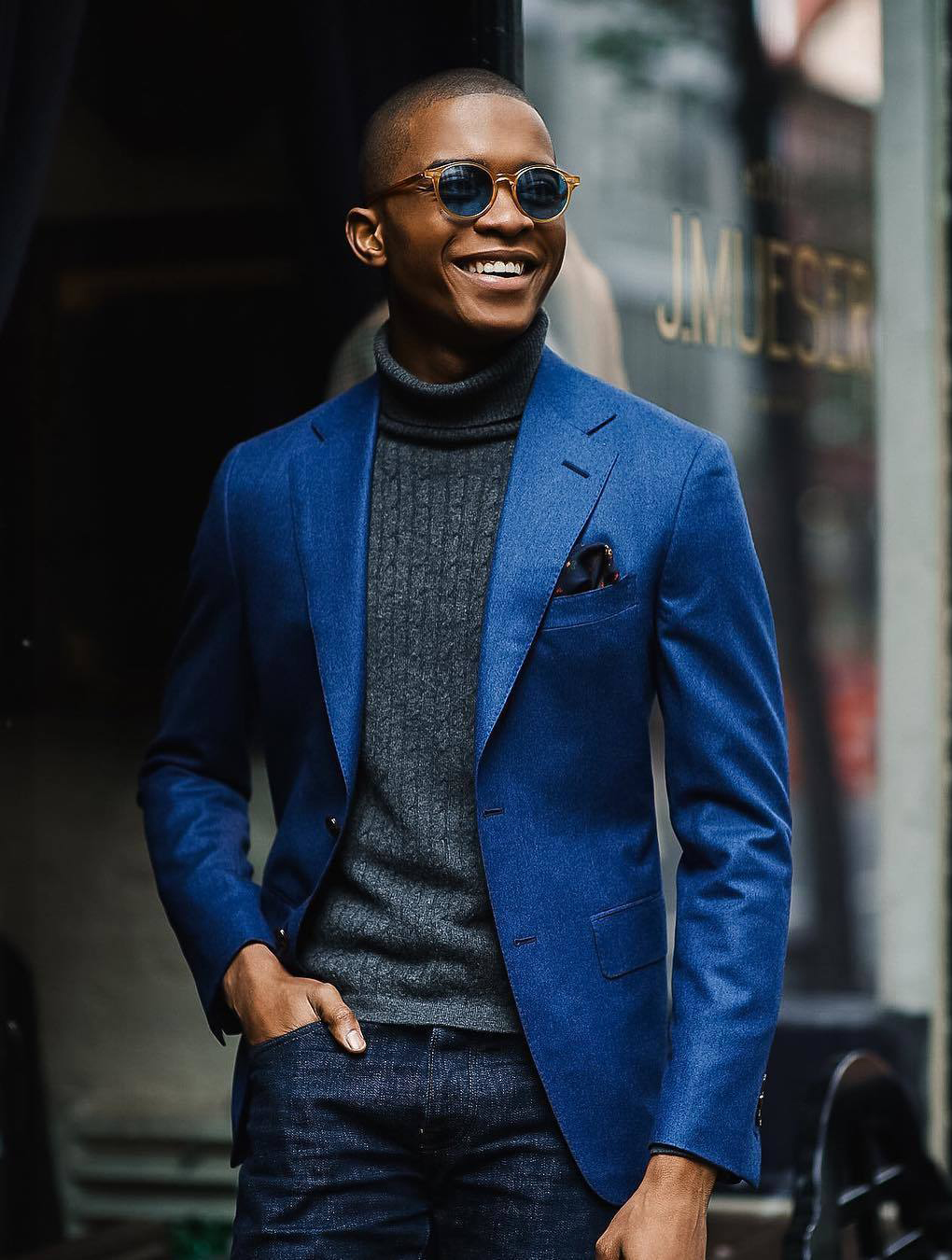 For example, a turtleneck paired with your suit jacket and jeans would make your outfit stand out from all other casual outfits.
Turtlenecks aren't common, but if you embrace wearing this unique choice, you'll create an individual style. To make this option look most stylish, keep your turtleneck.
You want it to be a subtle addition to your jacket, not the focal point.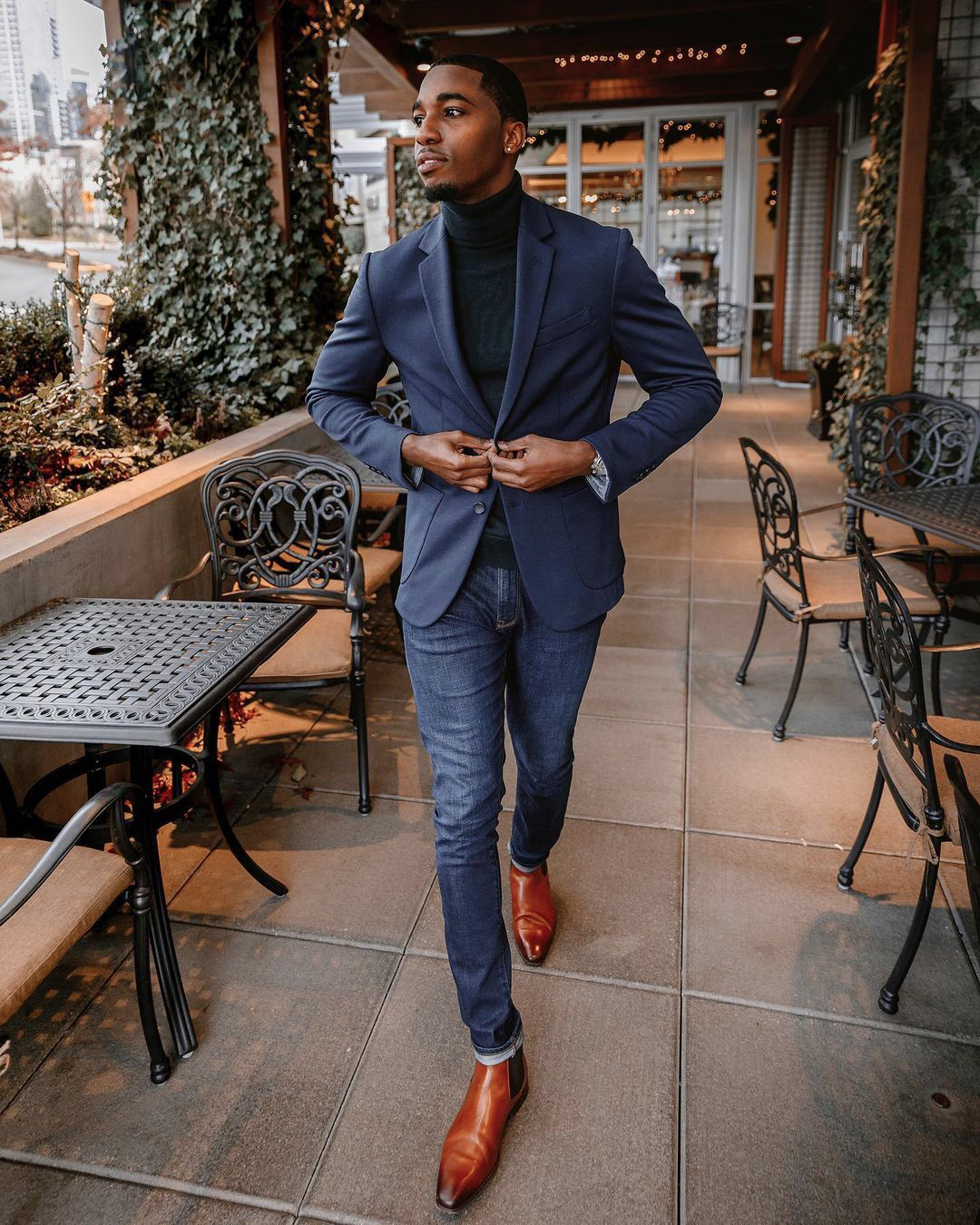 Also, don't incorporate one made from a thick material; instead, it should be thin so that it doesn't interfere with your suit jacket.
Always Skip the Tie
There's no fooling anybody; when you wear jeans with your sport coat or blazer, you are certainly going for an informal style. So leave the tie off because it won't be necessary.
A tie would not elevate your look back to a dressy nature. Instead, it would only send mixed signals.
And it might backfire and give you a 1980s retro look. So instead, lean in on your casual appearance.
Shoe Type and Color That Matches Your Outfit
Just as with the tie, a pair of men's dress shoes won't fool anybody that your outfit is dressy. So leave the black Oxfords in the closet this time.
Instead, other dress shoes are more versatile for jeans; they can look fashionable and casual simultaneously.
For example, derby shoes, brogues, and loafers perfectly suit a smart casual style. On the other hand, black is too formal, so stick with medium or light brown shoes.
If you want to stay away from dress shoes, try a pair of boots. Chelsea or chukka boots, again in brown, are trendy ways to make your outfit more modern.
But, of course, a good pair of fashionable sneakers will cement your casual status.
Author: Alexander Stoicoff
Hi, I'm Alex, and I've studied and specialized in styling in Rome. Through my writing, I want to help men dress well and learn the purpose and significance of suits and other formal attire. My final goal is to make men more confident in their wardrobe choice and life in general.