Suit lapels have been the target of several fashion blunders over the years.
Hands up if you remember those excruciating, extra wide "wing" lapels from the 70s, which were inevitably worn together with wide-bottomed long pants!
For this reason, we advise moderation and a more classic look for your suit jackets and their lapels. Leave flashy fashion statements for your ties, shirts, and other less expensive clothing items.
Pick one that won't date too quickly and fits you well. Of course, that makes the size and shape of your suit lapels play a prominent role here, too.
Suit Lapels – The Basics
"Lapel" is not a word that's in common usage these days. Some men would be hard-pressed to explain where the lapel on their suit jacket is.
To keep things clear from the beginning, we're talking about the two flaps of fabric below the collar of a coat or jacket folded back on themselves.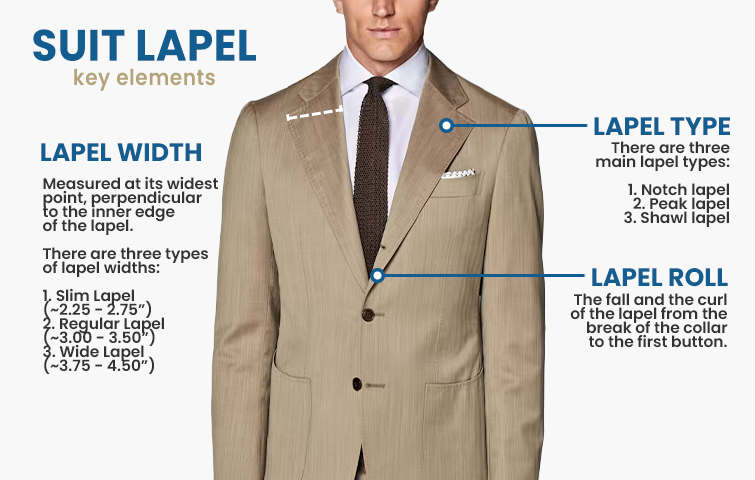 Suit lapels are created by folding the garment's front edges over and stitching them to the collar.
Most of the time, suit lapels come with a buttonhole on the left-hand side for putting a flower in. Today, it is only used at formal events, such as weddings.
You may not think they're significant, but the type of your suit's lapel does have an impact. In fact, you shouldn't buy a suit without knowing which lapel style goes with what.
A suit lapel should never be an afterthought.
The whole reason for its placement and shape is to enhance the appearance and presence of the person wearing it, making him look more masculine by emphasizing the shoulder width.
Suit Lapel Types
The three basic kinds (or types, if you prefer) of suit lapels are the notch lapel, the peak lapel (peaked if you're British), and the shawl lapel.
Each has various widths, from super-slim (just over two inches wide) to super-wide(about five inches in width). The average suit lapels, however, are only around three inches wide.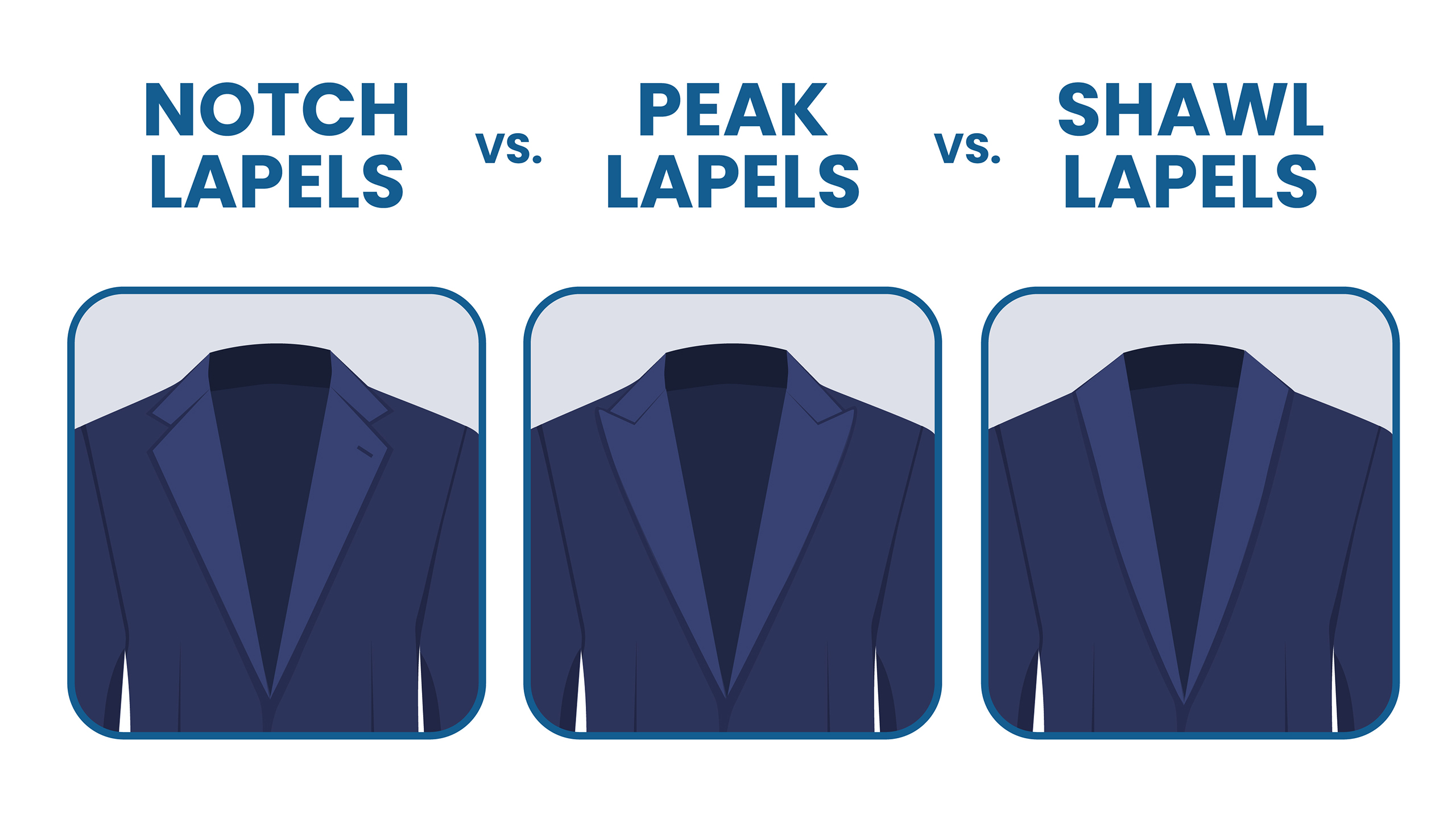 The lapel is supposed to reach approximately the mid-point between the collar and the shoulders. It should always reflect the proportions of both the jacket and the wearer.
A big jacket for a large man should have wider suit lapels. On the other hand, a wide lapel on a small man will usually fail to match his frame size.
The Notch Lapel
Notch lapels are the most common kind of jacket lapels. They are time-honored classics and have a long history.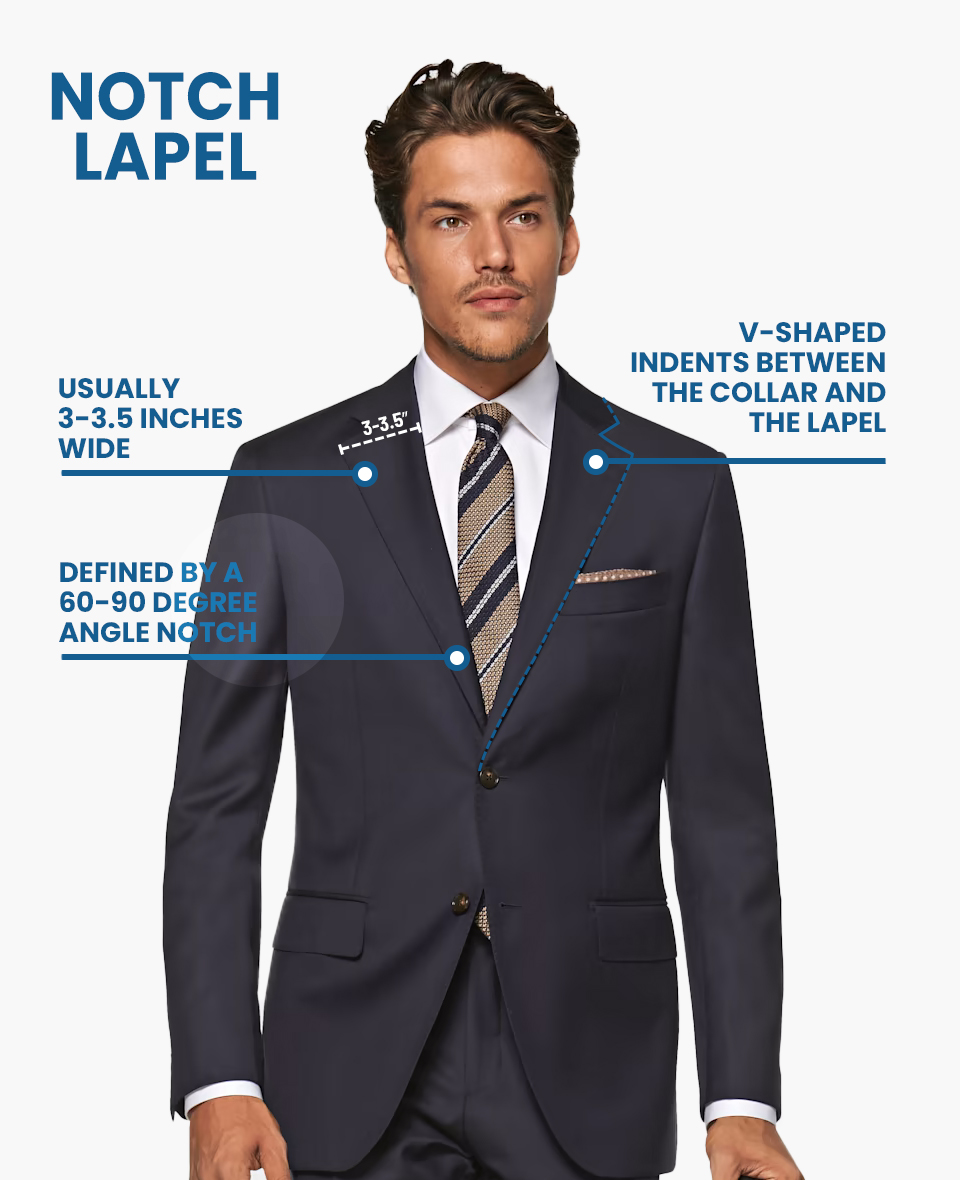 Known as "notched" because of the V-shaped indentation between the lapel and the jacket's collar, they are sewn to the collar at an angle to create a step shape.
This kind of lapel is a classic and goes with everything, from a smart-casual style to the formal business suit. So they are certainly in no danger of going out of style.
A notch lapel jacket can be safely worn with a mismatched pair of trousers for a more casual outfit. They are a reliable and trusted option.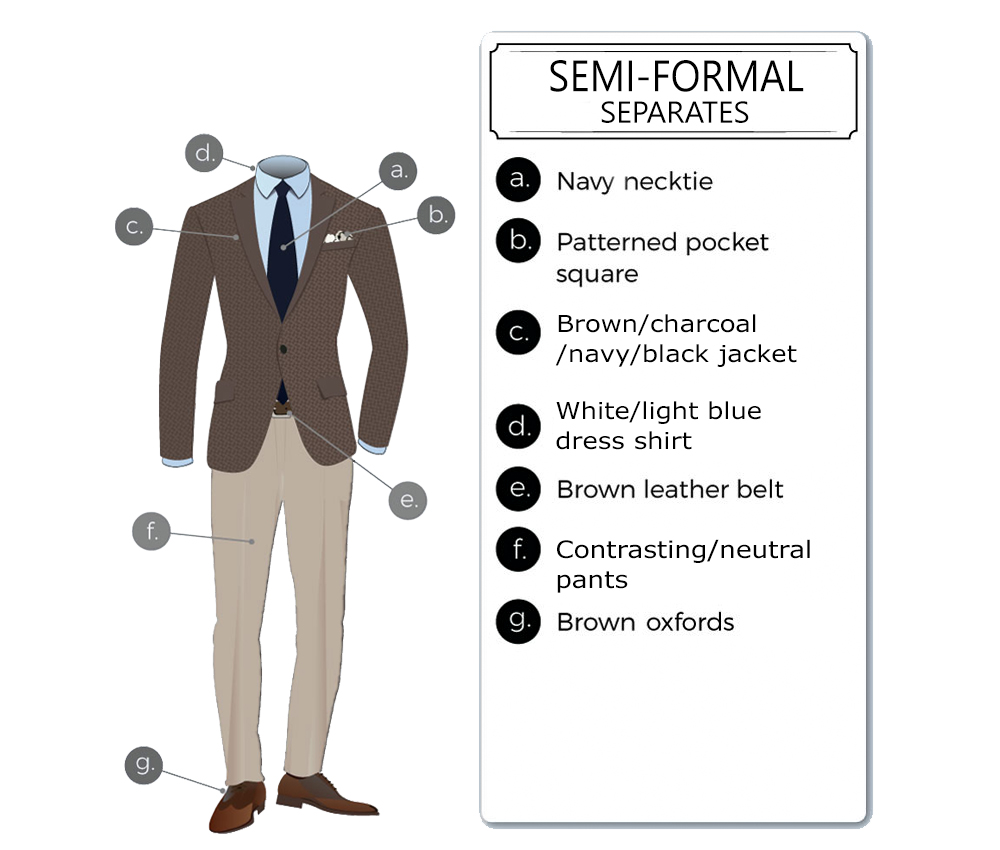 You can't go wrong with the notch variety, but you won't stand out from the crowd, either.
Despite how easy it is to wear, there are some things you should be careful of.
The size of the notch needs to match the lapel width. In other words, if the lapel is narrow, so too should the notch. But if the lapel is wider, then the wearer can get away with a bigger notch also.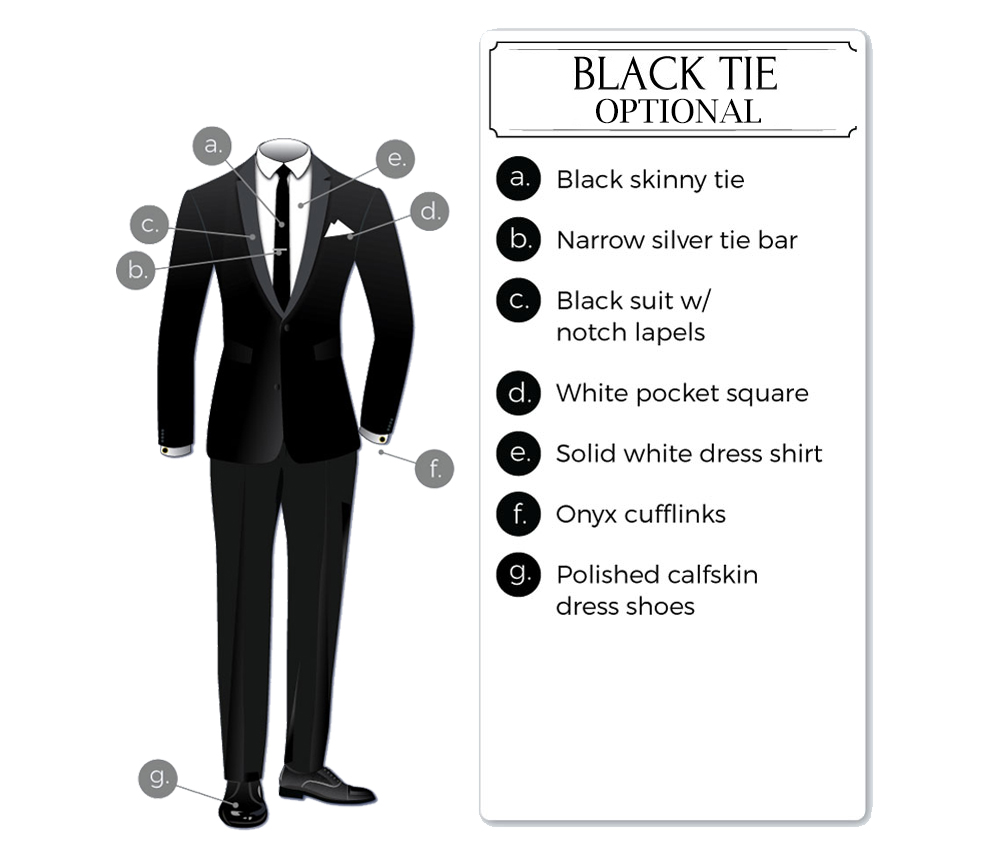 Extra-slim suit lapels look quite stylish and fashionable. On the other hand, a three-and-a-half to four-inch lapel looks classic and classy.
Keep the maximum width of your lapel at four inches, except if you have an exceptionally large chest measurement.
Notched lapels sit better on single-breasted suits, especially on slim-fit suits. But for double-breasted suits, you're better off getting a peak lapel.
The Peak Lapel
A peak lapel can be identified by how it extends sideways beyond the collar. It is designed to emphasize the width of the shoulders while at the same time narrowing the waist.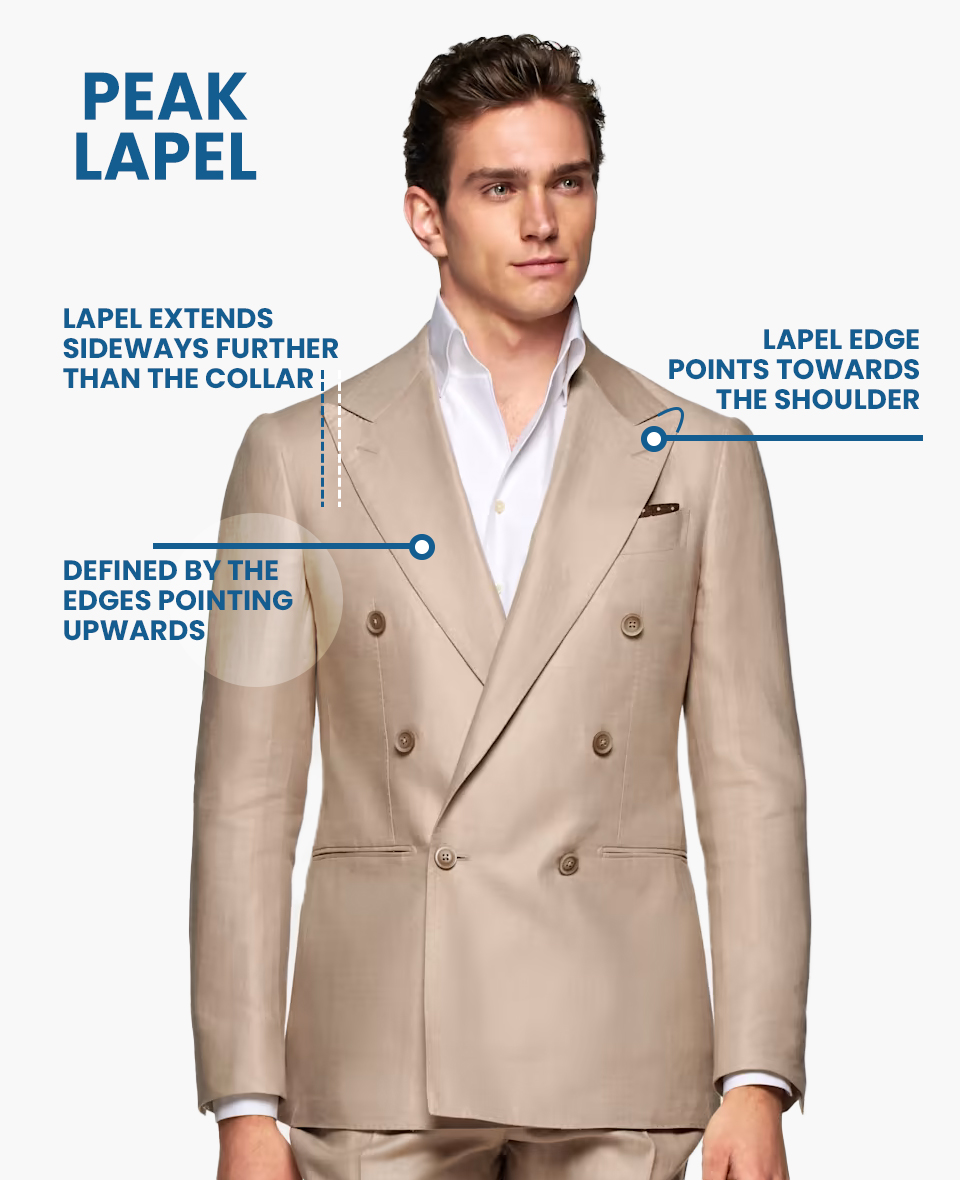 Peak lapels come to a point where the edge of the lapel points toward the shoulders. This style of suit lapels is very business-like and formal. They are never casual.
They give the suit and the wearer a definite air of power and authority. A narrow width looks wrong with this lapel, and too wide is incorrect also. The best width is between three and a half to four and a half inches.
Where to Wear Peak Lapel Suits?
Peak lapels look great on single or double-breasted suits. They can also be seen on morning coats, dinner jackets, and tailcoats.
They've also become part of corporate wear in modern times and are often found on single-breasted, two-button jackets.
This is known in global corporations as power dressing, and they make an authentic presence in boardrooms worldwide.
A peaked lapel is very difficult for tailors to adjust because the peak angle has to be just right. This is why you should always check that the lapel is shaped the way you want it before purchasing.
Maybe this sounds like just a minor detail, but remember that the lapel forms a frame for your chest and face area. So if the proportions are wrong, it can look strange.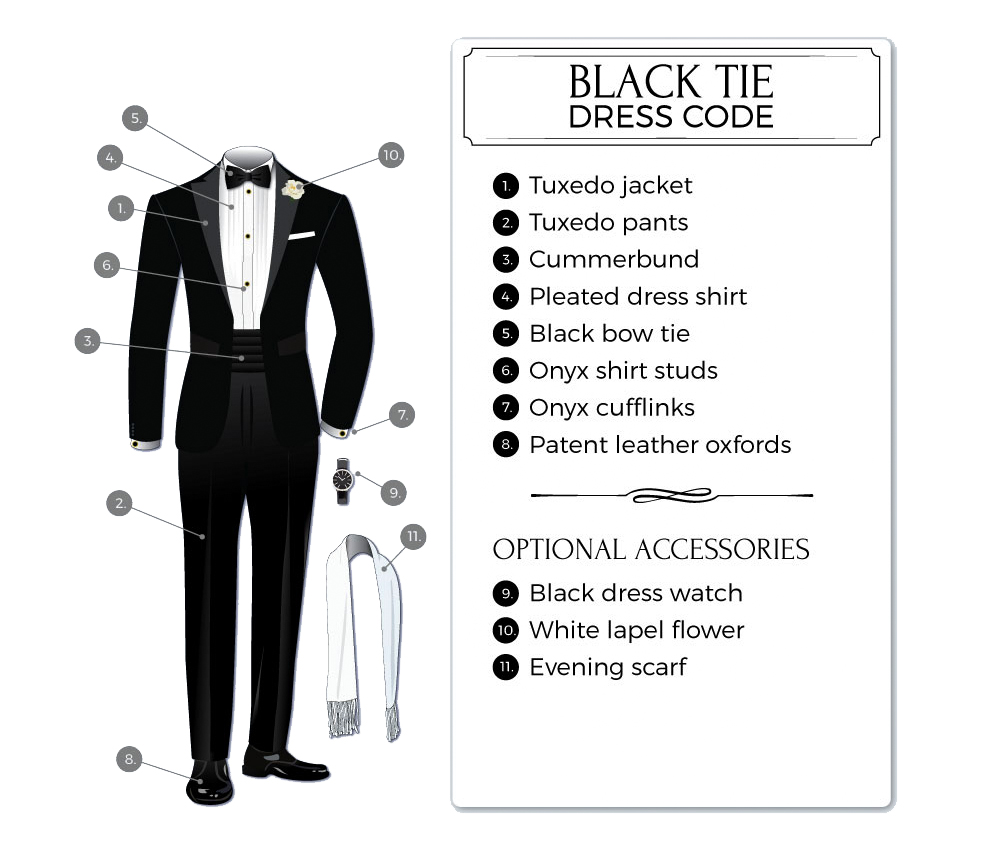 The peak lapel should always be the choice of shorter men. Those who are on the large side should wear a peak lapel suit, too.
It gives the illusion of making you taller and slimmer. It's perhaps not the best choice for very tall men. They will certainly get attention and exude confidence.
The Shawl Lapel
Shawl lapels are worn as a part of eveningwear and are a more formal and lavish alternative to the peak lapel.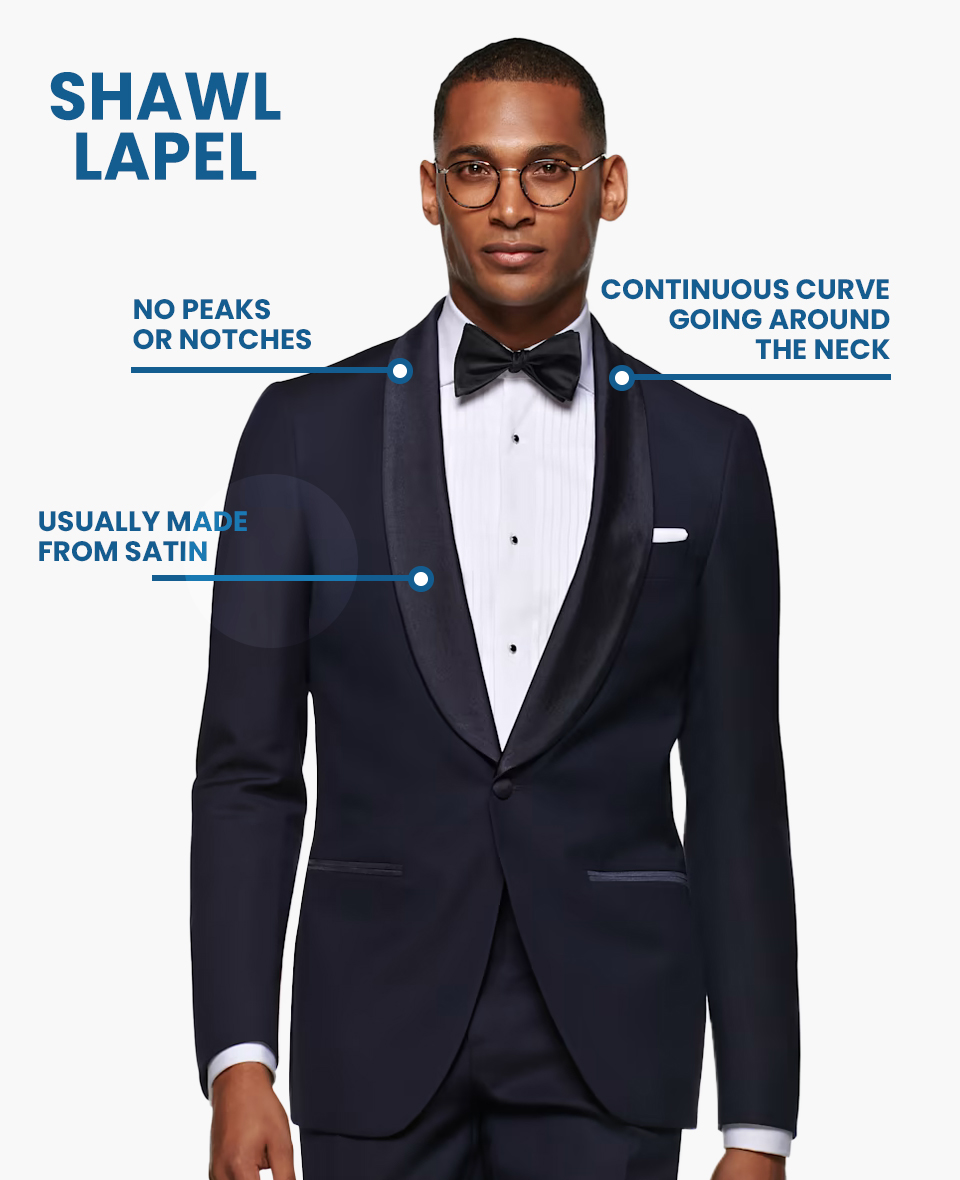 They evolved from the early Victorian smoking jackets, which back then were long, loose, gown-type garments. They served to protect the wearer from smoke and ash while they smoked.
The shawl lapel was later relocated to the tuxedo as we know it today. It has no notches or peaks.
Instead, it has an uninterrupted round edge, joined in a seam at the back of the neck. It's a continuous piece of material stretching from the collar and tapering off at the buttonhole.
Where to Wear Shawl Lapel Suits?
Available in various widths, narrow-style shawl lapels will appear trendier. On the other hand, broader shawl lapels give you a more classic look.
Usually seen on formal jackets and worn for high-end occasions and black-tie events, the collar is manufactured in a different fabric from the jacket, such as satin.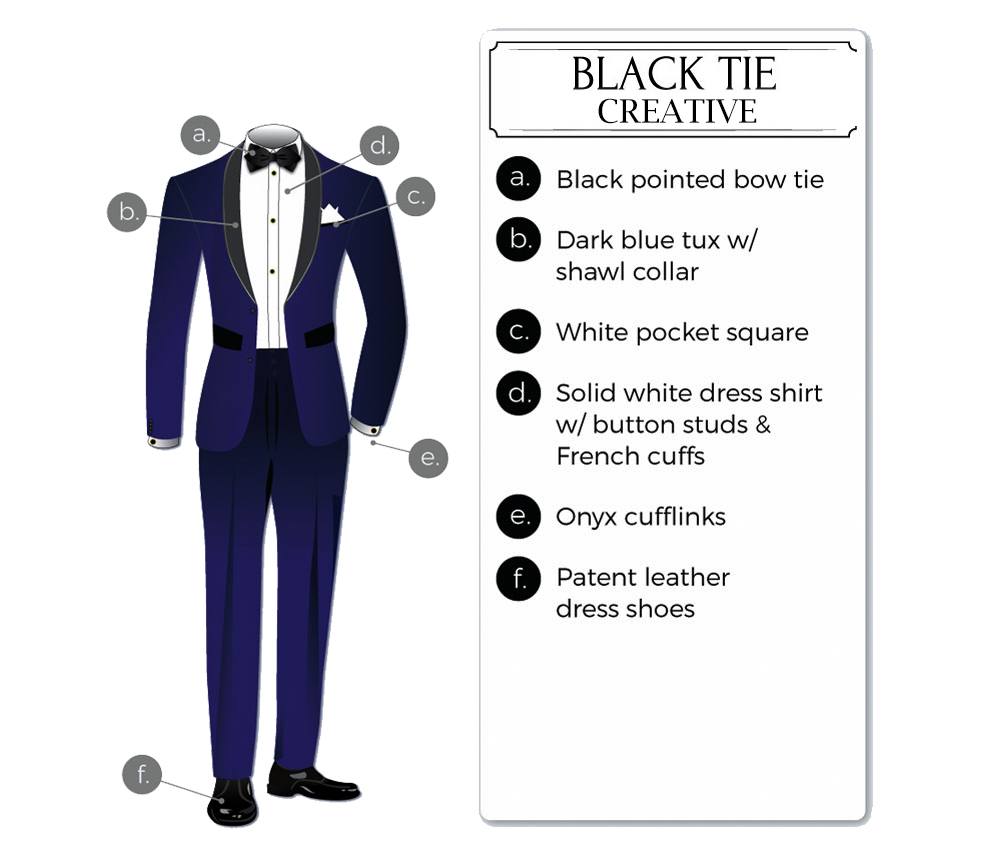 The shawl lapel is almost always black, but white shawls on white jackets are not entirely unheard of, either.
But as with any style rules, lapel rules get broken too. Some designers have been known to stitch a shawl collar onto casual linen suit jackets, for example.
Suit Lapel Width
In general, the lapel's widest point should lie approximately at the mid-point of the shoulder seam and the beginning of the lapel.
The style of lapel you pick depends on the look you're trying to achieve, and we'd always recommend avoiding extremes if a timeless and elegant look is your goal.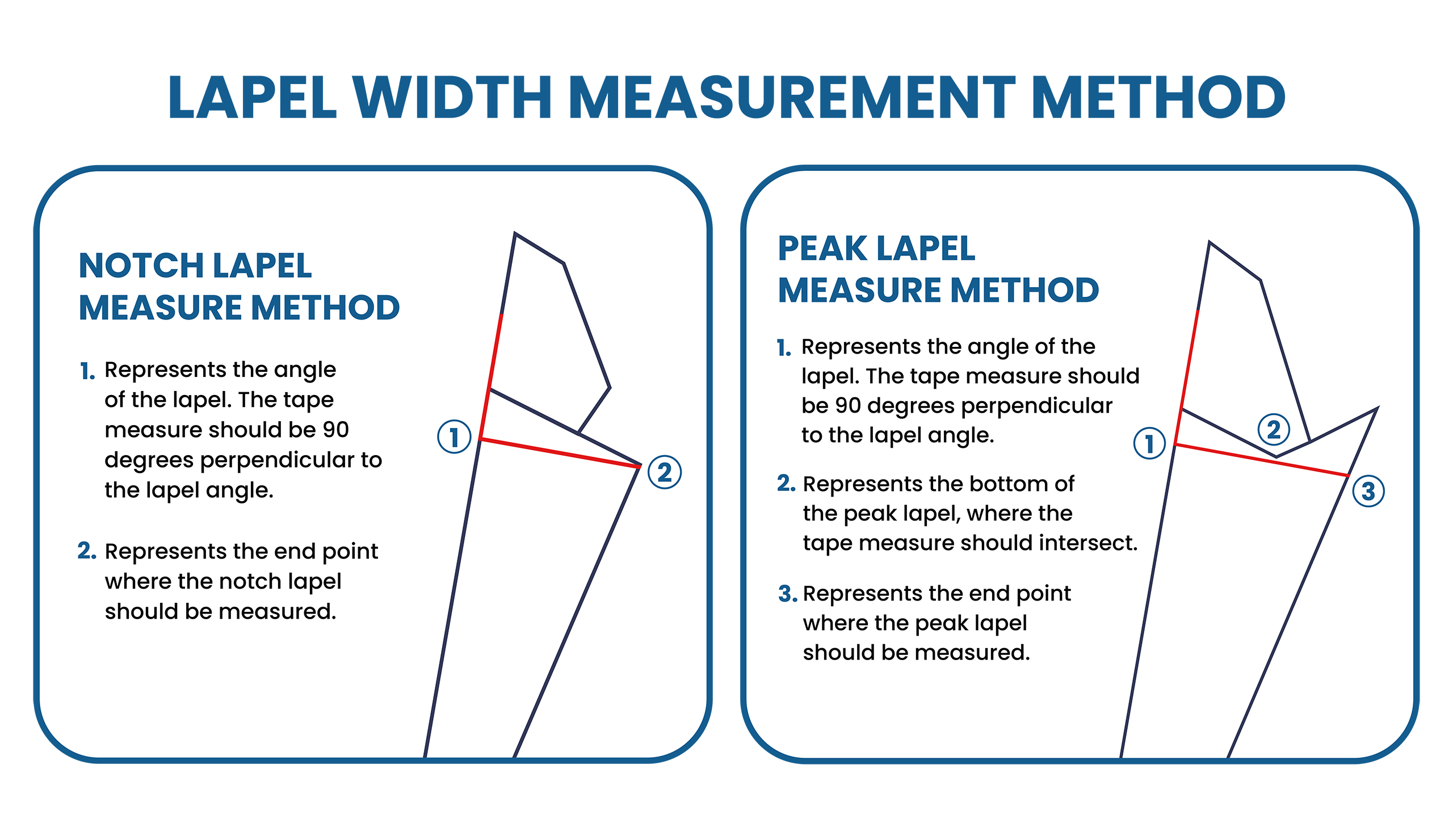 Like with most things in life, you can't go wrong with moderation and balance. So although you won't stand out from the crowd and be showy, you'll always look professional and classy.
The width of your suit lapel should correspond to your body shape and size. Here's a general rule of thumb:
The slim lapel of about 2.5″ goes with chest sizes up to 38″.
Regular lapels of about 3″ or slightly more go with a chest size between 36″ and 50″.
A wider lapel of 3.5″ or wider goes with a chest size over 40″.
What About Ties?
Some say that the width of your tie and the width of your lapel need to match. We tend to disagree. A slight difference between them isn't going to be noticed.
However, we recommend choosing a tie width similar to your suit lapels to keep everything evenly balanced and nicely proportioned.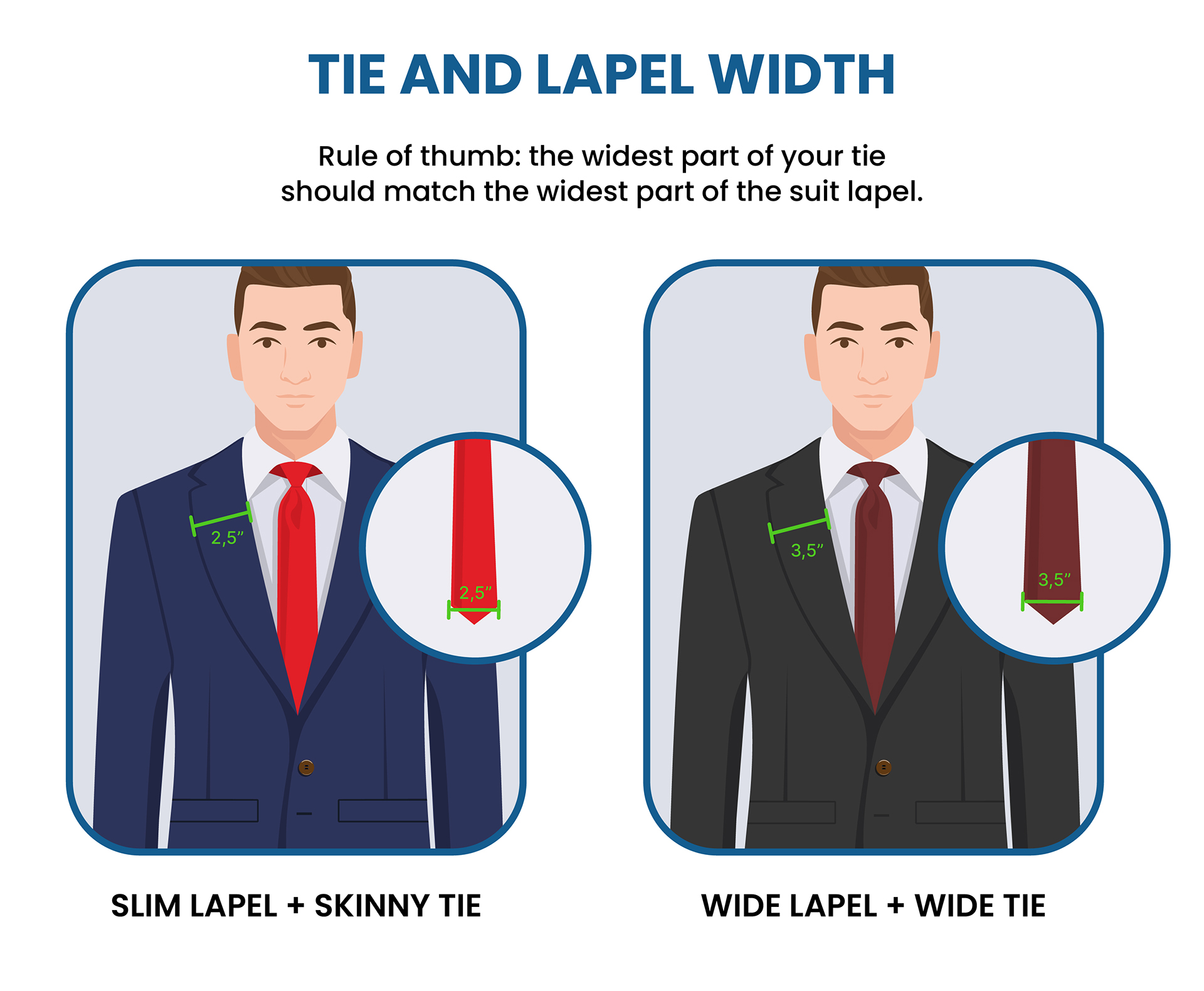 The tie width should be similar to your build, so slim gents can wear skinny ties, but big, broad football players definitely should not be sporting narrow lapels and ties.
After reading this article, I am willing to bet that you'll pay more attention to the suit lapels on your jackets and their effect on your overall style.
Author: Alexander Stoicoff
Hi, I'm Alex, and I've studied and specialized in styling in Rome. Through my writing, I want to help men dress well and learn the purpose and significance of suits and other formal attire. My final goal is to make men more confident in their wardrobe choice and life in general.