Suit patterns hold the power to transform a simple piece of attire into a statement of one's personal taste and refinement.
And just as a well-tailored suit can speak volumes about your sense of style, so too can the pattern of its fabric.
But choosing the right suit pattern is an art in itself.
From bold patterns that make a statement to more understated ones that exude quiet elegance, there's a world of variety out there.
Checked Patterns
The beauty of checked patterns lies in their ability to break the monotony of plain weave fabrics.
Often seen on sport coats and blazers, their visual interest comes from the intersection of horizontal and vertical lines forming various types of checks.
While the more muted colors in checks are traditionally considered less formal, they're certainly not limited to casual occasions.
Wearing a checked suit, be it in different shades of greys or a bolder combination, can be a game-changer at networking events or cocktail parties.
Windowpane
The windowpane check pattern is one of the most popular and versatile patterns in menswear.
It features thin lines crossing each other to form a large square pattern reminiscent of a windowpane.
The subtlety of the pattern is its real strength; it can add texture and visual interest to your outfit without being as overt as other patterns.
Perfect for men beginning to experiment with patterns, windowpane checks can also be found in full suits.
They look great in both muted and bold colors, providing a style boost to your wardrobe.
The key to wearing this pattern right is to balance it with solid colors in the rest of your attire.
Prince of Wales Check
A timeless classic, the Prince of Wales check, also known as Glen Plaid, has been a staple in men's fashion for ages.
This pattern is a mixture of both large and small checks, creating an appearance that is rich in detail and visual interest.
What's unique about this pattern is its versatility. It can be seen in both light and heavy fabric weights, making it suitable for all seasons.
Pair a Prince of Wales Check suit with a crisp white shirt and solid navy or charcoal tie, and you're ready to command attention in any room.
Gun Club Check
Originally hailing from the attire of a Scottish hunting club, the Gun Club check typically incorporates a pattern of four different colors in a check design.
It is a bold pattern often found in sport coats but can also be seen in casual suits.
The different shades in the pattern offer a unique opportunity to match various accessories and footwear.
When wearing a Gun Club Check, I recommend keeping the rest of your outfit simple.
This allows the pattern to be the focal point. It's the perfect choice for those looking to inject a bit of personality into their wardrobe.
Gingham Check
You've likely seen gingham checks in shirts and ties, but they can also appear in suits.
The pattern features colored and white stripes that cross each other, creating even, box-like checks all over the fabric.
The gingham check, while bold, brings a playful twist to traditional suit styles.
Although it's not a common choice for suits due to its distinctive and casual feel, a gingham check suit can make quite a style statement.
Ideal for less formal or casual settings, a gingham check suit could be the perfect addition to your wardrobe if you're looking to break away from solid colors and stripes.
Stripe Patterns
Stripes are one of the most common types of patterns found on suits, offering a wide range of styles and formality levels.
The breadth and spacing of stripes can change the vibe from bold and confident to subtle and elegant.
Whether you're in the boardroom or at a formal event, there's a stripe pattern to suit every occasion.
Pinstripe
Pinstripe suits have long been associated with power and sophistication.
Thin, vertical stripes, often in white or a lighter shade, adorn the fabric background, creating an elegant and commanding pattern.
Pinstripe suits are staples in formal business attire, giving the wearer a look of authority.
The pinstripe pattern offers the benefit of visually elongating the body, making it a good choice for shorter men.
The stripes are typically of a single thread in the fabric weave, spaced evenly apart. Remember to pair your pinstripe suit with a solid, subtle shirt and tie to avoid clashing patterns.
Chalk Stripe
Similar to pinstripes, chalk stripes are thin, vertical lines running down the fabric.
The distinction lies in the width and texture of the stripes, resembling lines drawn by the tailor's chalk.
The slightly wider and less uniform lines lend chalk stripe suits a softer, more versatile, and more relaxed feel than their pinstripe counterparts.
The key to styling a chalk stripe suit is to balance the striking pattern with a simple shirt and tie.
This way, the pattern doesn't become overwhelming, maintaining a sense of elegance and style.
Rope Stripe
Rope stripe suits are similar to pinstripe and chalk stripe suits but come with their unique charm.
The stripes on these suits are a bit wider and have a rope-like texture, hence the name. This pattern is often more subtle and can add an interesting visual element to your suit without overwhelming it.
When paired with solid shirts and ties, these suits project an image of sophisticated individuality.
Due to the subtlety of the pattern, you can play around with bolder tie patterns while maintaining a cohesive look.
Self-Stripes
Self-stripes, as seen in the seersucker suit, are a unique addition to the stripe pattern family.
In this case, the "stripes" are formed by changes in the fabric weave rather than different colors or threads. This subtle pattern adds texture and depth to your suit without going overboard.
Seersucker suits with self-stripes are especially popular for summer, given their lightweight and breathable fabric.
These suits are more casual and are perfect for summer garden parties or beach weddings. Pair them with a crisp white shirt for a classic, fresh look.
Plaid
Plaid is a pattern with a rich cultural heritage and a wide variety of styles.
Traditionally associated with Scotland, these patterns consist of crossed horizontal and vertical bands in two or more colors.
The formality of plaid patterns can vary greatly. Still, they're generally more casual, making them a popular choice for sport coats more so than full suits.
Glen Plaid / Glenurquhart Check
Also known as the Glenurquhart check (or Prince of Wales), the Glen Plaid is iconic in the world of suits, even adorning James Bond in several movies.
The pattern consists of small and large checks, creating a visual play of lines and spaces that catches the eye.
Glen plaid suits are timeless and versatile, often seen in shades of grey or brown.
They're appropriate for a variety of occasions and are easily paired with both solid and patterned shirts and ties.
Why the separate categorization with the Prince of Wales checks? Because while both are checks and have Scottish roots, the main difference lies in their design details.
Glen plaid has a specific arrangement of small and large checks, often including houndstooth and lozenge patterns.
In contrast, the Prince of Wales check has a simpler check design but is frequently overlaid with additional checks for a multi-dimensional effect.
Both patterns are popular in suiting and offer a sophisticated alternative to solid fabrics.
Tartan Plaid
Tartan Plaid, also known as Scottish plaid, is a pattern that features multiple colors and varying widths of horizontal and vertical stripes intersecting each other.
There are hundreds of Tartan patterns, each associated with a different Scottish clan.
The Black Watch Tartan, a simple and subdued pattern in navy and green, is one of the most famous and is sometimes used in suiting.
While Tartan Plaid suits are not common, you'll often find this bold pattern on sport jackets, especially around the holiday season.
They're the epitome of statement clothing and should be worn with solid, understated pieces to keep the look balanced.
Herringbone
Named after the skeletal structure of the herring fish, herringbone is a v-shaped weaving pattern often found in tweed and wool fabrics.
The pattern adds depth and sophistication to a suit without being too bold or busy, making it more appealing than a plain weave.
Herringbone suits are versatile and can be worn in both business and social settings. It's a popular choice for fall and winter suiting due to the thickness of the fabrics it's typically found on.
This pattern is particularly suited to navy or charcoal suits, adding a subtle point of difference and making your ensemble stand out in a sea of solid suit colors.
For a more unique look, the muted pattern can also be mixed with other patterns, such as a checked shirt or a striped tie.
Houndstooth
Houndstooth is a classic pattern that traces its roots back to Scotland. The pattern resembles the jagged back teeth of a dog, giving it its name.
Traditional houndstooth check is black and white, but different colors and sizes can be found in more modern interpretations.
Houndstooth is often woven from wool, making it popular for winter suits and sport jackets.
Larger patterns are bolder and more casual, while smaller, subtler patterns are suitable for more formal and even business casual settings.
Pairing a houndstooth suit with a solid shirt and tie will let the pattern shine and keep your outfit from looking too busy.
Birdseye
Birdseye is a pattern that consists of small, repeating motifs that resemble a bird's eye.
It adds a subtle depth and texture to the fabric, which can be particularly enticing under different lighting conditions.
Birdseye suits often come in navy or charcoal and are excellent choices for business attire.
These suits offer an elevated take on solid colors. The pattern is understated and professional, providing an air of sophistication to the wearer.
Given the subtlety of the pattern, Birdseye suits can be paired with both solid and patterned shirts and ties.
Paisley
Paisley patterns are known for their distinctive design of teardrop-shaped motifs with a curved upper end.
They are typically seen more frequently on ties but can also be found on suits, especially for more fashion-forward designs.
When found on suits, paisley patterns are often more muted and less colorful than their tie counterparts.
Still, it can add personality and visual interest to your look. But wear one with caution due to its ability to overwhelm if not styled correctly.
When wearing a paisley suit, it's typically best to keep the rest of the outfit relatively simple and understated to avoid clashing or competing with the vibrant pattern.
Polka Dot
Although the polka dot is not a traditional pattern for suits, it does find its way onto the more adventurous ones.
The pattern consists of an array of filled circles of the same size against a solid background. The resulting look is bold and eye-catching, perfect for someone who wants to stand out from the crowd.
Polka dot suits are rare and certainly not for everyone. They are best suited for whimsical or creative occasions where the dress code allows for such experimentation.
If you decide to don a polka dot suit, make sure the rest of your outfit is solid and understated to balance out the boldness of the pattern.
Which Suit Patterns to Wear
Cracking the code of patterned suits can feel like a formidable challenge.
However, once you discover a pattern that resonates with your style and complements your frame, you have a reliable foundation on which to build your sartorial arsenal.
But how can you navigate the intricate world of patterns and find what truly works for you?
Understand the Occasion
Different suit patterns carry different levels of formality, making them inappropriate for some occasions and dress codes.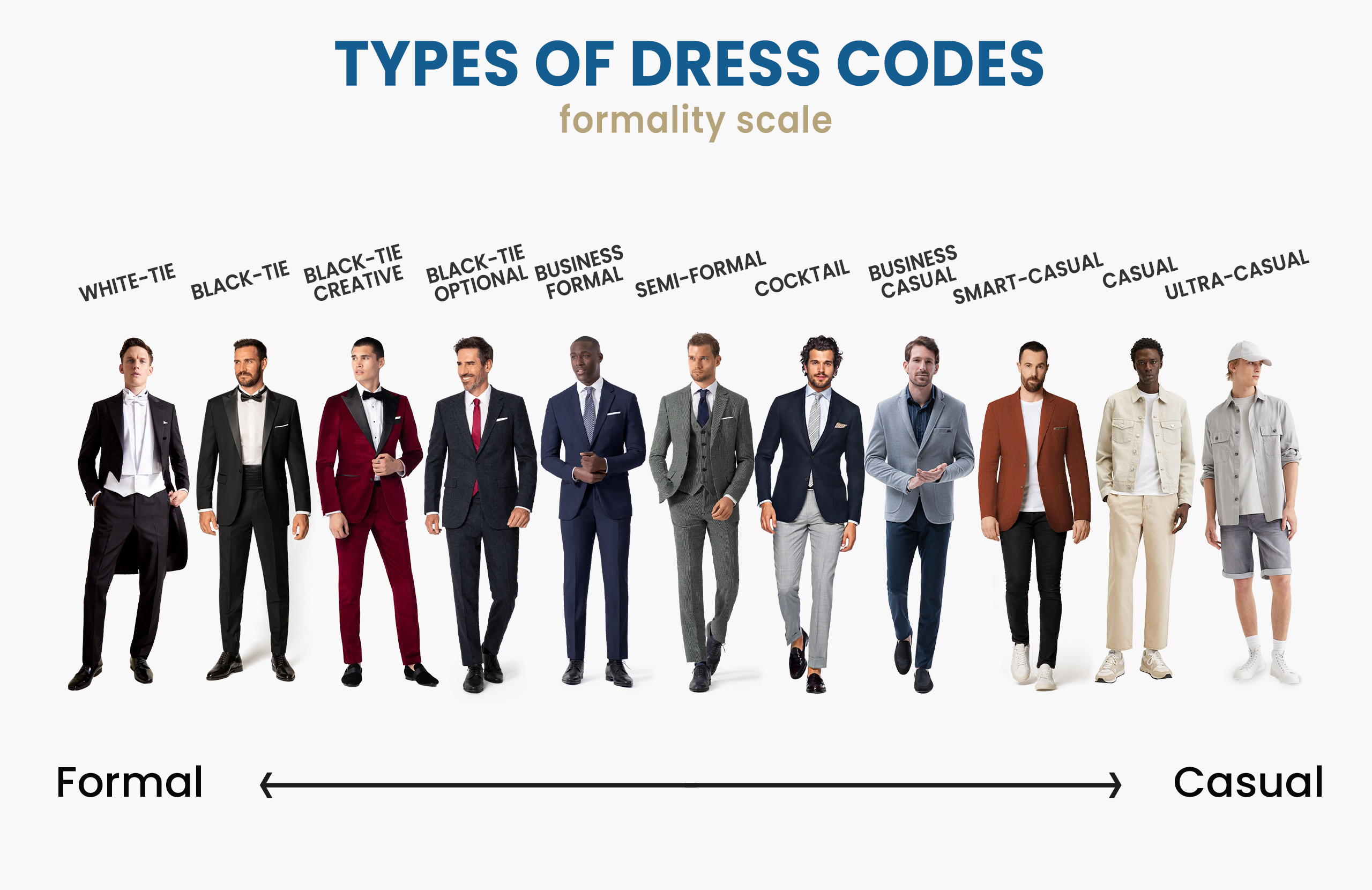 For instance, solid or subtly patterned suits (such as those with a birdseye or herringbone pattern) are more formal and are appropriate for office or semi-formal settings.
On the other hand, bold patterns like tartan plaid and polka dots are more whimsical and better suited for creative or casual occasions.
Consider Your Body Type
Some patterns can enhance or minimize certain physical traits.
Vertical stripes like pinstripes, chalk stripes, or rope stripes can create this illusion if you want to appear taller or slimmer.
For those who want to add some visual bulk, larger patterns or checks can achieve this effect.
Seasonality Matters
The season can influence the choice of suit pattern.
Light, breathable fabrics with subtle patterns like seersucker are perfect for summer.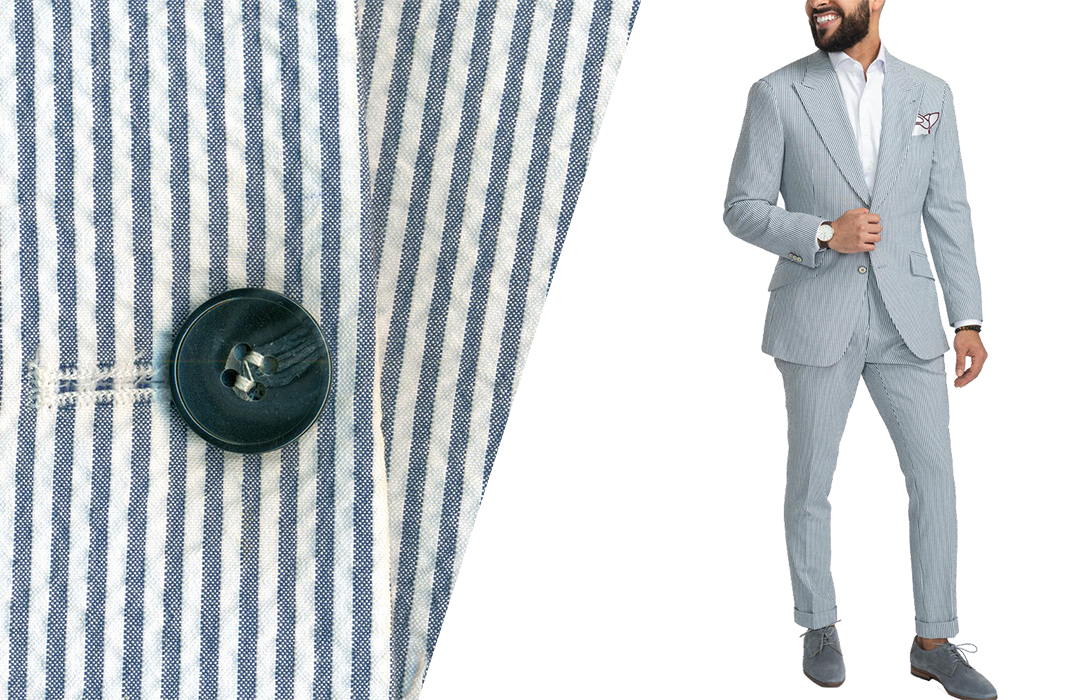 On the other hand, tweed or wool suits with herringbone, houndstooth, or Glen Plaid patterns are excellent choices for colder seasons due to their heavier weight.
Author: Alexander Stoicoff
Hi, I'm Alex, and I've studied and specialized in styling in Rome. Through my writing, I want to help men dress well and learn the purpose and significance of suits and other formal attire. My final goal is to make men more confident in their wardrobe choice and life in general.